Enjoying A Monday Morning Coffee And A J12 Cybernetic Watch In The Chanel Universe
Developing a taste for the disruptive
There's nothing like a bit of watch controversy. Nope, I'm not talking about the polarizing Blancpain × Swatch Fifty Sistems Nudibranch Scuba — I just can't get the name of that watch right. The watch that caused some brains to short-circuit at Fratello HQ was the Chanel J12 Cybernetic. The disruptive shape of the watch was perceived as if it were something alien. I stepped into the Chanel universe to try to establish a connection with the watch while having a coffee together.
The J12 Cybernetic is a limited-edition watch from Chanel's Interstellar capsule collection. This series of timepieces contains interpretations of Chanel's different watch models inspired by science fiction, space, and time travel. The J12 Cybernetic is the most graphic interpretation of the well-known ceramic J12 from the Chanel watch universe. The watch shows a white pixel motif on a black lacquered dial, but the most distinctive feature of the watch is, without a shadow of a doubt, the striking "pixelated" case.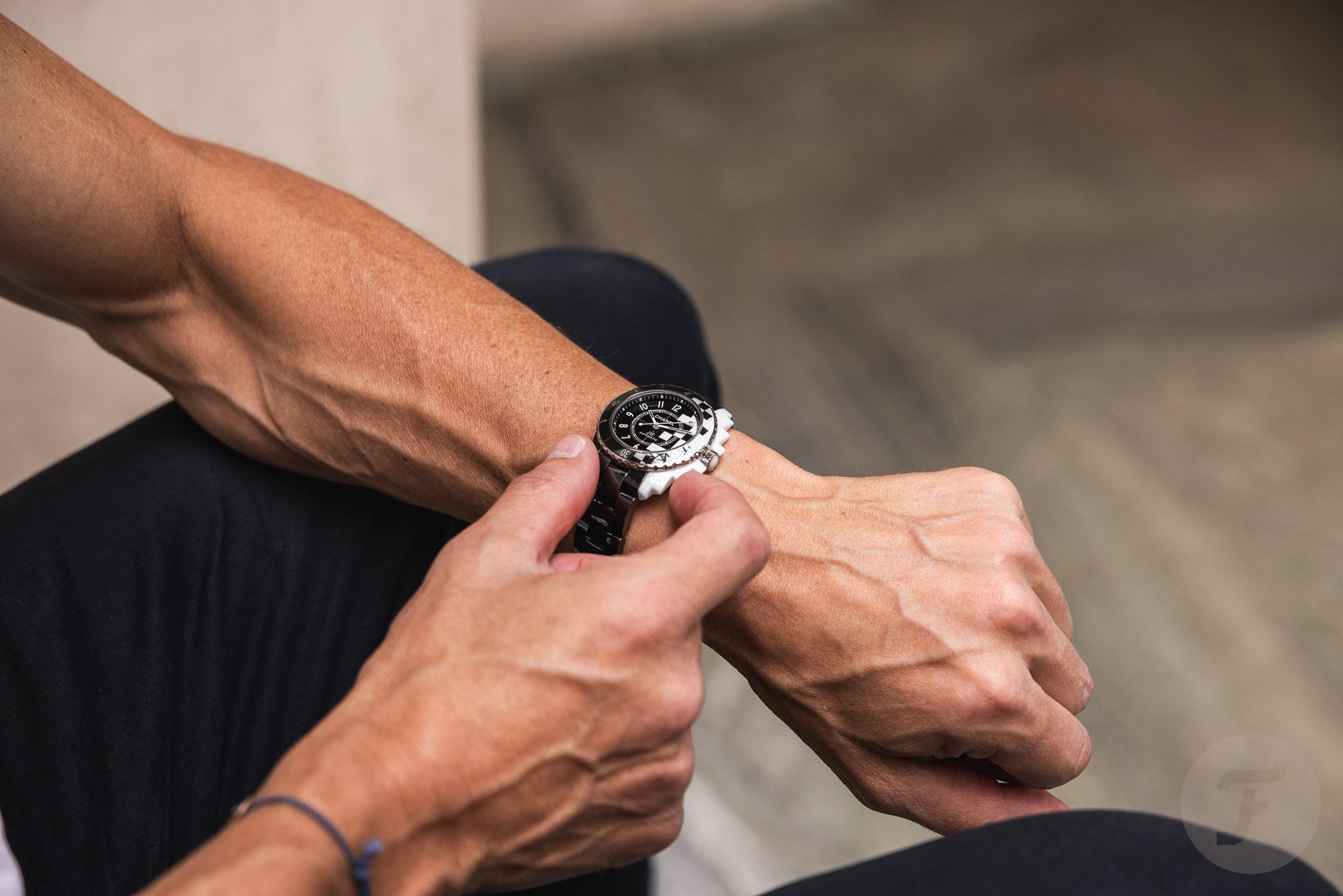 Welcome to the Chanel watch universe
The collision of couture and watchmaking can cause quite a stir. From a watch perspective, it's quite often perceived as an invasion of lesser creatures. Jorg once wrote a very interesting article about fashion brands entering the realm of luxury watchmaking. In his story, he writes, "Who said Apple could not make phones? Who said Amazon could only sell books? And who said that Louis Vuitton could only create handbags?"
And who said that Chanel could not create watches? Haute Couture creator Chanel shares a lot of the same values as the most prestigious Haute Horlogerie brands. On top of that, Chanel has created a brand philosophy, language, and image that is consistent yet dynamic. I will permit myself a watch analogy: Chanel is the Rolex of the fashion world. Both brands are leaders in their respective realms. There is, however, one big difference. Rolex never tried to create fashion, but Chanel did venture into watchmaking.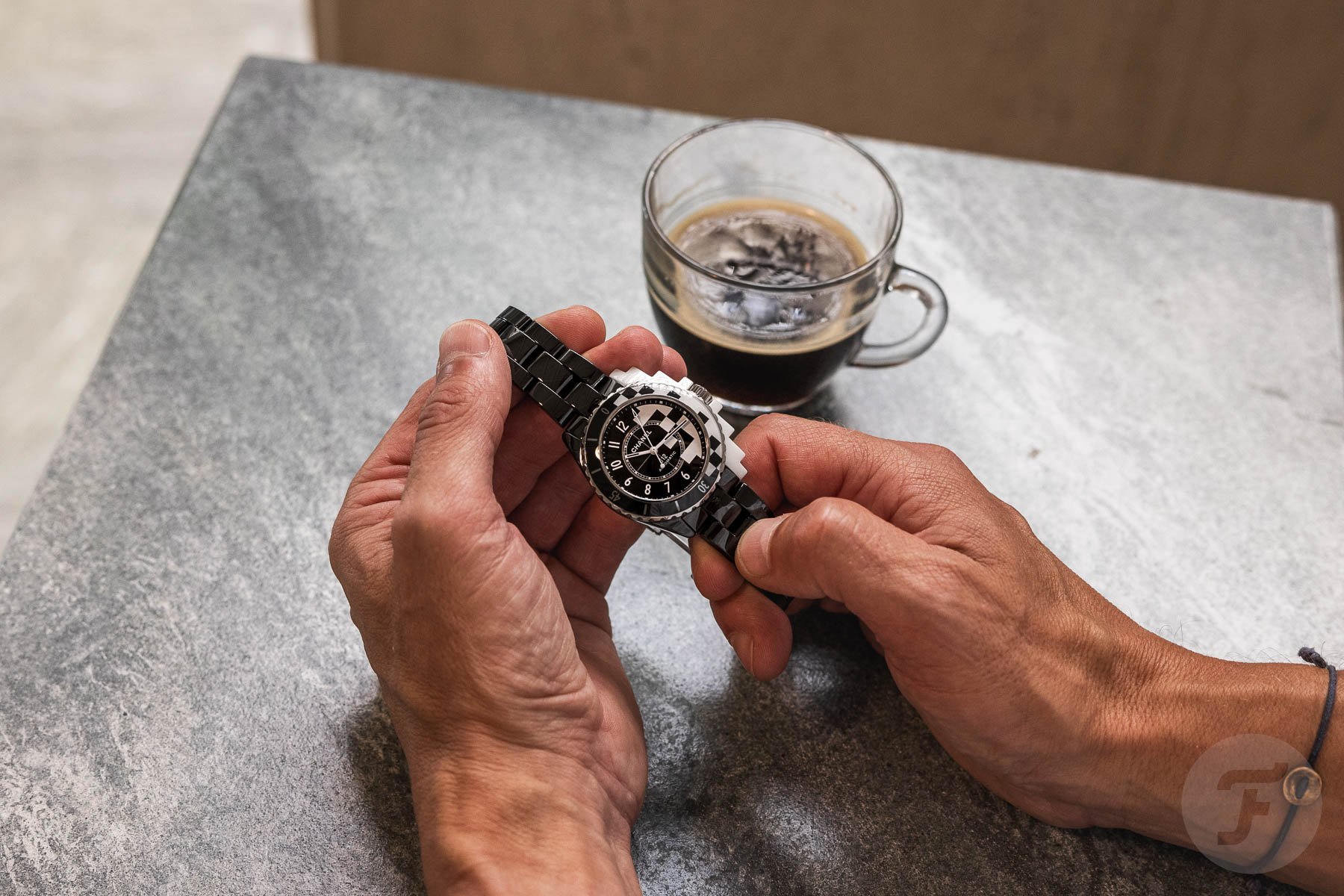 Seeing the big picture
Chanel is a very responsible company when it comes to the preservation of traditional craftsmanship. The brand systematically acquired or partly funded over 25 ateliers to ensure that the sources for Chanel's specialty products continue to exist and do well. By doing so, Chanel saves age-old artisan crafts from possible extinction. And Chanel also takes this responsibility when it comes to watches. Don't see it as charity; Chanel is still a business, but without the financial aid of the independent French fashion giant, F.P.Journe might not be around anymore. In 2018, Chanel made minority stake investments in the small, independent manufacturer that's now hot stuff among watch collectors. And earlier, Chanel did the same with Bell & Ross in 1998 and Romain Gauthier in 2011. The characteristic movement in the Chanel Monsieur. Superleggera Edition, for instance, is outfitted with a movement made by Romain Gauthier.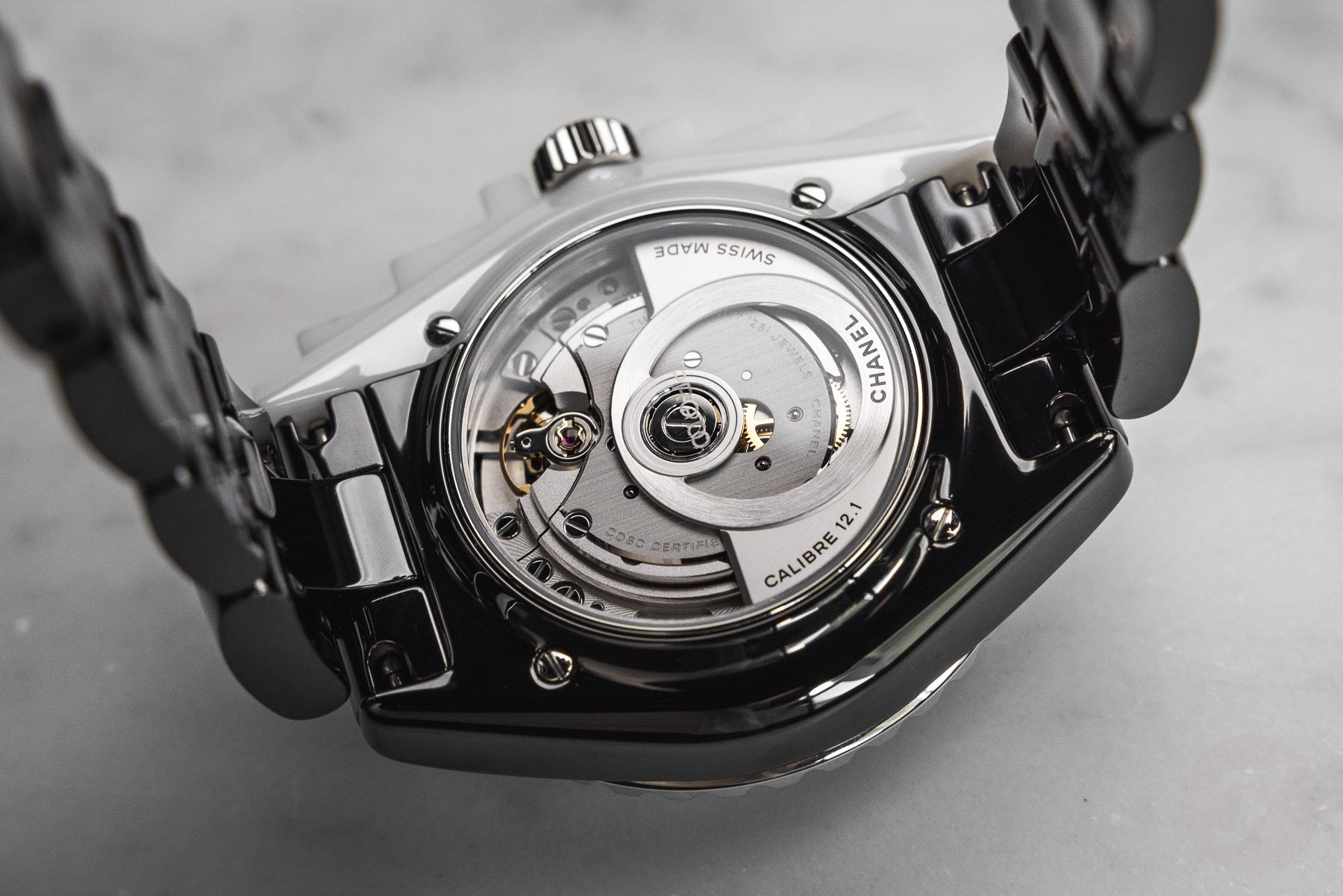 Also, in 2018, Chanel formed an industrial alliance with Kenissi, which now supplies the calibers for its J12 collection. So, inside the J12 Cybernetic beats a Kenissi-made Calibre 12.1 with a distinct Chanel rotor.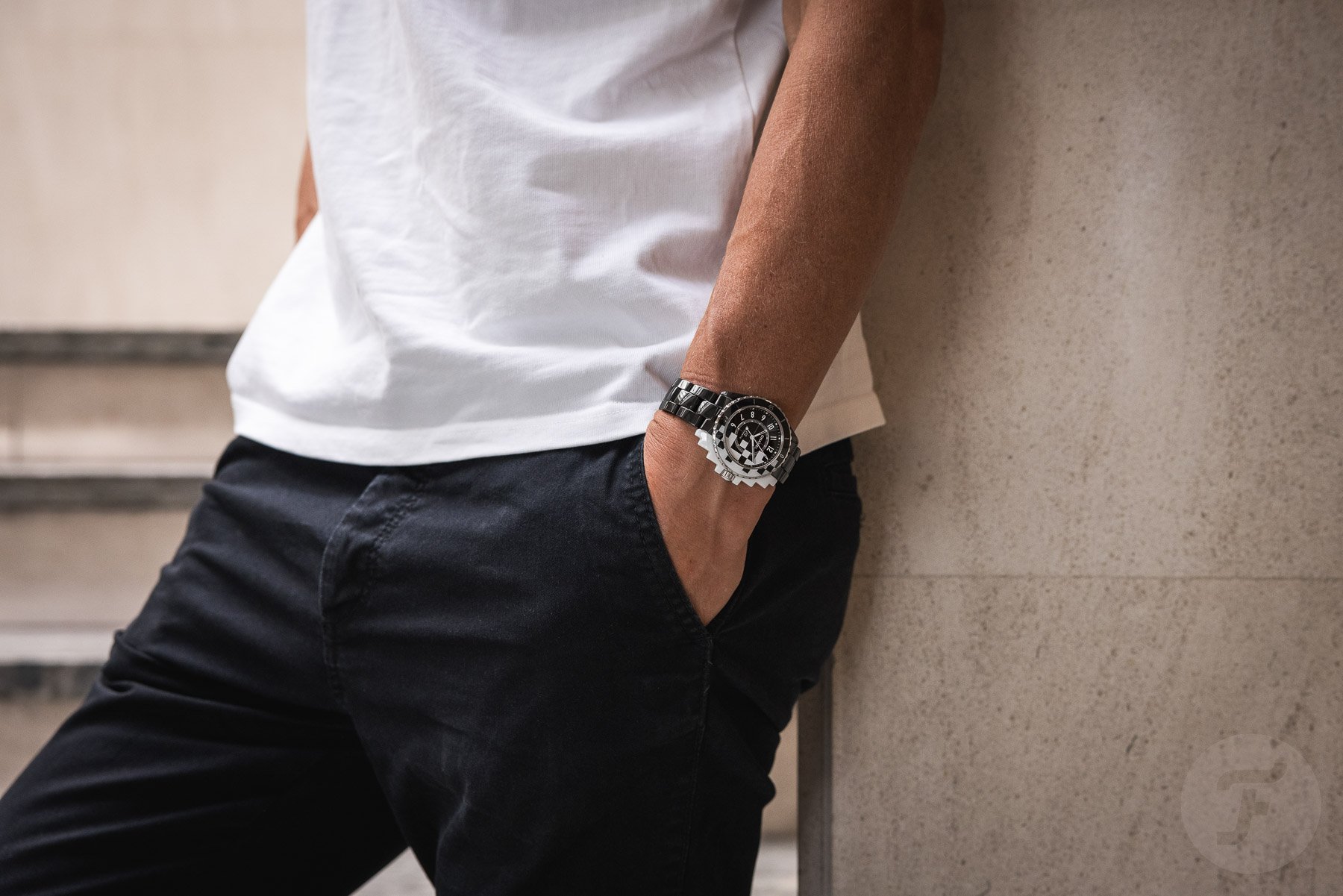 The Chanel J12 Cybernetic on the wrist
Wearing the J12 Cybernetic is not like wearing the J12 Marine, a watch I once described as a guilty pleasure of mine. The pixilated J12, in its 38 × 12.6mm black and white case, should be coordinated with your outfit — I stayed away from denim and colors and went for the colors of the watch instead. Therefore, you could very well call it a "fashion watch." I don't think Chanel has a problem with that, though, because fashion is also a form of art and, in the case of Haute Couture, an expression of supreme craftsmanship. The ceramic J12 Cybernetic is an artful expression of craftsmanship too. The pixelated pattern seamlessly stretches from the black lacquered dial and bezel to the incised patch of white ceramic. It creates a disruptive visual effect that looks way less weird on the wrist than in pictures. The J12 Cybernetic might be a fashion watch, but it also borders on jewelry.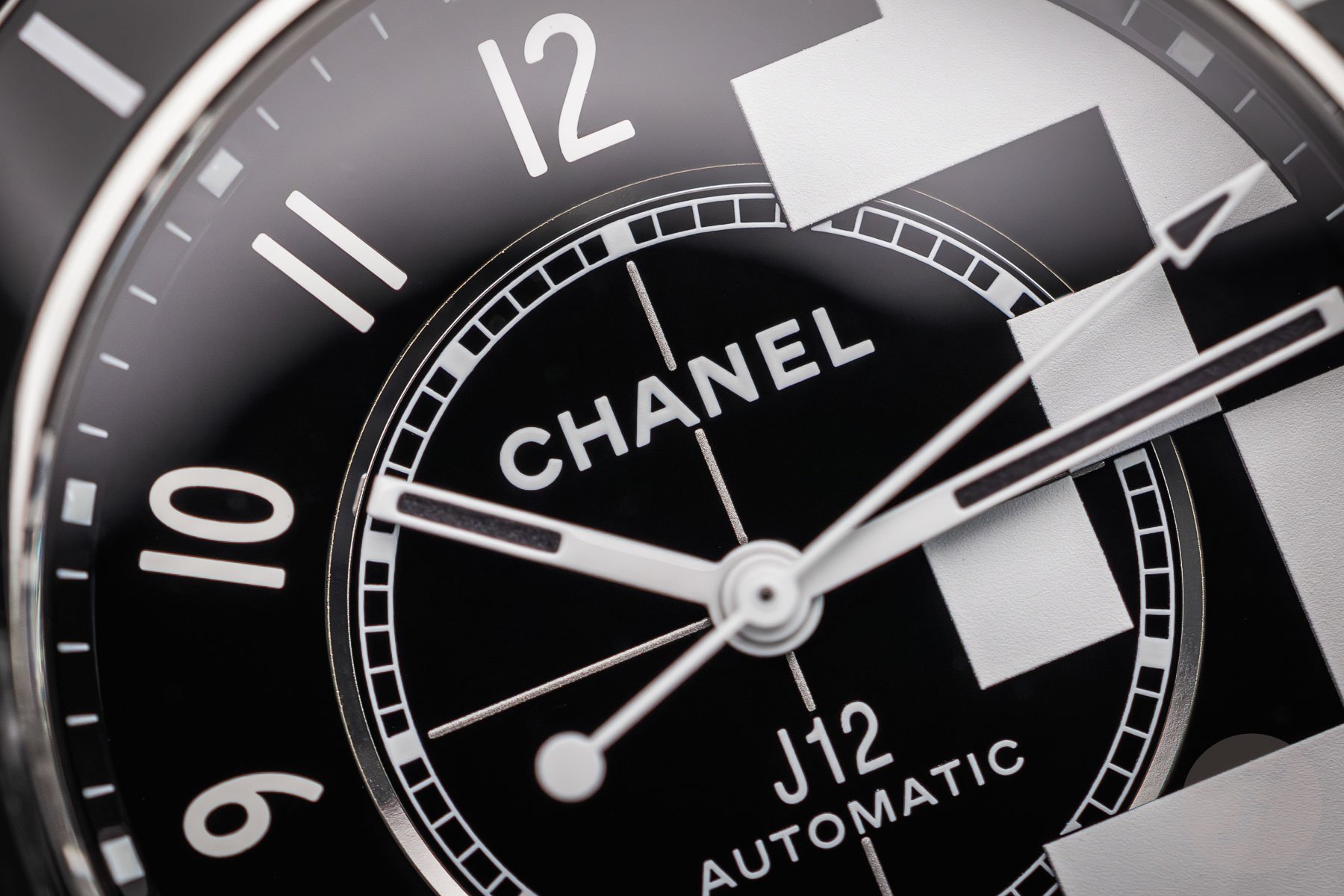 Living in the Chanel universe has its price
Is €14,300 a justifiable price for a fashion watch? Well, in the Chanel universe, that price is not extravagant. And that's how I think you should also perceive this watch. Most watch brands don't create universes; rather, they create watches you can wear in other realms. There are just a few brands that succeeded in creating realms of their own in which you can shop for (nearly) anything you need in life — clothes, shoes, jewelry, sunglasses, fragrances, beauty products, and sometimes even tableware, furniture, and other objects to decorate your home. Hermès is a good example of such a universe, and Chanel is too. When you can afford residency in the Chanel universe, you shop for watches there too. And when you are willing to pay €15,050 for a black iridescent tweed jacket and matching top and skirt, you're also very much okay with paying €14,300 for a matching watch.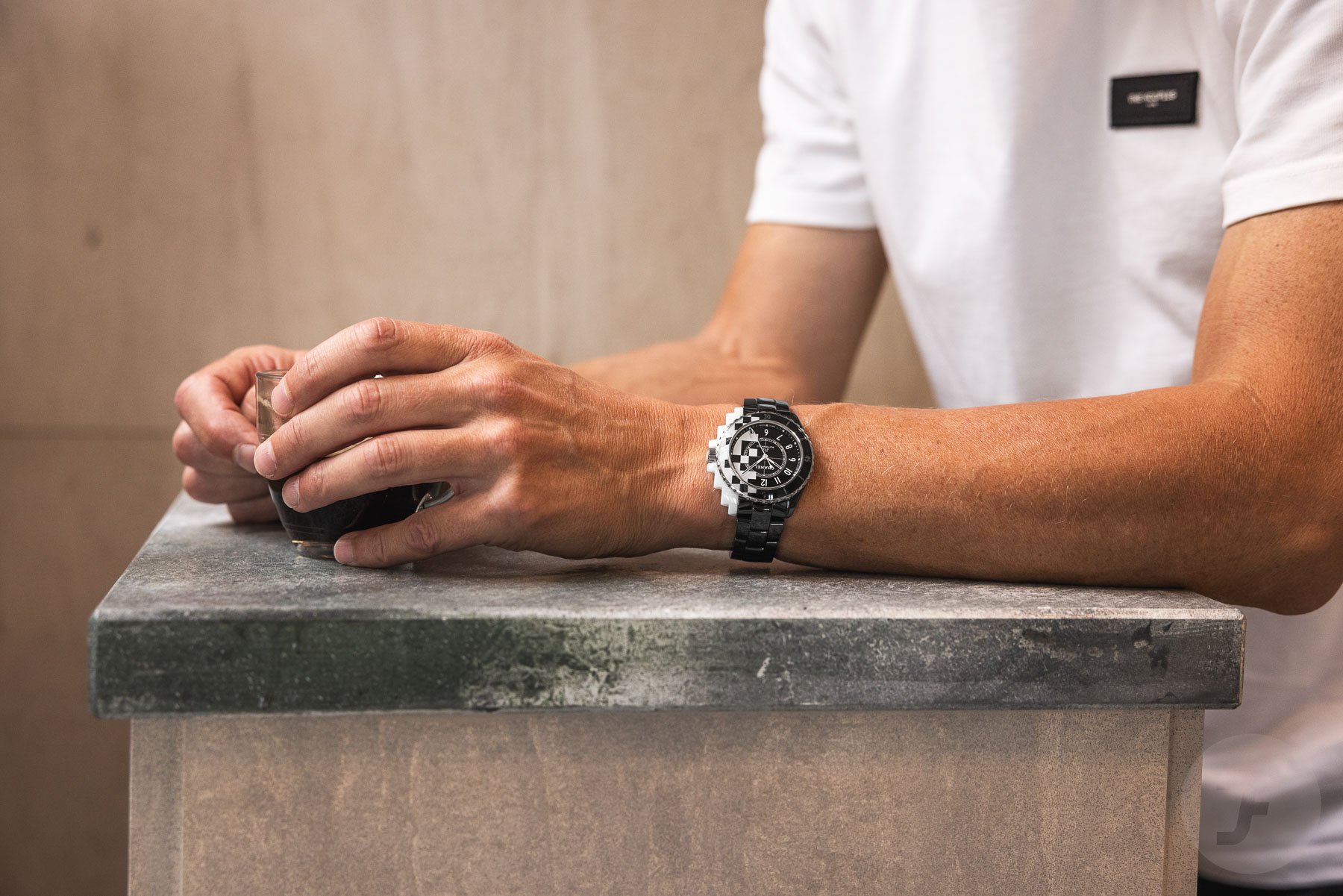 My Chanel visa has expired
I really enjoyed wearing the J12 Cybernetic. No, it doesn't wear like a normal watch, and that was precisely why it was good. It also felt good. The ceramic bracelet with a steel, spring-loaded triple-folding clasp feels solid and comfortable on the wrist. Also, apart from the extraverted looks, I liked the smaller details like the steel screw-down crown with cabochon in white ceramic. From a practical standpoint, the watch makes sense too. It's water resistant to 50 meters, and because the J12 Cybernetic is made of ceramic, scratches won't be an issue, meaning it will look good for a very long time. Speaking of time, unfortunately, I only had a temporary visa for the Chanel universe, so I had to return the watch. I did enjoy the visit, though, and I bought myself a bottle of Pour Monsieur eau de toilette as a souvenir.