My Guilty Pleasure Watch: The Chanel J12 Marine
It's time for the Fratelli to be brutally honest and reveal their hidden desires. I will go first
Everybody has them, but should they? I'm talking, of course, about guilty pleasures. A guilty pleasure could be defined as something that you enjoy but is frowned upon by your peers. If your peers, for example, happened to find out your favorite song of all time is "Baby One More Time" by Britney Spears, you would be embarrassed. But why should you be? If that song raises the hairs on the back of your hand, sends shivers down your spine, and puts you in a state of bliss, you should not feel ashamed. Rather, you should be happy. You should celebrate that you have the ability to feel such wonderful things because of your so-called guilty pleasure. And it's the same with watches. That's why I want to present to you my guilty pleasure watch. I can't deny it any longer — I love the Chanel J12 Marine!
I know stuff about my fellow Fratello editors that would make your blood run cold. Of course, I'm not talking about bone-chilling crimes. No, nothing that serious. I'm talking about certain tastes in music. Did you know, for instance, that every Wednesday after RJ… No, I'm not going to reveal his or any other team members' odd preferences here. A coming-out is a very personal thing.
I'm opening up to you guys, so please don't make me regret it.
So what I will write about, instead, are my own quirky or unexpected flavors of choice. And since we're talking watches here, I won't tire you with oddities in the field of bicycles, notebooks, drum sticks, and other non-timepiece related matters. Instead, I will tell you about my guilty pleasure watch, the Chanel J12 Marine. I'm opening up to you guys, so please don't make me regret it.
My Guilty Pleasure Watch — Chanel J12 Marine
It was during Baselworld 2010 when I first saw, felt, and wore the Chanel J12 Marine. I always had a soft spot for the J12. Yes, the watch shows undeniably strong Rolex Submariner influences, but I liked Jacques Helleu's design from the moment the first J12 debuted in 2000. Helleu designed the watch executed in high-tech, scratch-proof ceramic for himself. He said he found inspiration in the 1930s J-Class yachts, the breathtaking single-mast rigs that competed in the America's Cup. But there must have been a Submariner in his sphere of interest too by the look of the final nautical-looking product. I didn't mind the link with the iconic "Sub" at all. Maybe because I see Chanel as the fashion equivalent of Rolex. They're both strong, independent brands that lead rather than follow.
That tingling sensation
But it took a decade to get me fully on board with the J12. It happened when the Chanel J12 Marine (reference H2559) appeared on the scene. That's when I got that very specific, tingling, must-have sensation in my stomach. First, there's the 42mm bead-blasted black ceramic case that creates a soft and understated look and feel. And then there's the extra glamour that comes from the glossy sapphire unidirectional diving bezel.
… call me a false purist, but something shiny has no place on something that started out as a tool watch.
It's a bezel style I don't like on a Blancpain Fifty Fathoms — call me a false purist, but something shiny has no place on something that started out as a tool watch. I do, however, like it on this nautical J12 because it's not, in essence, a practical diver's instrument. In the case of the Chanel J12 Marine, all that counts for me are the aesthetics.
What's not to love?
Though the all-black and white variants never really spoke to me, there is a lot to love aesthetically when it comes to the J12 Marine in black and blue. The muscular case design radiates strength, while the matte ceramic surface softens the watch in both a visible and a tactile way. Ceramic already feels natural, but when it has a matte surface, it feels even more so. The attention to detail shows in many aspects, but one of the most striking features is the way the supple rubber strap integrates with the case. The color and structure of the ceramic material as well as the rubber that Chanel used for the strap make it almost impossible to see and feel the difference between the two materials. And the way Chanel designed/sculpted the strap with prominent, vented holes to keep you cool results in a luxurious-looking strap with tool-watch-like functionality.
Influenced but also unique
More Submariner influences are found on the "Maxi Dial" with large luminous dots. But there is also a carefully designed Arabic numeral at 12 o'clock. I also like the bold arrow hand for the hours in combination with a blue stick hand for the minutes, and a long, slender seconds hand with an elegant arrow tip in the same color. To create depth, all the hour markers are applied, and they sit quite high above the surface of the dial.
… the writing "300M" in blue reveals that this J12 Marine is not just a diver by looks, but also by specs.
The small crosshair in the middle, a J12 aesthetic trademark, also helps to create an identity. It shows a likeness to a benchmark in the world of dive watches, but also brings something new to the table. As you would guess, there's plenty of luminous material to light up the watch in the dark. Oh, and the writing "300M" in blue reveals that this J12 Marine is not just a diver by looks, but also by specs.
Looks like a Sub, doesn't do like a Sub
I don't like the Chanel J12 Marine for its movement, but I also don't dislike it for it. There's nothing wrong with an automatic ETA 2892 power source. It's a very capable, Swiss three-hand movement with date and a 42-hour power reserve. A Chanel watch that I like both for its good looks and good-looking movement is the Monsieur. Superleggera Edition I reviewed in 2021. But that is a €36,000 watch, and apart from that pretty steep price, it also doesn't give me butterflies the J12 Marine did and still does. When it came out, it had a price of around €4,800. And while the J12 Marine looks a (little) bit like a "Sub", it doesn't behave like one. On Chrono24 for instance, you can find a decent J12 Marine for around €2.5K.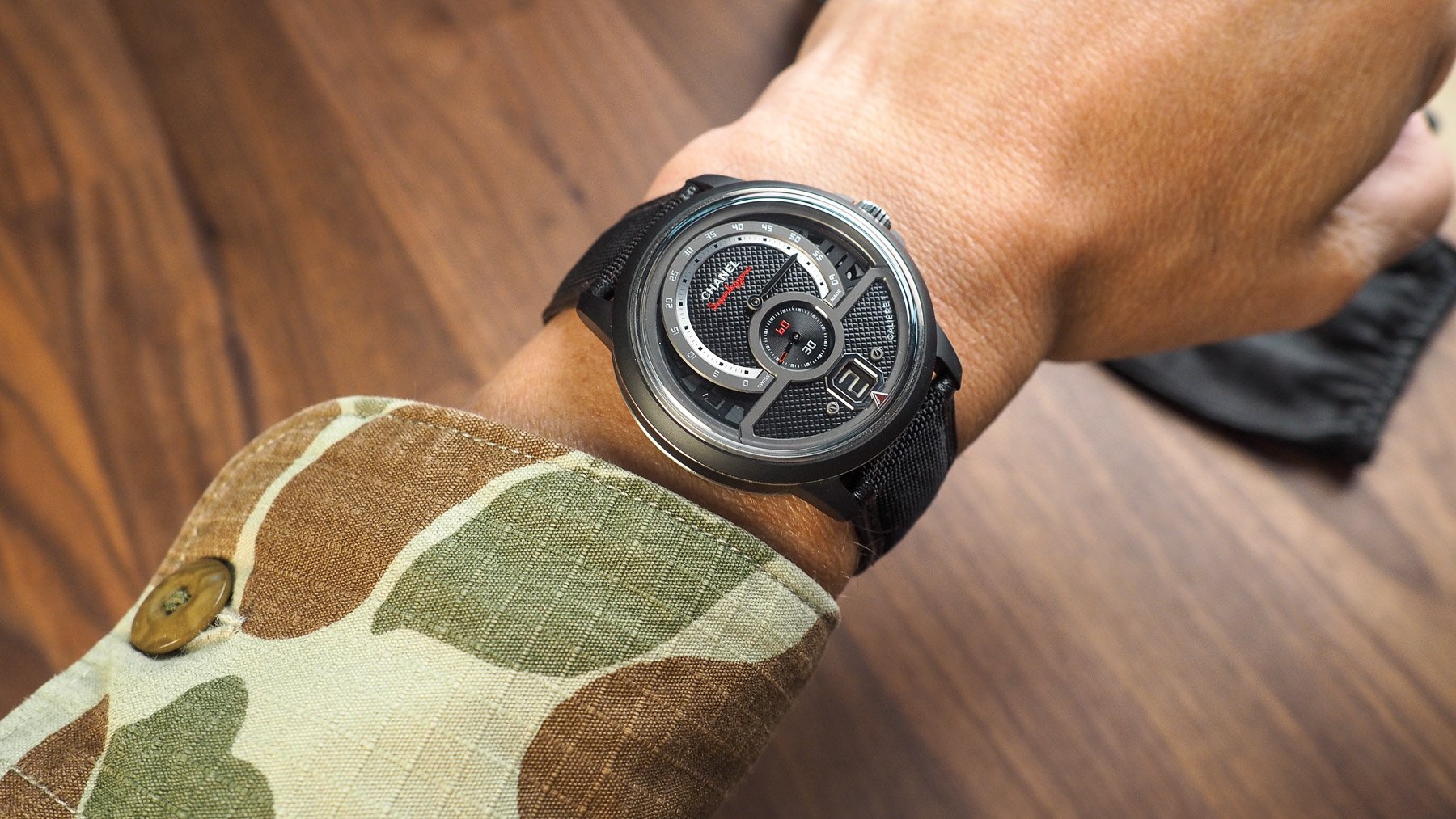 Kill your guilty pleasure watch!
So, there you have it — my guilty pleasure watch is the Chanel J12 Marine in all its fashionable matte black and shiny blue glory. It's a watch that resonates with me. It might not resonate with the majority of the Fratelli because it's not highbrow, but I don't mind. That's because I overcame my watch insecurity. I won't dismiss a watch simply because it's made by a brand that wasn't originally a watchmaker. Hey, we all have to start at some point. And I see 2000 as the year Chanel became a watchmaker with the launch of the J12. And ever since that year, Chanel has produced watches that aren't uniformly dull.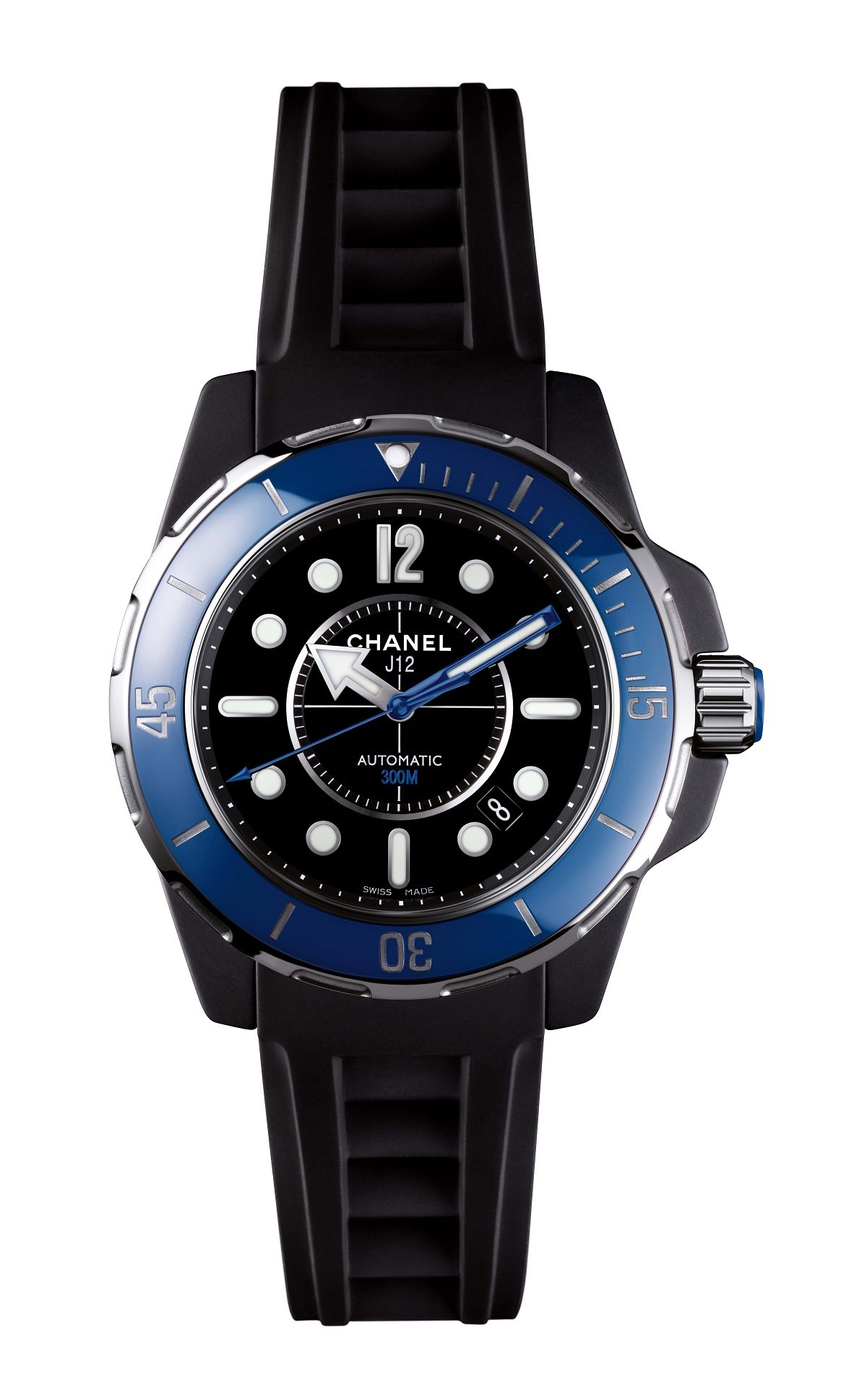 Who's next?
All that's left me for me to say is this: be stronger than your "Lizard Brain" that has you lusting after Rolex watches. Overcome your primitive desires. Be bold, be strong, follow your own path, be proud of your unique taste, and display it with pride. I am very curious who of the Fratelli has the guts to go next and open up to you.
Now usually comes the line, "For more information, visit Chanel's official website," because the J12 Marine is discontinued, you won't find the watch listed there. But you can, of course, still have a look at the latest J12 creations, including the revamped ones that use the new automatic Kenissi calibers — movements made possible thanks to Chanel money.
Please find and follow me at Lex Stolk • Instagram