Taking A Chance With Chronographe Suisse: The Humble Origins Of An Airport Lounge Watch
Classic good looks, plenty of options, and a mysterious past
Many of you out there will have likely already heard of Chronographe Suisse. In fact, they are hard not to come across when delving into the world for vintage chronographs from the 1940s and '50s. A never-ending stream of different designs, sizes, materials, and even brands can be found under the Chronographe Suisse name. However, the brand's roots are shrouded with mystery. In this article, I will be showing you my own example of a Chronographe Suisse watch, and looking into some of these watch's history and surprisingly humble origins.
Now, as much as I would love to do a deep dive into the brand, I must give credit where it is due. Erik Slaven wrote a brilliant and insightful piece on the brand back in 2018. I'll highlight some of the interesting aspects of the brand's history as told by Erik, but if you really want to take a deep dive into the brand, go ahead and check out his article as well. The main focus here will be my personal Chronographe Suisse watch: how I came to own it, and my hands-on experience with this wonderful vintage piece.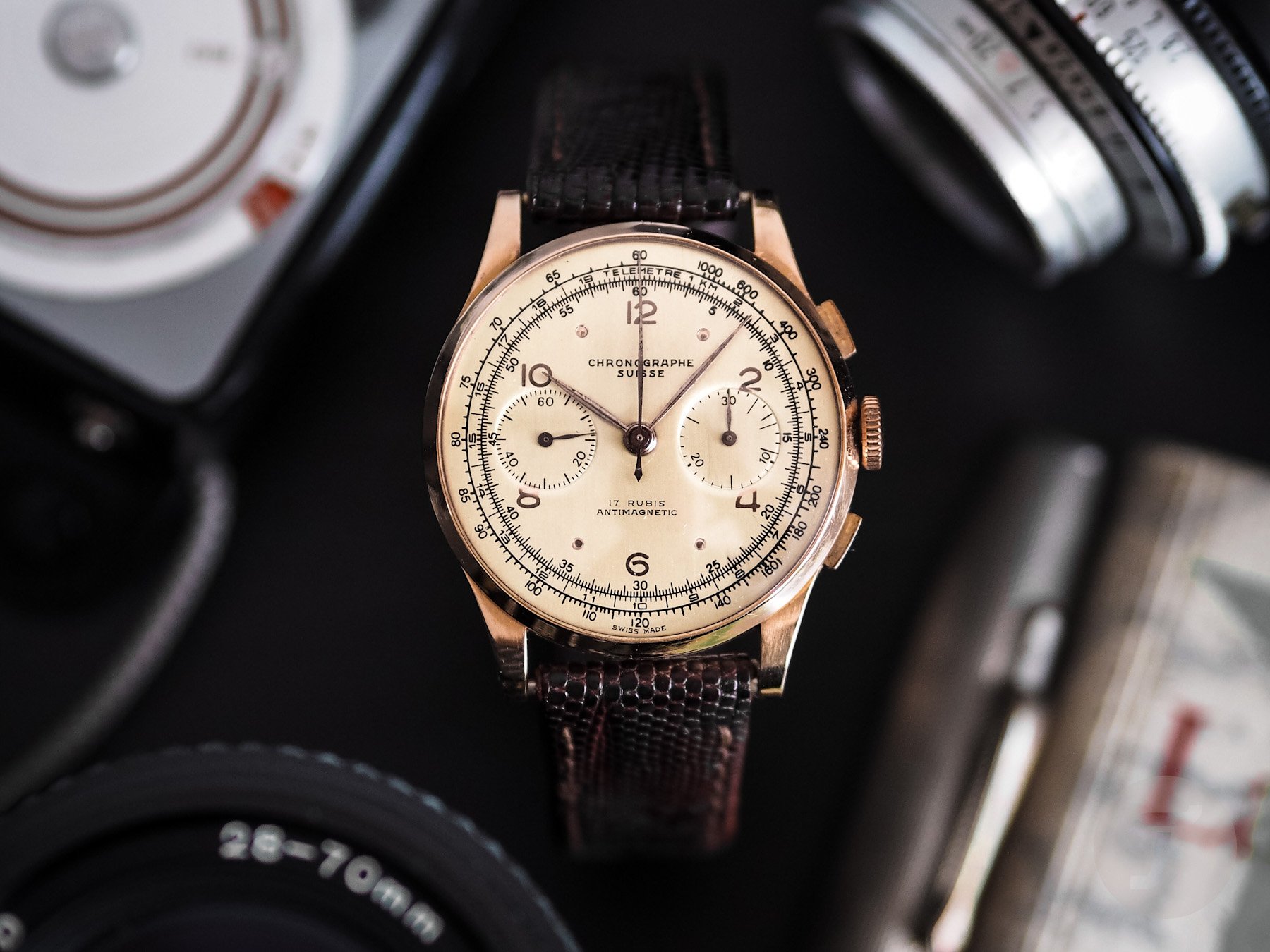 The shadowy origins of Chronographe Suisse
Admittedly, I might have oversold the idea that the origin is truly mysterious. It would be more accurate to say that it's somewhat unconventional, as the brand as such was more of a parts manufacturer. It produced a number of relatively inexpensive watches, which were often sold through jewelers and signed with their own name in addition to the Chronographe Suisse name. A number of long-forgotten brands (Dionis, Javil, Lea, Carrol, Galia, and Loyal, to name a few) also sold these chronographs. Often featuring their own names at the 12 o'clock position and the manufacturer's name at six. Comparable to the ubiquitous micro brands of today, these are brands that fell victims to the Quartz Crisis in the '70s, never to return.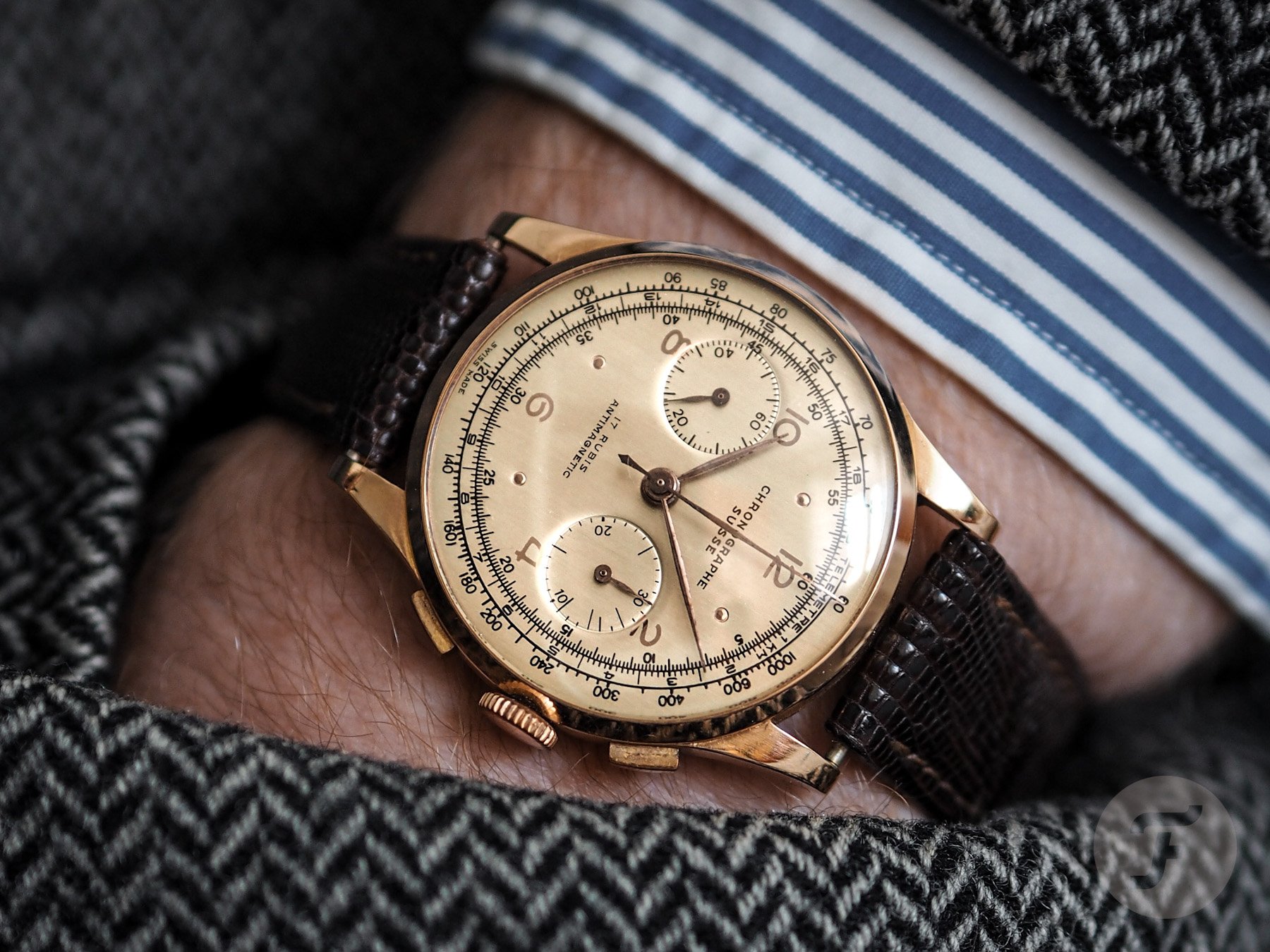 Funnily enough, Chronographe Suisse didn't produce its own movements, which also adds to the confusion. These watches can be found with Landeron, Venus, and Valjoux movements inside. A seemingly never-ending variety of dial designs and hand shapes, coupled with generic and double-signed watches, and between three and four decades of production is a combination that is bound to create a smokescreen around a brand. I find that it's better to think of Chronographe Suisse as a concept, and not a brand. These generic Swiss chronograph watches were often sold in airport lounge stores to tourists visiting the country. Even the name of the brand is more a label of what it is than a true brand name. But somehow, even 50-70 years later, these watches maintain a lot of their charm and charisma.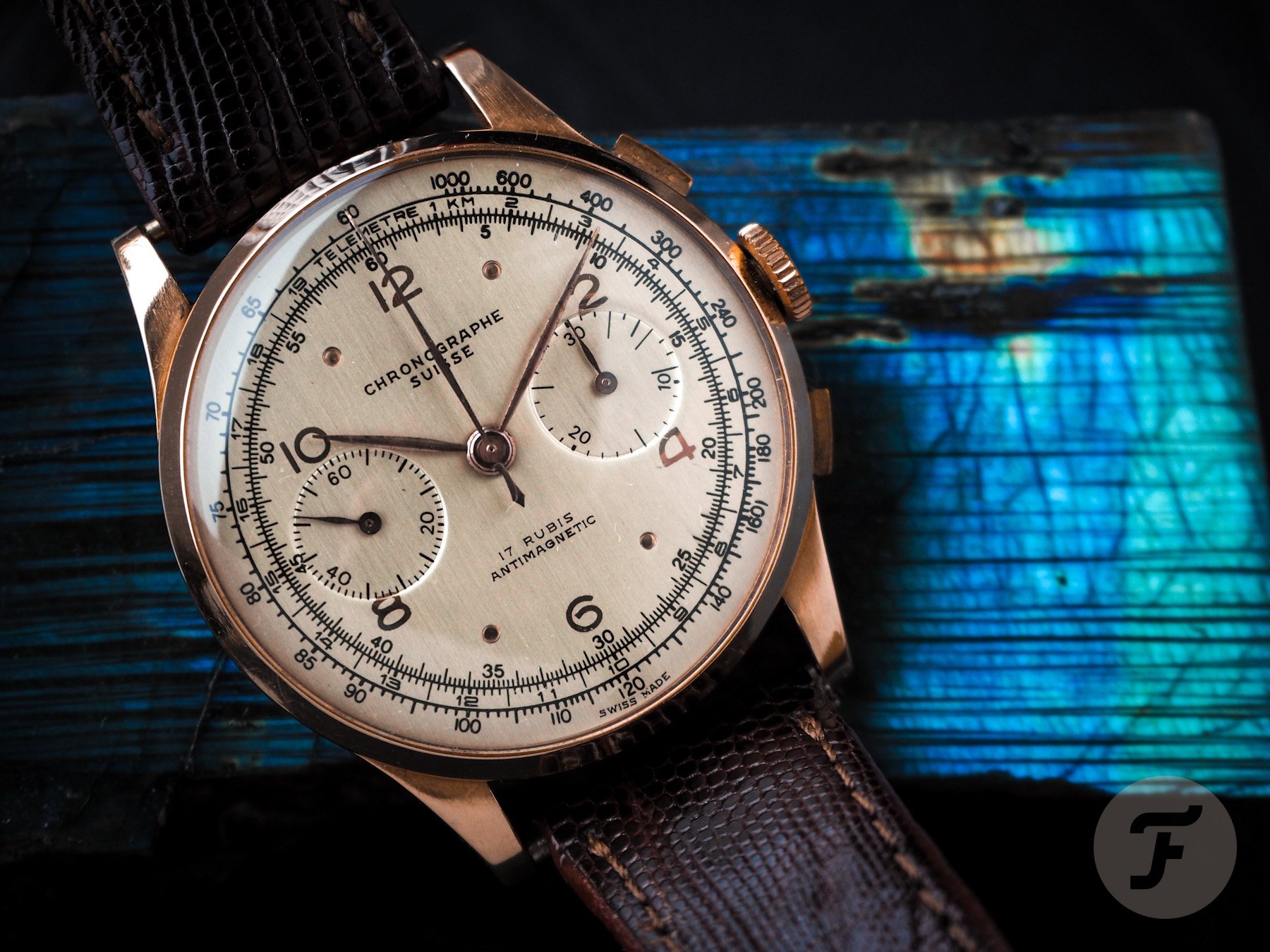 A perfect souvenir
As I already mentioned, these watches were often sold in tourist shops, even in Swiss airports, and likely alongside chocolate — the other famous Swiss export. It's funny to think that Swiss watches were such a popular product that they were produced in such a fashion. In keeping with the quick-and-cheap production style, these watches often came in gold or nickel-plated base-metal cases. Solid stainless steel and even solid 18K gold cases were also produced in a number of styles, offering a full range of options for those looking for a memento of their visit to Switzerland. Despite the fact that these watches were mostly cheap, the decent Swiss workhorse movements inside meant that they were reliable and kept decent time.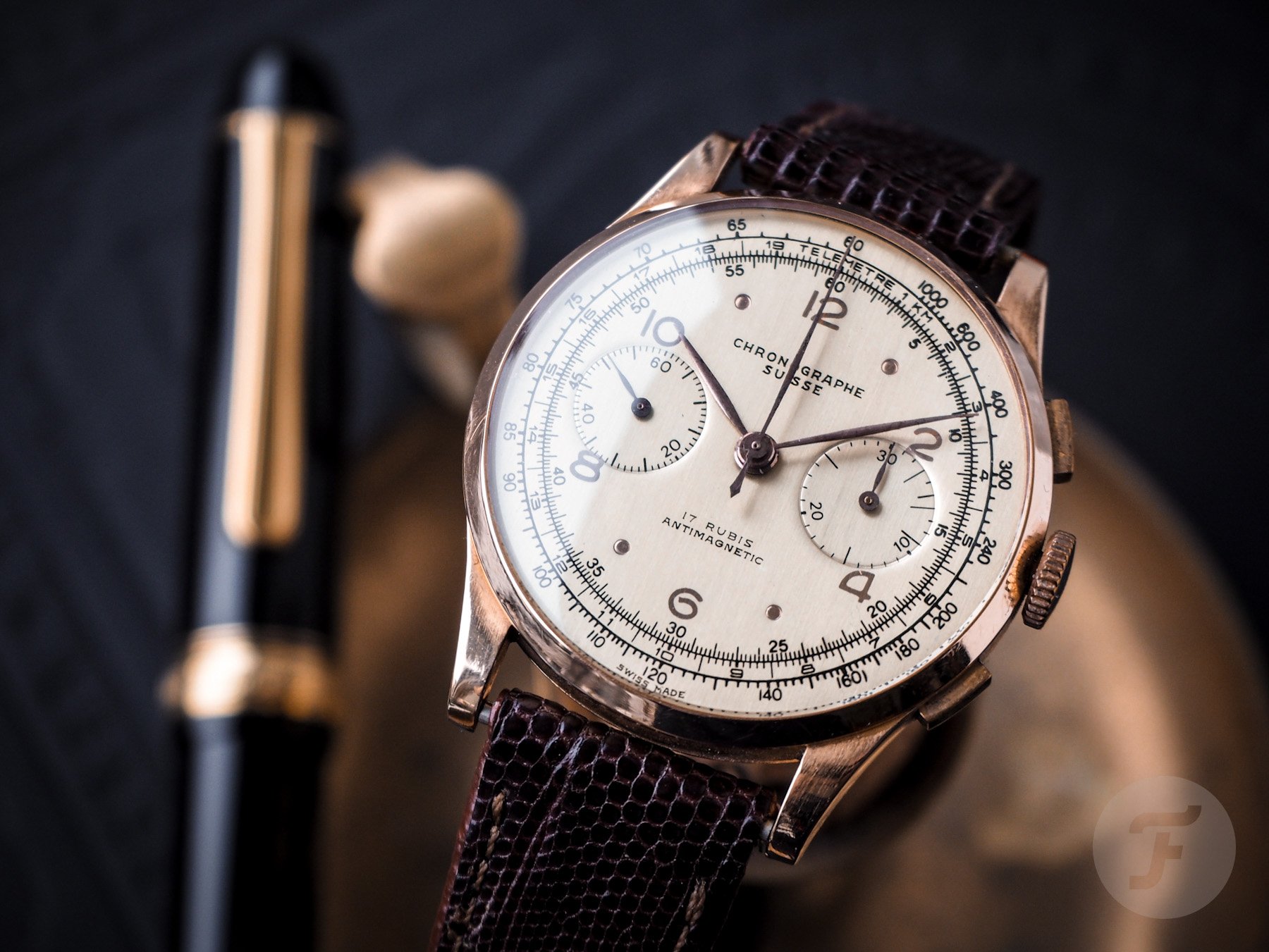 Along with the different case materials, many different styles were available. These ranged in size from 34–38mm. In the case of the 18K gold cases, they were made as thin as possible in an attempt to keep prices low. My personal Chronographe Suisse even has a double case back. It consists of a thin outer shell made of 18k gold, and an inner lid in steel. In some cases, the lugs are said to be hollow. Judging from the considerable dents I have seen on some models up for sale, I'd say that this is likely true. Prices for these watches tend to range from €450–€2,000. The price range includes the nickel and gold plated variants in the €450–€600 range and the solid stainless steel and solid 18K gold-cased models from €650 upwards, depending on condition. One thing is certain, you'll struggle to find two that look exactly alike.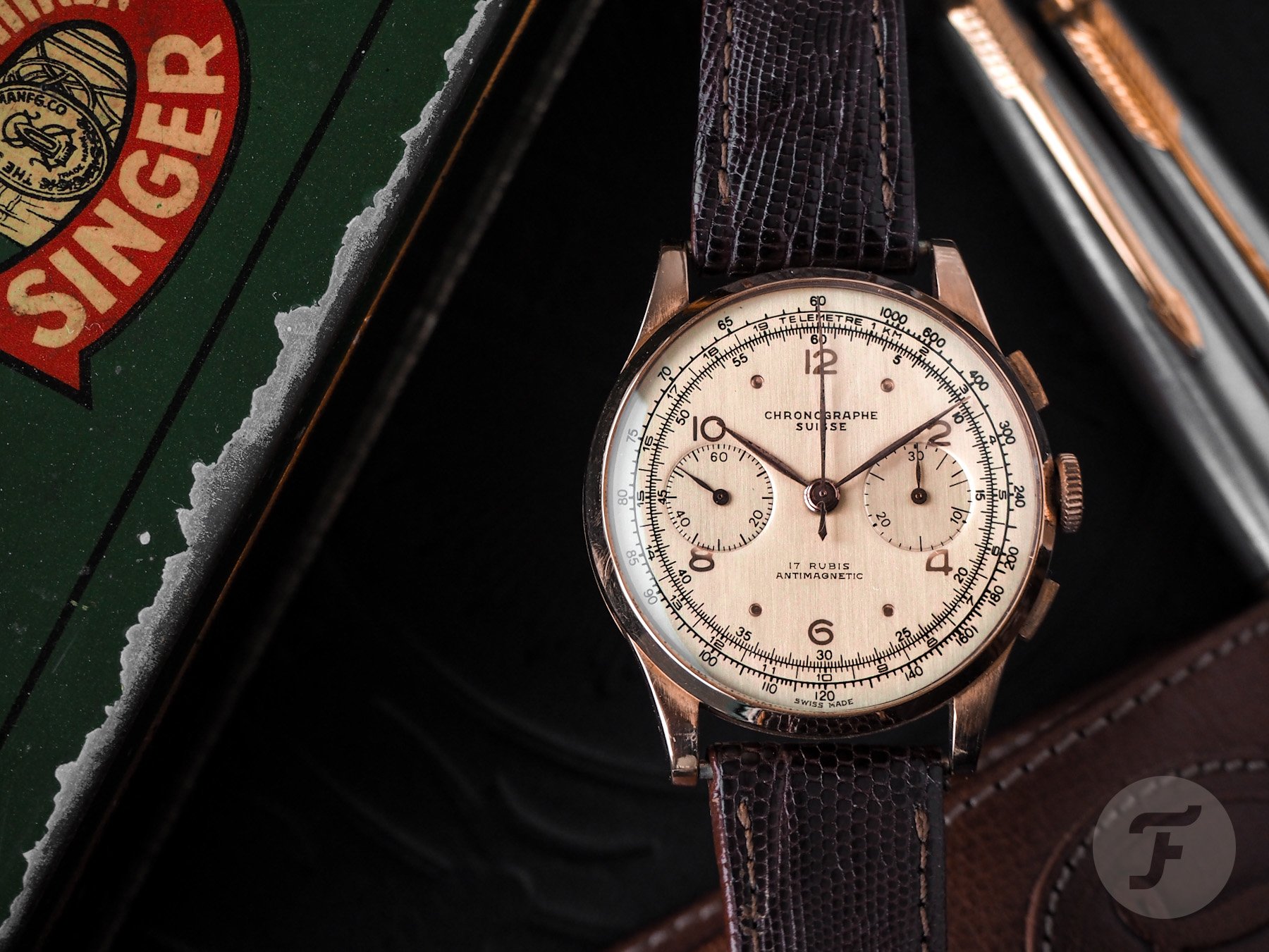 Taking a chance
Now, you may be thinking "this all sounds a bit shady, who would actually buy one of these watches?". Well, as someone who happily owns one of these watches, I can try and make an argument in favor of taking a chance with Chronographe Suisse. What do these "cheap" souvenir watches have going for them? Well, quite a lot as it turns out. Mostly thanks to the fact that even the basic chronograph movements produced by brands such as Landeron, Valjoux, and Venus back in the day, hold up well for today's standards. Plus, especially when it comes to the jumbo solid gold/steel models, what you get for the price is hard to find anywhere else.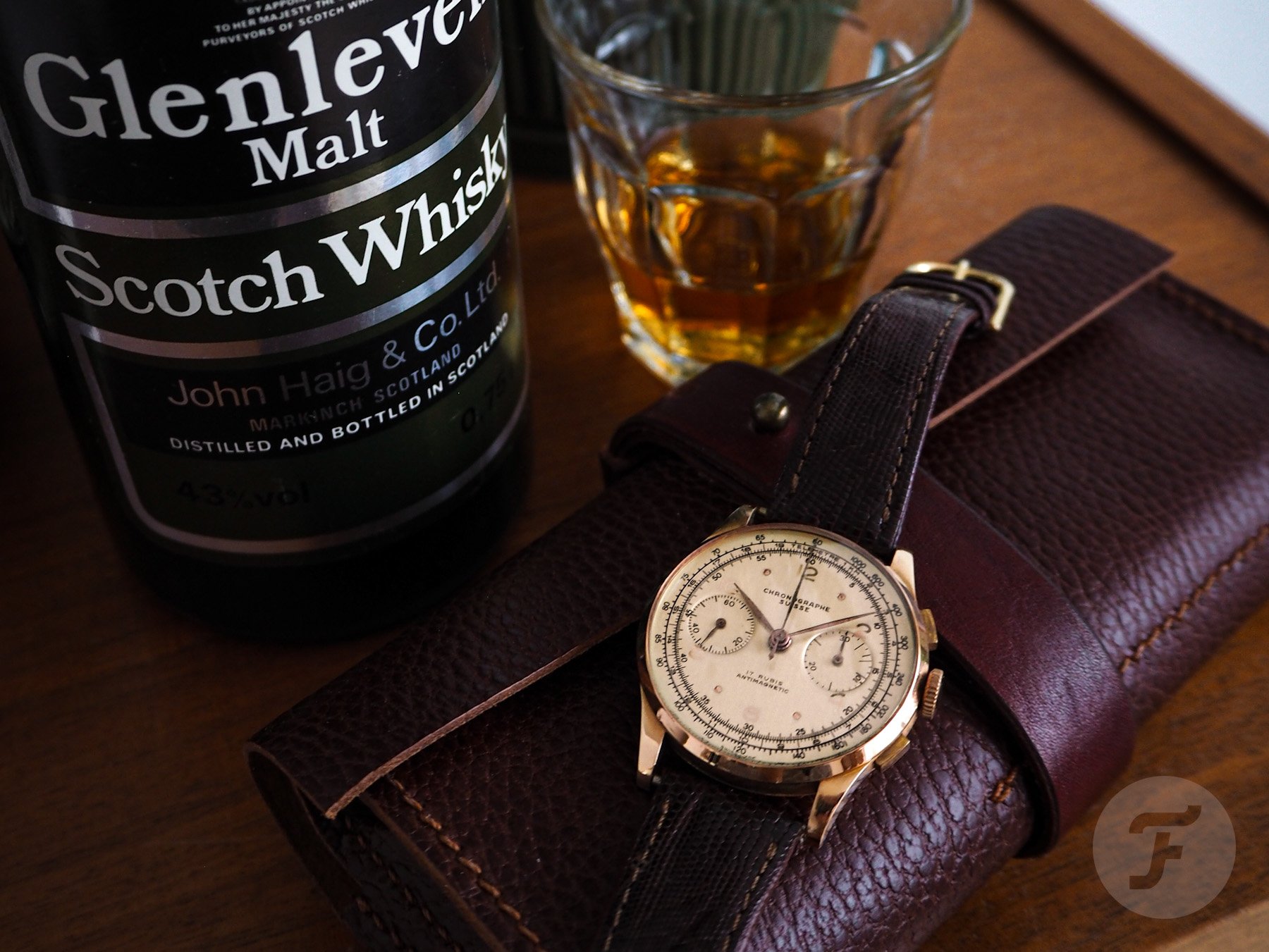 The final "plus" for vintage Chronograph Suisse watches? Well, just look at it! If you're lucky enough to pick one up in great condition, as I did, you'll be the proud owner of a classy vintage watch, and with a 37.5mm case, they wear extremely well. Plus, regardless of thickness, you're still technically wearing a solid gold watch. Their looks are undeniably appealing. Plus, with how many variations are out there, both with additional branding or simply sporting the Chronograph Suisse name, you'll surely find something that appeals to you. Whether it's silver or beautiful black dials, or subtle brushed golden finishes, and even some salmon-colored options. Finally, due to the movements used being fairly standard, even nowadays they are quite serviceable, with plenty of spares available (for watches of their age).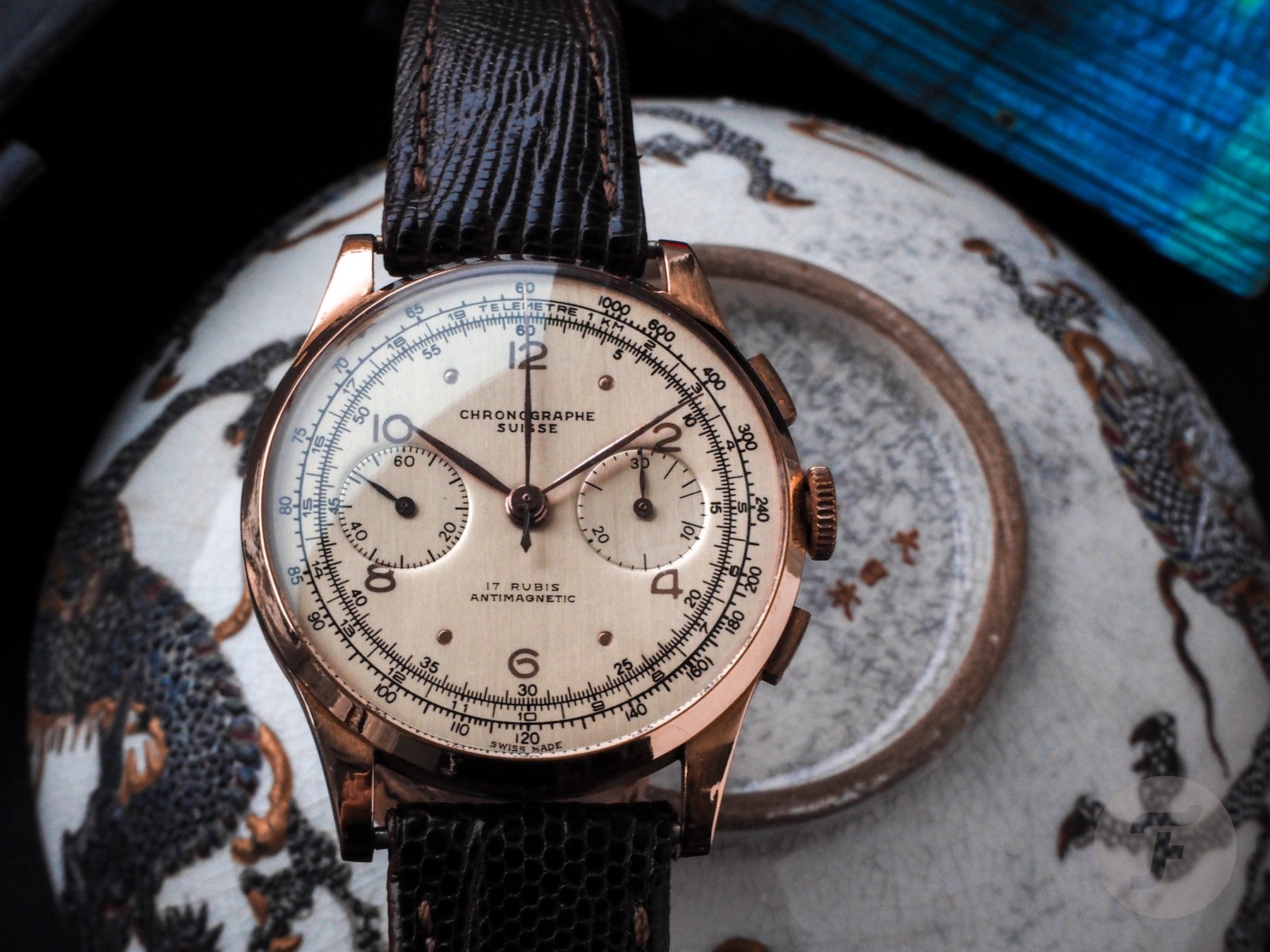 My Chronographe Suisse
You've been staring at it all along, my personal example of a Chronographe Suisse watch. Like much of my collection, I was lucky enough to pick this one up from a seller on eBay Kleinanzeigen for the more-than-reasonable price of €450. My particular example features a 37.5mm 18K rose gold case. Matching rose gold hands, numerals, and indices decorate the brushed yellow-gold colored dial. A telemeter and tachymeter are printed in crisp black text, matching the brand name at the 12 o'clock position. The text "17 Rubis, Antimagnetic" is printed in two lines above 6 o'clock. Subtly recessed sub-dials sit level with the central pinion at the 3 and 9 o'clock positions. If nothing else, this is a well beautifully balanced dial design.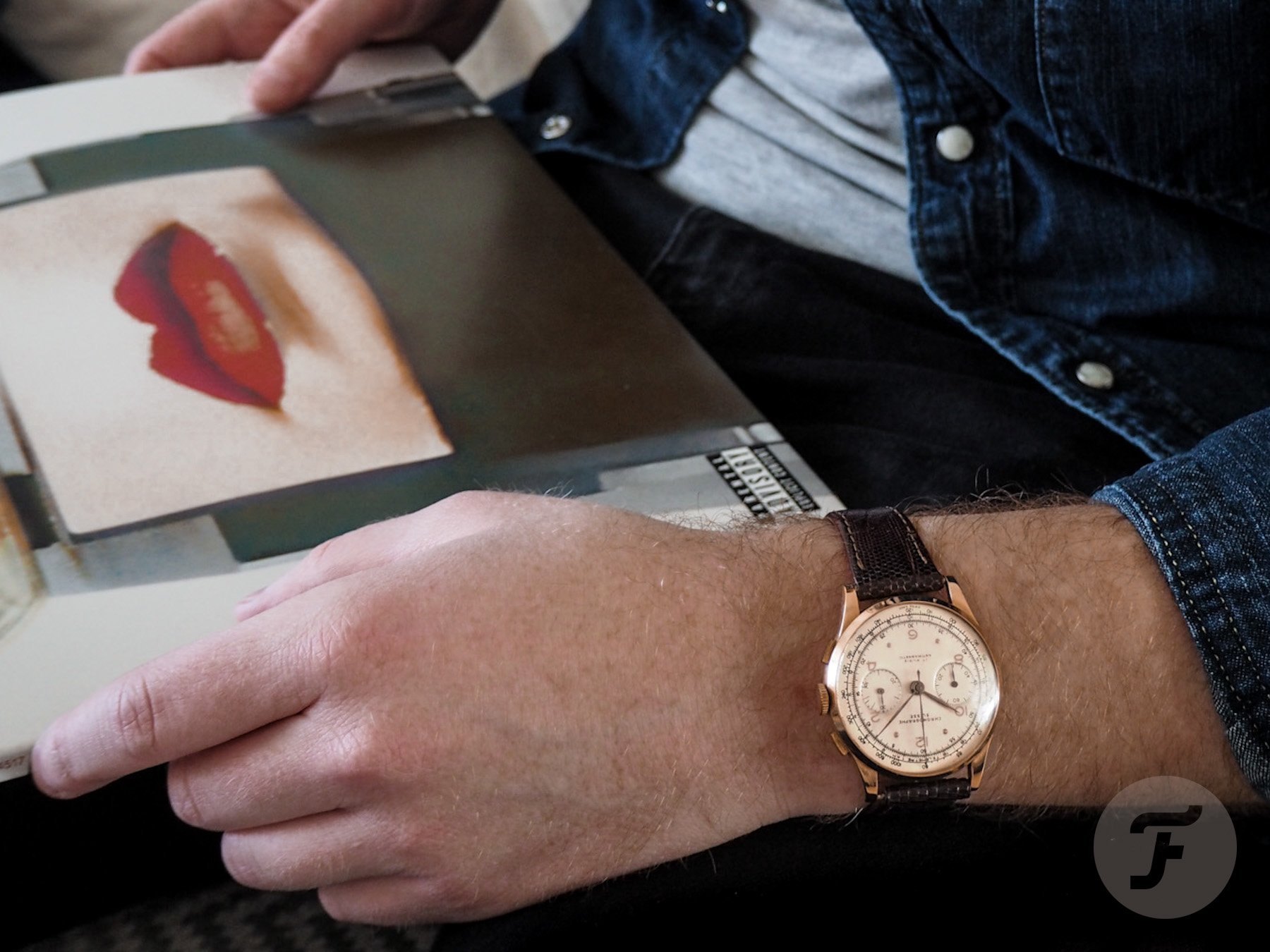 My story with these watches goes way back to my early collecting days. I distinctively remember lusting after a number of Chronographe Suisse watches. The black dial versions always being the most eye-catching. I spent hours on end scrolling through auction sites, studying the different variants available. To me though, the biggest deal-breaker was the hands. As you can see, my personal CS has elegant leaf hands. This was always my favorite shape used by the brand, with their stick-handed models taking a close second. I find that the bigger alpha hands or other more complicated or even lumed variants don't suit the style as well. Plus, often the small hands in the registers didn't match. In most cases a stylistic decision, but one that didn't sit well with my personal preference.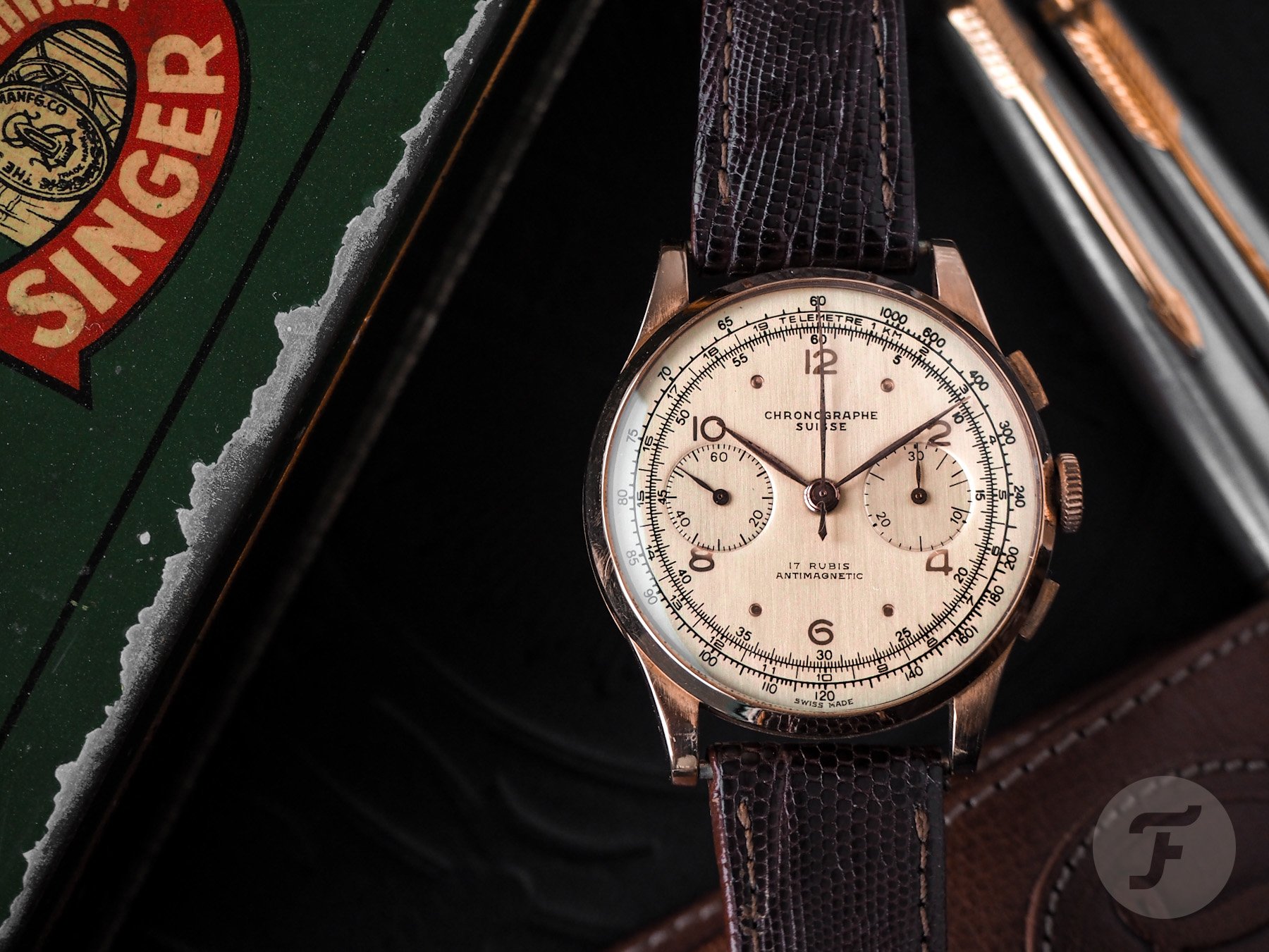 Condition is everything!
I'm not typically one to shy away from taking a chance on a listing with awful pictures. I do feel as though I'm able to peer through the unbelievably blurry and pixelated photographs and identify something worth buying, but it might have simply been blind luck so far. In this case, luck was certainly on my side. The condition of this watch is definitely not new-old-stock, but you certainly wouldn't think that it's over 60 years old. The dial is crisp and clean, without a trace of dust, corrosion, or oxidation.  The case, for being made of soft 18K gold, has held up nicely, with only a bump or two and some fine scratches on the polished bezel. However, these are all small things that can be forgiven, and that are easy to forget. After all, we don't all walk around with loupes stuck to our eyes.

Something that I haven't yet seen is this watch's movement. I learned the hard way a long time ago not to open up watches of this age myself. So, for now, I won't be showing the heart of my Chronographe Suisse. However, once I get it serviced, I'll be sure to tag along and get some pictures of the lovely vintage Chronographe movement inside and report back to the Fratelli. I do believe that inside is a Landeron 48. A 17-jewel movement beating at 18,000 Vph with a 41-hour power reserve. Of course, this is just an educated guess, for now.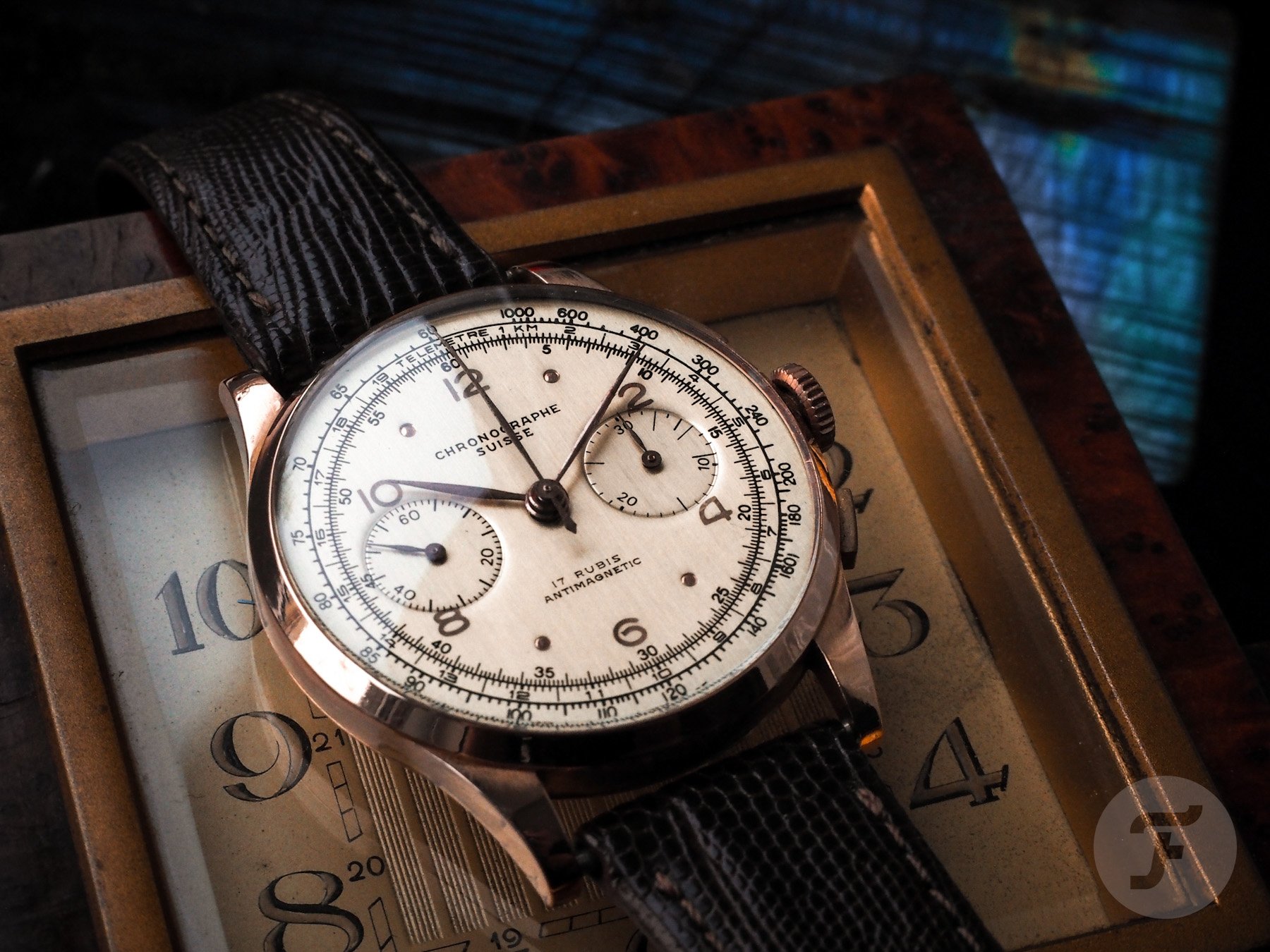 A strong case
An element of these watches that doesn't get as much attention as I feel it deserves is the case shape used. Yes, there are a number of different cases and models out there. But most of them seem to use the "standard" Chronographe Suisse case that you see in my example pictured above. It's simple yet recognizable, and very effective. The not-too-thin bezel slopes down to the thin brushed sides of the case, which elegantly follow the line down to the lugs, which are substantial and well-shaped. The big flat crown is flanked on either side by block pushers that emerge directly from the case. When you flip it over, you'll find a large domed case back with a greatly exaggerated 18k gold hallmark. Nothing subtle here, but it does put a smile on my face, as does the 20mm lug width!

As you can see, the strap on my example is a rather old brown lizard leather strap. I haven't yet changed it as it does suit the watch, but it is admittedly a bit too small for the lugs. Speaking of lugs, most. (If not all) of these watches have male lugs. This means that, where most watches have a small hole in the lug into which the spring-bar's point fits, the Chronographe Suisse has protrusions on the inside of the lugs. It therefore requires female spring bars. These are available online but are a bit of a pain to swap out. Patience and a steady hand are your friends when swapping out straps on one of these watches. Despite the fact that the thickness of the gold might leave you wanting more, the shape and design are definitely well executed.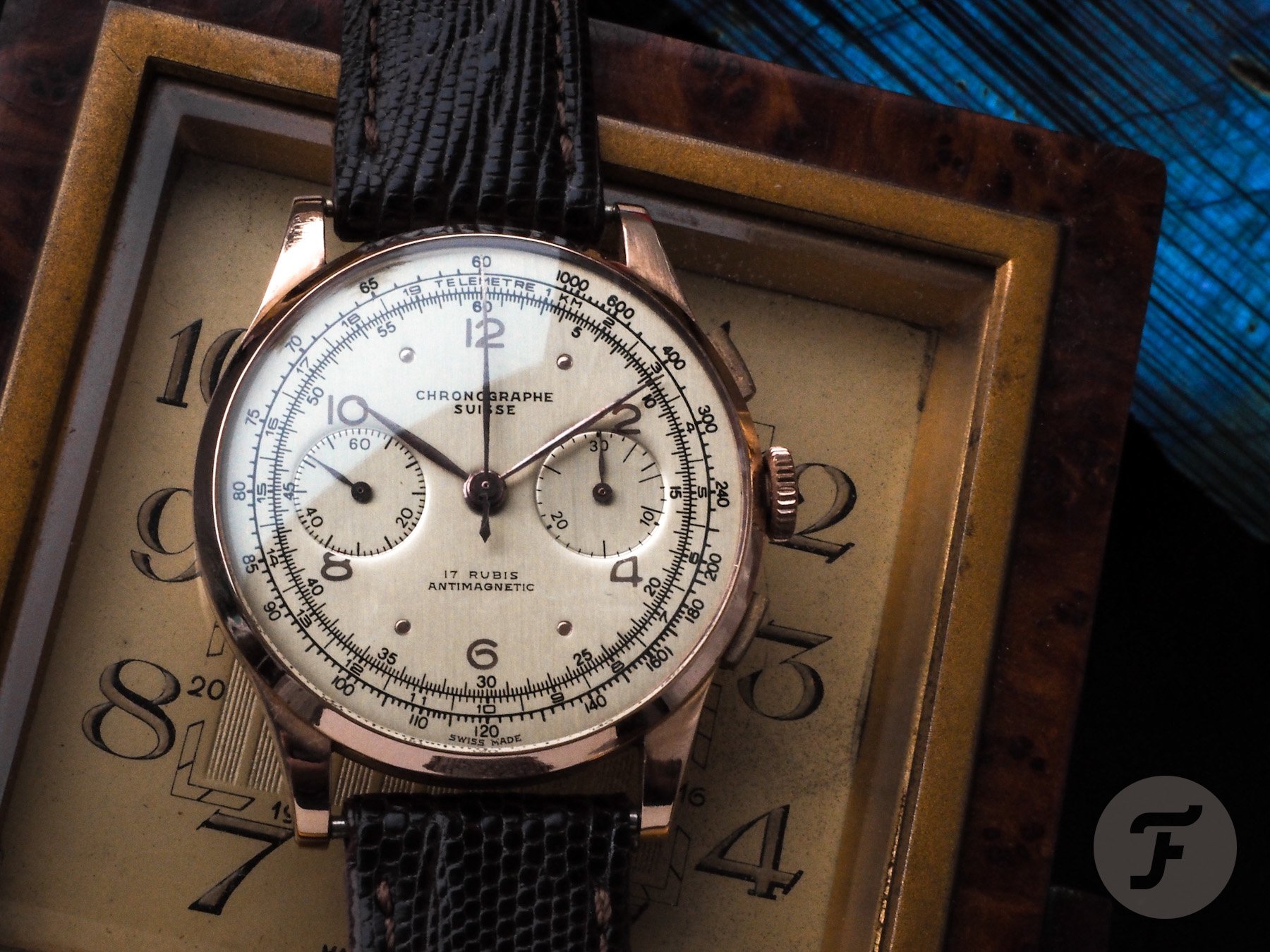 Final Thoughts
To end, I wanted to share a gallery that shows some of my favorite Chronographe Suisse models. You'll be able to appreciate the extreme variety of watches produced over the years, from the basic to the stunning; from base metal to solid gold; from salmon to black dials. Sure, if these watches had Omega, Rolex, Breitling, or even Tissot on the dial they would be far more exciting, but the price would also be three to five times as much. The key thing here is to have fun. And when it comes to dressy vintage chronographs, it doesn't get much better than Chronographe Suisse. If you do decide to find one of your own, do be careful. These watches were not often given the same level of care as their pricier contemporaries. This means that there are many broken or franken-watches out there.
What are your thoughts on these wonderful vintage chronographs? Do you own one? Let me know about your experience with the brand in the comments below.
Follow me on Instagram @ncgwatches