Introducing The Citizen Ambiluna EM100 Series — Marking 10 Years Of The Sustainable Citizen L Ladies Collection
Highlighting green credentials with the new Air, Earth, and Fire models
Citizen has released a new ethical watch series in its sustainable-concept women's collection, Citizen L. The Ambiluna EM100 boasts light-powered Eco-Drive technology, lab-grown ethical diamonds, and knitted fabric straps made of recycled ECOPET material. The three new EM100 models take inspiration for their design themes from the universal elements of Air, Earth, and Fire. The Fire model is a limited edition to celebrate the 10th anniversary of Citizen L.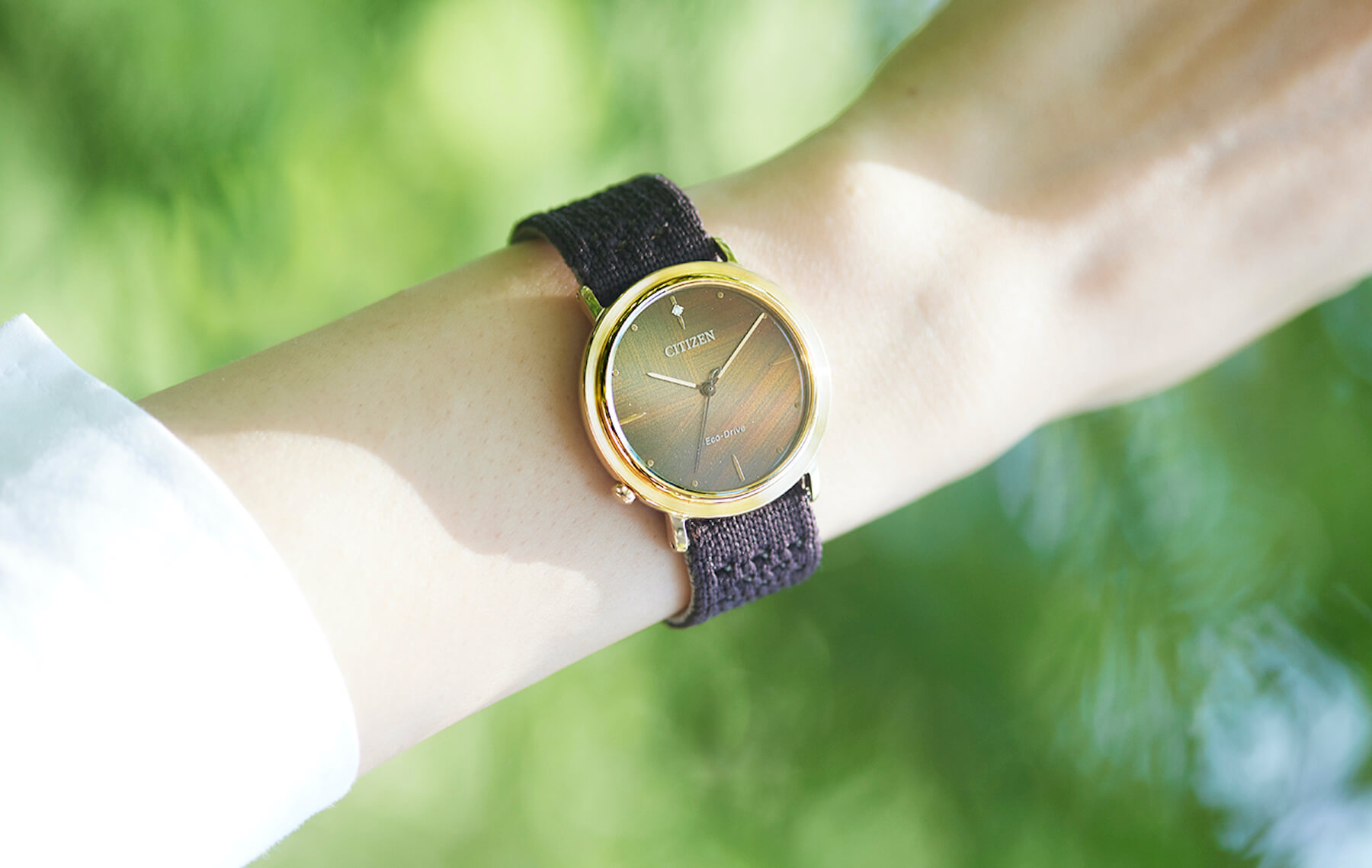 At one with nature
Citizen L is a collection that has been touting sustainable manufacturing ever since the introduction of the Ambiluna line in 2016. Calling it "a new style of luxury watch", the Japanese giant says the backbone of the Ambiluna is fusing style with respect for the planet and people. With a name combining the prefix "ambi" of "ambient" and "luna" for the moon, it seems fitting that the Ambiluna EM100 series aims to sync us with nature.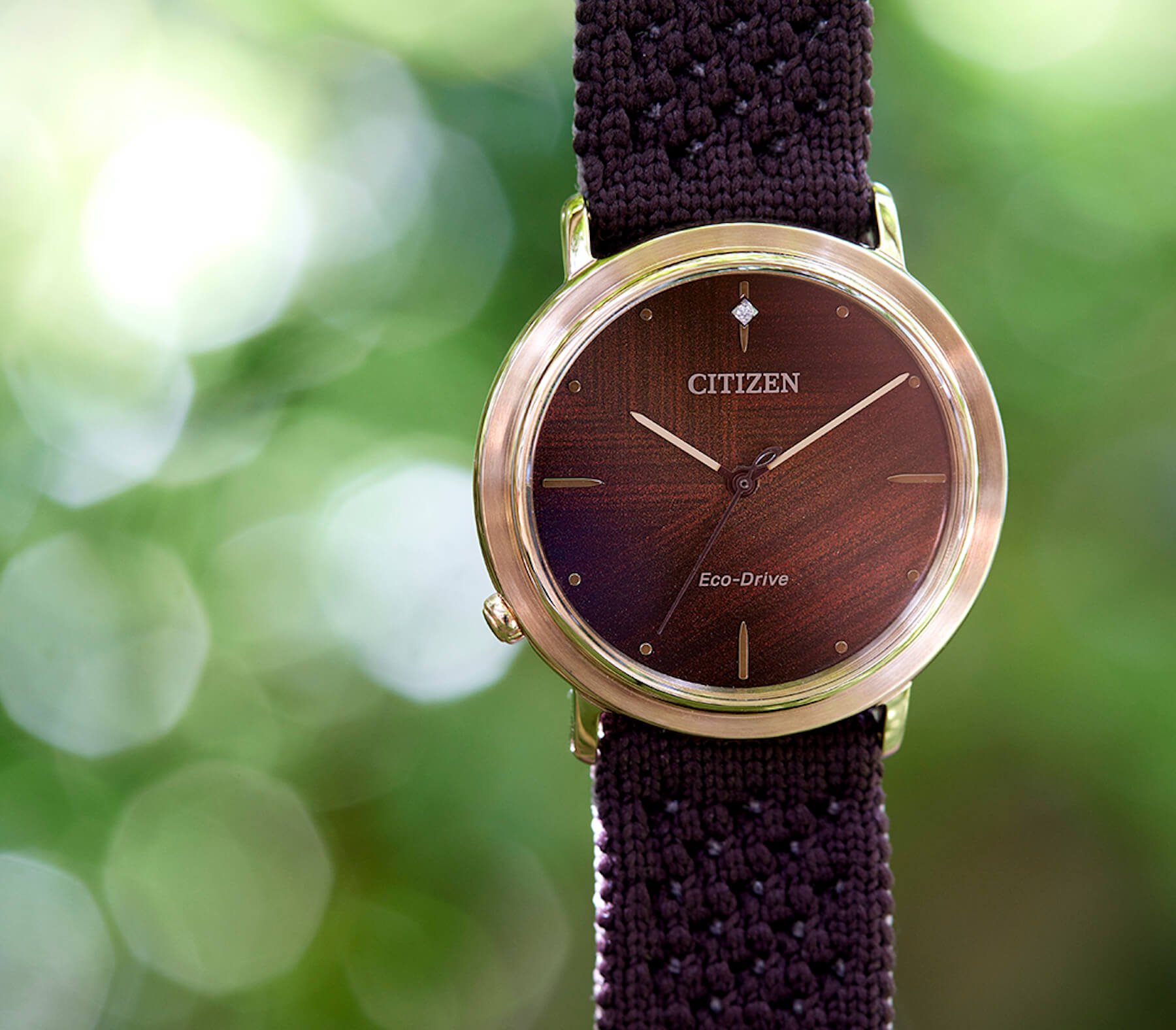 Biomimicry
To achieve that, Citizen solicited the help of biologist Dr. Shin-Ichi Fukuoka to supervise the design process for the three new models. The purpose of it was to incorporate biomimicry into the creation. By infusing natural beauty and structures of living things into designs, Citizen believes it can make watches better and more organic. The result is the Ambiluna EM100 that delivers both aesthetical appeal and wearing comfort.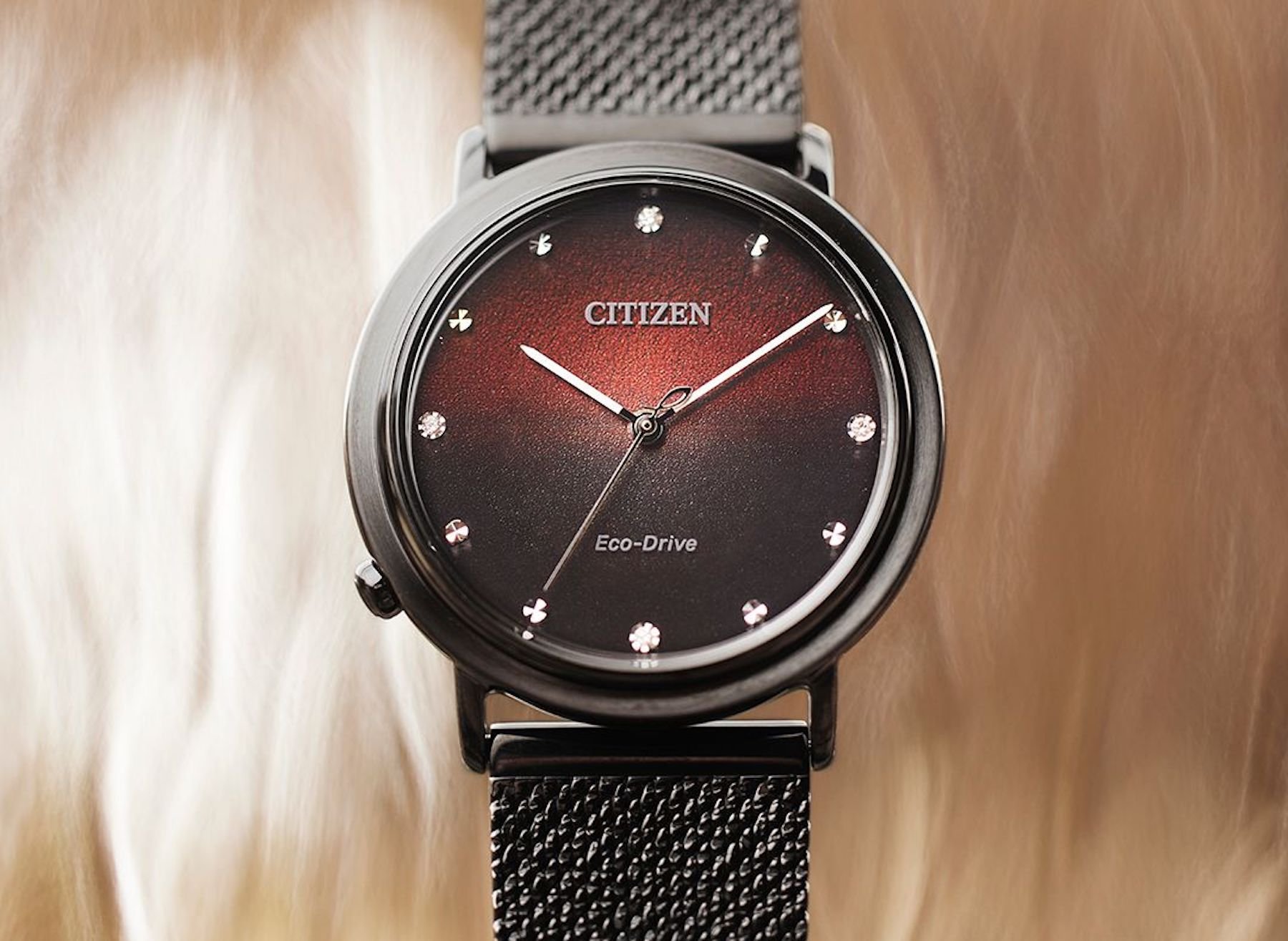 Structural colors
For the three new Ambiluna models, biomimicry takes the form of structural colors that are found in nature. Citizen has used an innovative structural-color ink developed by Fujifilm Corporation. The ink produces the phenomenon of structural (non-pigmentary) coloration seen on certain insects and animal species such as Morpho butterfly wings and peacock feathers.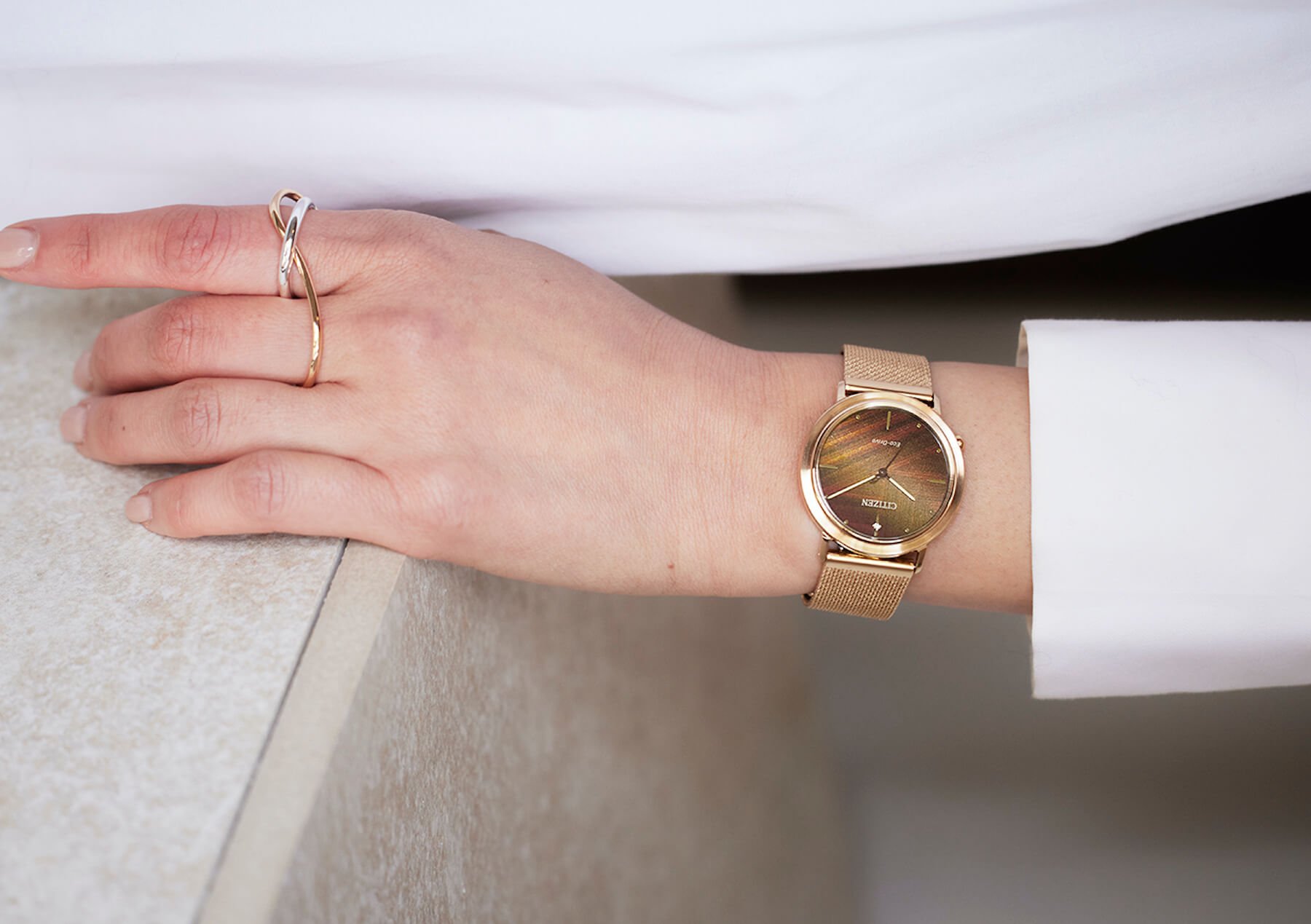 Innovative ink
As such, the colors on the EM100 watch dials do not come from conventional pigments. They only appear when light shines on the microstructures of the ink, which reflects specific wavelengths of light, thereby producing dazzling iridescence on the dials. Citizen jointly developed these dials with Fujifilm by using this novel ink for the first time in watchmaking.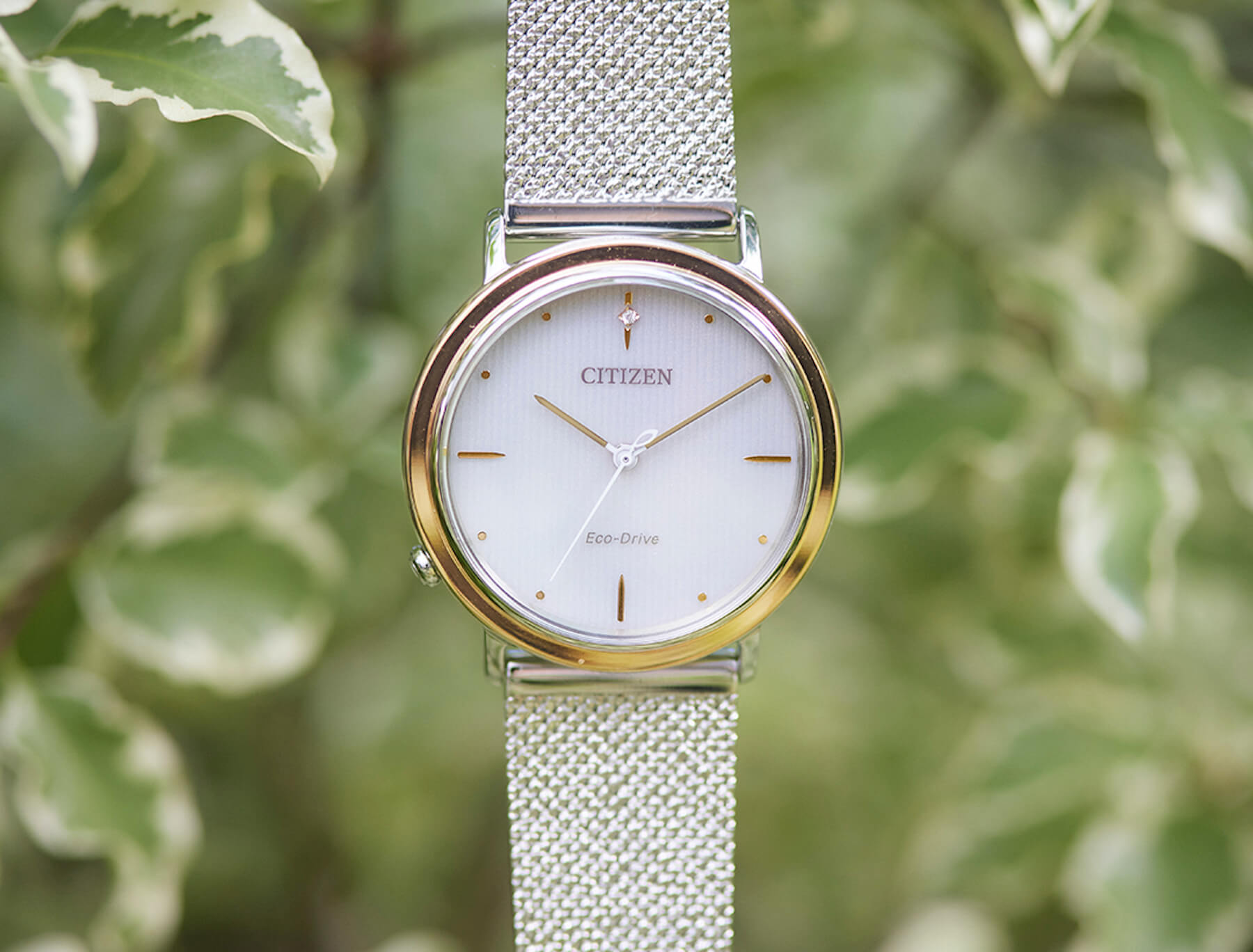 Air, Earth, and Fire
The time-only dials are currently available in three different colorways for Europe. The Air model features a shimmery opaline face with subtle vertical stripes and a diamond marker at 12 o'clock. Its two-tone stainless steel case is fitted with a beige knitted strap. The Earth model features a brown dial with geometric lines and also a diamond marker at 12 o'clock. Its rose-gold-tone stainless steel case is styled with a brown knitted strap. The limited-edition Fire model features a grain-like black and red dial. At 3, 6, 9, and 12 o'clock are four diamond markers, while a gold index sits at 10 o'clock to mark the collection's 10th anniversary. The black stainless steel case is matched with a black knitted strap.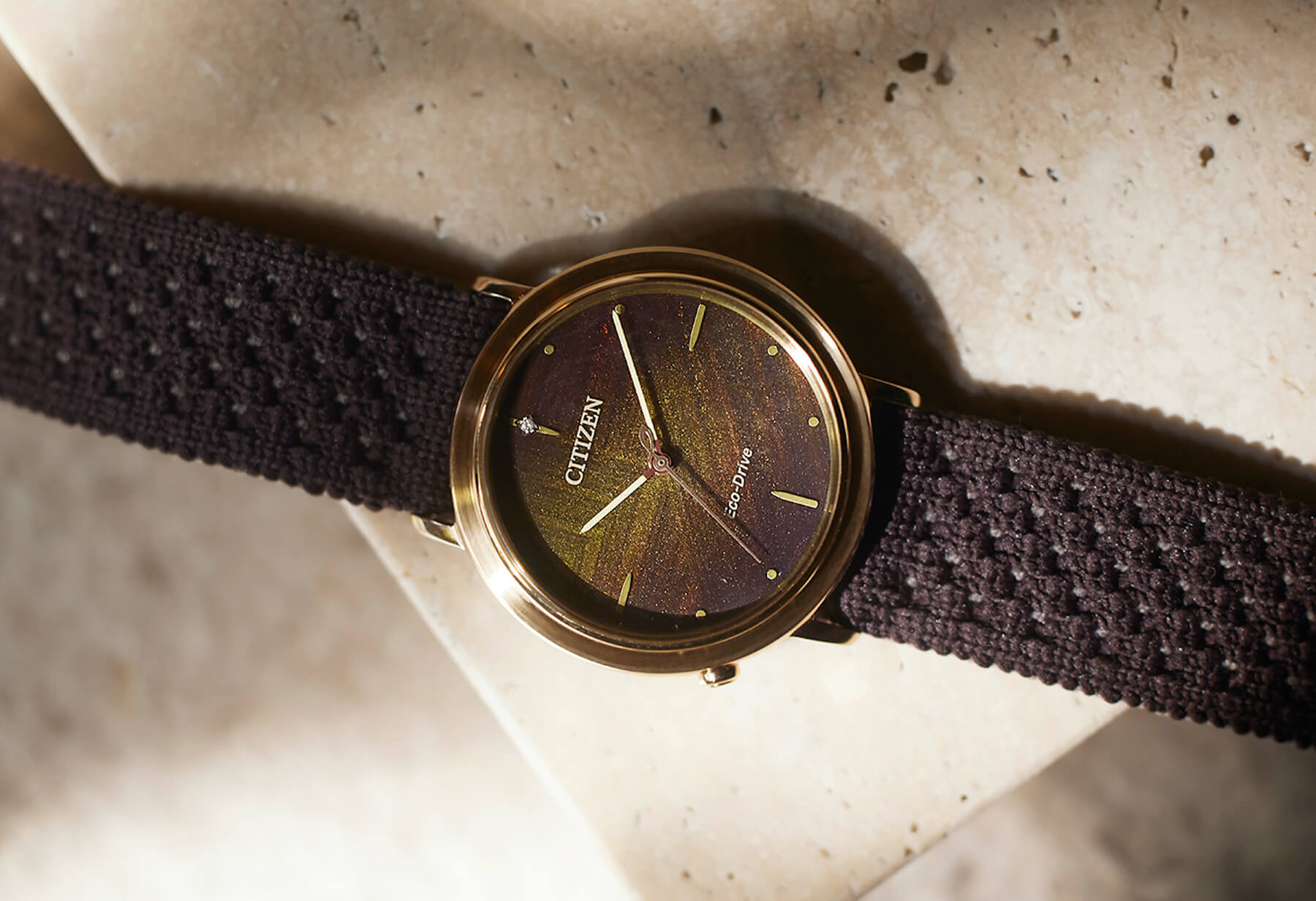 Eco-friendly materials
The knitted straps are made from a polyester-woven textile called ECOPET. The ultra-lightweight fabric is upcycled from clothing and plastic-bottle waste. ECOPET promises reduced CO2 emissions while offering superior stretch and durability. The material is then knitted into straps using the seam-free WHOLEGARMENT method, a third-party proprietary technology that minimizes the amount of yarn used. The ECOPET straps are breathable, hand-washable, and adjustable for any wrist size.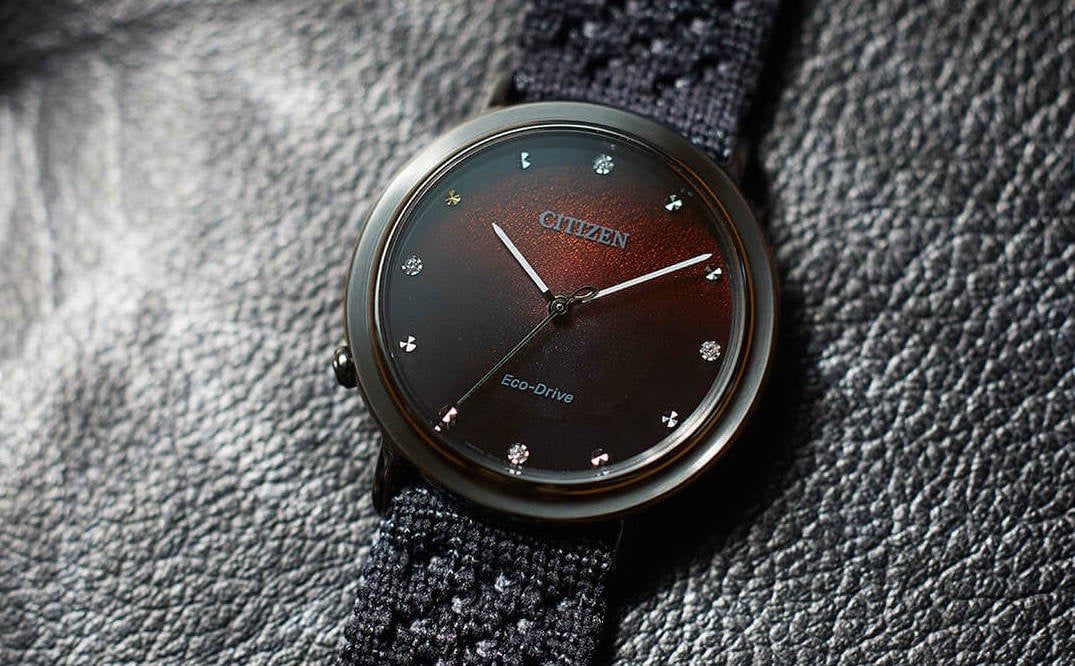 Artificial sapphire and diamonds
In addition, each model comes with an interchangeable mesh bracelet in a matching metal tone. All three models share the same case shape, measuring 34.0mm in diameter and 7.1mm thick. As such, they also share an uncommon crown placement at 8 o'clock. On the EM100 dials, all diamonds used are lab-grown, ethical, and in a round brilliant cut. Sealing off each dial is sapphire glass, which is an artificial glass as hard as natural sapphire with 0% impurities and outstanding longevity.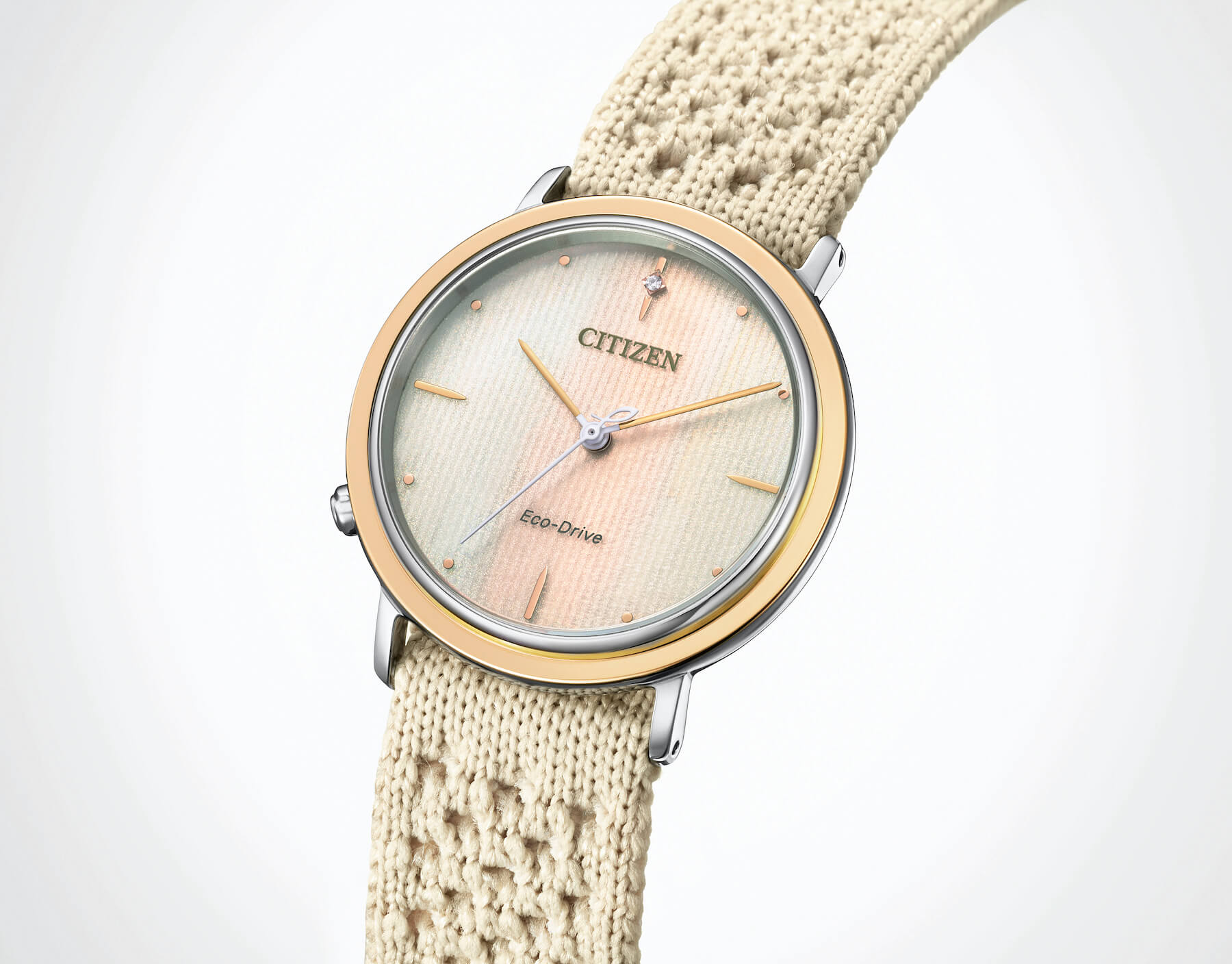 Eco-Drive
Within Citizen's collection, the Ambiluna is billed for leveraging the brand's proprietary Eco-Drive technology. Thus, the Ambiluna EM100 series uses natural and/or artificial light sources to power the analog-quartz movement, forsaking the need to replace the battery. This Eco-Drive Caliber E031 can run continuously and sustainably as long as it is exposed to light. It provides six months of power reserve on a full charge.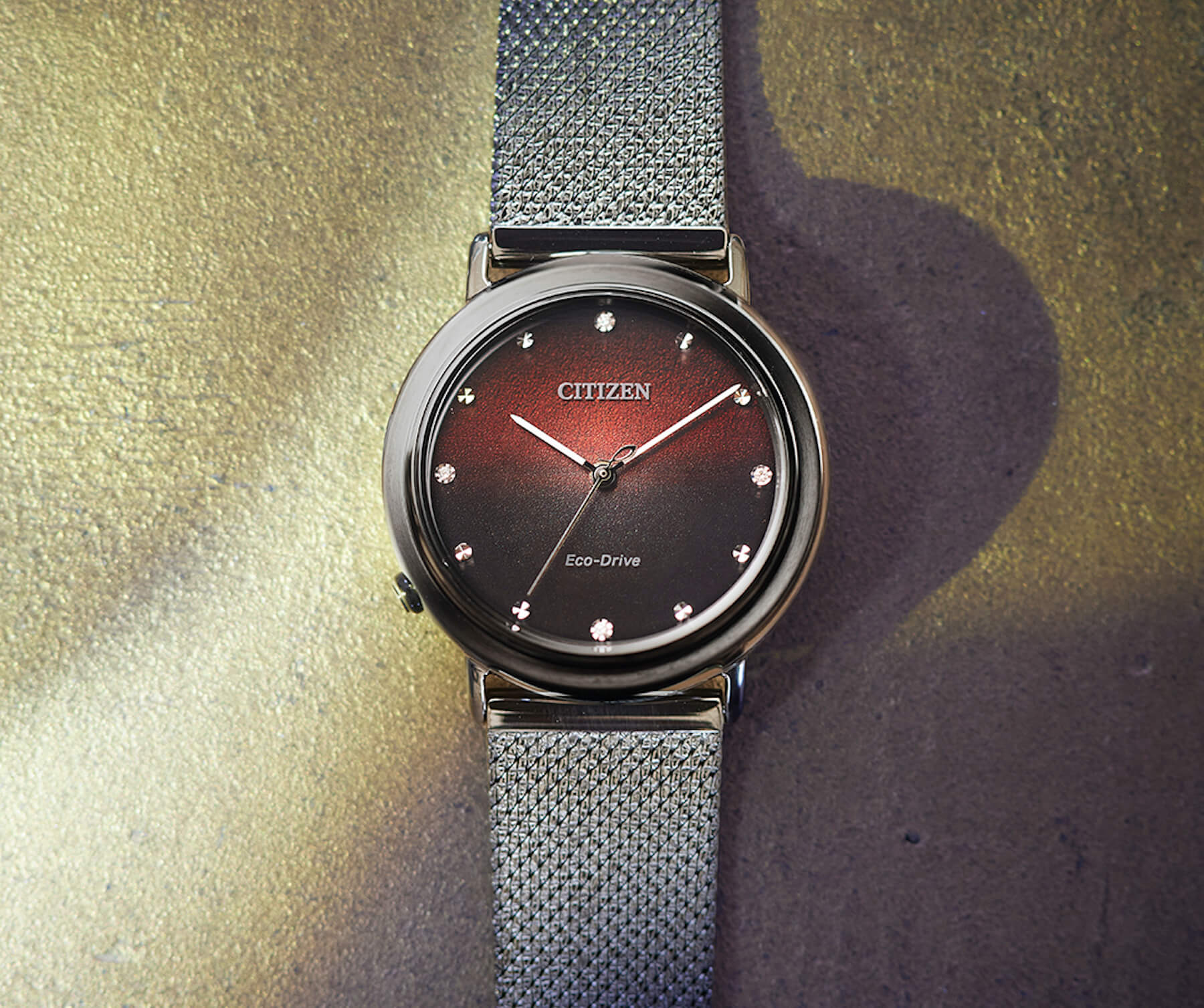 Sustainable manufacturing
Citizen is conscious of its ethical responsibilities. The group strives to model its operating approach on the United Nations' Sustainable Development Goals in order to transform into a greener company. The group has also published an open manifesto on the Citizen website to demonstrate its commitment. Specifically, the Citizen L collection is the foreground of trialing new materials, new manufacturing methods, sustainable sourcing, as well as environmentally-friendly endeavors. In line with its transparency pledge, Citizen shares that each EM100 model has a footprint of 8.4kg of CO2 emissions.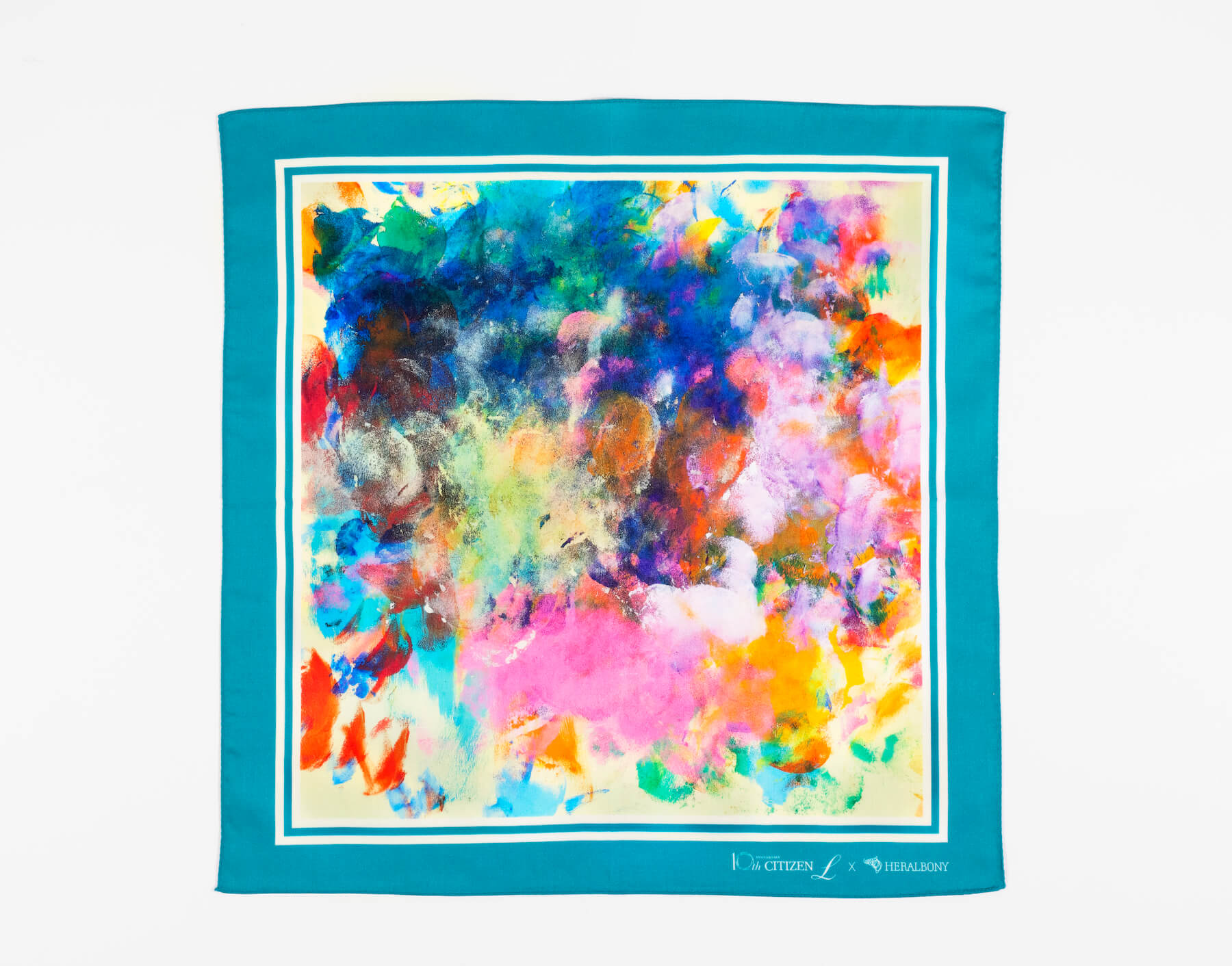 The HERALBONY collaboration
Last but not least, for the limited-edition Fire model, each of the 1,050 pieces is accompanied by a scarf with a "Samba" print. This print is a painting by Momoko Eguchi, inspired by the beauty and heartbeat of nature. The artwork comes from HERALBONY, an experimental art brand featuring works by artists with intellectual disabilities and living in care facilities across Japan. Citizen has teamed up with HERALBONY to help empower these exceptional individuals.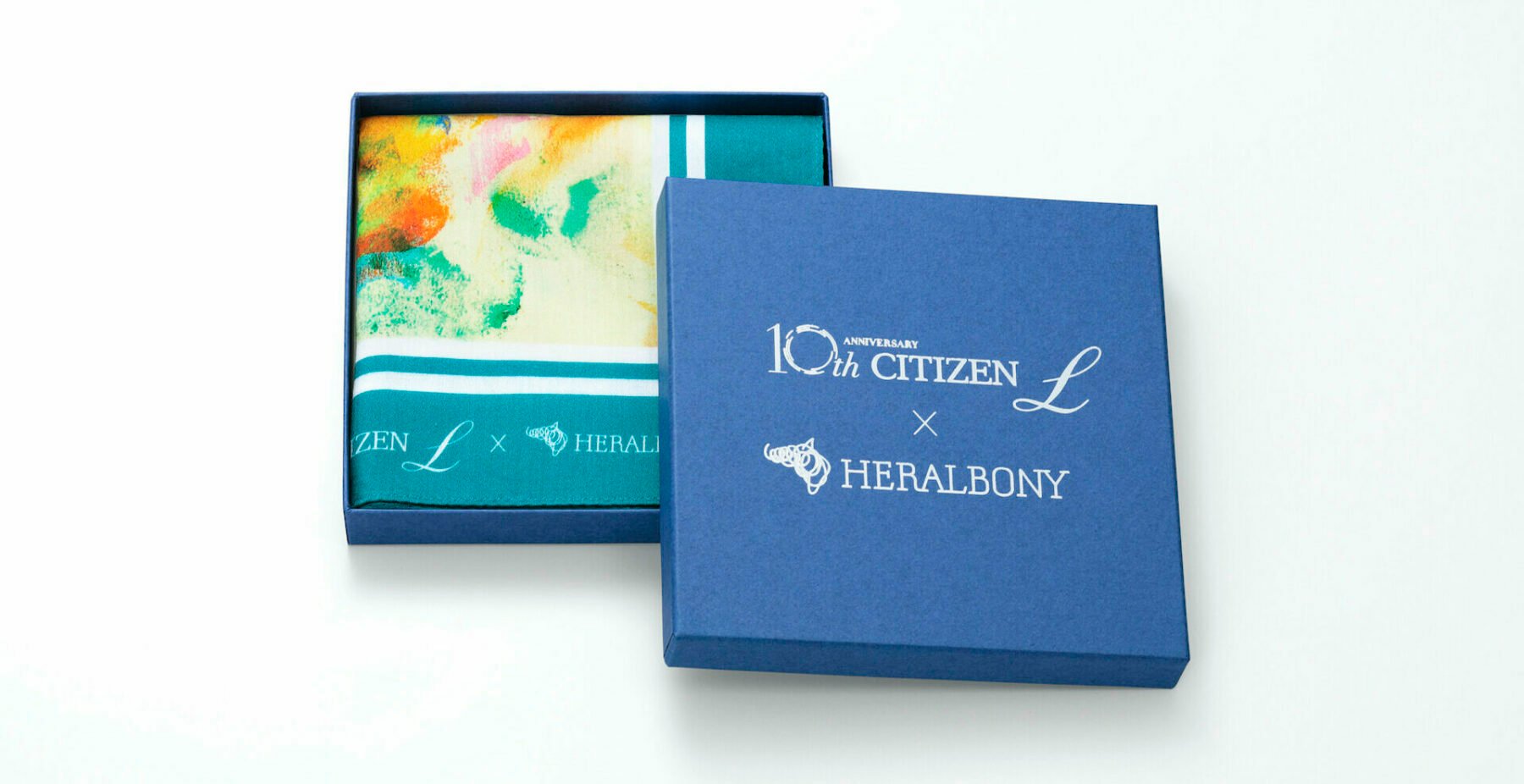 The offers
The Ambiluna Fire Limited Edition (EM1007-47E) is available in Europe for €399. The Air (EM1006-40A) and Earth (EM1003-48X) models retail for €329 and €349 respectively. For more details, please visit Citizen Europe's official website.
This is a preferred-position post. Learn more.