Hands-on With The White Gold Citizen Caliber 0100
A world's first accuracy of ±1 second per year
Limited to 100 pieces in white gold (and another 700 in titanium), Citizen brings us their 'Caliber 0100' (marketed as 'The Citizen' in Japan) with an accuracy of just +/- 1 second per year, without relying on data from satellites or being radio controlled.
This year, Citizen took us by surprise and introduced something 'high-end' to us. And not even mechanical, but a quartz powered watch. Although the world of watch enthusiasts mainly revolves about mechanical watches, there's also an audience that aims for the best accuracy possible. Even quartz watches have to deal with a deviation, which is where radio controlled and GPS connected watches come in place, to correct the time on a quartz watch accordingly. But, of course, there's also such thing as a high-end quartz watch, that is able to provide better accuracy than the low-cost quartz movements you'll basically find in any cheap watch.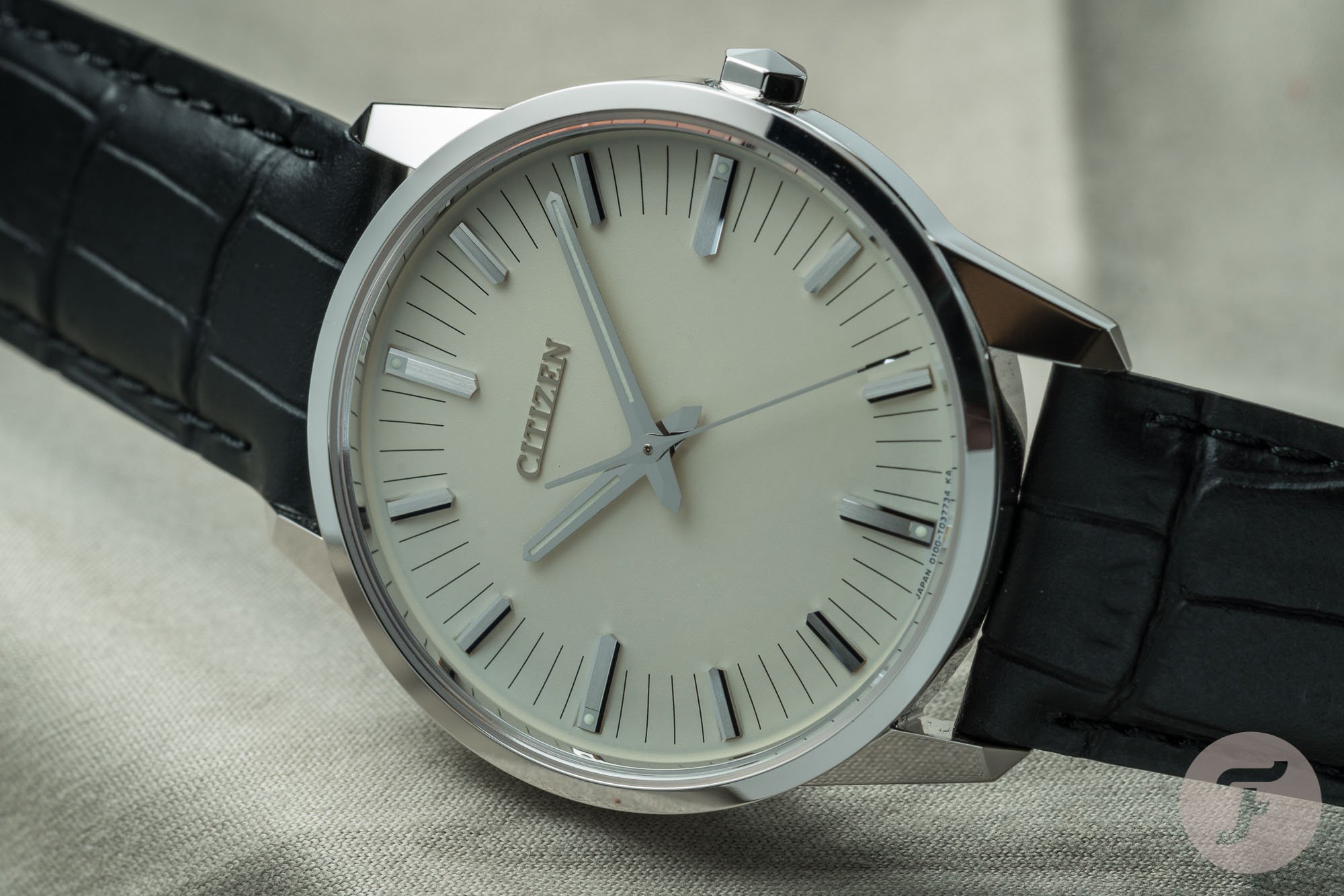 Citizen Caliber 0100
Citizen is not the first to have a special high accuracy quartz movement. Brands like Breitling, Grand Seiko, Cartier and even FP Journe have high accuracy quartz movements in their collection(s). Citizen, however, is able to promise a max. deviation of +- 1 second per year with their new Caliber 0100 watch.
The Citizen Caliber 0100 is limited to 100 pieces and only available in white gold. You could say it is some kind of special edition or tribute, to celebrate this new movement. Besides the white gold version with reference numberAQ6010-06A, Citizen also introduces this Caliber 0100 movement in two titanium watches (AQ6021-51E / AQ6020-53X). Also limited editions, but with more pieces available and at a lower price.
Case and Dial
With a case diameter of just 37.5mm and a thickness of 9.1mm, this watch is not for everyone. That said, it suited me well on my 18cm wrist and with its round shape and croco strap I would label it as a dress watch for sure. The case is made of 18-carat white gold and so is the clasp that comes with the leather strap. On the case, we also find a white gold setting crown in the shape of a crystal. According to Citizen, it stands for precision and crystallization of their technologies. But most important, it is just a very nice looking crown.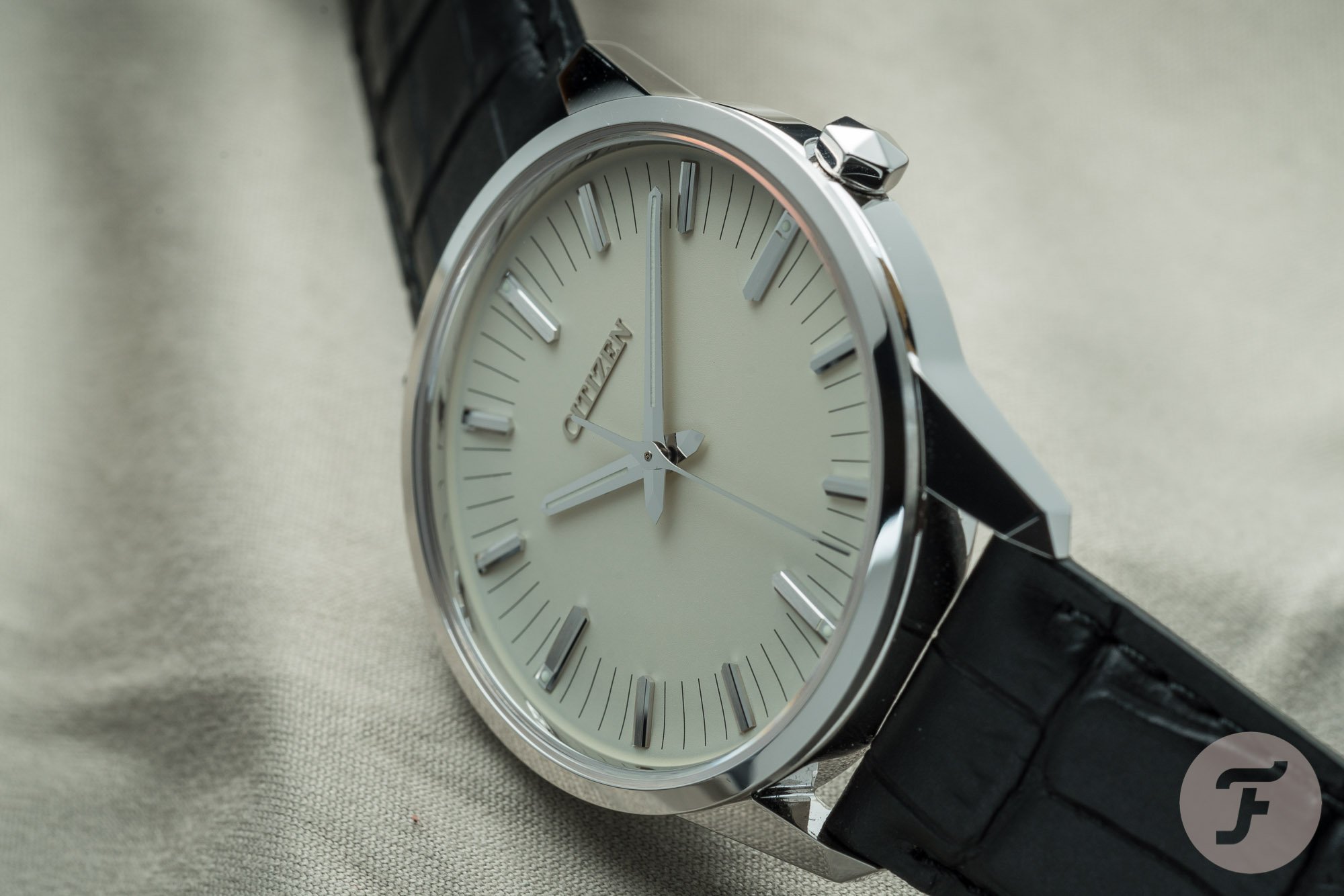 The ivory dial ensures that the high polished markers and hands give an amazing contrast. A precise alignment can be found of the second hand with each of the 60 indexes on the dial when viewed from the front. The hand makes the perfect stop right above the marker. It always kinda annoyed me when expensive watches with quartz movements do not have this, but the Citizen Caliber 0100 demonstrates it is can be done perfectly.
As you can see, the hour markers have polished sides and satin brushed surface on top. The hands have polished facets as well and the second hand is slightly curved towards the end. The hands are filled with lume and so are the markers at 12, 3, 6 and 9 o'clock. This three-hands watch has no date, giving it a super clean look. The Citizen logo is applied and positioned at 12 o'clock. No further printing on the dial, only a small reference to Japan and the caliber number below the 6 o'clock hour marker.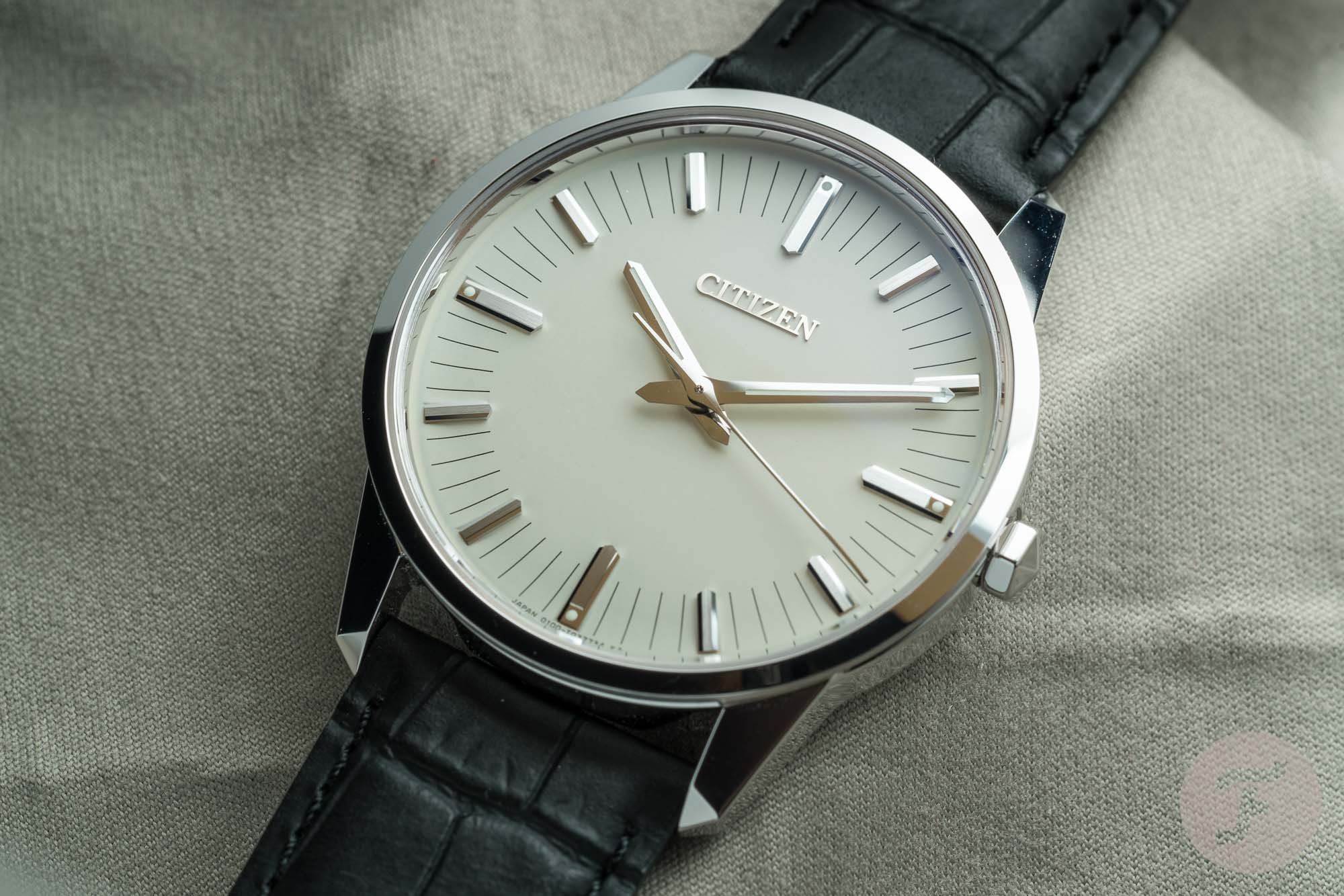 Caliber 0100S Movement
To me, the design of the watch is already a highlight, with the beautiful hue of white gold and stunning ivory dial. But the real achievement is under the hood with this watch, the new quartz caliber 0100S movement. This movement has a number of interesting innovations on board, such as the continuous monitoring of the accuracy and temperature shifts of the watch and adjusting when necessary. The movement oscillates at 8.4Mhz, 250 times higher than the normal 32Khz quartz movements. The higher frequency ensures that the watch is not affected by temperature fluctuations, effects of gravity and age degradation. At least this is what Citizen claims, to me, it is not very clear how a crystal with a higher frequency is more resistant to temperature fluctuations. As this caliber 0100S is an Eco-Drive movement, and promises it can run 6 months on a full charge without the presence of a light source. 8 months even, when the watch is on power-save mode. Citizen claims the movement to be resistant to shocks and magnetism due to a clever and design of the circuit. In the end, Citizen claims that their caliber 0100S movement is accurate up to 1 second deviation per year.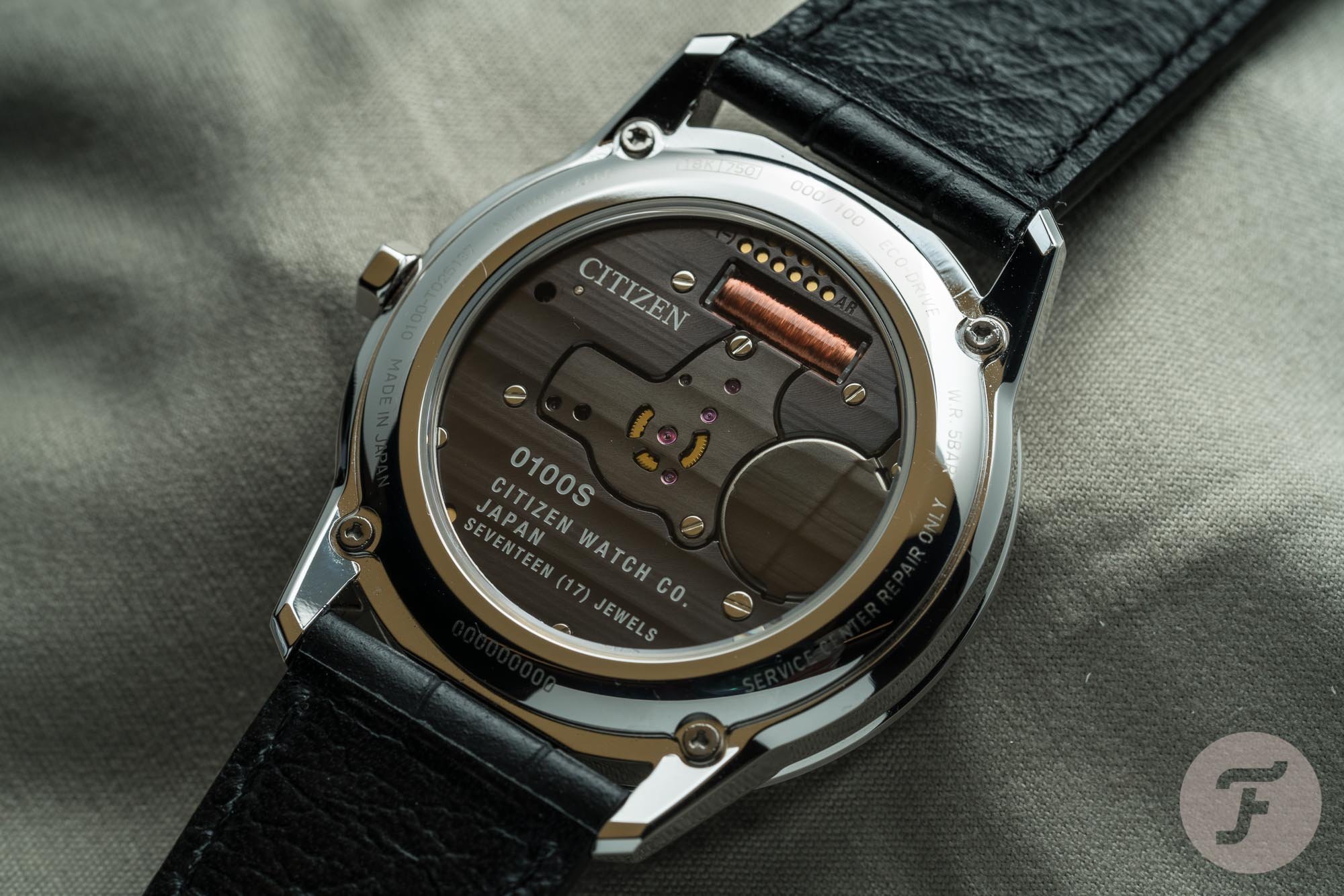 Fitted in the 18-carat white gold case, the Caliber 0100S is made of black ruthenium-plated material (discolouration and corrosion resistant), with a striped finish. Citizen made sure you can enjoy the movement through the sapphire case back. On the bezel of the case back, you'll find the unique number for your watch engraved as well.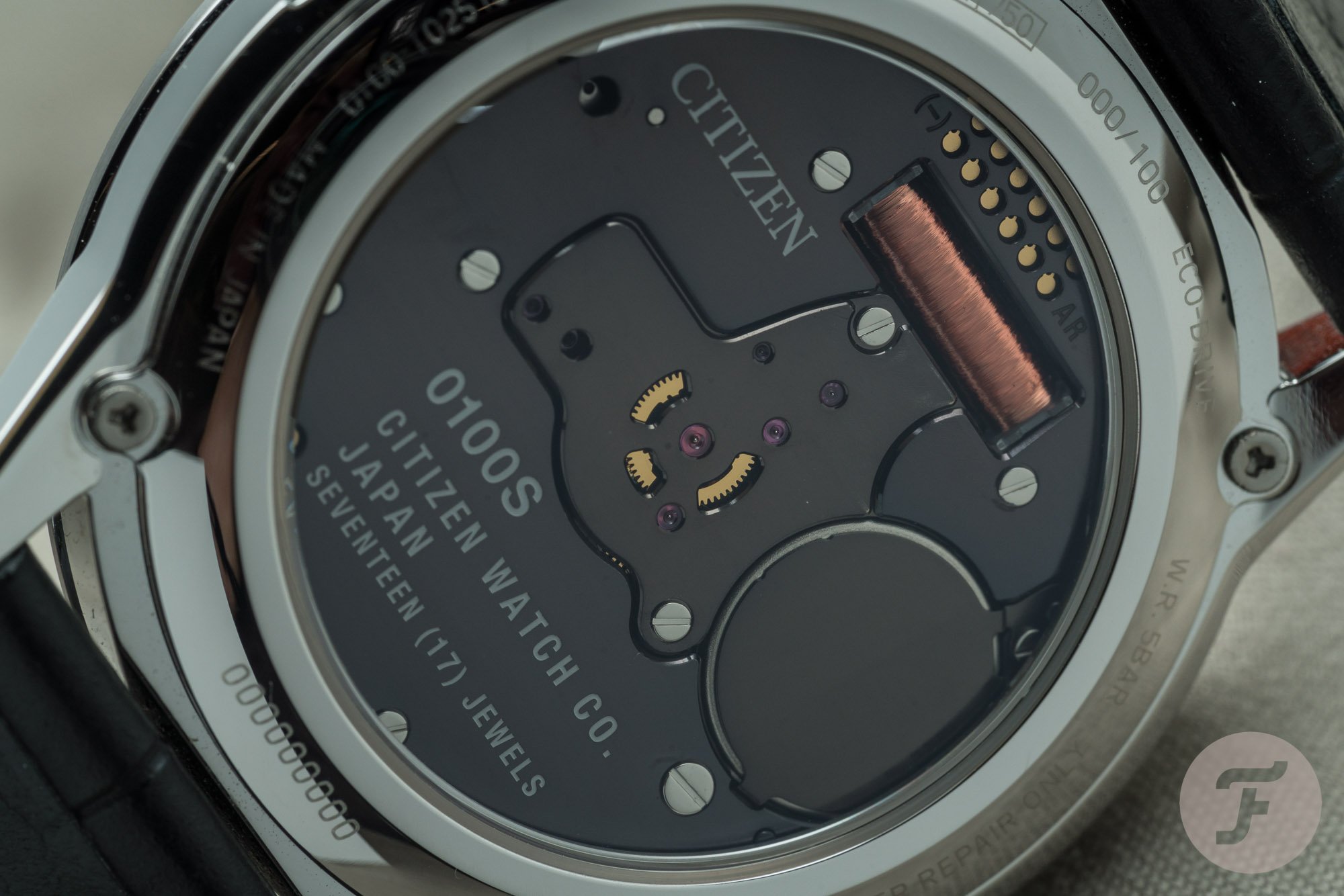 Pricing and Some Thoughts
In all honesty, the price came a bit as a shocker to me, as Citizen retails this limited edition watch for $16.800USD (or €17.000,-). For a white gold dress watch with a high-end mechanical movement that is already considered steep, but putting a quartz movement inside – be it a high accuracy quartz movement – is daring. To say the least. That said, however, the movement is a showcase of what Citizen can do with quartz movements and the precision is phenomenal. The craftsmanship on the case, dial, hands and the movement certainly tick enough boxes to be considered a true manufacture. Admitted, the watch looks amazingly good on the wrist.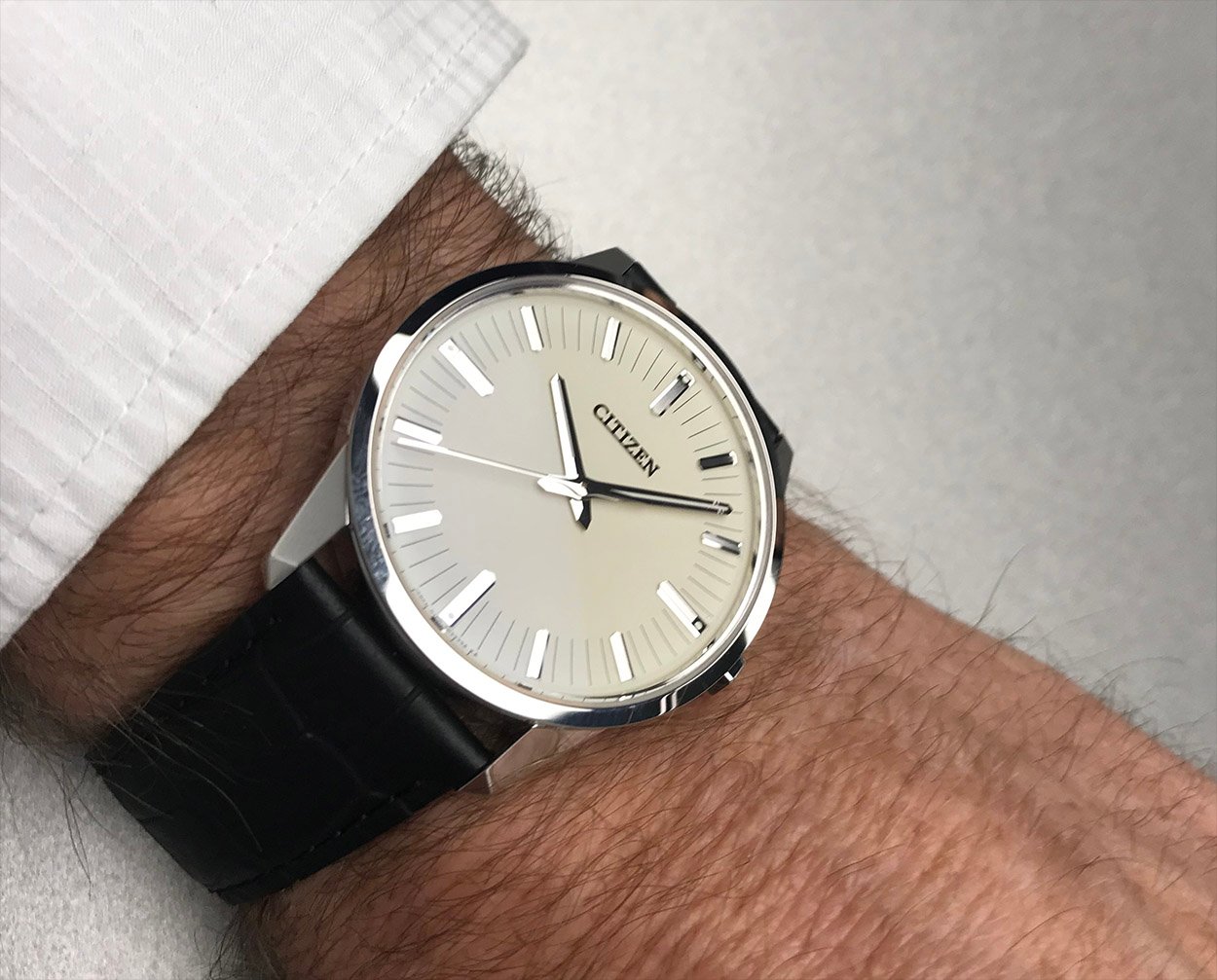 The truth is also that this price opens up a lot of possibilities for watch enthusiasts. And although I am pretty sure Citizen will sell 100 of these Caliber 0100 watches in a flash, this might be a tough bandwidth ($7400 for the all titanium models up to $16.800 for this one). The titanium versions come with two different dials, and I thought I would never say this, but I prefer the Mother-of-Pearl dial actually. Also, I found that the titanium bracelet on these models is as comfortable as they will come.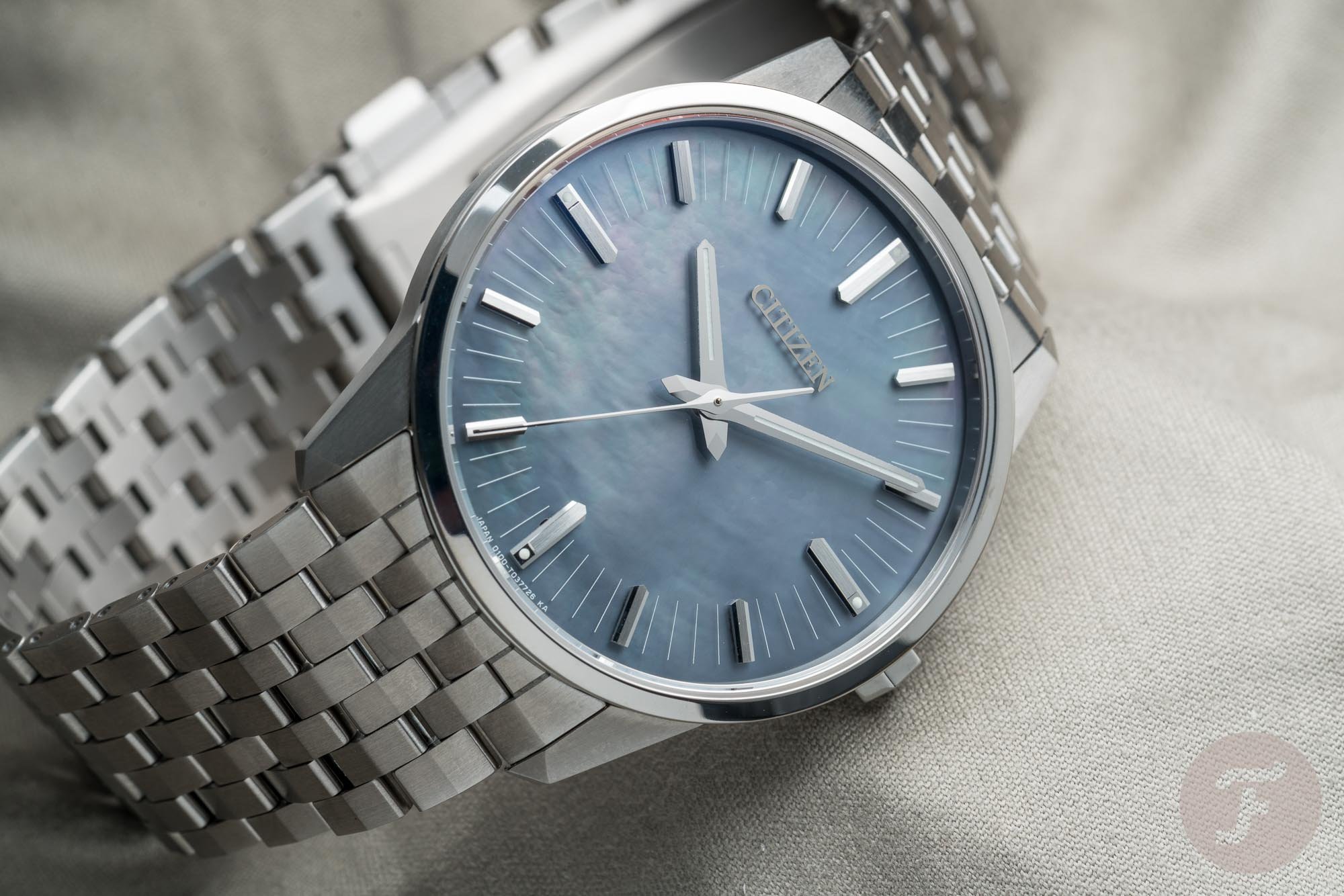 Price aside, or the willingness to spend that much on a quartz watch, I was very impressed by the looks of the Citizen Caliber 0100, especially on the wrist. The finishing of all the parts is done on an incredibly high level, including the polishing (Citizen let us know they have no special name for their polishing techniques like Grand Seiko has with their Zaratsu).
The finishing of these watches shows once more that the Japanese watch industry is able to compete with some of the most respected Swiss and German manufactures. The used technical (quartz) innovation might not be the same, but it is easier to condemn it than to dig in deeper and learn about it. Then you can always decide to keep the money in your pockets for a mechanical piece. For myself, I am very impressed by this watch, and the titanium versions, but my second hands need to sweep, especially in this price range. I can imagine though, that if the finances are not an issue, it is an interesting watch (and only 100 pieces around) to add to your collection.
More information can be found on the Citizen website here.
Watch specifications