Hands-On With The Mighty Citizen Promaster Professional Diver's 1000M
Citizen has always been an important player when it comes to semi-professional dive watches, the Promaster Professional Diver 1000M, which we're reviewing this time, is no exception.
The Citizen Promaster Professional Diver's 1000M Eco-Drive
Let's make things clear first, no professional or semi-professional diver needs a diving watch. For a long time, divers use and rely on their electronic wrist-dive-computers, which submit loads more information than just the time that they've been underwater. By the way, does it exist anyhow, semi-professional? It's either professional or it isn't, isn't it? It's like seamless, either something is seamless, or there are seams. There's no such thing like almost seamless; that's just not seamless. A semi-professional diver does not dive for his or her profession, thus it's a fun diver. Absolutely nothing wrong with that of course.
So, now we have that out of the way let's concentrate on the watch again. And I like to warn you, this will be a love song. As well, especially in this case because you'll find this to be such a positive review, I like to express that in no way Fratello, nor myself, are compensated by Citizen for this review. All I write about it are my own absolutely honest feelings.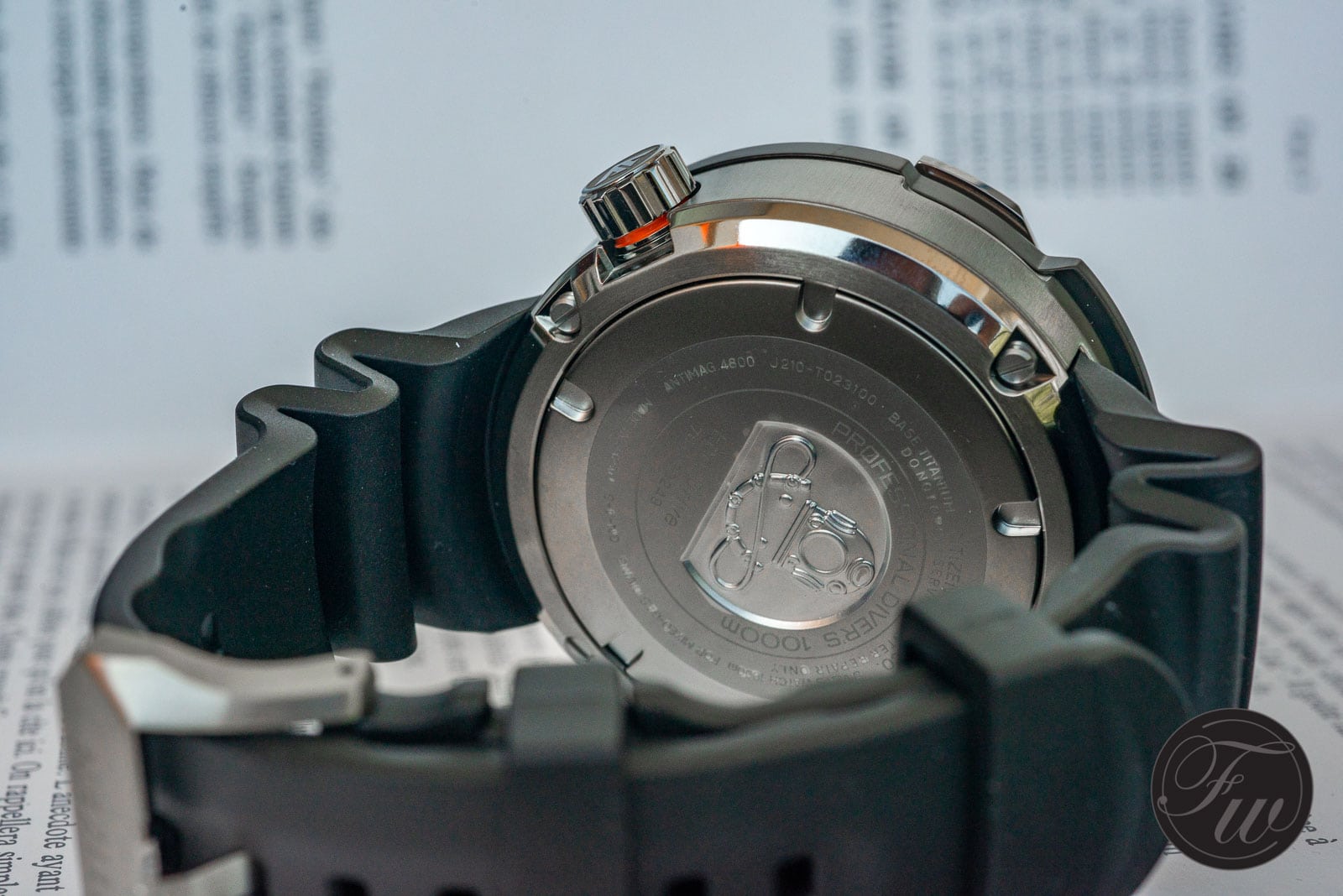 HUGE!
It's huge! That's the first you'll mention when getting the watch in your hands. Huge, as in HUGE! Not huge like a Panerai Luminor or like an IWC Big Pilot, but really massive. And beautiful. But let's stick to the size first. The diameter of this watch is, according to my own measurements, a whopping 52,5 mm. But the diameter certainly isn't the only variable which makes this watch show so massive. That is the combination of its thickness of almost 22 mm and a strap width of 29 mm. Even the strap's buckle, with a width of 22 mm, adds to it.
In fact, the size of the watch makes that, reasonably, it's not suitable to be used as an everyday watch. The watch clearly shows it is a serious instrument, and that is how it wants to be used. Against this directive, I've been wearing the watch once or twice during the day, and I felt like a moron. Obviously, the people around me, seeing me wearing the watch, absolutely agreed with that. But of course, there will be always people – let me name them the look-at-me! people – who like to show off. They won't find a better opportunity than wearing this Citizen Promaster Professional Diver's 1000M.
To get things in better perspective, I've pictured the Citizen next to another watch which is considered big. A 1000M Seiko 'Tuna' Professional. If you thought as well a Seiko Tuna is a big watch, look and think again. And I've pictured the Citizen next to my Mares Puck Pro dive computer. Only a device like this slightly outclasses the Citizen in size.
Technical appearance and used techniques
Besides the impressive size of the Citizen Promaster Professional Diver's 1000M, it's the technical appearance as well which convinces. Strong, edgy lines. The almost aggressive but certainly powerful shape of the diver's bezel. Bold, clearly readable numerals on the bezel. Use of industrial typefaces. Dark coloured metals, combining two of Citizen's exclusive technologies, Duratect MRK and Duratect DLC.
Citizen's Duratect MRK is a technology that maintains titanium's original properties while hardening the surface of the material itself (as opposed to applying a coating to it). Two gases are injected into a special vacuum furnace and heat treatment applied to produce a hard layer about 20 to 30 microns thick on the surface of the titanium. Resistance to nicks is increased because the surface of the titanium material itself is made harder. Parts of the watch treated this way have their original blanc material colour.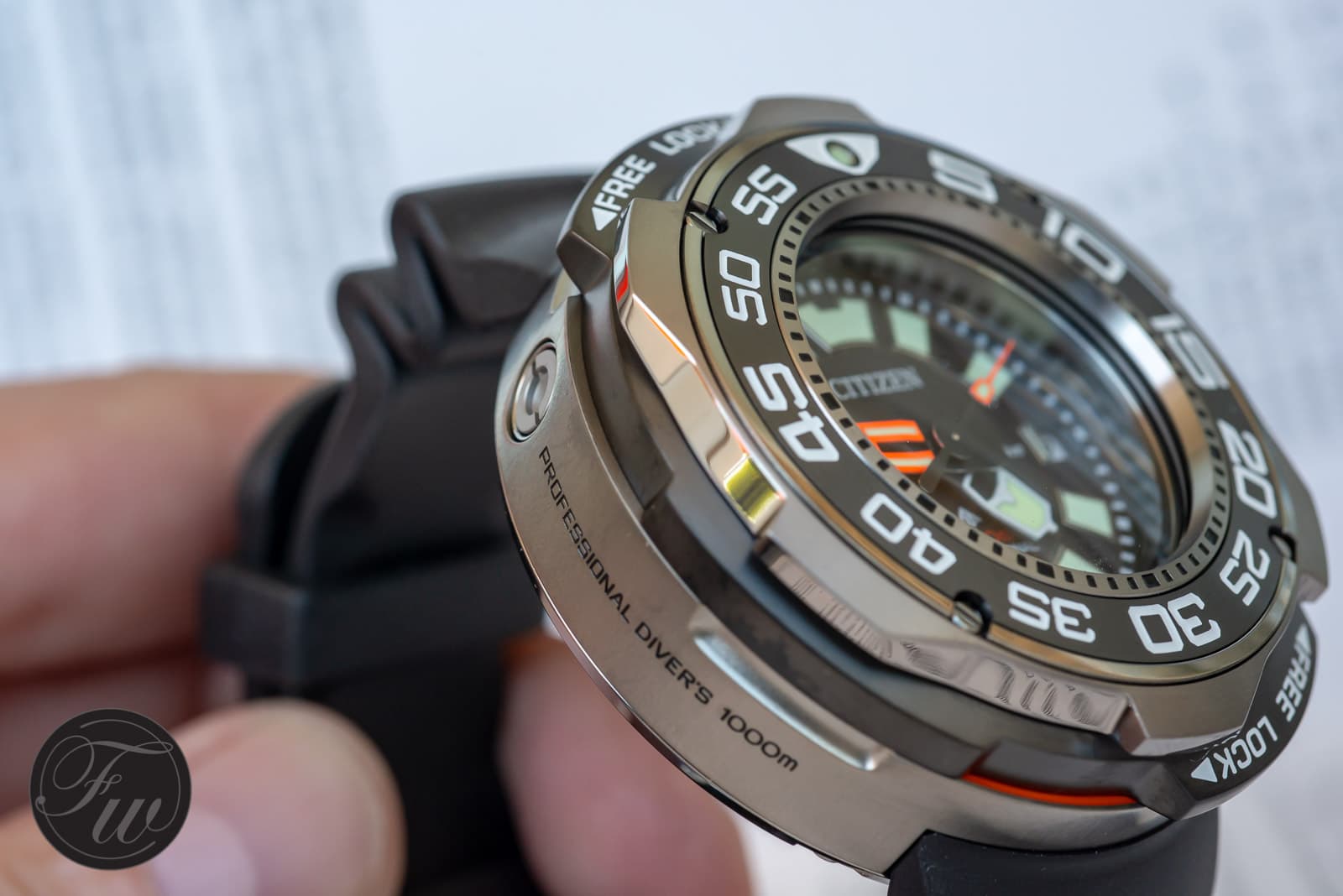 And Citizen's Duratect DLC applies an amorphous carbon coating onto the surface of the titanium through. It's a cold plasma technology and involves passing an electric current through hydrogen and carbon gases. DLC is an acronym for 'diamond-like-carbon'. The DLC coating contains carbon and hydrogen (like a diamond) and lacks any grain boundaries. As a result, it's extremely hard, smooth and scratch-resistant. The Duratect DLC technique has a higher level of adhesiveness than standard DLC technologies. The parts of the Citizen Promaster Professional Diver's 1000M treated by this technique can be determined by their anthracite colour.
Feeling and operating the watch
The next experience which will impress is handling the watch. Let's pretend we're ready to dive, and before we go underwater, set the bezel to the current minute. Before this is possible one has to unlock a slide lock ring, placed just below the diver's bezel. On the outside of this black Duratec DLC'd ring there are two notches, indicating '< FREE  LOCK >' in white print on top of them. Outside sized 55,5 mm, they slightly stick out from the bezel. Quite intuitive you'll turn the ring towards the '< FREE' arrow, and you're able to rotate the diver's bezel. Even in the 'FREE' position of the locking ring, the bezel only turns uni-directional.
When set to the 'FREE' position, a dark-orange colour element becomes visible. It's warning the user that the bezel could be rotated and the watch should not be used for dive-time measurement in that position. The feeling of rotating the locking disc is absolutely wonderful. First, it needs a more firm force to release it from its current position – be it  'FREE' or 'LOCK'ed – then it slides like a charm to its other end. It's something which feels so good, that you could play with it all day 🙂
In line with the watch' other dimensions, the crown with a diameter of 9 mm is suitably sized. It has a very good grip and of course, it's of the screw down type. Unwinding it from its thread a same dark-orange colour element below the crown becomes visible. Warning the user again that the should not be used for diving in this position. For the rest, the crown operates like any other crown. Pulling it out one position sets the date, two positions enables to set the time.
The Eco-Drive J210 caliber
And here's the first time I'll mention the movement used in this Citizen Promaster Professional Diver's 1000M. While at most automatic/mechanical watches not pulling out a crown is a position to hand wind the movement, we won't see that here. After unscrewing the crown from its thread, and not pulling out at all, it can be turned but nothing happens. That's because Citizen decided to use an Eco-Drive quartz movement in this hefty watch, their proven caliber J210.
While I'm not at the end of my love song for this watch at all, this is a point I'm not totally sure of. Probably it's an enormous achievement, I don't know. The Citizen Promaster Professional Diver's 1000M is ISO 6425 certified and it's also suitable for saturation diving at great depths. The watch even has a pressure equalization valve to release gas from the internals of the watch during saturation immersion to prevent damage or breakage. And Citizen fairly states "Thanks to the Eco-Drive technology, there is no need to change batteries regularly. The power reserve indicator informs divers about the remaining battery power so that they can enjoy the dive without worrying.". And for the achievement part of where I started this paragraph with, the Citizen Promaster Professional Diver's 1000M is the first ISO 6425 compliant watch ever to be equipped with a solar powered movement…
Electric power and water
But still. While totally unnecessary, besides being great fun to wear a nice and beautiful dive watch when diving, I can think of one tiny practical reason to wear a diving watch while underwater. And that would be the fact that a mechanical diving watch is independent of electric power. Electricity and water always have been enemies, and just for the sake of that, I could make the excuse that a mechanical watch is more water-friendly than an electronic one. Mind you a waterfilled drowned mechanical watch wouldn't run anymore as well, but we've all seen watches damping up because some moisture entered the watch' casing. In that situation, an electronic watch will stop operating almost instantly, while a mechanical watch still runs and will just need a good cleaning at the nearest watchmaker as soon as it's surfaced.
However, one way or the other, the robustness and obvious reliability of the Citizen Promaster Professional Diver's 1000M make it possible for me to overcome this reluctance, to use an electronic diver's watch, quite easily. Fully solar charged the movement has a power reserve of one-and-a-half year (540 days). A, compared to all other parts of the watch, small power gauge is visible at the three o'clock position on the dial.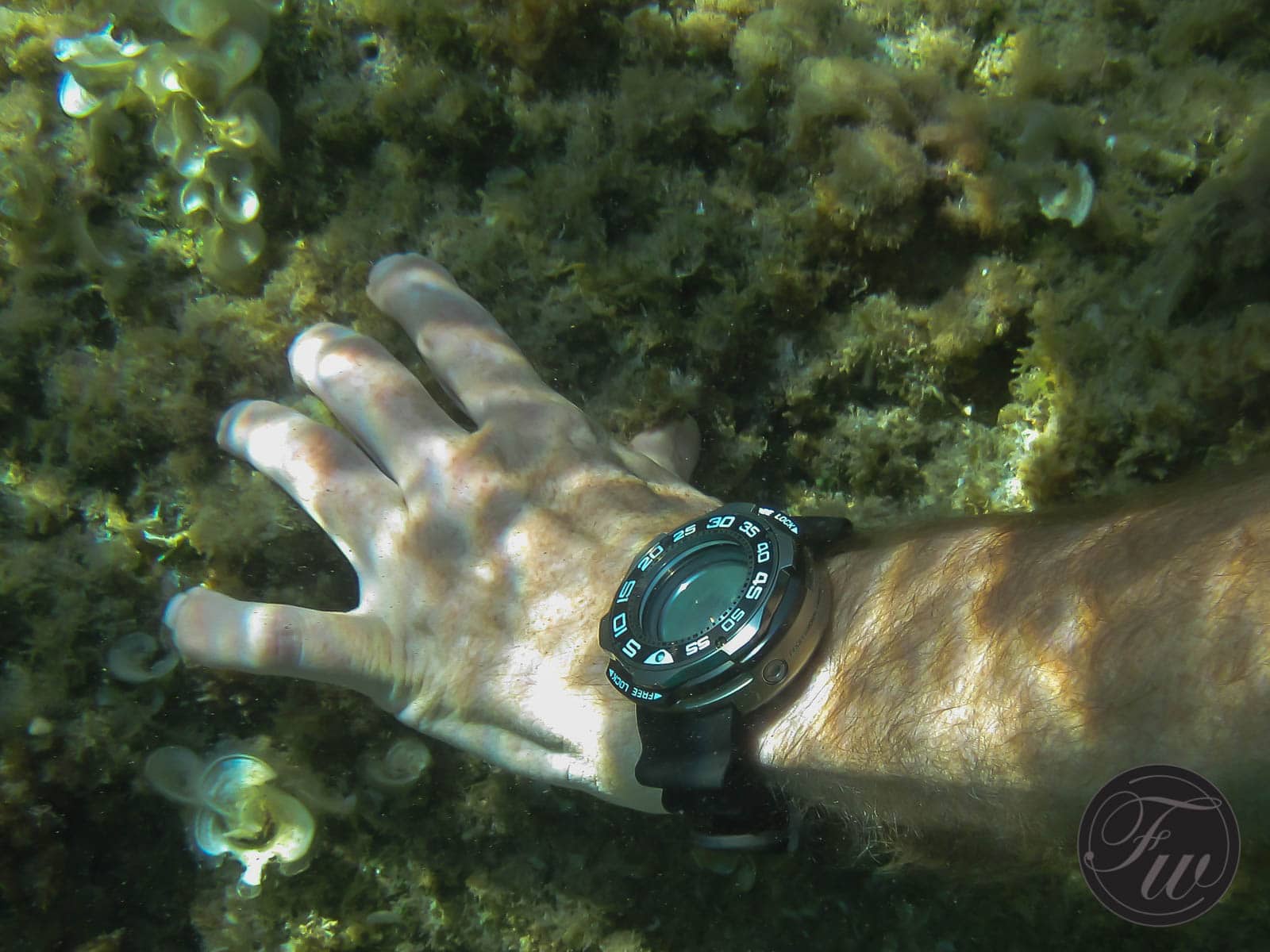 Ready for underwater!
For a watch, in my opinion, hardly suitable to reasonably wear on land, a review of it underwater is essential. So, as mentioned in the heading of this article, I have tried the Citizen Promaster Professional Diver's 1000M underwater as well. I wore it in the comfortable luke-warm waters of the Mediterranean while discovering relatively shallow near-coastal waters in the area of Monte-Carlo. Near-coastal, because, something not many people may realize, the Mediterranean sea in this area, only a few hundred meters off-shore quickly reaches depths of over 100 meters. Something the watch wouldn't care but not a place for most recreational divers.
How does it wear?
So here we go, ready for underwater! Putting on the wrist is fairly easy. As might be clear by now, everything is adequately sized and thus can be handled easily. The rubber strap is somewhat stiff, exactly as you would want for an instrument which will accompany you in probable harsh environments. The length of the strap is adapted to use on a bare wrist (like I did), as well as used strapped over a diving suit of any thickness. It can be worn quite tight as the waved extension part of the rubber makes up for differences in diameter of the wrist/suit and wrist movements. Because of its weight, its better to wear the watch quite tight indeed, it won't wobble on your wrist like that. An actual weight being less by the way than you would expect because of the size of the watch. Once on your wrist it belongs there and doesn't hamper in any way.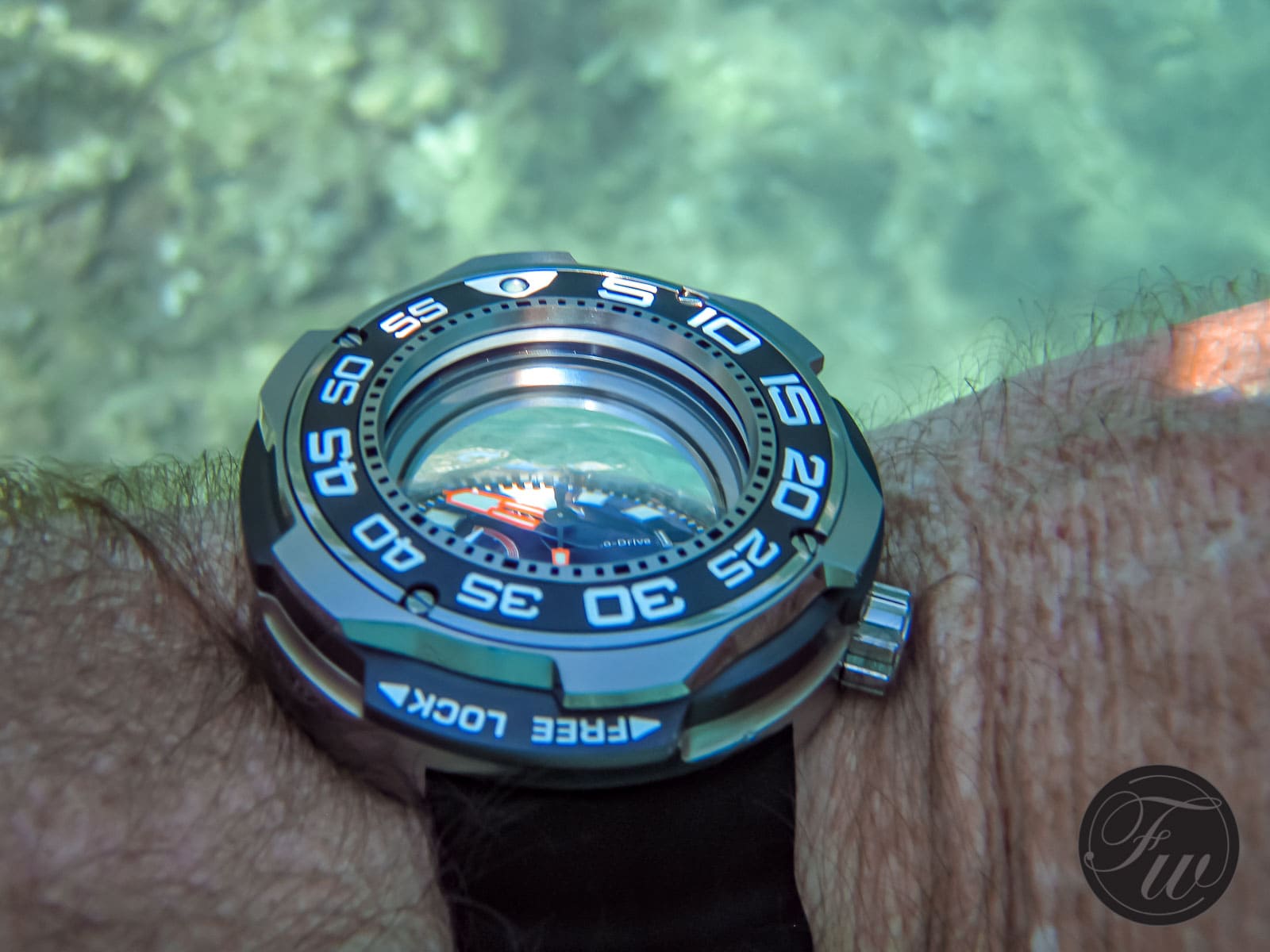 And how's the functionality?
Once underwater, gazing through damped diving goggles, one realizes that even the boldest set of hands and index markers, as we find them on this watch, remain difficult to read. Before diving with it I already mentioned that the diameter of the dial, with only 29 mm, is more or less equal to a Rolex Submariner. But I'm sure I would have never expected it when I hadn't used the watch underwater. I mean, look at those hands, look at those index markers. They're like LEGO-bricks. And even in dim situations, they glow like the internals of a nuclear power plant. How could one possibly misinterpret them?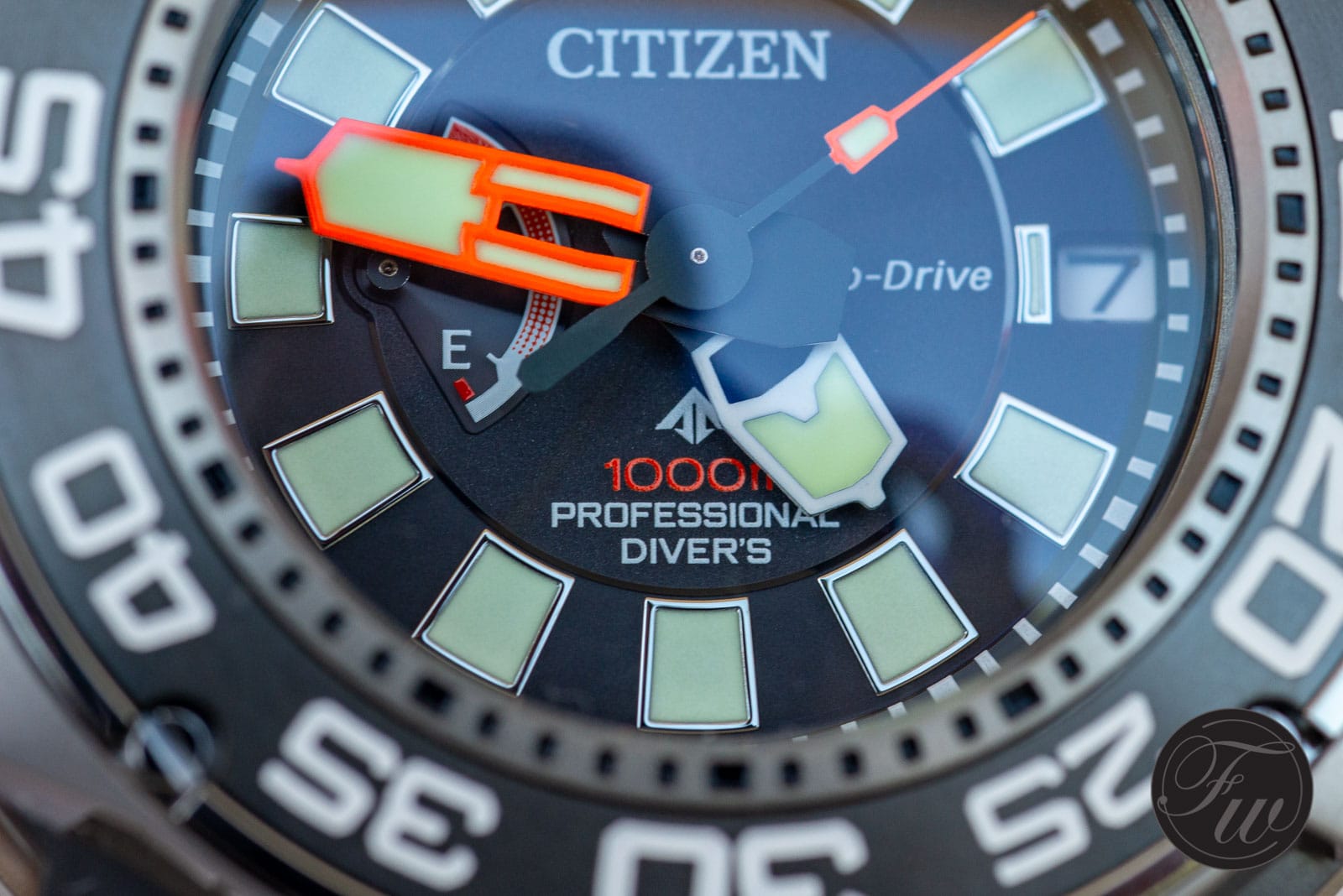 Well, luckily it's not that bad indeed. It helps very much that the minute hand is fluo-orange, while the hour hand is just white. Immediately where to look at. That said, and at least with my eyesight, the power reserve indicator and date indication are close to non-existent looking at the watch while diving. Again, exactly what you want. This is no information which is much needed at that time. One could even argue about the necessity of a date indication on such a pure diving watch like this. However, being a saturation diver's watch, saturation divers who often stay for several days in their saturation tanks could easily benefit from it.
Conclusion
At the end to me, the Citizen Promaster Professional Diver's 1000M is a near perfect dive watch. If there's the possibility of such a watch at all. The perfection for me comes from the level of technical finish, the materials used, the way the watch looks and certainly feels and operates. It's such a beautiful product, I can imagine that someone just wants to own it, even if when they will probably never really dive with it. The materials, the tolerances it's manufactured with, the engravings, the colours, the proportions. I'm a big fan and absolutely can see myself adding this watch to my collection.
Specifications and price
Make & Model: Citizen Promaster Professional Diver's 1000M Eco-Drive
Reference: BN7020-09E
Case size: 52,5 x 22 mm
Material: Titanium, Duratect MRK and DLC treated
Caliber: Eco-Drive, solar powered, caliber Citizen J210 with 540-hour power reserve
Price (in Europe): € 1.995,= incl tax
More information can be found at www.citizenwatch.eu