Clemence Photic Diver Review — Is This Microbrand Dive Watch Good Value For Money?
Welcome to the photic zone
Dive watches are incredibly popular in the watch collecting community. Not necessarily because everyone fancies themselves are the next Jacques Cousteau, but more because of how they're designed to hold up in hostile environments. OK, the majority of us may never take our dive watches into the deep blue, but they're often the perfect entry point for new watch collectors too. Basic dive watches are often designed to be worn all day, every day, while still holding up to the rigors of daily life above the waves. Today I'm looking at one such watch from a new Scottish microbrand, Clemence — the Photic Diver.
Now it's clear to establish that I classify dive watches into one of two categories. Basic dive watches and advanced dive watches. The more advanced dive watches often have deeper water resistance ratings and other technical features such as depth gauges. The Clemence Photic Diver falls into my basic diver category. That is, it's a simple three-hander with a rotating bezel and a very solid 200m of water resistance. These basic divers are the go-anywhere, do-anything types of pieces which you might class more as tool watches because they're more versatile as a daily beater than the advanced dive watches. The Clemence Photic Diver is a perfect example of that.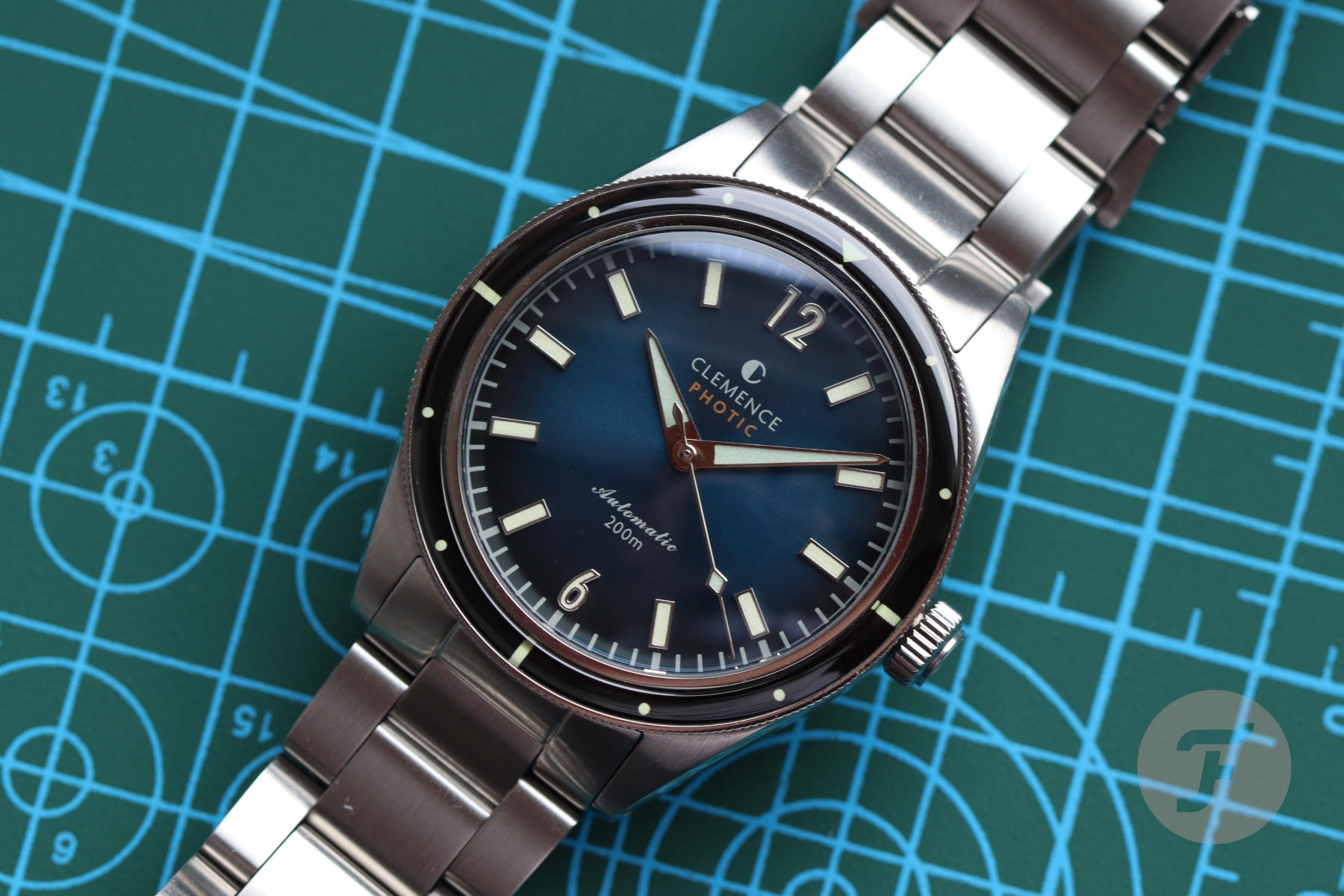 Welcome to the photic zone
Before I go deeper into the watch, I wanted to talk about the name. I like the Photic name, as it shows an understanding of the oceans around us. Indeed Tom Clemence, the man behind the brand, is a qualified diver. Photic refers to the "photic zone". That is, the uppermost layer of a body of water where sunlight can penetrate to such a degree that the rate of photosynthesis in phytoplankton is greater than the rate of respiration. This means that the phytoplankton can reproduce in vast numbers.
Phytoplankton sit upon the lowest rung of the food chain, so what happens to them has a knock-on effect on other species. As a result, the majority of ocean flora and fauna can be found in the photic zone. The photic zone usually ends at about 200m in the open ocean, so the fact that the Photic Diver has a 200m water resistance too is a neat touch.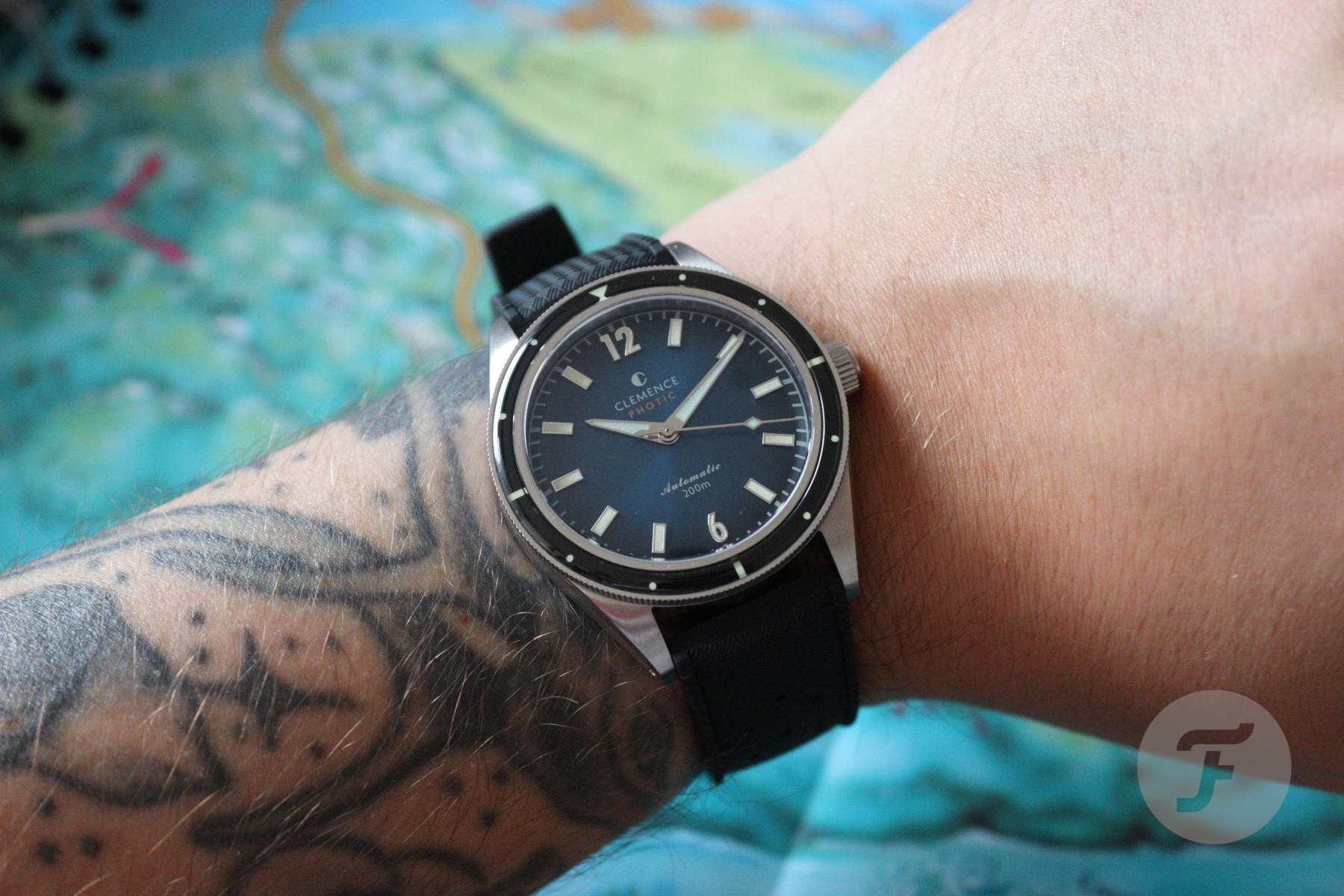 Slim and wearable out of the water
Let's start with the measurements of the case. These are usually what most people want to know first, right? Well, the Photic diver measures 39mm in diameter and 47mm lug-to-lug. It's only 12.2mm thick, too, including the domed sapphire crystal. This makes the Photic Diver a nicely proportioned and compact watch. This thing is perfectly sized for a daily beater watch. During my extended time wearing the watch, it accompanied me on weekend errands, shopping trips, and then into the pool too. The transition was effortless, and that's key for an excellent basic dive watch in my mind. The crown was arguably on the smaller side — an extra millimeter in size would have been nice, but it's definitely not a dealbreaker.
The clicks are definite, and there is zero back play.
The bezel was surprisingly nice. At this price point, I've seen many watches suffer from quite an inferior bezel action. I'm pleased to report that the action is solid. The clicks are definite, and there is zero back play. Genuinely, I was quite impressed. Tom told me that he's not 100% happy, as, on some prototypes, the action was a little "tight". So, for the production, he is having this relaxed ever so slightly. To me, it's fine as it is, but I can understand that some people may want it a little looser.
It was the right decision to keep things nice and simple.
The black bezel insert is a domed sapphire affair with simple lumed hour markings. It's a stripped-back design that works wonderfully with the dial layout. The cardinal markers are simple lines (with a triangle at 12 o'clock), and the rest are small dots. There are no minute markings from 0-20, so that's possibly a mark against it from a technical diving point of view. Still, honestly, those minute markers would have unbalanced the design had they been included. It was the right decision to keep things nice and simple.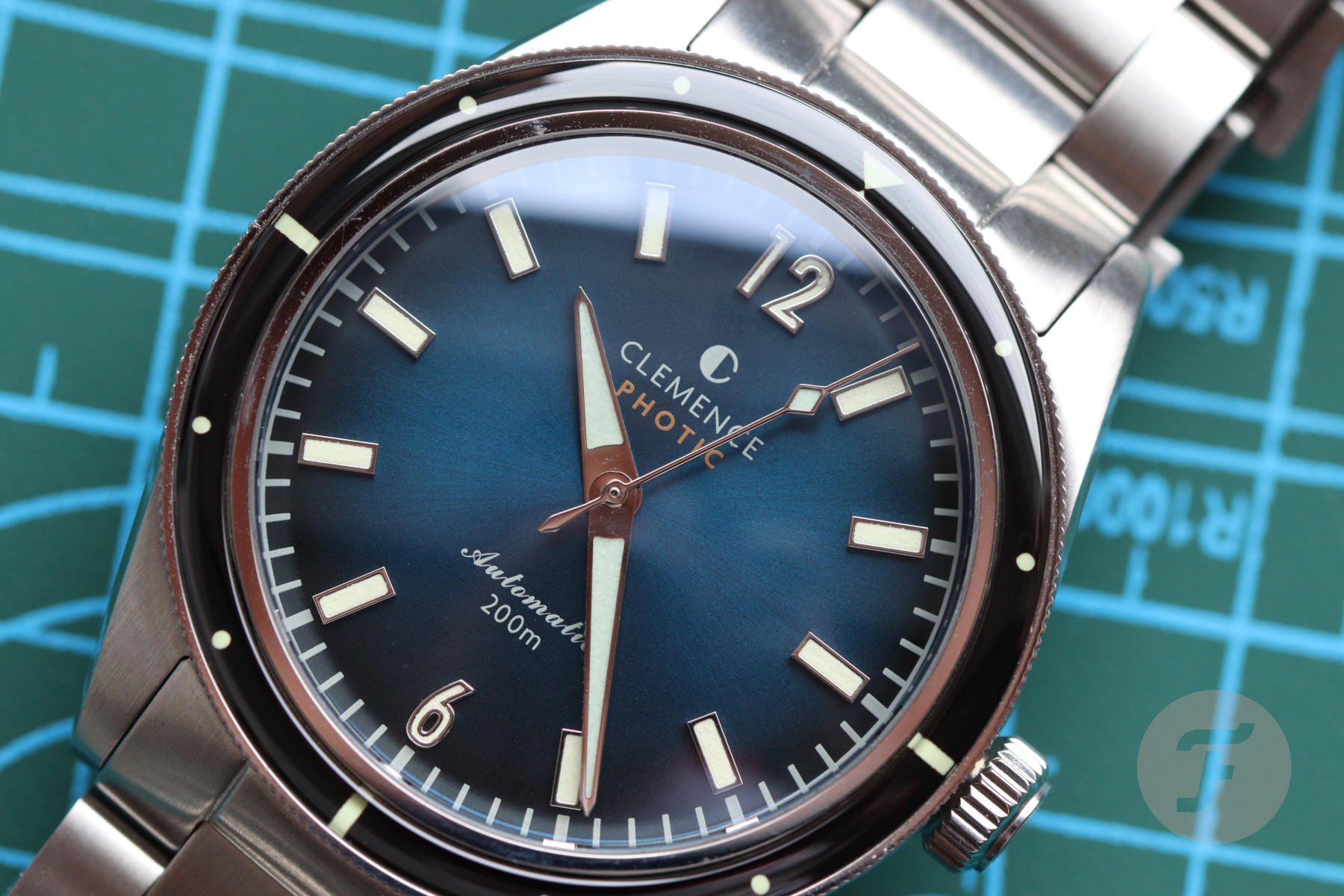 The Photic dial
Backers can choose from three different dial colors, each with the choice of silver or gilt hands and indices. I have the "Photic" dial with silver detailing. It's really rather wonderfully deep blue to black degradé with a sunburst effect too. How would I sum it up? Imagine you're 200m underwater, and you look up to see a hint of the surface glistening above you. That. The other options are matte black or blue sunburst. This "Photic" dial really is the best option, in my opinion, though.
It's downright impossible to accurately photograph the effect…
I've been fooled a few times by this dial. When looking at it from head-on, it sometimes appears to be a two-part dial construction, with a lowered rehaut section. In reality, it has a beautiful convex form. The edges of the dual curve down away from the crystal, right where the color is the blackest. It's genuinely lovely. It's downright impossible to accurately photograph the effect, but it gives backers something nice to look forward to.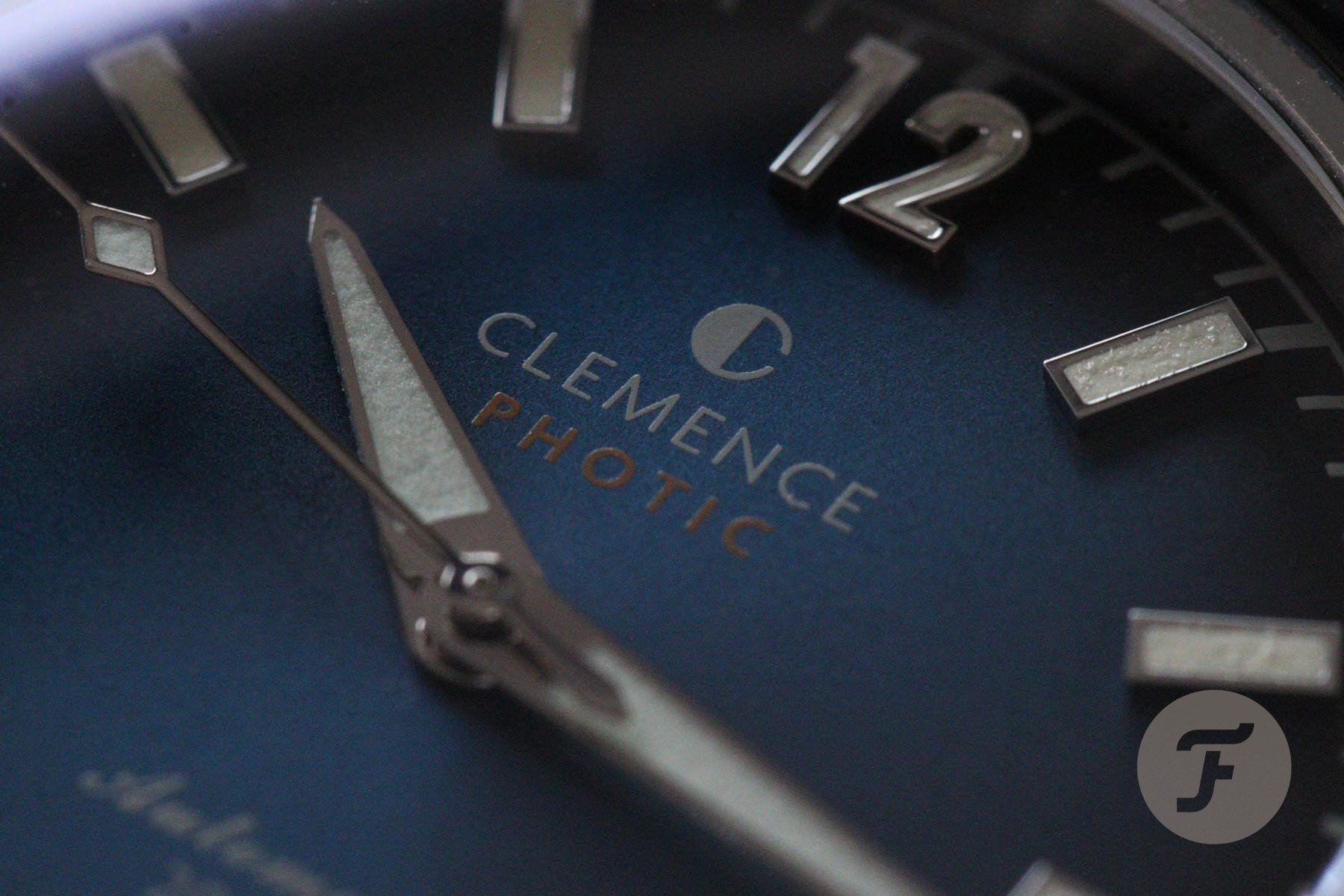 Into the deep
Despite being a simple dial layout, the mixture of color, dial construction, and applied indices gives it subtle and nuanced depth. It's very nicely done. Speaking of the applied indices, though, the surface finish of the lume application is quite rough, and the numerals at 12 and 6 could definitely be improved in that regard. The "2" in the 12 had a particularly sloppy mark visible to the eye (albeit when looking very closely). I expect this to be cleaned up at production. The triangular hands also had a slightly uneven surface finish on the lumed section. Thankfully none of the above affected the lume in low-light conditions.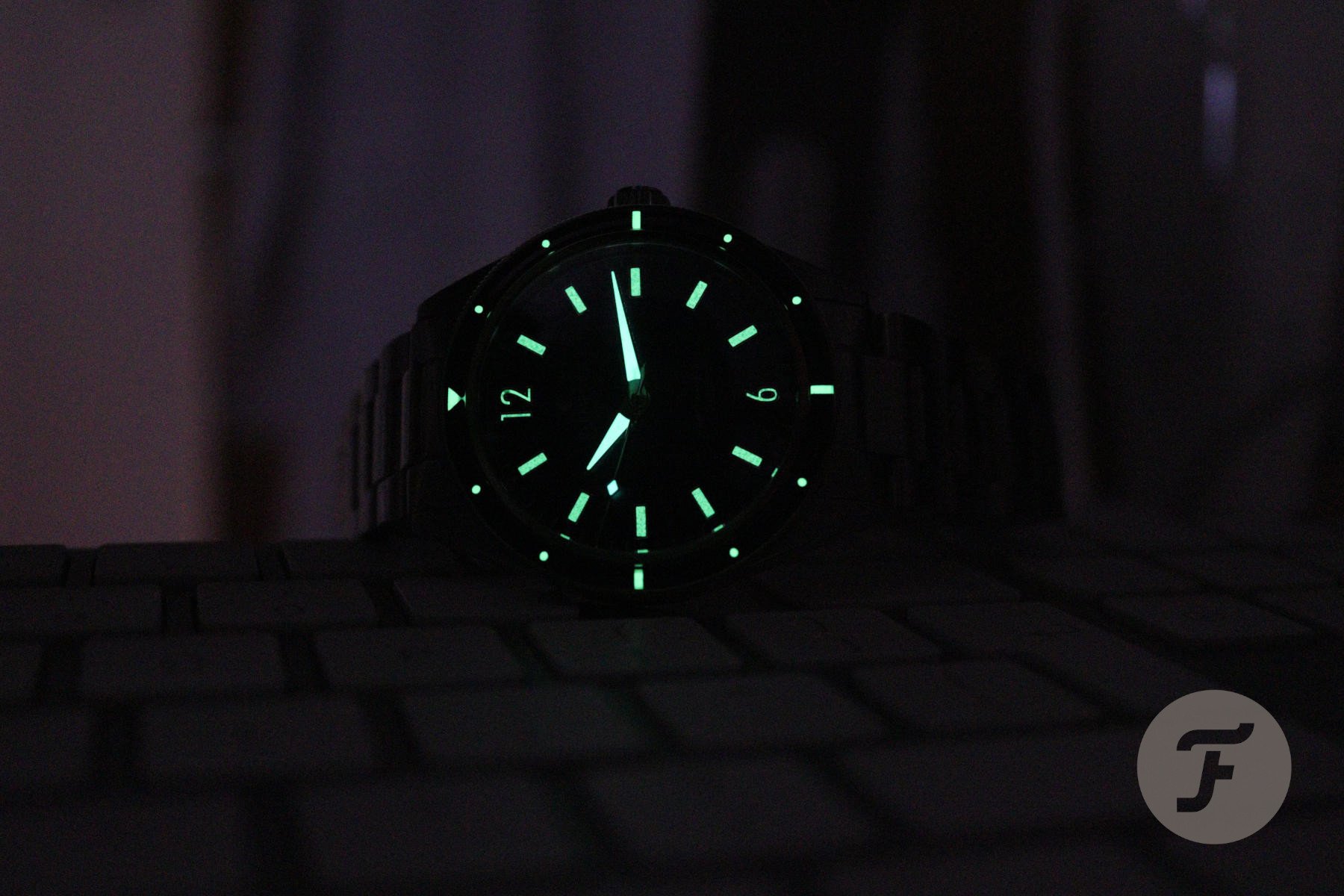 After an initial blast with the UV torch, the lume performed admirably. Still, there was a noticeable dropoff before it settled at a more stable level. Once settled, the lume was still very legible, and the homogeny between the hour markers, hands, and bezel was decent. The hands were very slightly brighter though. Definitely a little room for improvement, but by no means a fail. I really do want to see that surface finish better at production, though.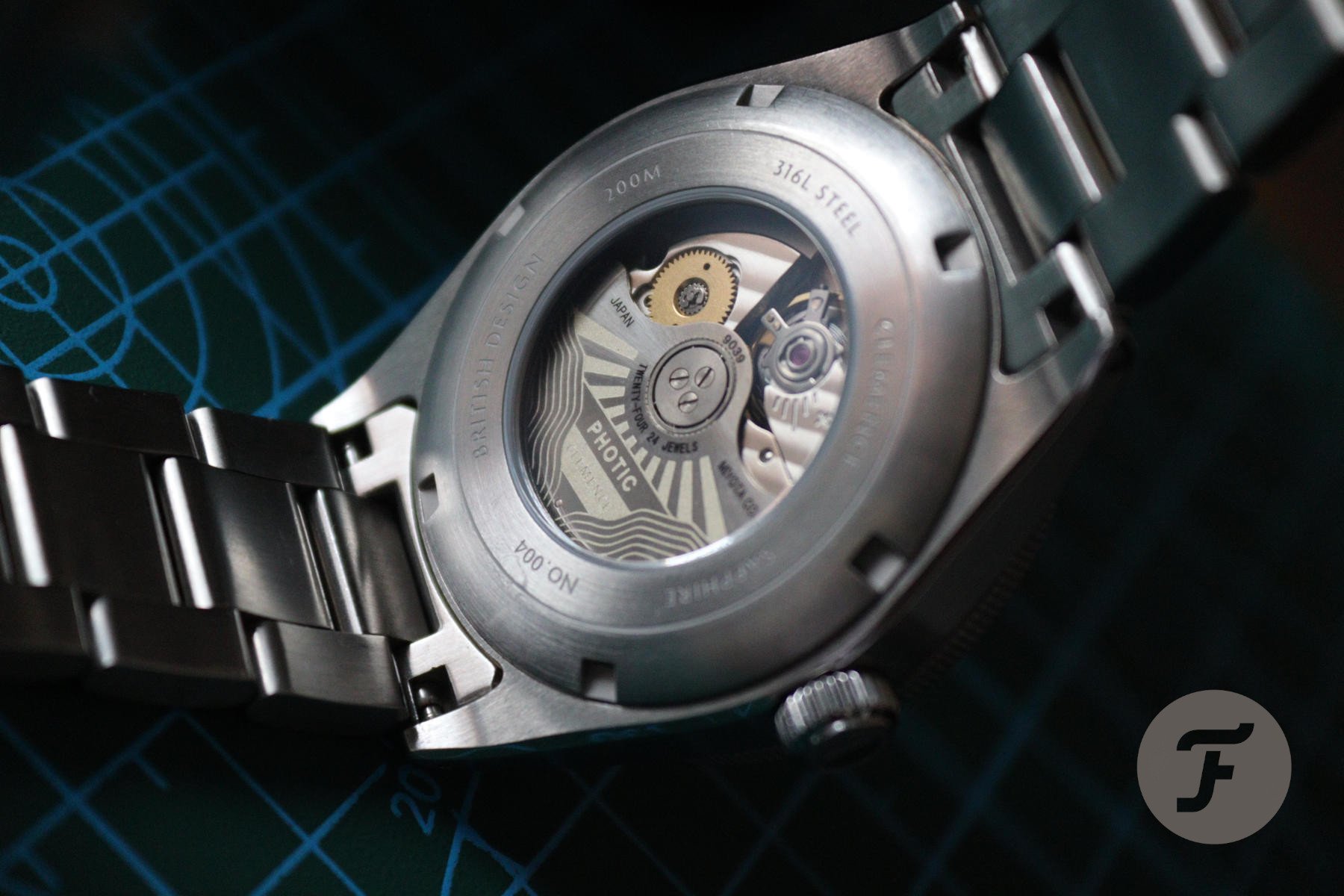 Nothing to see here…
Powering the Clemence Photic Diver is a Miyota 9039 automatic movement, giving you 42 hours of power reserve. It's visible through the display case back, where there's a nice laser etching on the rotor. I'm not particularly fussed about display case backs on dive watches. Give me a nice engraved solid case back any day, but at least Clemence has made an effort to give owners a custom rotor design.
The Miyota 9-series are premium Japanese movements
There's not much more to be said about the movement. It's quite a common sight in microbrand watches. The Miyota movements are easily serviceable, they're cheap-yet-reliable, and they're slimmer than their Swiss counterparts too. The Miyota 9-series are premium Japanese movements and far superior to the Seiko NH35, which are not uncommon in other watches at the same price point.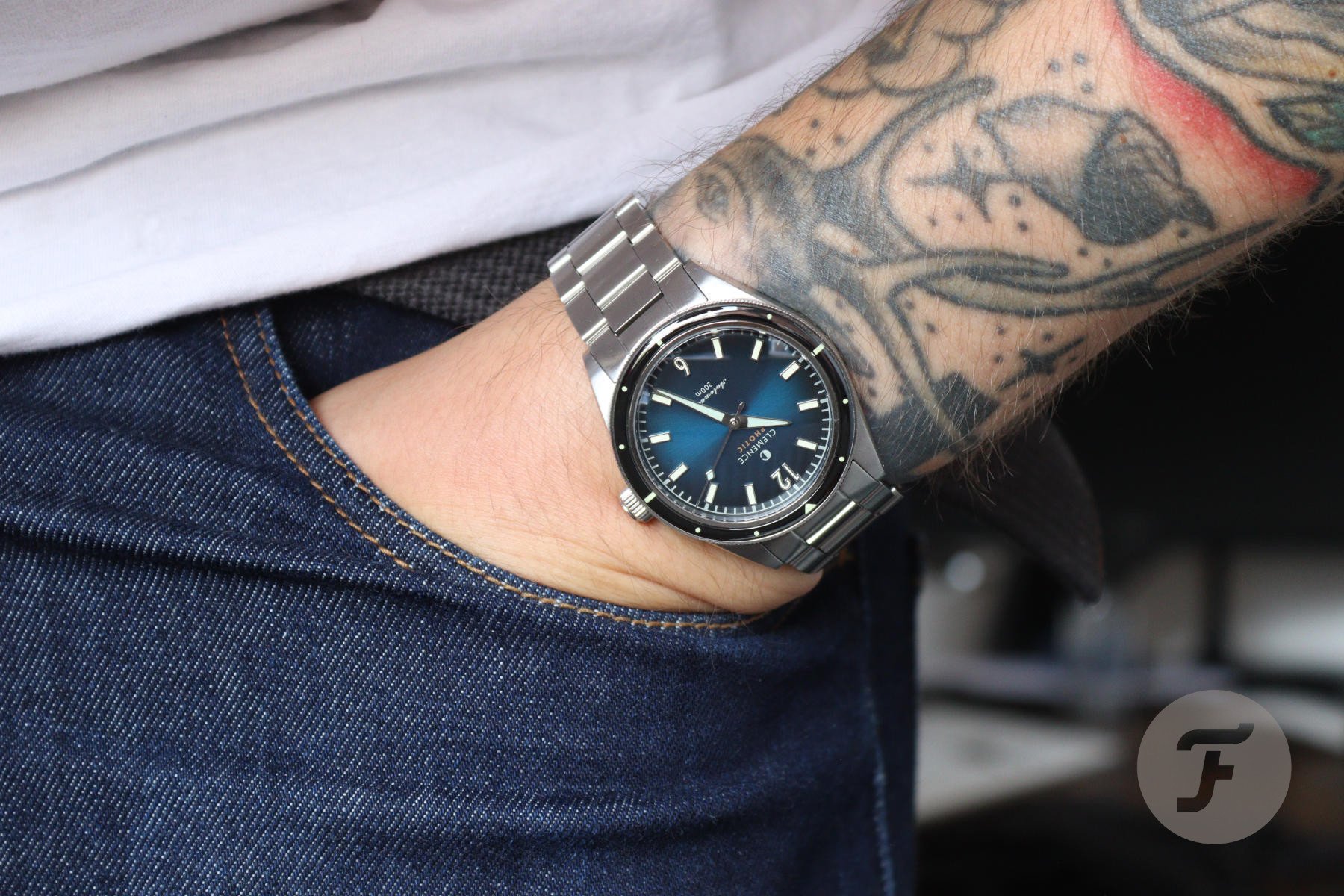 Strapping on the Photic Diver
Included with every Photic Diver are a stainless steel bracelet and a topic-style rubber strap with quick-release spring-bars. Sadly there are no quick-release spring-bars with the bracelet too. These days I think bracelets should come with quick-release as standard as they're not hard to find or implement. I'd suggest that Clemence looks at upgrading this for production, as it looks as though they'd require no re-engineering of the end links.
The bracelet is a no-nonsense Oyster-style one, which benefits from its female end link integration. This means the 47mm lug-to-lug is not extended when using the bracelet. Clemence opted for a nice, well-machined push-button clasp with diver extension. There are no sharp edges, and the operation was flawless during my time with it. It's possibly a little larger than really necessary.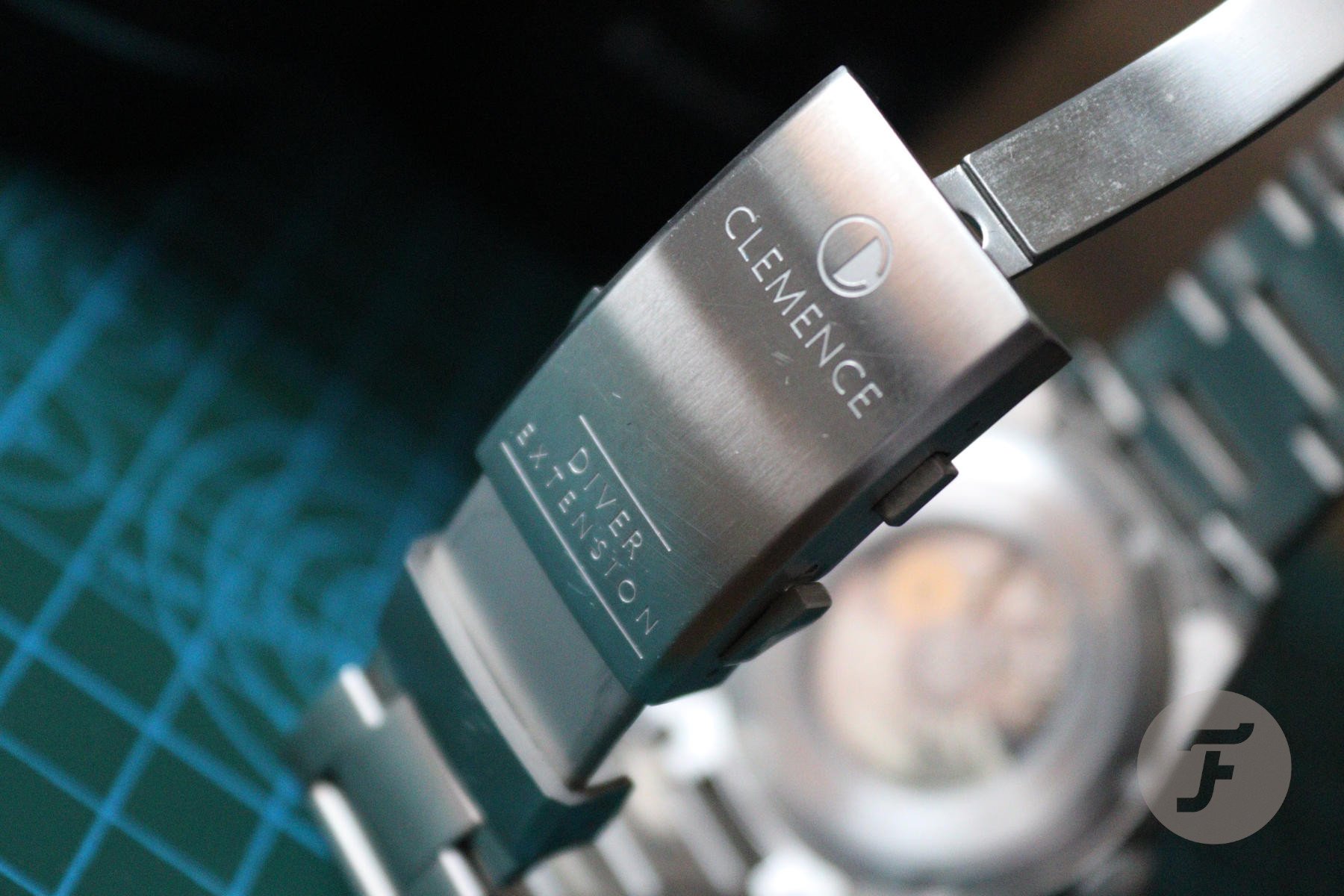 Size doesn't always matter
I say "possibly" because the clasp is functionally excellent, but it's not far off the same length as the watch. For serious dive watches or those with larger diameters, these clasps make perfect sense. However, for a basic dive watch like the Photic Diver, a slightly smaller option would perhaps have better complimented the watch's overall physique. I do want to stress that it's still very well put together. Finishing off the package, backers will receive their watches in a nice leather pouch. The pouch has separate sections for the watch and the extra strap and a holding tab for the including strap change tool. I rather like it, and it's infinitely more useful than some of the bulkier cases I've seen other microbrands use.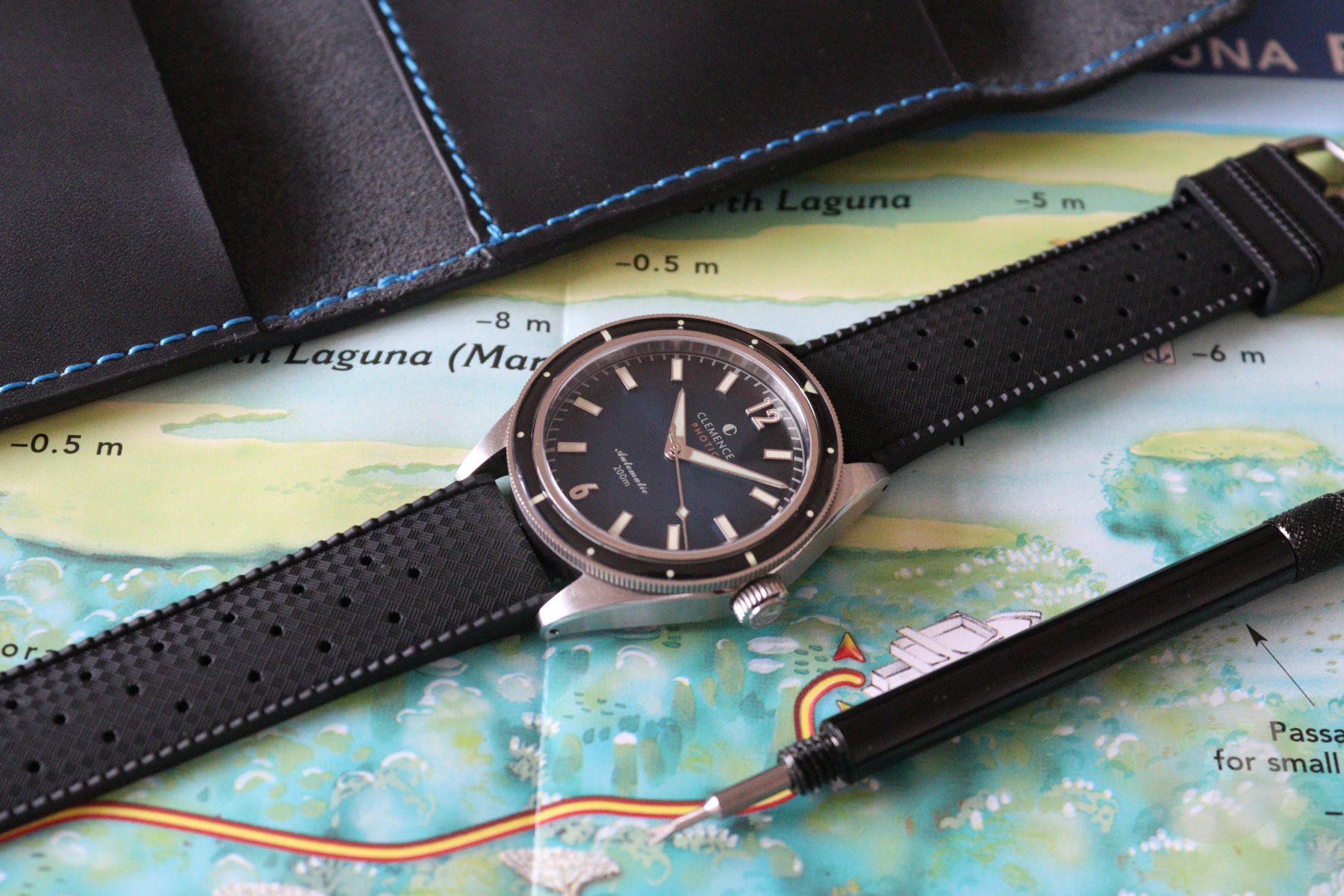 Is the Photic Diver value for money?
So I have talked a few times about this watch and its price point. Well, that price point will be £429, at full retail price, once the Kickstarter campaign is finished. As ever, backers can expect some discounts when they pre-order through Kickstarter, though. How much discount, you ask? Well, the first 50 backers can pre-order for £364, with prices rising up to £410. Even at its full retail price, this watch offers some serious value for money but, for £364, it's a steal.
…you're supporting a small Scottish business as well as making a positive contribution to the environment.
The only thing holding microbrands back in these price brackets is comparisons to more established brands. There are obvious choices here, but, let me say this: the bracelet is of good quality, and the bezel lines up. That's not something people can always say with the budget offerings of other (well-established) brands. Plus, you're supporting a small Scottish business as well as making a positive contribution to the environment. For every watch sold, Clemence will fund planting one UK-native tree, proving benefits to local biodiversity and the global environment.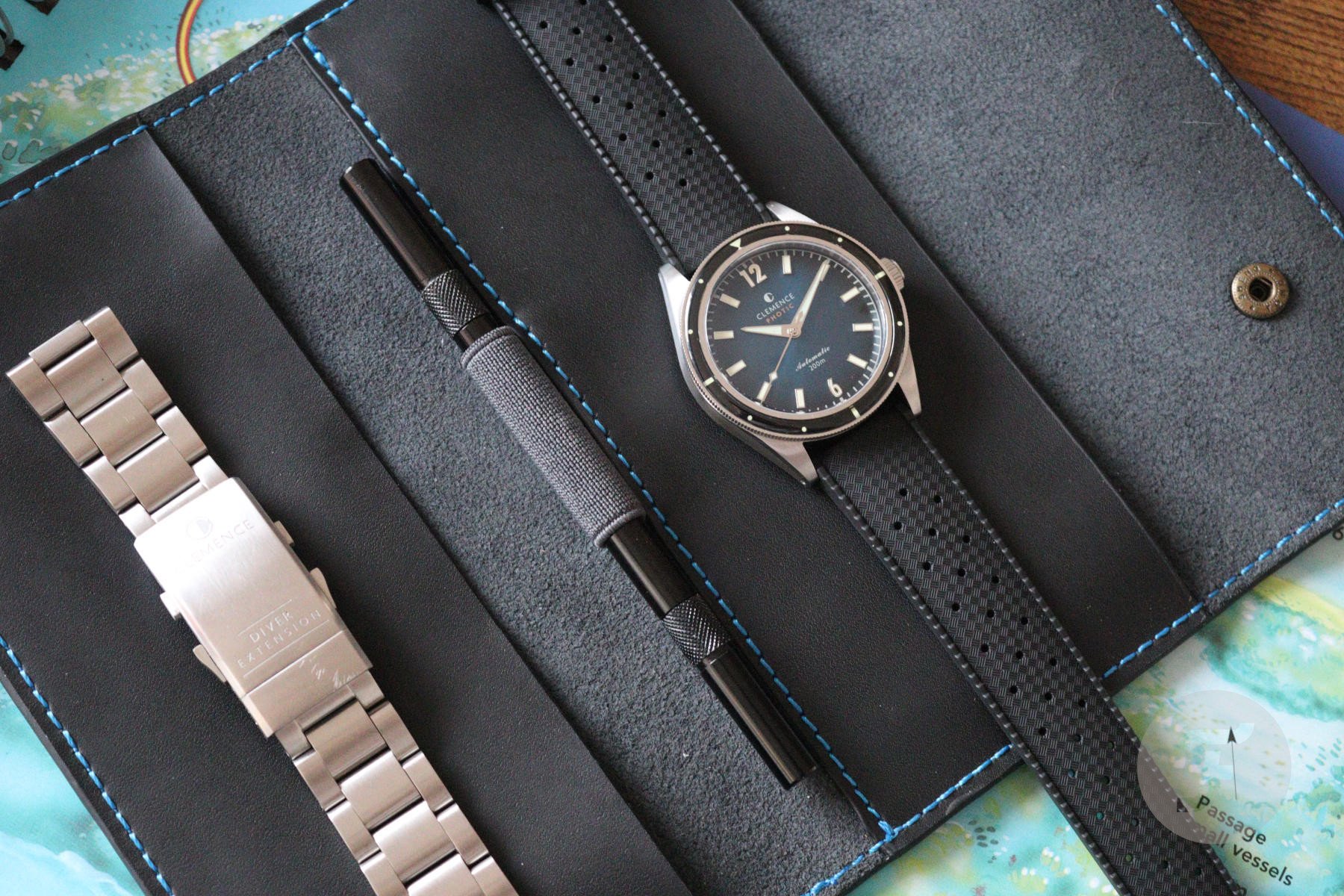 Clemence cares about the environment
In addition to planting trees, Clemence pledges to further offset the carbon footprint of each watch by working with Ecologi, a Bristol-based climate action group. Clemence is donating a percentage of its profits to Ecologi to help fund carbon reduction programs. These include international habitat creation and protection, funding of renewable energy sources, and other environmentally conscious humanitarian projects. So, for your money, you're getting a great-value watch with a beautiful design, supporting a small business, and making a positive contribution to the environment. Not bad, eh?
The Clemence Photic Diver will be available for pre-order on Kickstarter on Tuesday 14th September 2021 at 5pm UTC/GMT. You can pre-order the Clemence Photic Diver on the brand's website here. Prices start at £385.
Follow me on Instagram: @davesergeant