Coffee And Every Omega × Swatch MoonSwatch, Please — And How About A New Rolex Daytona "Panda"?
We're also serving two new, strong, and tasty Italian-brewed Unimatics
I'll have a coffee and every Omega × Swatch MoonSwatch to start the week, please. Do I have to ask what you did last weekend? Do you want to talk about camping outside the nearest Swatch boutique? Please share your adventures and let me know if you scored one of the eight, not eleven, possible planets — the Sun is a star, the Moon is a satellite, and Pluto is NOT a planet according to the International Astronomical Union (IAU). Or in the very possible case that it's been mission impossible, it's good to share your frustration over a coffee to get it out of your system. If you really don't want to talk about it, maybe speculate with me on an updated Daytona; what should it look like, and what should power it? There's also a serving of two strong and tasty Italian-brewed Unimatics to kick-start your day or watch conversation.
What did you do last Saturday? Did you bring your sleeping bag and airbed to camp out on the high street? How long did you wait in line, and which one of eleven did you get? Oh, and did you bring a bottle to pee in? Hey, Nacho wants to know, not me! Please don't tell me you didn't know about the Omega × Swatch MoonSwatch, which became available after three days of hyping up the watch world. What's your favorite model in the metal, pardon me, the plastic, pardon me, Bioceramic anyway? Is it the yellow for the Sun, dark gray for Mercury, pink for Venus, green for the Earth, light gray for the Moon, red for Mars (my favorite one), khaki for Jupiter, taupe for Saturn, light blue for Uranus, blue for Neptune, or light gray with a burgundy "Panda" dial for Pluto?
Coffee and every Omega × Swatch MoonSwatch please – Pick your favorite out of eleven
I have more questions for you. How many kinds of MoonSwatch models are there in your office today? Did you manage to put together a full solar system of MoonSwatches at the water cooler? Anyway, the release of no less than eleven Omega × Swatch MoonSwatch models caused quite a stir. Some people love it and think the MoonSwatch is great fun. Others are puzzled, and some even think the Bioceramic watch damages the reputation of the real Moonwatch.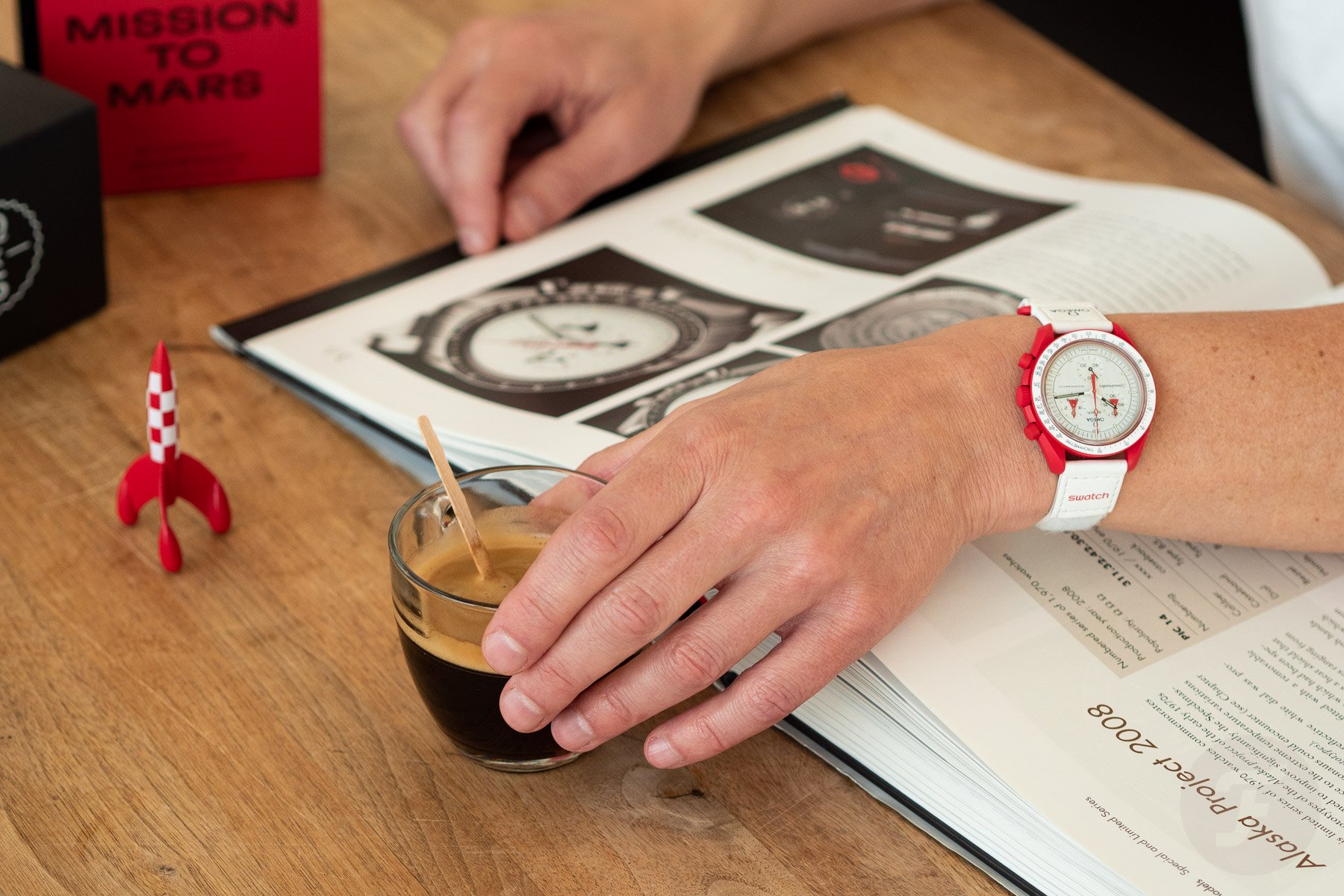 RJ already went hands-on with the fiery red Mission to Mars. And I also had the chance to wear it before the worldwide release. I think it's fun. Finally, you can buy and actually wear a red-cased Speedmaster Alaska — I tried Gerard's 2008 Alaska Project on for size, but it really doesn't work with the outer aluminum casing on. What I also like is that the Mission to Mars has the original red Mercury rocket-shaped hands from the 1969 Alaska; they're the extra icing on the already frosty cake.
The watch equivalent of a perfect storm
The attention to detail in all these models is amazing, by the way. Take the exact replication of the shape of the Speedmaster case, for instance. The details on the dials and the bezels are stunning as well. The Omega × Swatch is a novelty in the world of watches. It's unique in every way. Think about it. You have two brands from the opposite of the watch spectrum that are both iconic in their own right. You take an iconic watch and reproduce it in a novel material. And the name "MoonSwatch" is a godsend. Everything falls into place with this project.
There's no other watch group that has opposite brands in its portfolio that have the possibility to replicate something like the MoonSwatch. Creating a Blancpain × Flik Flak Fifty Flak Flik is not a good idea. Maybe Casio and Audemars Piguet should get together to create an official CasiOak, but it won't be the same. And it would be a me-too product on top of that.
MoonSwatch mania in Rotterdam and Amsterdam (and the rest of the world)
The fact that the MoonSwatch is not, I repeat, NOT, a limited edition, didn't seem to matter. Not at all. Did the masses outside the boutiques fall victim to a case of hyperbolic instant gratification? Maybe. Did smooth operators see the opportunity to make a quick buck? Could be. But the three young American friends I spoke to in Amsterdam were genuine watch lovers. And while talking to them, more watch fanatics joined the conversation and expressed their love for the project. They also said that until that moment — three hours after the opening of the boutique — they hadn't heard from anyone in line that they were there for the easy money.
Omega made a Speedmaster for the price of a Swatch and created a Rolex-buying experience.
Interestingly, when I mentioned the fact that the MoonSwatch is not a limited edition, one of the three Americans, who was wearing a Rolex Day-Date, said that he thought that Swatch won't be able to meet the demand for a long time coming. In other words, the MoonSwatch is not a limited edition, in the same way a GMT-Master II "Pepsi" isn't. But, in reality, it very much is. One of our readers commented on the release of the MoonSwatch like this: Omega made a Speedmaster for the price of a Swatch and created a Rolex-buying experience.
My opinion is still split. Either, the Omega × Swatch MoonSwatch is the watch equivalent of a perfect storm, or Omega and Swatch have created a monster that will wreak so much havoc, it will endanger both its creators. Please discuss. But maybe first grab a glass of water because it could become a lengthy and heated debate.
What About A Rolex Daytona "Panda" for 2022?
With Watches and Wonders 2022 just around the bend, anticipation takes a hold of me. What will Rolex present? I've been thinking a lot about an updated Daytona and talking about it at Fratello HQ. Isn't it time for a new generation of Daytona chronographs? I believe so. The next-generation Daytona should be colorful and technical, in my humble opinion. We'll give Rolex a break. No need to change the 40mm × 12.2mm case, with its 46.5mm lug-to-lug length and 20mm lug width. With those dimensions, it's pretty much perfect. But that said, we also wouldn't mind a major movement update or a ceramic execution that would turn the next generation Daytona into an ultra-light speed freak. I'm envisioning a Daytona with a matte black ceramic case and bracelet, a black dial with anthracite sub-dials, and a touch of red in the word "Daytona". And a "Panda"!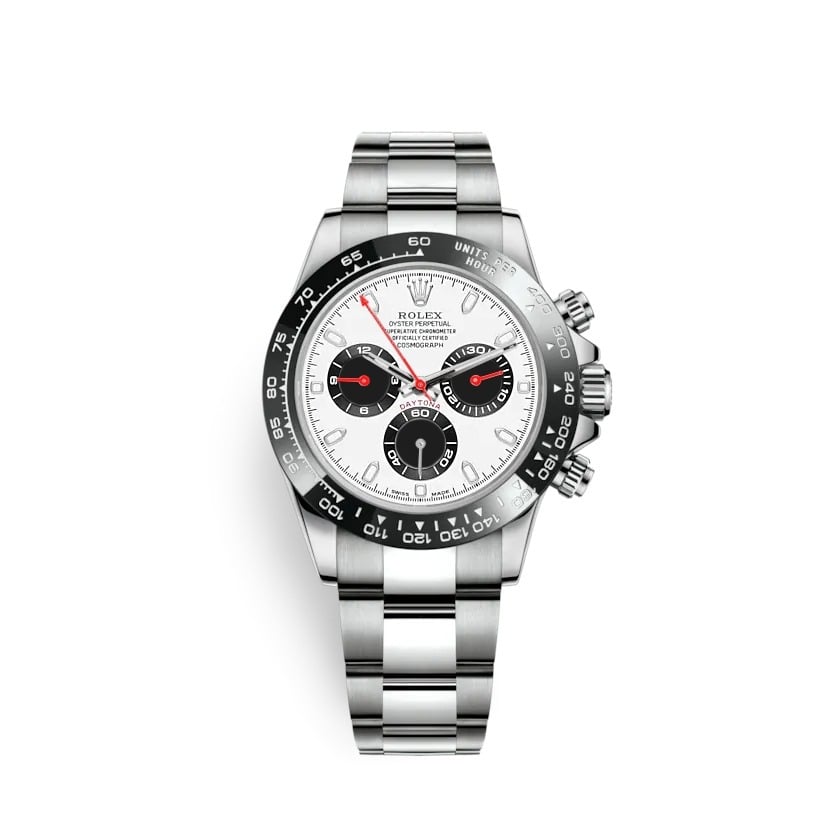 My colleague Dave turned my idea of a new steel Daytona "Panda" into something I can share with you.  That watch has a red central chronograph seconds hand that turns over a real "Panda" dial — not the mascara-wearing kind of panda sub-dial situation Rolex has going on now, but more powerful, solid black sub-dials instead. Also in the mix are red hands on the 30-minute counter at 3 o'clock and the 12-hour counter at 9 o'clock. And "Daytona" in red on the dial too? Come on now, Dave, that would be too much.
I have visions of a "Hulky" Daytona
What I also wouldn't mind is a steel-and-Everose Daytona with a chocolate-brown dial and ceramic bezel in black for a strong coffee kind of look — the ideal Monday watch. And what about a steel Daytona in "Hulk" attire? That would be a Daytona with a green ceramic bezel, a fully green dial, black hands to indicate time, and light gray hands for the chronograph function.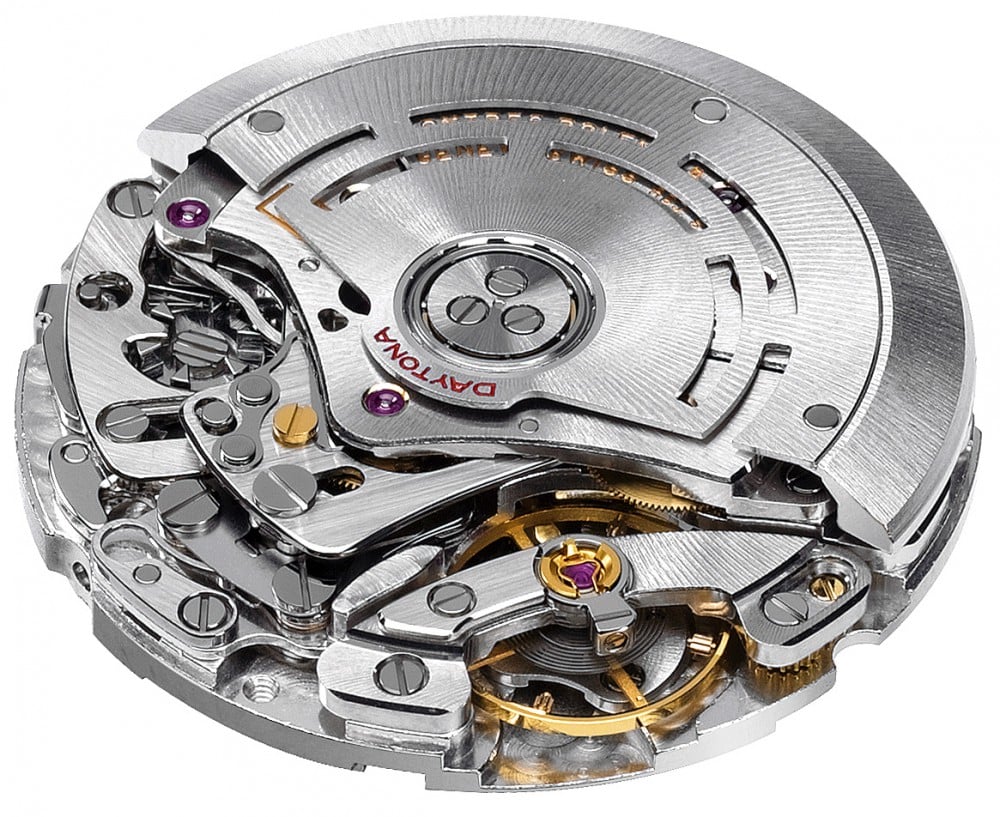 Longing for a high-tech, born-to-race movement
Maybe it's also time to say goodbye to the caliber 4130 that beats in the current Daytona line-up. This 4Hz, 72-hour power reserve, superlative chronometer movement has a daily rate of ±2 seconds per day. Rolex states that the Daytona is "born to race". But don't you think that racing requires the fastest, most powerful, and most technically advanced engine?
… the next generation Daytona deserves a 36,000vph engine …
That's why the next-generation Daytona deserves a 36,000vph engine with at least 80 hours of power reserve and superlative-chronometer performance. In my dreams, I see a dual-escapement construction where the timekeeping part of the movement beats at 36,000vph and the chronograph part at a blistering 360,000vph. But maybe that could only be done if Rolex once more turns to Zenith, and that, I believe, will never happen again.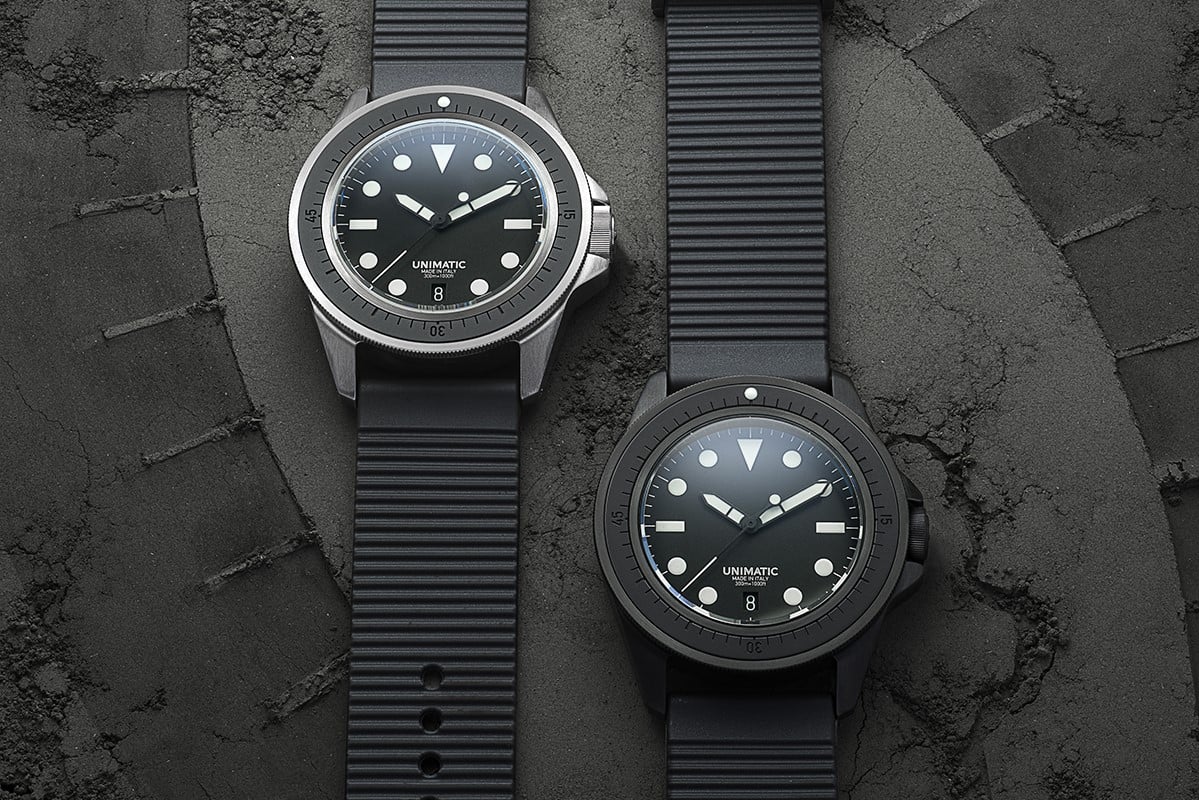 The Unimatic Modello Uno ref. U1S-MP and U1S-MPN are like a shot of ristretto
The 2015 Unimatic U1 series dive watches were an instant hit. It must have been the minimalist style that somehow enhanced the functional DNA. And now, the Modello Uno divers are back in a slimmer 40 × 11.6mm case. Inside the case, you will no longer find a Seiko NH35A automatic movement. The U1S-MP and black U1S-MPN watches — with either a brushed finish or black DLC coating — are outfitted with an automatic Swiss Sellita SW200-1 movement.
Down to the bare essentials
The Uno U1S-MP is a limited edition of 500 for €865, and the U1S-MPN is a limited edition of 400 for €965. Both models feature a 60-minute unidirectional rotating bezel with a fully graduated, matte black, and engraved aluminum insert. Both watches are water-resistant to 300 meters and the dials feature the matte black look of Unimatic's original U1 with striking white sword hands and circular, rectangular, and triangular indices. Apart from that, the dials are stripped of any kind of superfluous decoration. These watches are pretty much a love/hate thing; you either get the concept and like it or you don't. That's the reaction here at Fratello HQ, anyway. What are your thoughts?
Have a great (watch) week, and stay tuned to find out about the upcoming novelties from Watches and Wonders on Fratello.
Please find and follow me at Lex Stolk • Instagram