Speedy Tuesday – In Conversation With A Speedmaster, Space And Lego Fan
The first image I've come across from the guy we have on Fratello today was in this dedicated Speedy Tuesday Facebook group where he showed an incredible nice composition of the first Speedmaster Speedy Tuesday (2017) and some props.
These props often consist of everyday things and Lego. A lot of Lego. Space Lego to be precise. Being a kid from the 1980s, I often recognize the little figures he uses as Space Lego was my favourite as well. Recently, he started an Instagram account (@Plywoodemoji) where he shares his artwork with the rest of the world. In the meantime, he also purchased the Speedmaster Speedy Tuesday "Ultraman" and did some amazing compositions with this edition as well.
Space, Lego And Speedmasters
Time for us to talk to the guy behind this @plywoodemoji account and ask him about what drives him and where he gets his inspiration from. He likes to remain anonymous, which we respect of course. So we stick to his Instagram name @plywoodemoji.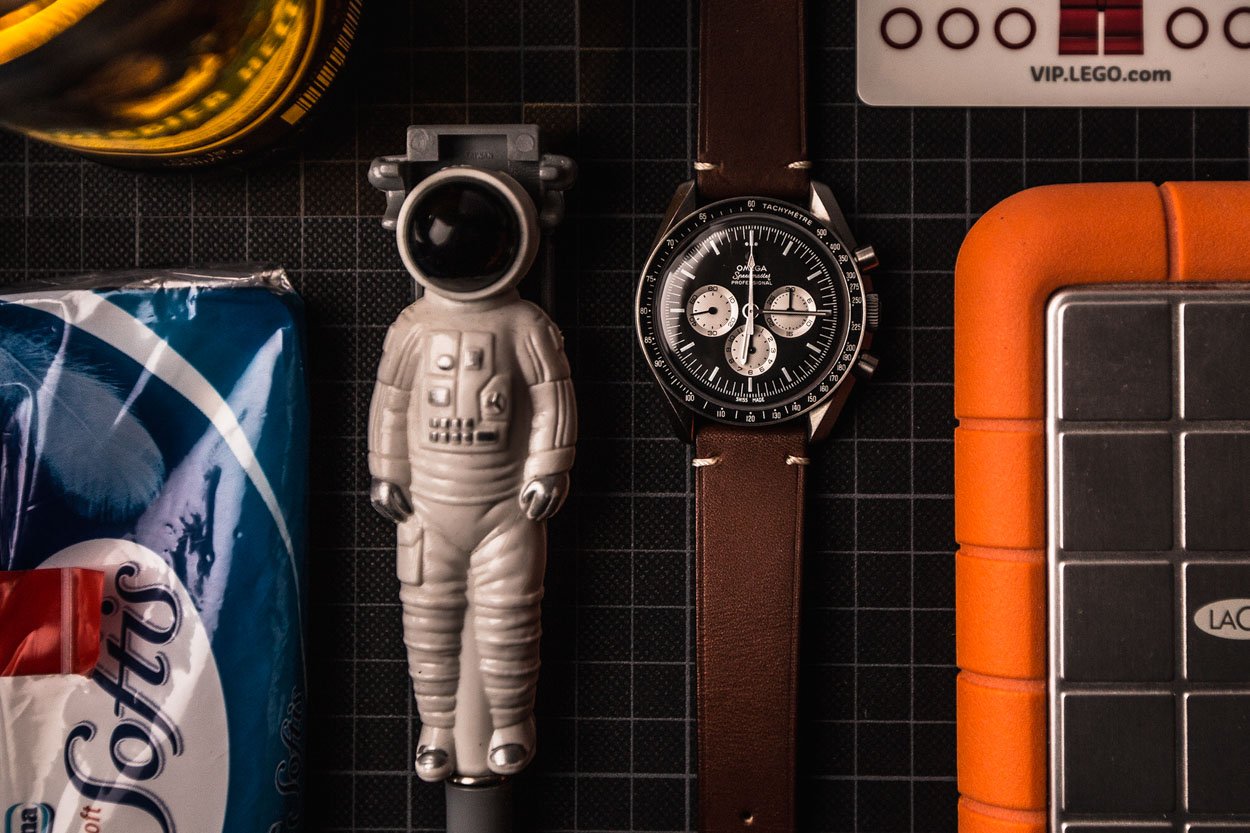 Who are you and what is your background?
I'm an artist in my late thirties, my main focus being painting and photography. Currently based in Berlin, Germany.
What was your first encounter with Speedmasters?
I  have for as long as I can remember been fascinated by space exploration and NASA history. The Omega Speedmaster is a natural part of this. I can not remember my first encounter, but it must have been through the internet. At some point, I stumbled across the website ran by Chuck Maddox (see our famous interview with him here) and after that, I became more interested and aware of their existence.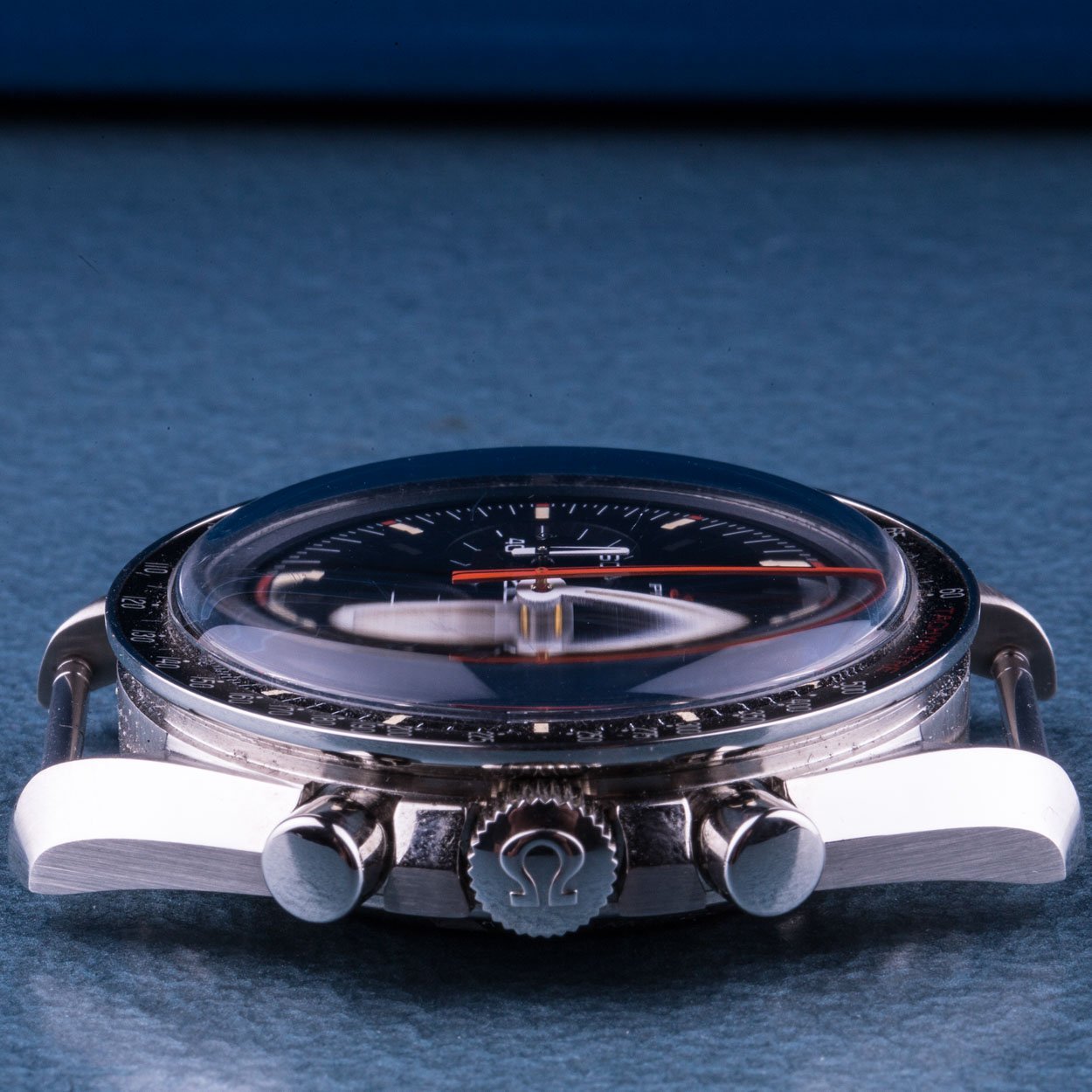 What made you decide to go for the Omega Speedmaster Speedy Tuesday watch in 2017?
After getting into mechanical watches some years ago (I bought a CWC Chronograph and really enjoyed wearing it), I started doing research and reading about watches online. I became aware of Fratello and other resources and greatly enjoyed the Speedy Tuesday content (for all +350 articles on Speedmasters). When I was at the right place at the right time when the first Speedy Tuesday watch was launched, it was a very quick and easy decision. I just saw the photo and thought "WOW". What made me fall for it initially was the reverse panda dial and Alaska project design cues. Over time I have come to appreciate many more of its details and how neatly they all come together. I also love the internet aspect of it, dubbed "the first Omega in cyberspace". It ticked a lot of boxes and the watch continues to grow on me.
You have been creating a lot of artistic and creative photography that revolves around the Speedy Tuesday. What drives you?
Creativity is an axe that needs constant grinding. I saw a lot of great watch photography online and felt inspired to attempt to come up with my own twisted versions. It is refreshing to try new things, and what I might learn trying to make a neat watch photo can also be applied to other fields of my creative output.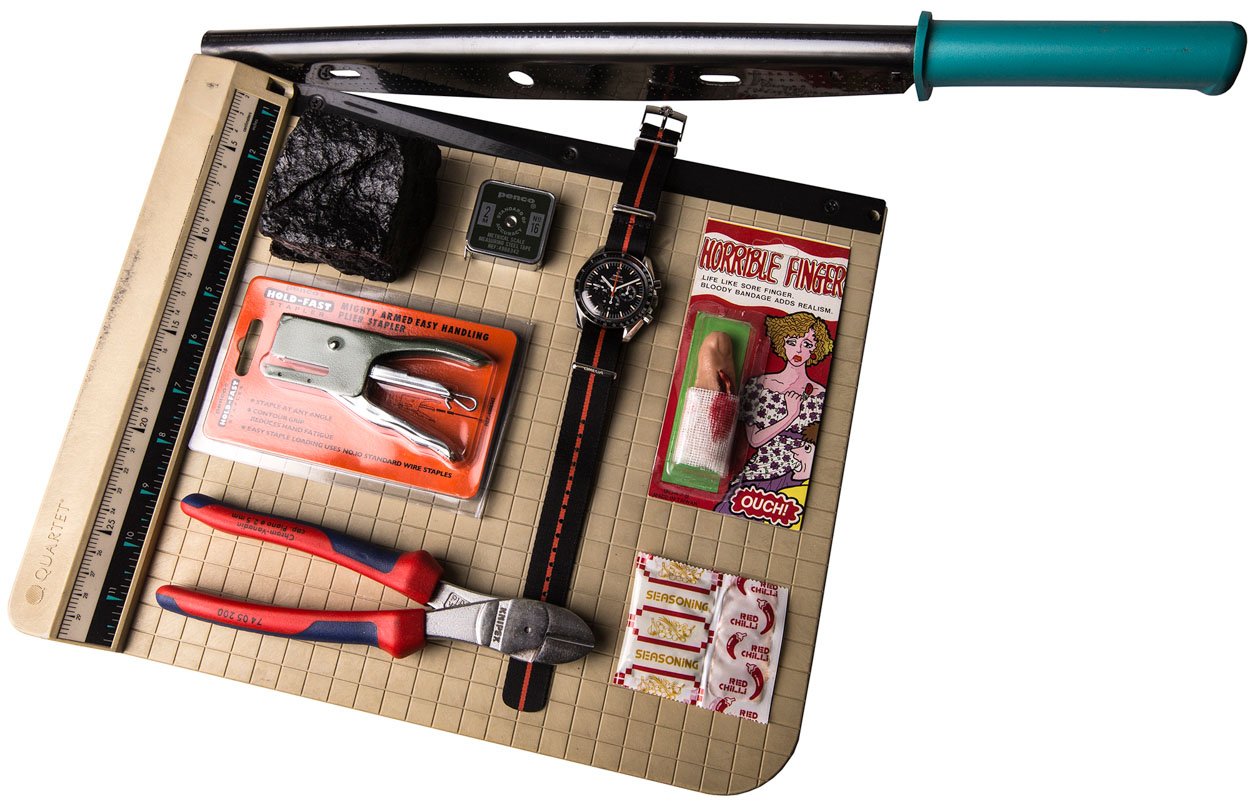 You also went for the Speedy Tuesday 2 'Ultraman' watch, was it a logical thing to do or did you just like it very much?
I think it was both. I liked that the ST2 offered new takes on old and loved design details. When we read about these old watches online or in books, we see enlarged photos of tiny bits like fonts, applied logos, step dials, DON bezels etc. What occurred to me when seeing the ST2 in the flesh for the first time was how much these very small details also can make a huge difference in perception and overall appearance. The ST2 has made me want a vintage Speedmaster even more.
Which of the two watches is the most versatile when it comes to creating artwork?
As they still are Speedmasters I find them both to be very versatile in photos. Shooting them next to each other opened my eyes to the difference between a brushed and a polished case and what an effect that can have.
You use a lot of Lego in your images, how come?
I have always been a big fan of Lego. The design of the minifigure is great, and I have been intrigued by the depiction of the astronaut, or spaceman, in toy manufacturing in general. So I collect Lego spacemen and also include them in my images because they serve as common reference points and just look good. Like Omega, Lego has ties with NASA and appeal to fans of space exploration in general. Like a Speedmaster, the Lego spaceman exists in a lot of different versions; it can be common or it can be super exotic, vintage or modern, while still sharing those well-known design cues and thus being instantly recognizable. This is a mark of good design and I find this to be similar to how any of the many Speedmaster versions instantly register as a Speedmaster.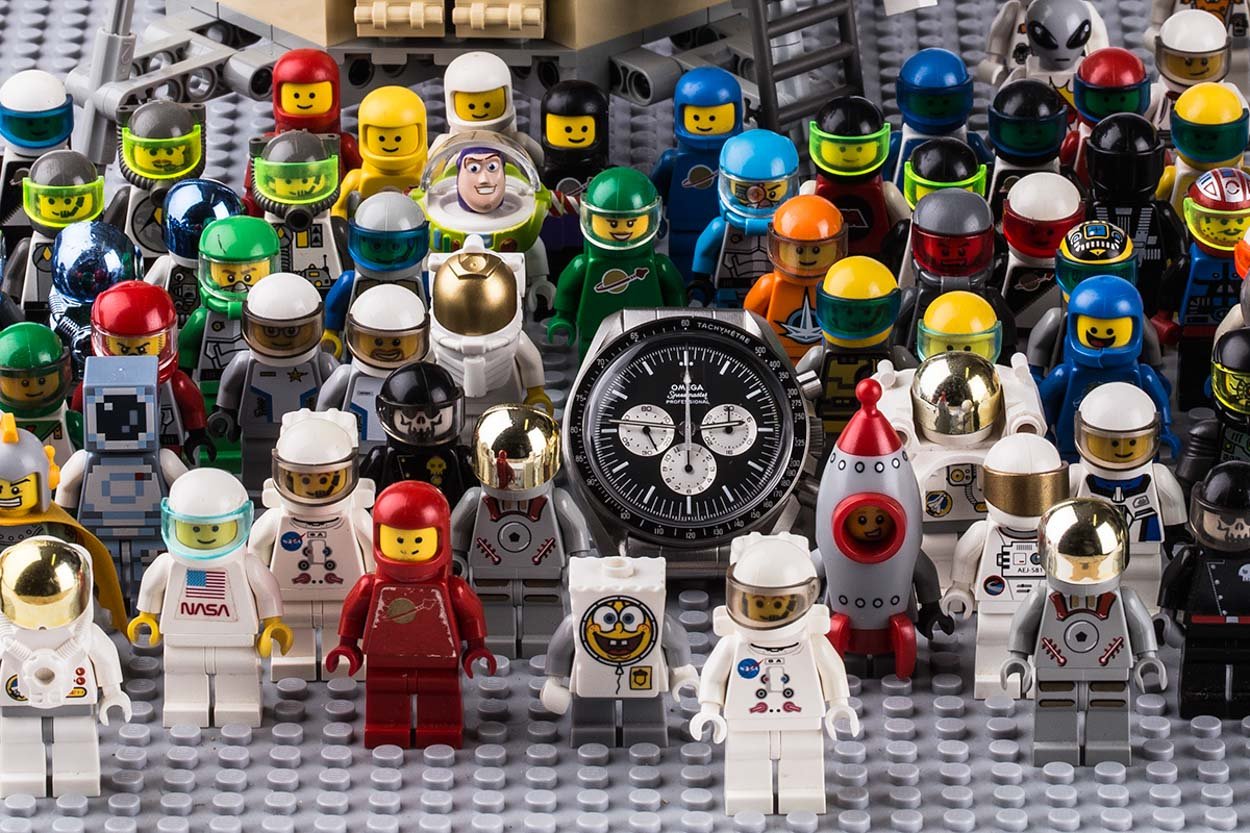 Which ST do you wear most of the time?
Hard to tell. I have worn the ST1 a lot and know I will always keep it. But after I got the ST2 I have been wearing that a lot too.
What appeals most to you about the Speedmaster community?
What appeals to me is the wealth of information, inspiration and support.
Thanks for this interview!
Make sure to give @plywoodemoji a follow on Instagram.