Crafter Blue Introduces A Green-Dialed Hyperion Ocean 600m Dive Watch
Our thoughts on the watch as well as the new color way
If you have ever found yourself looking for an aftermarket rubber strap for your Seiko, the name Crafter Blue will certainly ring a bell. The brand rose to fame only a few years ago in 2016 thanks to its production of some of the best fitted rubber straps on the market. Since then, many competitors have joined the market with similar products. But if you're looking for bang for your buck, Crafter Blue's straps remain the best option out there. A year and a half ago, I bought one for my Seiko SRPC35K1 "Mini Turtle". It's a strap that makes it back onto the watch every summer. But how does a company that started as a strap manufacturer fare in making an over-specced yet affordable dive watch?
Ever since the release of its first watch in 2018 (the Mechanical Ocean 300m) and the first Hyperion Ocean Watch in 2019, Crafter Blue has come a long way. Last year, Lex reviewed the brand's Hyperion Ocean Chronograph. This surprising release came in the form of a 200m water-resistant chronograph with a unique colorway and a sharp 42mm case. I found the watch to be rather impressive in its attention to detail and fantastic design — dive-chronographs are not a style of watch that we see pop up all that often. If there is one watch that could be seen as the brand's flagship, however, it's the Hyperion Ocean 600m dive watch. With its oversized Panerai-esque looks, I wasn't immediately drawn to it. But after giving it a fair shot and having it on my wrist for several days, it did start to grow on me.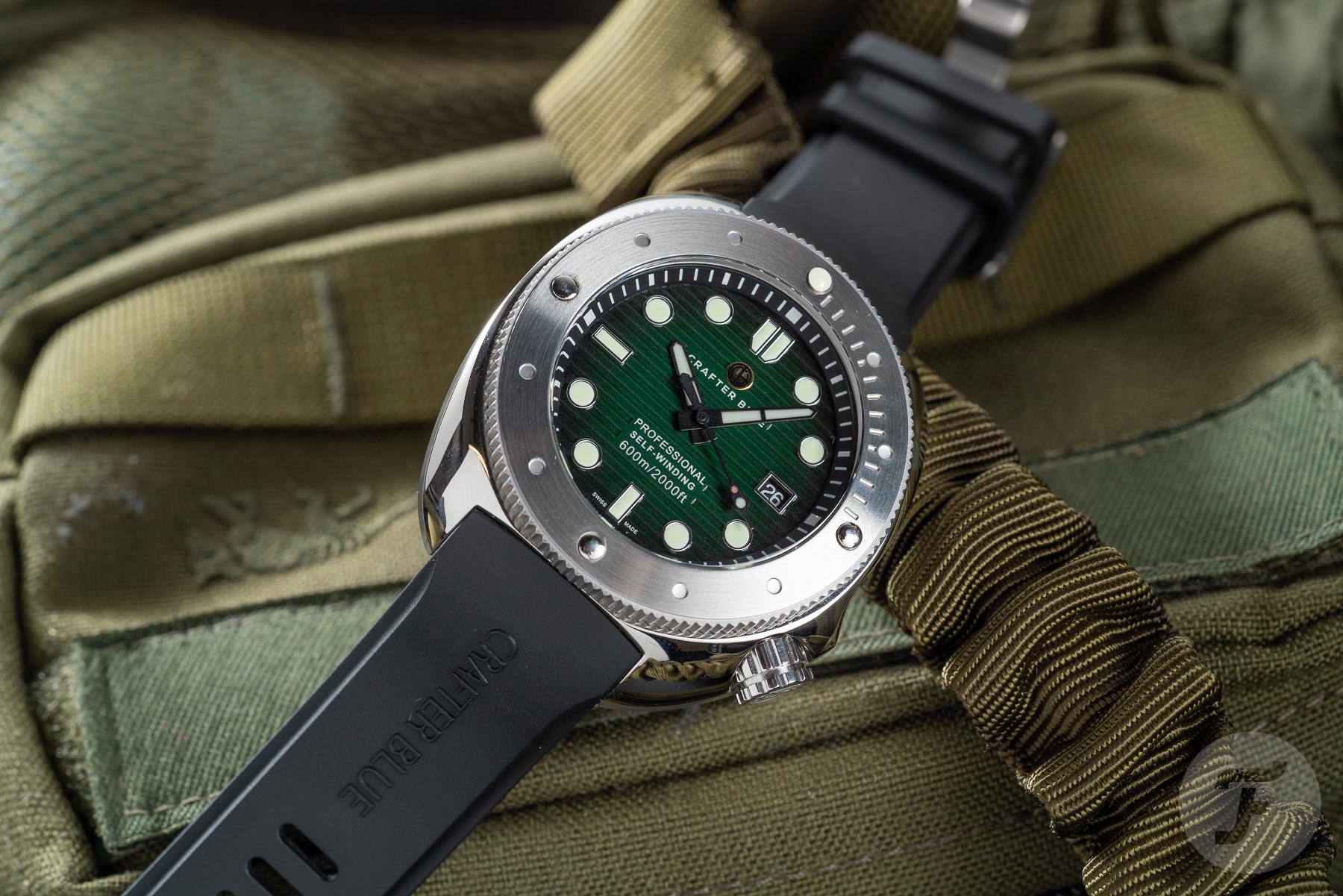 The Crafter Blue Hyperion Ocean 600m
I won't get lost in the details with this one, as we have already covered the Hyperion Ocean 600m here and here. However, what I will do is tell you what it's like on the wrist, as well as what's new about it. Starting off with wearability, the watch has an unapologetically chunky 45mm case with a 50mm lug-to-lug and a stance of 16.5mm tall. These dimensions might make it sound impossible to wear. But I was lucky enough to not know the watch's dimensions before putting it on my wrist. And let me tell you, ignorance truly is bliss. I was surprisingly happy at how it wore on my 7-inch wrist. It was only when I took the calipers to it that I was shocked by its dimensions. Perhaps it's due to the relationship of circumference to lug-to-lug and the fitted rubber strap that makes it wear better than you might imagine.
The watch is as over-specced as it is oversized. The large steel case is matched by its heavy-duty screw-down crown and steel bezel (reminiscent of a Panerai Submersible). Other than the fact the case's upper surfaces are fully polished (with satin-brushed sides), the watch truly feels like a purpose-built diver. This is helped by the fact that it has a water resistance of 600m and a helium escape valve that's nicely integrated on the left side of the case. Inside, a soft-iron shield protects the Swiss Sellita SW200, giving it plenty of magnetic resistance. The shield bears the Crafter Blue logo and is visible through the small crystal case back. The strap, as with all crafter Blue straps, is supple and a total joy to wear. It's also extra long so it ensures a perfect fit over a diver's wetsuit.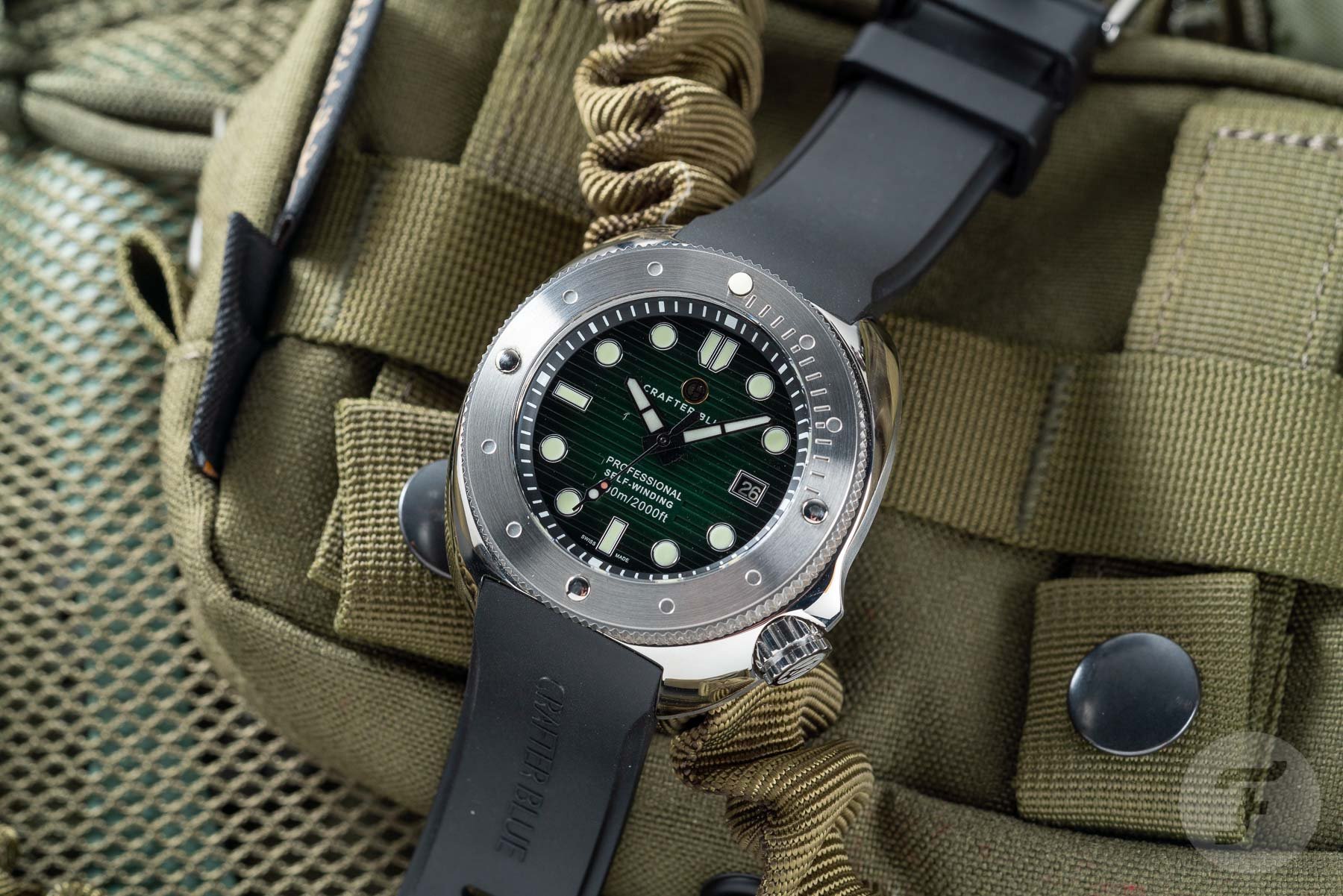 Final thoughts
What's the true highlight here, though? Well, I've saved it for last. The latest version of the Crafter Blue Hyperion Ocean 600m comes with an upgraded dial. Its luminescent markers remain the same, but the color and texture are both new. The dark green vignette dial also has a new golden applied logo, as well as a silver date window. These elements add a lot of depth to the dial. And so do the horizontal ridges, which are reminiscent of the Patek Philippe Nautilus and the Omega Aqua Terra dials. This version of the Hyperion Ocean comes with matte black hands and a Seiko-inspired "stoplight" seconds hand.
Overall, for $600 (as currently priced on the brand's site) you get plenty of watch — literally and figuratively. Personally, I very much enjoyed wearing it. And though it took me out of my 37–42mm comfort zone, it ultimately did not disappoint. The one thing I would change would be to reverse the brushed and polished surfaces. What are your thoughts on the watch? Let me know in the comments below. For more information about Crafter Blue and the Hyperion Ocean released today, check out the brand's website here.
Follow me on Instagram @ncgwatches