Cycling-Centric Watches: An In-Depth Look At The Bravur Grand Tour III Chronographs
Cycling watches ready for cinema
I recently had the opportunity to get my hands on two of Bravur's newest Grand Tour cycling chronographs. The Grand Tour La Corsa Rosa III is a black, gray, and pink number that easily dresses up or down. The Grand Tour La Grande Boucle III is sportier to my eye with its yellow, white, and black livery. Both chronographs wore comfortably and looked excellent. I'll admit it was more difficult than usual to send these watches back.
Bravur is making a name for itself as a maker of cycle-centric watches. Though its catalog spans more than just its Grand Tour cycling chronographs, they have been the brand's focus recently. Born from a friendship between two cycling partners, Bravur is a company that brings a decidedly Scandinavian flavor with Magnus Äppelryd's and Johan Sahlin's designs. The watches are designed and built in Båstad, Sweden, using Swiss movements. At 6 o'clock on the dials of the Grand Tour chronographs, where "Swiss Made" would usually sit on other watches, is the cheeky declaration "Swedish Soul, Swiss Heart."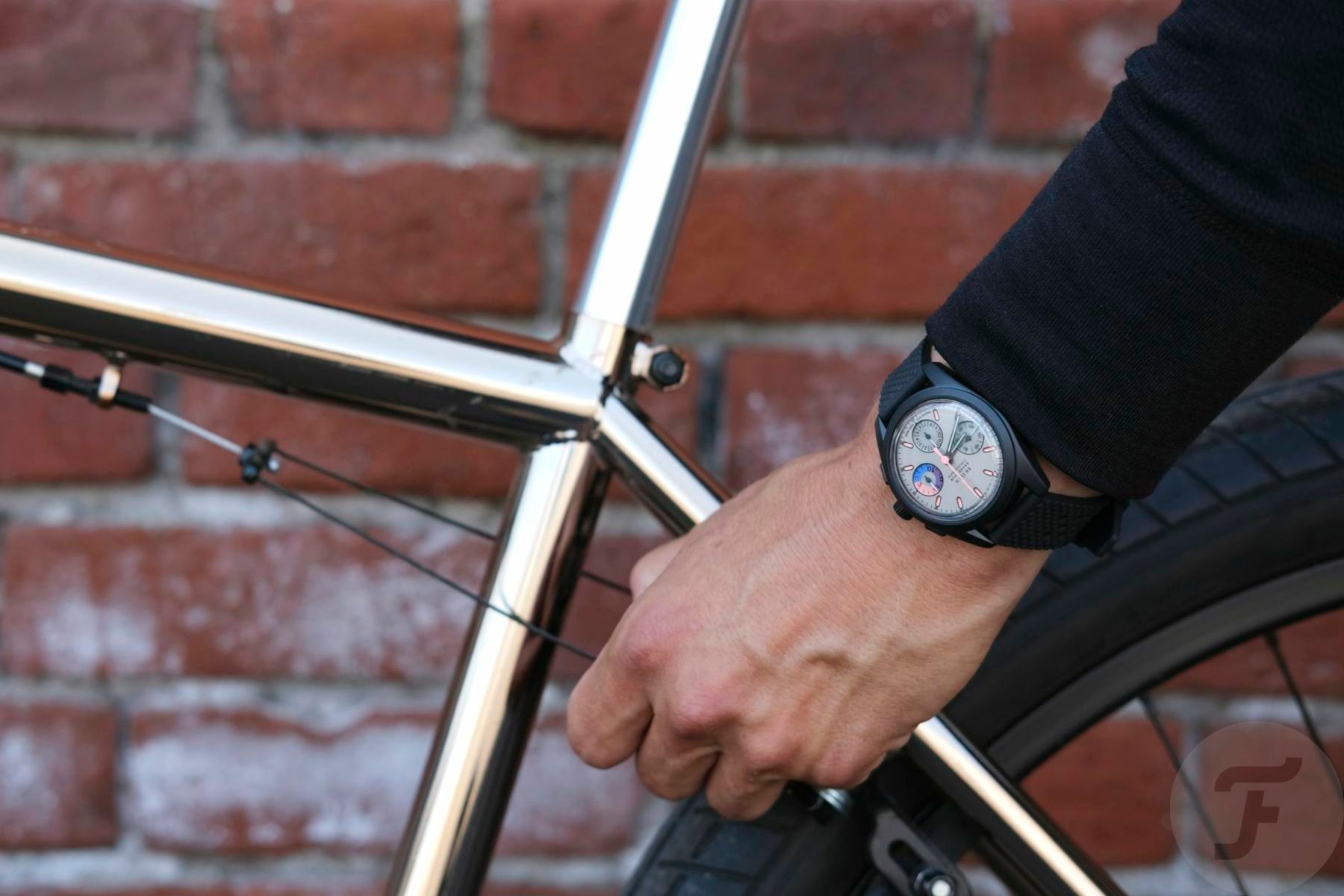 Bravur Grand Tour "III"
There are three families of watches under the Grand Tour moniker. The Grand Tour La Corsa Rosa III and La Grande Boucle III were the two that I got to review. The third and now-only Grand Tour series without a third ("III") iteration of the chronograph is one called La Vuelta. Each of the three families of watches is named for the biggest three European cycling races. La Grande Boucle is commonly known among native English speakers as the Tour de France. Each watch family also adheres to color palettes associated with race. Naturally, the watches bearing the Roman numeral "III" follow two previous iterations, each stylistically distinct though obviously related.
Of all the Grand Tour chronographs that Bravur has created, the two IIIs captured my gaze, eventually leading to this hands-on review. Rendered in black ceramic-coated cases, they're sleek and would be stealthy if not for the pop of colors on the dials and straps. The use of color and texture, impeccable dial layouts, and special little touches elicit watches that punch conceptually (and in actuality) well above what I'd think a microbrand could produce. Factor in the price point, and these watches are top contenders for no-date, 12-hour chronographs.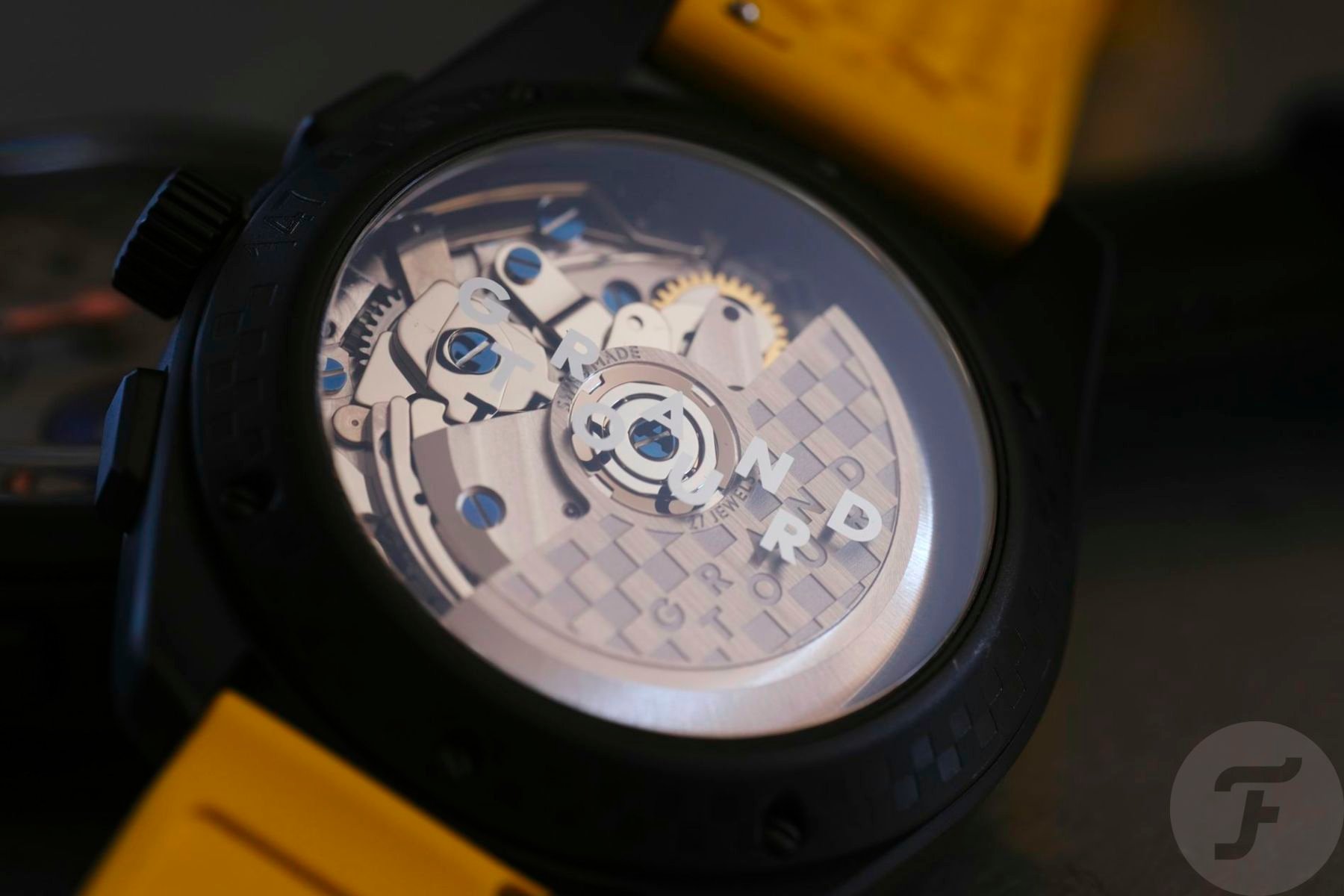 Specs first, fun later
Bravur powers its chronographs with a Sellita SW511 b. It's an automatic 12-hour chronograph movement with no date that orients the sub-dials at 3, 6, and 9 o'clock for elapsed minutes, hours, and running seconds, respectively. The minute counter tracks in 15-minute intervals, another distinction of the SW511 b. This movement is based on the Valjoux 7750, a workhorse mainstay of a chronograph caliber that is almost synonymous with the function. It beats at a 28,800vph frequency and provides a respectable 62-hour power reserve. Heat-blued screws and a custom "Grand Tour" rotor are visible through the sapphire exhibition case back. And yes, it has the pleasing (to me) and distinct 7750 rotor wobble.
The Bravur Grand Tour watches also share the same case. It's made of 316L stainless steel, though the IIIs are coated in black ceramic. Ceramic is clearly a superior choice over PVD for black coatings regarding appearance and durability, but I almost would prefer a more scratch-prone coating. I like my watches to build "character" as they're worn, and I think everyday-wear battle damage would look great on the Grand Tours.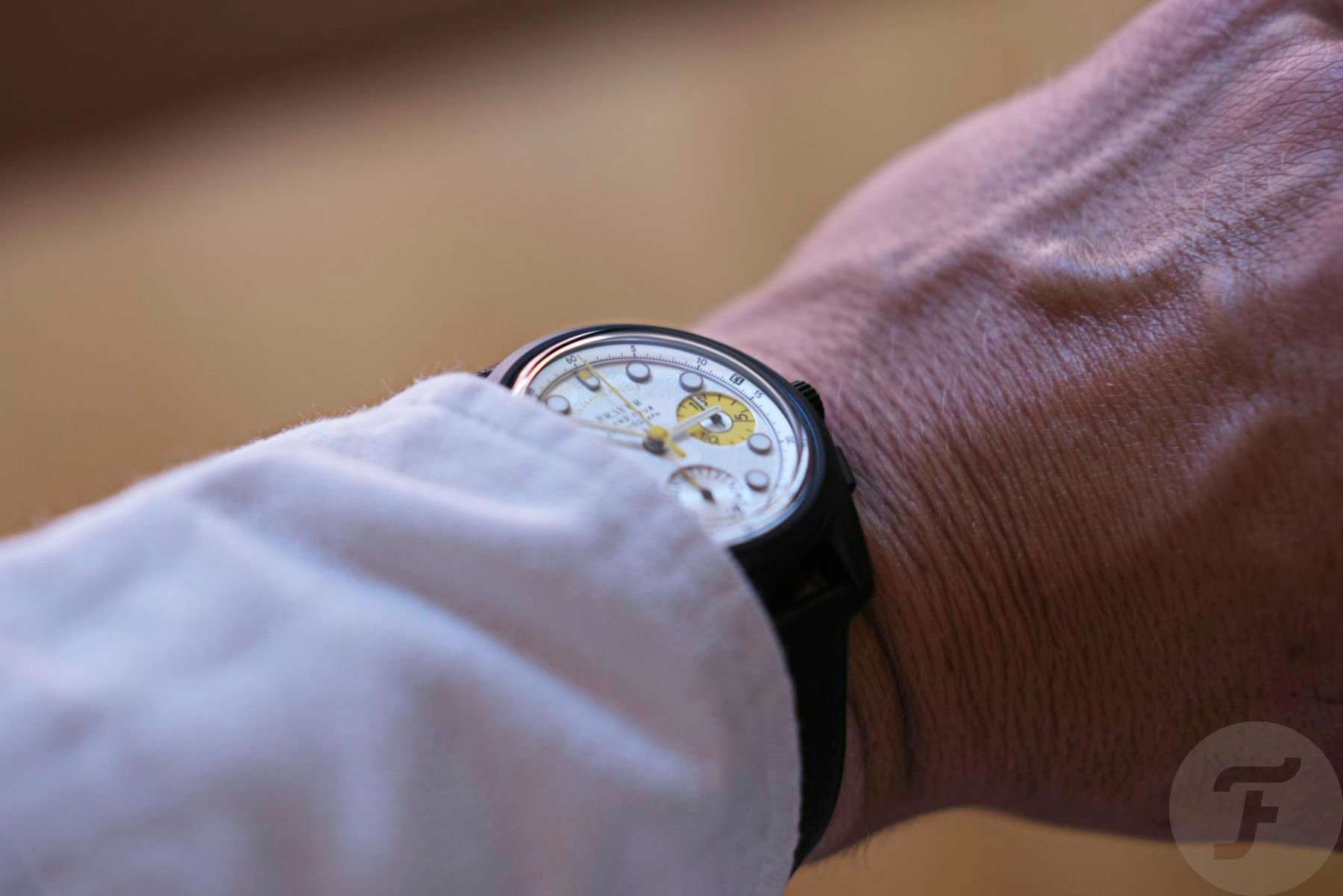 Dimensions and straps
The cases have a compact 38.2mm diameter and a 46.3mm lug-to-lug. This is offset somewhat by the thickness that comes with using a 7750 caliber derivative. These little watches are 14.4mm tall. The case geometries did much to visually hide that, and I had absolutely no discomfort on the wrist despite the suggestively stocky measurements.
In fact, the case is downright smooth and executed well with a nice, sweeping flow. The lugs terminate in proportion to the case diameter to hold 18mm straps. Upon purchase, either a textured FKM rubber or black leather strap is available. Bravur sent me both. For the La Corsa Rosa III, the gray and pink watch, I preferred the leather strap, playing into its elegance. For the La Grande Boucle III, it was irresistible on its equally bright yellow rubber strap.
The push-pull crown and paddle pushers seal the watch for a very respectable 100m water resistance rating. Just don't operate either while submerged. The top crystal is domed sapphire with an antireflective coating on the inside.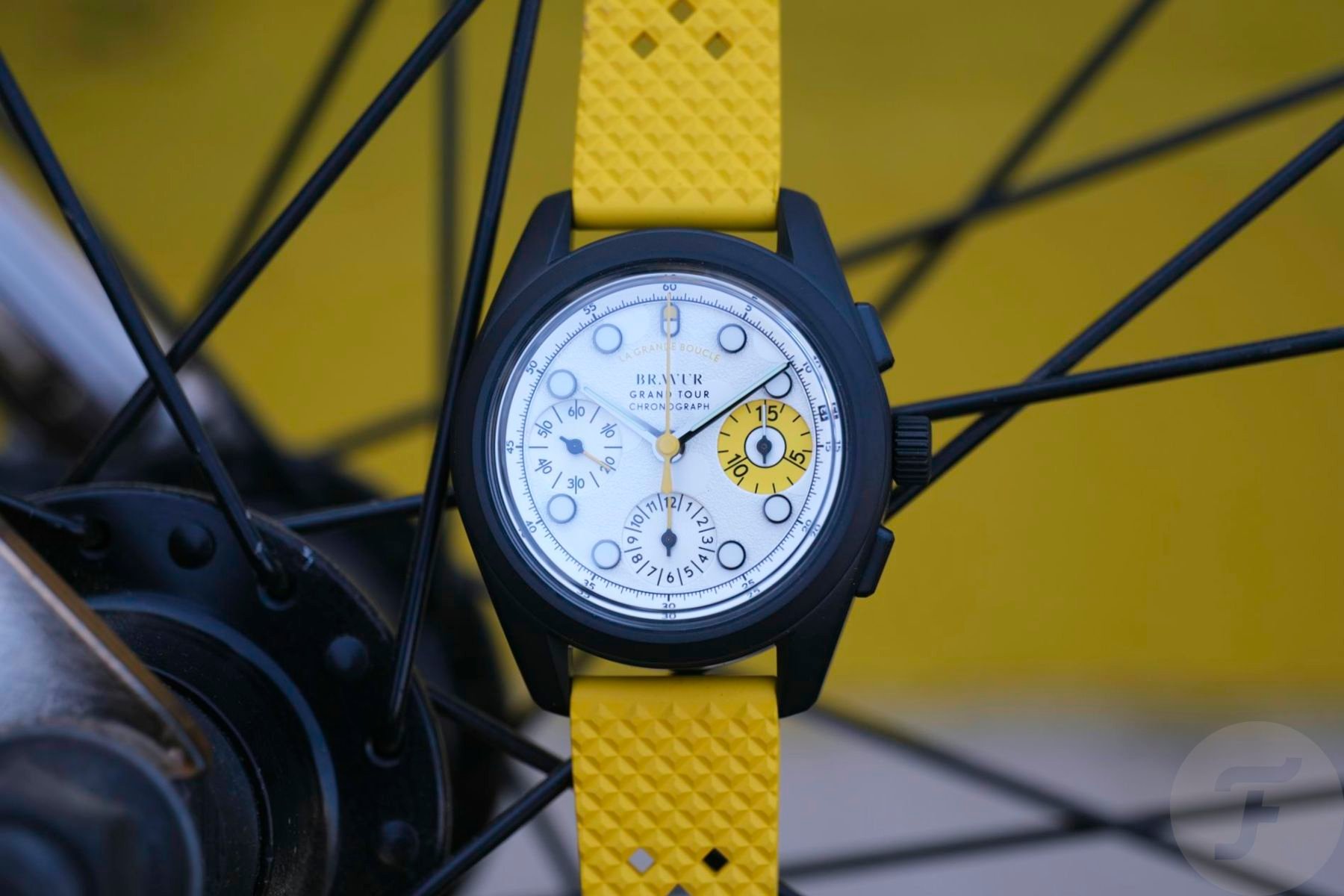 Bravur Grand Tour La Grande Boucle III
La Grande Boucle III represents the top Grand Tour in cycling — the Tour de France. The bright yellow and white color palette captures the colors of that race, and subtle elements further nod to its association. The applied index at 12 o'clock mimics the mile markers along the mountain roads in the race. The smooth, matching white polka dots that interrupt the sandpaper-like silver-white finish of the dial represents the same pattern found on the jersey awarded to the fastest to ascend the mountain. Along the chapter ring with five-second markers, we find an inverted 13, a tradition among riders for warding off bad luck.
It is a cycling watch through and through and can be seen on the wrist of Kevin Geniets, a Bravur brand ambassador and Olympic cyclist from Luxembourg who competed in his first Tour de France last year. I wore the Bravur Grand Tours on my wrist when I took my bike — a heavy steel Chromoly-frame BMX bike — out for the photo shoot. I did not feel like an Olympian, but I did feel cool. And despite the expected weight of the steel case, they were certainly comfortable enough on smooth pavement.
There were some comfort issues when I veered off-road onto some paths and the watch (and the rest of me) got jostled about. And, admittedly, I did refrain from thrashing around too much on the bike. I didn't attempt any backflips or 180s while wearing the watches, though I never attempt those without a watch either. I want to see an iteration of the Grand Tour watches in carbon cases, making them truly applicable cycle-racing watches.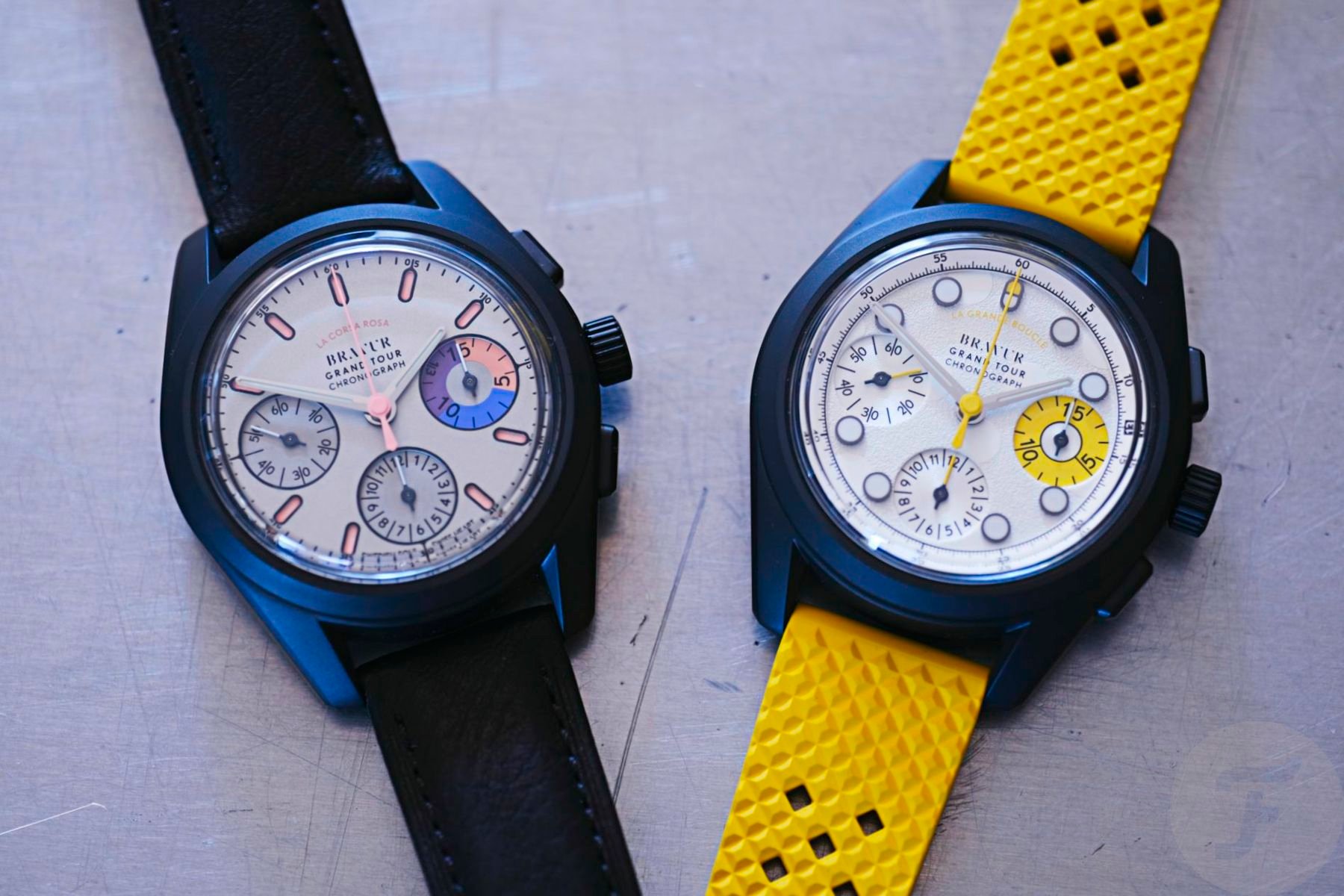 Bravur Grand Tour La Corsa Rosa III
La Corsa Rosa III is the watch I truly fell in love with. I first came across it wandering around Windup Watch Fair in San Fransisco this year. Magnus and Johan had a Bravur booth set up, and after first glimpsing the La Corsa Rosa III, I kept coming back around with excuses to talk to them and see the watch. That said, I hardly needed an excuse. The guys at Bravur are super friendly and clearly passionate about watches and cycling.
What drew me to the La Corsa Rosa III was the unique application of colors, textures, and levels. It employs a sandwich dial with sunken hour markers and sub-dials. The hour indices are done in a pastel pink treated with Super-LumiNova. Hands-on, it was a treat watching the transition from pink indices while outside in bright sunlight through orange to bright green once in the dark indoors. The dial is a rich, shimmering silver, which wonderfully complements the matte pastels around it. Like the La Grande Boucle III, the sub-dials have concentric machining to them, contributing to the overall texture.
The minute counter at 3 o'clock is a favorite element of mine. The pink, blue, and purple pay tribute to the colors of the three different jerseys awarded for different accomplishments along La Corsa Rosa's race. Here too is where we find the inverted 13, more prominent and quirky. The stepping action of the chronograph sub-dial hands is a pleasure to watch as well. And of course, the pink chronograph seconds hand is the icing on the cake.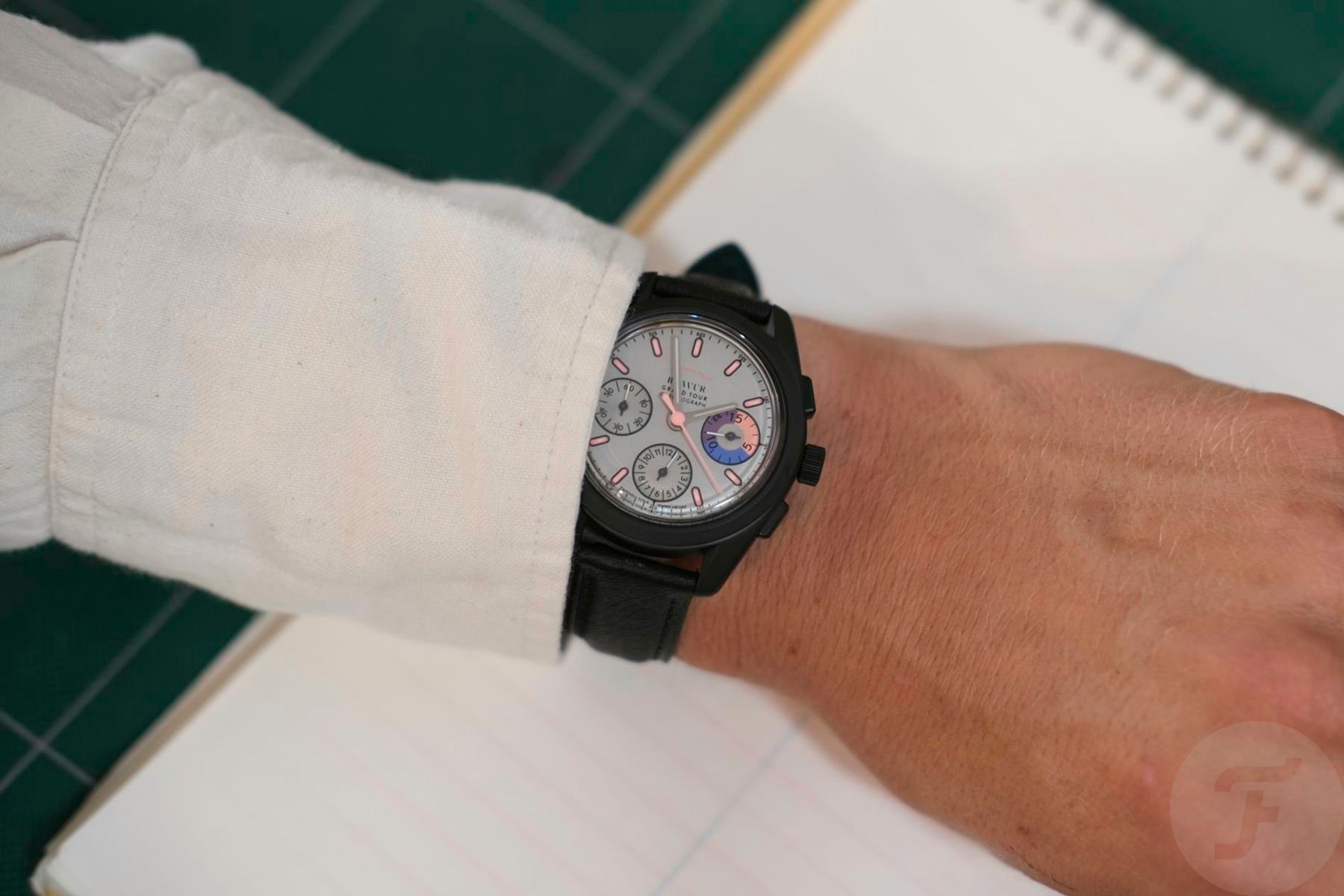 Overall impression
Out in the wild, the Grand Tour III watches look sharp yet remain playful. They wear incredibly comfortably yet maintain a strong presence both physically and visually. The just larger than 38mm diameter seemed custom-tailored to my wrist, and everything just seemed to make sense. I greatly appreciate the exhibition case backs that allowed me to watch the SW511 b in action. And the matte black ceramic coating of the case is a stark frame to the bright playfulness of the dials. And what dials they are! But let's talk about the use of text on them.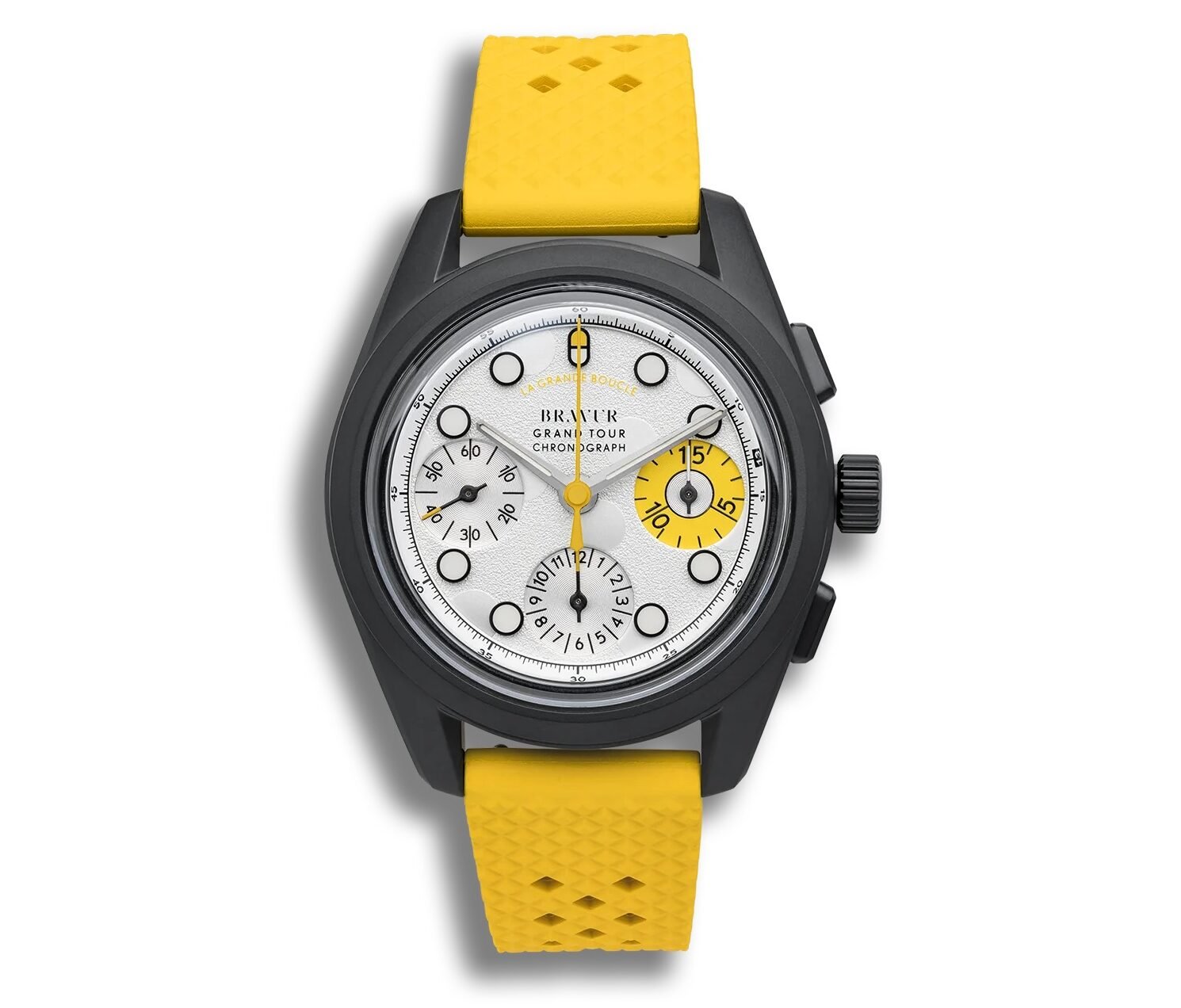 The text ties it together
If you thought, "Oh, here comes the 'however' part of the review," you're wrong. The use of text on the Grand Tour III watches may be my favorite element overall. Please excuse me while I nerd out on text. Bravur has a stark logo — essentially, it's the letters of the name if you only used serifs and weighting. Like the watches, it's sharp and modern but not really playful. Used by itself on a dial of either of the Grand Tour III watches, it might've looked out of place among all of the various details and textures. However, Bravur decided to make as much use of the open dial space at 12 o'clock as possible.
What we get on the Grand Tour III chronographs is the Bravur logo followed below by "Grand Tour" and "Chronograph" in a straightforward sans-serif typeface. That breaks up the austerity of the logo but doesn't convey playfulness. But then, in a "chef's kiss" move, Bravur puts the name of the race that the watch represents in the primary color — pink for La Corsa Rosa, yellow for La Grande Boucle — in an arc above the Bravur logo. It's the textual equivalent of what Bravur achieved with the watches in their entirety — bold yet playful.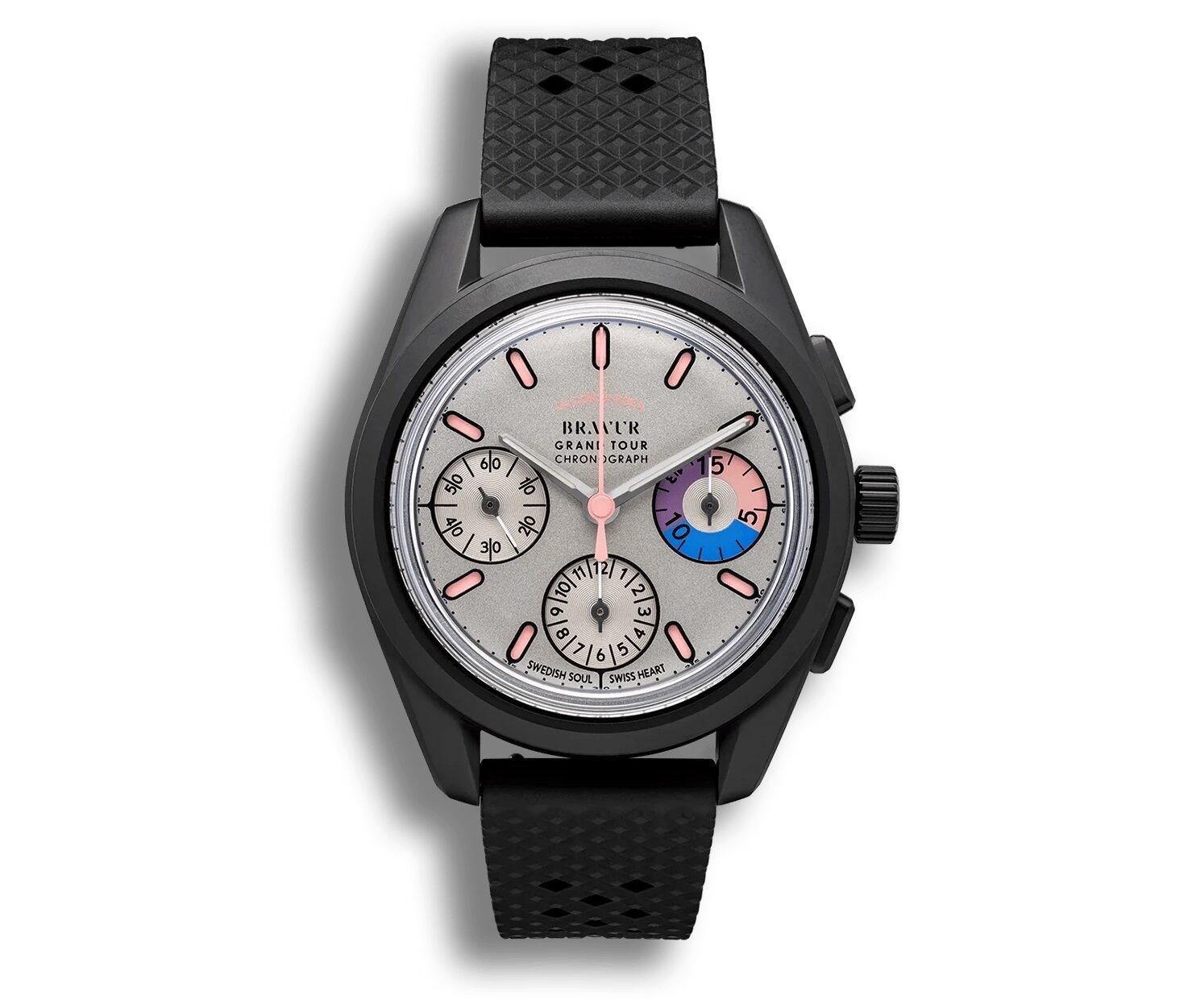 "Mr. Anderson, your watch is ready"
In fact, primarily because of the textual layout but ultimately because of the watches overall, I could not drop the idea that the Grand Tour III models are watches Wes Anderson would have made had he gone into cycling and watchmaking instead of filmmaking. The symmetry, the bold use of texture and pastel colors, the rich and quirky details… All these watches need is a tick-tocky soundtrack and a montage sequence. I'm a big fan of Wes Anderson's films, and he's an award-winning filmmaker, so I mean the correlation as a compliment. The Grand Tour III chronographs somehow capture elements of horology and cycling that seem playful and self-aware yet still completely functional and approachable. It's no surprise to me now that any watch that approaches some of the more "meta" aspects of whatever it's trying to portray is going to capture my attention.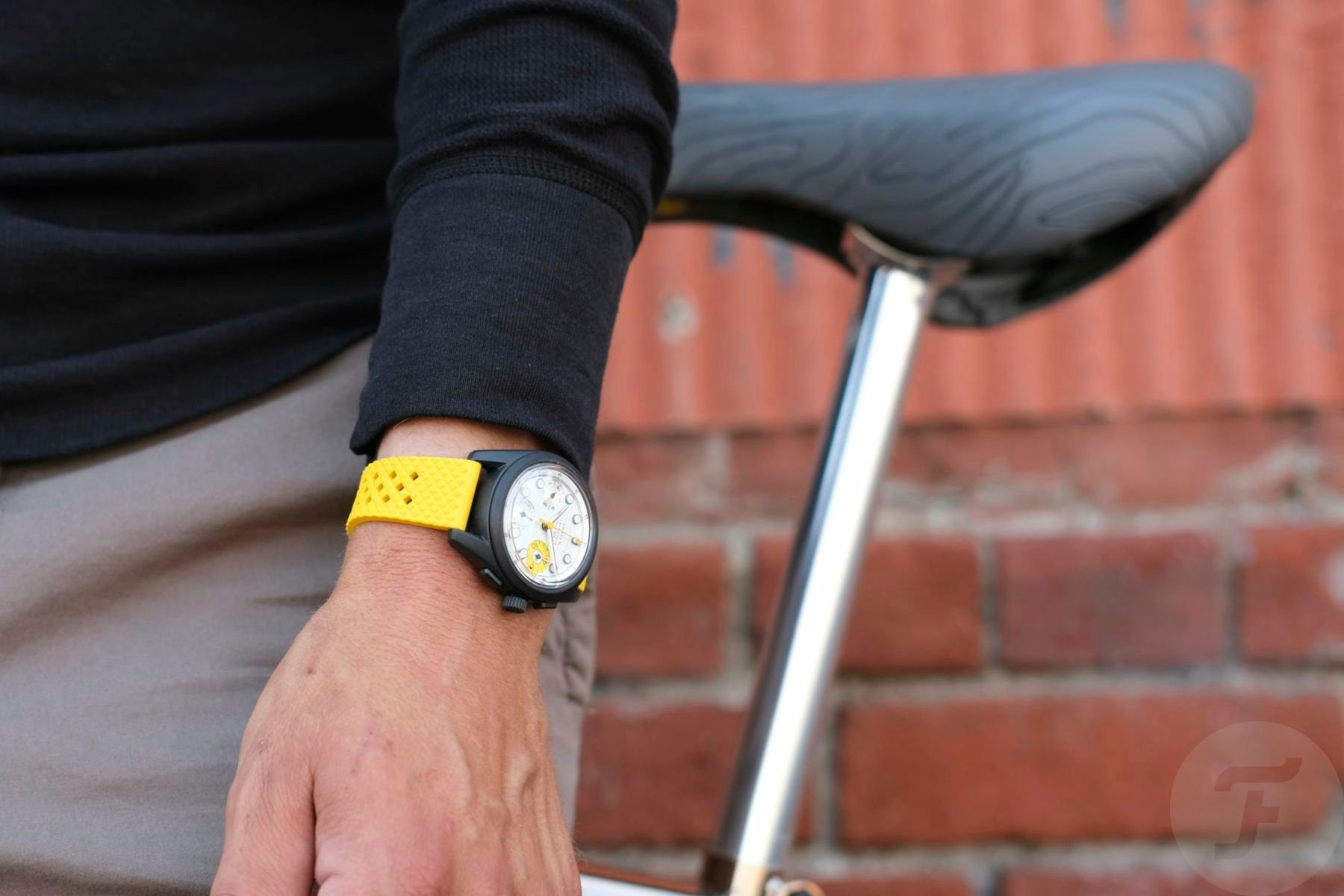 Pricing and availability
Each version of the Grand Tour III — La Grande Boucle III and La Corsa Rosa III — is limited to only 50 pieces each. That is not many, so if you're at all interested, I suggest swiftness. Each watch is US$2,590 and comes in a premium full-grain black leather pouch. As I said before, the quality-to-price ratio is as stunning as the watches.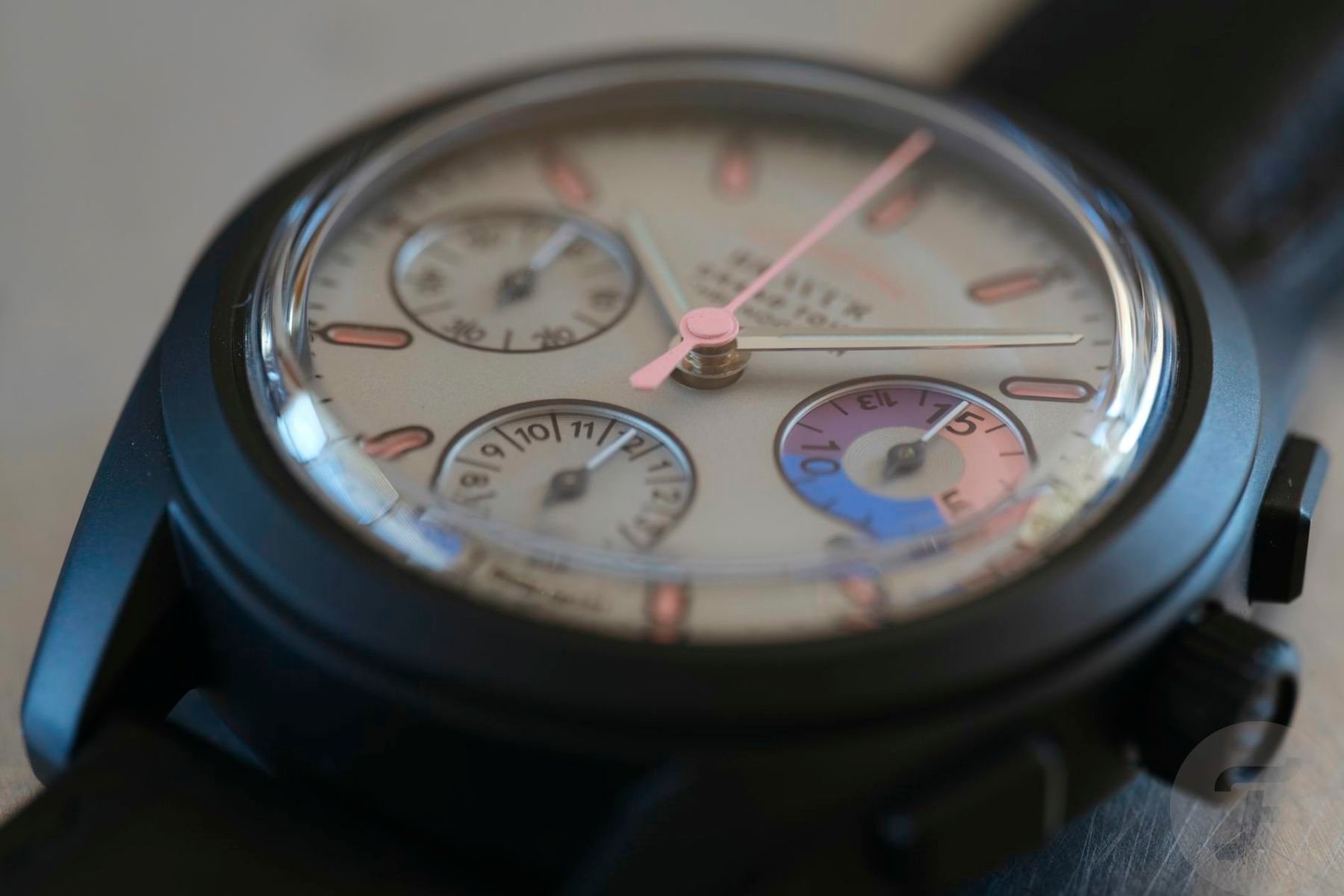 Final thoughts
I fully thought that a La Corsa Rosa III was going to be my next watch and primary chronograph. From the moment I saw them, I found the Bravur Grand Tour watches special among a lot of watches doing a lot of the same thing. They're still special, but I just can't justify another watch at this time. My wrist is fully occupied with current members of my collection, and my watch fund is still in recovery. That said, Bravur's chronographs made a massive impression on me. They take a complication that has been played out and crank up the playfulness in a novel way. And I'm not even that big into cycling. But I don't think Wes Anderson is either, and I'm pretty sure he'd dig these watches too.
What do you think of Bravur's newest Grand Tour chronographs? Am I the only one getting Anderson vibes? Let us know in the comments below. You can find out more about Bravur on the brand's official website.
Watch specifications
Model
Grand Tour "La Corsa Rosa III" and "La Grande Boucle III"
Dial
Silver with pink, blue, and purple / White with yellow
Case Material
Black ceramic-coated 316L stainless steel
Case Dimensions
38.2mm (diameter) × 46.3mm (lug-to-lug) × 14.4mm (thickness)
Crystal
Sapphire with anti-reflective coating
Case Back
Black ceramic-coated stainless steel with sapphire exhibition window
Movement
Sellita SW511 b —automatic chronograph, 28,800vph frequency, 62-hour power reserve, 27 jewels
Strap
FKM rubber or black leather (18mm width)
Functions
Time (hours, minutes, small seconds) and chronograph (12-hour and 15-minute counters, central elapsed seconds)
Special Note(s)
Each model limited to 50 pieces