Czapek Antarctique Terre Adélie Secret Alloy Watch Is A Game-Changer
The established order of luxury steel sports watches is under threat...
I woke up one morning, about two weeks ago, to a press release from Czapek. That's normally a good way to start the day. But what I found within that press release — news of the Czapek Antarctique Terre Adélie Secret Alloy automatic watch hitting the market — was enough to put a spring in my step for the next week. Obviously, I had to get it on my wrist as soon as possible.
Oh. My. Goodness. It has finally happened. Czapek & Cie, a brand I have followed ardently since its reestablishment in 2011, has finally made a watch that I don't just admire, but actively want. The Czapek Antarctique is not just cool; it is a contender to a throne that has been warred over by the Patek Philippe Nautilus, Audemars Piguet Royal Oak, and the Vacheron Constantin Overseas for years. Am I crazy? Possibly. Am I crazy in love? Ask Beyoncé. She knows…
The answer is yes, by the way. Yes, I am…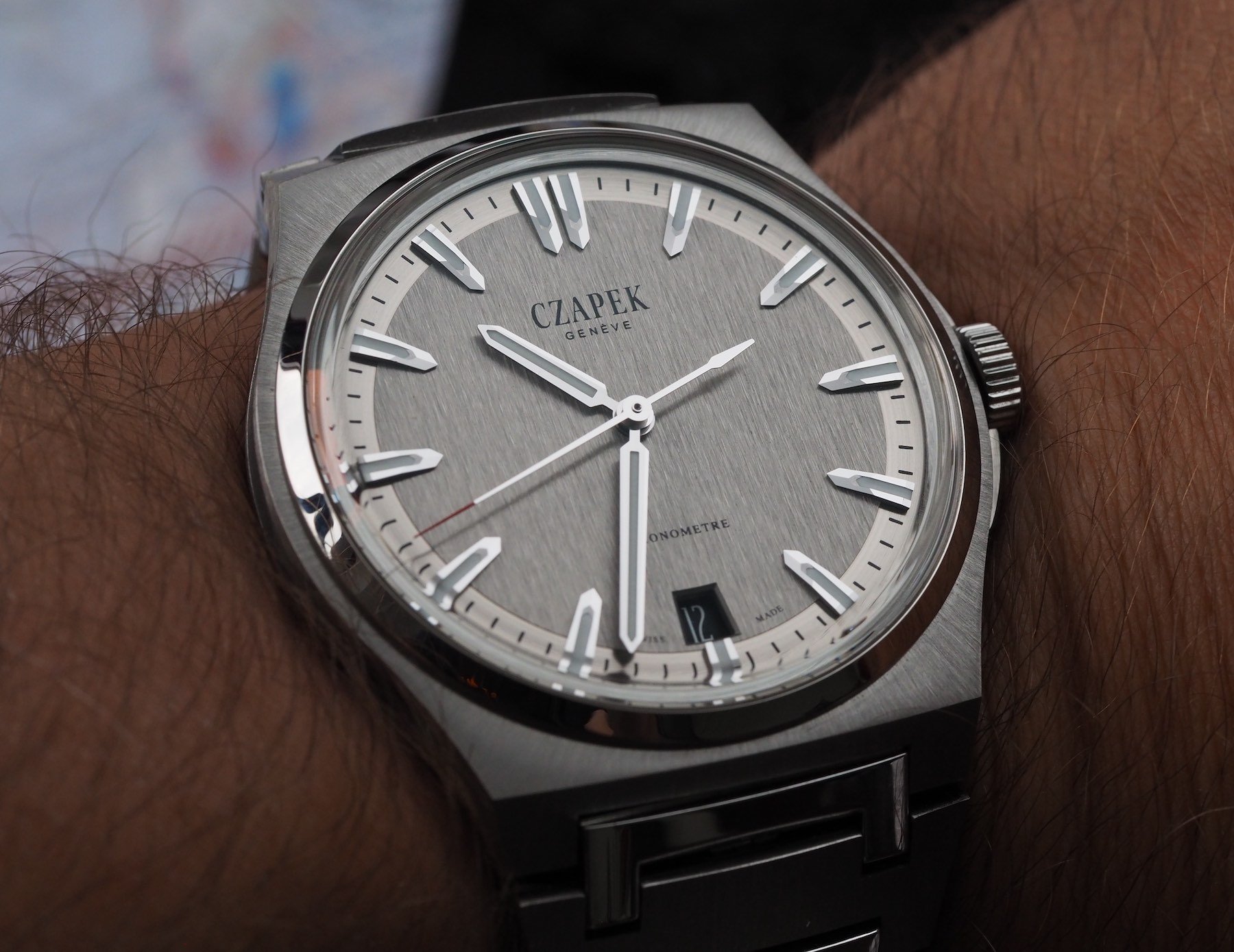 Rebuilding a brand
When Czapek returned to the industry in 2011, the name of Patek's first partner in crime had been widely forgotten. It has remained largely unused (or even mentioned) in watchmaking circles since Czapek's mysterious departure from his eponymous company in 1869. Because I'm a fan of murder mysteries, I like to imagine that Czapek, a close supporter of Napolean, met a grisly end. Luckily, his watches remain some of the most aesthetically serene, more than a century and a half since his disappearance.
…the watches and their movements aimed to retain many of Czapek's stylistic calling cards…
The initial range, launched back in 2015, was named the Quai des Bergues collection. Aside from being enlarged to meet modern tastes and created for the wrist rather than the pocket, the watches and their movements aimed to retain many of Czapek's stylistic calling cards including the "ghost" signature on the dial.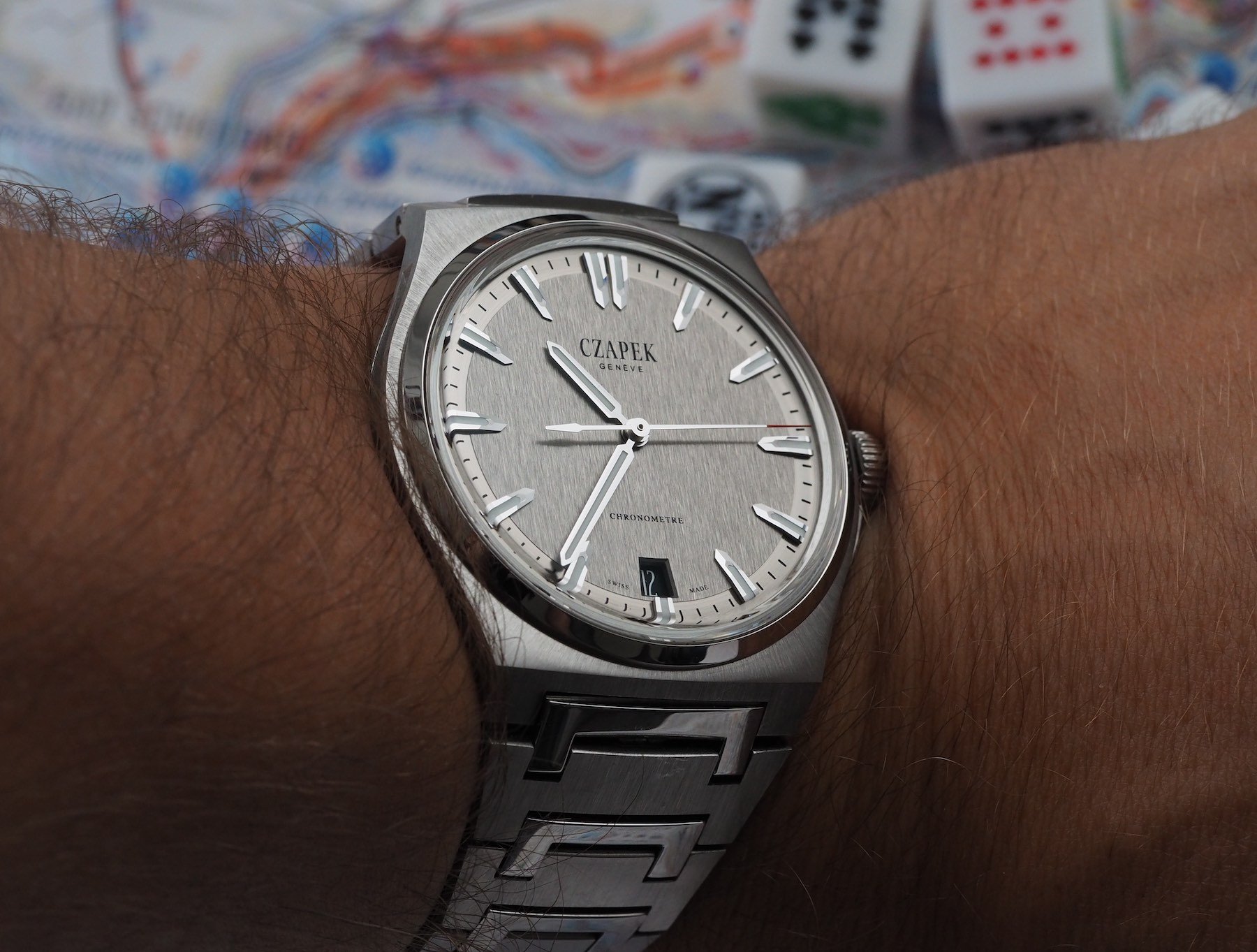 I loved those watches. I preferred them to contemporary Patek Philippe, Audemars Piguet, and Jaeger-LeCoultre watches that threatened to occupy my coin. And yet, I never bought one. They were beautiful, but they lacked the bite I wanted to see from a brand reborn. Finally, with the release of the Czapek Antarctique Terre Adélie Secret Alloy watch the brand has something I can throw my pathetic weight behind. This is something truly special. And, unsurprisingly/devastatingly, it is already sold out.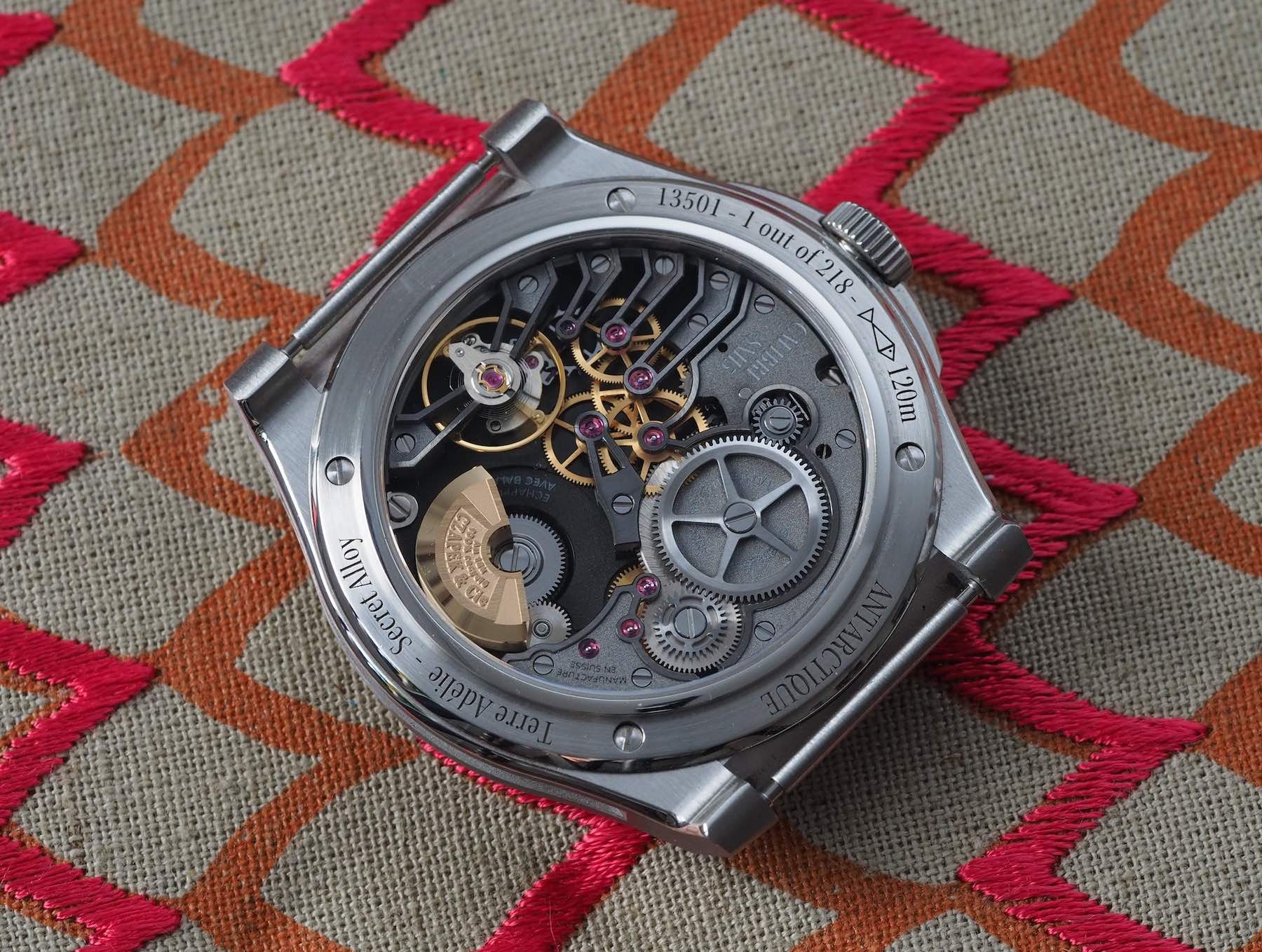 Not without criticism
I will make this patently clear. I want this watch. There is not a shred of doubt in my mind that I would spend my own, hard-earned, real-world money on this thing. Better still, I am sure I would not regret it. I have never, ever, in my entire career felt as bad about having to return a watch as I did with this release. And yet, despite this effusive praise, the design of the Czapek Antarctique Terre Adélie Secret Alloy is not without its talking points.
…these feelings are genuine…
It might seem strange that I would feel okay about spending a healthy five-figure sum on this watch when there are still aspects about it I would change to make it "perfect", but these feelings are genuine so I won't spend too much time dissecting the madness of my heart.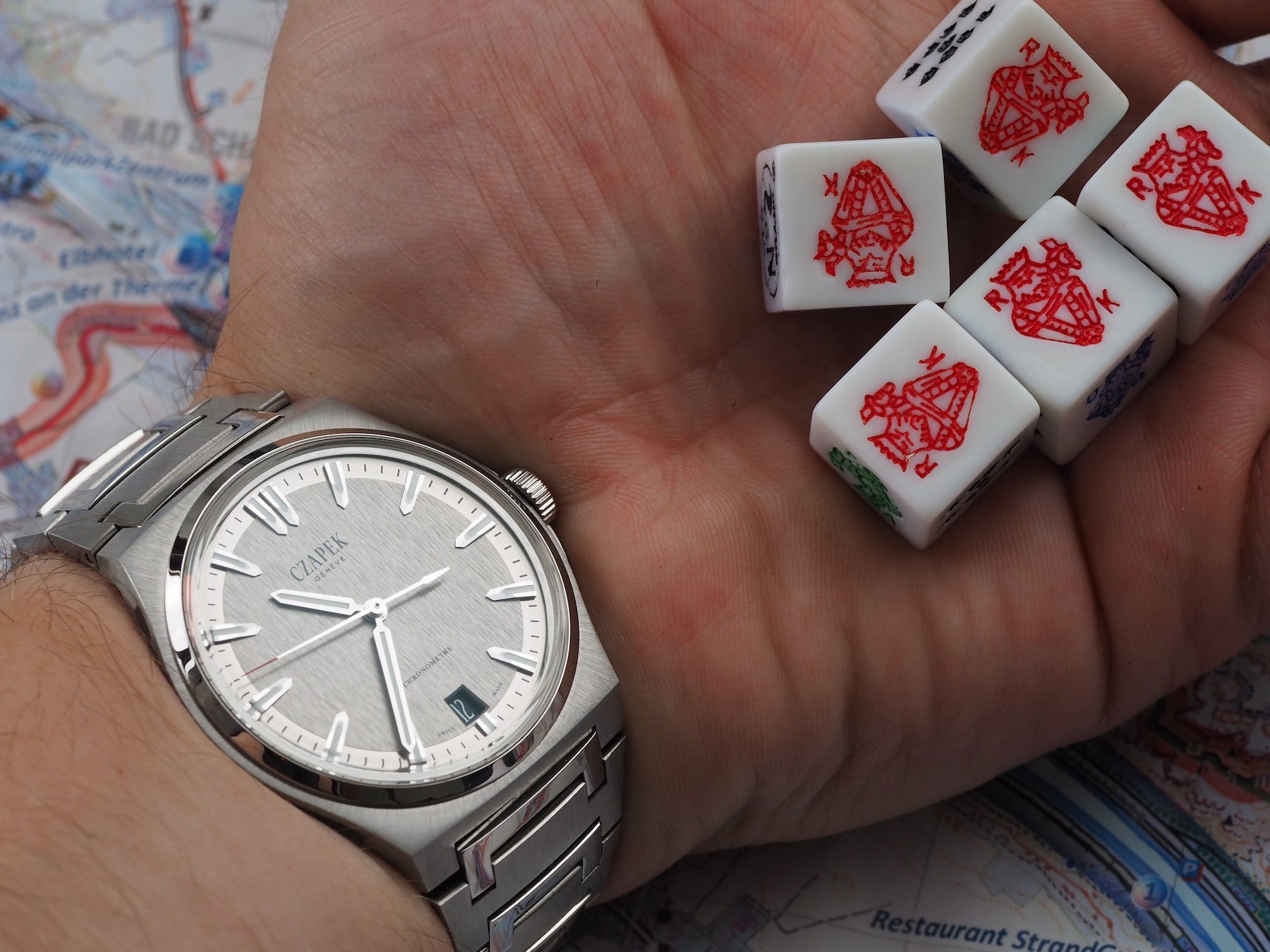 I think, perhaps, it has something to do with how little this watch matched my expectations. It is true that, like many people, my mind is awash with preconceptions. I have ideas of how lugs should look. The "ideal" case shape exists in my mind's eye. A bracelet should have XYZ to be perfect… But then something wholly new and totally unexpected comes along and rocks the boat. I could tell you more after having the Czapek Antarctique Terre Adélie Secret Alloy watch on my wrist for a year but after three days, these are my (slightly more) negative thoughts…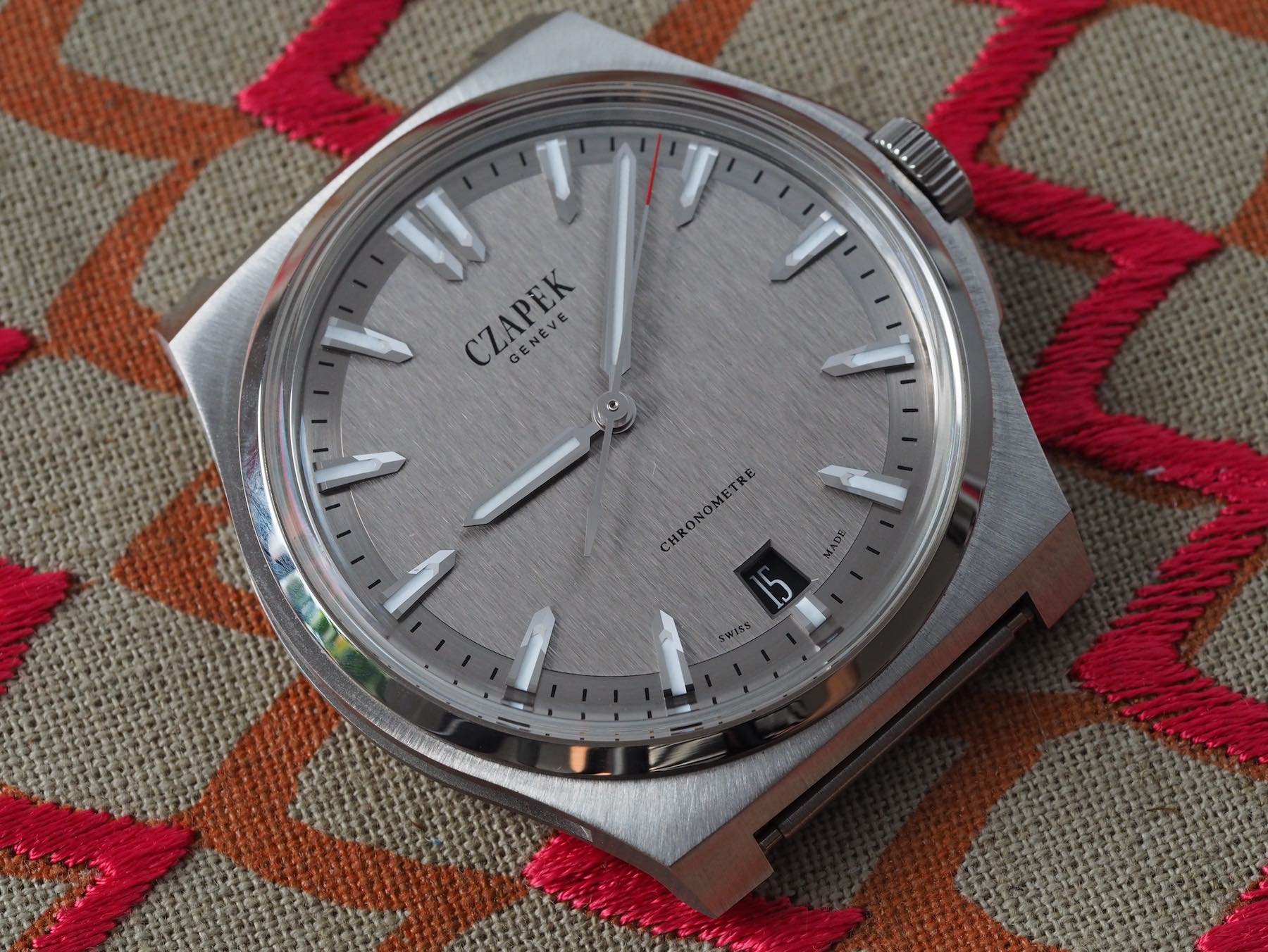 A prototype
First things first: this watch is a prototype. It is not representative of the final product. As such, there are things that will change (like the date wheel color, so don't expect to see criticism of that here, although there would have been had it remained black).
… I would have preferred them brushed…
The first two things on the questionable list are to do with the bracelet. Firstly, I am not sure I love the polished C-links. I very much like their shape. I love the way they help the bracelet sit close to the wrist. But I am not convinced by the finish. Perhaps I would have preferred them brushed, and don't think that would even have caused any noticeable visual discontinuity between the radial brushing of the case middle thanks to the straight-grained chamfered edge that runs into the bracelet.
Apparently, the brushed links will have chamfered edges on the final version. I love nicely chamfered link edges (as we saw on the tasty steel bracelet for the A. Lange & Söhne Odysseus), but I am not entirely sure this design needs it. The deciding factor will be how those chamfered links look against a case that I doubt will deviate too much from what we see here.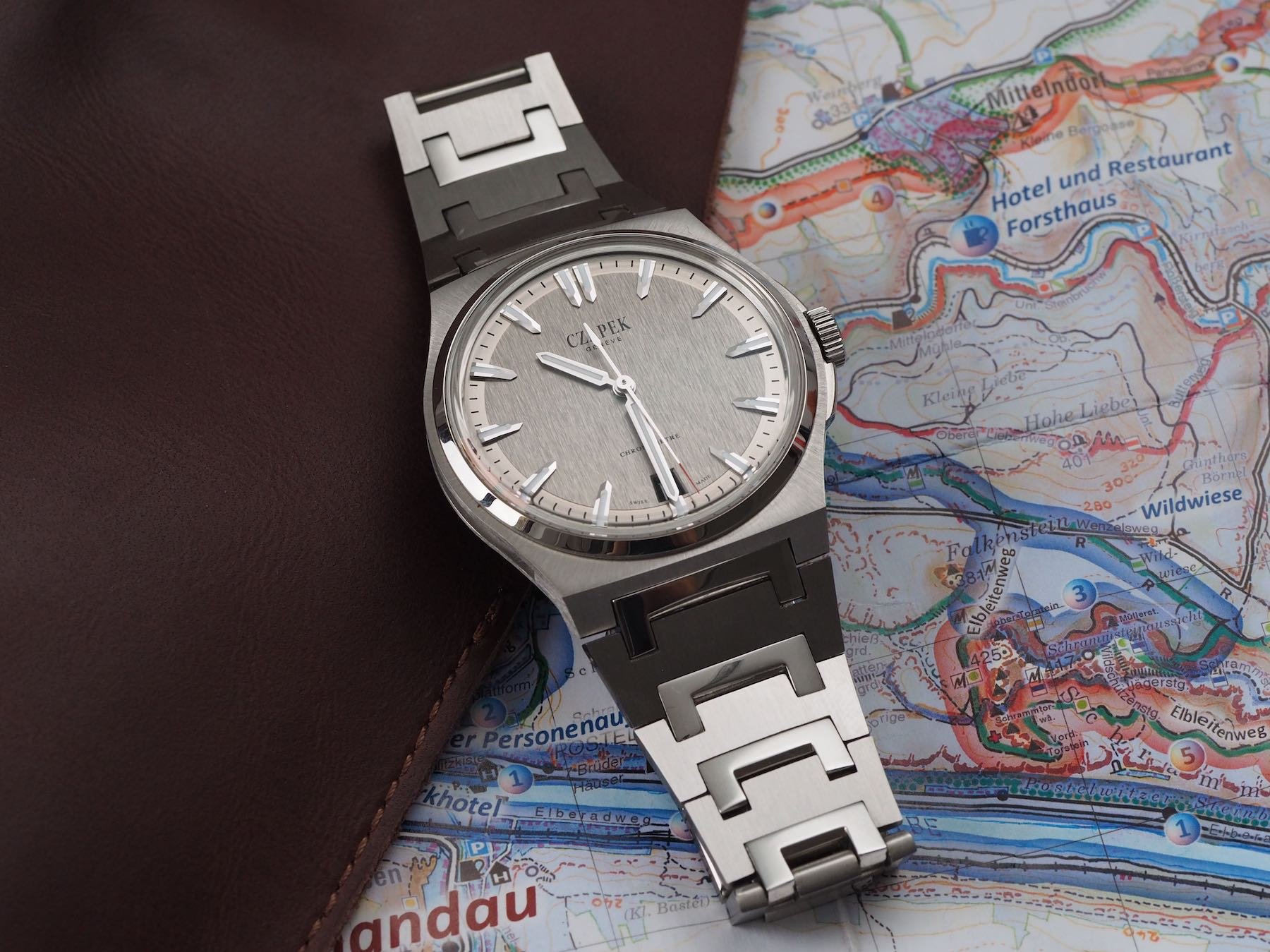 The quick-release
The second aspect I found a bit odd (but not necessarily a bad thing) was the quick release strap mechanism. Quick-release mechanisms are all the rage these days. I understand why. Designing a good one is in a company's interest, also. It makes their products more fun, more versatile, and, quite importantly form an aftersales perspective, less likely to come back to the workshop for refinishing or basic strap changes.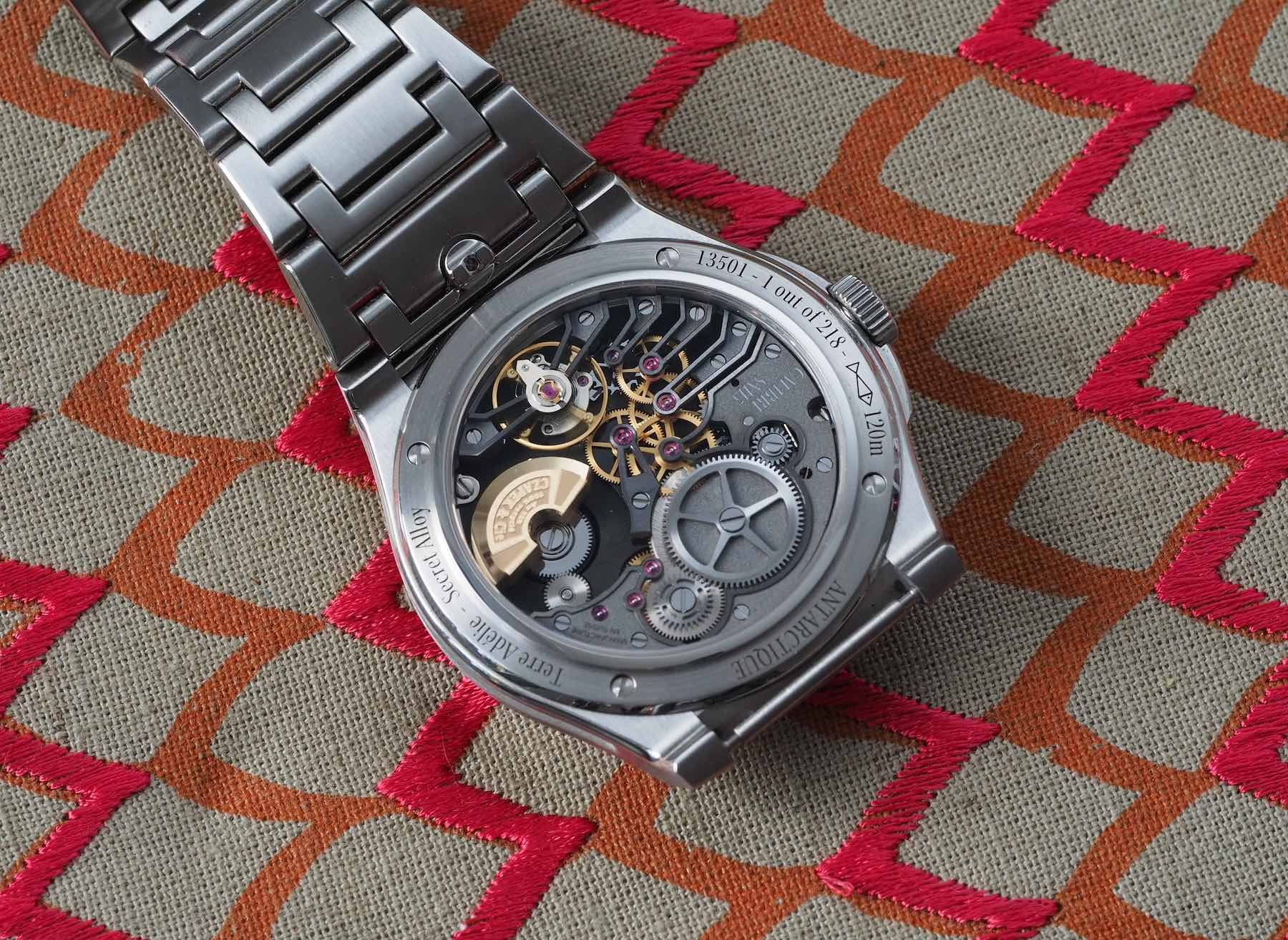 Here we have an unusual system that centers around a small, rotatable button on the underside of the bracelet. It is possible to cajole this notched nipple 180 degrees to release the bracelet. How does it work? Well, the button has a lip on one side and a chamfered edge on the other. The lip sits over the spring bar, holding it in place. The chamfered side, however, allows the end link to pull away from the spring bar, facilitating a quick switch whenever desired.
…the button was slightly visible between the links…
I was actually able to use this system with my bare hands and, despite that, I think the bracelet feels plenty secure enough when the button's lip is correctly orientated over the spring bar. The only thing I didn't like was that the button was slightly visible between the links (when the watch is on the wrist). It wouldn't surprise me if this is addressed in the next round of prototyping, however.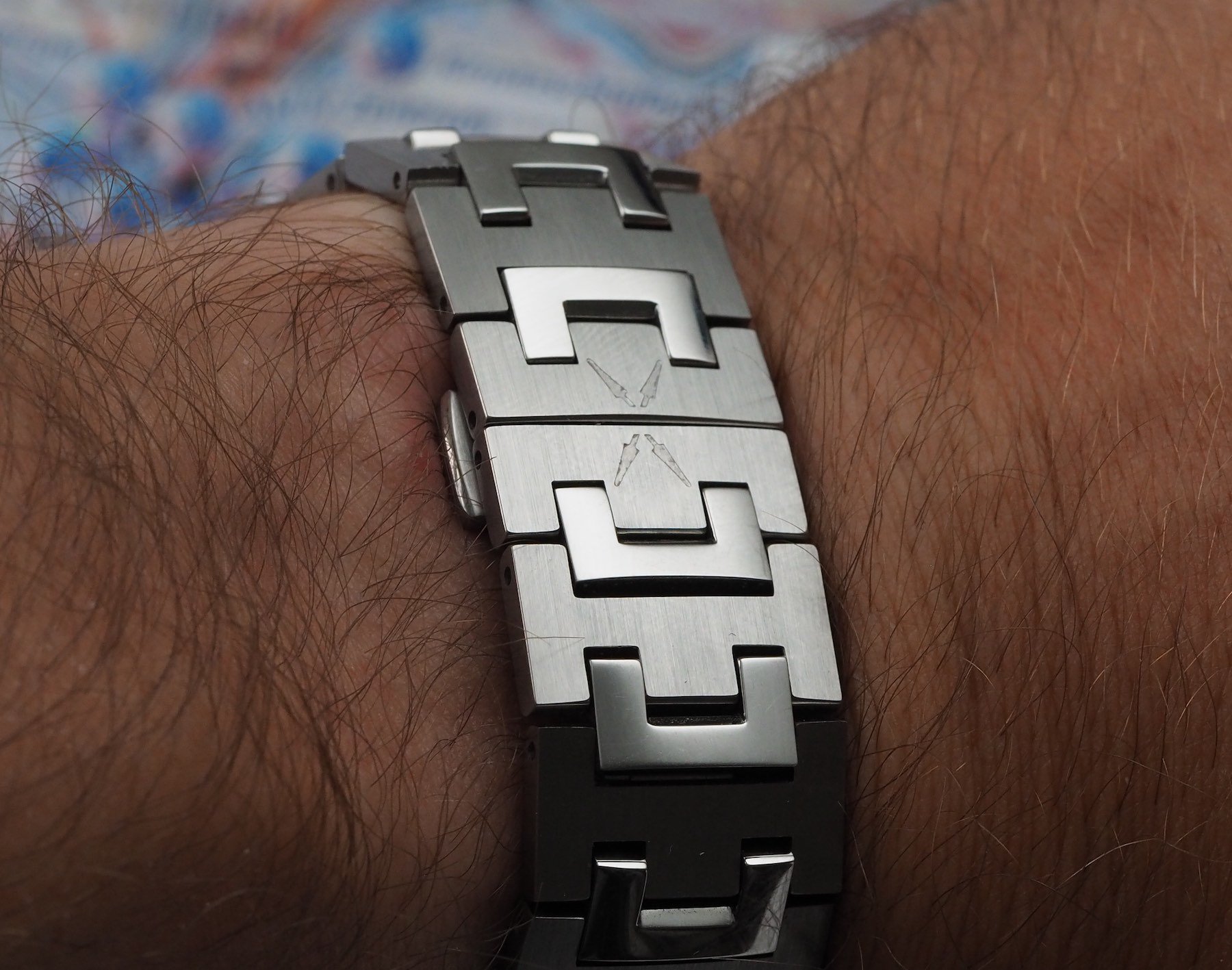 I need a lug
It's okay. I'm fine. I just couldn't resist the play on words. Lugs. That's the question. Here, they do exist, but only just. I actually have a lot of time for this kind of design and I don't want to whine about it too much, but really, could you imagine this dial, those indices, and that handset sitting next to the lugs of a Minase Divido? Good grief. I would fall off my chair. As much as I do love the sleek, low-profile case of this model, I think Czapek has really opened up a whole new world of opportunities for the cases in which they can deploy dials of this design and quality.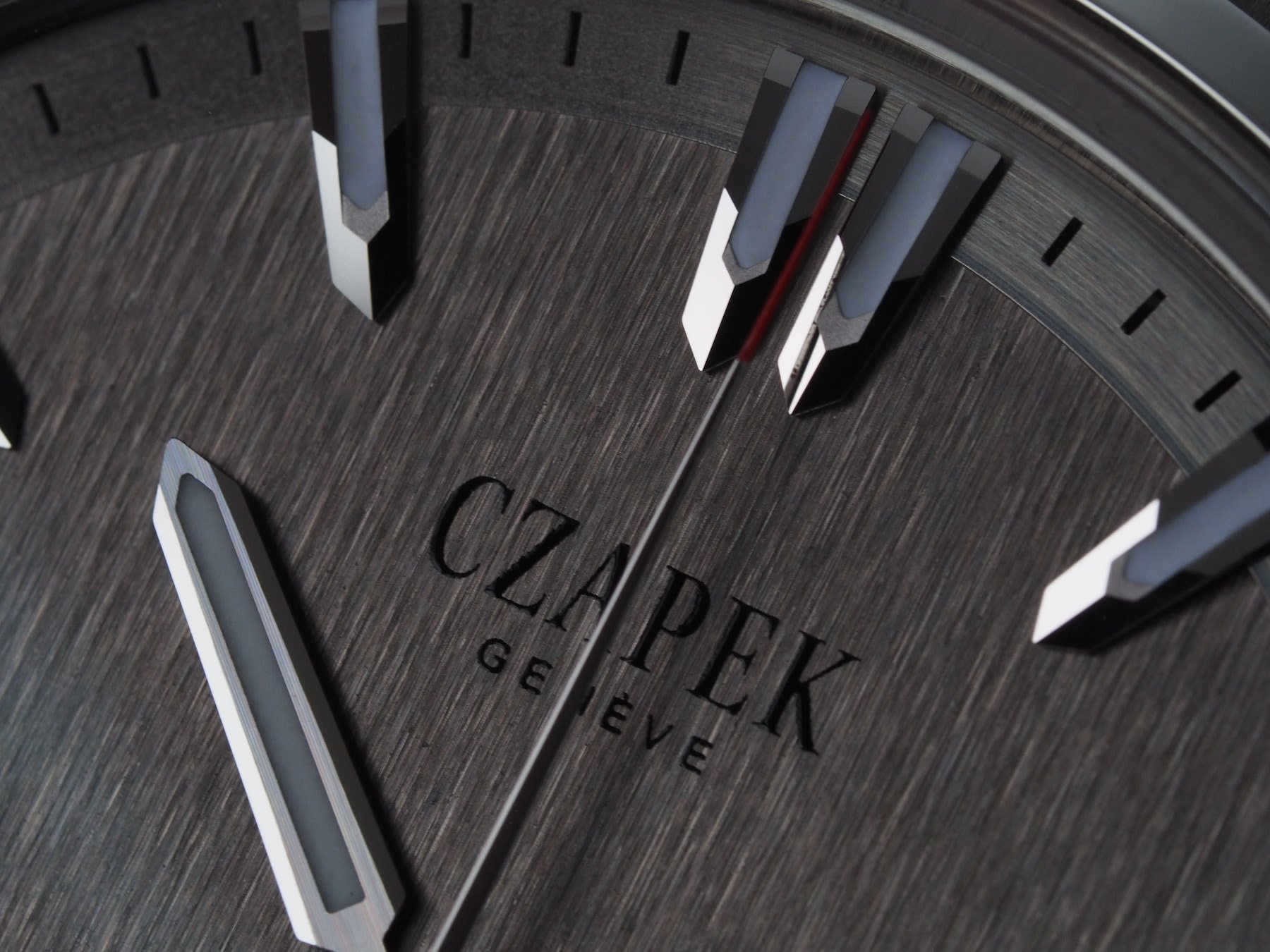 Dial
Talking about that dial… It is simply glorious. The indices are finished to a Grand Seiko standard, as is the perfectly proportioned handset. The seconds hand is long enough to almost cover the minute markers and its counter-poise is of a pleasingly generous length (and crisply made).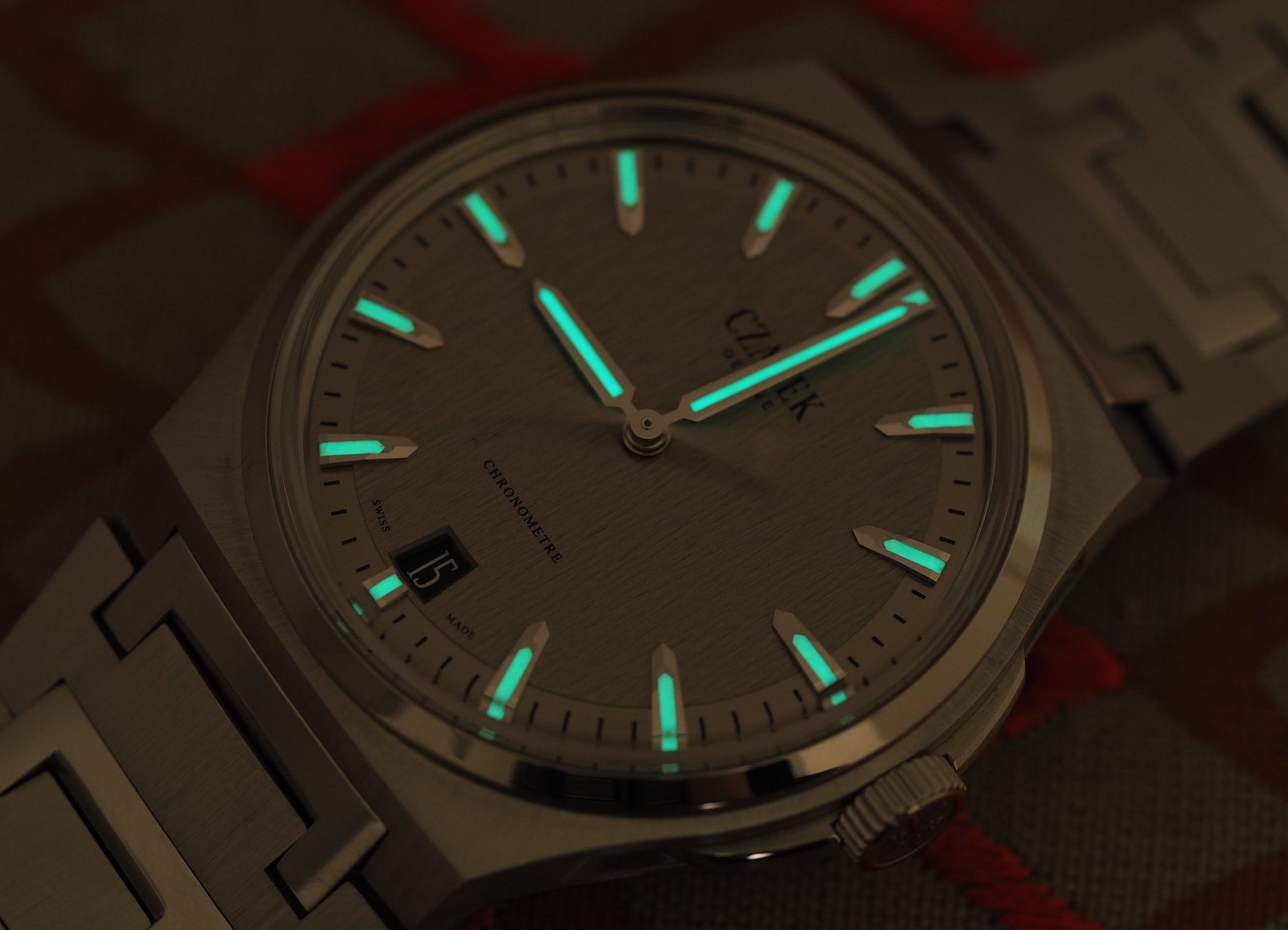 As you can see from the above picture, luminosity is good and glow homogeny more than satisfactory. The green glow flares up as soon as you walk inside from a sunny outdoor location. It is easily visible for a couple of hours and lingers throughout the night thereafter. For me, this is a really nice touch and a really great functional boost for a watch that has a seriously luxurious visage.
Wearability
This was the biggest shock. I could not believe that the watch came sized to my 16.5cm wrist (talk about a stroke of luck or a great memory on Czapek's part). What I couldn't really believe was just how well balanced this thing is on the bracelet. The clasp (a butterfly foldover, engraved with the arrows used in Czapek's logo and on the signed, screw-down crown here also) is a dream to operate.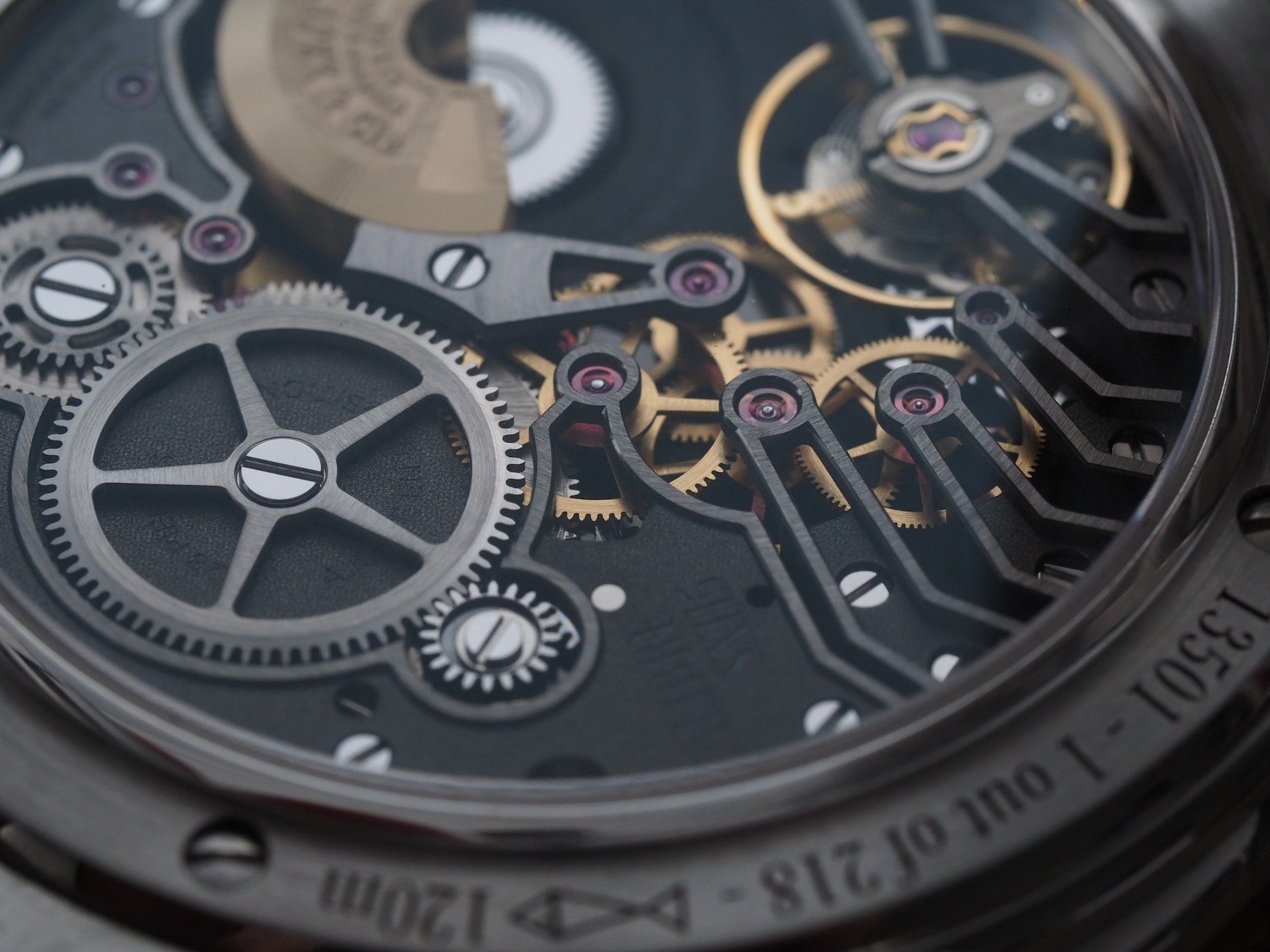 Movement and big-league credentials
My girlfriend and I concur that this is a watch worth spending 20k on. That's always a plus point. However, we disagree on the movement aesthetics. She does not like it, preferring instead the more organic opulence of a classic german silver movement from the house of A. Lange. I, on the other hand, adore it. I really love its futuristic elements that — I believe, at least — mesh very nicely with the more traditional aspects like red jewels and a yellow gold rotor weight.
…the central bridge will receive a more refined finish.
The movement will see some aesthetic changes before it goes to production. The bridges are currently finished with very anglage edging (0.05mm). In the final version, the anglage will be wider (0.15mm). Additionally, the central bridge will receive a more refined finish.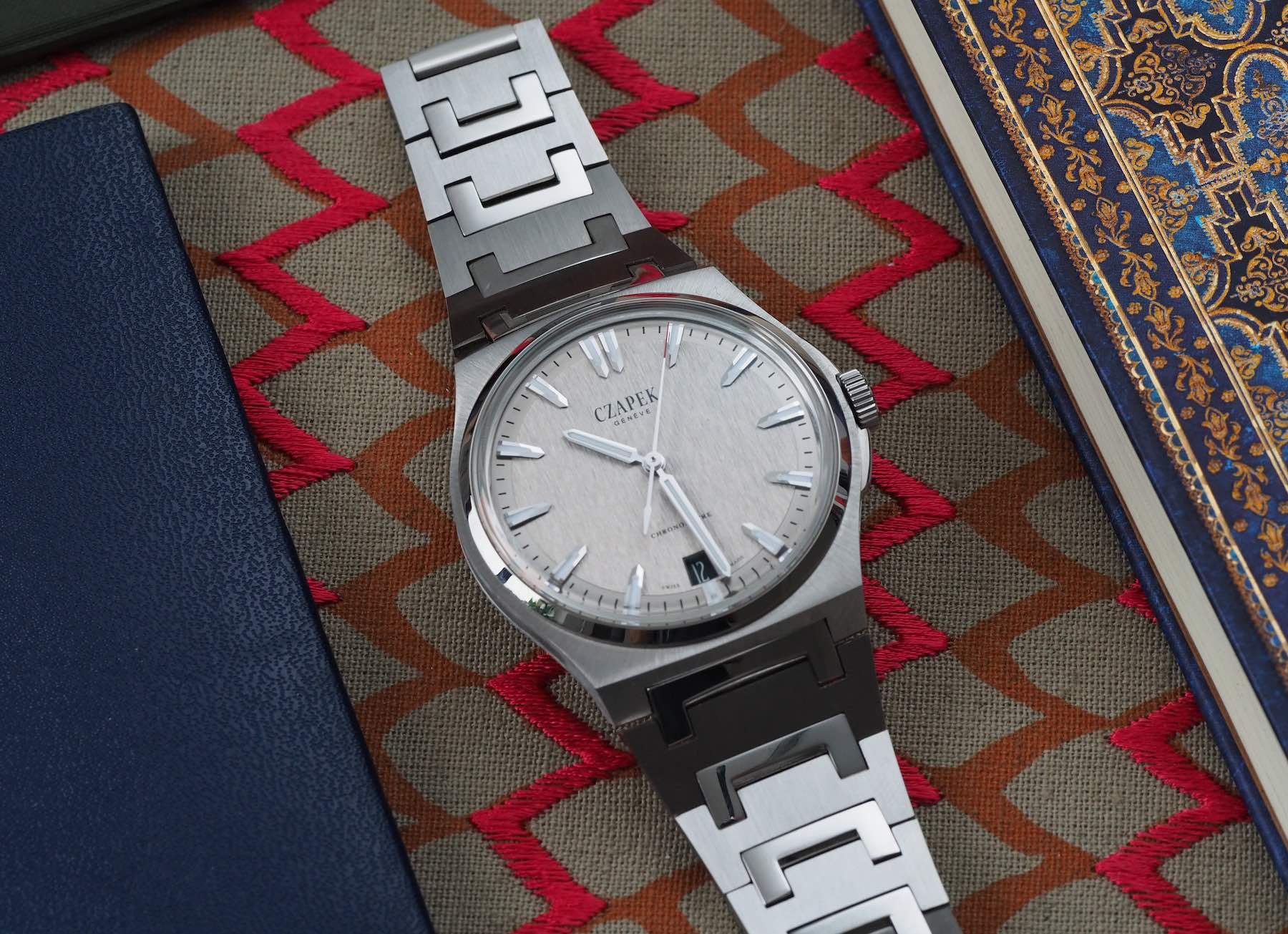 Conclusion
The case back of this prototype states the Czapek Antarctique Terre Adélie Secret Alloy watch is limited to 218 pieces. 218 is the number of backers that brought Czapek back to life. However, the case back is teasing us. Unfortunately, the Czapek Antarctique Terre Adélie will only be made 99 times. Worse still, they are all sold out already.
There are four dials to choose from. We have the silver pictured here, a black, a red, and a teal that makes me sick with desire. As soon as I saw this watch I said, "Well if they make a teal version I might have to remortgage my house." Little did I know, that very version existed. Had I known before these watches had all sold out, I might have had a tough decision to make.
…Czapek Antarctique Terre Adélie Secret Alloy Watch Is A Game-Changer…
But let's be serious here. There is no way Czapek is going one-and-done with its foray into the Sports watch scene if this is its first attempt. This watch is a game-changer. It provides a very real alternative to the established classics like the Nautilus and Royal Oak, it kicks the Overseas (the awkward third wheel) into touch, and it stands toe-to-toe with the aspiring king-slayers (the Bvlgari Octo Finissimo and the aforementioned Odysseus). In my opinion, it is better than the latter two, miles ahead of VC's attempt, and duking it out with the RO for a shot at the daddy.
If Czapek builds on this release we might have a new top dog. I can not wait to see what's next. Learn more here.
Watch specifications
Model
Antarctique Terre Adélie Secret Alloy
Case Material
Stainless steel
Case Dimensions
lug-to-lug 45mm
Strap
Integrated bracelet with brushed and polished surfaces and a signed butterfly clasp