Diving With The Bicolor Oris Aquis Date Calibre 400
A watch obviously not aimed specifically at divers
What happens if you take a watch diving that obviously isn't aimed at divers? Admittedly, Oris offers the Aquis as a divers' watch, and within the collection, some models do fit that role… If any mechanical divers' watch would, that is. But the two-tone Oris Aquis Date Caliber 400 that I took out for diving undoubtedly aims to be more beautiful than functional. Nevertheless, it surely didn't disappoint. Here's the story.
A week or so before my diving trip to Croatia, I discussed with my colleagues at Fratello HQ which watch(es) I should bring. Coincidentally, at the same time, our local Dutch Oris hero Gijs (pronounced "gice", rhyming with "the price is nice") visited us. He brought samples of the newly introduced bicolor Oris Aquis Date Caliber 400. Immediately and generously, he offered to let me take one of those and use it for my diving trip.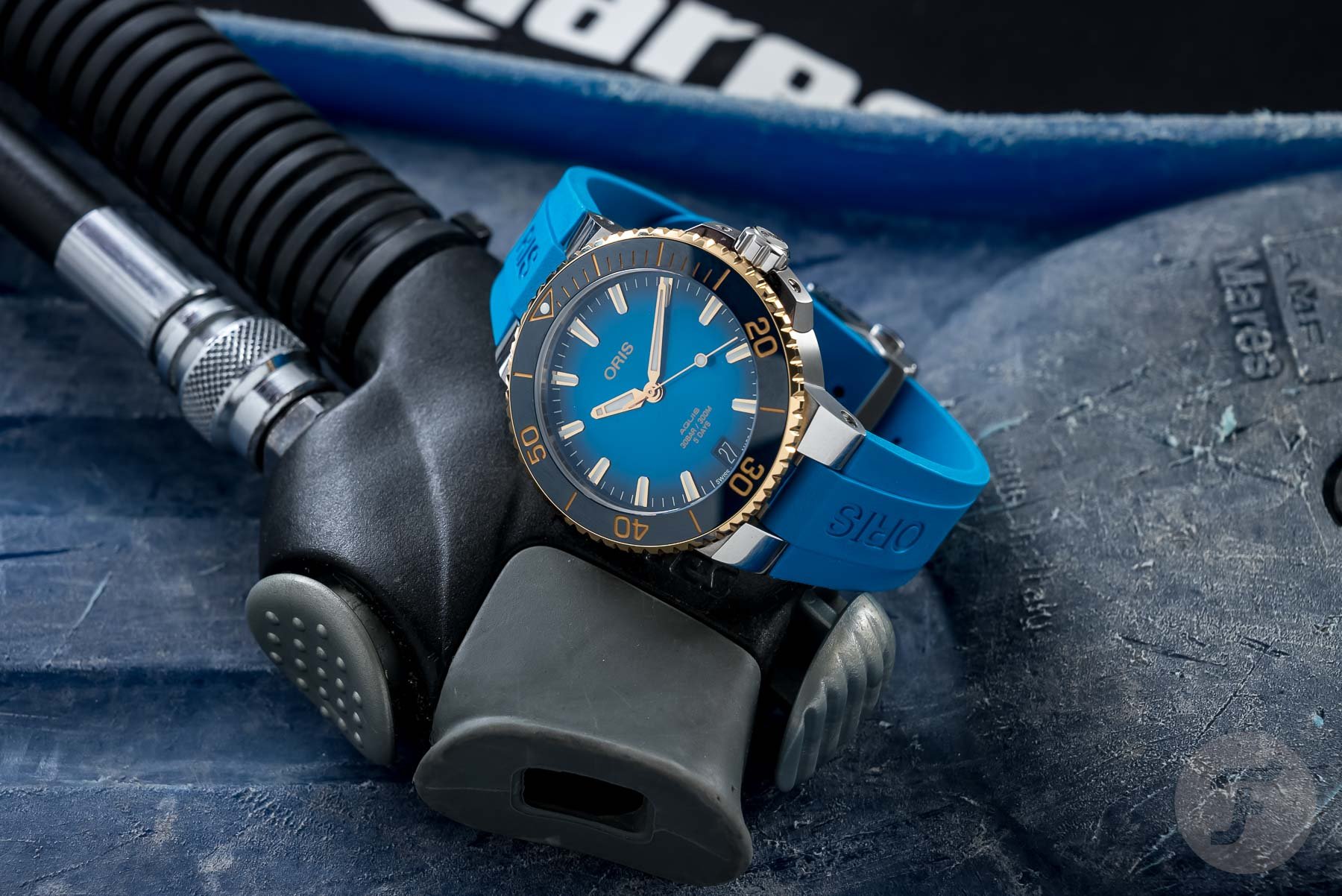 Oris Aquis Date Calibre 400 in steel and gold
At first, I was reluctant to accept that offer. It wasn't that I thought that the Aquis wouldn't be fit for the job, but I guess you're familiar with my relatively conservative taste by now. I wear a matte-black-dialed watch with stainless steel bracelet 80% of the time. The radiant colors of the new Aquis don't fit that image. Well, despite that, I went in all the way and gratefully accepted the blue two-tone Aquis Date Calibre 400 with the almost fluorescent blue rubber strap. "Wenn shon, Denn shon!" as zee Zjurmans would say. And that's how I ended up squeezed in an old Transavia Boeing 737-7K2 flying from Rotterdam/The Hague airport to Split in Croatia, looking somewhat uncomfortably at my wrist.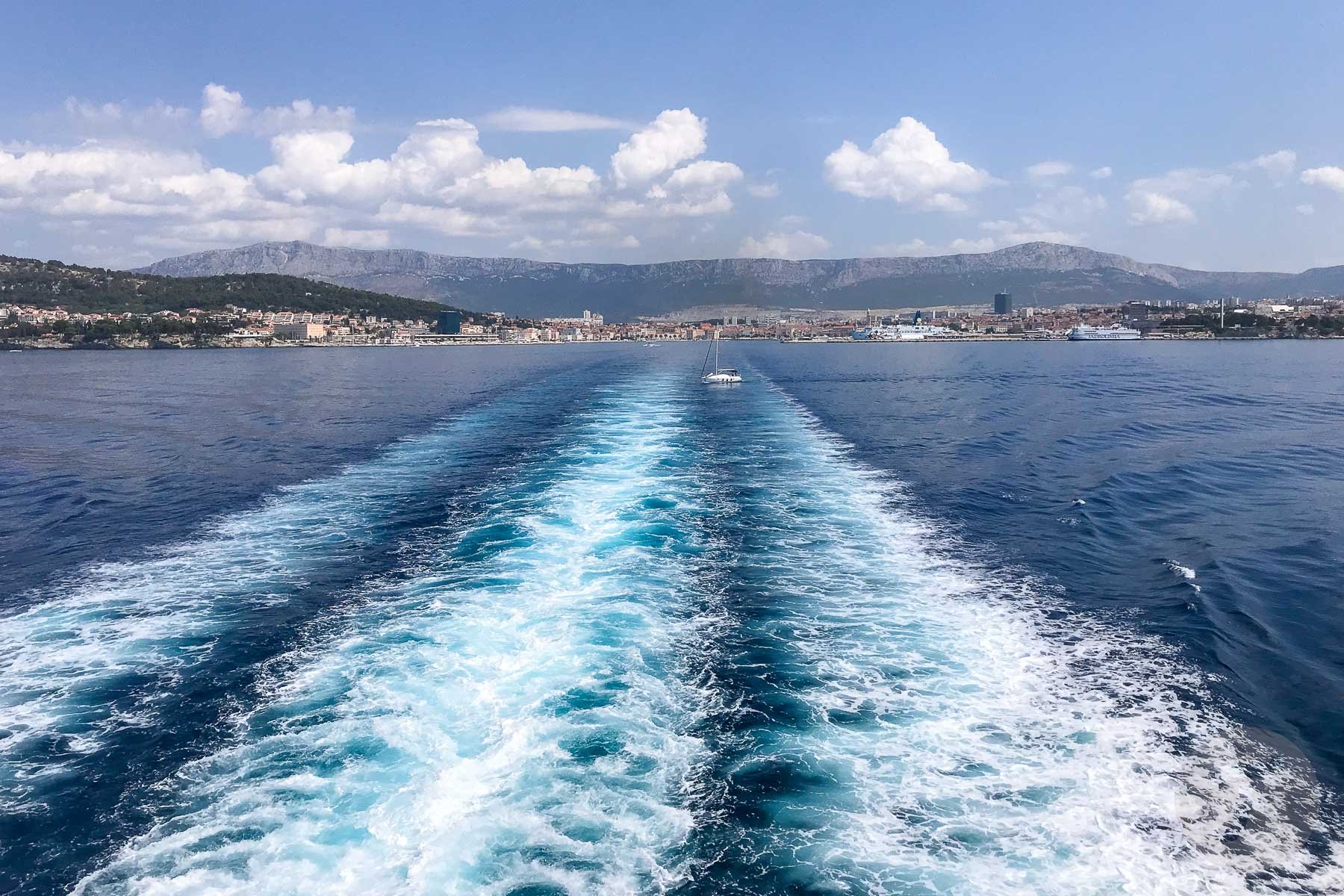 The Oris in its natural habitat
That discomfort quickly faded. After landing in Split and taking a ferry for three hours the next day, we arrived in Vela Luka at Korčula Island. This little village with 4,000 inhabitants (give or take) houses the Croatia Divers dive center where we planned to dive. By the way, "we" means me and my son Rieks, who I gratefully used as a model or photographer from time to time. Although this article is about the Oris Aquis and doesn't aim to be a travel guide, it's important to explain something about our whereabouts just to get you the right vibe.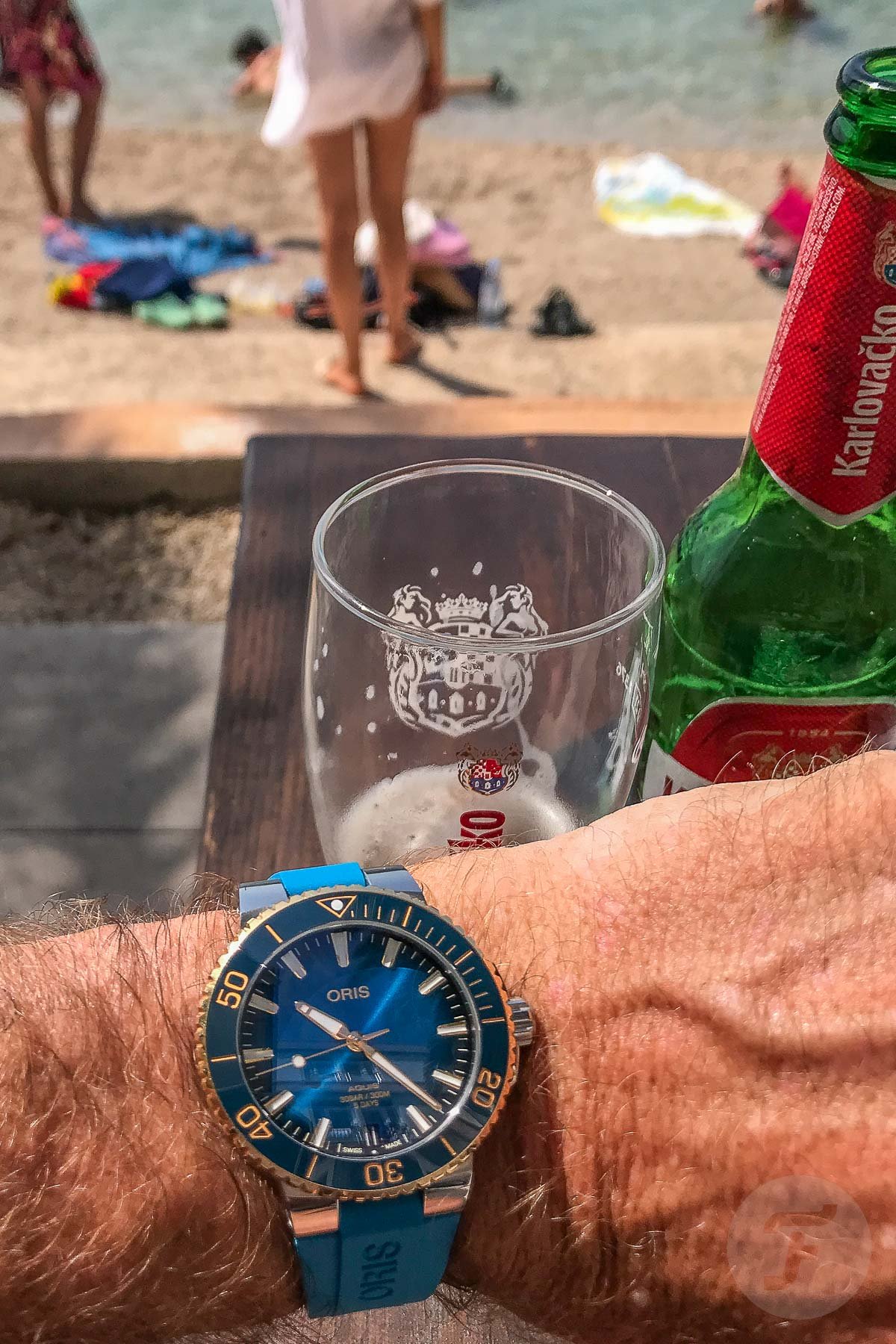 It was the context that made my discomfort about the watch fade. My colleague Nacho correctly noticed, "Somehow, in the right context, it looks a lot better!" Blue skies, palm trees, beaches, and turquoise seawater. Add an average outside temperature of over 30°C and a refreshing drink, and the vibrant blue of the bicolor Oris Aquis Date Calibre 400 immediately feels at home.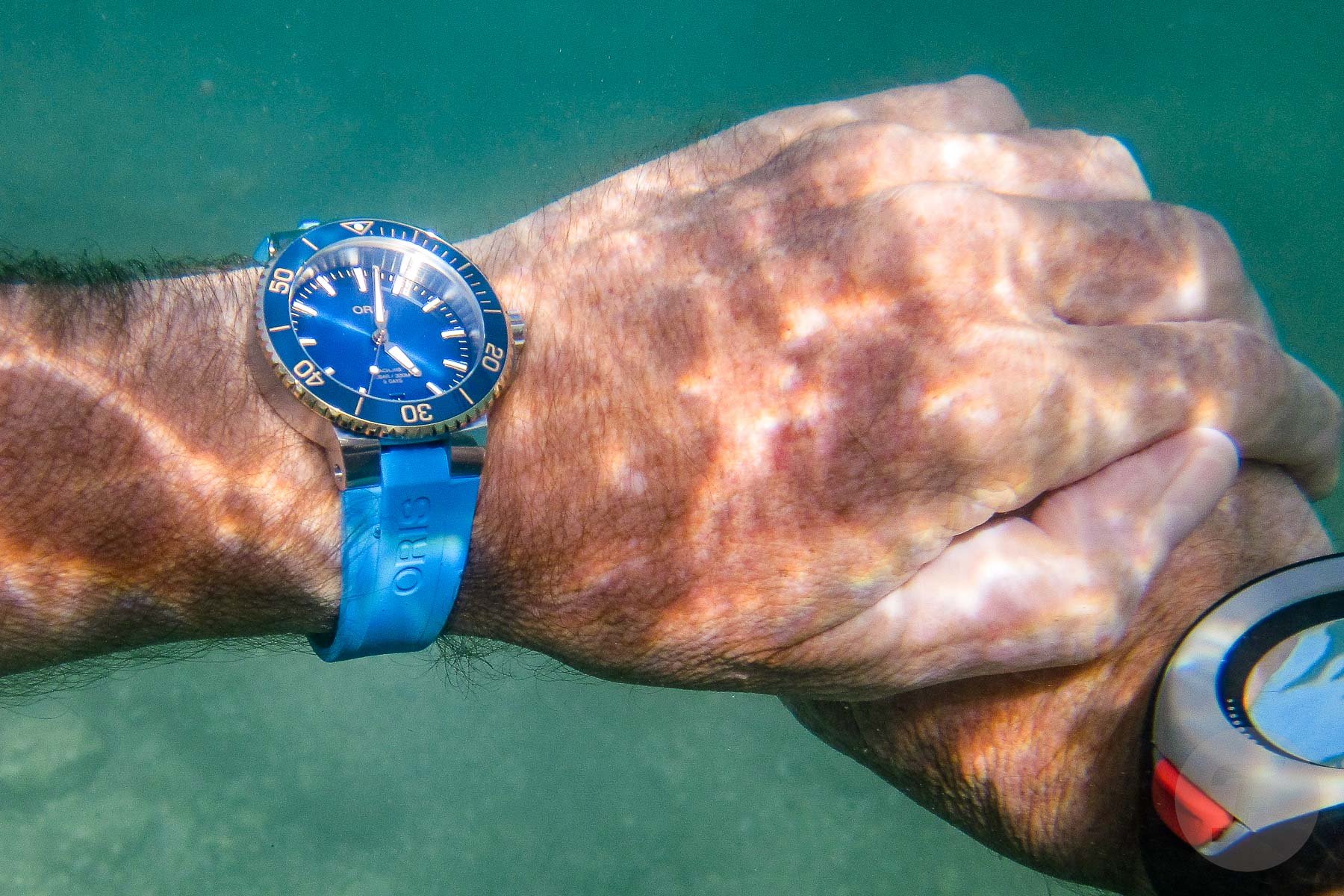 Testing the waters
It quickly became clear that the Oris did much better in a sunny, warm beach environment than in a shady, gray office. And although we were near the water, I still hadn't even gone diving or swimming with it. Except for the unintentional splash of beer and a bit of sweat, it hadn't gotten wet yet. Neither had we, so we figured that the next thing to do (before putting on a diving suit) was to take the watch and ourselves to the sea for some snorkeling. Expectedly, that went very well too. I tested my Mares Puck Pro dive computer at the same time, which equally passed. I also found that the Aquis Date Calibre 400 wears comfortably, is easy to read, and looks the part both in and out of the water. It's beautiful to see how sunken the dial seems when looking at the watch while submerged. More on that later.
Using the bicolor Oris Aquis Date Calibre 400 as a divers' watch
Now that I had started to really like the watch and the tryouts had gone so well, it was time to put it to the test for real. That meant a 7mm diving suit, lead, BCD, breathers, an air tank… the works. All geared up, in a RIB out to the Adriatic Sea, spit in my mask, plunging backward into the blue.
In all seriousness
Of course, we dive for fun. But we have to remember that there's some risk involved as well. Certified divers will remember that 90% of their training was about safety. Meters below the surface, all kinds of things happen to your body, and should the supply of air fail, you're just… Well, you get it, don't you? Naturally, people aren't made to dwell meters below the water. To minimize risks, we take all kinds of precautions. One of them is taking into account the time that we have been submerged. Nowadays, this is primarily handled by our wrist-worn dive computers, but a (mechanical) divers' watch can be a nice backup. We do love divers' watches, so why not use them for what they're made for if we have the possibility to do so?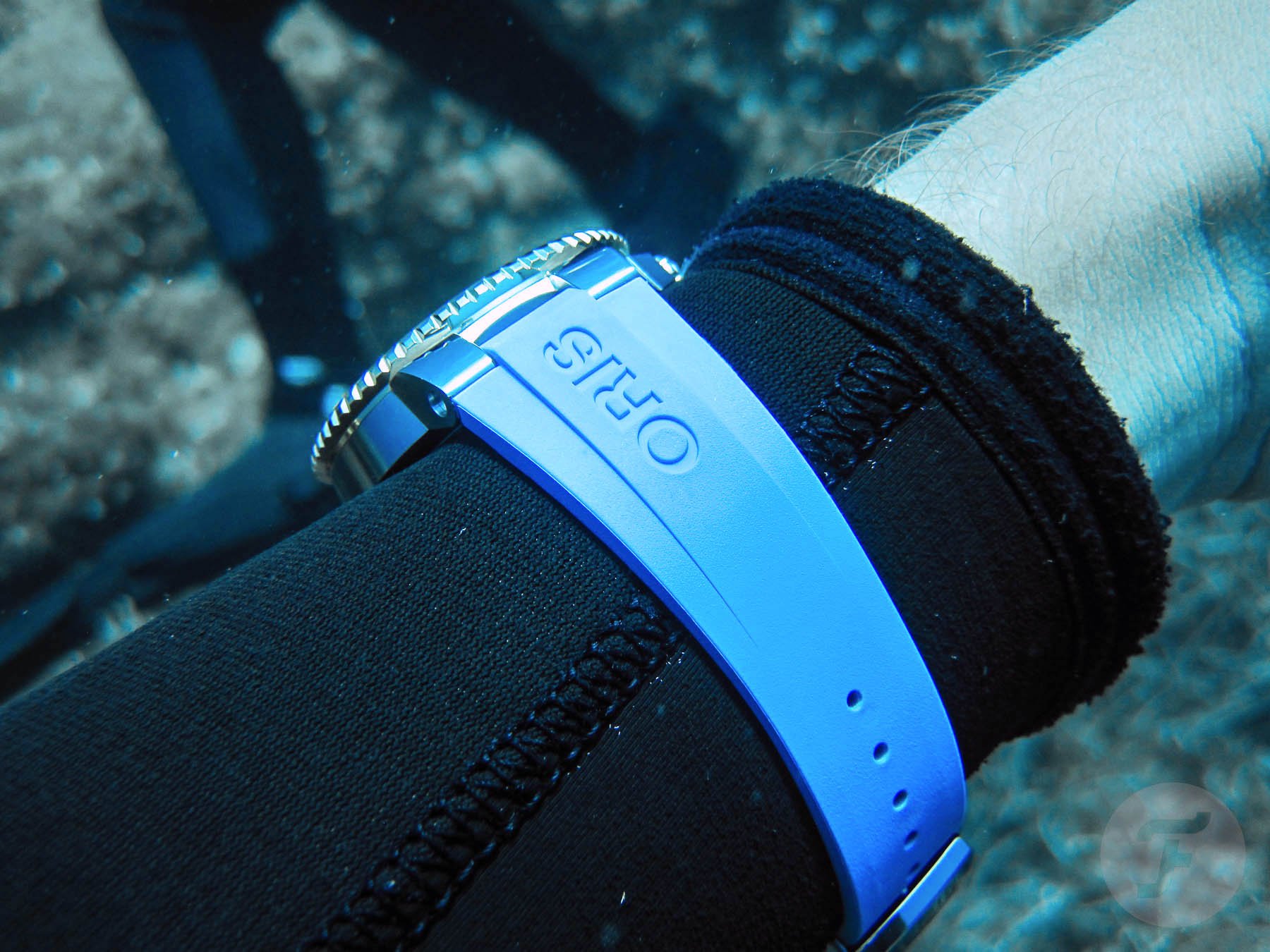 Practical functionality
When using a divers' watch for diving, it should be possible to rely on it. Preferably, it should also be functional and comfortable to use. The Oris Aquis Date Caliber 400 ticks all these boxes. The rubber strap is easily adjustable while safely attached to the watch and the folding buckle. The strap on my 18cm wrist is long enough to be worn over a 7mm dive suit and even has two holes left. There are fine-adjustment holes in the clasp, but they're not important when using it over a diving suit.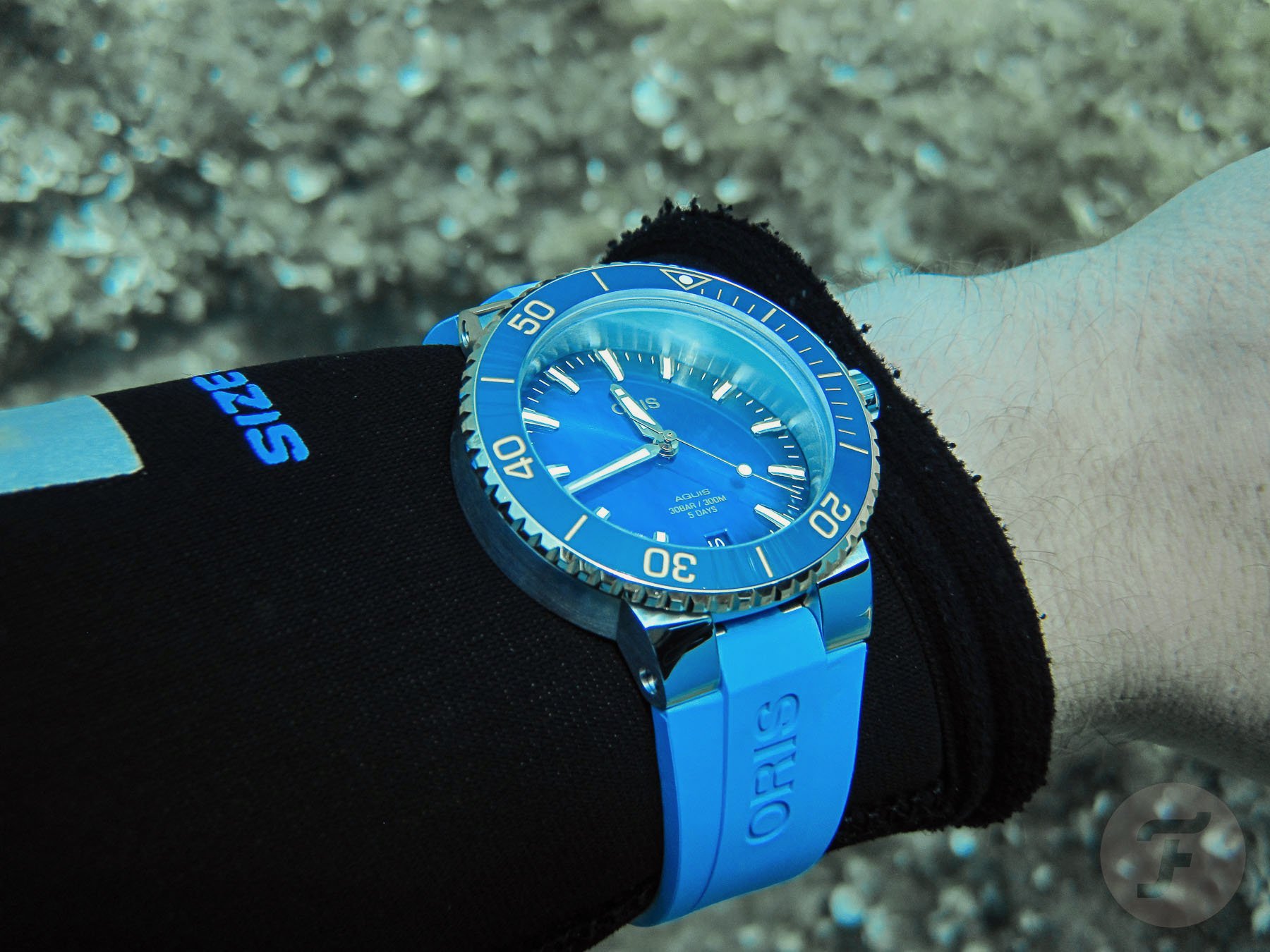 The readability of the Oris is good, even underwater while wearing goggles. Both the time and the elapsed dive time are easy to read. However, I wouldn't have opted for a sunburst-finished dial. Especially when diving, it tends to produce unwanted glare. The diving bezel, however, has a firm ratcheting action and is easy to use, even with dive gloves. As I mentioned earlier, the dial seems to be in the basement of the watch when looking at it underwater. This phenomenon is caused by the difference in the refractive index of the air inside the watch and the water around it. This occurs with all dive watches except for oil-filled ones.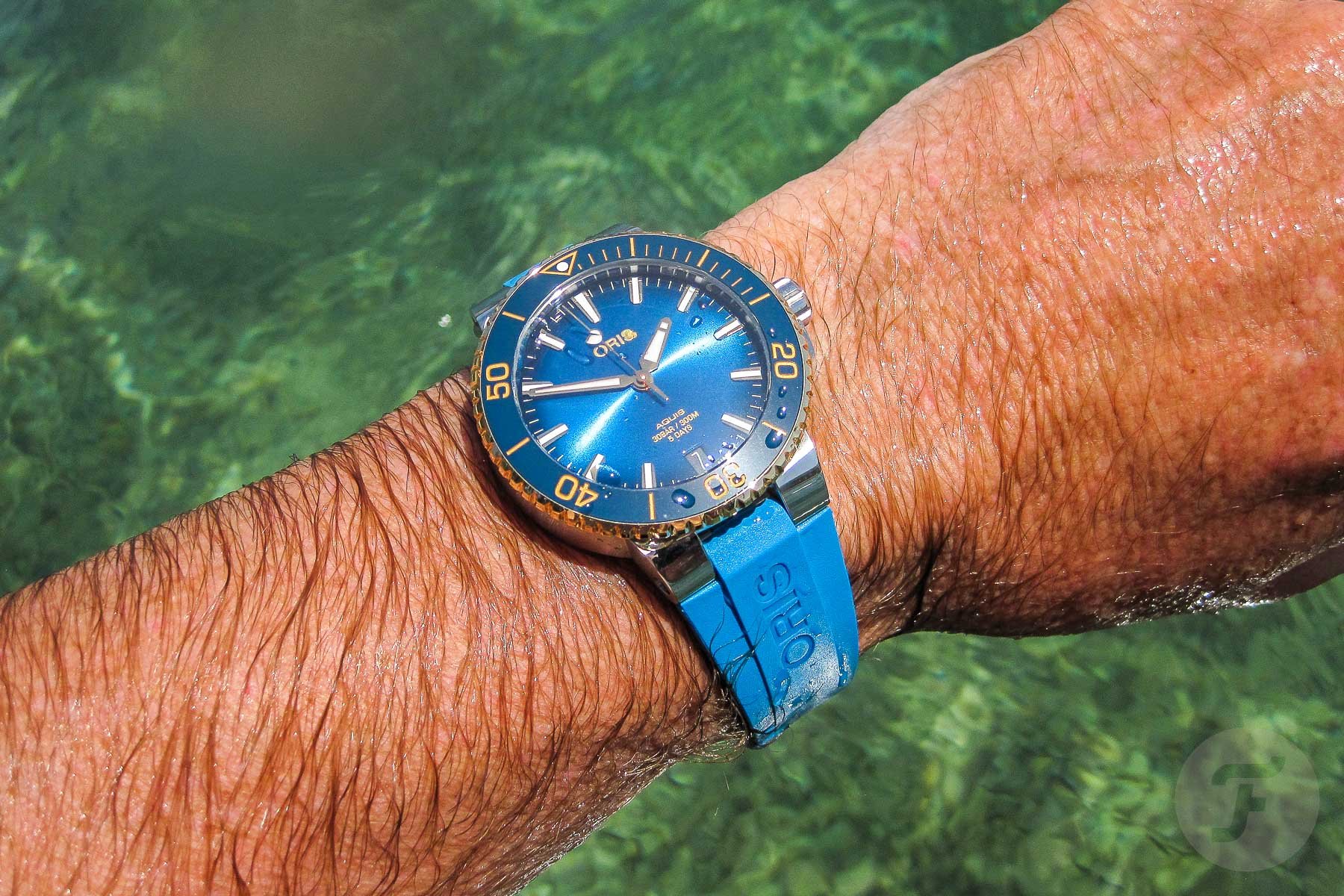 Conclusion
I would have never thought that I would like this watch so much. Mind you, it is a beautiful watch in any sense. I just thought it wouldn't suit me with the bright blue and gold, but it did. Of course, the context helped, but even now, back in the Fratello office, I'm still wearing and digging it. If you have conservative taste in watches as I do, this is a watch that you must experience. Don't be too quick in judging it; I'm sure it won't disappoint you. Would I buy it? Probably not yet. I understand the value of the new Oris Calibre 400 with its 10-year recommended service interval and a 10-year warranty (two years if you don't want to join MyOris). But I'm still on the steep learning curve of realizing that Oris watches aren't sub-€2K anymore.
Credits
While I normally take pictures for my articles myself, I had quite a bit of help this time. The header picture and frontal picture of Rieks diving were taken and generously donated for the article by Jilian Schoonhoven, divemaster at Croatia Divers. Most of the underwater wristshots were taken by my son Rieks Nijenbrinks. Thank you both for your help; it's much appreciated! Then, as usual, our own Bert Buijsrogge made perfect studio pictures of the watch that are shown in the picture gallery below. If you want to reach out, you'll find me on Instagram @gerardnijenbrinks.
Watch specifications
Model
Aquis Date Calibre 400
Reference
01 400 7769 6355-07 4 22 75FC
Case Material
Stainless steel case, 18K yellow gold uni-rotating divers' bezel with ceramic minutes scale
Crystal
Sapphire, domed on both sides, anti-reflective coating inside
Case Back
See-through, sapphire glass
Movement
Automatic Oris caliber 400 with 5-day power reserve
Water Resistance
30 bar / 300 meters
Strap
Rubber with folding buckle, fine adjustment
Functions
Time, date, divers' bezel
Warranty
2 years, 10 years upon joining MyOris