Oris Makes A Splash With Two New Aquis Date Calibre 400 Dive Watches In Steel And Gold
A familiar face gets a golden makeover
Lately, we have seen a number of watch brands embrace the classic steel-and-gold bicolor (or two-tone) look. Made popular in the '80s, it's a trend that saw a decline over the course of the '90s. The early 2000s and 2010s didn't treat two-tone watches much better, and the look came dangerously close to extinction. In recent times, however, we have seen a resurgence of steel-and-gold watches. Oris now joins in with two new Aquis Date Calibre 400 dive watches with 18K gold bezels. It's worth noting that Oris was never afraid of two-tone watches. Though its bicolor watches usually feature bronze instead of gold, it's nice to see this luxurious metal adorn the brand's flagship diver. It's a golden crown (well, bezel) for the darling Aquis in line with the brilliant Calibre 400 upgrade.
The Aquis debuted just over ten years ago, and since then, it has quickly climbed the ranks to become a bestseller for Oris. Every brand is defined by a couple of flagship models, and though my personal favorite from Oris remains the Divers Sixty-Five, the Aquis has undeniably taken the top position with the masses. The base models offer incredible value for the price, and this is no secret amongst watch enthusiasts. I remember the Aquis being high on my list in my early days of watch collecting, and I still wouldn't discard the thought of owning one someday. These integrated-bracelet divers offer a high-quality entry point to the world of Swiss dive watches.
Oris has now stepped up the game with these two special versions of the Aquis. And though these certainly won't be for everyone (two-tone watches are still a somewhat polarizing topic), they are rather impressive in the metal. Let's take a closer look and see what these new models offer.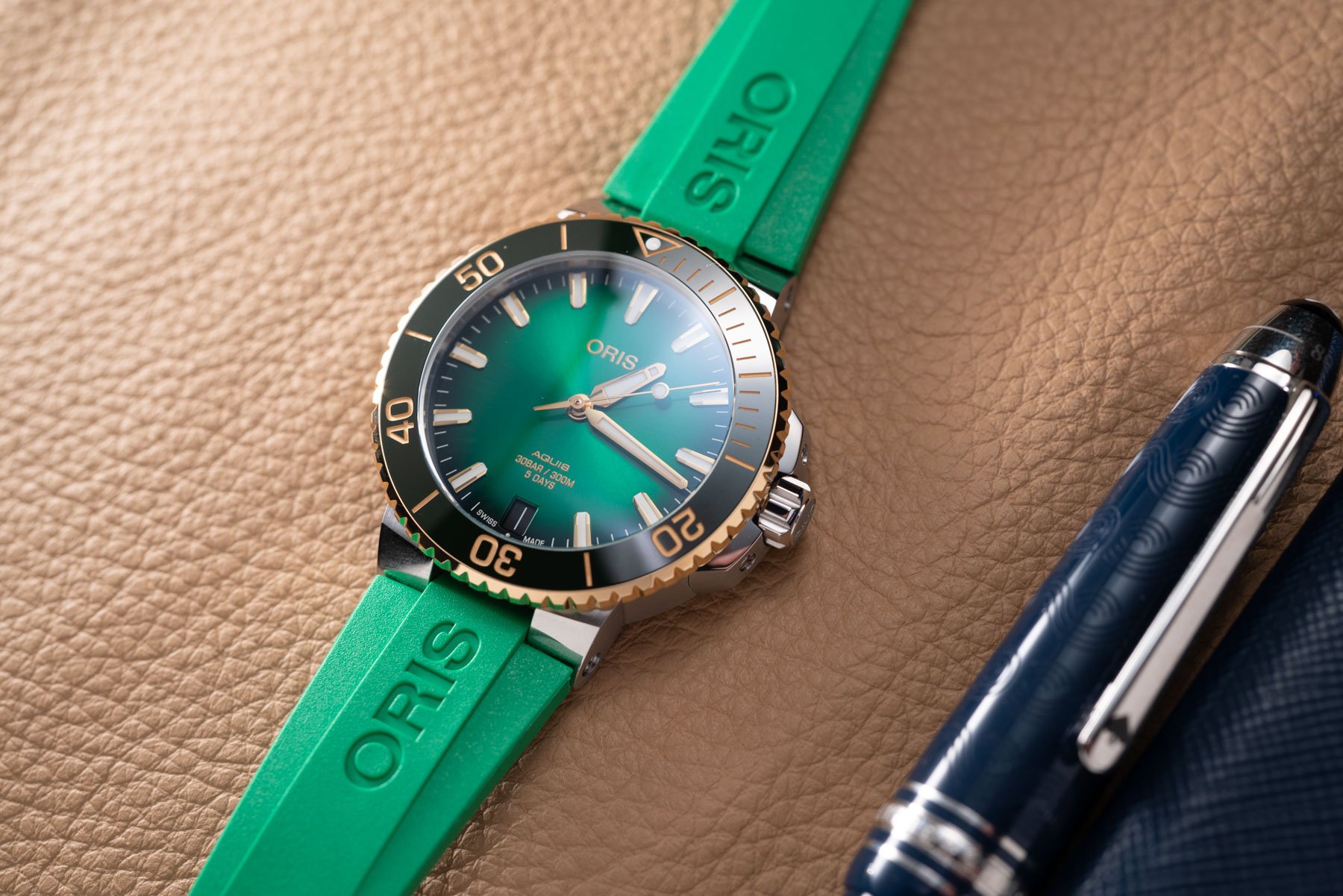 Oris Aquis Date Calibre 400 in steel and gold
So, what's new in this latest incarnation of the Aquis? Well, the truth is, technically speaking, it's the Oris Aquis you know and love with some aesthetic upgrades. So, in terms of specs, it all falls in line with the 41.5mm Aquis Calibre 400. You get 300 meters of water resistance, a stainless steel case, a domed sapphire crystal, a screw-down crown and case back, and a ton of Super-LumiNova in the applied markers. But what has changed is the golden touch, which has been given to the bezel's edge, hands, markers, and even the numerals in the ceramic bezel insert.
Available in blue or green, the golden details really change the look of the Aquis. It elevates it from a purely functional tool watch to something a little bit more refined. Due to the Aquis's wholly modern aesthetic, there's no retro feel like on the two-tone Divers Sixty-Five models. Instead, these remain resolutely modern with added warmth and plenty of character.
Summer-ready
Both models are delivered on a stainless steel bracelet. The bicolor aesthetic ends at the head of the watch, so there are no golden center links on the bracelet. This keeps the look a little more low-key than if Oris had decided to go with a two-tone bracelet as well. Part of me would love to see it. Hell, even a full-gold Aquis in either of these two colors could be pretty awesome! Perhaps that's something we'll see in eight years for the model's 20th anniversary? Here's hoping! But if the metal bracelet isn't for you, don't despair. Both watches are also delivered with a color-matched rubber strap with a deployant buckle. And if my past experience with Oris rubber straps is anything to go by, this will certainly be the way to go, especially for a colorful summer look.
It's a shame these are only being released after the Fratello Summer Splash 2022 has officially begun. Otherwise, they may have been strong contenders. But who knows? Submissions for a wild card are still open!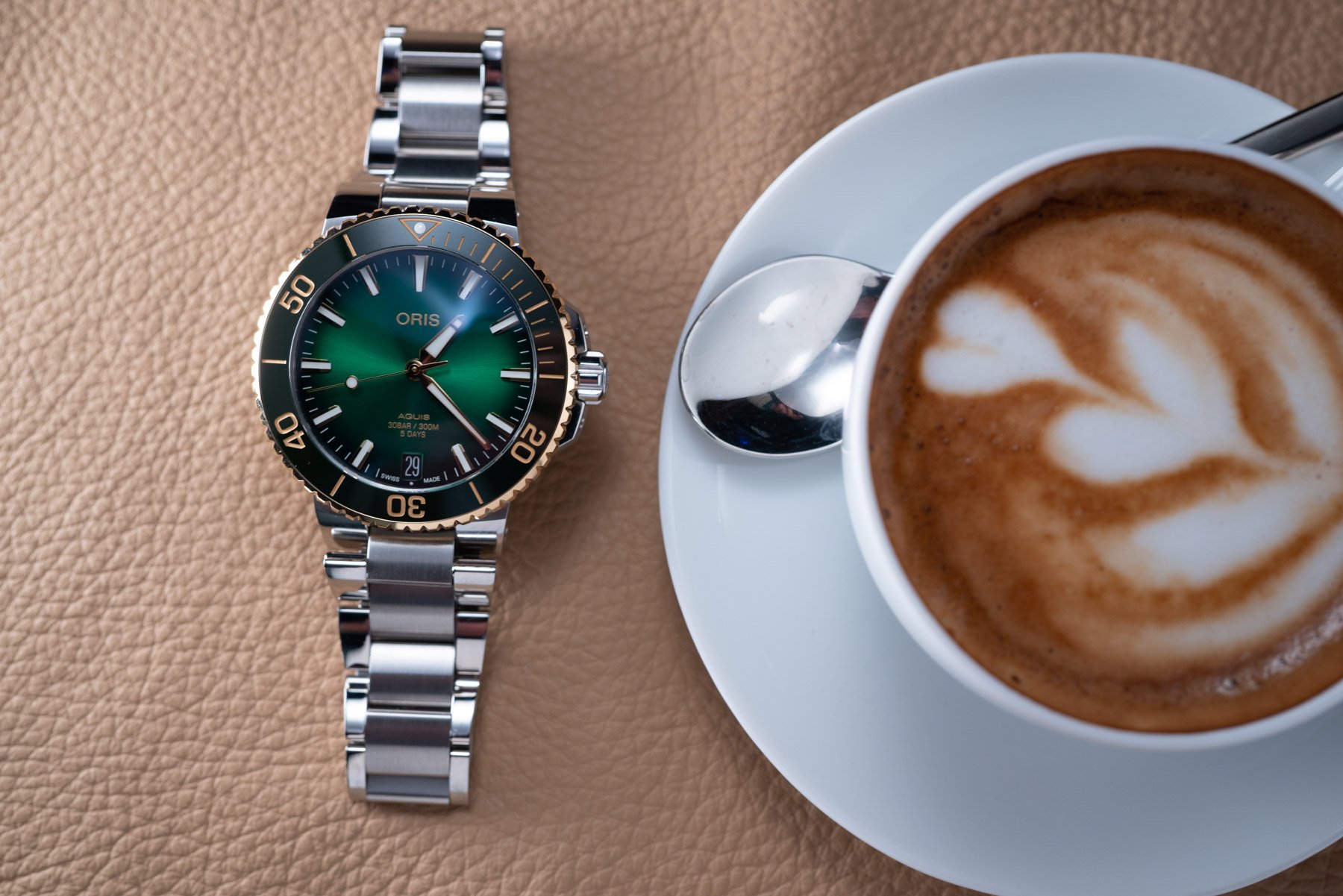 Final thoughts
So, there you have it — yet another bold and colorful release from Oris. The brand has really been on fire this year, and we can't help but wonder where it will go next. We've seen colorful titanium pilot's watches in the form of the ProPilot X and a fearlessly faithful reissue of a quirky '90s watch in the form of the 2022 Hölstein Edition Worldtimer. Now we get a pair of fantastic blue and green divers with a touch of gold. Equipped with the brand's impressive Calibre 400 (which you can read all about here), these watches are likely to cause quite a splash.
As far as we know, these models are not limited editions and will be available from Oris from June 2022 onwards with a price tag of CHF 4,000. Yes, this puts them on the opposite end of the affordability spectrum when it comes to the Aquis line. That said, one of these is not likely to be your first Oris Aquis. For more information, check out the Oris website.
What do you make of these two new additions to the Oris Aquis Date Calibre 400 lineup? Do they float your boat, or are you swimming away and heading for the horizon? As always, I'd love to hear your thoughts in the comments below.