Doxa Releases Two Non-Limited Versions Of The Fabled Doxa Army
In case you missed out on the 100-piece limited edition in ceramic, here are two new steel versions for you
Doxa is well-known for its function-first dive watches with their unique aesthetic and bright colors. Until the release of the ceramic Doxa Army limited edition in April this year, little was known about Doxa's military involvement. But in late 2021, the Swiss government confirmed that special dive watches were purchased from Doxa for the Swiss Army.
Doxa brought the design back in cooperation with Watches of Switzerland. One hundred pieces were made in black ceramic and quickly sold out. Today, however, the brand adds a pair of non-limited versions to its collection. Let's see what Doxa is bringing to the table at this year's Geneva Watch Days!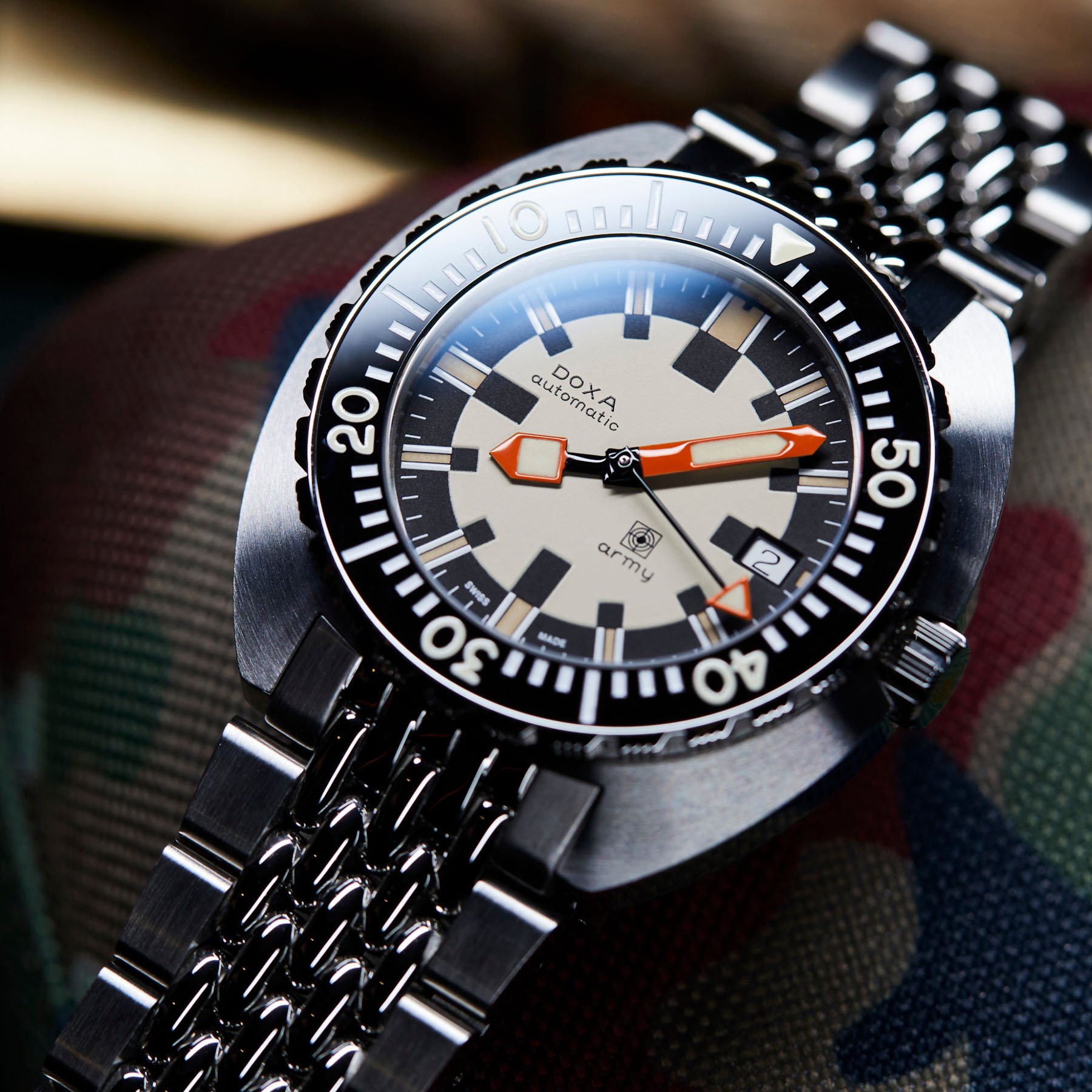 The history of the Doxa Army
Although Doxa has been around since 1889, it was not until 1967 that the brand doubled down on professional dive watches. The introduction of the SUB 300 marked a turning point for Doxa. It combined technical prowess with a more accessible price point than competing dive watches of the time.
Just one year earlier, the Swiss Army started to set up specialist diving units. These highly trained elite troops were supplied with officially issued Doxa watches from 1969 onwards. At first, about 150 SUB 300T watches were issued. Later, a series of an unknown quantity of specially designed Doxa Army watches were supplied.
The watch featured a distinct case and a highly legible beige dial. Orange hands and black markers provided ample contrast. The no-decompression bezel that Doxa is known for made way for a fully graduated countdown bezel.
Was the Doxa Army black or plain steel?
The original Doxa Army watch has been shrouded in mystery. A handful of examples were known to be in private collections, but few details were public. There was, for instance, confusion about the color of these watches. Some were known to be blacked out, but most surviving examples were just plain steel.
As it turns out, the originals were indeed black. But they were not PVD-coated, in which case the surviving units would probably still have at least some remaining black flakes on their surface. Instead, the steel was blackened through a process of oil dipping and heating. The resulting black layer was even less durable than PVD and rubbed off completely over time. This explains why the remaining examples are now plain steel.
So the original dating back to 1968 was black and faded to plain steel. The limited reissue was executed in black ceramic for an everlasting black appearance. This time, Doxa introduces two versions in stainless steel, similar to what a well-worn original would look like. You're still with me, right?
The new Doxa Army models
The new reissues — available starting in October this year — largely maintain the original aesthetic. Well, at least the black-bezel version does. It has the same 42.5 × 44.5mm case. It shares the same dial and countdown bezel. There are some modern updates though. A sapphire crystal now protects the dial, and the bezel insert is now executed in ceramic for optimal durability. This version is available on a stainless steel beads-of-rice bracelet or an FKM rubber strap. A NATO strap in a Swiss Army camouflage pattern is also included.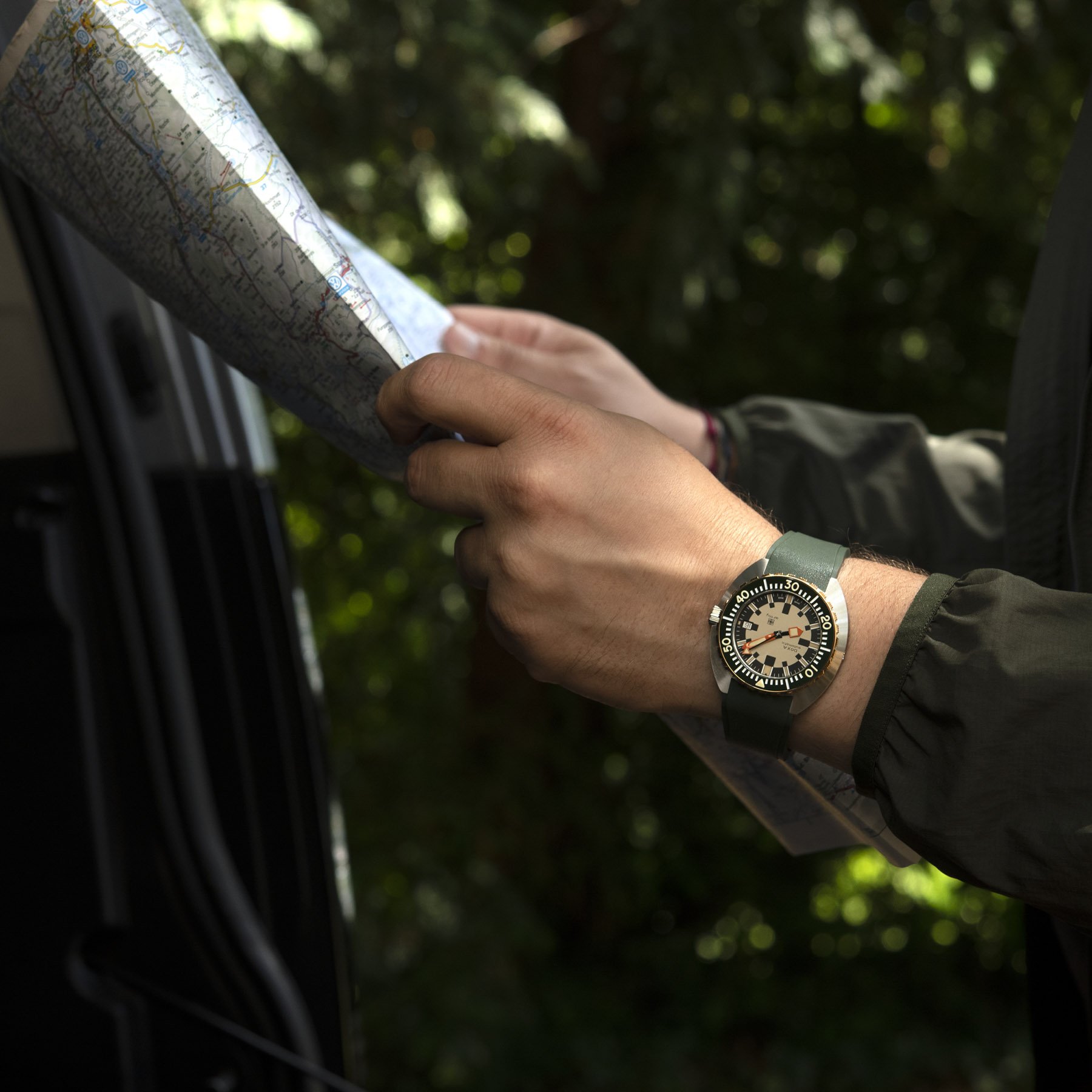 It is the second version that shows Doxa getting a little funkier. Departing from the original design, we have a green ceramic inlay fitted to a bronze bezel. Combined with the beige dial and orange hands, you get a beautifully warm appearance, offset by the cool steel case. Somehow, the resulting look is still rather army-like and fitting for the concept.
The green model comes with your choice of a black or green FKM rubber strap or a steel bracelet. Again, a camouflage NATO is included. The Doxa zip pouch is executed in the same camouflage pattern, which includes red, blue, and white alongside the typical green and brown.
Closing thoughts
I think Doxa has a potential hit on its hands with these two new models. In my eyes, these watches have struck the right balance between faithfulness to the original and some modern updates. The black version just looks timelessly cool. The green version provides something entirely new to the Doxa lineup. It is unique while maintaining a certain rugged, military-inspired aesthetic, especially once that bronze starts developing some nice, dark patina.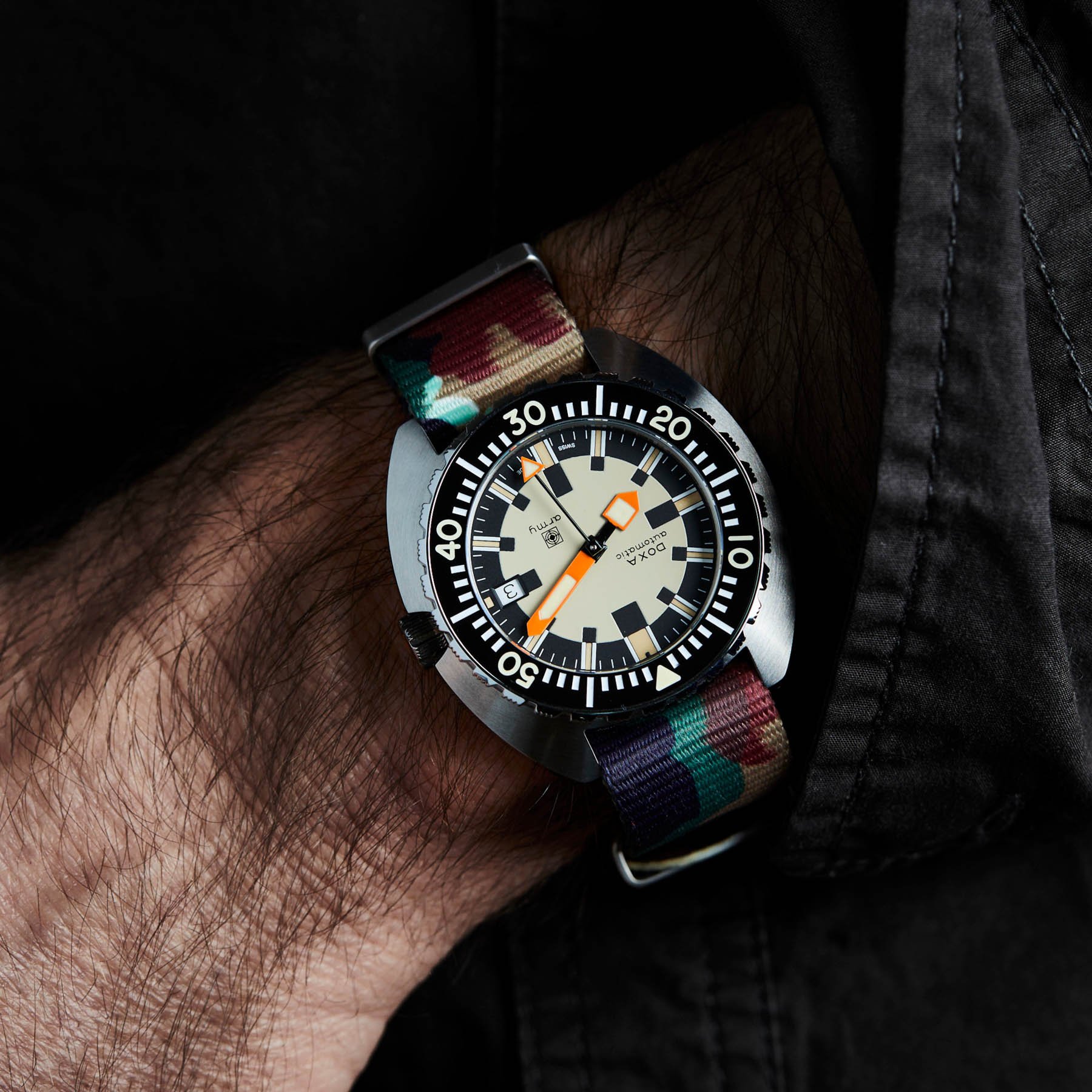 I cannot help but wonder whether we will see a black-coated version in the future. Doxa would not even really have to worry about the durability of the coating. The brand could just let owners experience a similar kind of color degradation to what the originals went through. A version for those with a taste for strong patina and historical accuracy, shall we say?
Still, the move to plain stainless steel makes a lot of sense. It makes these watches a little more stylistically versatile and durable for those without a taste for faded black. And the fact that these will be part of Doxa's regular collection is great as well. With only 100 pieces made, many fans missed out on the limited edition in ceramic. No such issues here.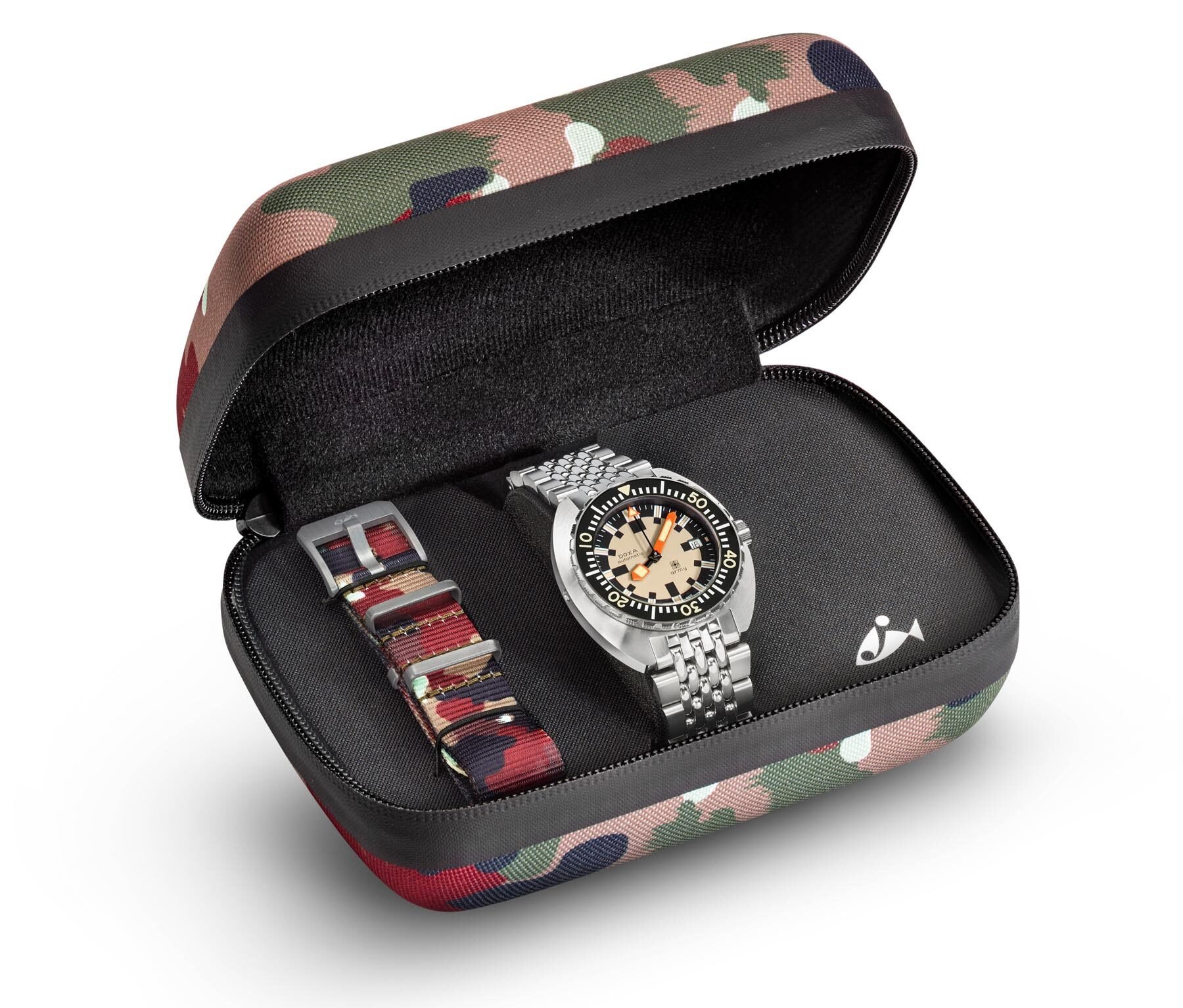 Pricing and availability
The steel and black version is priced at CHF 1,990 (€2,090) on the bracelet. It is CHF 1,950 (€2,050) on the FKM rubber strap. The steel/bronze and green version is priced at CHF 2,190 (€2,290) on the bracelet. It is CHF 2,150 (€2,250) on either the black or green FKM rubber strap.
All versions will be available for purchase from Doxa this October. Let us know what you think of them in the comments below!
Watch specifications
Reference
785.10.031.10: stainless steel bezel with black ceramic insert/stainless steel bracelet. – 785.10.031.20: stainless steel bezel with black ceramic insert/black FKM rubber strap. – 785.60.031.10: bronze bezel with hunter green ceramic insert/stainless steel bracelet. – 785.60.031.26: bronze bezel with hunter green ceramic insert/hunter green FKM rubber strap. – 785.60.031.20: bronze bezel with hunter green ceramic insert/black FKM rubber strap.
Case Material
Stainless steel
Case Dimensions
42.5mm × 44.5mm × 11.95mm
Case Back
Stainless steel
Water Resistance
30 ATM/300 meters
Strap
Black or green FKM rubber strap or stainless steel beads-of-rice bracelet. Camouflage NATO included.
Price
Between CHF 1,950 (€2,050) and CHF 2,190 (€2,290)