Doxa Introduces The Whitepearl Colorway To The Wider SUB Family Collections
Bright, white, and beautiful!
When Doxa dropped the Whitepearl colorway on its entry-level SUB200 last year, it was a bit of an experiment to gauge reception and interest for a pure white watch. Well, the wider watch community lapped it up right away. Quite rightly, too! Indeed when I first saw it at Geneva Watch Days last year, I was a fan. It was pure. It was simple. So, now Doxa is rolling out the Whitepearl colorway to the broader range, with one extra unique twist.
People often think bright and colorful watches are the perfect summer accompaniment for the wrist. That said, sometimes you might want to wear something bright but a little less bold. Yellow, orange, and baby blue might be a little much in some situations, so white is a nice compromise. So put your glad rags on and brighten up your life with the Doxa SUB 300 Carbon, SUB300, SUB300T, SUB600T, and SUB1500T in Whitepearl.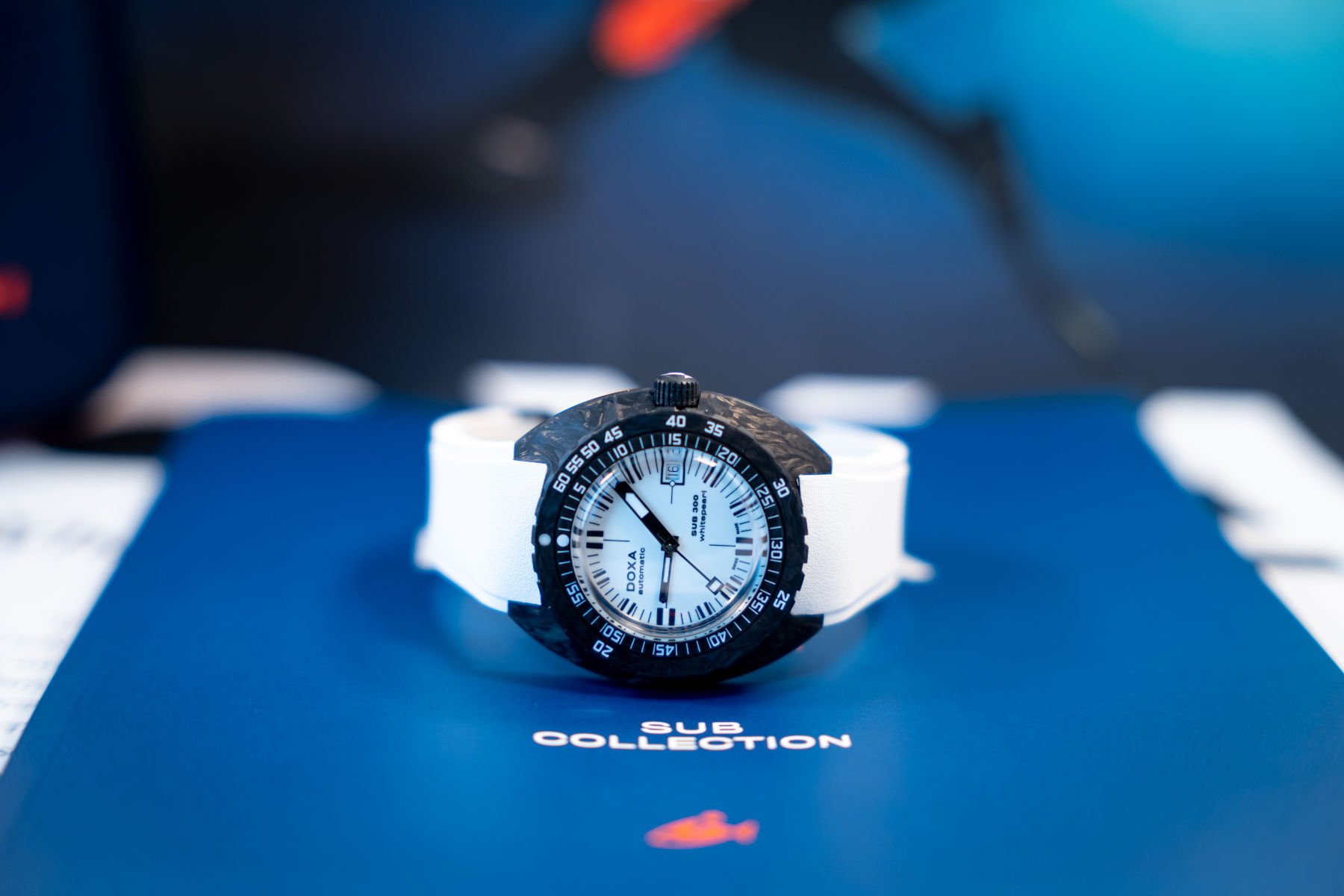 Mmmm, that Whitepearl Carbon!
Anyone who knows me will immediately guess that my eye was drawn to the carbon model. I've made no secret of my admiration for forged carbon as a material. It's just "cool". I can't think of a better word than that which accurately describes my reaction to it. The Whitepearl SUB300 Carbon works particularly well as the white rubber strap and white dial offer hard contrast to the black carbon case. It's the boldest of the Whitepearl watches, and I like it. I also like the Whitepearl SUB300 Carbon as it holds an extra special surprise compared to the other models.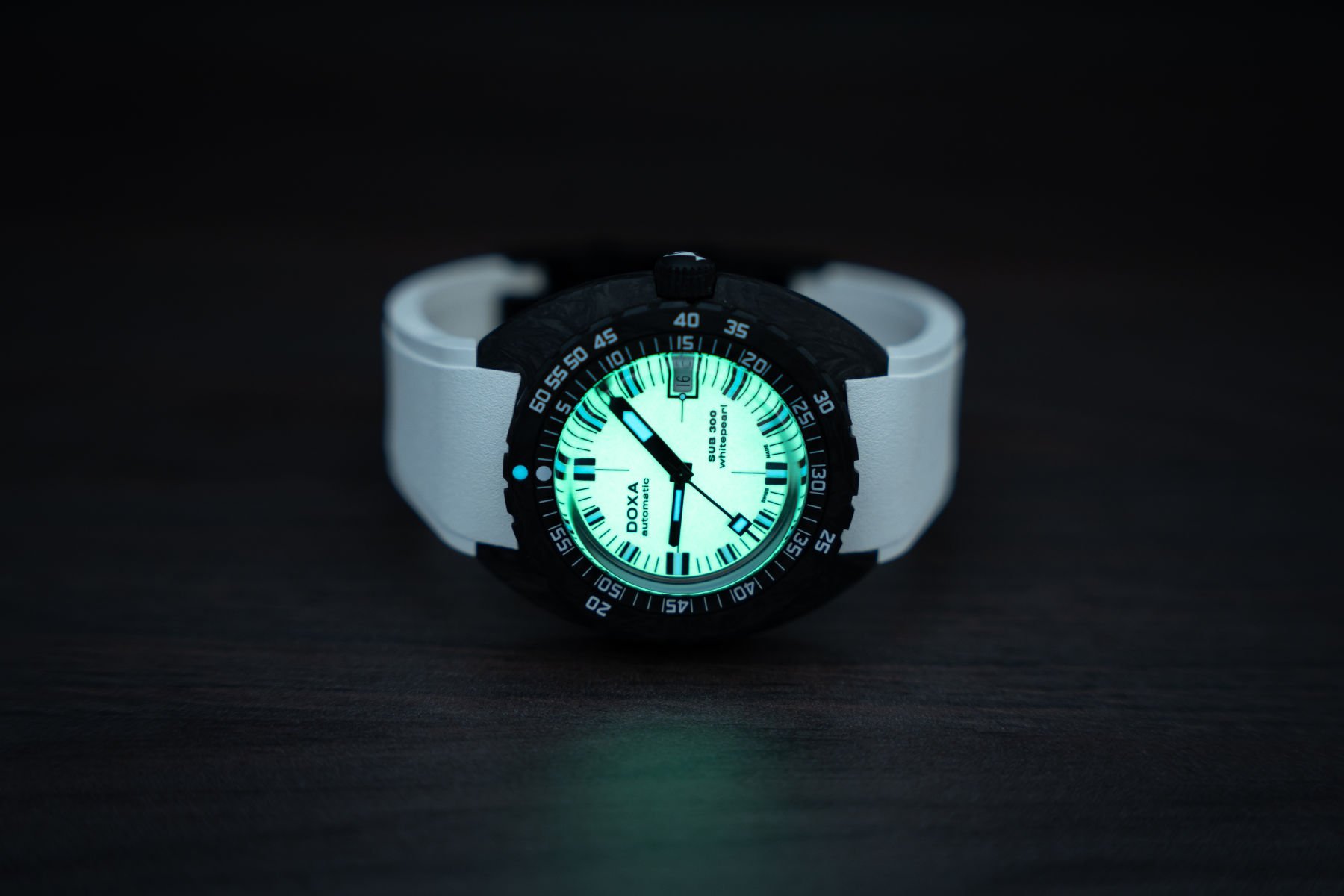 And Doxa said, "Let there be lume!"
The Whitepearl SUB300 Carbon has a fully lumed dial! This is a first from Doxa, and it's something I oddly predicted at Geneva Watch Days 2021. In a meeting with Doxa's CEO, Jan Edöcs, we discussed future concepts and my love for the carbon-cased SUB300. At that point, I suggested a fully-lumed dial in the carbon case. I felt the combination was just an obvious next step. Jan looked at me with a bemused expression and pulled out a document detailing the exact watch I'd just described. Nice to know we were thinking along the same lines! Now the watch is here and real, and it looks every bit as good as I'd expected.
The other Whitepearl models are equally as cool
All other models feature steel cases that tone down the white dials. Where the Carbon SUB300 is a bold beast, the steel-cased models are a little more reserved. I think I've made it clear which is my model of choice, but what about you? Do you dig these new, all-white watches? Let me know which of the Whitepearl models is your choice in the comments below!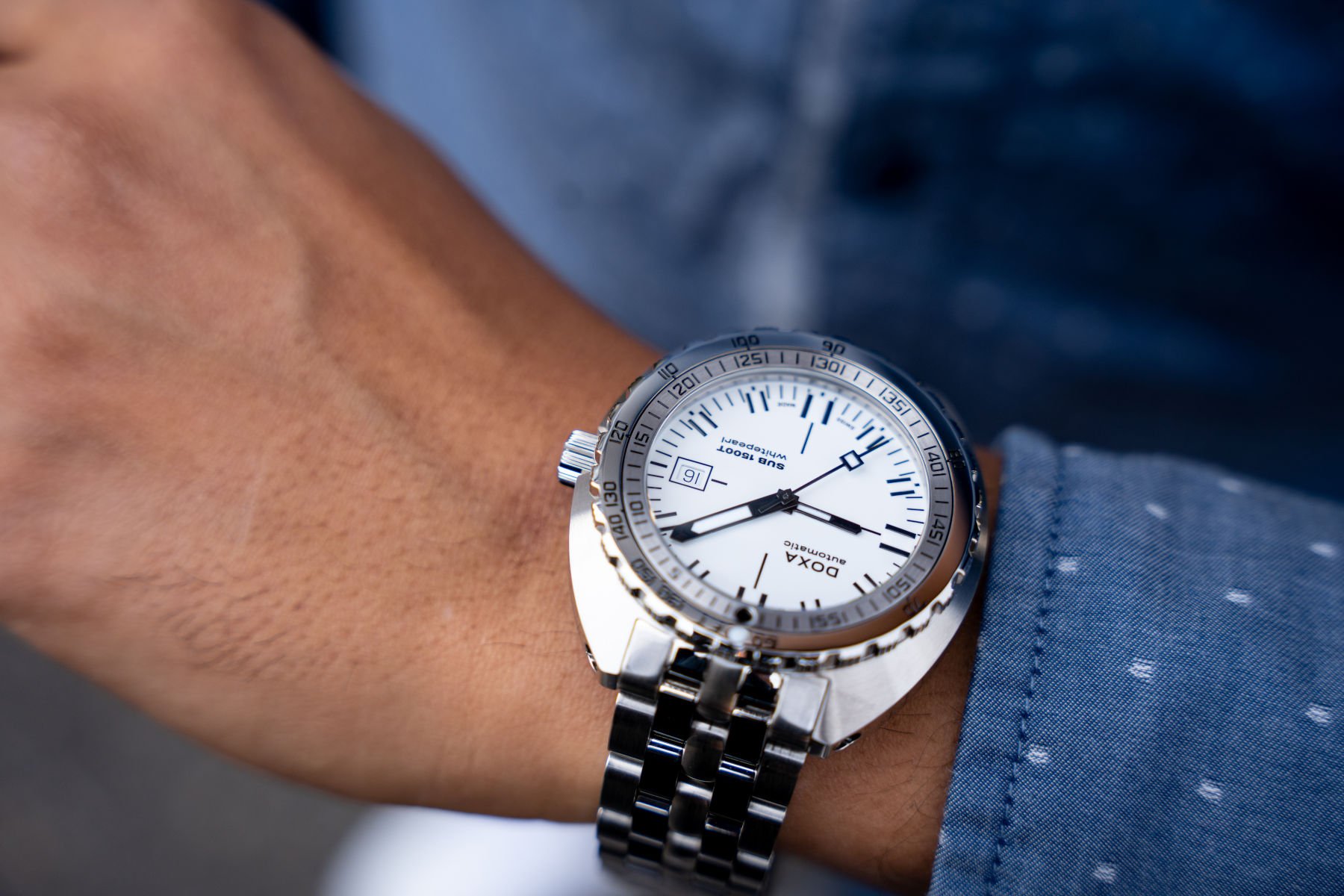 Doxa Whitepearl pricing and availability
OK, due to the sheer number of options, bear with me here. All models should be available around the end of April 2022. Find out more on the Doxa website.
SUB300 Carbon Whitepearl – CHF 3,890
SUB300 Whitepearl (rubber) – CHF 2,450
SUB300 Whitepearl (bracelet) – CHF 2,490
SUB300T Whitepearl (rubber) – CHF 1,850
SUB300T Whitepearl (bracelet) – CHF 1,890
SUB600T Whitepearl (ceramic insert/rubber) – CHF 1,450
SUB600T Whitepearl (ceramic insert/bracelet) – CHF 1,490
SUB600T Whitepearl (steel insert/rubber) – CHF 1,350
SUB600T Whitepearl (steel insert/bracelet) – CHF 1,390
SUB1500T Whitepearl (rubber) – CHF 2,390
SUB1500T Whitepearl (bracelet) – CHF 2,350
Follow me on Instagram: @davesergeant | @fratellowatches