Our Editors' Favorite Watches From Geneva Watch Days 2021
Which watches did the guys on the ground dream of taking home with them?
It's been a long and intense week packed full of expectedly unexpected twists and turns a fair can throw at a team of intrepid watch journalists navigating their first major event in a year. We met with pretty much every brand on the calendar, made it to the Geneva Watch Days tent every night (if only for a quick hello/goodbye on Thursday), and set some exciting projects in motion.
You can't beat the face-to-face interaction you're confronted with every day at Geneva Watch Days. It makes such a difference to once more see our friends and colleagues after such a long absence, and those relationships that have deepened in different ways due to the pandemic suddenly seem injected with the kind of vitality we'd all been missing in the back of our minds. I can't wait to share with you the result of some of those conversations (because I know you'll be just as thrilled as we are), but before that, it's time for the writers that attended the fair to choose their favorite watch to grace their wrist this week.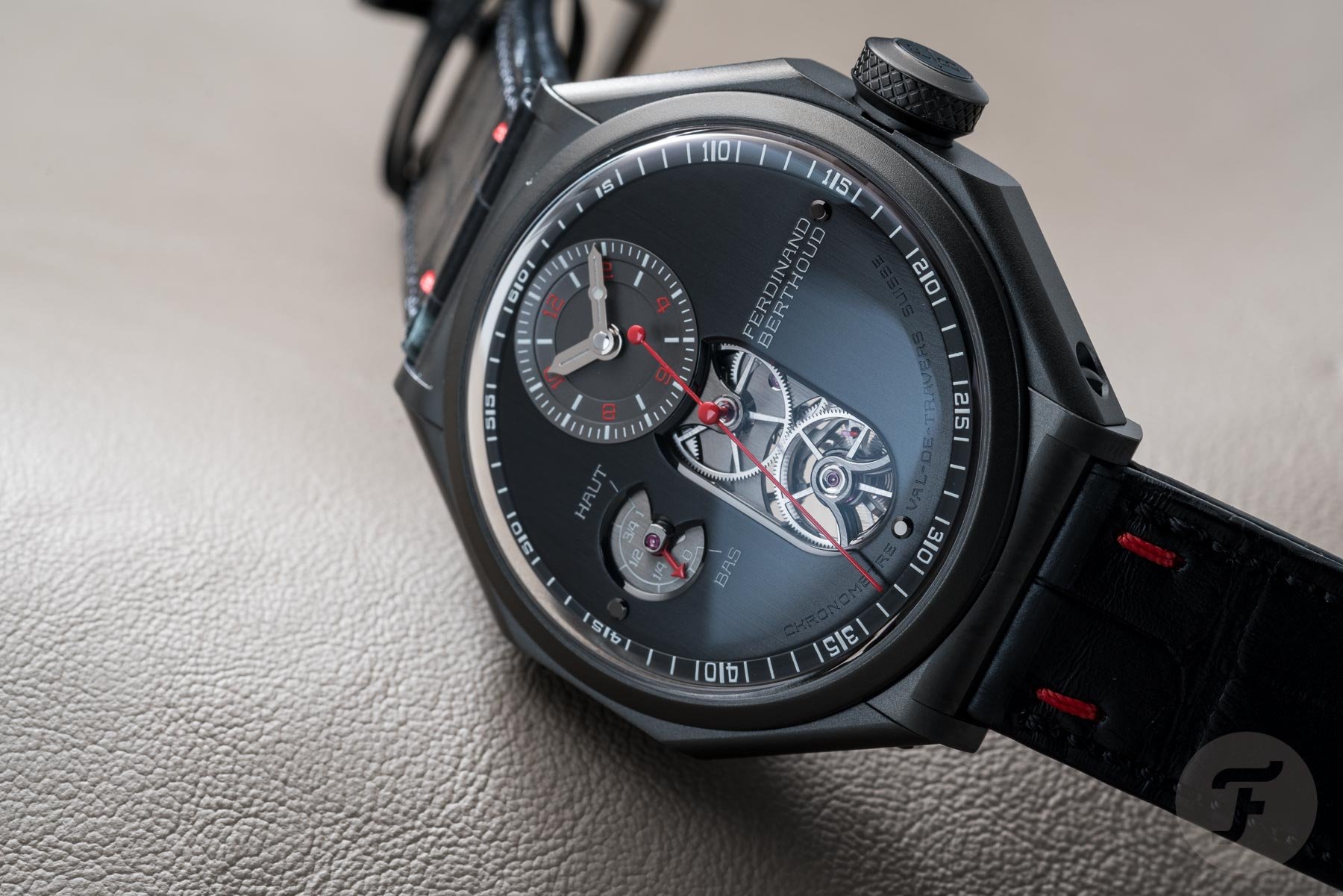 Lex – Ferdinand Berthoud Chronomètre FB 1.6-3 for Monaco's Art in Time
There can be only one, and there is only one: the Ferdinand Berthoud Chronomètre FB 1.6-3 for Monaco's Art in Time. I picked a watch that I can never ever own. First, because there is only one. And second of all, the watch is made for Monaco retailer Art in Time, and it will be in the shop window carrying a price tag of $208,500. I just can't get to that kind of money quick enough. And I say quick enough because I was a watch connoisseur with some cash in my pocket, this black beauty would be mine.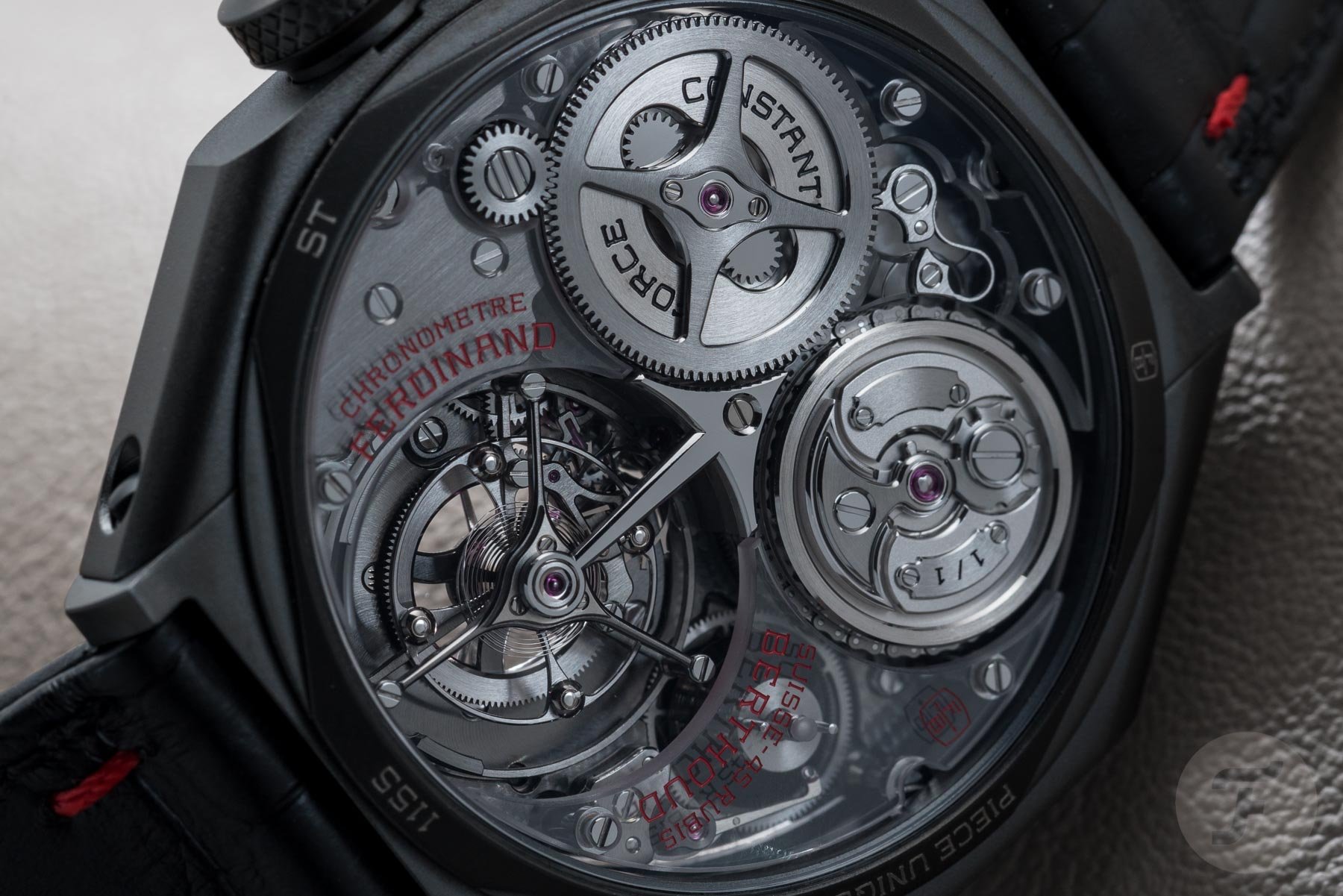 Let's start with the simple thing. The steel case measures 44×13mm and has a coating of black DLC — Ferdinand Berthoud has never done that before, but they should consider doing it some more because the octagonal shape of the case looks mysterious and sinister in this livery.
The movement inside Ferdinand Berthoud's one-off COSC-certified chronometer has also undergone special treatment, so it colors black. You can see a lot through the sapphire case back, but also quite a bit through two smaller sapphire windows on the side of the case.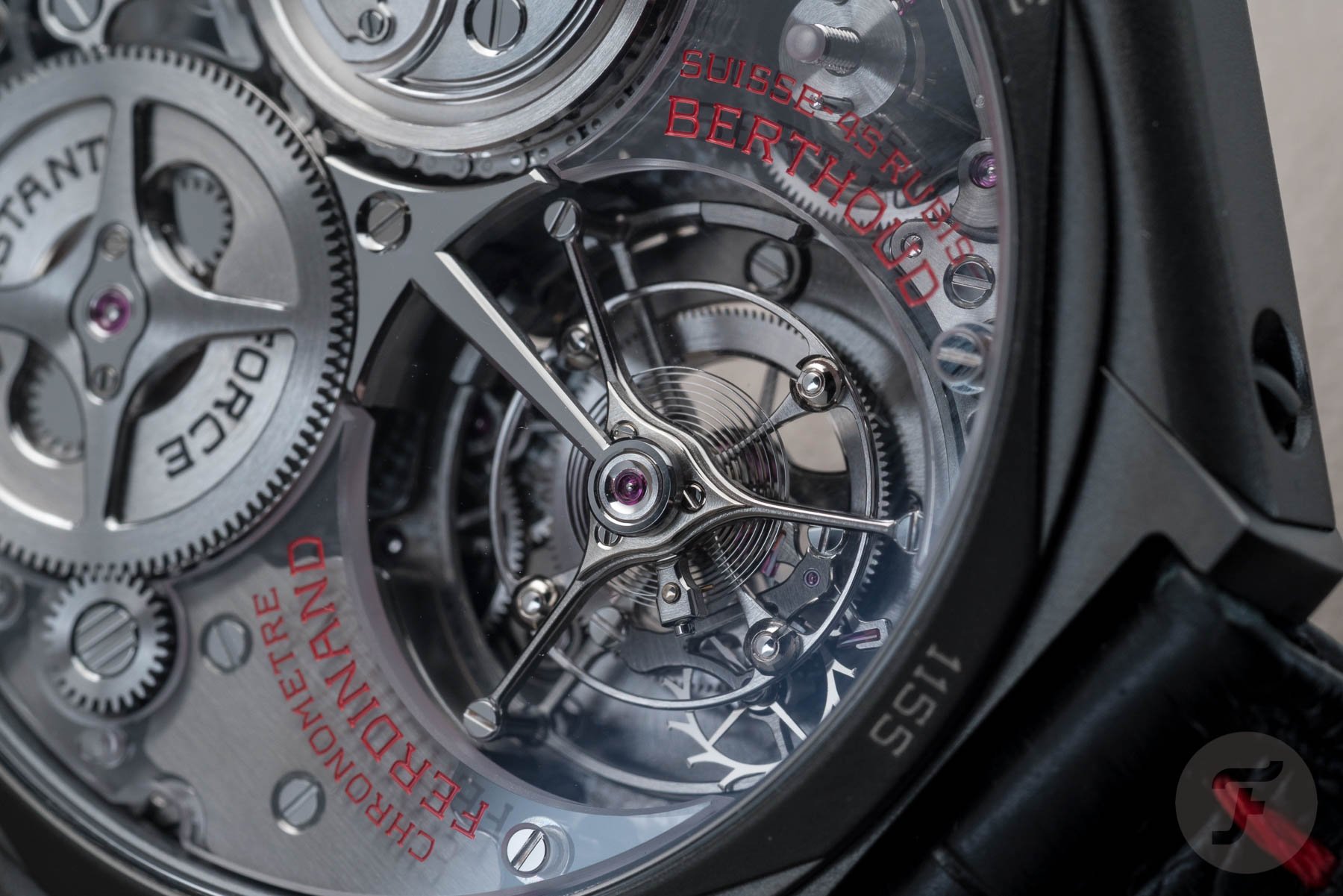 The movement inside is the FB-T.FC-2. Highlights are the tourbillon with suspended fusee cone and suspended mainspring barrel. The one-minute tourbillon drives the center seconds hand, and that direct-drive system is a Ferdinand Berthoud patent. There's also a free-sprung balance and a balance spring with a Phillips overcoil.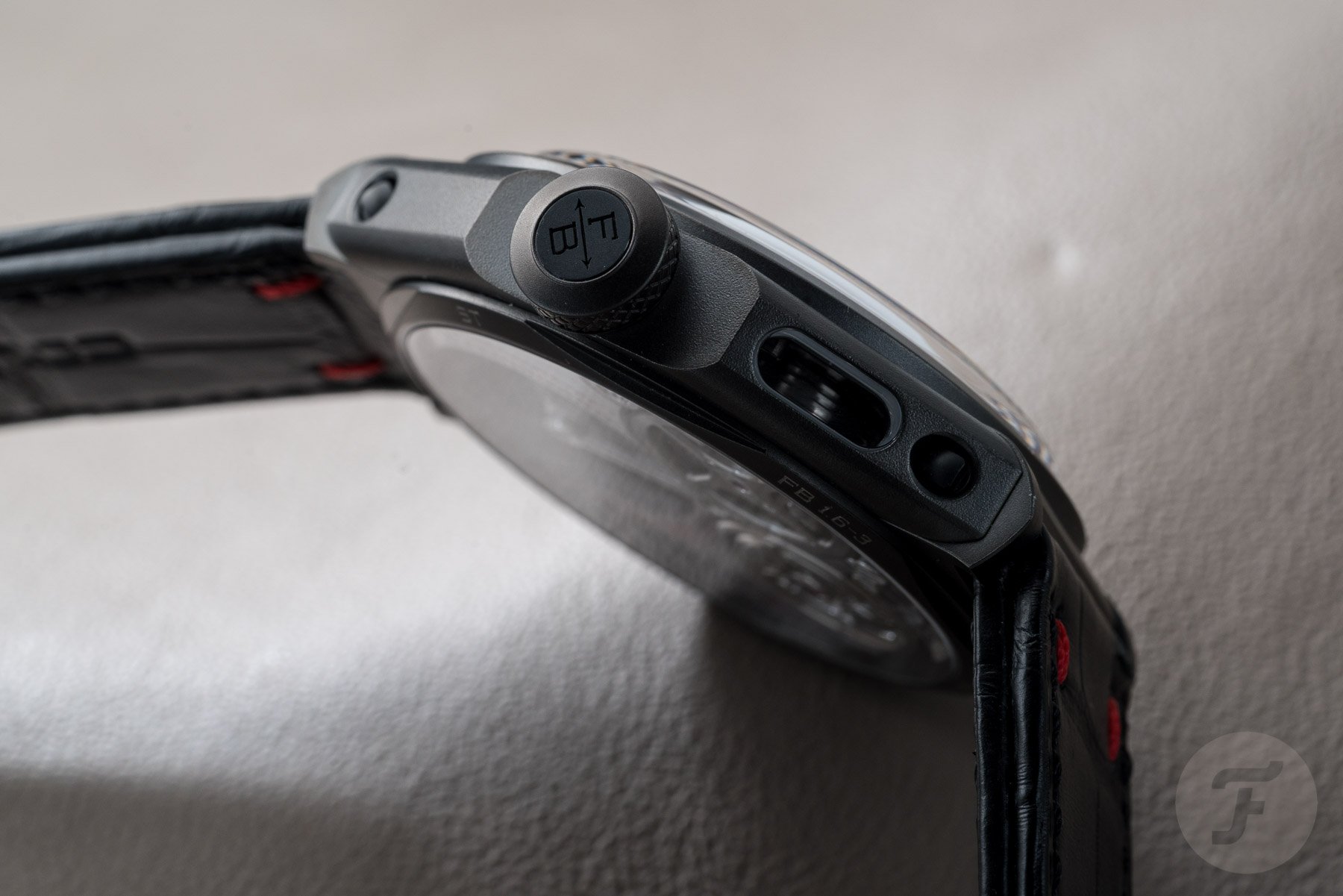 An incredibly impressive and fascinating piece of horology, this movement. But for me, the absolute highlight of the Chronomètre FB 1.6-3 for Monaco's Art in Time are the bridges. They're done in sapphire. And on top of that, the edges are beveled. The work that has gone into that is mind-blowing. The result is subtle, but so incredibly pleasing through the lens of a magnifying glass. And that's why I picked this watch.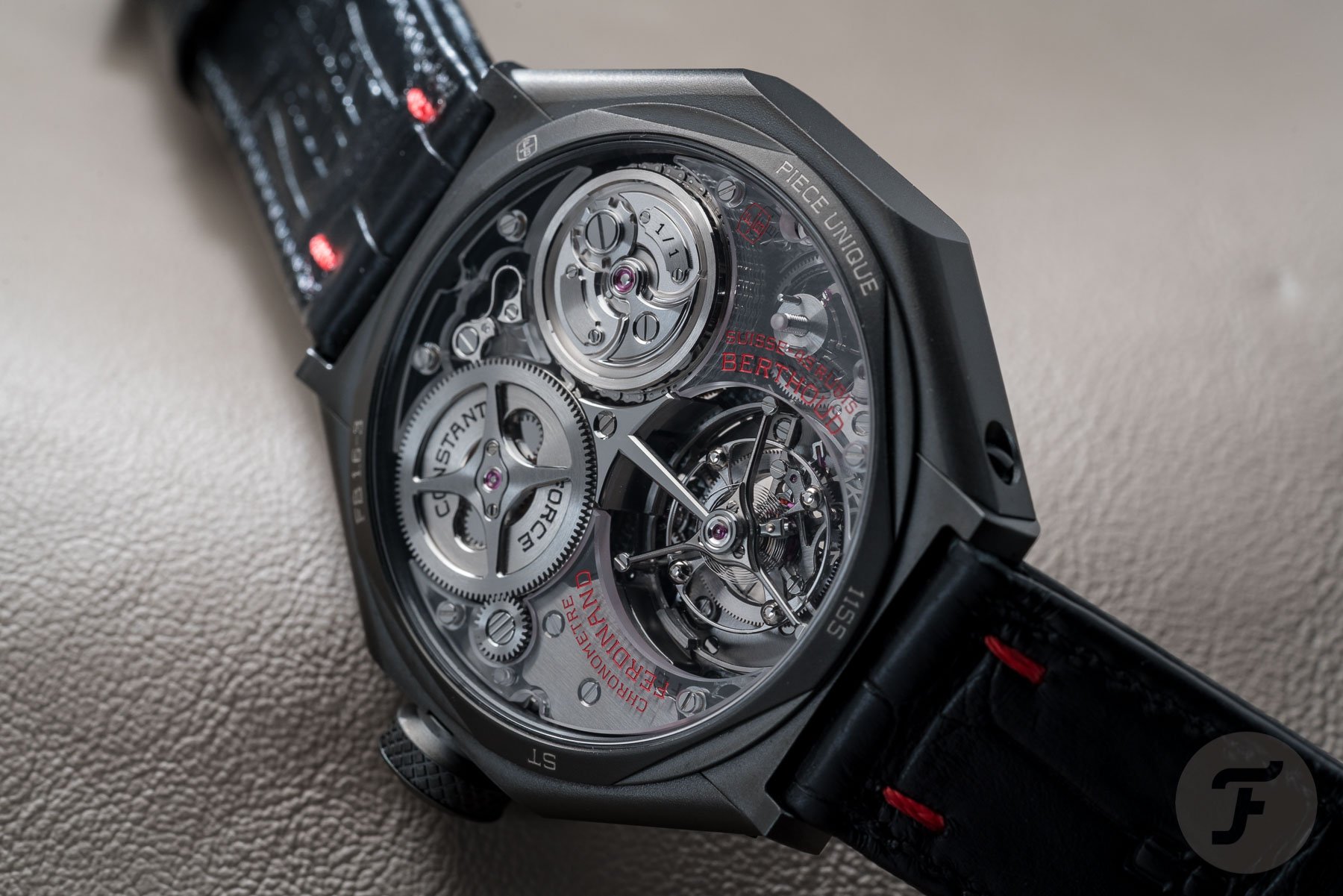 Plus the fact that a portion of that will go to benefit the Fondation Prince Albert II de Monaco. This foundation funds projects that aim to "mitigate the effects of climate change, promote renewable energy, preserve biodiversity, manage water resources, and fight against desertification." Who can be against that? More information is available on Ferdinand Berthoud's official website.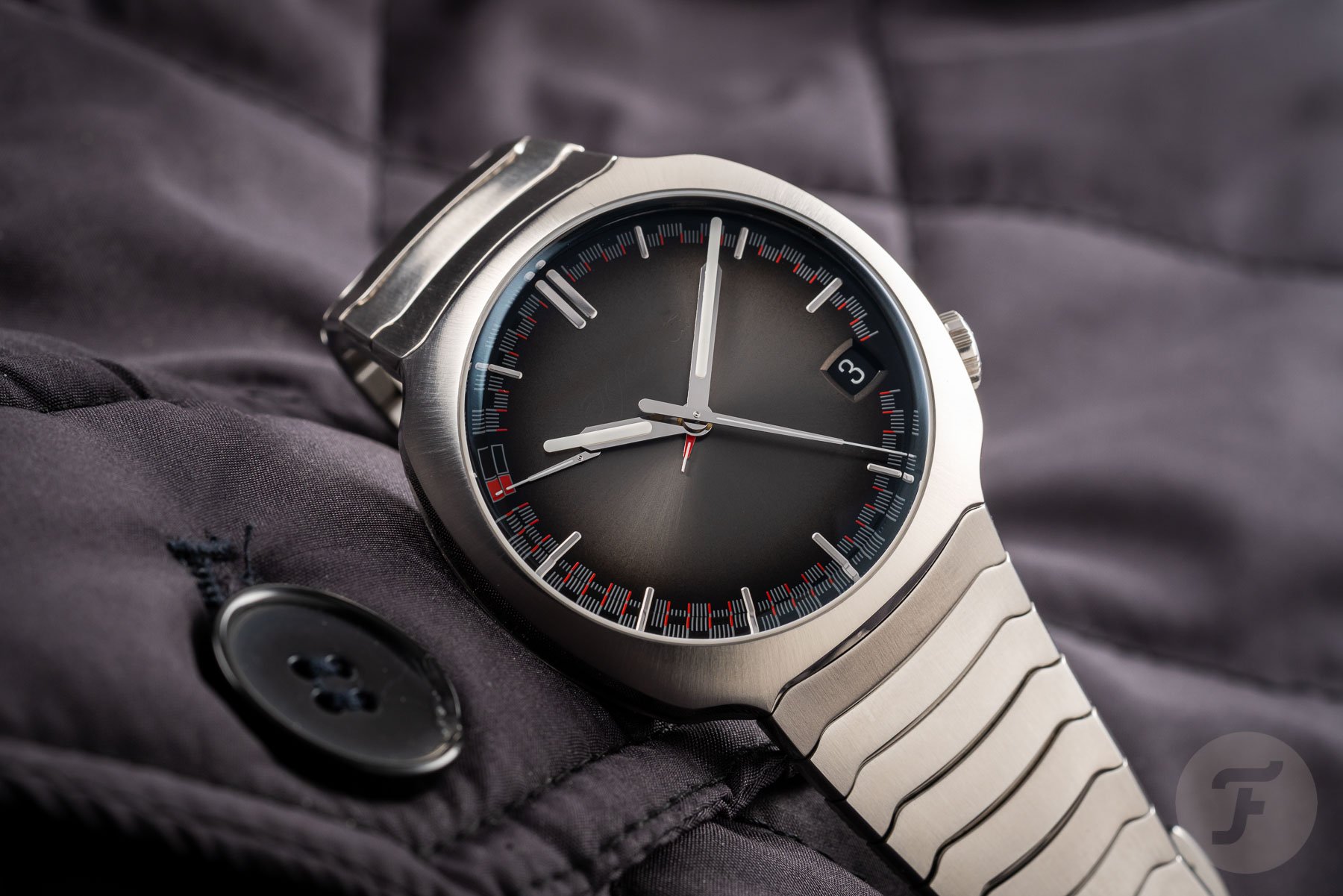 Dave — H Moser & Cie Streamliner Perpetual Calendar
This was a very difficult question for me to answer. If I recall correctly, I think I fell in love with a new watch every day, so picking just one felt harsh on the others. But, I'm a "consummate professional" so I did just that. Like an episode of Take Me Out, I whittled them down to just two. The Moser Streamliner Perpetual Calendar and the Doxa Sub 600T. As you can probably guess, it was the Moser that won out as the eventual winner.
The Streamliner caused a bit of a stir when it was stepped into the market. Since then, we've seen a chronograph, three-hander, and now a perpetual calendar. For me, the new perpetual calendar is the pick of the bunch. That said, the Streamliner case and bracelet are so god-damn gorgeous that I think they'd be able to carry any complication stashed within them to the cusp of perfection in my eyes.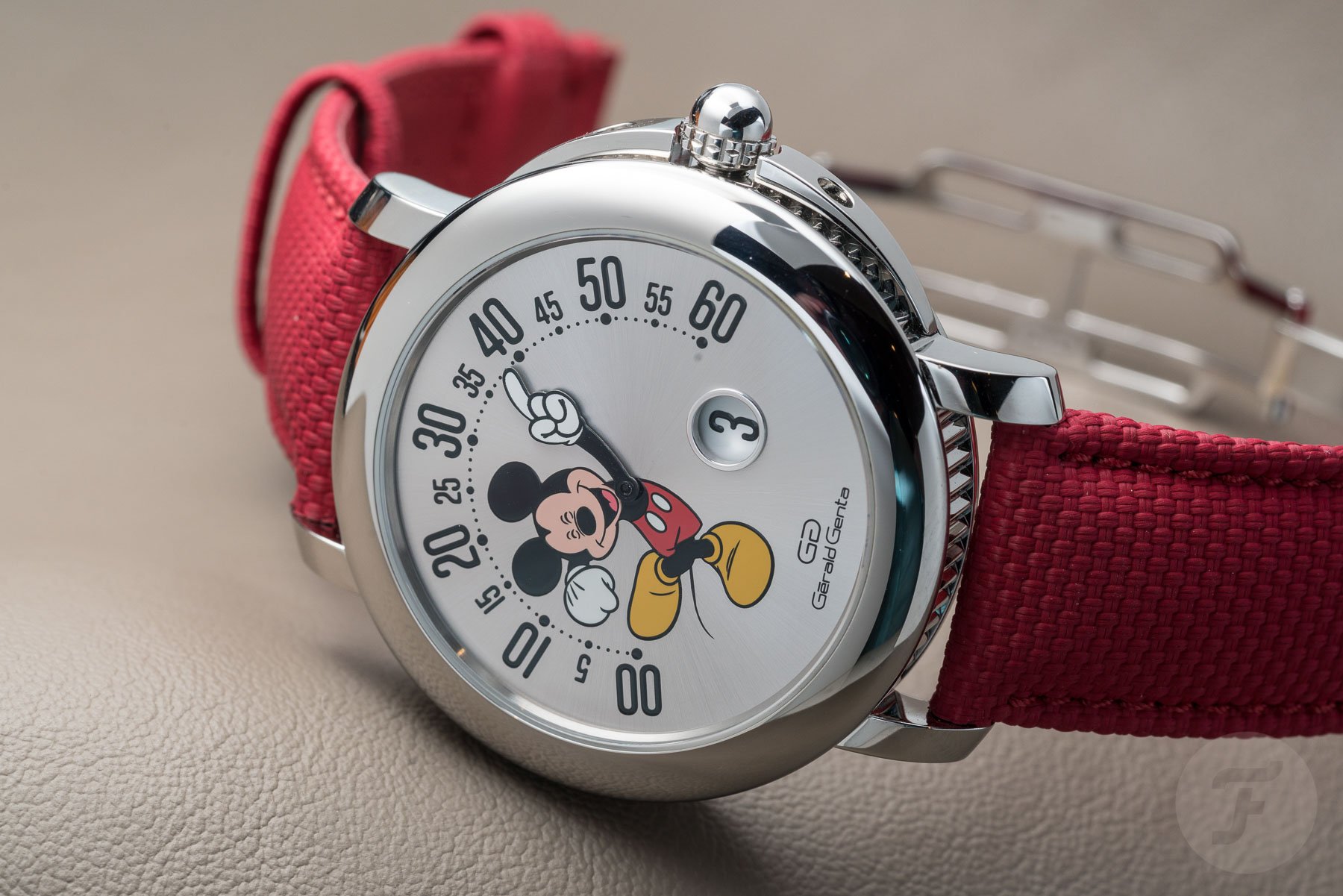 RJ — Gerald Genta Micky Mouse
I have a soft spot for these Gerald Genta retrograde watches with Mickey Mouse. Mike reviewed it on Fratello this week (here), so go there if you want all details on this Mickey watch. Genta started creating these Mickey Mouse watches a long time ago, and using different case shapes. You'll find them with octagonal cases, tonneau cases, and round cases. My favorites from the past are the ones with a golfing Mickey Mouse and a Mickey Mouse in a racing suit. Some people complain about having a Disney (or comic) character on a watch, but I like it when you don't take yourself (or your watch) too seriously. The watch has a jumping hour (round aperture) and a retrograde minute scale. In the picture above, it is 3:39.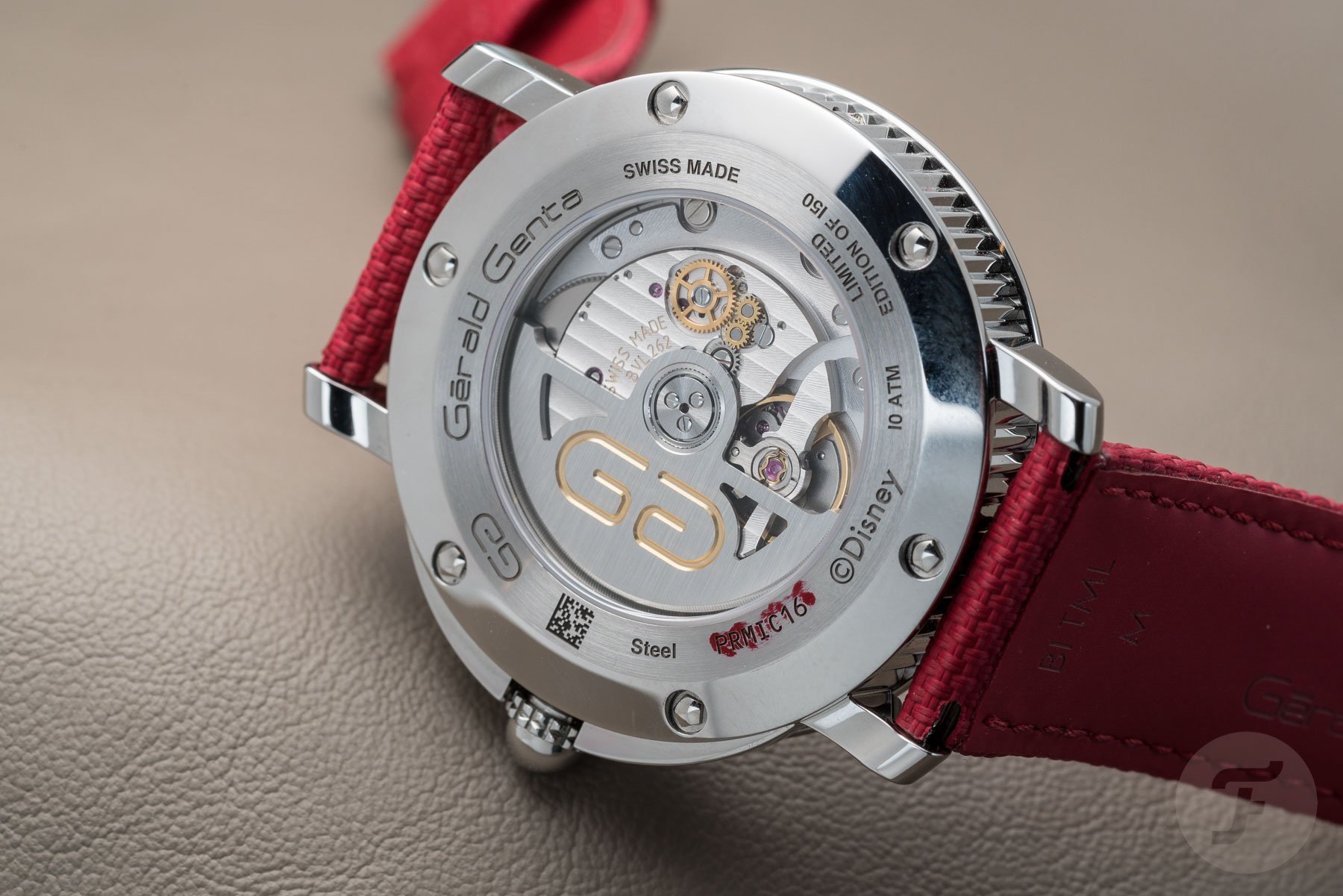 As you can see in the pictures above, the people at Bvlgari (who bought the Gerald Genta company in 2000) take the manufacturing of the watch very seriously though. The beautiful case, sunburst dial, crown, and movement are all components they've developed with the greatest care. The movement has Côtes de Genève decoration and the rotor has the Gerald Genta initials engraved in there. This watch is limited to 150 pieces only and has a retail price of CHF16,500. It is a bit out of my league right now, but if I could, I'd wear this watch. A lot.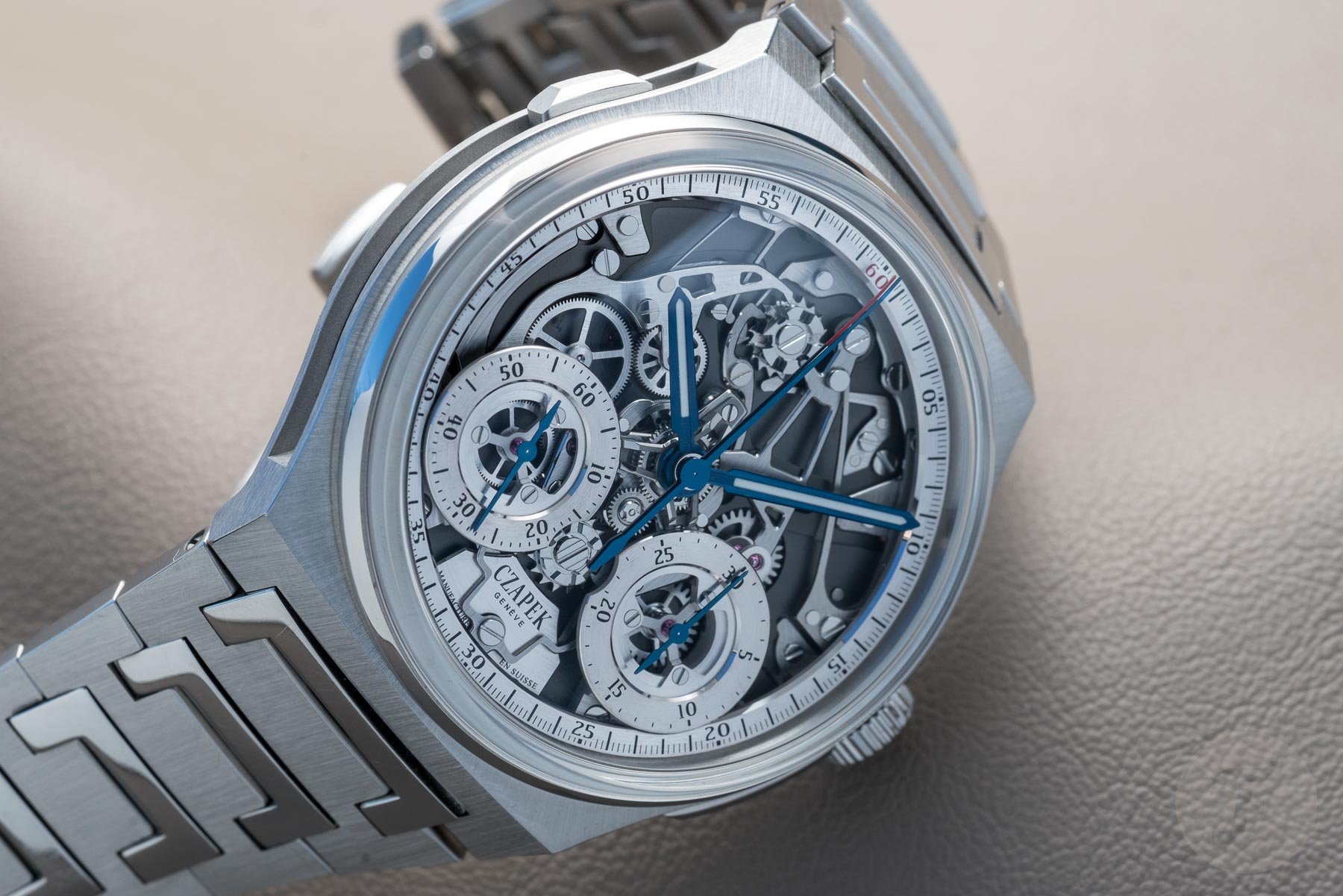 Rob (me) — Czapek Antarctique Rattrapante
That hello/goodbye on Thursday that I mentioned in the opening paragraph was between Xavier de Roquemaurel and me. After a wild year that saw us release the hotly-anticipated Viridian Green Antarctique, Czapek has enjoyed another limited edition sell-out success. And you know what? As biased as I am towards our own Antarctique project I have to say selling 77 pieces of this divinely wrought Rattrapante chronograph might be even more impressive.
Let's not forget, this model is two and a half times the price (coming in a couple of grand over 50K when taxes are factored in). And yet, it is so, so worth it (if you happen to have 50K to spend on a watch).
I think most people go through a skeletonized watch phase. For some, the phase is traversed quickly. For others, the love lingers. I had my phase very early in my life. It was a couple of years after I started working in a watch shop. I must have been about 19 or so when I suddenly found myself obsessed with skeletonized Rotary watches. That bg bit me hard and lasted about a year. Ever since I've moved further and further away from that over-the-top style in favor of clear, legible dials.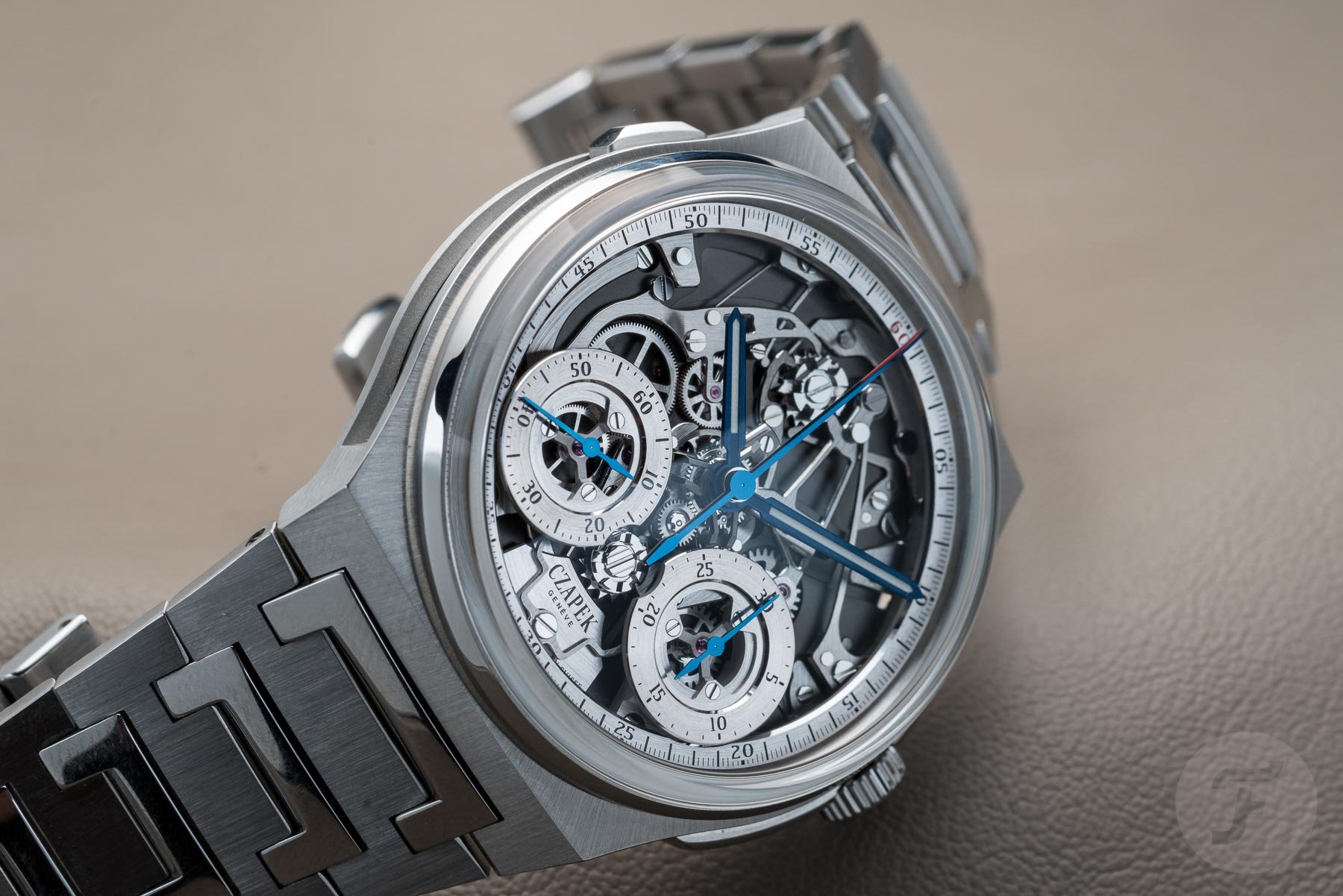 A shift as sudden as a split-second hand stop
And then Czapek released a highly legible skeletonized Rattrapante chronograph and my eyes nearly fell out of my skull. I was drawn back into the wonder of watchmaking immediately. Wearing it on my wrist was an experience I don't think I'll ever forget in a week packed full of them.
Luckily for my watch collection (which would need to be mostly sold to afford this one), the Rattrapante is sold out. I've decided therefore to start saving now and request Xavier that he makes me a solid 18-karat rose gold version especially for me so I can buy it when my time comes to exit the hobby of watch collecting… If you like the sound of that too, let me know and I'll have a word.
Thanks for following us throughout the fair this week. Later on today we've got Jorg's top ten GWD picks from afar to come (he was based in the Hague helping out with coverage remotely). There will be more in-depth coverage of the things we saw this week once we've got back to reality and sifted through the thousands of images Bert shot for the Fratelli to enjoy.