An El Primero Saga: The Tumultuous Journey To My Zenith Striking 10th — Part Two
Was it time to reach my star? Or did the watch gods (and my wife) have other plans?
I've said it before, and I'll say it again: the road to our dream watches isn't always a straight shot. Sure, sometimes it is, or at least relatively so. Acquiring my first two "grails," the Tudor Black Bay and the Rolex Submariner, had simply been a matter of diligent saving and timely buying. Back in early 2018, however, the Zenith El Primero Striking 10th was proving much more difficult to procure. It was what I had deemed as my ultimate chronograph, and I would stop at absolutely nothing to own one. Or would I?
In Part One of this series, I explained how I determined my "perfect" collection. I detailed my disappointment when, having hunted for over a year, I bought a defective Striking 10th and had to send it back. Finally, I recalled the pickle I had found myself in. Having spent my "Zenith fund" on a different rare grail, another Striking 10th still remained for the taking. Complete with the box and papers and in fantastic condition, it was an ideal find from a Tokyo shop. But at ¥538,000, it was a big chunk of change. I knew not when another would present itself, and yes, I did have the money for it left to my name. But it was in the family bank account, not the watch bank account. Having just spent close to ¥500,000 on my Grand Seiko, chances were slim that my wife would condone it. So what were my options? I could sneak the funds, inducing marital wrath. Or I could try, God forbid, to talk about it with her.
Communication
There's a saying amongst married men, which may as well be the first rule of the (unofficial) Happy Husband's Handbook: "It's better to ask for forgiveness than to ask for permission." In general, it's sage advice, which I've followed more times than not. But, as with all things in life, moderation is key. One push too far, and a night on the couch turns into an eternity of nights on the street. And while, in the words of Forrest Gump, "Ahh'm nawt a smart may-un," I do, in fact, "know what love ee-uz." As the sole breadwinner in the family on an English teacher's salary, there was no way that this purchase would slip under the radar. So, as low as my hopes were that she'd agree, I knew my best bet was to convince my wife my plan had legs.
Me: "Hey hun? So, you know that super-rare Zenith that I spent over a year looking for? The one that I bought and I had to send back? The one that's been on my phone lock screen for, like, ever? Well, there's actually another one for sale in Tokyo right now, and it's in really good condition. Honestly, I don't know when I'm going to be able to find another one like this."
Wife: "You just bought a watch."
Saw that coming
Her response barreled at me like a hot pink bullet train — incredibly fast and glaringly obvious. I'd seen it on her lips before I even began speaking, and luckily, it did little to phase my resolve. If I wanted the watch, I'd have to commit.
Me: "I know I did, and I know this is crazy. I know another watch right now seems totally unnecessary. But you know how long I've wanted this one, and how hard it's been to actually find it. This is one of my dream watches!" I buckled down the hatches and waited for the next response, which I knew would fly my way like a verbal grenade.
Wife: "How much is it?"
Me: "It's ¥538,000."
Wife: "Absolutely not."
Bargaining
Me: "I had a feeling you'd say that."
If I wanted this Zenith, I couldn't give up. Sure, I might not be able to get it today. But it was better to "die trying" than to give up completely.
"What if we make a deal?" I continued. "I won't buy it today. I'll save my salaries over the next few months, and if it's still available once I have enough, I'll buy it then."
My wife sat silently for a moment, contemplating my Martian attempts at logic.
Wife: "One more condition — no more watches for two years after that."
Me: "Deal!"
Strengthening my resolve
Was it a hasty decision? Yeah, probably so. But to me, it was worth it. I could stand going without another new watch for two years. I had done it before, and I could do it again, especially with a few awesome grails to my name. To be honest, the part of the plan that terrified me more was waiting just over two months from that day to buy it. That's how long it would take me to acquire the funds, and there were no guarantees the watch would still be around. But no one is perfect, and neither is this world. It was still a better chance than a flat-out, "No."
Over the following weeks, I kept myself busy. I saved my money and focused on the things that are truly important, like being a good and present father and husband. About once every week, I'd refresh the sale listing just to make sure the Zenith was still waiting for me. For about six weeks, everything went well. My bank balance grew, and the watch was still there. Until just over three weeks out from the goal, when the clicking "Refresh" shattered my dreams.
売り切れました。
On the fifth day of March in 2018, written in red under the price of the watch, my eyes met the words that I had feared all along — 売り切れました。For those who don't speak or read Japanese, that is pronounced urikiremashita, and you can guess what it means by my lead-up alone. That's right, my friends; it means "SOLD OUT."
You all saw that coming. Honestly, so had I. I had known it was a gamble to wait over two months, and now, reality had stung me again. You can imagine my disappointment at missing the chance. Of course, I had no idea when I'd find another example. But if I found solace in one thing alone, it was the fact was that I still had the green light from the bride. I now had more watch money than I had two months prior, and in just a few weeks, I'd finish saving again. Even if I couldn't get the Striking 10th at that time, I'd at least have the money (or most of it) when one popped up again.
Doubt sets in
I checked the shop's page for a few weeks after that, just in case the buyer returned the watch. Unfortunately, it never came back up for sale. By early April, I had finished gathering the funds once more. But as sometimes happens to us watch nuts when faced with a wait, I began to wonder if the holdout was worth it after all. Was it really worth waiting for this unique complication? Or was the look of the watch the most satisfying thing? Would I not be content with a more standard version, like the 38mm El Primero Original 1969? It was the closest, at the time, to the A386, and the photos in this article looked waaay too sexy. What to do, self? What to do, indeed… I  knew I couldn't answer these questions by looking at photos alone. So with a week off from work and some nice time to kill, I decided an adventure would do me some good.
To Tokyo
Osaka has plenty of awesome watch shops. One could easily spend two days visiting them all. But I had searched high and low all over my city, and there were no Zenith El Primero Striking 10ths to be found. I'd tried on the 38mm Original 1969 several months before, but since then, that model had also disappeared in the wind. On somewhat of a whim, I devised a trip up to Tokyo to take my best shot at tracking both down. I had scoured Rakuten, TimePeaks, and all the go-to Japanese sites. But for all I knew, somewhere in the Japanese capital, unlisted examples were waiting for me. I booked a cheap bed at a capsule hotel and the cheapest flight to Tokyo that I could find (gotta save that watch money, after all). With my Black Bay on my wrist, I boarded the plane and set off for three days to go meet destiny. At least, I hoped.
I met up with my good friend Austin Daniels who would accompany me on my little grail quest. Over three days, the two of us checked every shop we could find, from Ueno to Shinjuku, and Nakano to Shibuya. I didn't count exactly how many we went to, but if I had to guess, I'd say over 40 shops saw our beaming American faces. The most exciting shops were in Nakano Broadway. It's the home of the famous Jack Road shop and many others. Of course, I took it all in and enjoyed every minute. I tried on watches for fun, because, sure, why not? The Navitimer Rattrapante and the Vulcain Cricket above even tempted me something awful with their sweet complications. Nevertheless, I had come to Tokyo on a quest, and no matter where we went, my eyes were peeled for the Zenith.
Nothing to be found but revelations
Was it fun? Sure, it was! Was it successful? Well, no. Much to the unspoken delight of my wife, I returned to Osaka with nary a new watch to my name. Despite scouring the capital as thoroughly as we could, Austin and I had been unable to find an El Primero Striking 10th. As you recall, though, I'd also been intrigued by the smaller 38mm Original 1969 model. And I did find one of those, as well as some other El Primeros. And though they didn't come home with me, they affirmed my true feelings.
First, I found an El Primero Vintage 1969 Limited Edition, but it just didn't sing to me the way the more standard case did. Next, I found the 38mm Original 1969. It was a stunner with its sunburst sub-dials and true-to-vintage size. In the end, though, it was the 42mm 36,000 VpH that left the biggest impression on both Austin and me. As a reasonably tall guy at 185cm, we both thought it suited me better than the 38mm classic. If my wrist could handle it, we thought, I should go 42mm. And if I was going 42mm anyway, why not go for the Striking 10th? Back then, the unique foudroyante-like complication was almost exclusive to that model — unlike today, when it's now standard fare. It had the classic El Primero look with the unique, mechanical difference, and the combination of those factors reaffirmed my true love. No other choice remained but to resume my patient hunt.
I don't want to wait in vain
That was in April of 2018. It was a year and a half since I'd originally set my sights on that grail. For many watch lovers, that was already too long, but I knew good things came to those who could wait. So I waited, and waited, and waited some more. Six months, eight months, ten months, a year… With not a single secondhand Striking 10th popping up in Japan, I wondered if I should bite the bullet and buy from abroad. But the examples I saw for sale on Chrono24 were all priced much higher than I wanted to pay. Not only that, the thought of paying import taxes on a product of that value sent shivers down my spine. There was one Striking 10th on Amazon.co.jp, but it was ¥742,684 on a strap! So as much as it pained my watch lover's heart, I continued waiting and then waiting some more.
I waited 15 months in total, until July of 2019. Then, suddenly, a Striking 10th popped up on eBay! It was in Nagoya, only two hours from me. And yes, it was also more than I wanted to pay, with a total shipped price of ¥589,000. But it came with the box and papers, as well as a full bracelet, and the seller's reputation seemed absolutely stellar. Having had the vast majority of the funds set aside for so long, stretching the budget just a smidge wouldn't kill me… right?! So I pounced at the chance, and I ordered the watch, and just two days later, it arrived at my door.
At long last!
Just as I had done with my first defective Striking 10th, I gingerly peeled open the box just in case. Of course, I wanted to believe that this one would be perfect; the seller's eBay feedback was almost flawless, after all. But, "better safe than sorry," said the realist in me, as I gently removed the watch for inspection.
Of course, the first thing I tested was the chronograph function. As you read in Part One, that was the defect that caused me to send the watch back and resume this epic quest. So after giving it a good winding of about 60 turns, I set the chronograph running and placed the watch aside. Since this model can only measure up to one hour at a time, I decided I'd let it run for 59 minutes, not checking it once, just to build my suspense.
Fifty-nine minutes later, with my heart beating out of my chest, I reached out my hand and picked up the Striking 10th. I even closed my eyes as I brought it up to my face, as I was almost too afraid to once again meet heartbreak. But as I ripped the Band-Aid off and peeled open my eyes, a perfectly functioning watch was before me. And it was all mine!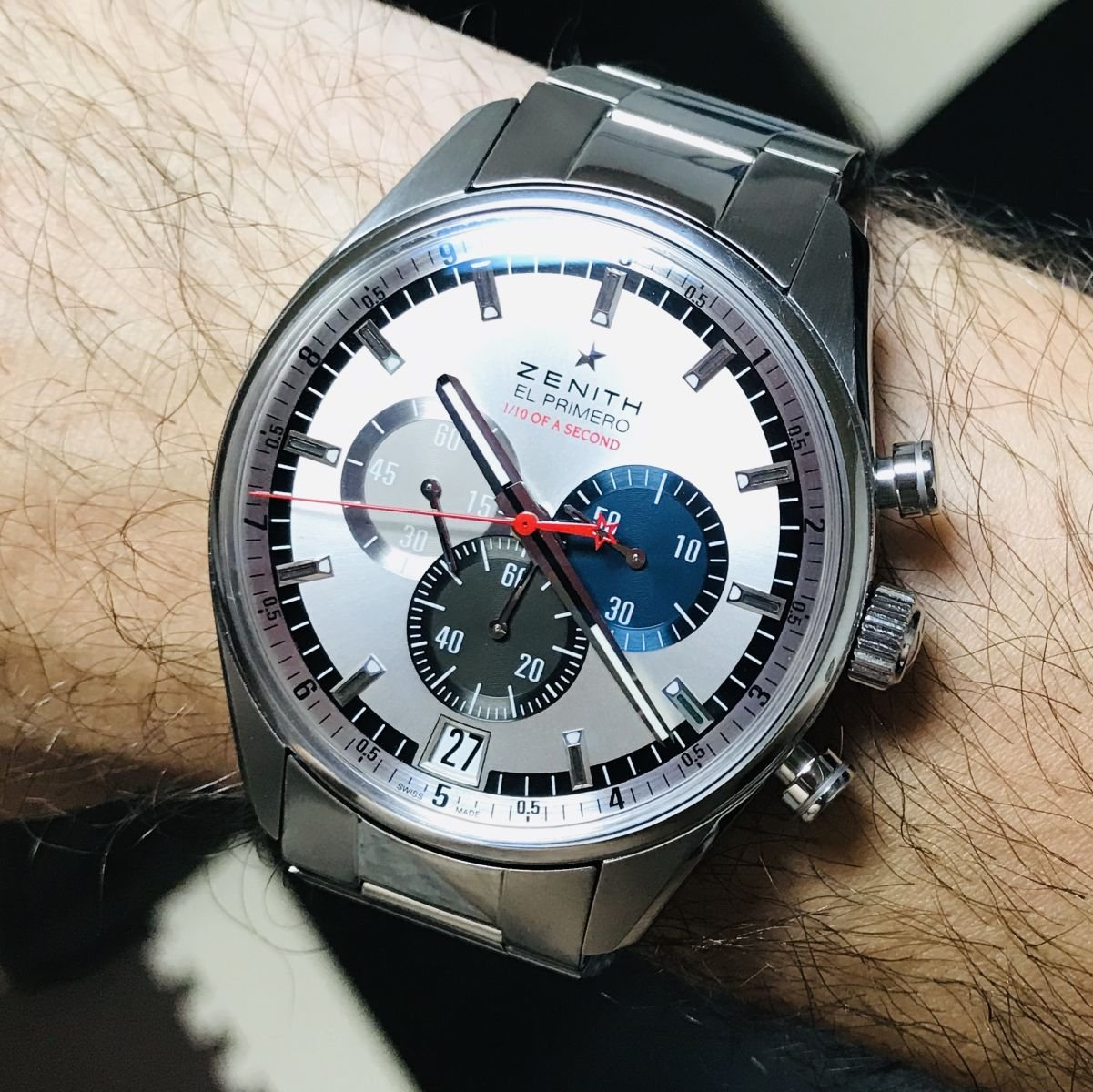 Wristshot time
I couldn't get that sucker onto my wrist fast enough. The way the sub-dials were popping under my living room lights had me smitten as I'd been the first time a tri-color dial had met my gaze years before. I took wristshots and videos and sent them to Austin, letting him know that my quest had finally come to an end. Over two and a half years in, the journey was done, and I could finally give this grail the wrist time it deserved. As I got ready to post in my favorite Facebook group, I ogled "the precious" that had finally come home!
And THEN! …My elation was slashed right in two. I noticed a flaw, and there was naught I could do…
You've got to be kidding!
The dial itself had misaligned text! The "1/10 Of A Second" label was skewed to the left! I hadn't considered that this could even be "a thing", as I'd focused so much on the chronograph actually working. Would anyone else notice such a minuscule imperfection? No, probably not. But it wasn't their watch! It was my watch, and my OCD-like tendencies were too strong. Were it an external scratch, I could forgive and accept it. A sign of wear like that isn't something that can crush my experience. But this factory defect? I just couldn't unsee it. Like a shamed samurai, I felt literally gutted… Not only that, I just felt sooo stupid! If I'd checked the photos better, this crap could've been avoided.
All I could do
The following morning, I packed up the watch and headed off to the Zenith boutique in Osaka. I wanted to know if I could get the dial replaced, and if so, with how much more money I'd have to bid sayonara. The thought of spending one more yen made me shudder. I'd already paid ¥124,000 more for this one than the first! But the seller from whom I bought it gave a seven-day window for returns due to defects, which this clearly was. Should I suck up the cost and send it into Zenith for repair, or ship it back to the seller and return to square one?
The manager at the boutique clearly thought I was crazy for caring this much about such a minuscule thing. Of course, he wouldn't say that  — Japanese are far too polite — but the "air through the teeth" gave his feelings away. As he examined my dial with a loupe, he just chuckled. Zenith could replace it, he told me, but it wouldn't be cheap. He believed that swapping the dial would also cost me a service, as my watch was secondhand and I had no service papers. While he couldn't give me an absolutely accurate quote, he guessed around ¥150,000 and a five-month wait. If I went through with it, I'd be ¥739,000 in the hole, making this Zenith ¥50,000 more than I'd paid for my Submariner! I thanked him and left with my head held low. My answer was clear — back to Nagoya it would go.
Call me Mr. Doubt-fire
I apologized to the seller insanely profusely for being such a crazy and obsessive freak. Bless him, I say, for he was so understanding, and he agreed to accept my return as a defect. I sent back the watch the very next day, and within two days more, my cash had come home. He made it so seamless, and I feel truly indebted. I just hope I can buy from him again in the future.
But I was back to square one, with no Striking 10th to my name. I'd bought two examples and I'd returned them both! How could I be so unlucky? How could this even be real? Was the Striking 10th not the El Primero for me after all? With the cash for a grail burning a hole in my pocket, I spent months in a state of horological turmoil. I considered other watches, like the Breguet Type XXI. I could find one for just slightly over my ¥589,000 "limit". An IWC Portugieser Rattrapante might be cool, and I could actually find a few for a similar price. But I also went back to trying on other Zeniths, like the Chronomaster Open and the chronograph Pilot. But they didn't "spark joy." I didn't want to settle! I wouldn't stop until I had the Striking 10th in the metal! Christmas was right around the corner, and my quest was three years on. Then my friend Chris informed me of a sale on Amazon.
N.O.S.
I mentioned the Striking 10th I'd seen on Amazon months before. But for over 742 Gs on an alligator strap, there was no way I could have justified it back then. I'd put it out of my mind, and forgotten it was there. But Chris, my local watch friend, was a true Amazon fiend. As obsessively as I checked TimePeaks and Rakuten for used pieces, he was always checking Amazon for deals on new ones. With 15% off until the end of the year, there were several on his wish list that he was seriously considering. But he knew all too well about my Striking 10th plight, so he searched for the model to see what, if anything, he could find. Lo and behold, the strap-equipped Striking 10th was still there, for ¥631,280 including the discount.
He sent me the photo above as some food for thought. He knew I wanted the bracelet, but maybe this deal was worth it. And when I opened his message and the photo therein, suddenly my whole perspective was completely different. I'd been after this watch for over three years, buying two defective examples and returning them both. I'd lost sleep over which watch to get if not this, and my fixation was beginning to make watches less fun. I wore straps more than bracelets anyway in real life, so would I really miss the bracelet if I didn't own it? I hoped I'd find a used example for under ¥600,000, but prices abroad kept going up, not down. And both times I'd paid less than that, there'd been something amiss that would cost even more precious moolah to fix.
My dream price was a fantasy. My luck was running out. And this model on Amazon was new-old-stock. With what I'd been through, hell, could it do any harm? I ordered the watch, praying the third time would be the charm!
Taking the final plunge
Well, actually, Chris ordered the watch so I could pay him in cash because in Japan, many foreigners (including me) can't actually get credit cards… But that's a rant for a different day — back to the story! On December 27th of 2019, my Zenith Striking 10th arrived at his house, and I entrusted him with the task of its initial inspection. In a way, it was better if someone else did it. It would save me some heartbreak if this one too was defective. So he checked out the dial and tested the functions, and thankfully, neither of the defects I'd faced before was present. He sent me pictures and videos, and since it all looked legit, we agreed to meet up for the pass-off that very night!
We met at a train station halfway between his house and mine. He brought the Zenith, and I brought the cash. With a "thanks so much, man!" at approximately 8:29, my third Striking 10th was finally in my possession! I kept it safe in my backpack on the train ride back home, but I was giddy to bust it open as soon I stepped through my door. I returned home to find my wife and two kids asleep. It gave me the peace and quiet my inspection demanded. So with slight apprehension, I opened the box and removed my single most-coveted watch.
Redemption
Was I nervous? You bet! But I was hopeful as well, as Chris had given it a thorough lookover already. I had seen the photos and videos, and I knew what to expect. There would be no surprises this time… So I hoped!
I checked every side of the case, every surface, and every angle, as well as the hands, the indices, and every part of the dial. I checked the sharpness and alignment of every single printed element, and to my delight, I saw the perfection that I had always expected! So I wound it up to check the functions, setting the date and time and engaging the chronograph to watch the foudroyante-like hand fly. After 59 minutes, the chronograph had not crashed! The hand blazed as it should, and the registers were correct, followed up by a perfectly tactile stop and reset. Finally, everything started to feel right with the world! So I decided I'd let the watch run for a day off the wrist, just to check the accuracy as the very last test. And 24 hours later, what did I find? A gain of two seconds…
This Striking 10th would be mine!!!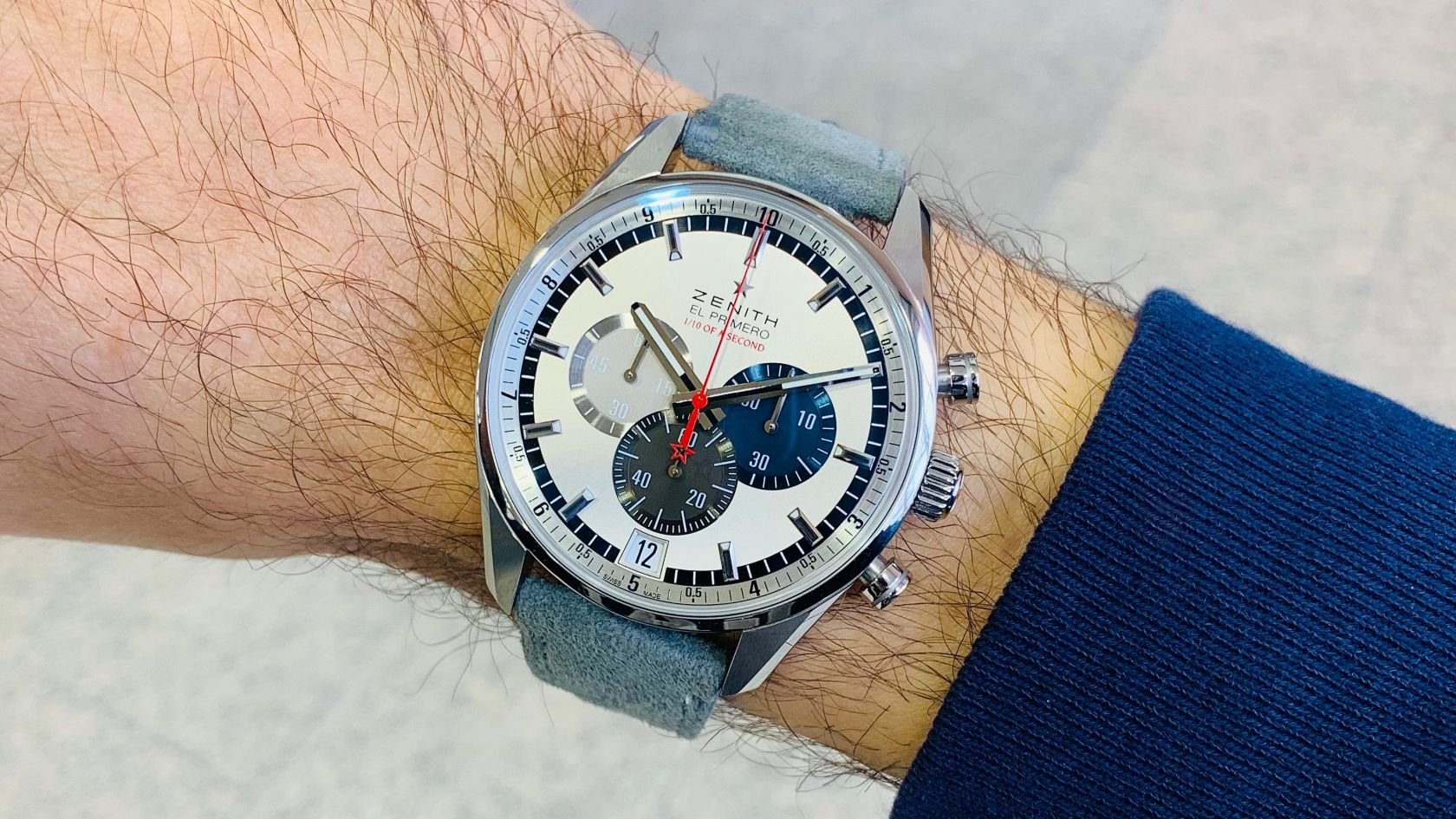 The quest finally ends
It's been nearly two years since I finally welcomed this Zenith El Primero Striking 10th to my collection. As you've read, it's a watch that took me over three years to acquire. And it's one that I cherish to the depths of my soul. I'm sure that probably sounds ridiculous — it's just a watch, after all. But the story behind it just makes the emotion more powerful. I still love the complication, and I still love the look. Though I originally felt I should get the bracelet, I actually don't miss it one bit because the case, dial, and movement were always the bigger draw. I wear most of my watches on straps anyway, and this Zenith is so satisfying on supple gray suede! I've never even worn the OEM alligator strap, as I have plenty of other options that sing to me more.
When I started this journey, just over ¥630,000 was definitely more than I intended to pay. Certainly, it's much more than the ¥465,000 I paid for my first defective box-and-paper-less example. It's more than the ¥538,000 I could have paid for the one in Tokyo had I had the funds ready. And it's even more than the ¥589,000 that I paid for the misprinted-dial example. But I have never once regretted paying the final price that I did. When I wear this watch, one that I truly love, the money I spent is the farthest thing from my mind. It works as it should, it looks as it should, and I simply can't put a price on how proud it makes me feel. I paid what I paid, and in the end, so what?
I want to sincerely thank you if you've read to the end. This turned out much longer than I ever imagined! But I wanted to share this story of why my watch is so special, and if I can teach you one lesson, it's this: NEVER SETTLE!