An El Primero Saga: The Tumultuous Journey To My Zenith Striking 10th — Part One
The road to our dream watches isn't always a straight shot
Of my meticulously planned collection of eight watches, my Zenith El Primero Striking 10th is the star of the show. Sure, it's "only" my second-most expensive piece. But it takes the centermost spot in my watch box as well as my heart. Whenever I see it, I smile. Whenever I wear it, the pride of ownership oozes out of my pores. And whenever I talk about it, I bumble like an idiot, at a complete loss for where to begin (evidenced by the fact I've started this article seven different times by now). But the road to acquiring my beloved Zenith El Primero Striking 10th was anything but smooth. Like with any watch worth having, the story of my Zenith is one of passion, patience, and persistence. It is both my pain and pleasure to share it with you today.
It starts back in 2016. In May of that year, I had purchased my "grail watch," the Rolex Submariner 114060, and I was riding high. Ten years into the watch game by then, I loved every moment of finally having a Rolex on my wrist. But perhaps more importantly, I appreciated the life lessons that came along with it. Despite my limiting self-beliefs, I'd been able to save for my Sub in just eight months and buy it outright in cash. The experience had reaffirmed things I'd learned in my younger years — the importance of setting goals, staying the course, and reaching them. So when one of my favorite horological YouTubers posed the question, "What would your perfect watch collection look like?" the dreamer in me felt inspired. Why stop at the Rolex Sub? Why not set more goals and make them happen? And thus, armed with Google Image Search and a collage-making app, I began planning my "perfect" future collection.
Finding the right balance
From the very start of this mental exercise-turned-obsession, I wanted to maintain balance in my collection. What exactly constitutes a "balanced" collection is highly subjective. For me, though, it meant having a range of genres and colors in my watches. Yes, I appreciated the go-anywhere, do-anything nature of dive watches. But the last thing I wanted was a box full of stainless steel, black-dialed ones staring back up at me every morning. With my Submariner and Tudor Black Bay already filling that role, I aimed for more diversity. I loved simple pilot watches, so I wanted some of those. I adored the GMT complication, so I needed some of those. And then, to round out the collection, I longed for a not-too-dressy dress watch and a legendary chronograph to call my own.
For my pilot watches, I picked the 45mm Zenith Pilot Extra Special and the 40mm Stowa Flieger Blue Limited. These two very different pieces each provided their own take on the pilot watch aesthetic. For my GMT watches, I wanted color, so I chose the Rolex GMT-Master II "Root Beer" 16713 and the green-dialed Grand Seiko Spring Drive GMT SBGE033. Both of them were true traveler's GMTs. As an ex-pat with plans to see the world, I definitely appreciated that. Also, as a "t-shirts everyday" type of guy, my "dress watch" had to be easy to dress down. The blue-dialed Rolex Datejust 16200, with a smooth bezel, an Oyster bracelet, and baton indices seemed it would do nicely. But the right legendary chronograph? For me, that was a bit of a tough choice.
If I were to have just one chronograph…
For some reason, back in 2016, the Daytonas and Speedmasters of the world just didn't light my fire. In my head, I knew they were awesome, iconic watches. But in my heart, they simply didn't excite me. Another go-to choice, the Monaco, seemed kind of quirky and cool. Back then, however, I was unfortunately still trapped on the bandwagon of TAG Heuer haters. Plus, I wasn't much of a "chronograph guy", as I hardly ever used them in real life. Despite this, I truly did want one. At the time, a collection without a chronograph just didn't seem "complete". And though I knew about the Zenith El Primero, it wasn't until I saw one in the metal that it soared to the top of my wish list.
From the moment I first laid eyes on the Zenith El Primero in the Daimaru department store in Osaka a few weeks later, I was in love. At first sight, its tri-color dial, red chronograph hand, and nearly bezel-less case were gorgeous to my eyes. As I dug deeper into its history, I began to value its high-beat frequency and reputation as "the first" automatic chronograph. These points made it more unique than the usual suspects, and they fueled my intrigue even more. And after seeing it in real life, everything about the watch had me hooked. As I assembled a collage of my horological Avengers, I knew had to have one. And thus began the tumultuous three-year journey to ownership.
Choosing the right El Primero for me
Initially, I fell for the 42mm El Primero 36,000 VpH with the tri-color dial. A standard-production model back in 2016, it was a modern take on the 38mm A386 with a bolder case and the El Primero caliber 400 inside. But then, my friends, I discovered the El Primero Striking 10th. While it was a limited-edition model from 2010, it looked almost the same as the standard-production one that I loved. Under the hood, however, it featured an upgraded El Primero caliber 4052, with a chronograph seconds hand that swept the dial once every ten seconds. This hot-rodded movement used the 36,000vph frequency to its full potential, pairing its 1/10th-of-a-second timing capabilities with an incredibly legible display. Back then, the 42mm Striking 10th was one of only two Zenith watches that had this feature. And for me, that exclusivity was too hard to resist.
So I set about saving my pennies. Now, don't get me wrong; I was certainly tempted by other watches along the way. In fact, while I was saving for the El Primero, I decided the Zenith Pilot should be the one I got first. The Striking 10th had proven extremely hard to find domestically, and in terms of pure design, I liked the readily-available Pilot just as much. But after months of trying on all of the versions available, I found myself wishing the Pilot case were smaller than 45mm but bigger than 40. As I put the Pilot on the backburner, I kept a lookout for the Striking 10th. Then, in December 2017, when I had saved up close to 500,000 yen, months worth of scouring TimePeaks and Chrono24 finally paid off. I found a Zenith El Primero Striking 10th, complete with a steel bracelet, available online from a shop in Hokkaido. And here's the kicker: it was available for just 465,000 yen!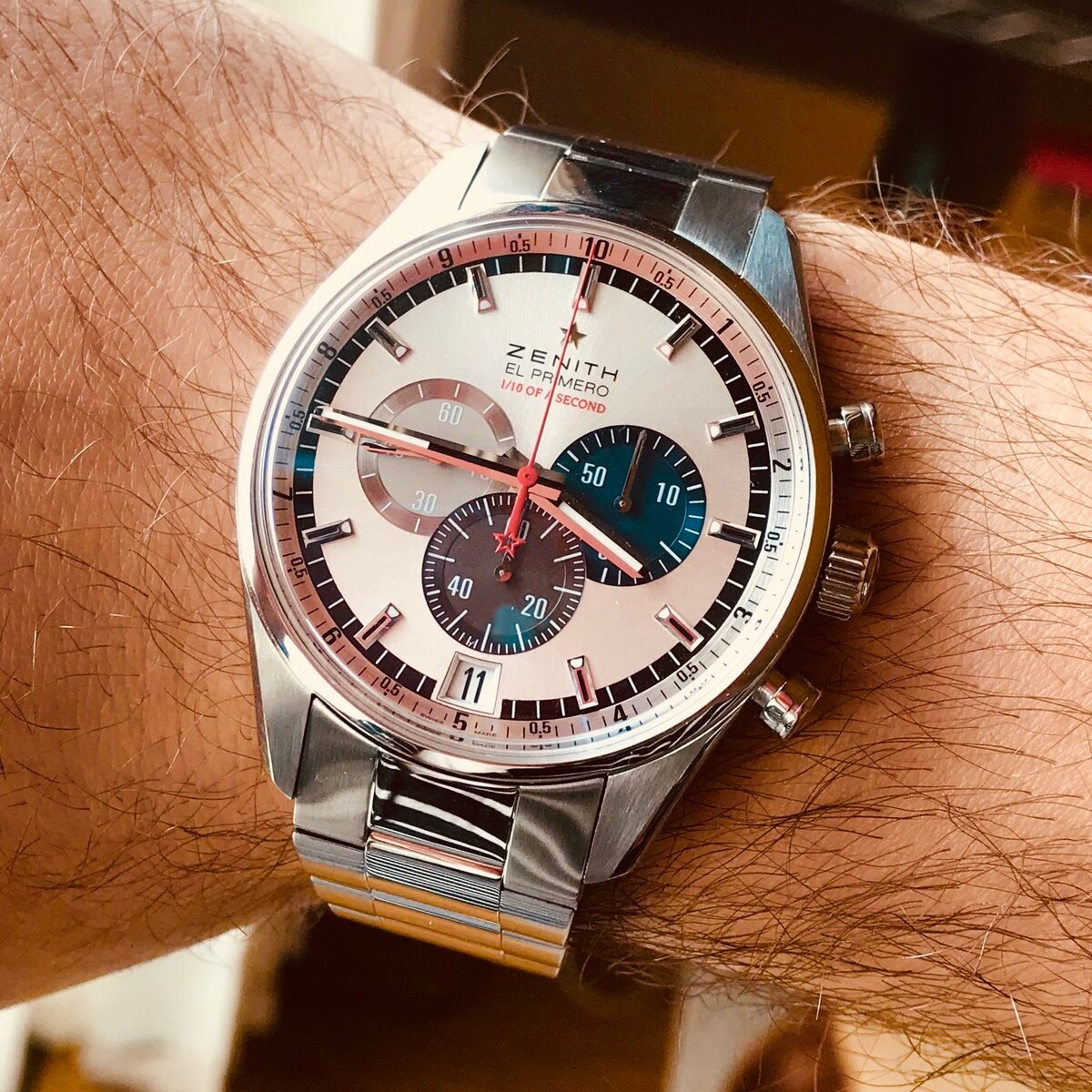 SOLD!
Were they kidding me? The watch I had been scouring the net for almost a year for was not only available but also under my designated budget? I couldn't believe my luck. Granted, it didn't have the box or papers. But man, this watch was very rare in Japan, and I wasn't going to wear the stinkin' box or papers anyway! As you can imagine, I couldn't hit "Add to Cart" and "Checkout" quickly enough.
The watch arrived on December 11, 2017. The photo you see above the heading was taken just minutes after I savagely tore (OK, gingerly peeled) the box open and put that bad boy on my wrist. Good gracious, what a feeling that was! At the risk of sounding totally ridiculous, it felt even more special than putting a Rolex Submariner on my wrist for the first time had. Back then, I could walk into any secondhand dealer and buy a 114060 Submariner for under retail price. That was not the case with this Zenith. No, my friends, this was a rare bird. And it was mine.
The first of many disappointments
But as I began playing with the mesmerizing 1/10th-of-a-second chronograph, I noticed that something was amiss. After watching the red chronograph hand zoom around the dial just a few dozen times, the movement completely crashed right before my eyes. The chronograph screeched to a halt, and as I checked the caliber from the rear, I noticed that even the balance wheel had stopped. Not only that, the hand on the chronograph minute register had not even budged. Initially, I'd been too hypnotized by the elapsed seconds hand to notice, but the minute counter had failed at its one and only job — counting the minutes.
I gave the watch a slight shake, and it started running again. "Hmm, it probably just needs to be fully wound," I thought. So I took it off my wrist, turned the crown about 100 times just to be safe, and started the chronograph again. I watched with tentative elation as the Striking 10th seconds hand blazed once more! But I crumpled to the floor in agony when, less than five minutes later, the chronograph took a crap right on my wrist. "ARE YOU FRICKIN' KIDDING ME?!" I shouted. My screams could've shredded the paper-thin walls of my tiny Osaka apartment.
Developing a plan of action
A few hours later, when I had calmed down enough to think, I took the video seen here, in which the same thing happened yet again.  I figured I needed some type of evidence of the problem, just in case anyone could help from afar. Then, I called the shop from which I had ordered the watch. The shop technically offered a six-month warranty that covered movement defects, so I explained the problem and said I could send them a video if they needed to see it happening. They asked me to do so, and about an hour after emailing them a link to the video, I called back.
In an almost stereotypical Japanese, apologetic fashion, they agreed that something was wrong with the watch. But no sooner had I said hoshou, Japanese for "warranty," than I was met with another telltale Japanese reaction. You see, Japanese people, while polite to a fault (especially to customers), have a particular habit that speaks volumes about their true feelings. When either cornered into something that they are reluctant to do or faced with an "impossibility," they cock their heads to one side and suck air through their teeth. Sure, I couldn't see the shop clerk's face through the phone. But the air-sucking that occurred at that moment could have sapped the breath of life right out of me.
In the end, the shop (somewhat reluctantly) agreed to take it in for repair under warranty. I'm not so arrogant as to think the customer is "always right." But a warranty against defects is a warranty against defects, is it not? So the next day, less than 24 hours since I first put the Striking 10th on my wrist, I shipped it back to Hokkaido in the very same gingerly peeled-open box it had arrived in.
Perfection takes time
A day later, the manager of the shop called to let me know they had received the watch. He said it would likely take about two months to repair, but that they would call me back when it was ready. Of course, I wanted the Striking 10th back on my wrist as soon as possible. But I believed that because I had gotten it for such a steal, the additional wait time to get it running properly would be worth it. As long as it worked when I got it back, I'd be happy. So for two months, I waited to hear back from the shop. Just over eight weeks later, my phone rang, and I saw the shop's name and number flash up on my screen. With a mixture of both excitement and trepidation, I swiped right to answer. And to my dismay, the news was not good.
They couldn't fix the watch. Because the movement in the Striking 10th was so different than anything else they were used to, the shop representative regretfully admitted that repairing it exceeded their watchmaker's skill level. He couldn't divulge exactly what had transpired over the two months they'd had my watch, but he made no attempt to offer me a choice. Sending a non-functioning watch back to me to get it fixed on my own dime was, for the shop, simply not an option. The only choice I had was to accept a full refund.
A blessing in disguise?
Was I disappointed? You bet I was. I'd waited eight weeks for this call with the highest of hopes for my watch and me getting back together. Now, it felt like the inevitable breakup that everyone else had seen coming but me. At the same time, though, I appreciated the clerk's honesty. The 4052 El Primero movement was truly no ordinary beast. Also, when dealing with items worth thousands of dollars, it's not every day that you get offered every cent back. While I was out over a year's worth of searching and anticipation, at least I wouldn't be out any money. So, the next day, the shop wired the funds back to me, and we parted ways for good. But now, I faced an even more daunting choice — stay the course and find another Striking 10th, or use the funds to secure another rare watch on my wish list?
Temptation comes in green
The very day the refund hit my bank account, I noticed a listing on TimePeaks for yet another watch I'd searched long and hard for — the Grand Seiko SBGE033 Spring Drive GMT. Like the Zenith El Primero Striking 10th, it was a limited edition model. But in terms of numbers, it was nearly four times as rare. While the Striking 10th was limited to 1969 pieces in steel with additional pieces in gold and platinum, the SBGE033 was limited to just 500 pieces in steel, full stop. If you recall the list I'd made of my "perfect" watch collection, you'll know that this green-dialed beauty had been on my radar for over a year already. But in that time, I had never actually come across one for sale on any platform — until now.
The price was 489,000 yen. Was it more than I had paid for the defective Striking 10th? Yes, it was. Nevertheless, it was still within my allotted watch budget of 500,000 smackeroonies. To complicate things further, while my now-returned Zenith had been in warranty limbo, another Striking 10th had come up for sale. It was at a shop in Tokyo, and unlike the one I had bought, it came with the box and papers. The price of that example, however, was about 538,000 yen. That not only meant I'd have to stretch the initial budget, I'd also have to pay 73,000 yen more than I had for the first example. On principle alone, the idea gave me pause. What to do, oh Fratelli, what to do indeed?
I am a sucker for color
While both watches were extremely uncommon, that day, I decided to purchase the Grand Seiko SBGE033. The excitement of seeing such an uncommon piece pop up for sale within my budget was as palpable as it had been with the Striking 10th. But if I'm honest, the forest green dial of the limited-edition Grand Seiko captivated me just as much as its rarity. Forest green had been my favorite color as far back as I could remember, and combined with a true, traveler's GMT Spring Drive movement, I just couldn't say no. And when watch arrived, I was absolutely thrilled with it!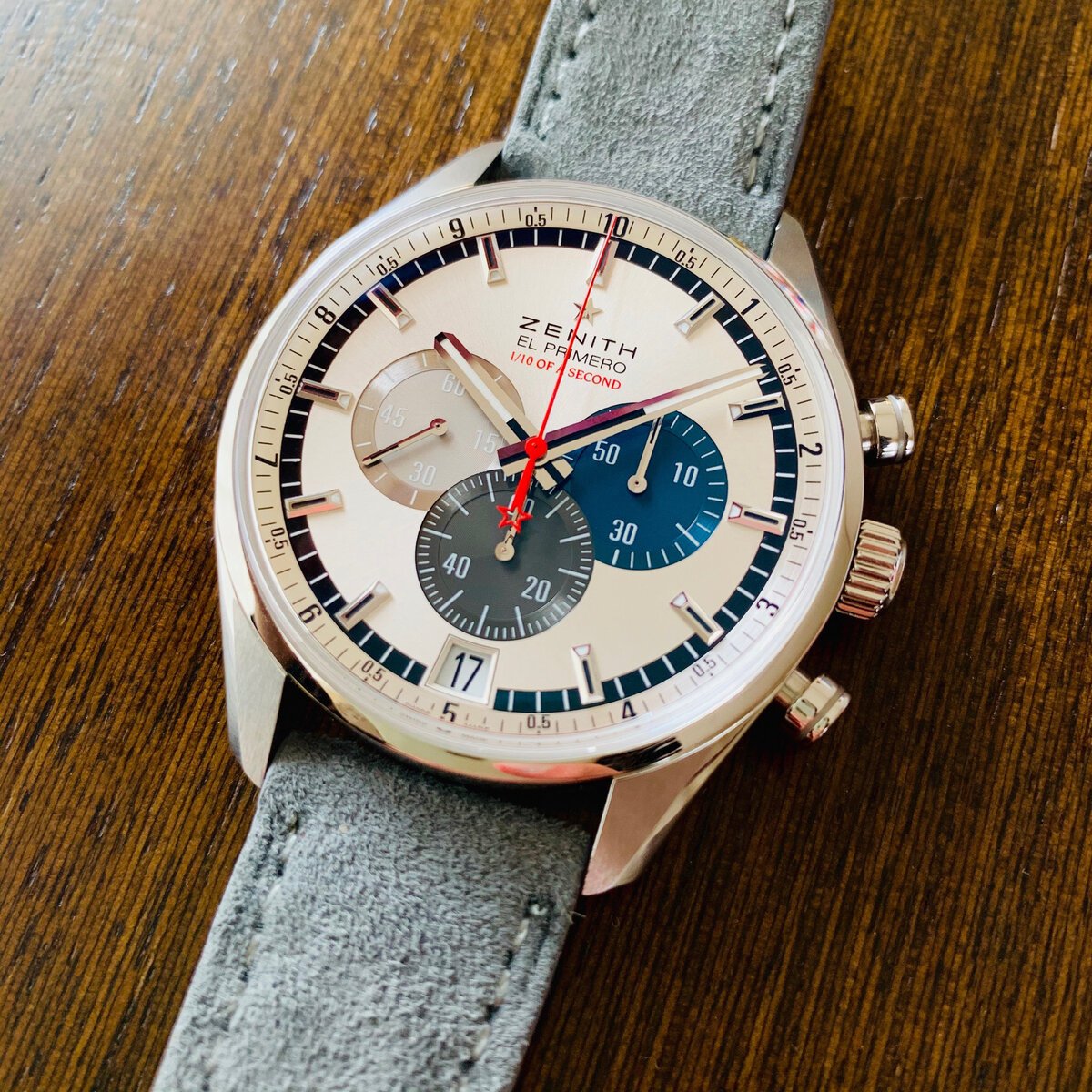 The things we do for watches
About a month after the Grand Seiko arrived, the Zenith El Primero Striking 10th that was listed at the shop in Tokyo was still available. And as many of us crazy, delusional watch lovers do, I began to wonder, "What if I could have both? Not someday, not next year, but right now?" Had I used up basically all of my "watch fund" on the Grand Seiko? Yes, I had. But did that mean I was completely penniless, with not a single one-yen coin to my name? No, it didn't.
Thankfully, I still had money in the bank — just not the watch bank. The money was in the family bank. And if I could find a way to get the 538,000 yen to the watch bank without incurring a divorce in the process, there was, I felt, a good chance I could reach watch nirvana. Two "grails" in two months? Was the idea even feasible? Perhaps it was. But I'd have to go through my wife first.
And that, dear Fratelli, is where I'll leave you — for now. But what will become of my seemingly sinister plan, and what will I face as I chase my horological high? Will I manage to convince the bride that both the Zenith and keeping me are worthy causes? Or will I suffer the fate of fallen husbands everywhere, and whimper back to the lonesome darkness of solitude? Find out all this and more next time, in the second installment of "An El Primero Saga." And by all means, let me know in the comments if you can relate to my story, or if I'm the only crazy grail-chaser here. Until next time!