What Zenith Is Doing Wrong With Its Pilot Line And How The Brand Could Fix It
Hint: Zenith's answer to the Big Pilot 43
I'm just gonna be real with you guys — the Zenith Pilot is the most gorgeous pilot watch I have ever seen. Since the fateful moment I laid eyes on my friend Lawrence's Type 20 Montre D'Aéronef Annual Calendar back in 2015, I have been obsessed with the design. For six years now, I have desperately longed to add a Zenith Pilot to my collection. I have bugged boutique staff, and I've tried on nearly every version I've seen in stores. I've taken albums worth of wristshots, and I've sworn it would be my "next watch" more times than I can count. And yes, I've even opened a new bank account labeled "Zenith Pilot fund" to save for it. And yet, six years later, I still don't have one. So what gives?
Well, no matter how many versions I tried on, I never found the right one for me. Even when I finished saving up three years ago, I ended up buying a Grand Seiko instead. Still believing in the Zenith brand, I then purchased my beloved El Primero Striking 10th, and I figured I'd just wait until the right Pilot came along. So, every year, I wait with bated breath to see the brand's new releases. Every year, I pray that this will be the year Zenith finally brings the perfect Pilot to life. And every year, I get let down. Again. So now, with a respectable platform from which to speak, I'd like to share my thoughts on the Zenith Pilot. I'll explain what I love about it, what I don't love about it, and what the brand could do, in my view, to perfect the design. I hope you'll agree!
This Pilot comes so close
I believe the Pilot Type 20 Rescue pictured here is the closest to perfection in the current Pilot lineup. Though Zenith released it in 2020, the vintage design greatly resembles the brand's Pilot watches from the early 1900s, with its perfectly round case and slim, wire-like lugs. The striking Art Deco numerals are actually solid blocks of Super-LumiNova, and they glow like mad. The massive cathedral hands have a coarse, brushed grain. Because of this, there's no chance they'll "black-out" against the gray dial. And that "Pilot" designation at 6:00 is a sweet little touch too. Why? Because Zenith is the only brand that can legally use that word on its dials.
The huge, bulbous crown has beautiful, polished knurling. Not only that, it is delightfully supple in the fingers and an absolute joy to turn. The yellow accents are lively, yet not obnoxious. And with horizontal brushing on the case sides and lugs, accented by a gleaming bezel and crown, the finishing is absolutely to die for. As a Zenith, of course, it features an in-house caliber. The Elite 679 inside came to life in the 1990s, marking the first time Zenith used CAD to design a movement. And though it's not the highest-spec caliber on the market these days, it still features a 28,800vph frequency and a respectable 50-hour power reserve. Oh, and did I mention, the case of the Zenith Pilot is 100m water-resistant? For an aviation watch, that ain't too shabby.
Yes, Fratelli fam, this is the closest that Zenith has come to pure Pilot perfection! "So what," I hear you cry, "is the problem, Brandon?!"
The Zenith Pilot is 45mm!
Yes, my friends, the Zenith Pilot is a big boy indeed. At 45mm in diameter and 54mm lug-to-lug, it is akin to a hockey puck on my 6.5-inch/16.5-centimeter circumference wrist (wow, real Tim Mosso vibes happening with that sentence!). Now, I will say that for a watch of this diameter, it does wear decently. The lugs arc downwards, rather than sticking straight out. Thanks to the distance between the case and the spring bar holes, the strap can pull straight down around the wrist for a better fit. But even when worn well below my wrist bone, where my wrist is wider, I still get some overhang when the strap is secured. And that breaks my heart. These days, no matter how much I love a design, I simply don't want to wear watches that overhang my wrist.
I get that it's OK for pilot watches to be big. And while it is large, this 45mm case is admittedly more reasonable than the 60 and 48mm versions that came before it. But I think many will agree with me that traditionally sized watches have made a comeback for a reason. Watches that fit our wrists well are both far more comfortable and timeless than the behemoths of the 2000s and early 2010s. While I applaud Zenith for making this 45mm case a lot more wearable than, say, a 46mm IWC Big Pilot, it could be even more perfect if scaled down a bit.
The 40mm conundrum
Zenith does/did offer the Pilot in a 40mm case. With a lug-to-lug length of 47mm, on paper, it seems like the perfect solution. Because I wear 40mm (and smaller) watches all day long, I certainly thought it would be! Until I tried it on. Then I realized that everything I love about the Zenith Pilot just doesn't work when shrunken down so much. The gorgeous big crown is, well, not so big anymore. The bold cathedral hands are not nearly as bold, and the striking Arabic numerals are simply not as striking. And though the ergonomic lug design worked to the benefit of the 45mm version, I feel it works to the detriment of its smaller sibling. Yes, it makes the 45mm version feel somewhat wearable. It makes the 40mm version, however, feel like a coin on my wrist, in the most underwhelming of ways.
"Of course, you imbecile," I hear you mumbling. "If you make a watch smaller, it's going to be smaller!" And believe me, I know I sound more irrational than my three-year-old son right now. But for better or worse, these are the emotions I felt when comparing the watches on my wrist. They are things that pictures alone cannot convey, and words alone cannot rationalize. If anything, the pictures I've provided might make my words seem even more ludicrous. But, if like me, you've ever loved a watch design this much, you'll know how I feel. I believe that with both the 45mm and 40mm versions of the Pilot, Zenith just barely missed the mark. And in my book, that's a crying shame.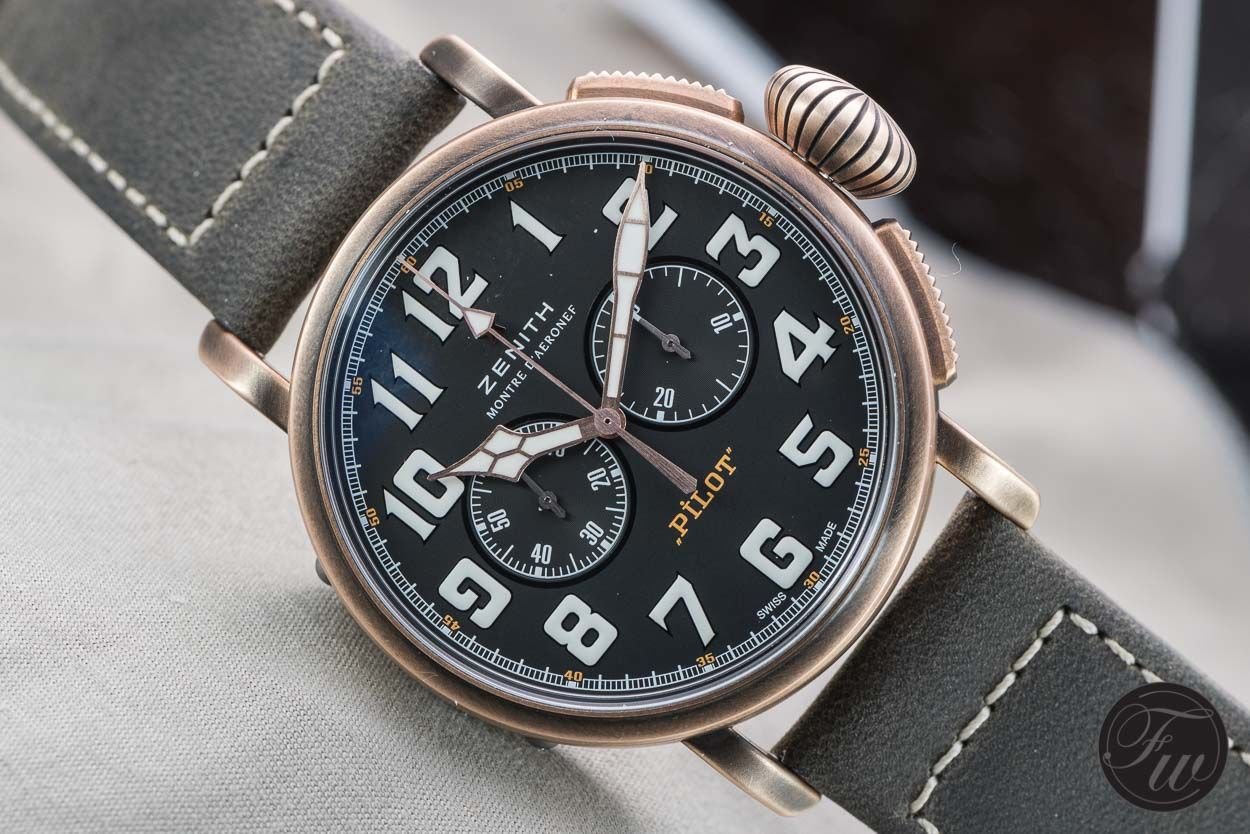 Another slight sticking point
The final point of contention I have with the Pilot line is a lack of options in traditionally finished stainless steel. At the time of writing, 11 models are in the current Pilot lineup. Of those, only two are available in Zenith's beautiful brushed-and-polished stainless steel — the three-hand Type 20 Rescue and its chronograph counterpart. Seven of the current Pilot models are available in bronze, one in sterling silver, and one in black "aged steel." While bronze is neat and deserves a place in the Pilot collection, I really feel like the current ratio of bronze to steel models is very unbalanced.
If we venture into Zenith's back catalog, yes, we can find Pilot models in stainless steel. Many of these from recent years, however, have had a faux-aged finish, which perhaps takes the vintage vibe just a bit too far. Going further back, most stainless steel models with traditional finishing were 48 or 45mm, with one lone example in 40mm. Of course, this leads back to the size issues I mentioned earlier. All of these were either too big or too small.
But I don't want to complain anymore. I've had more than my fill of whining. Seeing as I love the design so much, I really do want to share my vision and hopes for the future of the model. Here is what, in my opinion, Zenith could do to make the Pilot the absolute cracker I know it could be!
First, split the difference in size
I mean this quite literally. Take the 45x54mm case and the 40x47mm case, and find the perfect middle ground between them — 42.5mm in diameter and 50.5mm lug-to-lug. At 42.5mm in diameter, the watch would still be big, but not enormous. At this size, I feel that the elements that are supposed to be big — the crown, hands, and numerals — would still be large enough to make the proper impact. While 50.5mm lug-to-lug is the upper end of my comfort zone for straight lugs, the wonderfully curved shape of the Zenith Pilot lugs would make that length far more comfortable. Because I feel the thickness of the current models, at 14.3mm and 12.9mm, is well-suited to the cases, we might as well just split the difference in that too. Bring the thickness down to 13.6mm, and the proportions will be absolutely perfect.
Next, bring back traditional finishes
Don't get me wrong, bronze is fine. Heck, even an aged finish, used sparingly here and there, is cool with me. But please, Zenith, bring us more Pilot options in that brushed-and-polished stainless steel you do so well! The sophistication of the finishing on the Type 20 Rescue and similar past models is simply impossible to beat. The brushed lugs and case sides contrast so well with the sparkling knurled crown, and the mirror-polished bezel provides just the right amount of elegance. Adjusting the ratio of offerings, with half in bronze or alternative finishes and half in traditional stainless steel, would really give aspiring owners like me the best of both worlds.
And finally, don't shy away from color
There's no need to just stick to matte black dials. Sure, they are a timeless, go-to option for many. But the sunburst gray dial of the Type 20 Rescue is gorgeous. It provides all the versatility of a black dial while still remaining visually interesting. The sunburst blue dial seen on the now-discontinued 40mm bronze Pilot above was also an absolute winner. Combined with a brushed-and-polished stainless steel case, I'm guessing it would sell like crazy. And even "trendier" colors, like a popping forest green, a grained natural bronze, and a metallic royal purple would be a feast for the eyes! My goodness, I can only imagine the nights I'd spend tossing and turning, contemplating which one to add to my collection first.
The Zenith Pilot could be my rule-breaker
For a long time now, I've had an incredibly strict rule for my collection — no more than one watch per brand. In the interest of keeping a concise yet diverse selection of watches, I have stood by this rule unwaveringly since the day I bought my first "good watch" six years ago. BUT, if Zenith were to listen to my suggestions, bringing a 42.5mm, traditionally finished stainless steel Pilot with an interesting dial to market, I would gladly break that rule. Yes, I already own an El Primero Striking 10th. And yes, I would become a complete hypocrite. But I would find any way I could to get that perfect new Pilot on my wrist!
I've loved this watch for too long to give up on it. Believe me, I truly do want to put my money where my mouth is! I just think Zenith is so close, and a friendly little push from a well-meaning watch journalist might not be the worst thing in the world. Just think about what IWC did with the Big Pilot 43. Suddenly, the brand opened up a whole new world to would-be owners who couldn't wear the 46mm version and felt the Mark XVIII didn't have the punch it should. Not only has the worldwide response to the Big Pilot 43 been mostly positive, but it also got people excited about the Big Pilot again! Now, I'm not saying Zenith absolutely needs to jump on that bandwagon. But in an age when the Chronomaster and Defy overshadow the Pilot, the tweaks I suggested just might work wonders for the collection.
So, Zenith, what do you say? The ball is in your court now. I just pray you don't leave this lovesick puppy hanging!