Event Report: The 2023 Longines Collectors Event In London
A guest post by Wouter van Wijk
The Longines Brand Heritage department made two high-risk decisions this year — hosting the prestigious yearly Longines Collectors Event in London rather than Switzerland and allowing much of the planning and content to be driven by the collectors and watch enthusiasts themselves. The first such Longines Collectors Event took place in 2017, at the brand's home base in Saint-Imier. A few more followed, always with a nice group of collectors who also share their knowledge in an independent group called The Longines Farm. This year was a radical change, but did these brave steps pay off?
The 2023 Longines Collectors Event in London
Well, with unanimous positive feedback and seasoned collectors describing it as an "epic, most memorable experience of a lifetime," it seems the packed schedule of world-famous venues, exhibits, and lectures more than hit the right spot. It has further cemented the special relationship between Longines and the core enthusiasts from the Longines Farm, who cherish the brand's long heritage and significant contributions to human endeavors. Don't forget, Longines remains the oldest trademark in watchmaking, dating back to 1874.
There are a couple of reasons why I would like to share this experience with you. First, Longines deserves massive applause for organizing and arranging such an amazing event and working so closely with the collectors. I would also like to pass on some of the excitement, passion, and learning I have experienced. This event was something very special indeed.
Fifty collectors came to London from all parts of the world to gather for the Longines Collectors Event from October 12th to 14th. The first event of this type took place in 2017. It was an official event with the support of Longines at the brand's manufacture in Saint-Imier. A few more followed, both with and without official support but always with a nice group of collectors who also shared their knowledge in a group called The Longines Farm. This year, I was fortunate to be invited by my fellow RedBar Amsterdam member Frank Smits, who organized the event with fellow collector Alan Bessant.
The Longines Brand Heritage department
What made this event extraordinary was its meticulous preparation, with full cooperation between Longines collectors and the Brand Heritage department. The organization committee, also consisting of Brand Heritage Manager Daniel Hug and Marion Trummer from Longines, made very extensive preparations for over 10 months. And wow, did they deliver! I have never been to an event that felt so personal and interesting. Though weeks have passed, I am still excited to have met many new people, and after those three days, it felt like I was truly getting to know new friends.
The beautiful locations added lots of depth to the stories told during these days. However, it was the people in particular who made a huge effort to present such fascinating stories about the history of the brand and specific models.
There are a couple of reasons why I would like to share this experience with you. Longines did not want any credit for this event, but its team deserves great recognition for organizing and arranging such a special event. Another reason is that I would like others to enjoy the feeling and learning of this whole event because it was truly special.
As a watch enthusiast, you might know the importance of a Rolex Submariner in the world of diving and how the Speedmaster was the first watch on the Moon. But do we all know how important the Longines Lindbergh watch was for navigation when flying over the oceans for the first time? This was decades before we started to explore the deepest seas and were flying through space.
So what did we do, and what did we learn?
Day 1: Royal Maritime Museum and the Royal Observatory
First, we took a charter boat from the London Bridge area. The ride included breakfast and an introductory talk by Frank Smits. After arriving at the Greenwich Key close to the Cutty Sark, we walked our way to the Maritime Museum where we enjoyed guided tours that explained, among other things, about John Harrison's marine timekeepers. There, we experienced the harmonious blend of historic, groundbreaking technology and exquisite craftsmanship as we explored the timepieces that revolutionized our world. John Harrison's marine chronometers stand as arguably the most pivotal creations in horological history. 
Our tour guide from the Maritime Museum as well as our fellow collector Philip explained to us about the intricacies of H1, H2, H3, and H4, which were painstakingly developed and meticulously constructed throughout John Harrison's lifetime. 
Frank Smits and Daniel Hug
The life and achievements of John Harrison, the visionary horologist who brought these exceptional timepieces to life, were truly exceptional. The Maritime Museum is a great place to discover the profound significance of these clocks and to gain insights into Harrison's ingenious methods of design and rigorous testing that led to their unparalleled precision. As soon as we had finished our lunch, we went to the auditory room to listen and watch some of the collectors do the presentations for the day.
After a welcome word and introduction by Frank Smits, Daniel Hug gave a presentation about Longines and the observatory chronometers. 
This was a very suitable location since Greenwich and its historic Royal Observatory played a pivotal role in the history of the British Empire and its navigation and exploration of the world. Here's how:
Prime Meridian: Greenwich is the home of the Prime Meridian, the imaginary line that represents 0 degrees longitude, dividing Earth's Eastern and Western Hemispheres. The establishment of this reference point is crucial for navigation and timekeeping. It allowed sailors and explorers to calculate their east-west position accurately, and it became a standard reference point for maps and charts.
Greenwich Mean Time (GMT): The Royal Observatory in Greenwich was instrumental in the development of Greenwich Mean Time (GMT). GMT was the standard time for navigation, and it served as the reference for setting time on ships and in various locations around the world. GMT's importance extended to the establishment of international time zones.
John Harrison's Marine Chronometers: The Royal Observatory played a significant role in testing and verifying the accuracy of marine chronometers, including those developed by John Harrison. These chronometers were essential for determining a ship's longitude accurately, which was crucial for safe and efficient navigation during long sea voyages.
Astronomical Observations: The Royal Observatory was a center for astronomical research and observation. It was used for making precise measurements of celestial bodies, which helped sailors determine their position at sea. The observations made at Greenwich contributed to the creation of accurate nautical almanacs and astronomical tables used by navigators.
Longitude Act of 1714: The British Parliament passed the Longitude Act in 1714, offering a substantial reward to anyone who could devise a method for determining longitude at sea with accuracy. The work at the Royal Observatory, including the testing of Harrison's chronometers, played a crucial role in the development of this method.
Daniel Hug explained the importance of precise timekeeping and the important role that Longines had in observatory competitions. The pinnacle of these Longines observatory chronometers was its caliber 360.
Longines caliber 360
This is a very notable movement, and it has a strong historical connection to observatory competitions, which were a significant part of watchmaking in the 20th century. These competitions were held to assess the precision and accuracy of timekeeping movements, and winning or placing well in them was a mark of excellence for watchmakers. Longines was famous for its success in such competitions. Longines and its caliber 360, with a total of 498 Bulletins de Marche, had the most number of successful submissions of any wristwatch-sized chronometer caliber between 1959 and 1967. A "Bulletin de Marche" is a certification document issued for observatory chronometers after undergoing timing trials, typically spanning 44 days, to assess their precision and accuracy.
In the second part of his presentation, Hug also talked about the first Longines dual-time wristwatches, such as the Zulu Time. Many people think that the Glycine Airman was the first dual-time wristwatch in 1953, but back in 1925, Longines was the first to produce a wristwatch presenting two different time zones with an additional indicator for the "Zulu Time," meaning UTC+0. Before 1972, this time was called Greenwich Mean Time (GMT), but it is now referred to as Coordinated Universal Time or Universal Time Coordinated (UTC).
Longines Zulu Time
The specific square watch had a really interesting feature. It highlighted two three-minute intervals in red (after 15 and 45 minutes on the dial). This is a reminder of the radio silence observed twice each hour in nautical and aeronautical communications to allow faint distress calls to be heard. It corresponds to the International Convention for the Safety of Life at Sea (SOLAS), 1914, introduced after the fatal sinking of the Titanic in 1912 when excessive radio noise drowned out the ship's SOS. 
A Longines watch for the Turkish market
The second lecture of the day was by Vefa Borovali, a young Turkish collector who was still in his teens when he first attended a Longines get-together. But don't let him fool you with that introduction. With a mature flair and amazing presentation skills, Vefa continued with a very impressive lecture about a niche within a niche. He told a fascinating story about the importance of Longines's Turkish distributor, Nacib K. Djezvedjian. He unfolded the story by tracing the historical trajectory of Longines within the Ottoman Empire and its evolution into modern-day Turkey. By touching upon interesting developments of navigating tools and precision timekeeping devices for the Turkish market, Vefa told the novel-like tale of Longines in Turkey.  
Central to his narrative was the pivotal role played by Nacib K. Djezvedjian, a figure of great importance in the brand's journey within the region. Against the backdrop of this captivating tale, Vefa, now a Master's student at Sciences Po, illuminated the intriguing history of Longines's involvement in Turkey and the broader region.
Longines Touran
His lecture revealed a significant historical insight. In 1918, Longines introduced the Touran, a dual-time pocket watch with a rotating center. This served as the precursor to the 1928 Longines Weems. The Touran featured a patent for a cadran tournant 2 tours d'heures, displaying European time on the outer dial and Turkish time on the inner rotating sub-dial. This unique mechanism provided a pioneering solution for the Alla Turca time system, which held significant importance due to its unique adaptation to the changing lengths of hours in different seasons, and regulating daily life in the Ottoman Empire. 
The lecture revealed that the Weems timepiece finds its core identity in the Touran, establishing the missing link between Longines's dual-time watches and its navigation tools. This connection challenged the current understanding of Longines's rotating-dial usage, representing a pioneering step in the brand's journey of innovation. Furthermore, the lecture commemorated a century-long legacy, honoring Djezvedjian's pivotal role in this historical connection.
In the Alla Turca time system, the sun consistently sets at 00 hours and rises at the 12th hour, but the length of the hours varies. In winter, one Alla Turca night hour is longer than one Alla Turca day hour, while in summer, it's the opposite.
This system starts a new day at sunset, marked as 00 hours, dividing the day into two 12-hour parts: from sunset to sunrise and from sunrise to sunset. Night and day hours are equal but differ in length based on the season. The Ottoman Empire used this system because it aligned with prayer times based on the Sun's position.
Clocks needed daily adjustments due to the changing day length, with latitude affecting these variations, i.e. northern latitudes experiencing longer nights than southern ones.
Andy Tolley
After these two great lectures, we had the pleasure of listening to Andy Tolley. He is one of the great guys who has been dealing with and collecting watches for 30 years. These days, his main focus is on "flight birds." I highly recommend checking out his website. It contains incredibly interesting stories about navigation and aviation watches that go very in-depth about the history of certain pieces.
People who have seen his video on Hodinkee might know that Andy is very knowledgeable about these kinds of watches. When he starts talking, it's all passion, and he was able to tell these stories by heart for 40 minutes with incredible attention to detail. This gave an amazing view of the history of timekeeping and navigation from a bygone era. What people tend to forget is that without Longines and its navigation watches, it would have been impossible in the early 20th century to fly over oceans. Those early pilots truly risked their lives, and some even completed the most dangerous non-stop flight of 55 hours.
A Time to Fly
Andy, the half-crazed Aussie watch enthusiast suffering from "Longineitis" and a love of the brand's incredible pilot watches, delivered a lecture called "A Time to Fly." It chronicled a snapshot of the remarkable golden years of aviation and the specialist Longines timepieces to which aviators and aviatrices entrusted their lives.
Some of the stories explained about the following:
Longines and its American agent rose to the challenges associated with the new airplane age. The speed, altitude, duration, and distance of flights dominated the public and government attention after WWI and the first crossing of the Atlantic by the US Navy flying boats. 
Longines, under the stewardship of its technical director Alfred Pfister, won more precision timing awards than any other maker. Long before other well-known brands even made their first watch, Longines dominated the industry, supplying specialist and precision timepieces. 
The who's who of aviation all used and relied upon Longines during the golden years. The long list included Amelia Earhart, Admiral Byrd, Charles Kingsford-Smith, Roald Amundsen, and Wiley Post, among countless others.
Longines made the first three wristwatch models with calibrated turning bezels in history, years before other manufacturers.
A Longines Lindbergh prototype
On his wrist, Andy sported an incredible find, a Longines prototype made for Charles Lindbergh that he had just unearthed from some "archeological" hunt. The creation was a collaboration with Longines, its US agent Wittnauer, and its playmaker John Heinmuller. This legendary piece is one of history's rarest and most important watches. Charles Lindbergh completed a non-stop flight from the United States to Paris, France, landing on May 21, 1927, in the single-engined Spirit of St. Louis. As the aircraft only had very basic instruments on board, Lindbergh used dead reckoning to navigate.
The Lindbergh story
In 1928, Charles Lindbergh encountered navigation difficulties near Cuba. Following this incident, he sought assistance from Philip Van Horn Weems to enhance his navigational skills. Influenced by Weems's expertise, Lindbergh proposed a timepiece design intended as a precise aerial navigation instrument, capable of determining longitude and precise geographical coordinates. Longines, renowned for its aviation precision, took responsibility for creating this specialized watch, which featured a rotating bezel for calculating the sun's hour angle and a central dial. The timepiece, which debuted in 1931, later became "The Lindbergh Hour Angle Watch" and proved indispensable for a generation of aviators, navigators, and pioneers as they ventured to conquer the skies.
These Longines instruments brought greater safety and precision at a time when daredevils and barnstorming gave way to an era of pilots and passengers in the so-called "Lindbergh boom." This followed Lindbergh's successful flight from New York to Paris in May 1927. Lindbergh noted that accuracy meant everything to him, and without it, planes crash. We all enjoy safer air travel and take for granted the safety that Longines-equipped pilots brought us by risking their lives in this transformative era.
Last but not least, Daniel Hug, the brand's heritage director, gave a lecture about The Treasures of Longines. The Longines team brought some really special pieces, such as the aforementioned Zulu Time, the world's first dual-time wristwatch.
Onward to the Observatory
After these brilliant lectures, we left the Maritime Museum to get some refreshments at the local pub. It was great to get to know some other collectors better and grab a nice pint. Following this was a walk ascending to the hill of the Royal Observatory Greenwich. This place just oozes history. You feel the importance and grace while walking up this hill. Once we finally arrived, the Sun was just about set, and we took a very nice group portrait. From there, we saw a stunning panorama of the shores of the River Thames and London's highlights, such as the O2 Arena and the skyline of the financial district.
Royal Observatory Greenwich
When we arrived at the Observatory, we had a little glass of champagne, and while gathering, one could witness all of Harrison's marine chronometers from H1 to H4. Harrison's marine chronometers are precision timekeeping instruments invented by John Harrison in the 18th century. They ensured accurate ship navigation by accurately measuring time at sea. H1 was Harrison's first successful chronometer, with a revolutionary design housing a remontoir. H4, also known as "The Watch," was his breakthrough model, solving the "longitude problem" and significantly improving navigation accuracy. These watches also had to be replicated and simplified for real use in day-to-day navigation.
We had a very nice dinner in the iconic Christopher Wren's Octagon Room, where I was sitting at the table with the whole Brand Heritage team. This was the first time that the whole team had gone abroad to attend an event for collectors. As a little side note, Longines gets 12,000 requests per year for an extract of the archive. It is undeniably one of the best brands that offerings its collector community an archive and authentication service with the best value for money. The Brand Heritage team consists of seven people, and they also do the museum tours in the manufacture in Saint-Imier.
Day 2: Duxford
We started the next morning very early at 07:15. The bus left at the city center, and we went to Duxford to visit the Imperial War Museum, which many consider one of the largest and most comprehensive war museums in the world. It focuses on conflicts involving the British Empire and the Commonwealth, as well as global conflicts. As a Dutchman, I know the Aviodrome, but the magnitude of this fully functioning airbase is just amazing. There are six hangars with hundreds of airplanes. 
Duxford was one of the earliest Royal Air Force stations and was a fighter base in WWII. It still has many of the original hangers and buildings. It is also still an active airfield, and you can also see many airplanes in the process of restoration or receiving maintenance. Duxford is renowned for its vast and diverse collection of historic aircraft. The collection spans from WWI biplanes to modern jets. It includes iconic planes like the Spitfire, Hurricane, Lancaster, Concorde, and the B-52 Stratofortress. There's also an operation room that looks like it was used back in the 1940s as well as many airplanes that take visitors on little round trips during the day.
After arriving, we got a nice tour with an enthusiastic tour guide, who told us the greatest stories about the daily life of RAF pilots during WWII. The guides can tell the stories very vividly, and we never had a dull moment. Our tour guide focused on the Battle of Britain Exhibition, commemorating WWII aerial combat between German pilots and the air fighters of the Royal Air Force, while we had a close look at several aircraft from that time.
Treats from the Longines Museum
After that, we had enough time to spend at the museum checking out several airplanes. It was so nice to do this with the group because we had our very own retired pilot and writer about air force history, Philip from Moon Watch Universe. He was able to tell incredible stories about almost all of these airplanes. More about Philip later on…
Following a late lunch, we went back to an auditorium to listen to the second session of lectures.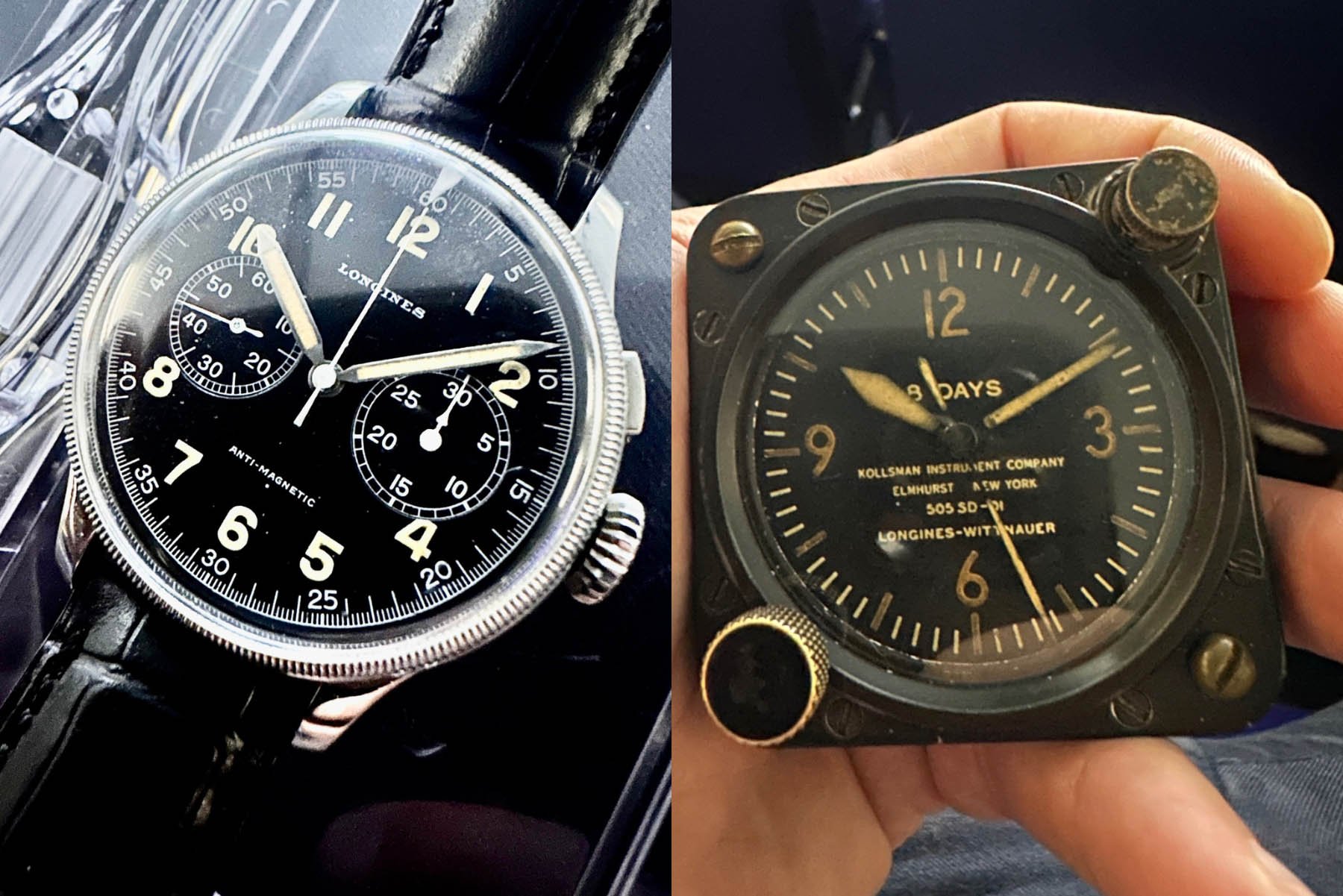 Daniel Hug started with a lecture about Longines in the air and the cockpit of military pilots. This was very interesting because the team brought some real treats from the Longines Museum collection. These included the first Longines wrist chronograph for pilots with a starting-time indicator, ref. 3811 from 1937. The watch featured the hand-wound caliber 13ZN with a column wheel, a black dial with large luminous numerals and hands, and a rotating bezel with a luminous triangular arrow for clear visibility during night flights. There was also a little 8-day clock that used to be mounted onto the dashboard of a WWII airplane like those we'd just seen that day during our guided tours.
Daniel also explained how the world's first flyback chronographs with two independent pushers were produced by Longines in the late 1920s. The brand invented the complication, filed for a patent in 1935, and got it in 1936.
At the end of the lecture, Daniel also played a unique archive film from WWII showing Czechoslovak fighter pilots with Majetek pilot's watches.  
Captain Francois Noordhoorn and his Longines
Collector Dr. Oliver Hartmann then gave a nice presentation. He started by talking about his collecting journey. This was quite fascinating since he bought his first pocket watch at an auction when was just nine years old.
His main presentation, however, was all about a watch that he owns. It is a piece with a fascinating story about its original owner, Captain Francois Noordhoorns. He was a pilot for the Dutch Army with a Dutch father and an Indonesian mother. After World War II and the Indonesian War of Independence, he became a pilot for Garuda Airlines. The birth of this airline happened at the same time as the birth of the Independent Republic of Indonesia. He wore a Longines Chronostop wristwatch that was similar to those used by KLM Airlines pilots. It was a ref. 5681 with caliber 12.68Z, a nickel finish, and a case back engraved "G.I.A." (meaning Garuda International Airlines). 
Finally, Nicolas Chauvy from the Longines Brand Heritage team ended the day's lectures with an interesting presentation prepared by collector Guido Hamcher. Unfortunately, Hamcher was unable to make it to the get-together, but the topic of this lecture was COSD watches. Do not mistake these watches for chronometers. These watches were made for the military Combined Operations Store Department. 
Combined Operations Store Department watches
The watch in the photo above was designed for use by British airborne units at the end of WWII. It is marked with the initials of the Combined Operations Store Department, as discovered by the Milwatch community. Inside the chromed-brass case, which was designed to protect against shocks, is the robust central-seconds caliber 12.68. The watch features a highly legible dial showing both 12-hour and 24-hour time scales. Only a few hundred examples were produced.
Dinner and going hands-on with Longines collectibles
We ended the day with a drinks reception and a dinner hosted at Duxford in the Airside Suite overlooking the airfield. Of course, at the end of the night, the attendees created an amazing table of historic Longines watches. The pictures speak for themselves. Let me say, however, that to see such a collection in one place was breathtaking.
Day 3: An international get-together with London watch collectors
On Saturday, we gathered in another historic venue that dates to 1677, the Devereux Pub. This was a closed event organized by the Longines Farm. However, many pre-registered collectors from around the UK also gathered for an interesting get-together with a wide array of modern and vintage watches. The event was partly sponsored by Berry's Jewellers.
There were also two interesting presentations. The first to present was Zaf Basha, who just had released his new book, Vintage Military Wristwatches: A guide for the collector.
Publishing a book
The idea of this whole presentation was not a sales pitch. Rather, Zaf guided the audience through the whole process of developing and publishing a book. This is his second book, and he did everything by himself. He explained how difficult it is to get the pictures right, how the editing works, and even the printing and logistics of his magnum opus. Zaf is one of the genuine good guys, and his work is a true labor of love. In my opinion, the book is a must-have for every collector of vintage military watches. It dives deep into the intricacies of 300 interesting watches predominantly from the 1930s to 1970s.
The second lecture was presented by Philip, founder of Moon Watch Universe. With a specific focus on watches that have traveled to space, particularly the Speedmaster, Moon Watch Universe on Tumblr boasts one of the most extensive collections of archival photographs of space watches. Impressively, it rivals even NASA's archives.
Watches used in space
Philip embarked on this endeavor in 1971 when he reached out to both the Soviet Federal Space Agency (now ROSCOSMOS) and NASA to amass these images, a pursuit he continues today. A retired NATO officer and Fellow of the Royal Astronomical Society, Philip now dedicates his free time to meticulously studying images to identify the watches worn by those with "the right stuff."
Philip gave a short lecture on how astronauts and cosmonauts have been wearing wristwatches under the sleeve of their space suits. Remarkably, even during the very first spacewalk on March 18th, 1965, the Voskhod II cosmonauts wore their Russian-made Strela "Arrow" chronographs underneath their Berkut space suits. By the 1980s, Russian cosmonauts had even worn thicker watches under their Sokol space suit, such as the Omega Flightmaster, Omega Speedmaster Mark III "Big Blue," and Fortis chronographs.
During the first NASA spacewalk on June 3rd, 1965, astronauts James McDivitt and Edward White each wore two Omega Speedmaster chronographs to keep track of different time zones (Cape Canaveral, Florida, and mission control in Houston, Texas). During the Apollo program, astronauts started to wear their private wristwatches, and the Rolex GMT-Master 1675 made it to the lunar surface on Apollo 14 and 17. 
On Skylab 4, both Gerald Carr (Movado Datachron HS360) and William Pogue (Seiko 6139-6005)  took an automatic chronograph in space. Carr even wore it near his ankle in the boot of his space suit! During six decades of spaceflight, watches from at least 10 different brands have been directly exposed to outer space.
After these presentations, we had some drinks, shared stories about collecting, and discussed watches and collections that people had brought along.
The 2023 Longines Collectors Event in London — An incredible experience
These three days and experiences proved nothing short of fantastic. Many thanks to all who had a hand in organizing the event and, in particular, Longines Brand Heritage Director Daniel Hug, Project Manager Marion Trummer, and collectors Frank Smits and Alan Bessant for making all of this possible.
I hope you enjoyed reading about this event and have learned a little bit more about the amazing history of Longines.