#TBT Excelsior Park Monte Carlo – A Unique Amalgamation
Today on #TBT we'll talk about a unique chronograph in the Excelsior Park Monte Carlo. As you'll come to see, the watch is more than the sum of its parts. That's a notable statement because this EP is truly a watch made of parts; think of it as the physical result of the old adage, "when life you gives you lemons, make lemonade." Except in this case, the lemonade was created due to leftover lemons found elsewhere. Confused? Read on…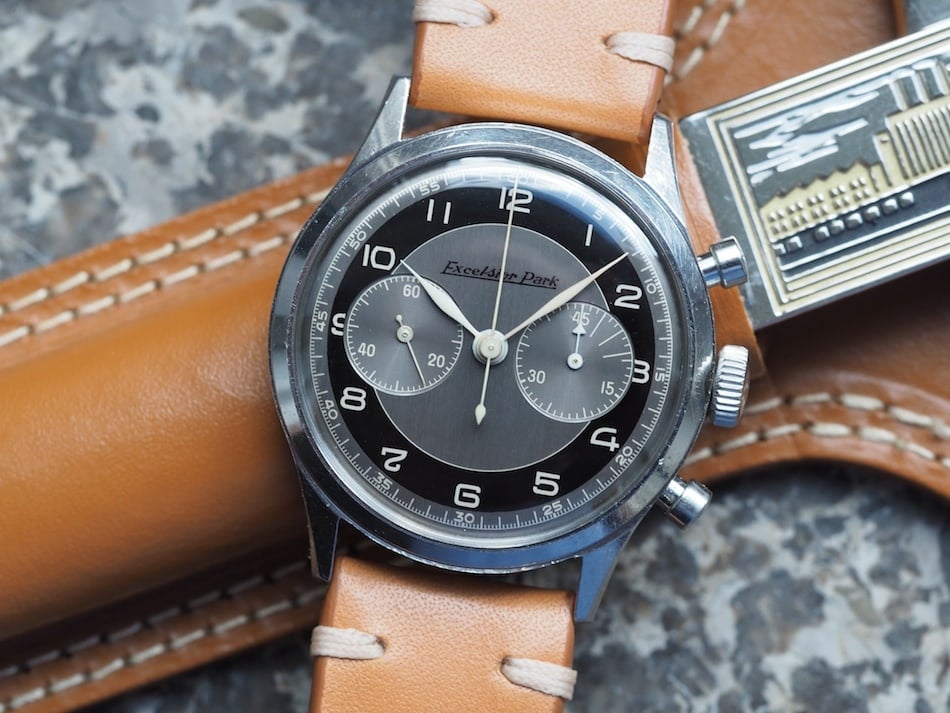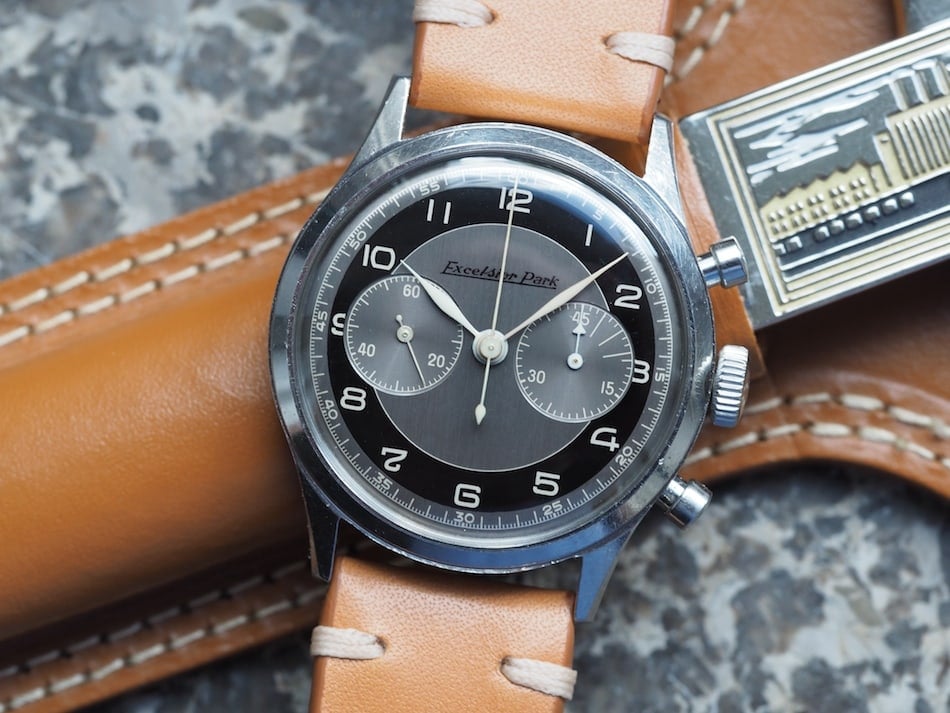 Here on Fratello, we've spent time discussing Excelsior Park. We've covered a watch branded with the name, but we've spent more time looking at watches produced by the brand for others, namely Gallet. To recap, Excelsior Park was a historic watchmaker that produced its own movements. They did retail their own watches but also built pieces for Girard-Perregaux, Zenith, and, yes, Gallet. In 1983, the historic company ran into serious financial issues as the quartz crisis took hold and they were soon bankrupt. A German concern, Flume, purchased the name in an effort to reintroduce the brand.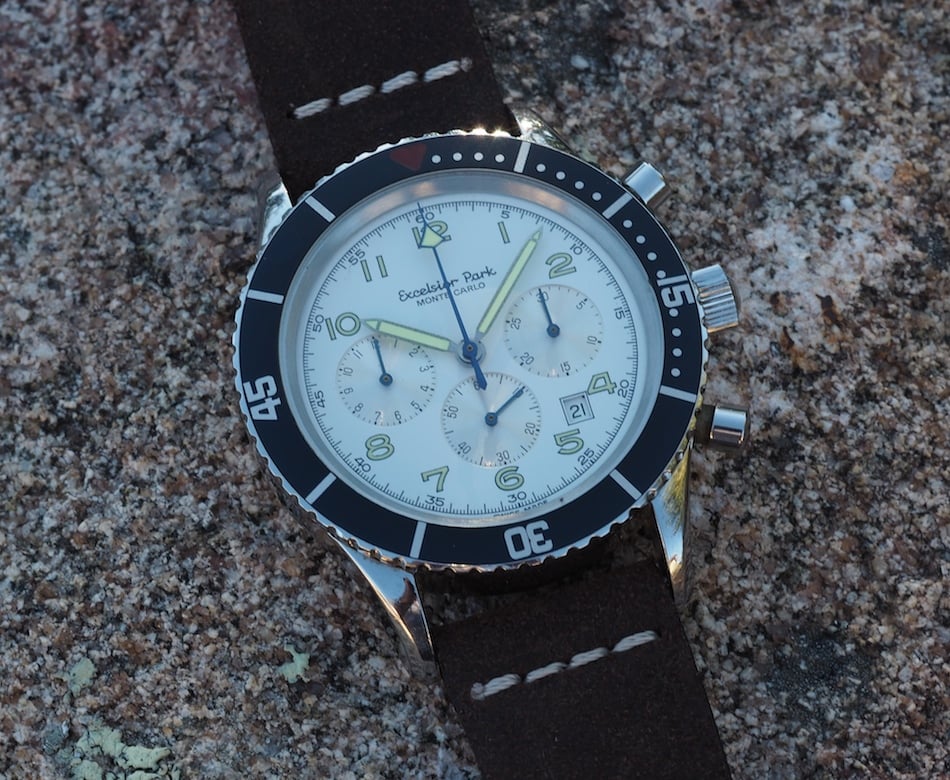 The Excelsior Park Monte Carlo you see here in addition to a black-dialed variant is the short-lived result of that venture. Sadly, this product didn't prove very successful and we've not seen anything new from the EP name since.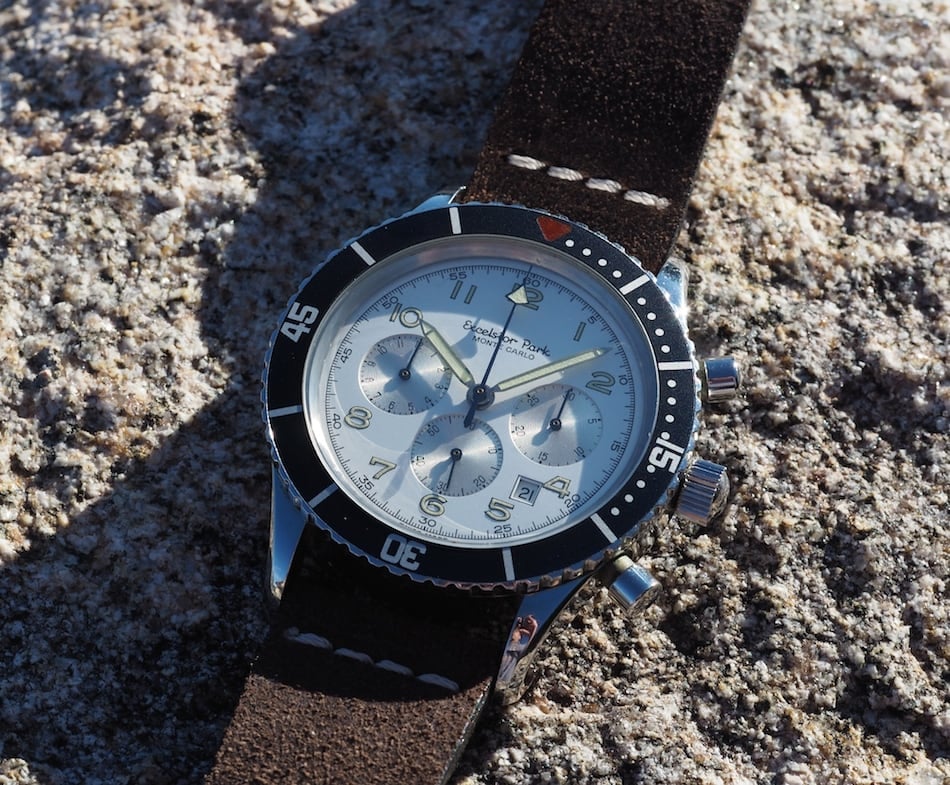 Aside from the brand itself, the Excelsior Park Monte Carlo is truly a wild concoction of components from past watches. If you're a student of the vintage game, you just might recognize the case and bezel. Perhaps a black-dialed Monte Carlo would make things more obvious, but you are looking at the same case and a stylistically similar rotating bezel (the Zenith was painted vs the inlay on the EP) from the famed Zenith Cairelli CP-2 Italian military chronograph that was issued in the 1960's. It's interesting because most put the EP's age in the mid-late 1980's, but make no mistake, the case is essentially the same. It's fully done in stainless steel and comes in at a healthy 43mm in diameter with a length of 52mm. 13.5mm is the thickness from the screw-in case back to the top of the flush fitting, barely rising acrylic crystal.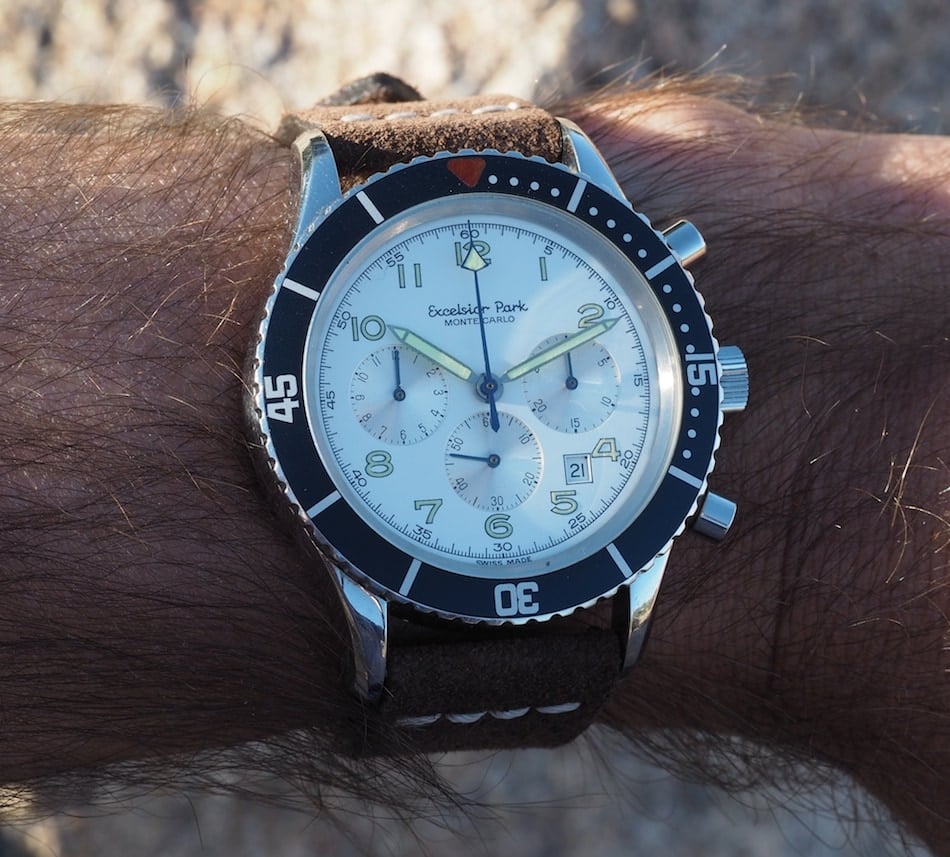 As you can see, the Excelsior Park Monte Carlo looks great on the wrist and carries some serious presence. It looks good on a variety of straps and I've seen it several times on everything from mesh to a Breitling-signed oyster bracelet (here's one for sale – and more on Breitling later).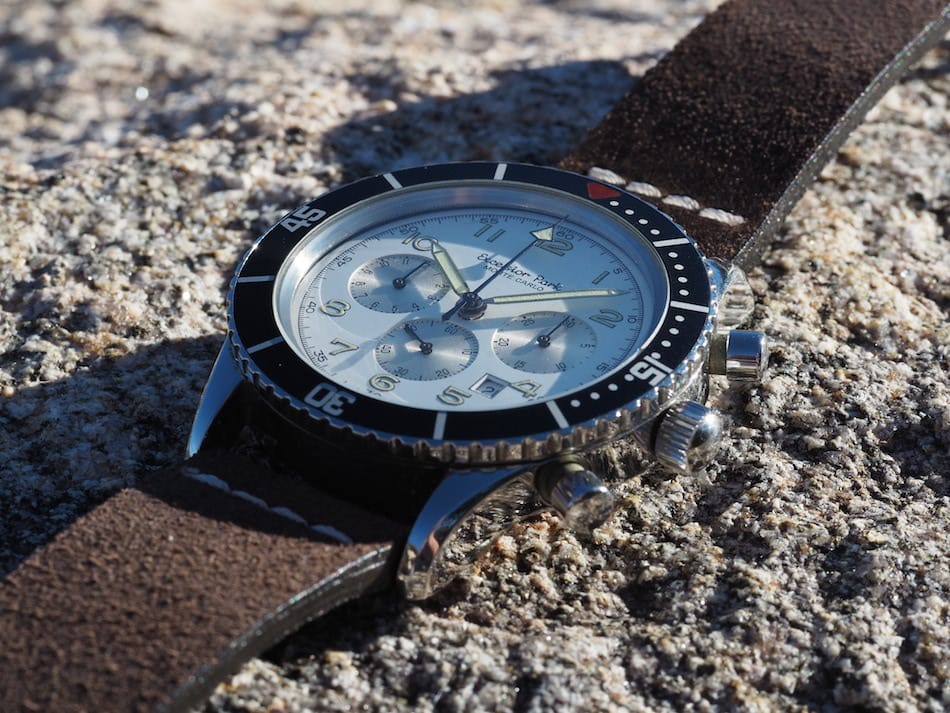 Interestingly, the Excelsior Park Monte Carlo purports itself as somewhat of a diving chronograph despite 50m of water resistance. We've mentioned the heavy-duty case back, but the minutes bezel continues down the diving path with its uni-directional functionality and 60 clicks. The crown further cements its purpose as it screws into the case. Despite its classic chronograph looks, there's no doubt that it's a bit kooky with its undersea intentions. The only other watch within my collection that I can aptly compare it to is the wildly eccentric Bulova Sea Hunter chronograph that we reviewed a couple of years back – and don't forget the Bulova name as I will mention them again later. That Sea Hunter, by the way, was also produced during this strange period.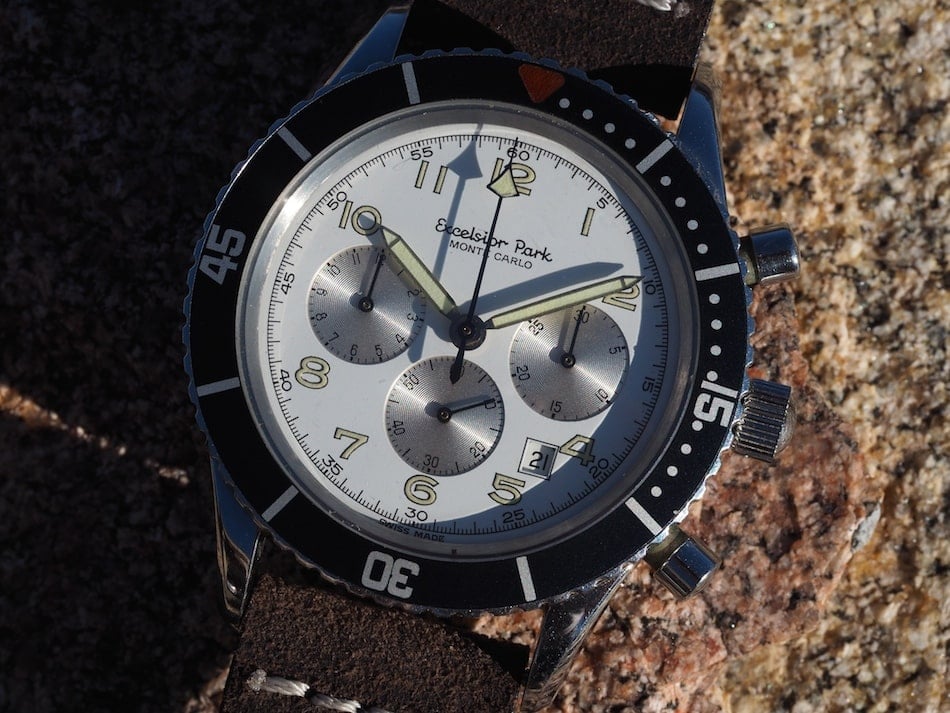 Looking at the dial, the Excelsior Park Monte Carlo uses a paddle-arrow tipped central chronograph hand and main hour/minutes hands that are also cribbed design-wise from the old Cairelli. The dial itself has a matte white background with lovely tritium lume Arabic numerals at the hours and a black chapter ring indicating the minutes. The three sub registers are done in a silvery white and contain the requisite grooved surfacing that we're so used to seeing on chronographs to help create readable contrast. It's a damn good-looking, legible, and purposeful chronograph and ranks as one of the better revivalist efforts that I've come across (I'm looking at you Universal Geneve). But then the eye pauses at around the 4:30 mark and spies a boxed date window. One's peripheral vision then sees that the lowest sub register is ticking away with the seconds. What the hell is inside this watch?
We're glad you asked because the Excelsior Park Monte Carlo is powered by a movement that is rarely seen. Yes, we can now say that on Fratello Watches, we've reviewed a watch with the somewhat rare, and definitely "oddball", Valjoux 7740. The movement is a caliber 11/12-based manual wind unit and it is different. Here, instead of a small rotor, we are treated to another sub register at 6:00. As mentioned, it contains a date wheel (non quickset unfortunately), a 12-hour register, running seconds at 6:00 and 30-minute register. It's a fascinating little piece of horological history that had previously been used by Breitling in some of its Navitimer models (the 7806) and Bullhead during the 1970's. Heuer used a variant as well. Jeff Stein wrote a nice history on the development of the model here.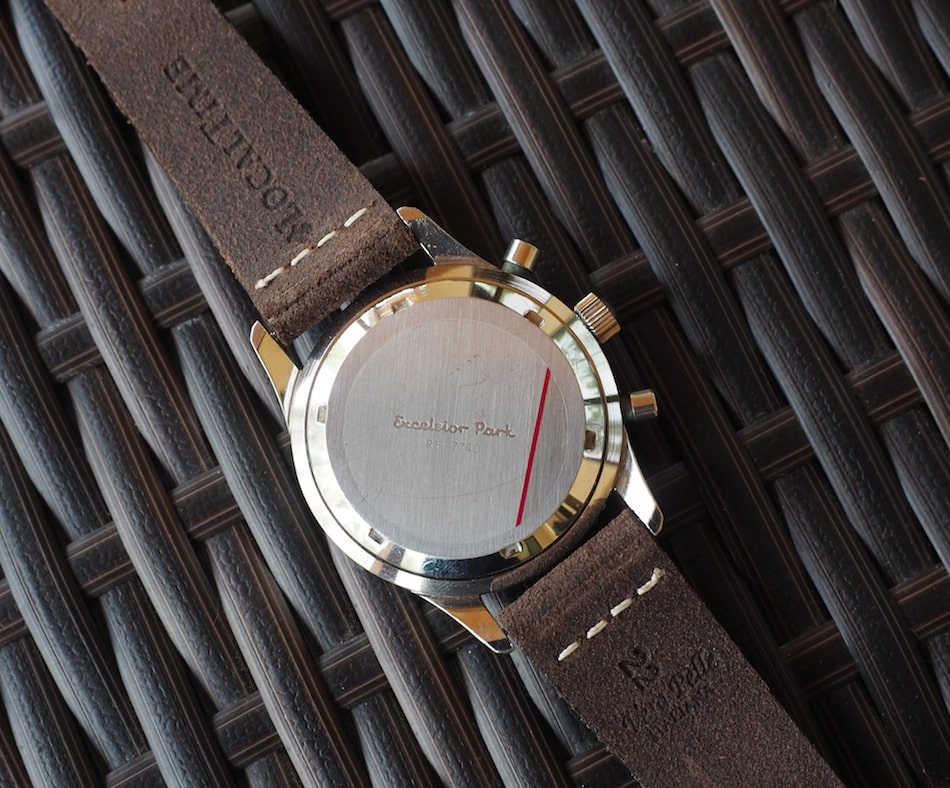 So, how did such a movement end up in the Excelsior Park Monte Carlo? Breitling, despite its current success, went down the same path as Excelsior Park and was essentially bankrupt in 1979. As a result, there was a liquidation of movements and other components. The former Breitling it seems, owned the 7740's found inside the Monte Carlos. We believe this because the bridges on all the Monte Carlos have been machined in order to erase Breitling name. Aside from the crazy history, the 7740 is actually a nice movement to operate – and in my book, a lot more satisfying than any caliber 11-based automatic.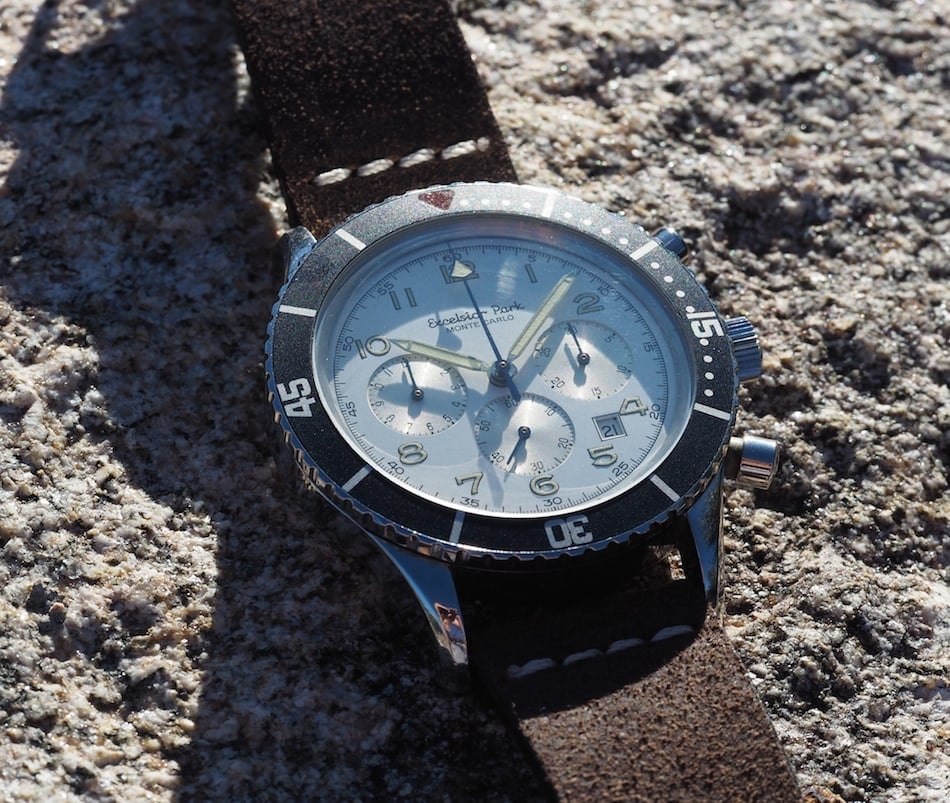 Trying to piece together additional information on the Excelsior Park Monte Carlo is difficult at best. There are stories about total production runs of 50 or 100 per dial color, but I struggle to find those reports conclusive. Bulova – yes, I mentioned the name would return – also marketed a Marine Star using the same case with either a black or white dial using a Valjoux 7731 (some 7740's are known to exist as well), but I have been unable to find out whether they and the EP's were assembled in the same workshops. LouS wrote a great post comparing the Bulova and EP to the famed Zenith.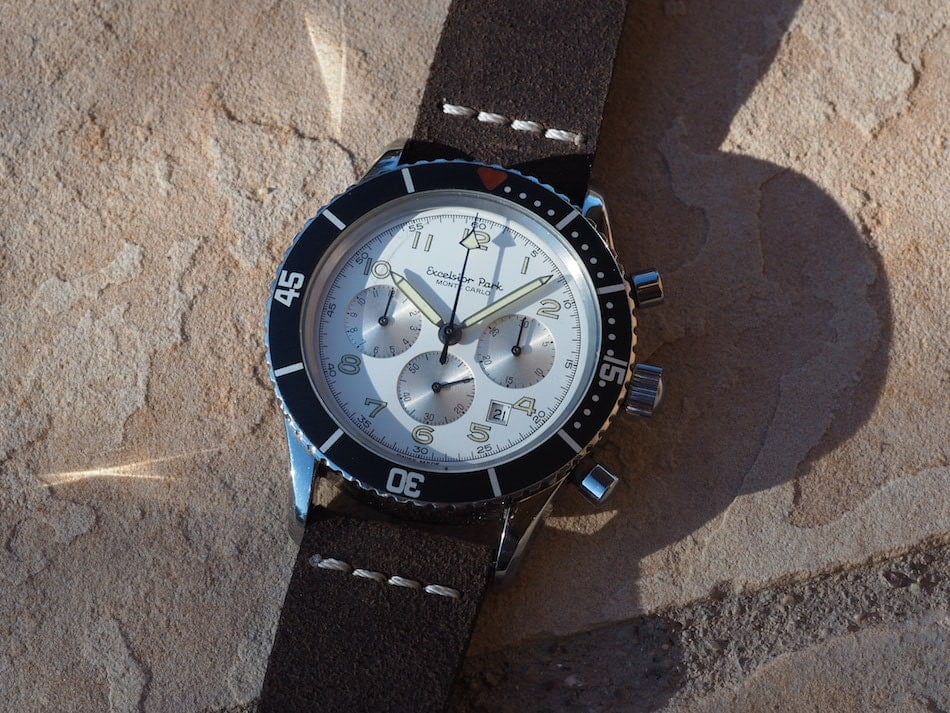 Looking for an Excelsior Park Monte Carlo can be difficult, but they seem to pop up in waves. Currently, there are a number for sale right now on chrono24. For some reason, most Monte Carlos tend to be in nice condition. I do see some with dents and scratches owing to their larger size, but there's little reason to settle for a mediocre example. Pricing is a funny thing on these chronographs as they range from roughly $3,000 to above $5,000. I am not sure if many sell at that upper level, but the size, oddity, and mixed pedigree at least point to a watch that should garner interest in the future.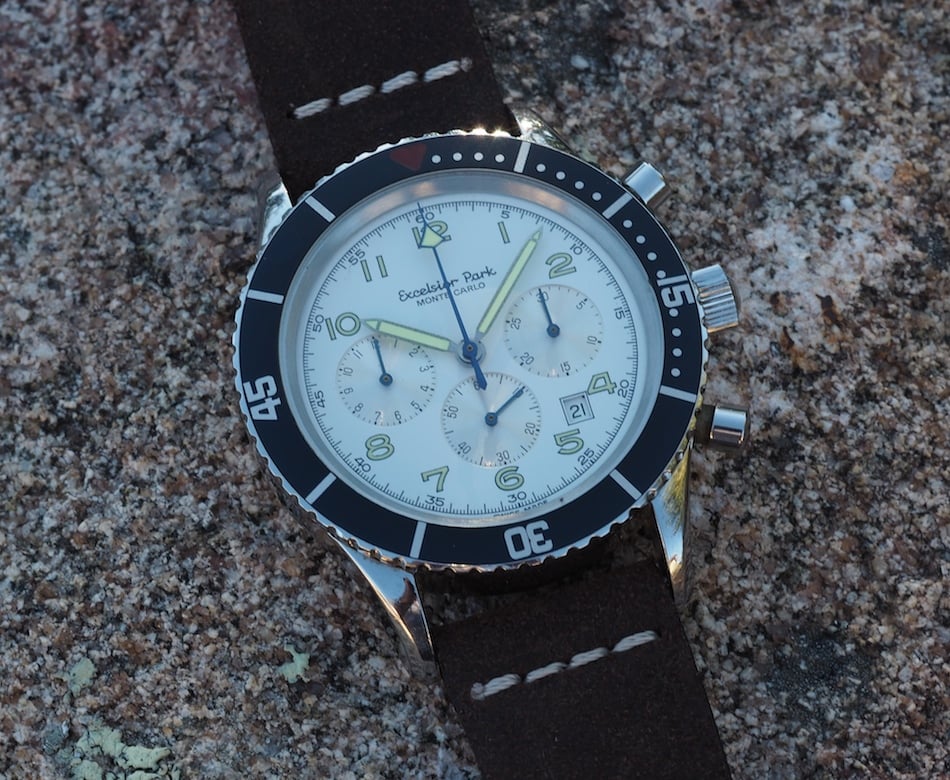 The Excelsior Park Monte Carlo is a rare neo-vintage chronograph that should check a lot of boxes for collectors. It's large, steel, contains a manual wind movement, and boasts a legible dial with lots of tritium lume. It's also relatively affordable if one can be found on the lower end of the scale and should provide decent room for appreciation over time. Best of all, though, the Monte Carlo was created using some significant pieces from brands past in order to create a great looking final product. Until next time…