Exclusive Hands-On With Meridian
At the same time of the start of the SalonQP 2012 event in London, Fratellowatches introduces a new brand that will be shown for the first time to the public at SalonQP. Our own watch photographer Bert Buijsrogge recently visited Meridian in England to give you the full story on this new brand in case you couldn't make it to SalonQP in London.
Just a couple of weeks ago we received a phone call from someone, suppressed number of course, asking if we were interested to come to England to see some cool watches. England you say? Not exactly the center of horology anymore now is it? True, but it sure is the center of something else! Long story short, one week later the plane took off heading to Norfolk.
After 35 minutes in the air 'enjoying' a somewhat sour orange juice and typical Dutch 'Stroopwafel' I was welcomed into England and driven to what appeared to be an industrial area. The car stops in front of a clock & watchmaker shop, nothing fancy from the outside but as soon as we step inside I noticed that things aren't always what they appear.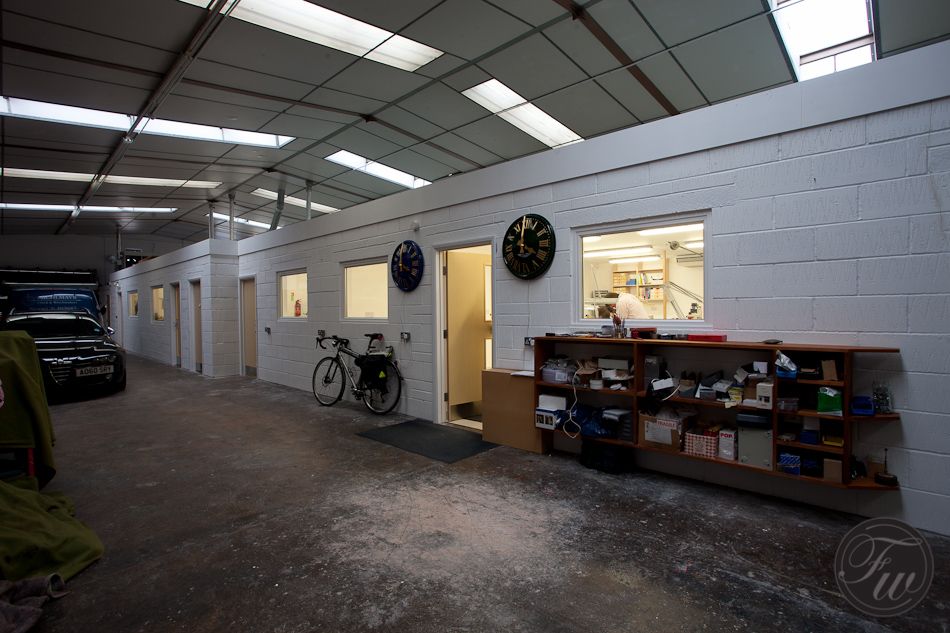 Through the hallway I stepped into the office and after shaking hands with the ladies we (sadly) went right away to one of three workshops which could easily be a cleanroom as they are brightly lit and well organized.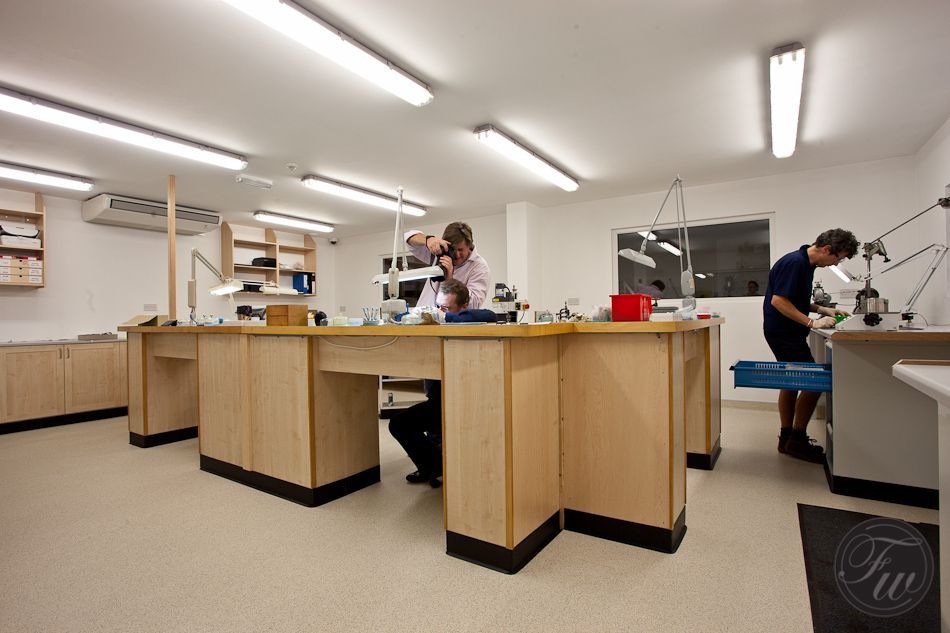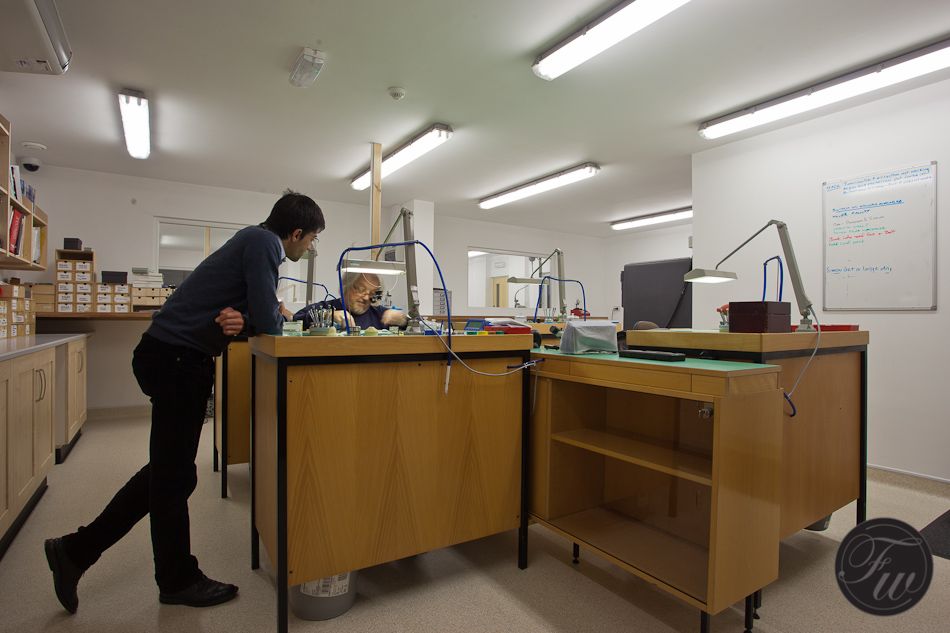 This first workshop is responsible for repair and maintenance on all sorts of watches. The second workshop is where the new watch is made and assembled. Simon, owner and watchmaker with over 26 years of experience, introduces himself and together with Richard he presents the Meridian Prime Collection to me.
The Meridian watch is all handmade in England and the design partially derived from UK issued military watches. The 46mm case is made of stainless steel and comes in three finishes; polished, brushed, and meridian black. Meridian black is created by a special process that takes over 8 hours for a single case, which resembles the abuse over many, many years on a persons wrist.
One of the watchmakers was actually wearing a 4 year old prototype black case Meridian which looked still very good aside from some minor scratches. This shows the immense strength of the black coating.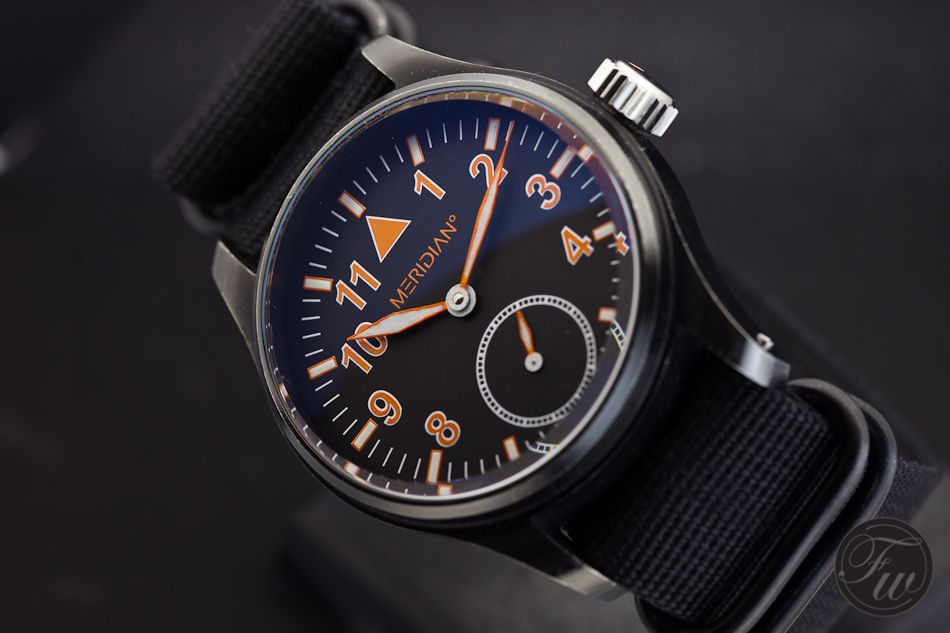 Inside there's the well-known manual wound 42 hours power reserve Unitas 6497 movement with customized finish and engraving. Though you won't be able to see it through the steel caseback it's nice to know the movement is well finished. On top of the movement comes a sandwich dial which has a brass base, Luminova layer and a hand painted stainless steel top layer with cut-outs.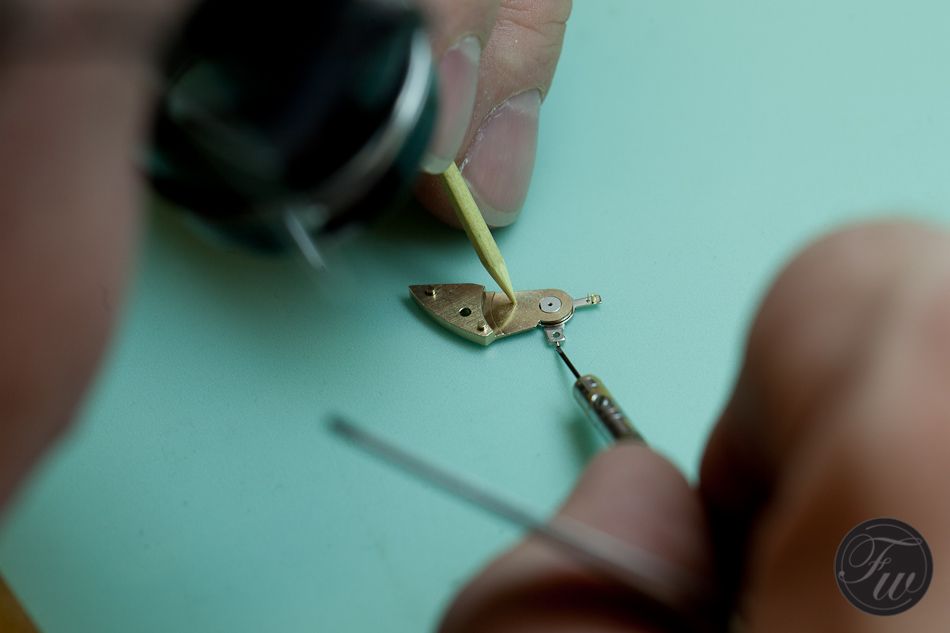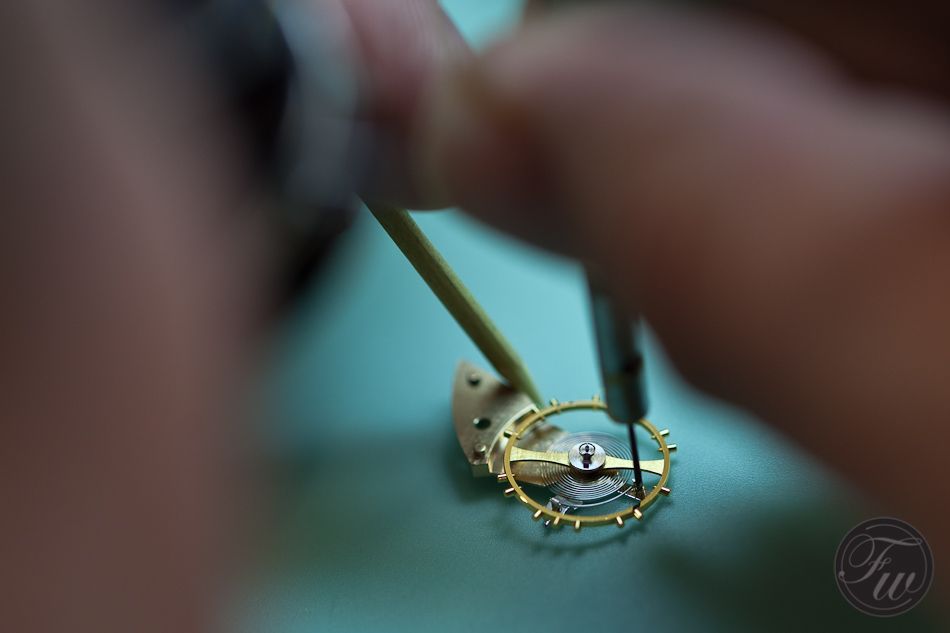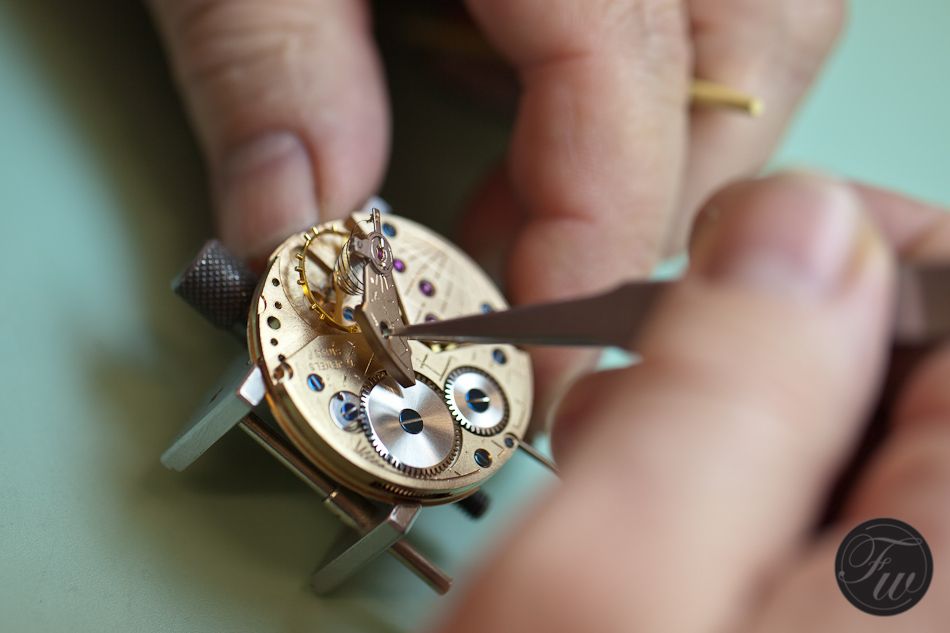 In the near future a 100 hours power reserve movement will be available.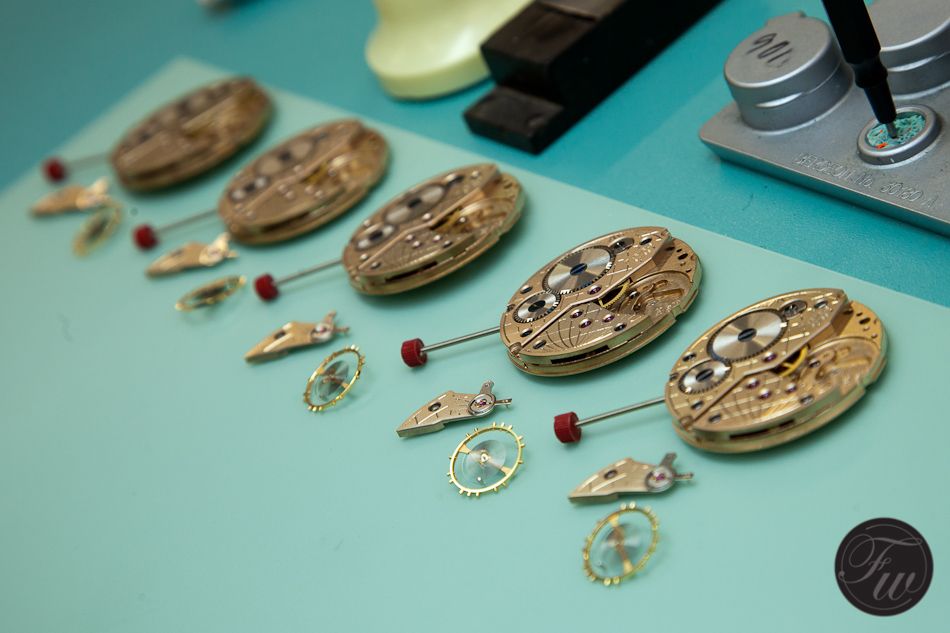 The dial is finished with either a silver-ish/white or black paint.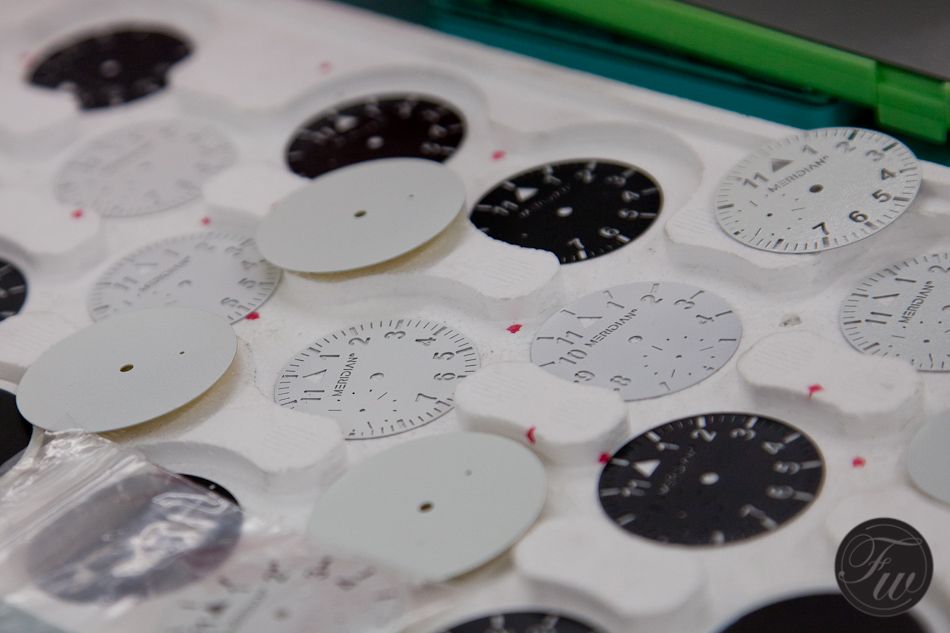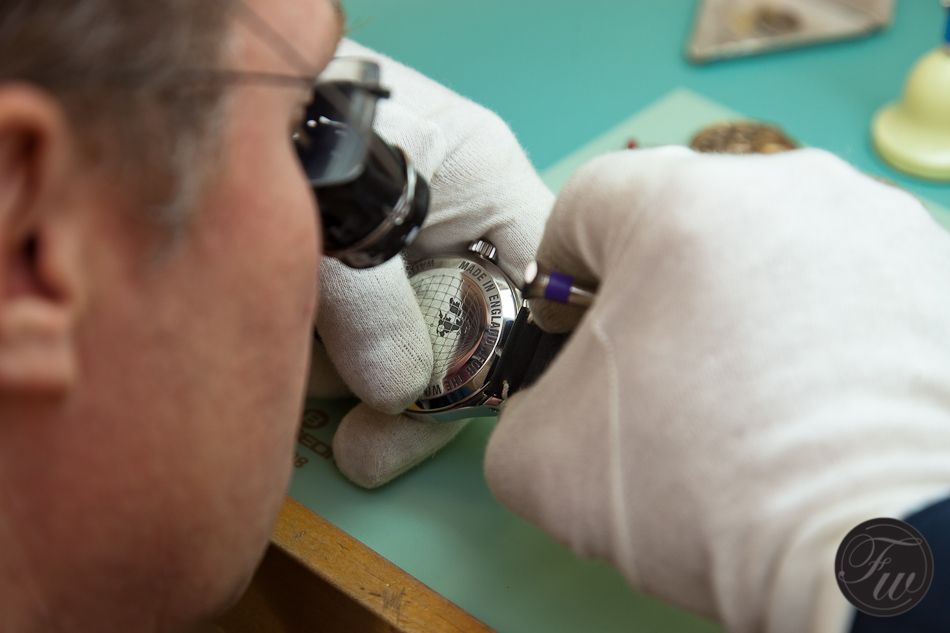 Meanwhile another photographer walks in (taking photos for the new website) who asks me to pose for a wristshot. So I strap one on and pose over a bunch of technical drawings which were actually made by Simons dad. So if you see a pretty much hairless wristshot on the Meridian website, it's mine.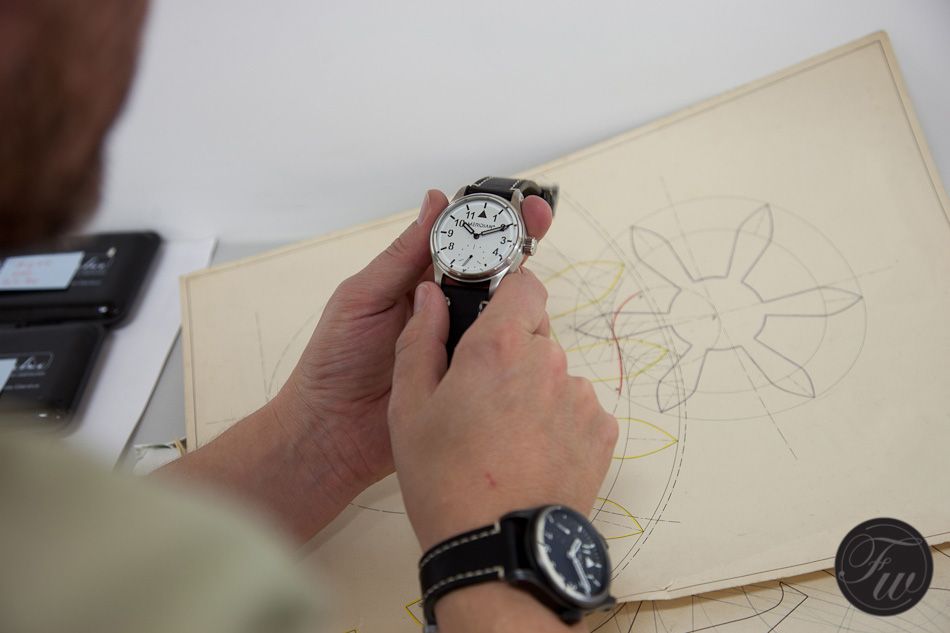 And a close-up of another wrist…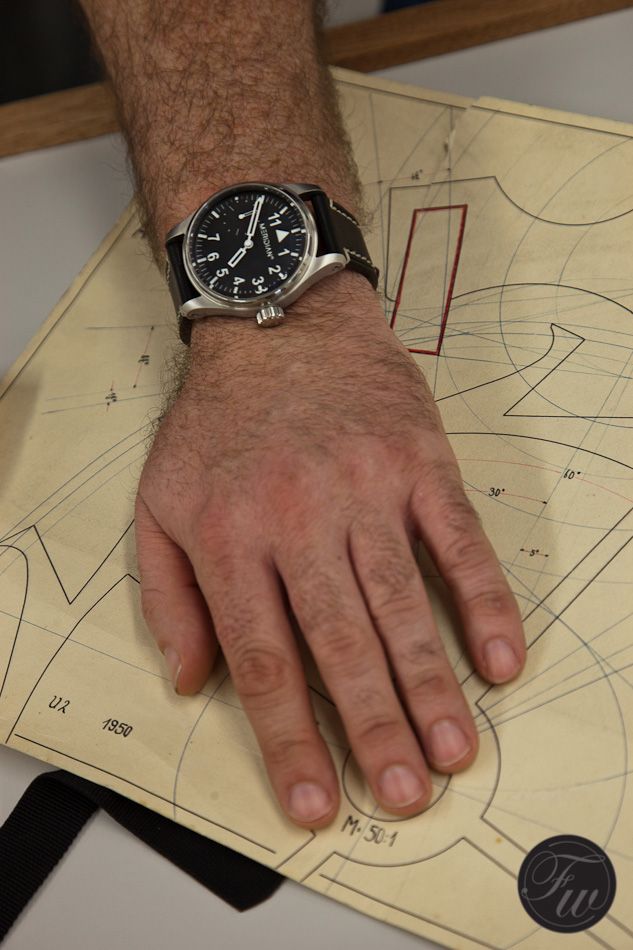 Time to case up! The watchmaker is about to press a slightly curved and bevelled sapphire in place. Both sides of the sapphire are military grade coated. When I ask about water resistance the watchmaker replies it's guaranteed to 1000ft/300m but let's put one to the test. He grabs a (prototype) case, screws on a caseback by hand and puts it in a waterproof tester.
Shortly after pressurizing the gauge reads approximately 40 bar and there's no sign of water inside the case.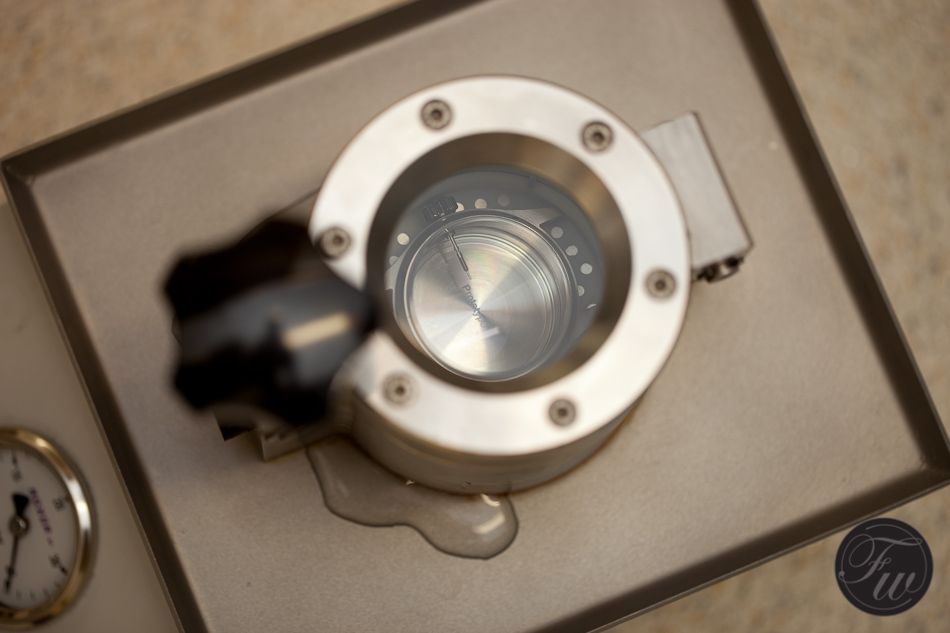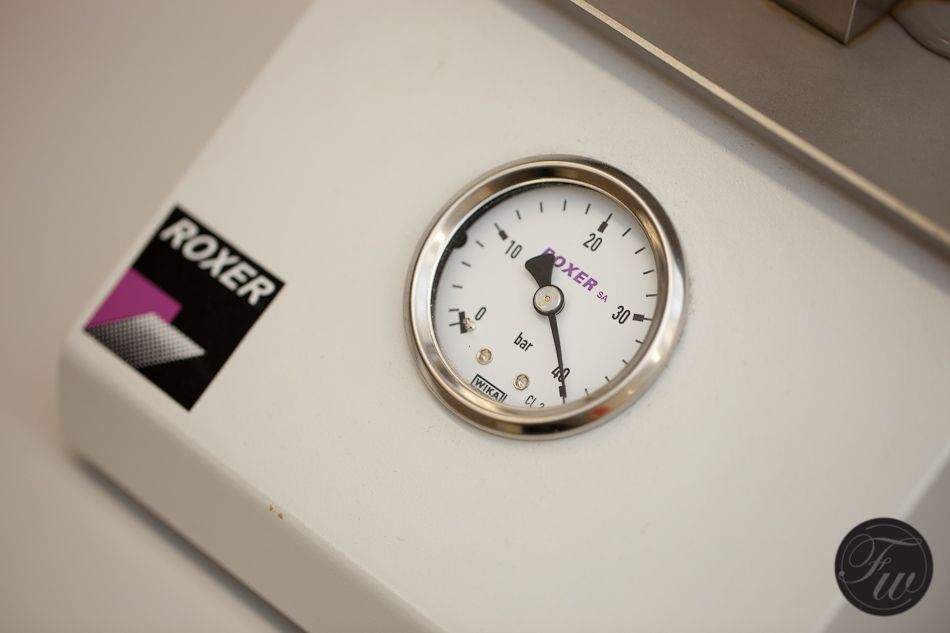 40 Bar resembles approximately 1320ft/400m depth which most of us will never experience, as if we even go diving with our diving watches anyway! Then again it's good to know that if you are bored in the weekend and and can't think of anything else then seriously deep diving you can strap on this watch without worrying if it will survive (the question is, will you?).
Each watch comes with two straps and the tools (handmade in the shop) needed to replace them all inside in a cool canvas tool roll. One strap is from really thick leather with white stitches which becomes very flexible after wearing it a couple of times. The buckle on this strap is once again handmade from 11 parts and the best I've ever seen.
Part of the buckle rolls so when you pull the strap through it feels very smooth where other buckles just tend to damage the leather. The other one is a handmade nylon strap by Carl Evans, the man behind Gas Gas Bones (our friends from Hodinkee interviewed him recently, click here for the article) who also made the nylon packaging.
You will also find a leather passport holder and a glass tube with spare bars and screws for the bracelet in the package.
It was a privilege to visit the Meridian workshop and amazing to see the time & effort put in these timepieces by a passionate team of watchmakers. The Meridian watches are presented to the public on November 8 at 18:00 during the SalonQP event and right here on your favorite watch blog, Fratellowatches.
Below, an overview of some of the configurations of the new Meridian watches shot by us, during our visit to Norfolk.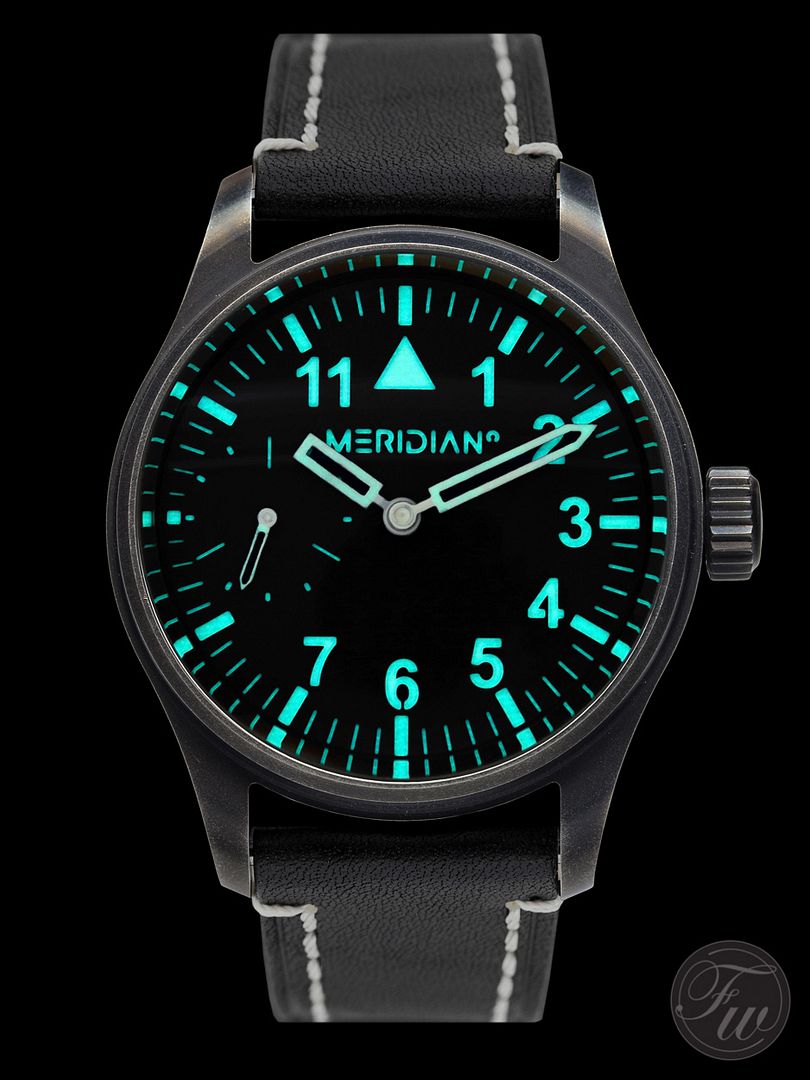 Meridian watches start at GBP 4.600,- and are available through www.meridianwatches.com directly. You're welcome to visit Meridian at their workshop in Norwich to meet the team and pick up your brand new handmade Meridian.