February Vintage Inspiration: Alpina Mantle Clock
Beauty that reaches beyond any wrist
Believe it or not, this Alpina 8-day mantle clock gives me as much joy as any of my wristwatches.
Actually, this Alpina mantle clock with an 8-day power reserve gives me more pleasure than 98% of my wristwatches. If your collection exceeds a certain number, most of the watches just end up seeing the darkness of your safe or drawer. This Alpina 8 Days proudly sits on my bedside table. Which means I look at it every single day. That's a luxury that none of my other vintage watches ever experienced. None of my wristwatches runs constantly. They don't have to. This Alpina is one of the two clocks in our flat, both with 8 days power reserve, that runs constantly throughout the year.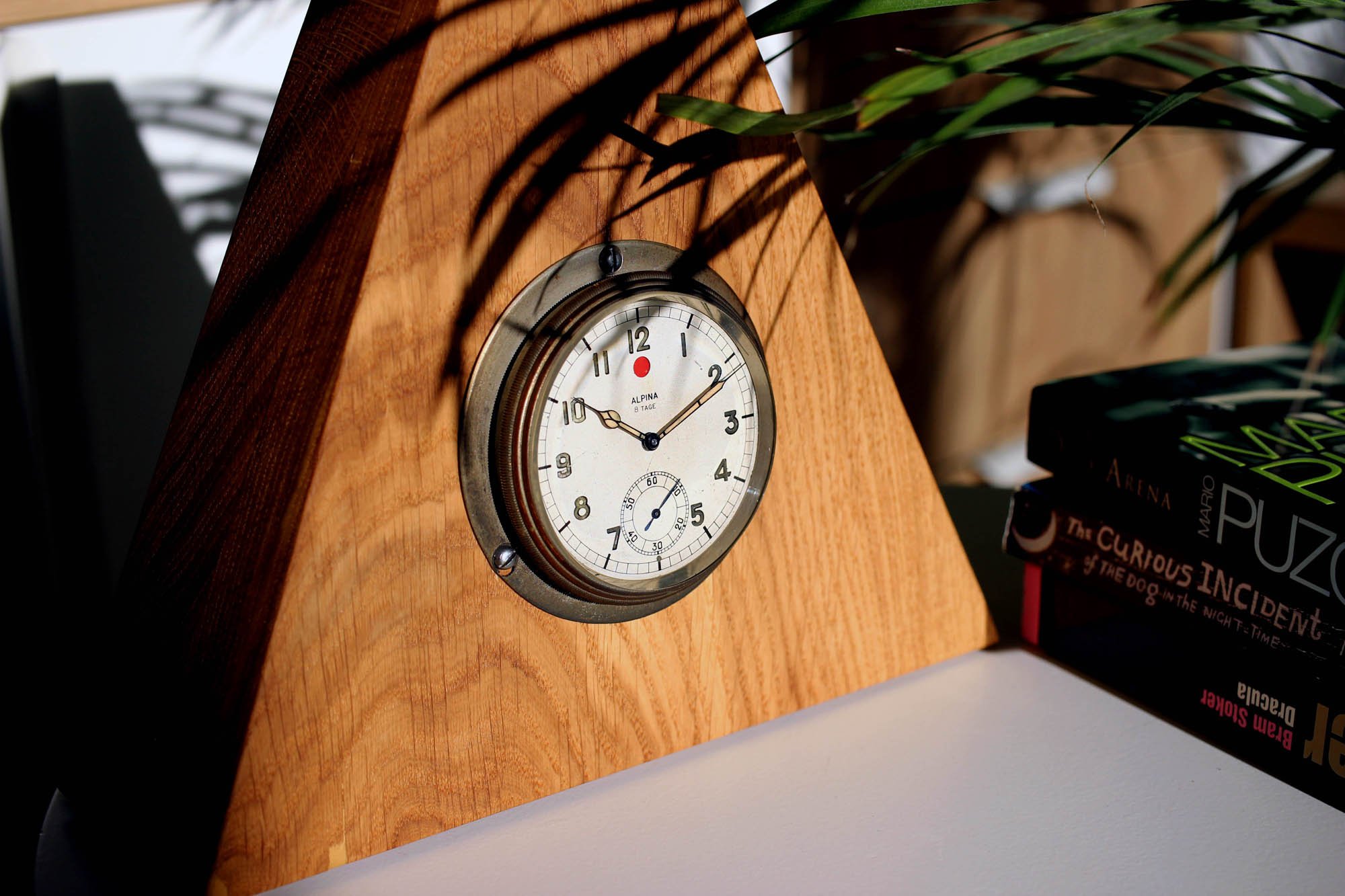 Alpina is special to me
I can't even express how long I was looking forward to writing this article. I was building lines for weeks, writing down my feelings, associations, and emotions in a virtual notepad. Although this article hadn't been written yet, it already existed in my mind. Every day my eyes spot the old beautiful dial, my heart skips a beat. With Rob on board, we're able to plan more long-term content here at Fratello, creating space for new ideas to flourish.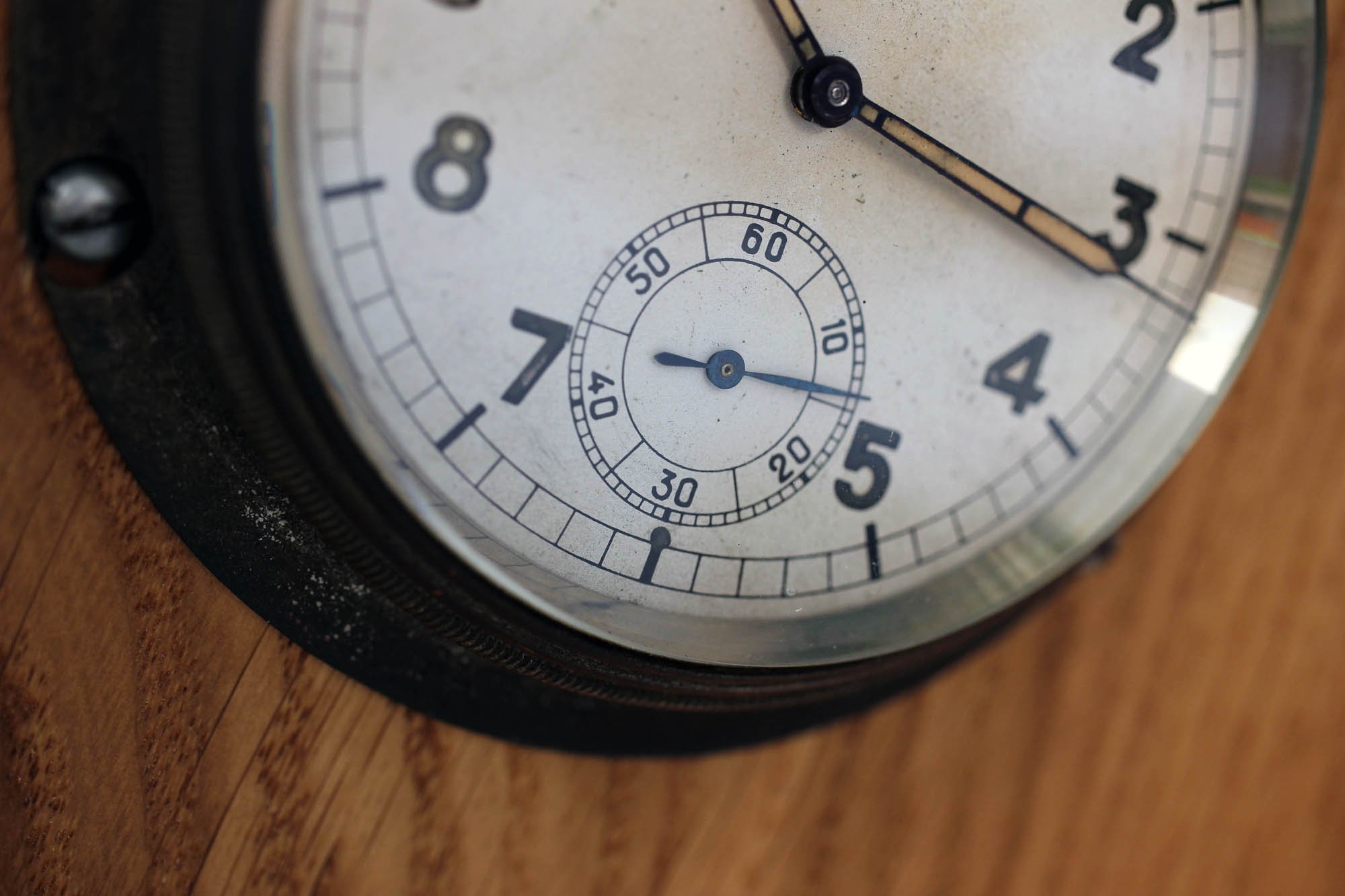 Forgotten treasure
This article is supposed to be inspirational, so bare with me. Pocket watches are not particularly cool today and it requires a collector of finest taste to appreciate them. Obviously, the complications linked with wearing them don't help. That is unless you wear vests every day. Social media is mostly filled with wristwatches only, supporting the wristwatch cult and creating stronger desires for iconic pieces. A table or mantle clock is very seldom seen, even less so than pocket watches. If you take into consideration how often it is you can display and enjoy them, a new world opens up in front of you. And we haven't even started discussing what design and technical creativity can be found in this field.
Eye-opener Alpina
I admit I was blinkered too. Just like many of you, I had no reason or impulse to dive into the topic. To confess, I discover this realm purely by accident. As a big Alpina watch fan, I'm always seeking all the real and unreal Alpina branded machinery anywhere I can. It was because of this brand affinity that one of my auction site search robots washed up an old broken "Alpina Schiffs Uhr". I instantly fell in love with the creamy patina on the dial. As an ice-hockey fan, I could not ignore Arabic numerals, especially the 9 or 10 that reminded me of a jersey of my favorite player Wayne Gretzky. I started digging.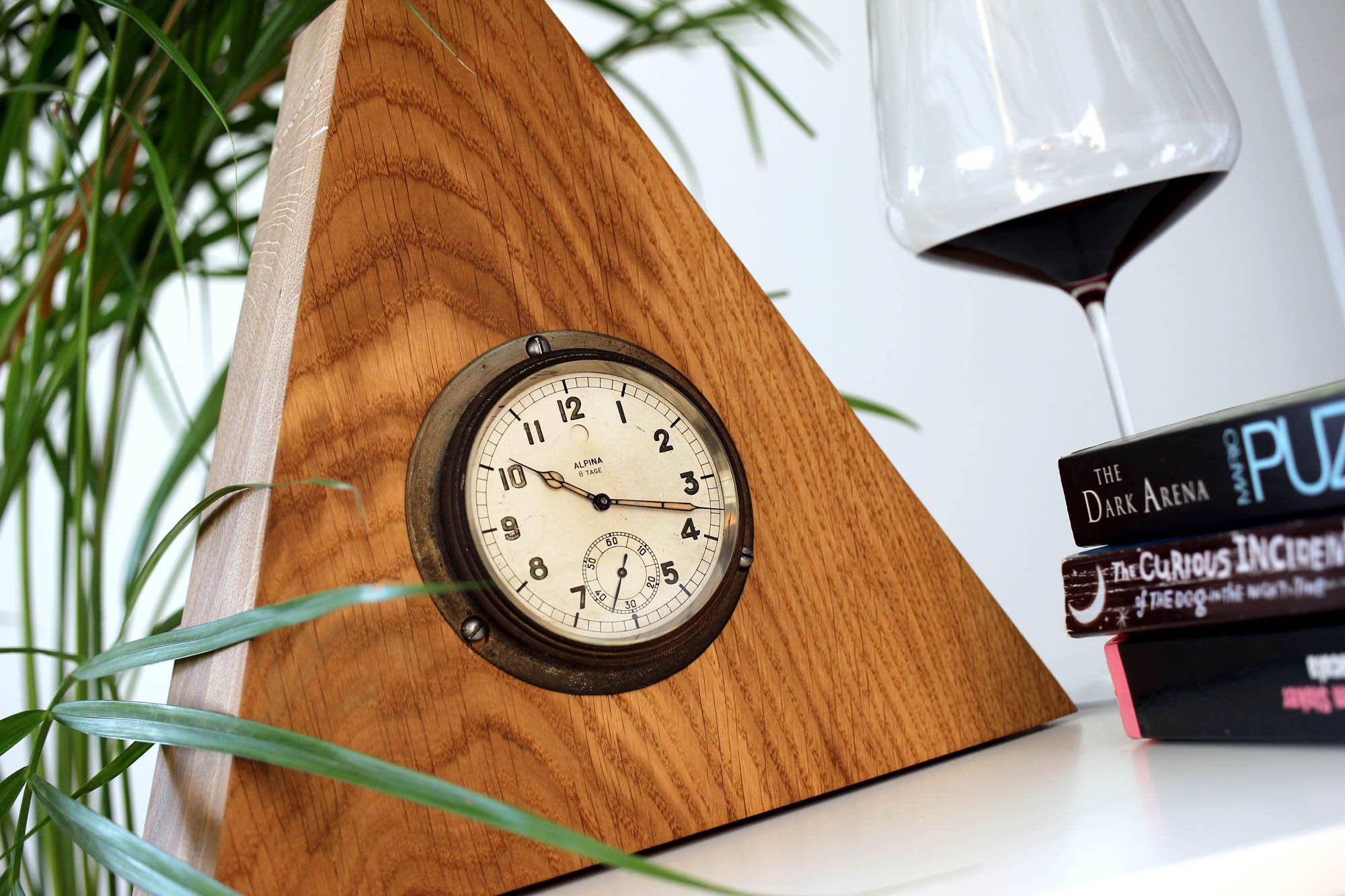 Alpina body with Zenith movement
There weren't many Alpina 8 Days sold online in the last few years. During my research I found an identical design on a clock branded Zenith. As there were much more Zenith clocks around, I was sure they produced it for Alpina under their logo. It was later confirmed by my watchmaker that there is well finished 11 jewel movement engraved Zenith hidden under my Alpina 8 Days dial. While I hate any other language date variants but English with wristwatches, I like the German dial version here. If you look online, you will find many variants with 8 DAYS written in German or French. The negative version with an all-black dial is also very charming.
Power reserve indicator displays a thick red dot on the dial when the reserve has less than a day left.
You can find these Alpina or Zenith 8 Days clocks installed in wooden casings of endless styles, shapes or wood types. Some of them I found were set in stone. According to a few listings, this gadget was also available as a dashboard clock. What immediately catches your attention is a power reserve indicator that displays a thick red dot on the dial when the reserve has less than a day left. I had enough information and confidence to bid.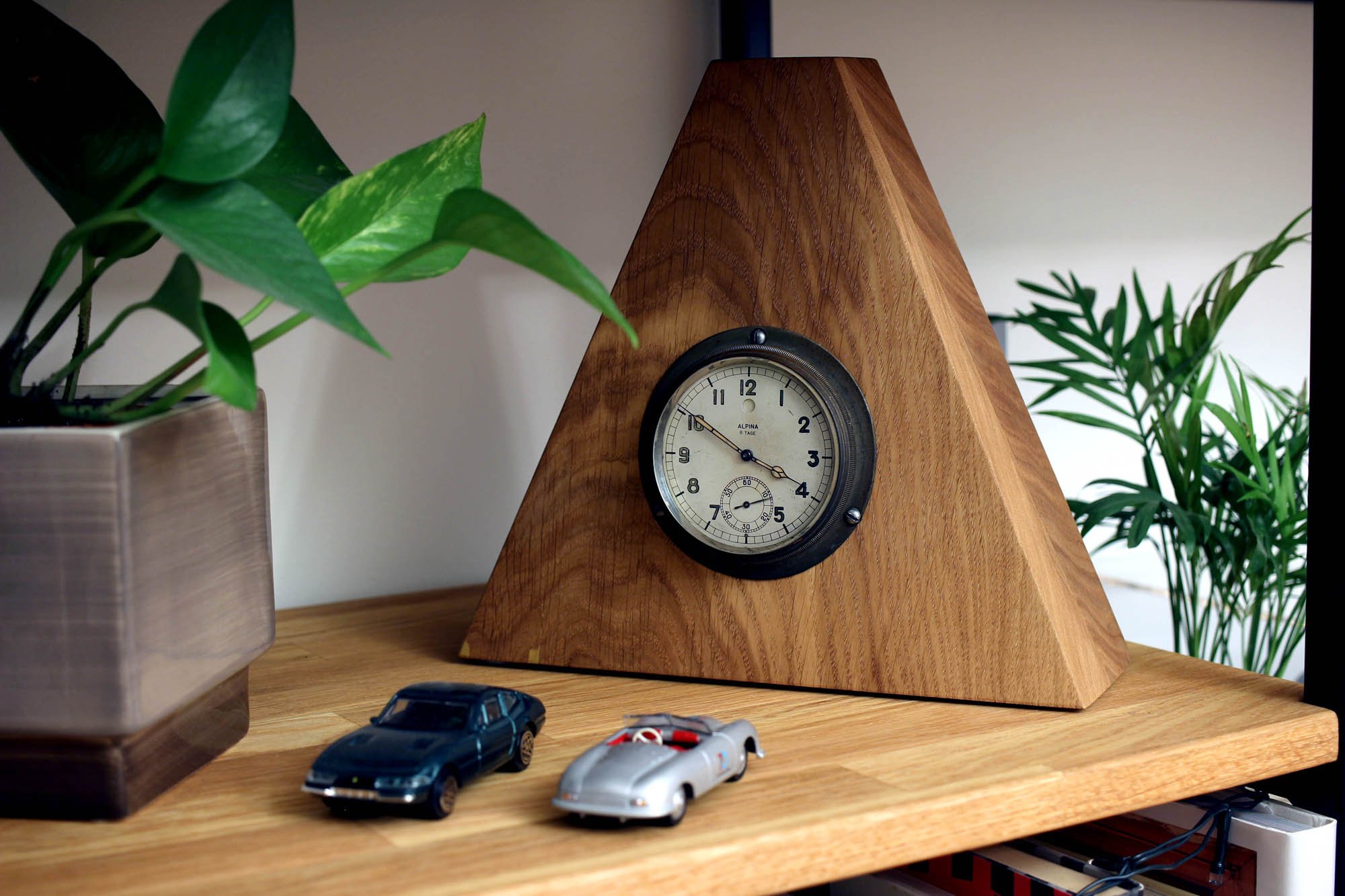 Tough task to revive the clock
Nearly 200 euros as the final price was not exactly the figure I hoped for. But I'm sure a lot of you know that feeling of when it is impossible to stop bidding on an item that has piqued your interest. I had to catch my breath when I unpacked the Alpina 8 Days and found it was not working at all. My watchmaker Tomas was honestly terrified when he saw how badly someone had butchered it. When he reported a broken balance pin and deformed hairspring, I wasn't in the mood to dance. Tomas didn't source new parts at all. He drilled off broken pins and manufactured new ones instead. After Tomas managed to straighten the Breguet hairspring and assembled it all together, my clock runs within a chronometer precision of +/- two seconds a day. Applause to my watchmaker.
Creating the stand
As the Alpina clock came naked, I had to figure out what display to set it on. I asked my friend to cut an A-shaped stand out of wood with the frontal side a bit angled so the clock will be easier to read. The shape with the clock installed reminds me a bit of an old triangular Alpina logo and the letter A that Alpina used as part of its branding. I chose a simple oil for the final finish. It gave the oak light brown tones that fit the dial and casing perfectly. The most complicated part happened to be finding three old screws that would have a similar patina to the casing. Finally, after two hours in my father's garage, I was able to complete the job.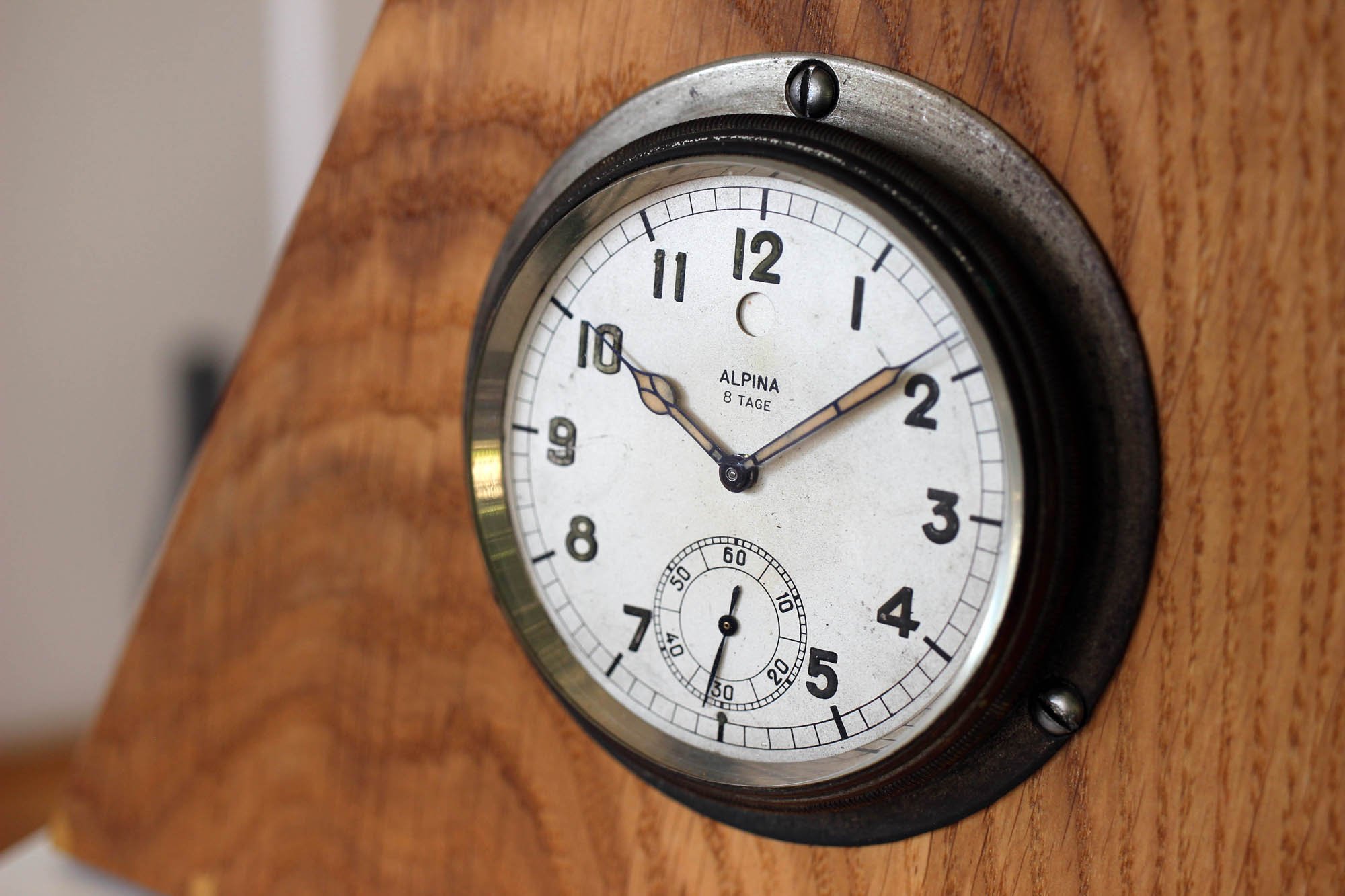 Winding and setting the time
Drumroll… winding and setting the time. The most astonishing feature. Forget turning your eyes from the dial and winding it with some knob on the back. 90 years ago engineers with bright minds invented a system of winding the clock by turning the entire bezel (glass included) clockwise. Amazed that its possible to rotate the bezel? So was I. Setting the hands is even better. To do so, you have to pull up the bezel with glass as you do with your crown. Only if pulled out can you turn it counterclockwise and set the time. I always look forward to the red dot appearing so that I can wind the clock. To see those processes in action, check out the video below:
Last thoughts
I know we all have many must-have wristwatches. But honestly, I encourage you to open your mind, eyes, and coffee tables to old mantle clocks too. My guess is that the Alpina or Zenith 8 Days were made from around the 1930s up to as late as the 1960s. With no exaggeration, I can say, if you are a vintage watch fan, the Alpina or Zenith 8 Days will become the king of your living room that provides better entertainment than your TV set. In a decent condition such as this one and with a budget anywhere below €500, you will experience new joy when seeing your vintage piece not just a handful of times per year, but every single day.