Ferdinand Berthoud FB-T.FC-RS With Tourbillon And Fusée-And-Chain Transmission
Patents and genius collide
The caliber FB-T.FC-RS with tourbillon and fusée-and-chain transmission. Only 20 examples of the new Régulateur Squelette movement will be produced and housed in a choice of round or octagonal cases. You can pick the shape of the case and the material. I asked if there were any limitations regarding materials and the answer was clear, it had to correspond with the historical context of the brand. So recycled plastic is a no, ceramic probably a yes. And platinum and any type of gold won't be a problem either. The one in the picture I took a few snapshots of – much nicer images will follow in the near future on Fratello – is carburized stainless steel. It's called the FB 1RS.6.
Party in the front and the back
The octagonal 44×13.95mm case in carburized steel has undergone a special treatment that messed up the atoms. But I also resulted in a case that's nearly as hard and therefore scratch-resistant as ceramic. The two transparent sapphire portholes are also something quite special.
Pay special attention to the shape of the tourbillon bridge on the front of the watch. It's an exquisite shape and beautifully finished. The regulator-style watch has central seconds powered directly by the tourbillon at 6 o'clock. At 12 o'clock, you see the minutes. The hours are digitally displayed between 1 and 2 on a sapphire disc, and the power reserve indication is displayed between 10 and 11.
17 gone, still 3 left
When you turn the FB 1RS.6 around, the fusee-and-chain transmission will blow you away. The thing with this Haute Horlogerie creation is that no picture even comes close the telling the physical story of the watch.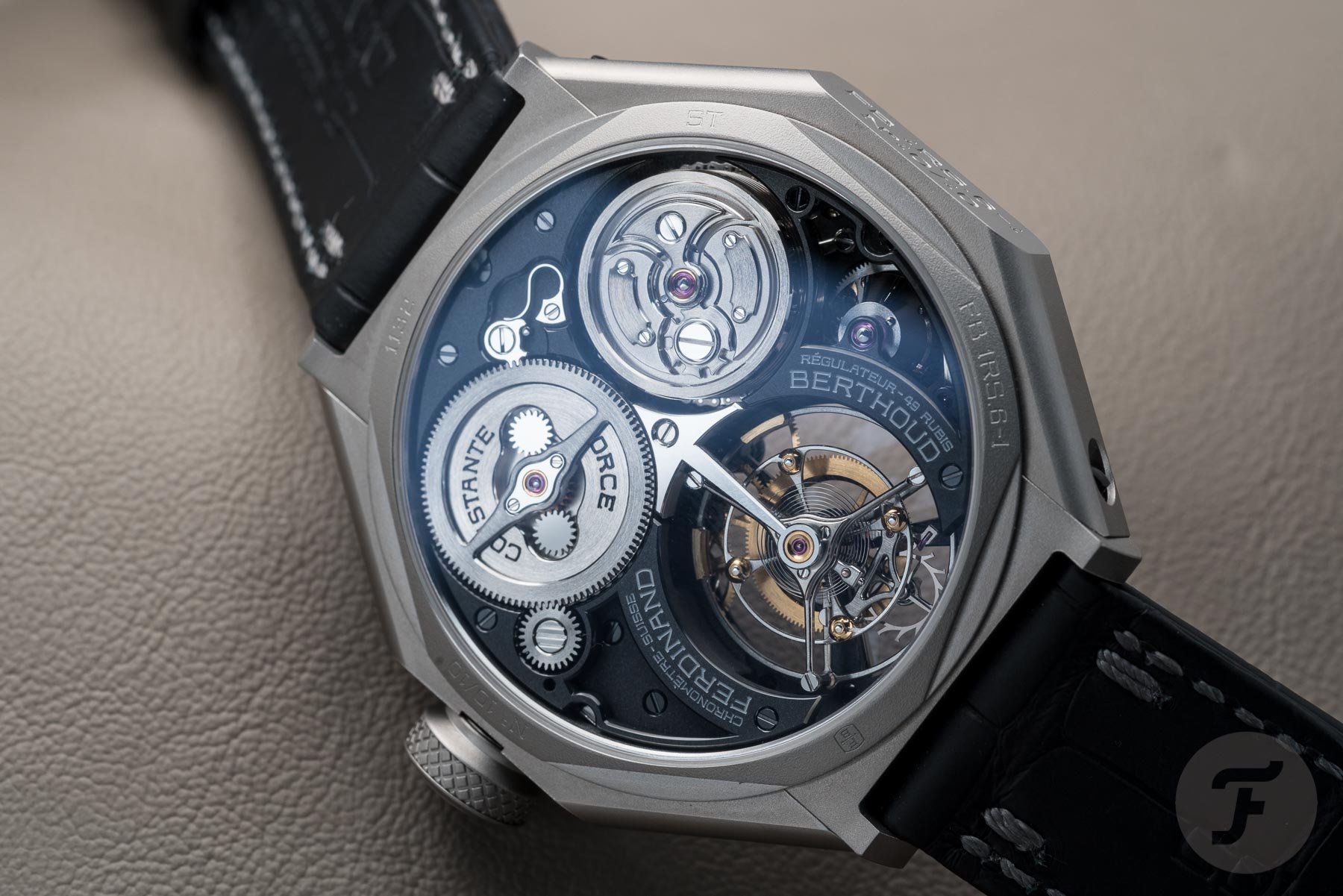 When you hold it, look through a magnifying glass, try it on, you sense the magic. The enchanting experience in steel will set you back €251,000. 17 movements have already been spoken for by the way, so hurry if the price isn't abracadabra for you.
More information on Ferdinand Berthoud's official website.