First Man – A Movie Worth Your Time
There are only a handful of projects in Hollywood that we can think of when we hear that Omega appears in them. The most obvious would be James Bond. Ok, that production is actually not coming from Hollywood, but you get what I mean. Since the release of GoldenEye in 1995 Her Majesty's secret agent straps on an Omega timepiece every time he needs to save the world. Whether it is a quartz Seamaster 300M (GoldenEye) or a Planet Ocean Co-Axial 42mm (Skyfall) Mr Bond always has a nice timepiece to pick up from his secret service watch box. As a matter of fact, in 2020 James Bond will return to the silver screen for the (officially) 25th time. Hopefully, he'll be wearing another cool Omega Seamaster. Perhaps the new Seamaster 300M will be his choice. We'll have to wait and see. Let's talk about First Man now.
First Man
NASA
So, other than James Bond another obvious answer to our theoretical "What movie would surely feature an Omega?" question is; a film about NASA. Every historical epos dealing with the space agency that wants to stay accurate need to have the right gear in the production. And what is the correct watch for those scenes? Well, the Speedmaster of course. I do not need to bore you with the details about how the Omega Speedmaster became the official watch for NASA astronauts. If you do not know the story this article will bring you up to speed. One of, if not the, most famous film about a NASA mission featuring our beloved Speedy is the 1995 drama Apollo 13 starring Tom Hanks, Ed Harris, Kevin Bacon and more. It earned 9 Oscar nominations (2 wins) and boxed over 350 million dollars Worldwide. 1995 was a good (movie) year for Omega.
Neil Armstrong
However, 1995 was a long time ago. It was time for Hollywood to revisit the history book of NASA and pick a story that is worth the silver screen. Let there be no mistake, a number of movies came out between 1995 and 2018 that, in some way, deal with space or NASA. Just think of Armageddon (1998), Space Cowboy (2000), Gravity (2013) or Hidden Figures (2016). These films were not historical projects rather disaster movies or fictional stories at best. Damien Chazelle's latest picture, First Man starring Ryan Gosling as Neil Armstrong, however, is nothing like the ones I listed above. First Man follows the life of Neil Armstrong from (SPOILER ALERT) 1961 as a NASA test pilot flying the X-15 rocket plane then joining Project Gemini and later Apollo. The film ends in 1969 when they return to Earth after successfully landing on the Moon.
Speedmaster sighting
As someone who loves to spot watches in movies, First Man was a real treat. I found myself often looking at the wrists of the actors first in a new scene before I focused on the whole picture. Throughout the first part of the movie, Gosling is seen wearing a vintage time-only watch. Something that is an early Seamaster. In a few shots, you could even spot the Omega buckle on the strap. This of course changes after "Armstrong" joins Project Gemini. In the second half of the movie you would see them all wearing the usual suspects; the Omega Speedmasters on JB Champion bracelets (or modern reproduction that look exactly like the vintage ones). As the movie is not out yet on for private purchase there is no way to pause the scenes at points when a watch is in sight. It will come soon.
In total, there are four Omega watches in the First Man movie and one pocket chronograph.
Seamaster CK2605
The vintage Seamaster you see in this movie dates back to 1954 and can be spotted on the wrist of Neil Armstrong in his daily life. Unlike the Speedmasters (see below), this is actually a watch sourced from the museum.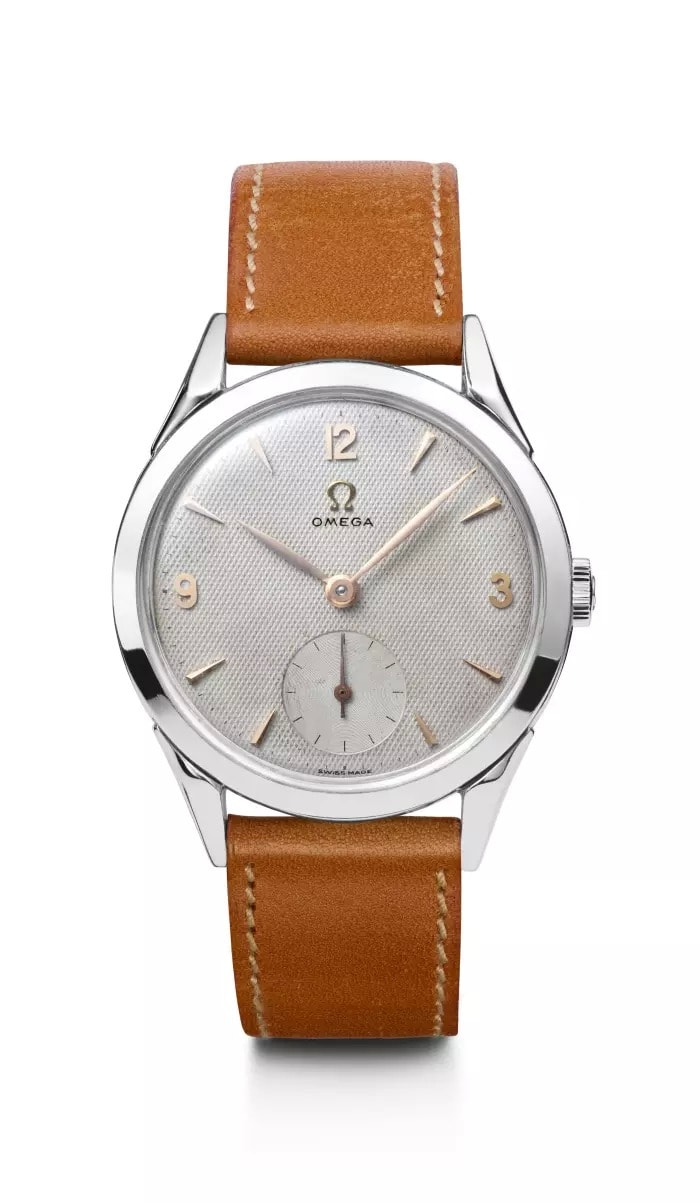 Speedmaster 105.003
This is the Speedmaster reference that was qualified by NASA and worn by Neil Armstrong in First Man during his Apollo training. The Speedmaster 105.003 you see on the screen has been re-created by Omega in Switzerland for this special purpose. This way, the watch at least looks new (as it was) in the 1960s.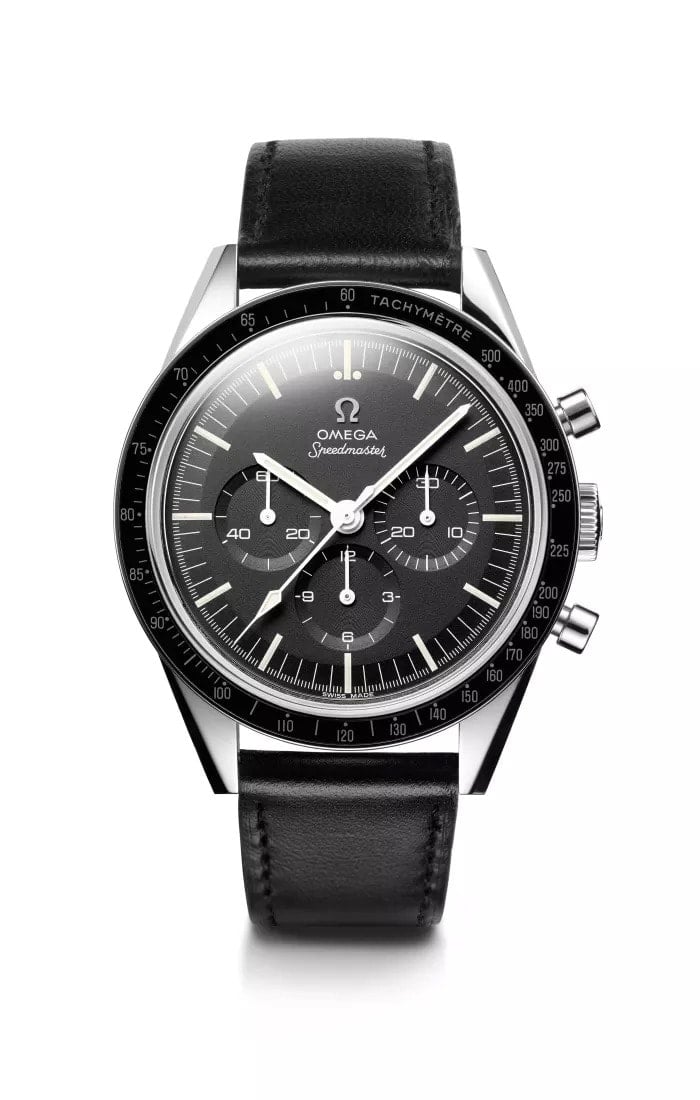 Speedmaster 105.012/145.012
These are the two references worn by Apollo 11 astronauts, where Neil Armstrong and Edwin 'Buzz' Aldrin wore the Speedmaster 105.012 and Michael Collins the 145.012. These watches also have been recreated by Omega in Switzerland for the purpose of this movie.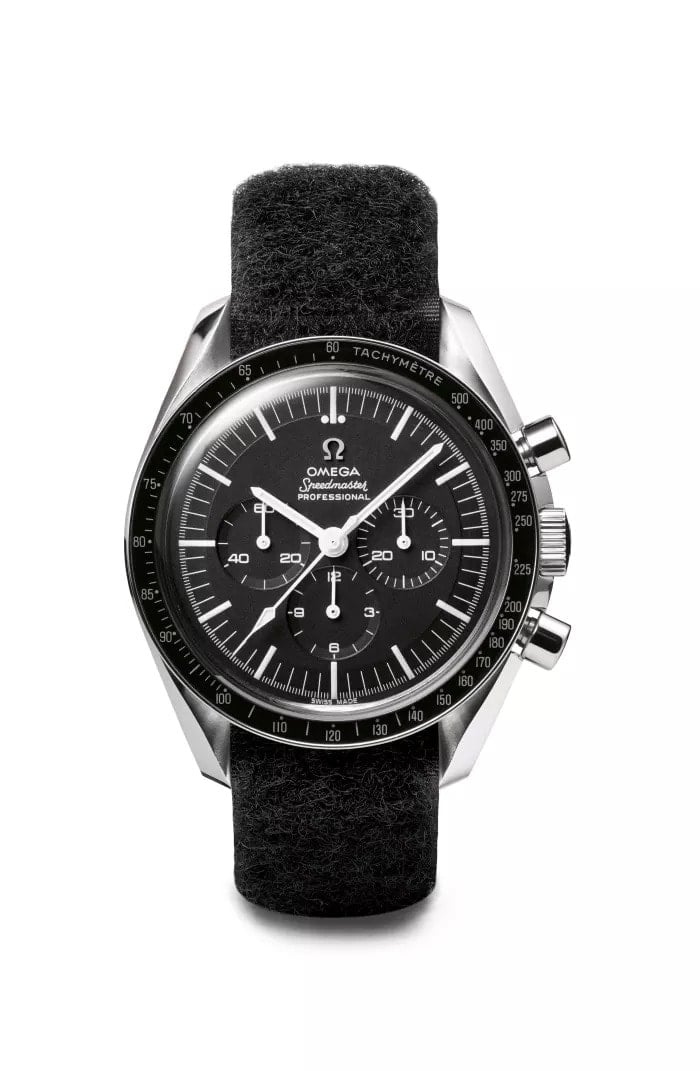 Other Omega watches
In the movie, there's also an Omega ladies watch that can be seen and of course there's the Olympic pocketwatch chronograph that is being used by NASA engineers. Although the press release talks about a 'chronometer', we are pretty sure it is a chronograph only. ; – )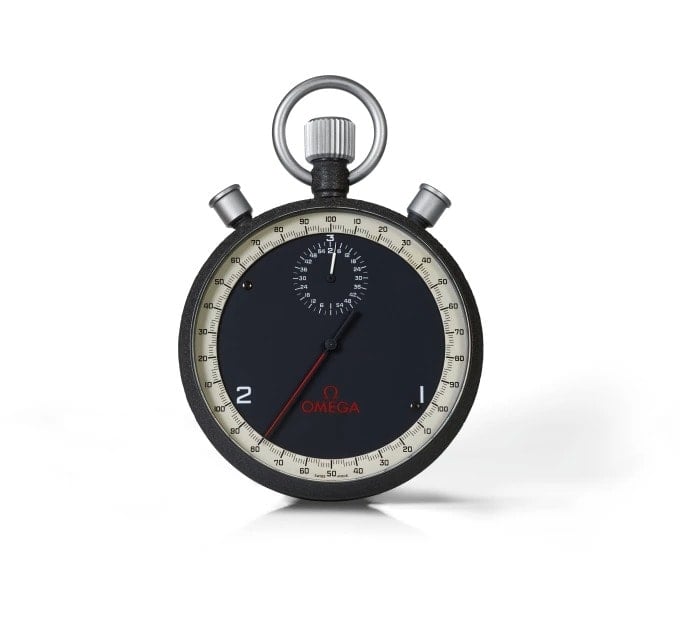 Should I watch it?
Yes, definitely. First Man is a great movie for a number of reasons. To start with, it mixes action sequences with slow emotional scenes to give you a glimpse of what was going in Armstrong's head at any given moment. The filming is super realistic thanks to the 35mm camera they used in many scenes. It gives you the feeling that you are watching a home video of a family rather than a million-dollar-budget motion picture. Also, there was no green screen in use during the shooting of the movie. Instead many miniatures and simulators were built to give the actors are well as the viewers a more realistic feeling. Still, we should not forget that regardless of how accurate they wanted to stay to the historical events, this is a Hollywood production. So something might have happened differently. Yet, First Man is worth a shot, with your Speedy on.
The official website of the movie is under this link