First Speedmaster In Space – It Was 54 Years Ago
Sigma 7
Yesterday, it was exactly 54 years ago that astronaut Walter 'Wally' Schirra orbited Earth 6 times in the Sigma 7 spacecraft. The name of the NASA mission was Mercury-Atlas 8, and Schirra picked 'Sigma 7' as the name for the spacecraft. Using the mathematical symbol for summation as appropriate for an "engineering evaluation", and the "7" to refer to the seven Mercury astronauts (source). On his wrist, an Omega, the first Speedmaster in Space. Schirra is the only astronaut to have flown Mercury, Gemini and Apollo missions.
First Speedmaster in Space
Not only did Wally Schirra use a Hasselblad camera for the first time in space, it was also the first time that an Omega watch was used in space. The Speedmaster CK2998 that Schirra (and Gordon Cooper and Deke Slayton as well by the way) bought privately, for use during flights. Below, from the NASA archives, Wally Schirra playing around with the Hasselblad camera, wearing his Speedmaster CK2998 and Bulova Accutron.
Only Few Images Available
Below, an image of Walter Schirra wearing his Speedmaster CK2998. This picture was taken by NASA on board of the recovery ship USS Kearsarge, on the 3rd of October 1962, after he splashed in the sea. It is only one of the few images available of Schirra wearing his CK2998 at the time of the MA-8 mission.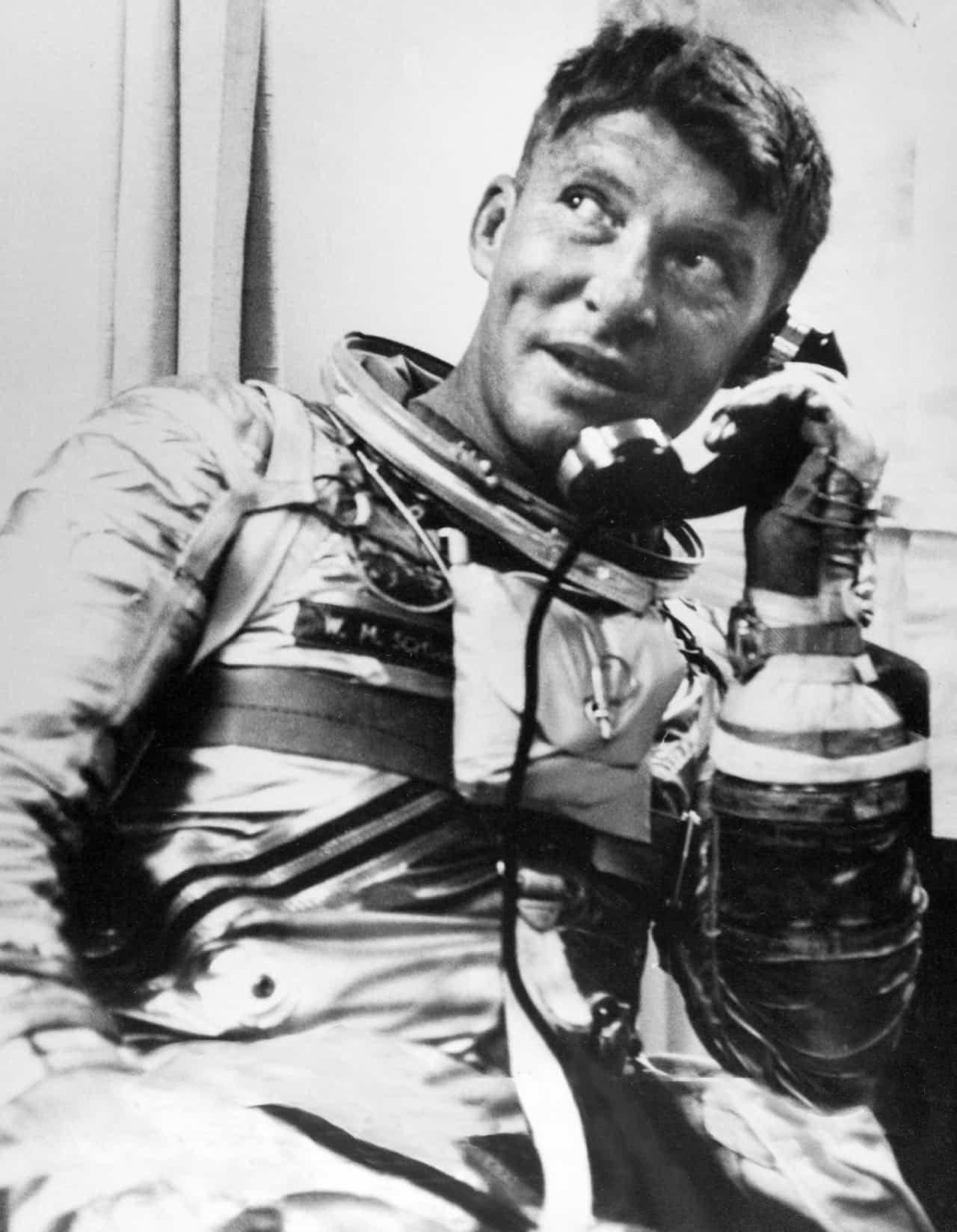 One of the other astronauts who bought his Speedmaster CK2998 privately is Gordon Cooper, which can be seen on the image below. Getting suited up, including his Speedmaster CK2998. Gordon flew on MA-9, 'Faith 7' in 1963.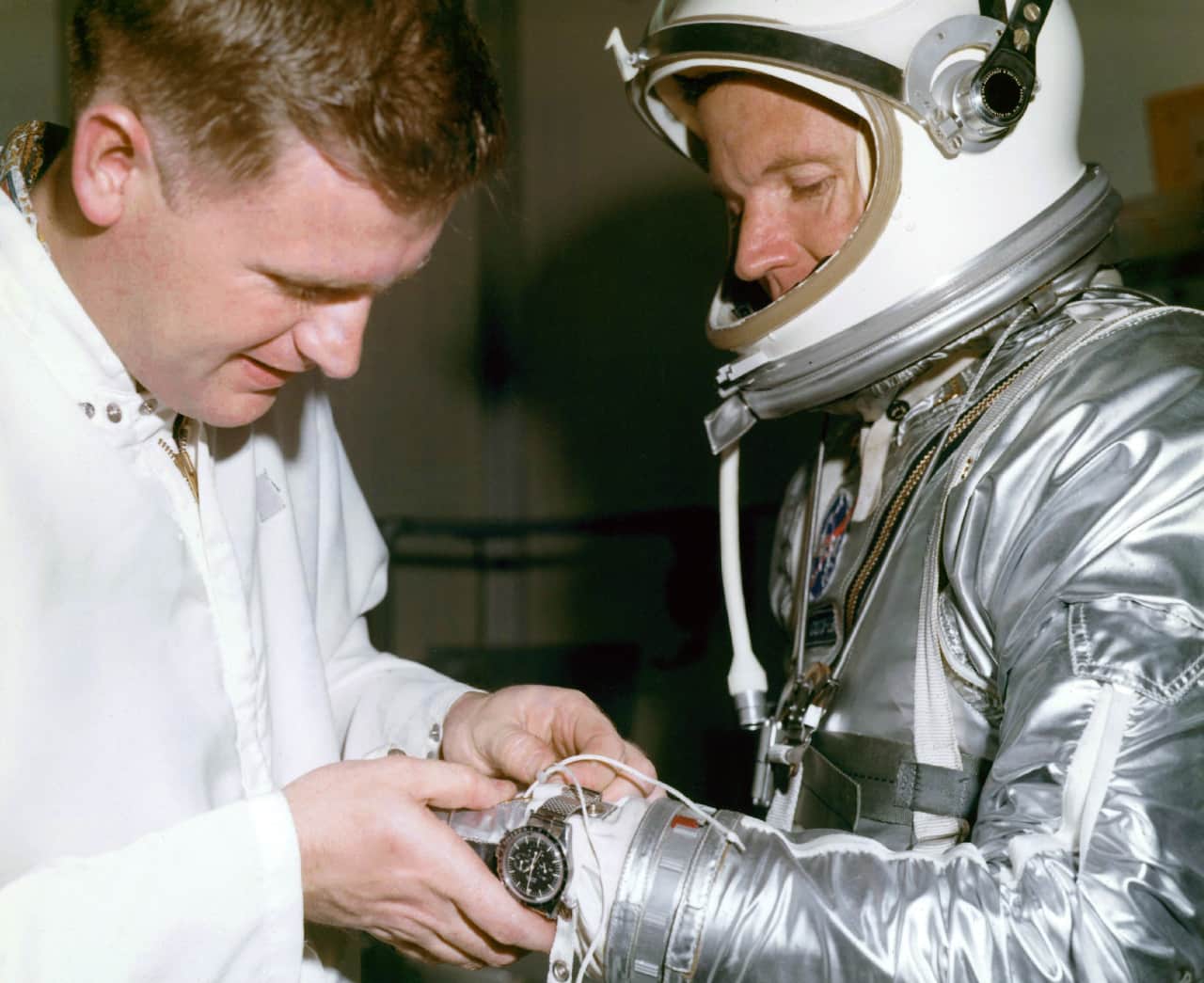 No Influence
As fas as we know, the private purchase of the Omega Speedmaster CK2998 by Schirra and Gordon had no direct influence on the reason why the Speedmaster was ordered from Omega during the procurement process for an EVA watch (read here about how the Speedmaster became the Moonwatch).
First Omega in Space
Even though we are a fan by heart, and this goes for all of us here at Fratello, we also know that Omega has been using the space program a lot of times for their watches. But Omega is a brand that needs to do business and sell watches, so of course they will offer limited editions. Some times it makes sense, some times it doesn't. The cool thing is though, that most of the limited editions are being appreciated by Speedmaster enthusiasts.
Limited Editions
More than – let's say – 10 years ago, when people were a bit fed up with them (imagine that the original Snoopy model was just laying in the display at dealers for years, the new Snoopy didn't even make it to the display). Probably because of the excellent job of the Omega museum and the increase of the Speedmaster popularity in general, more information about the Speedmaster is out there and people can give certain limited editions a better place.
2012
In 2012, Omega introduced the First Omega in Space Speedmaster. A 39mm tribute to the first Speedmaster in Space, the CK2998. A straight-lug 39.7mm piece with hand-wound Lemania based caliber 1861 movement and only available on a strap. Also, it lacks a crown guard. It wasn't a limited edition, but a numbered edition instead. This FOiS has reference 311.32.40.30.01.001 and retails for 4300 Euro (including VAT).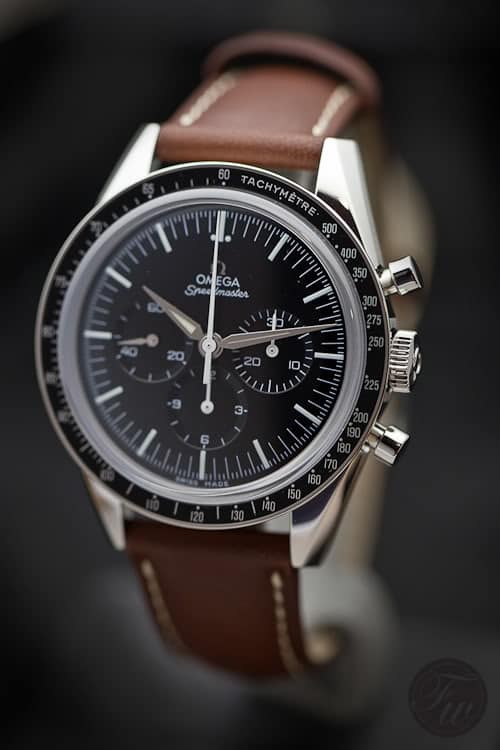 Gold Pieces
Not much later, in 2015, Omega released another First Omega in Space. A beautiful Panda dial and using a Sedna gold case. This model is also a numbered edition, and grabs back to the CK2998 for its aesthetics. However, there never was a gold CK2998 of course. A lovely watch nevertheless, and also has the hand-wound Lemania based movement. This 'luxury' FOiS reference 311.63.40.30.02.001 comes on an alligator strap and has a retail price of 14.800 Euro. We did a write-up on this watch when it was introduced in BaselWorld, here.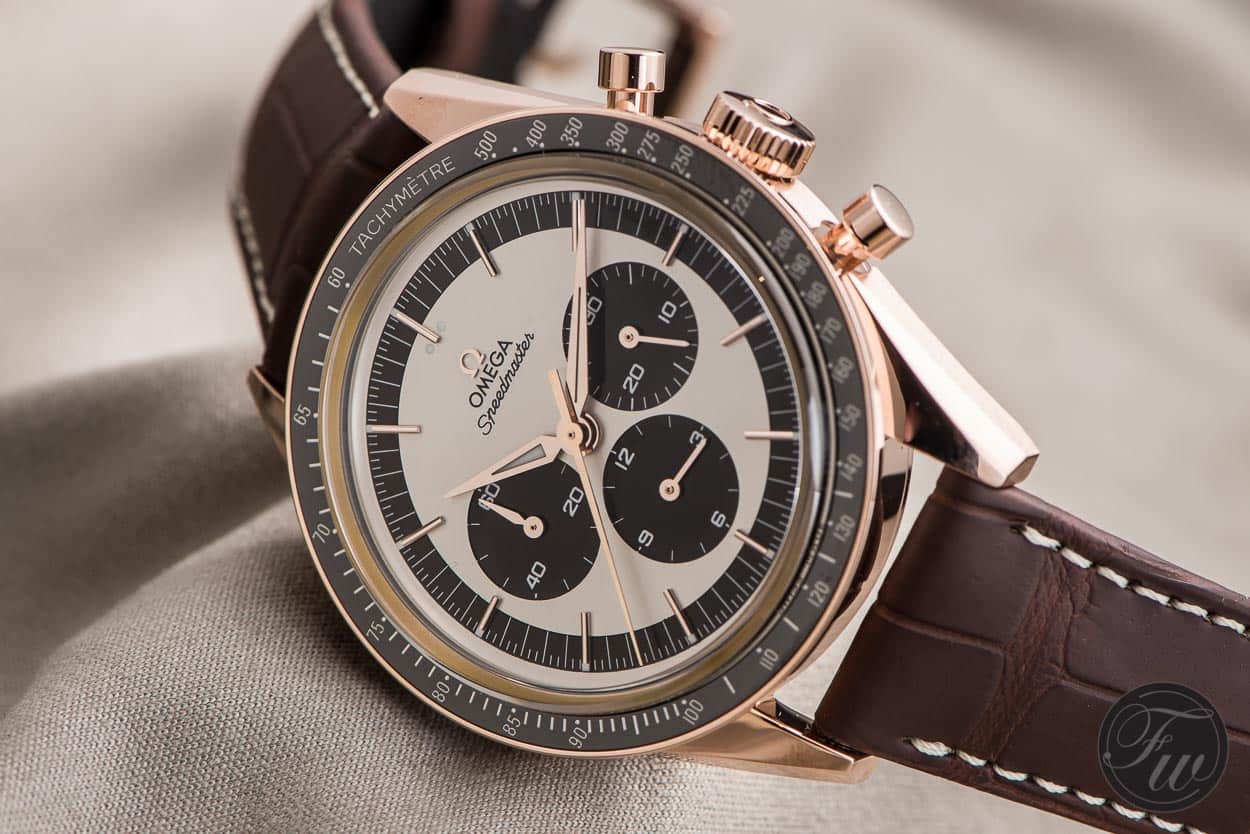 Schirra's Gold Speedmaster
It's perhaps interesting to note that Walter Schirra also had a gold Omega Speedmaster, the famous BA145.022 that was handed out to Apollo astronauts. We covered it many times, including the actual watch from Wally Schirra. One of our friends and readers bought it from the estate of Schirra and let us know that:
"Wally's watch is special to me for a number of reasons. I knew Wally. Wally wore the first Speedmaster into Space on Sigma 7. He is the only astronaut to fly all of the three US Space Race Era programs, which is shown on the case back. The Omega staff has been very helpful to me. They found a contemporary "lunar crater" box …..".
We covered the actual gold Speedmaster Professional BA145.022 (no.8) watch from Wally Schirra in this in-depth article.
"CK2998"
This year, Omega again used the CK2998 and former FOiS models as inspiration and came up with the limited edition "CK2998" model. This reference 311.33.40.30.02.001 is limited to 2998 pieces, but got sold out immediately on the day of introduction (to retailers). I've seen a couple in stock but availability heavily depends where you live, some countries only received a very few of them. It retails for 5300 Euro.
Although not marketed as First Omega in Space, it definitely has the same roots and design code as the former two FOiS models.
Some Thoughts
Yesterday marked the 54th anniversary of the First Speedmaster in Space, or as Omega likes to address it, the first Omega in space. Omega commemorated it officially two times, with the 2012 numbered edition and the 2015 Sedna gold version of that watch. I had a quick look at the Hasselblad website, the brand who put the first camera into space. But nothing. Shows perhaps the difference between the world of (luxury!) watches and that of cameras. A different marketing game. The only page I found on the Hasselblad mentioning the space connection is this one. Very modest.
In any case, you could say that Schirra (and Gordon and Slayton) are true ambassadors for the Speedmaster. They bought it privately, worn it in space and only later on they became part of the Moonwatch story.
A big thanks to the Moonwatch Universe tumblr page, who provided me with some additional information and the great NASA images of Schirra and Gordon.