Speedy Tuesday – Wally Schirra's Gold Omega Speedmaster Professional
About a week ago, I was contacted by Lawrence, a fan of Speedmaster watches. He started reading Fratello Watches after the kind staff of the Omega Boutique in Natick, MA made him aware of our Speedy Tuesday feature. Now, we get quite a bit of e-mail per week (in all honesty it is on a daily basis) but Lawrence wrote me that he had something special. A watch that belonged to Wally Schirra, the only astronaut to have flown Mercury, Gemini and Apollo missions.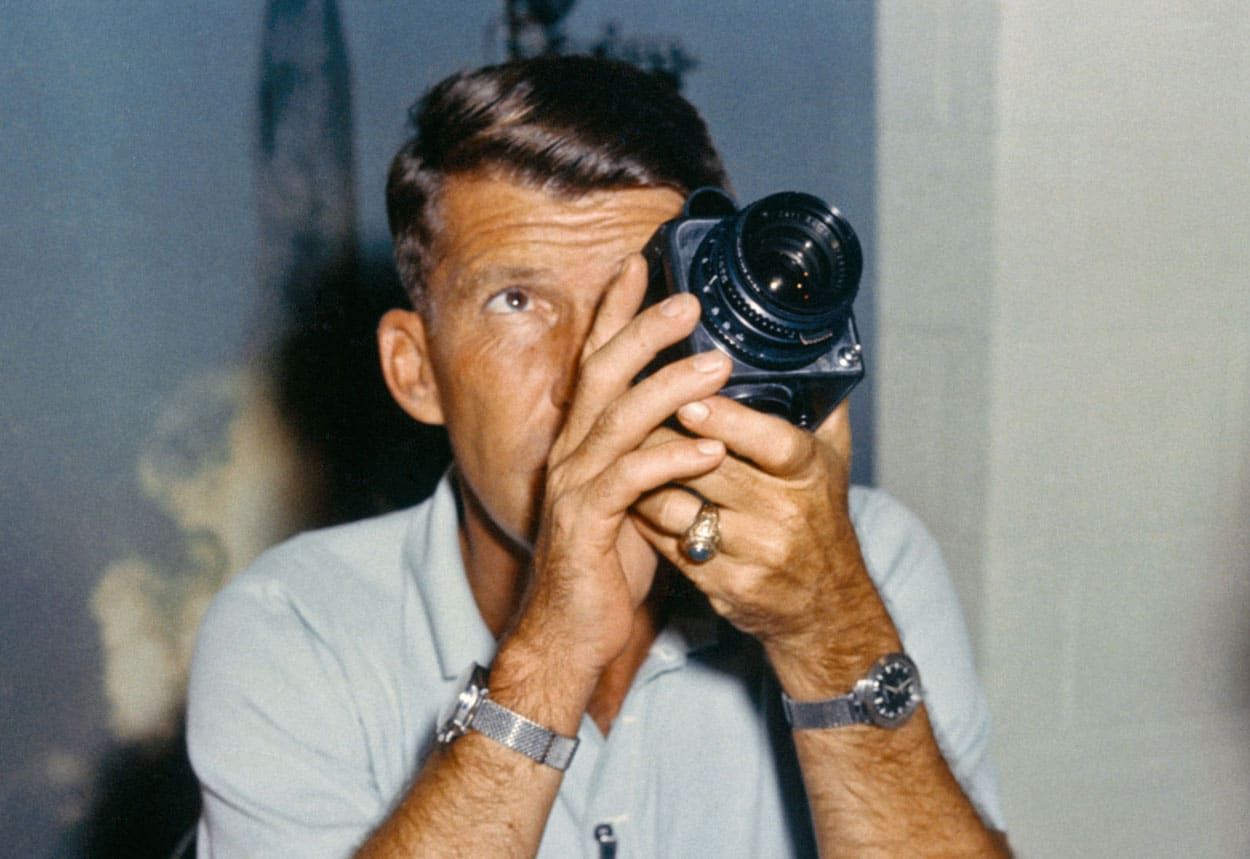 Wally Schirra passed away in May 2007 (age 84) and just two months before, he was interviewed by my friend Chuck Maddox, who passed away one year later, in May 2008 (read my interview with Chuck here). You can read the interview between Wally Schirra and Chuck Maddox here on the Chronomaddox website that has been kept on-line by some of his friends. The interview talks about how Wally Schirra got his Omega Speedmaster CK2998 that he was wearing in space in October 1962, during the Mercury 8 (Sigma 7) mission. The watch that Omega commemorated in 2012 with a 'First Omega in Space' edition. Astronaut Deke Slayton also bought the same Speedmaster together with Wally Schirra.
In the picture above you see Wally Schirra testing a Hasselblad camera wearing his Speedmaster on a JB Champion bracelet and his Bulova Accutron which he gave to astronaut Virgil I. "Gus" Grissom. After the Apollo 1 fire where Grissom died, Schirra received an identical watch again from Grissom's widow.
From the estate of Wally Schirra, Lawrence bought his gold Omega Speedmaster Professional BA 145.022. We have covered this gold Speedmaster Pro BA145.022 numerous times here, including the one from astronaut Ken Mattingly in which we covered the full story on these commemorative gold pieces (here). In November 1969, Omega presented 26 of these gold commemorative Speedmaster Pro BA145.022 watches to the astronauts (of which 3 were awarded to the astronauts who died during the Apollo 1 accident). Later on, in 1972 and 1973 another 8 pieces were awarded to astronauts who flew on the Apollo 14, 15, 16 and 17 missions. Strange thing is, that the astronauts who flew on the failed Apollo 13 mission, didn't receive a watch (with the exception of Lovell, who flew Apollo 8).
In total, there are 1014 pieces of this gold Speedmaster Professional produced. Numbers 3 to 28 were given to the astronauts as well as number 1001 to 1008. Numbers 33 to 1000 were produced for public sale. The biggest difference between the astronaut's (also the White House – number 1 and 2 – and some other VIPs – numbers 29 to 32 – received these watches) and the ones for public sale is of course the engraving in the case back. Below you see the case back of Wally Schirra's Speedmaster and one that was offered for public sale, owned by a friend of mine (the lower model is also yellow gold, but was taken in a place without proper lighting circumstances).
Originally, these watches came with a Moon crater box, as pictured below. These are very difficult to find these days, so when you come across one, buy it! You could make an owner of a gold Speedmaster Pro very happy. Below is an example of such a crater box, photo taken by Hodinkee during our Speedy Tuesday event at the ESA SpaceExpo Centre in 2013 (photo report here).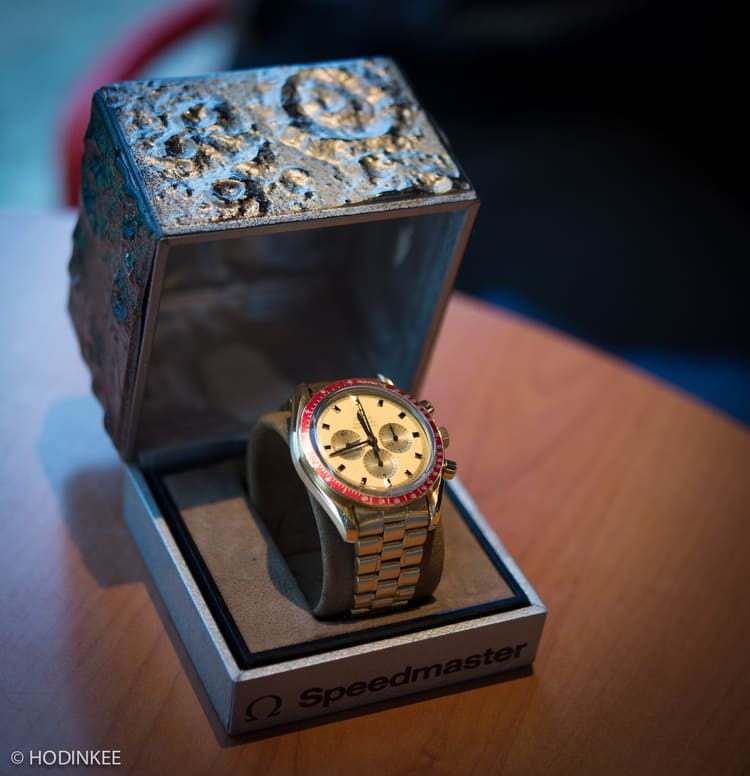 The Omega Speedmaster Pro BA145.022 was the very first gold model and the first commemorative watch for the Apollo XI mission in 1969. Of course, to each astronaut it probably commemorated their own mission. For Wally Schirra, these were no less than three missions and all of them are engraved on the case back as you can see above.
Lawrence was able to buy it from Wally Schirra estate and let us know that this #8 watch means a lot to him. He wrote: "Wally's watch is special to me for a number of reasons. I knew Wally. Wally wore the first Speedmaster into Space on Sigma 7. He is the only astronaut to fly all of the three US Space Race Era programs, which is shown on the case back. The Omega staff has been very helpful to me. They found a contemporary "lunar crater" box …..". (note from the editor: Amazing eh? Give me the name of another brand that does this!)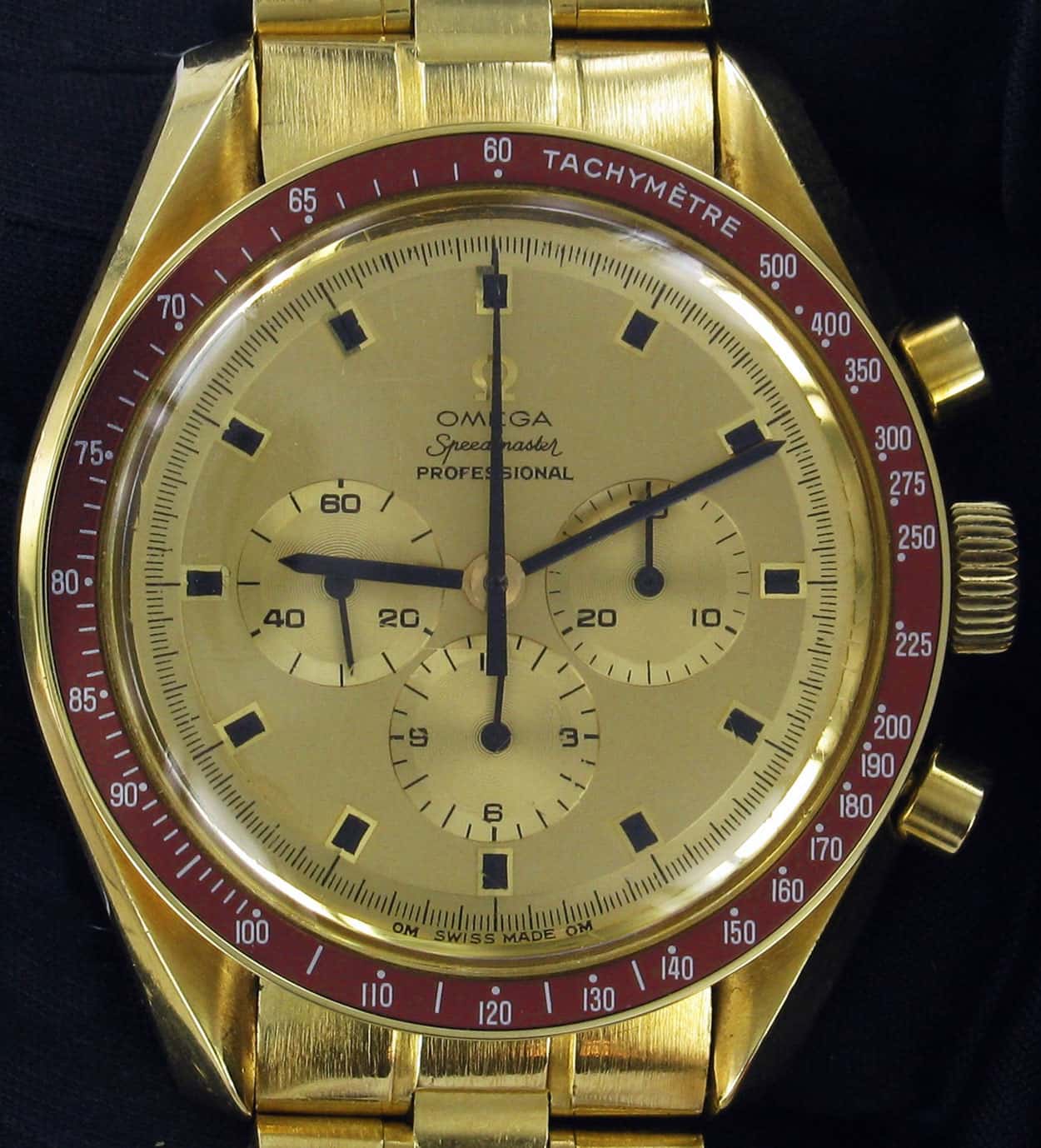 Furthermore, the current owner of the watch wrote us that he was confused about these gold Omega Speedmaster Pro Apollo XI 1969 watches at first, as some of the watch had red (wine red or burgundy) coloured bezels and others had black bezels. During a conversation with astronaut Charlie Duke, he was told that the red bezel of his Speedmaster disappeared at some point and that it was replaced by a black bezel. Since there are only few pieces of this particular model around, there are no more spare bezels. We also found this 1999 auction photo of the gold Apollo XI Speedy Pro of the aforementioned Deke Slayton, with a black replacement bezel.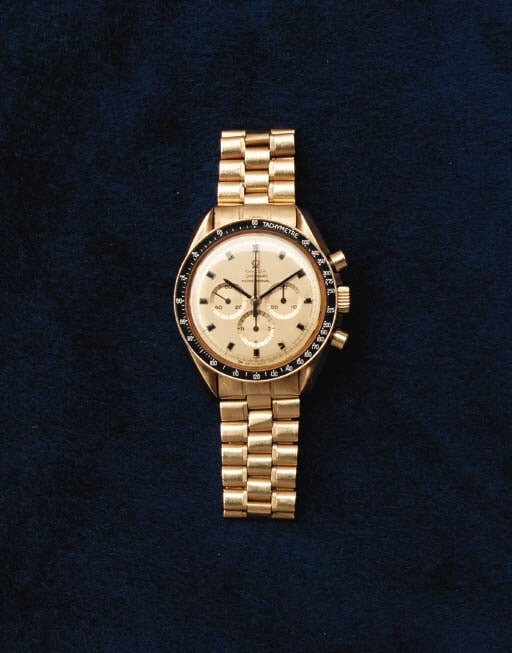 So owners beware and don't lose that wine-red bezel of your BA145.022. Chances are very small that you will find a gold Speedmaster Pro Apollo XI 1969 that belonged to one of the astronauts, as these are very rare. You can find one of the other 980 models that went to Omega retailers without too much hassle though. Finding one with original box and papers will be difficult, but finding a nice BA 145.022 in good condition is not too hard. They occasionally pop-up at Chrono24 or eBay. These watches do not come cheap though, expect to pay around € 15.000 Euro (~ $17.000 USD) for one in a good condition and with the original wine-red bezel.
A BIG thank you to Lawrence for participating! Read his own space (and watch) related articles on www.spaceartifactsarchive.com. The Moonwatch Only book (review can be found here) was of a big help with regards to the numbers of the gold Speedies.