Fortis – A Visit Report To Their Factory In Grenchen
A visit to Fortis
When I was only consuming watch sites and not yet moved to the other side, that of writing the content, I loved to read all those photo essays and visit reports. To me those are sometimes more interesting than the 57th review of the same "hot" watch on the market. Whenever I make one of these articles, let that be a report on an event organized by the brand, or an invitation to a race for that matter my aim is always to make it as interesting is possible, showing our readers what you'd otherwise probably not see. Of course, most of the times these visits are very well organized and choreographed by the PR department of the brand. They have a strict schedule and they leave you no time to come up with own ideas, requests or spend too much time at one station of the visit. In some cases however, you get lucky and get the chance to spend a pleasant day with the executives of smaller brands, drink coffee, talk about watches, politics or the future of social media used by the watch industry. This is exactly how my visit to Fortis went down and this is precisely what happened.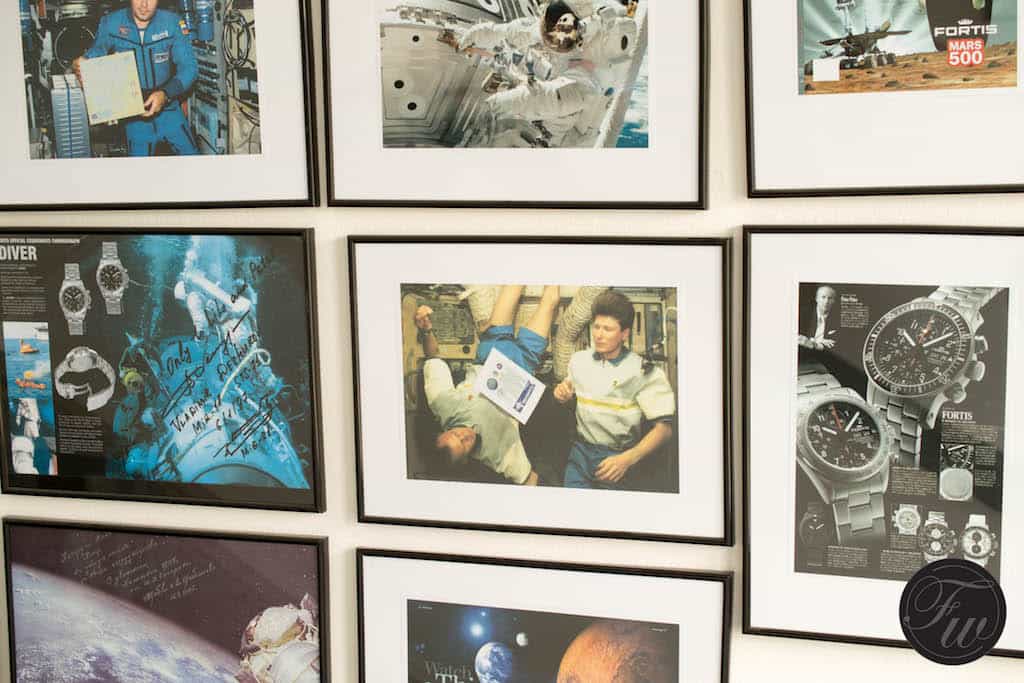 Grenchen
During our meeting with Andreas Bentele (marketing and sales director of Fortis) at BaselWorld 2016 we already talked about paying a visit to their factory in Grenchen, Switzerland. This however remained a plan until about a month or so ago, when he contacted me and we finalized the details of my visit. Since I live about 3 hours from their HQ it was an easy trip to drive down and meet the guys again for a great afternoon and some behind-the-scenes visit to Fortis. It's not hard to find the factory as it lays on the feet of the Jura mountain, looking down to the city of Grenchen from above. It's the same building Fortis was established in 1912. It hasn't changed much except for the logo on the roof that has been updated to the newer version. Don't imagine this building as a huge multi-story establishment with people running up and down the stairs. Once you enter the main door it is surprisingly quiet and tranquil inside. This could be due to the fact the Fortis has a staff of 15 people only. Yes, only a handful of people are running this prestigious watch company.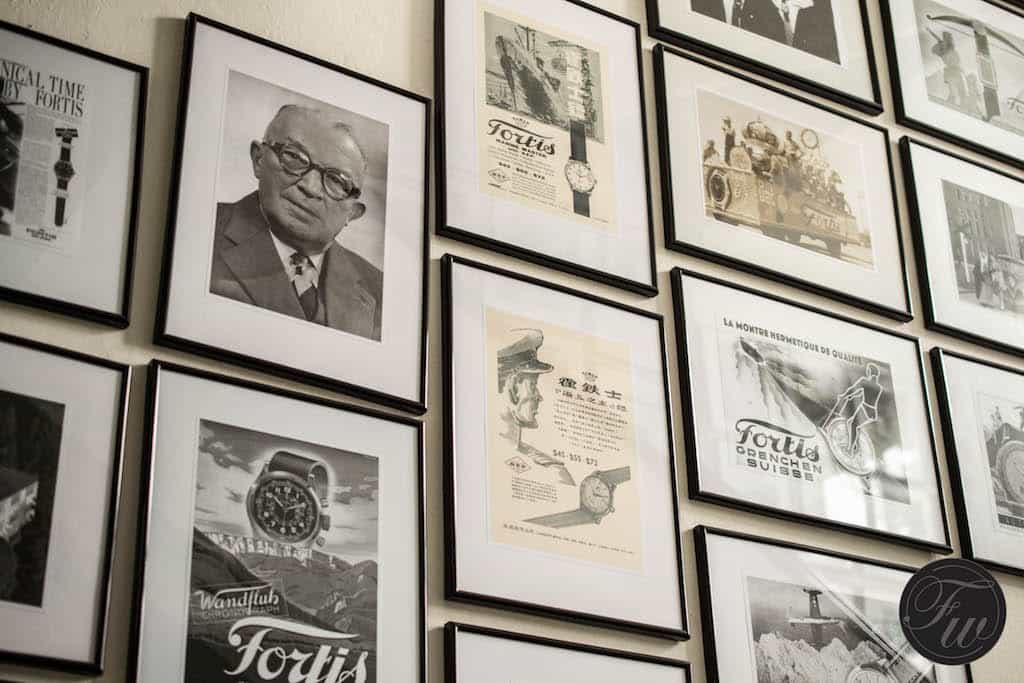 History surrounds you wherever you look. Posters from space missions, signed photos of A-list superstars or framed magazine cutouts of vintage ads as well as the most influential people in the history of Fortis all cover the walls. Andreas rushed down to greet and show us to a room on the second floor.
Fortis and Harwood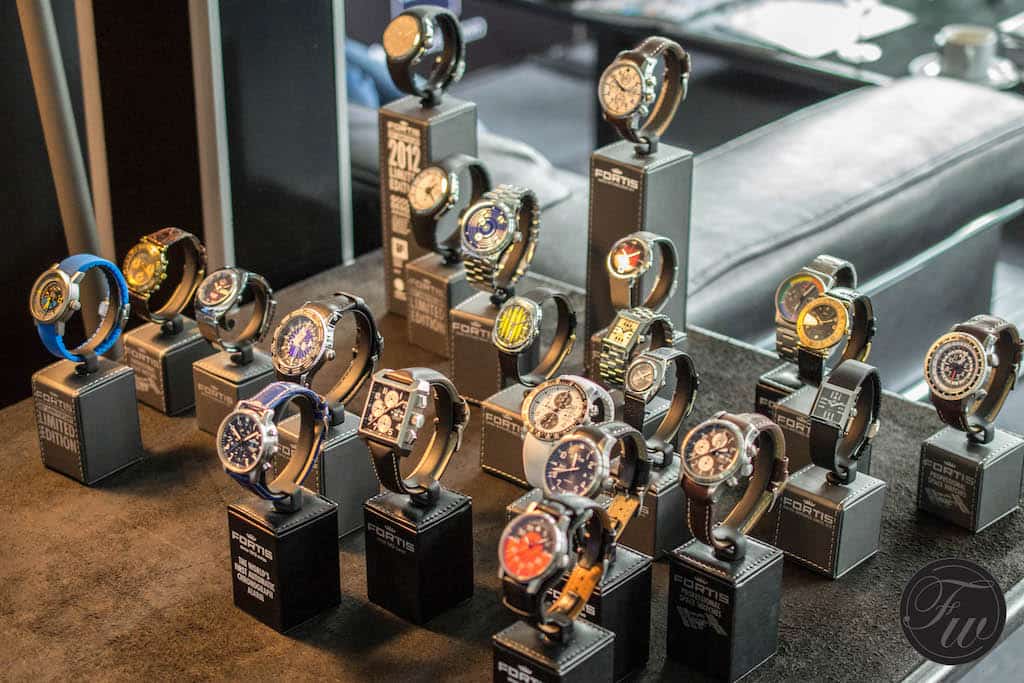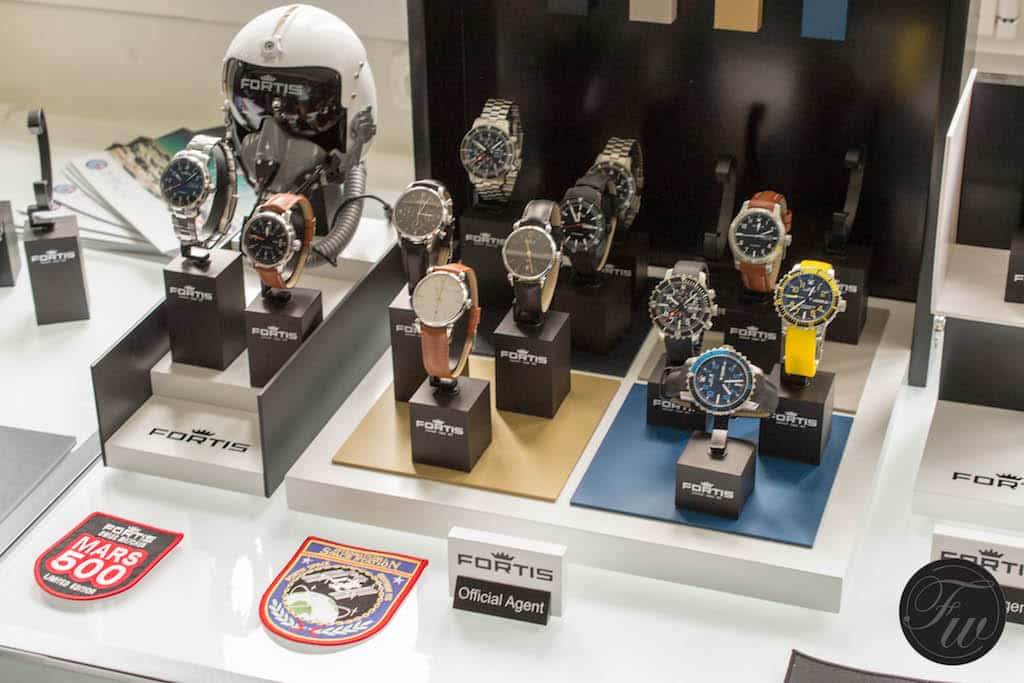 This meeting room or guest room if you like is where all the newest as well as many older legendary watches form Fortis' history are displayed. Soon Max Spitzy, CEO of Fortis joined us and we had a lengthy conversation. The guys told me that, contrary to popular belief, the company is still privately owned and among the only handful of shareholders is the daughter of Walter Vogt. The late Mr. Vogt established the company in 1912 but the breakthrough came 10 years later when he teamed up with British inventor and clockmaker also the father of automatic watches John Harwood. From this moment on the history of Fortis is impressive. I will not get into details, but you can read about all that under this link.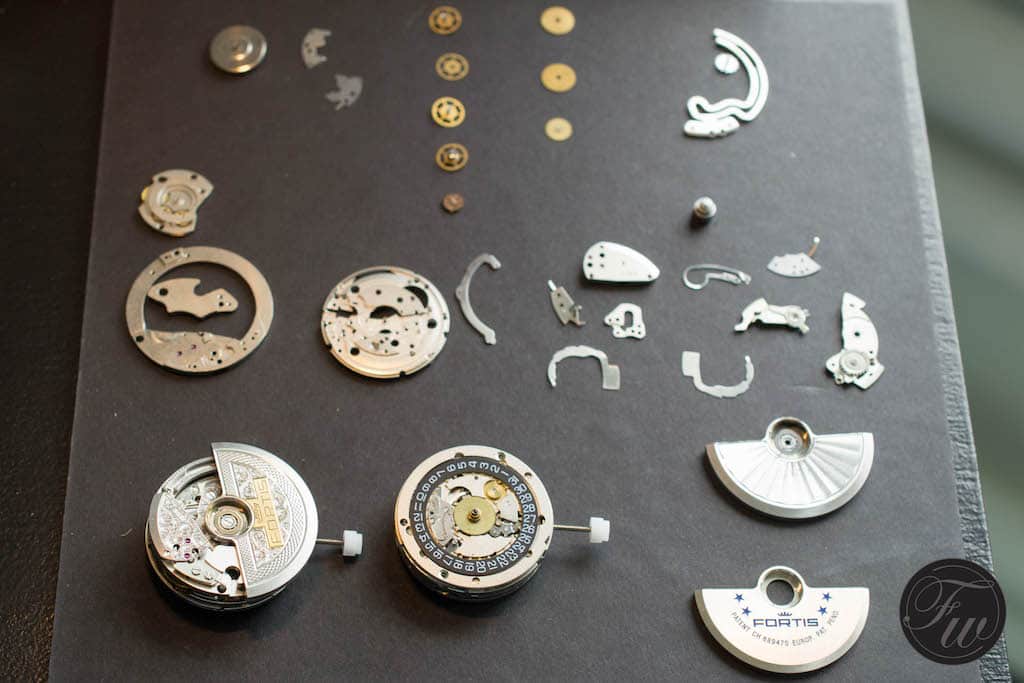 Reset
It's obvious that both Max and Andreas are extremely passionate about the company. None of them have previous experience with watch companies but in this case I think it's a great thing. Let me explain you why; Fortis, well at least for me, has always been the brand that is around and I knew about it but never really stood in the limelight. Their model line was vast, they overproduced themselves with many versions within the model family and in general they did not always pay attention to the surrounding impacts prestigious Swiss watch brand might have, neither did they adapt. Until 2013 when Max Spitzy took over the position of CEO from the previous management. Max decided that the brand needs a fresh start, kind of when you press the reset button on your PC to get a clean sheet. With some external help he remodeled the lineup of Fortis watches and dived them to the 4 elements we have already talked about here and here. This was a great move, not only because it simplified the collection but because it allowed Fortis to start over again. Soon Andreas Bentele joined the small but truly passionate team of Fortis and the duo shifted gears for the brand. As Andreas put it "We are a start-up with a 100-year-old history" I couldn't have put it better. These guys brought fresh ideas, fresh attitude and out-of-the-box thinking to the brand and this is exactly what they needed. I saw this already last year and this tendency is still ongoing. Fortis is open to collaborate with online platforms, as they realized that nowadays reaching people is much easier when you have a strong online presence. Can't agree more. Their website is fresh and easy to navigate in also just recently Fortis launched their Instagram account, a must these days for such companies.
Factory Tour
Let's get back to our meeting though. After a quick lunch out in Grenchen we got back to the factory and started our small but interesting tour in the building. It feels empty due to the small number of team members inside but everyone is pretty busy, I can assure you. We saw where the watches are put together, met the watchmakers, checked the final quality control table.
Then moved on to the logistics area where all the shipments are put together, the parts storages, we even saw the old private label dials the company keeps as extra in case they are needed for a service. Nothing was off-limits. After this, in search for more interesting parts and watches we went up to the attic of the building.
Space Program
Then we carried on to look at the offices and some more memorabilia from space. As you know Fortis and the Russian space program have very close ties that go back a long time. The moment you step in the building this becomes obvious. In recent years however due to the reconstruction of the brand they tried to focus on other areas. However, this will always be a big part of their history and something they are very proud of.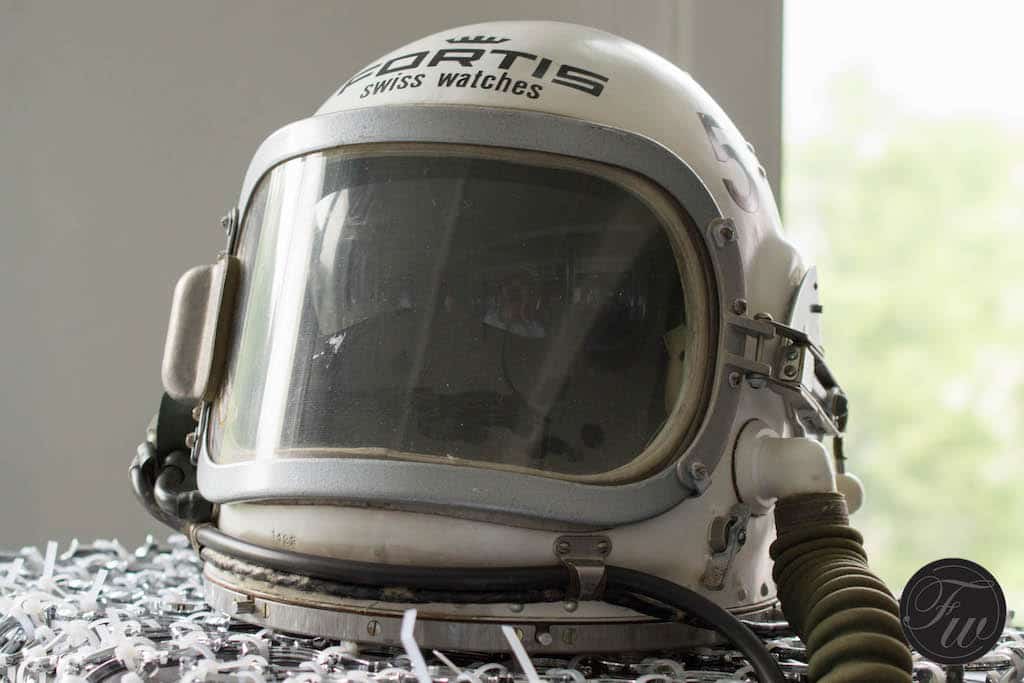 As I knew that the chances of me strapping a space worn Speedy on my wrist is close to zero, I tried to snatch a Fortis from the "other side" for a quick wrist shot. Unfortunately, I was unlucky this time, but I'll keep on trying. We walked around the building a bit more, talked about watches and fooled with the props. The Aeromaster Steel Chronograph I received for the review and that was on my wrist during the trip, got a new strap too. The black leather performance strap was a great choice as it matches the watch perfectly. Oh, and did you know that Fortis' exclusive strap provider is the world famous Austrian company, Hirsch?
From Now On..
The future for Fortis is bright. The watches they produce are of great quality, the company has a long and rich history and the prices they set are more than likable. I saw a few plans they are working on for next year. For obvious reasons I cannot discuss these ideas with you but I can assure you they are developing some really cool projects. Let me just say that they rethink the places and functions we use watches for. The rest hopefully comes in march 2017 during Basel World. I cannot emphasize enough how great it was to meet the people behind the email addresses and titles at Fortis. To put a face to a name is always great but I never would have expected such warm welcoming from a brand that's been in my horizon ever since I started to really pay attention to watches. You can say that I can scratch off of my bucket list, I guess.
Big thank you to Max, Andreas and the whole Fortis team for their hospitality and openness toward Fratello Watches during the visit. Things are moving fast at the company so I'm sure we will be able to report about them pretty soon. In the meantime follow them on their social media platforms (Facebook, Instagram), check their website.