Fortis Brand Relaunch and the Fortis Terrestis Collection
Around 2003 or so I saw a watch in a magazine that was produced for the Hungarian Air Force in a very limited number. It was the 3rd edition commissioned by the Air Force. The first two editions were given to different squadrons based in Hungary (Pápa and Szolnok), after that the Air Force also ordered watches for themselves. This was the first time (and not the last) Fortis produced a custom made watch for flight squadrons and this was the first time I came across the brand: Fortis.
I had a meeting with Fortis during BaselWorld this year and got to see some really nice and unusual watches. If you are familiar with Fortis, you probably know about their connection with aviation and space. This is probably the most eminent area Fortis is associated with. Until recently, when I associated Fortis with rugged, bulky (chronograph) watches with their grey-ish stainless steel cases and black dials. Not any longer though! The people at Fortis realized that their collections and models needed to be updated and important decisions to be taken for their future path. They wanted to keep their Flagship models but wander to areas they have not explored before. Fortis set a new marketing strategy for the brand which – amongst others – resulted in reducing the number of watch models. They are working on a comeback by relaunching the brand and introducing the Fortis Terrestis collection.
The aim is to have Fortis in  four different spheres; space, air, water and land. I'll run them by you, one by one.
Space – Cosmonautis
Fortis has been involved in space projects since 1994 when they began cooperation with ROSCOSMOS. They have been providing the timepieces for the projects for over 20 years now. I am comfortable to say that after or next to Omega they probably have the most versatile, in-depth knowledge of this area. Fortis produced the first automatic chronograph used in open space and has been in over 50 space missions to this day. The new Cosmonautis collection's Flagship model is the Monolit. It is the successor of the Fortis watches that were used before by cosmonauts. The Monolit case and its bracelet received a thick PVD coating; each and every bracelet link is individually coated and fully screwed. It still remains a robust, automatic chronograph perfect example of the brand. The PVD Monolit on bracelet will be sold for CHF3500 Swiss Francs (€3350), the model with leather strap has a price tag just below CHF3000 Swiss Francs (€2800).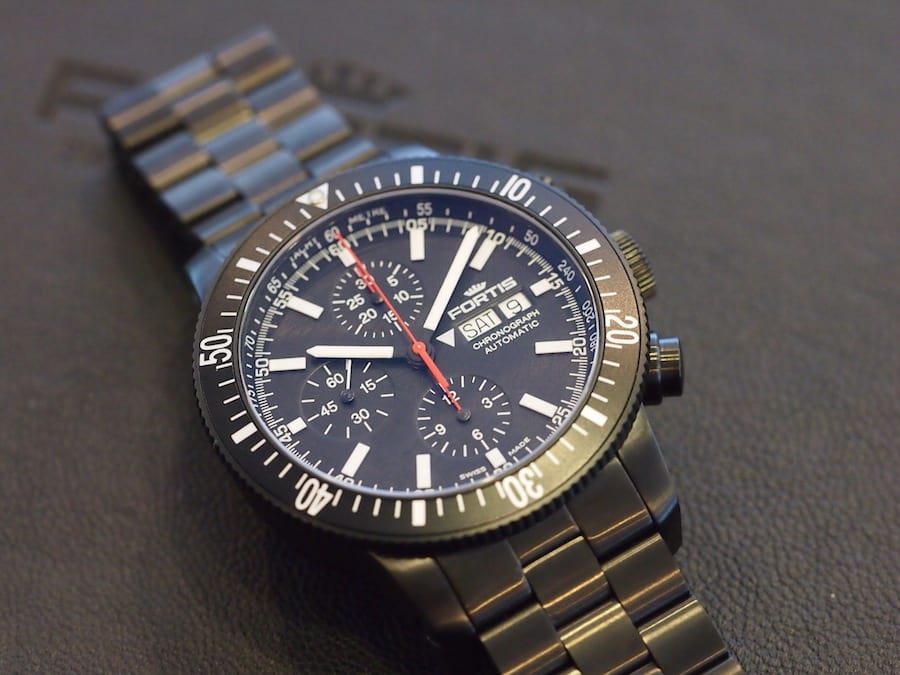 Air – Aviatis
Fortis' aviation watches have been around for a long time. Fortis supplied watches to over 70 flight squadrons worldwide: USA, Russian Federation, Switzerland, Greece, Hungary and many more Air Forces chose Fortis as their official supplier. Their Daybreaker watch was the first and only automatic chronograph with GMT and alarm complication. The new models, called Aeromaster (approx. CHF 2850 Swiss Francs or €2730 on leather) and Blue Horizon (approx CHF 3000 Swiss Francs or €2880) have the same classical Fortis-style aviator look. The Aeromaster comes with a fluted, sunray dial, SuperLuminova coated aviator-style hands and indexes and of course a sapphire crystal with AR-coating on both sides. The Blue Horizon watches will have the same PVD coated cases as the Cosmonautis models and use blue SuperLuminova.
Water – Aquatis
To be honest with you, diver watches didn't come to mind when thinking about Fortis. However, these new Aquatis models might change this though. These Aquatis models come on a water resistant leather perforated strap and have a pretty cool texture (priced CHF 3050 Swiss Francs or €2928 for the Aquatis on the leather strap). Personally, I like them a lot. The Aquatis diver watches have large pushers and a special designed rotating bezel – for easy grip – for comfortable underwater handling. I've found the watch to be very comfortable on the wrist and love the typical Fortis look on this diver.
Land – Terrestis
With this new Terrestis collection Fortis says their World is complete. Their current line up of  sports watches are attractive and well-built but of course they also needed an elegant, classic looking watch in their collection. This year, Fortis brings us four different models in the new Terrestis collection. The Terrestis watches all bear the same clean and classic 1940's design,  inspired by Fortis watches from a long time ago. The models of the Terrestis collection are: 19Fortis, Hedonist, Orchestra and the Tycoon.
The 19Fortis is an automatic watch with a central second-hand and the date at 6 o'clock. Inspired by the 1940's, it clearly has a very elegant and nostalgic look. The watch features raised rose gold Roman indexes and a printed Arabic seconds-track, screw bolted transparent case back and has modest diameter of 40mm. It is available in stainless steel or rose gold version, with silver or anthracite dial variations. The 19Fortis model has a CHF 1700 Swiss Francs (€1630) price tag for the stainless steel version and CHF5000 Swiss Francs  (€4800) for the one in rose gold.
Hedonist was a name already used by the brand in the 1980's, but of course this model has a completely new design. With the sub-seconds and date aperture at 6 o'clock, the Hedonist has a slim (yet 40mm) case and pays homage to their classic vintage pieces. The Hedonist starts at CHF1860 Swiss Francs (€1790), for the version on a leather strap.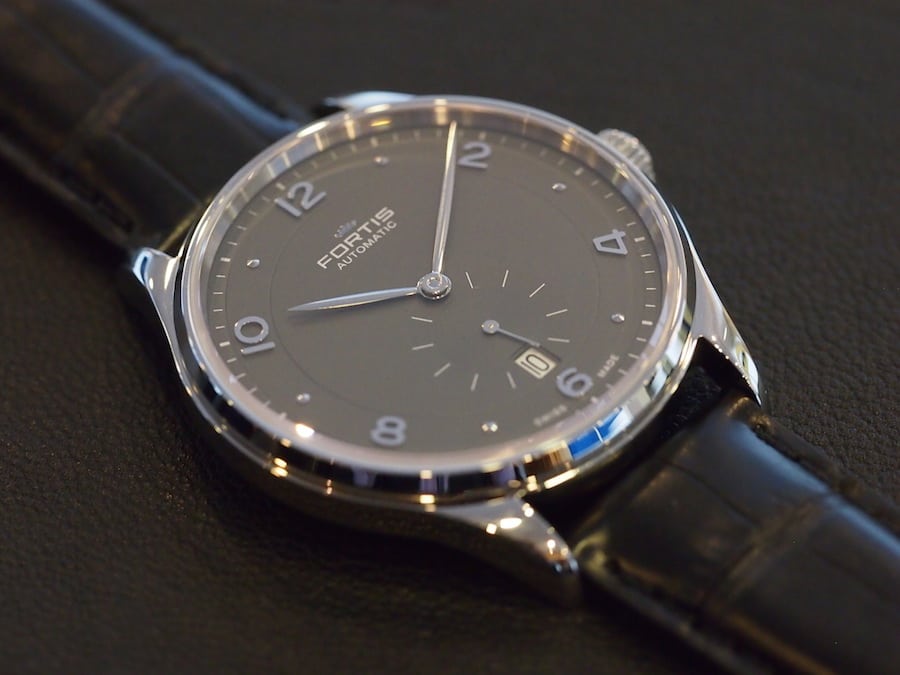 The Orchestra model to me is the most intriguing watch in the new Fortis line-up. The round case with the drop-shaped lugs, the domed crystal or the new crown design are symbols of elegance. It has the same case back and dial colours as the 19Fortis and Hedonist models, but lacks the numerals (except for the "12") which makes it a very elegant and clean designed watch, which I love. The 40mm diameter case makes the watch a modern classic and a nice every-day timepiece. The price tag on the Orchestra model is CHF 5600 Swiss Francs (€5380) for the rose gold version and CHF 2240 Swiss Francs (€2150) for the stainless steel version.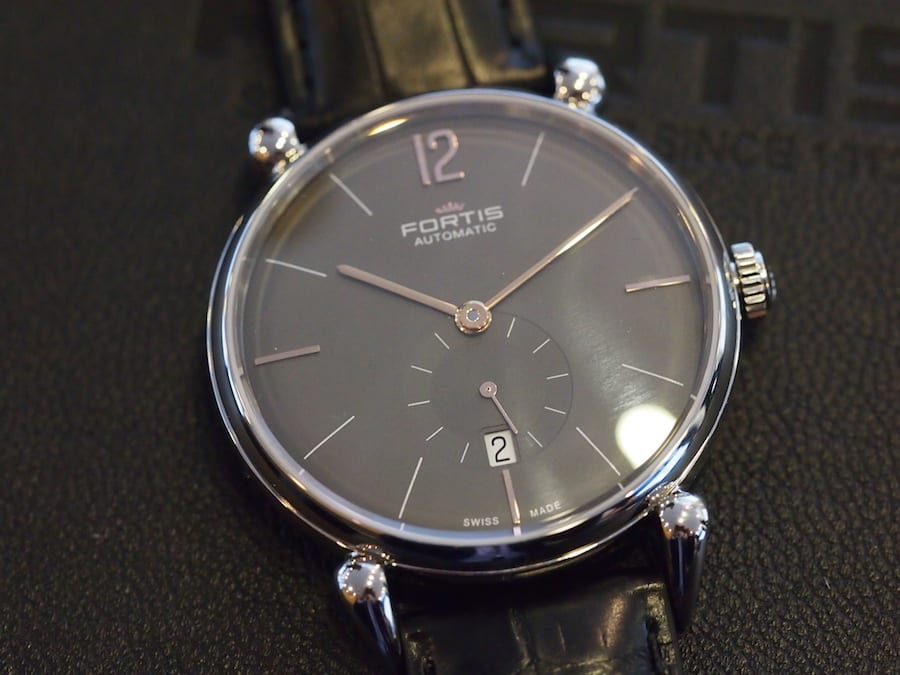 And then we arrive to the last watch of the Terrestis collection, the Tycoon (which we briefly introduced to you here). The Tycoon is available in time only (CHF 2140 Swiss Francs or €2050) and as a chronograph (CHF 3500 Swiss Francs or €3360) version, with the same two dial variations as the other Terrestis models. If you are familiar with the 1940's Fortis chronographs you will find many similar design elements like the shape of the case, type of pushers, shape of the hands, raised dot indexes and the layout of the sub dials. The only thing I would have loved to see on this model (and perhaps on all Terrestis models) is a more vintage-like Fortis logo. That would make it just perfect in my opinion.
The Tycoon watches have an automatic movement (one of them with a chronograph comlpication of course) and both have a 41mm diameter.
Also introduced in the new 2015 Terrestis collection but totally different from all the others models I have shown you is a limited edition watch called 2p. The watch is designed by conceptual artist, designer and long time Fortis associate Rolf Sachs.
Sachs and Fortis

Fortis has always been a great supporter of the partnership between arts and watches. They released several different models designed or inspired by artists from all over the various fields of Art. Rolf Sachs already made a few limited editions – like the IQ watch in 2008 – out of which the most interesting was Frisson. He designed this in only 999 pieces in 2012 for the company's centenary. The watch was a 40mm stainless steel version with rubber strap and mineral crystal, which had a special coating. It only allowed a dimly revelation of the dial as it was covered with ice. With a bit of moisture or breath the crystal would slowly clear, as iced vodka glass straight out of the fridge would do. This was the idea behind the concept and one that worked very well. The watch was very popular especially among arts collectors…and perhaps vodka lovers.
This is their newest collaboration that, according to Fortis, "brings together the order and chaos and uses mathematics, as inspiration; highlighting our desire to control Time – something we strive for, but can never achieve."
The watch has a PVD coated 42mm case, the dial is completely covered with SuperLuminova giving it a one-of-a-kind look when it is glowing in the dark. Fortis 2p is limited to only 150 pieces, worldwide. I was also told that Fortis is planning on making this the first piece of a series of limited edition watches released by the brand, designed by Rolf Sachs.
What is very remarkable about Fortis is that they are still an independent watch manufacturer. Fortis remained privately owned and despite the quartz crisis they did not have to close down their factory. Fortis home base is in Grenchen, Switzerland and was founded in 1912 by Walter Vogt.
More information about Fortis can be found here.