Finding The Best Watches Under €2,000 Today — Lex's Pick From Fortis
The Fortis Flieger F-39 Automatic on a black leather Aviator strap
"This is not a pilot watch". You will find these words on the Fortis website next to the Flieger F-39. Wait, what?! I look at it and think, "Pilot's watch with all-round abilities and a sporty, contemporary look." That's probably the direction Fortis wants to steer the target audience that won't consist of pilots exclusively. Never mind the idea or the concept, the watch's price is right. It sits just under €2K with its list price of €1,950. And that's just one of the reasons why the Fortis Flieger F-39 Automatic on a black leather strap is my pick for this installment of our series Finding The Best Watches Under €2,000 Today.
If I were to actually get a Flieger F-39 Automatic, it wouldn't be my first Fortis "rodeo". I already have two Fortis watches in my possession — a titanium B-42 Official Cosmonauts Chronograph and an artsy Fortis IQ Blackboard watch designed by Rolf Sachs. The new F-39 that I picked is a direct descendant of the B-42. After Fortis got into big trouble in 2017, it was Fortis fan and private investor Jupp Philipp who took over the historic brand a year later. What happened since is both very positive and impressive. Under its new owner, Fortis made a leap forward both in quality and design. And the Flieger F-39 Automatic is one of the latest examples of the new and improved Fortis. It sits much higher on the evolutionary ladder than the B-42 in terms of build quality, finishing, and design.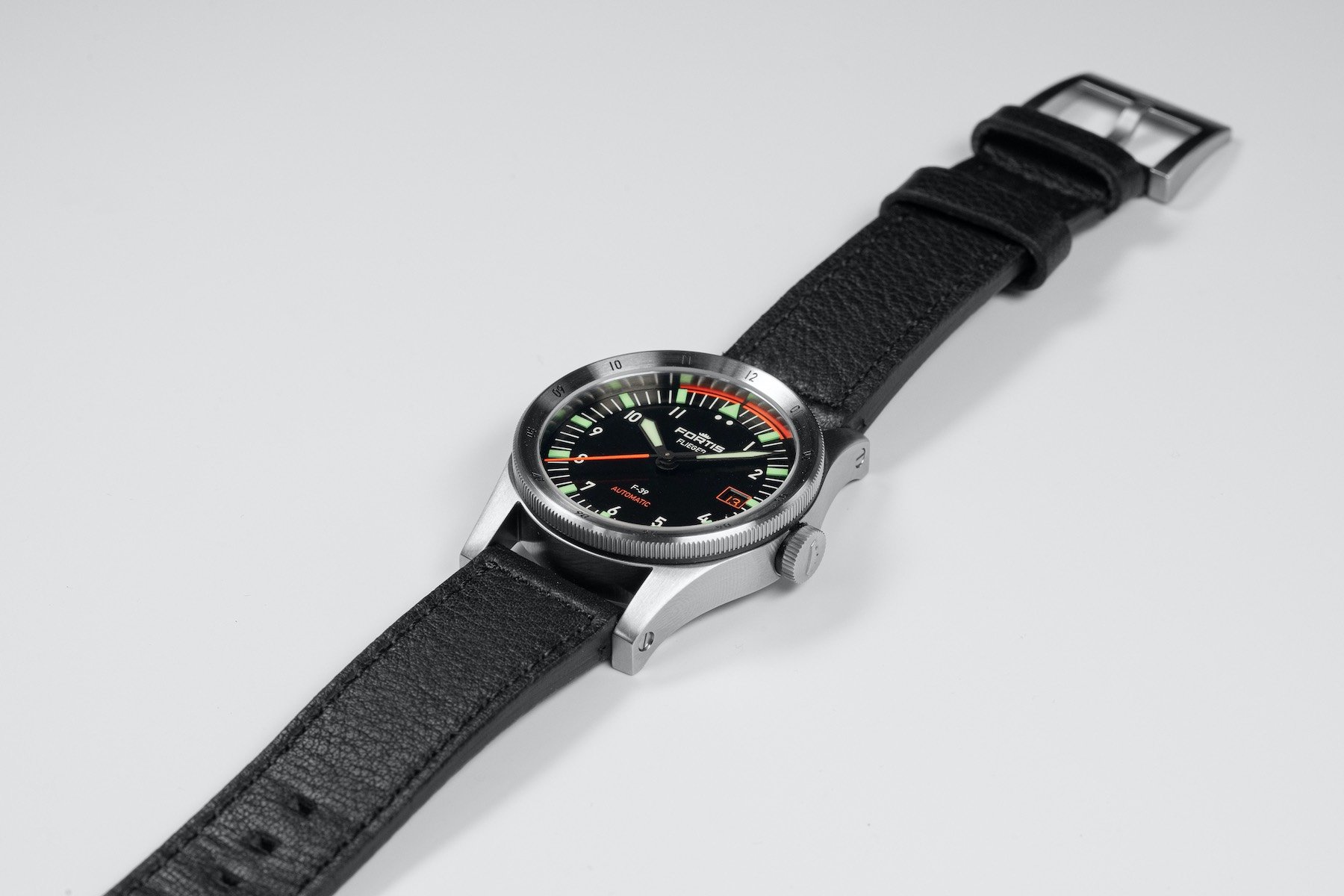 The best watches under €2,000 today — My pick is a colorful Fortis Flieger F-39
When I visited Fortis last year summer, I had a chance to see and handle most of the new stuff. That included, of course, the F-41 and my champion today, the F-39. The 41mm version is a tad too big for me, but the F-39 Flieger is spot on. On a leather strap, that is. Yes, on a metal Block bracelet it looks more instrumental, but there are three things that stop me from opting for that version. The first is simple in light of this story: with its €2,400 price, it's simply too expensive.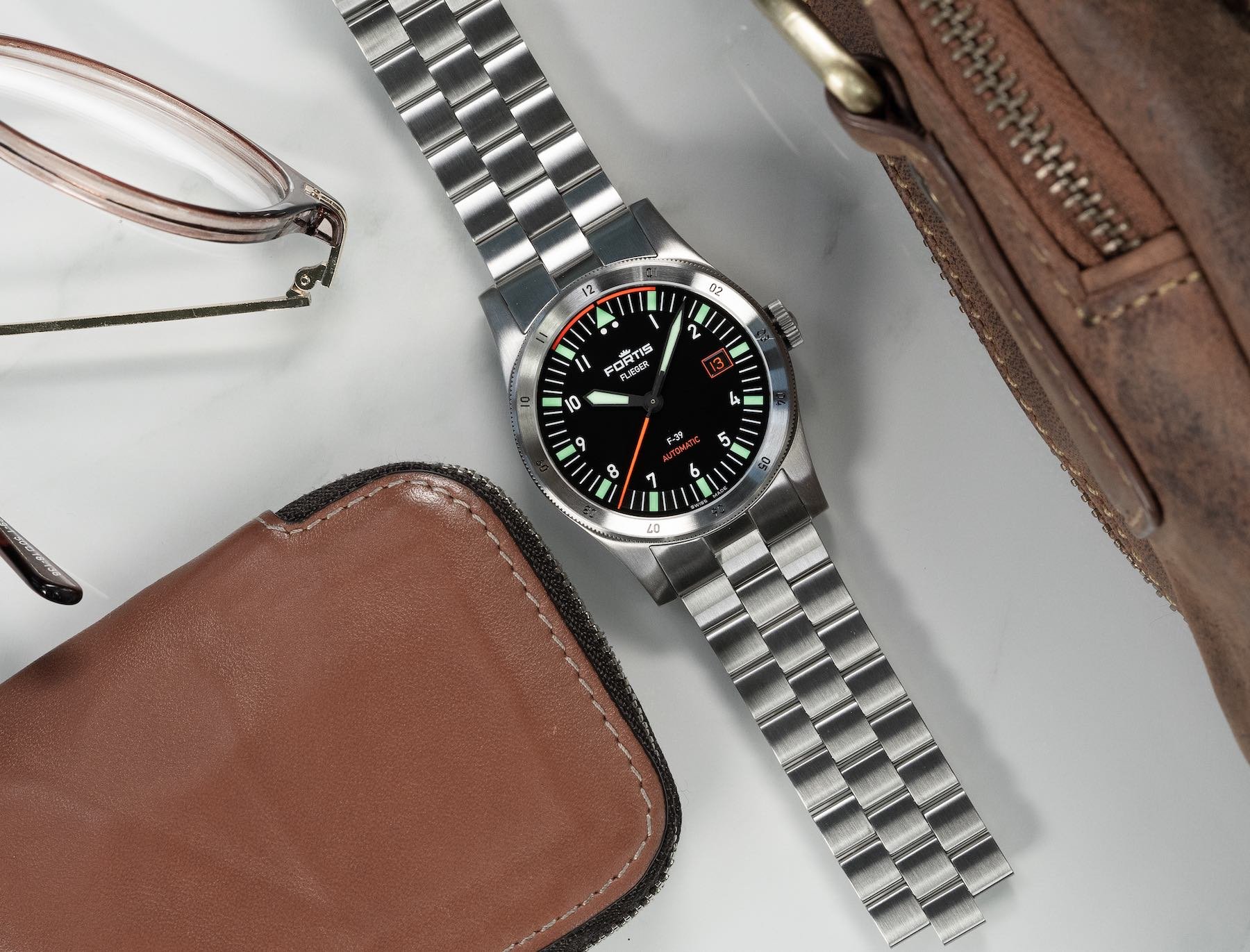 The second reason is that there's just too much metal for my taste. On its three-link bracelet, the F-39 literally becomes a heavy metal watch. Visually, there's also not enough contrast for me when you put it on the wrist; that's the third reason. However, on a grained, vegetable-tanned, natural black leather Aviator strap with pin buckle, the F-39 Automatic blossoms.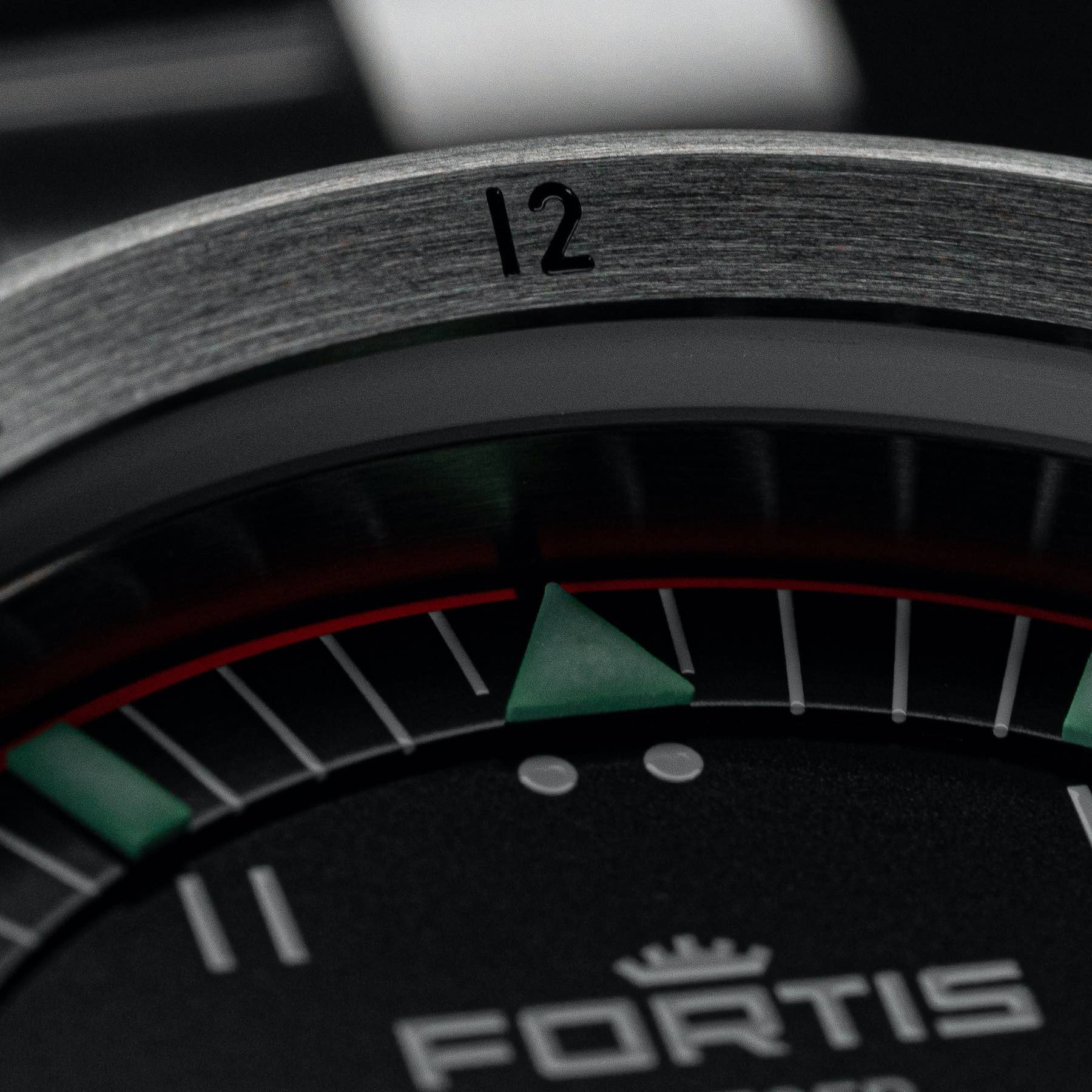 Show some restraint
I use the word "blossom" because the Fortis F-39 Flieger Automatic is a colorful critter. You simply can't miss the bright Berlac Fluor Orange paint on the black background of the dial. And there's also the luminous Brixtrack — three-dimensional blocks of luminous material placed on a track — on the outside of the dial that brings more light and freshness. On top of that, there are hands treated with Super-LumiNova X1 that complement the dial text and the minute track extremely well. And because the dial is vivid, the 12-hour, 24-click bidirectional steel bezel is nice understated touch. Why? Because it shows that Fortis knows when to stop. Putting a black bezel would/could be the obvious choice, but it would also steal the attention from the dynamic dial. Fortis's restraint clearly paid off.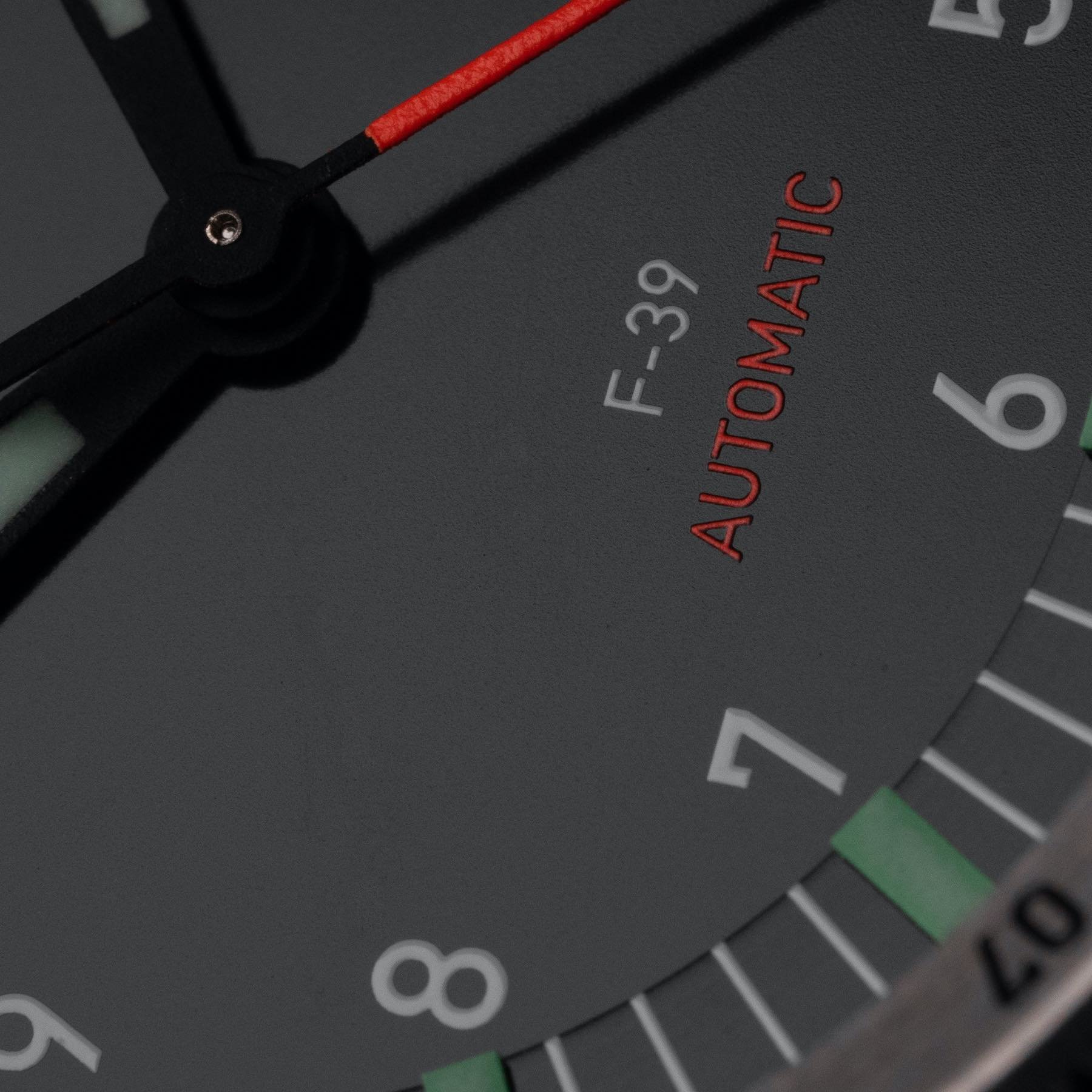 A tool with flair and a twist
As a tool watch, the F-39 shines because of its clear legibility, both above and under the water thanks to its 200m depth rating. And that same functionality is also what gives the F-39 its charismatic dose of flair. The movement is not that special, I must admit. On the other hand, the Fortis UW-30 self-winding movement — which is, in essence, a Sellita SW200-1 — does what it has to do without blinking an eye. The 26-jewel caliber has a quick-set date function — I didn't mention the orange-lined date window at 3 o'clock before — and a 38-hour power reserve. Overall, the Fortis Flieger F-39 Automatic is a capable sports watch with a no-nonsense brushed steel case, lively dial markings, a touch of fluorescent color, and a balanced mix of instrumentality and contemporary design.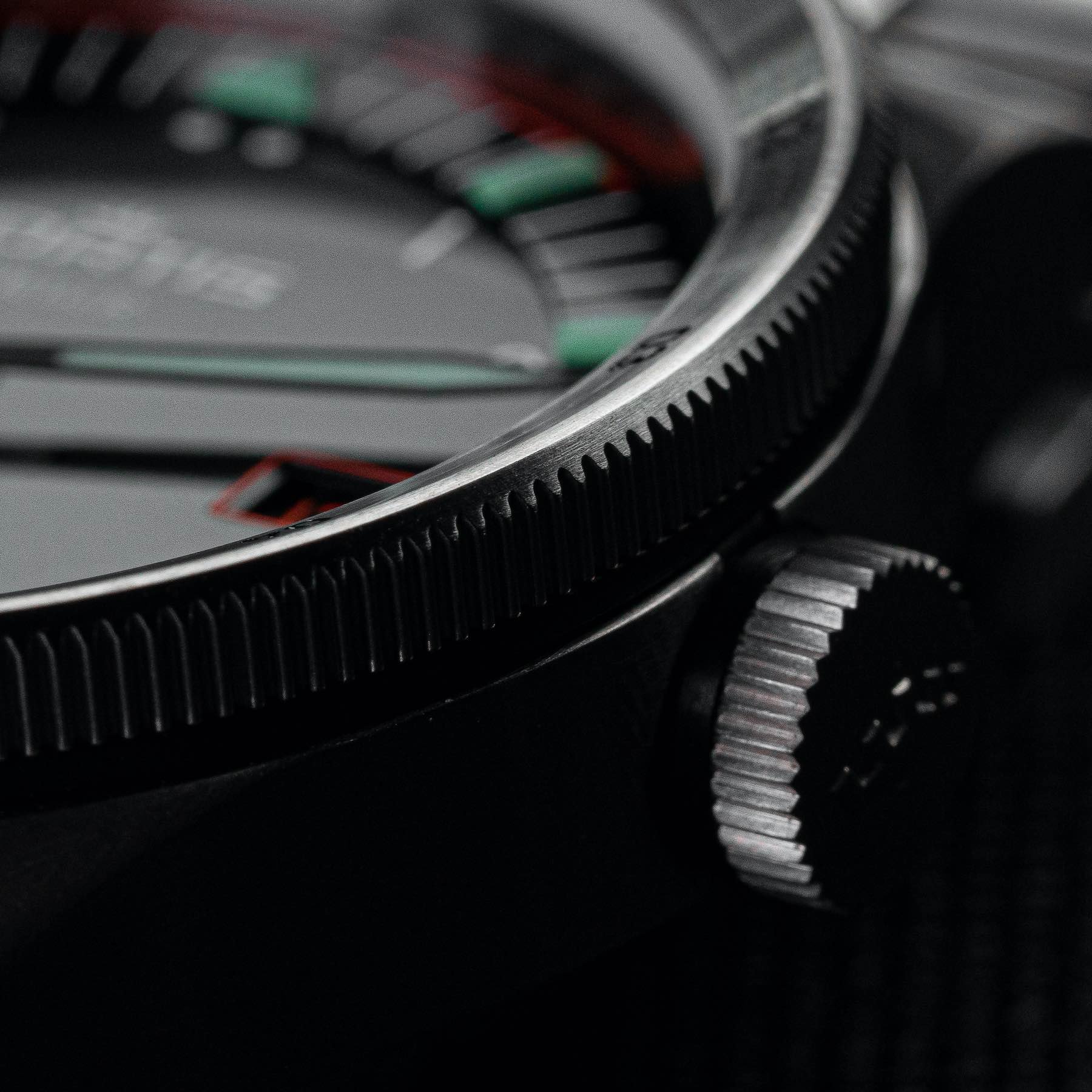 Another challenge accepted!
Since I have €50 left to spend, I will also get two NATO straps for the watch to get through the summer. I'll give the sustainably produced cow-leather strap a break and make it last longer. However, I will also have to keep in mind that I will be looking for an odd 21mm-wide strap. That seems like a wide strap for a 39mm watch, but in reality, it doesn't look weird at all. Getting a black 21mm NATO for the F-39 won't be that hard, but finding a fitting and color-matching Berlac Fluor Orange strap might prove a bit of a challenge. Oh well, that's another challenge accepted!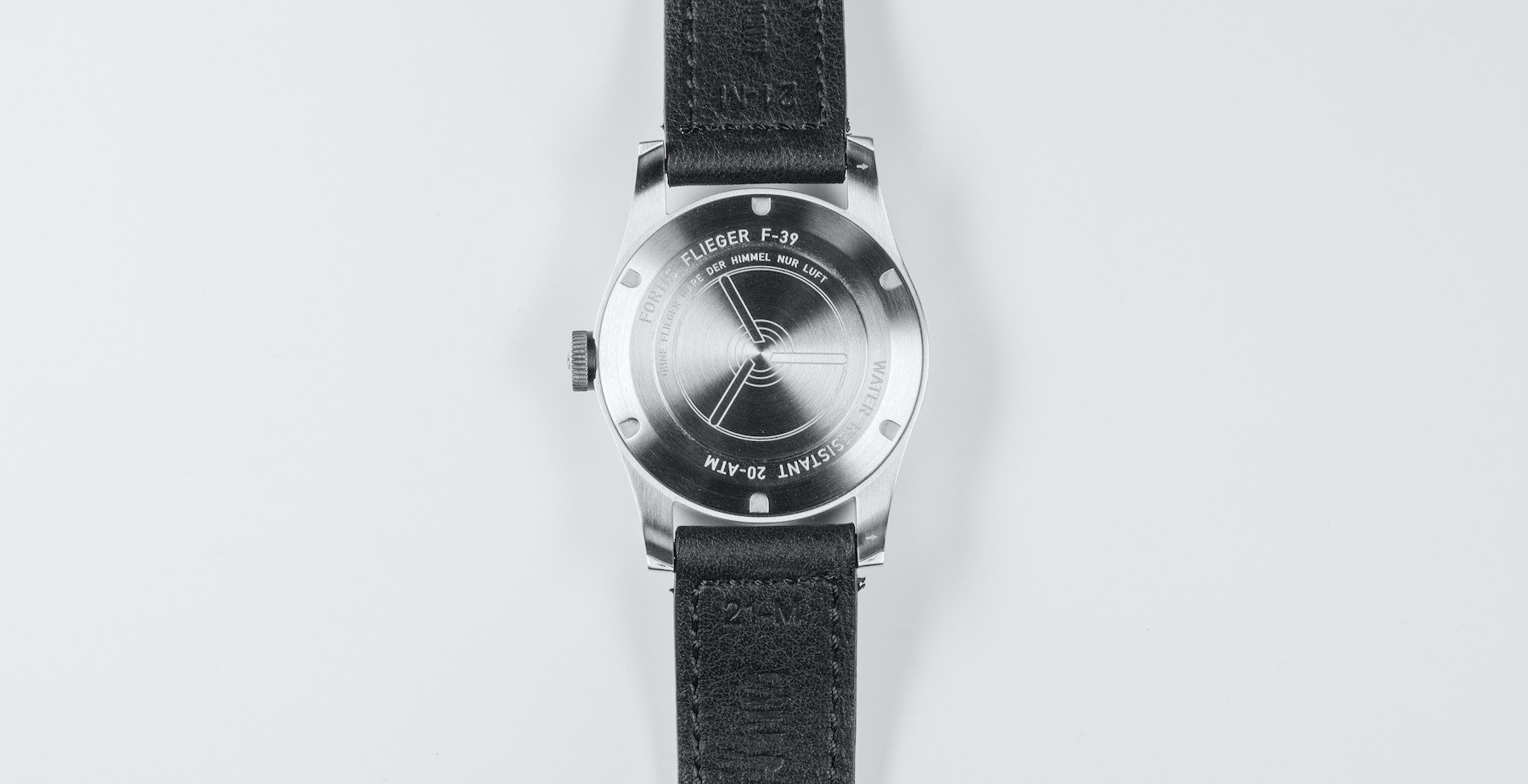 For more information about the F-39 Flieger Automatic, please visit the official Fortis website.
Find and follow me at Lex Stolk • Instagram