Fratello Collector's Week 2.0 — How To Keep Your Collection Safe At Home And On The Go
A selection of storage items from Wolf 1834
As you've seen in this Fratello Collector's Week, we, like many collectors, have a severe problem. Any collector will tell you that storing watches safely becomes a serious consideration as soon as a few pieces grow to double figures. While higher-value timepieces belong in a safety deposit box or a safe, accessing these watches is limited to the bank vault's schedule and your availability. For more everyday wearability and travel solutions, my selection consists of a watch box, a travel roll, and a watch winder, all from Wolf 1834.
My collection cannot compete with those of my colleagues, but I desire to keep my watches organized. Leaving a sizeable watch collection strewn about the house is my idea of hell. I've visited fellow watch enthusiasts' homes where straps, tools, and watches occupy every available surface. I confine my home collection to a single room unless I'm wearing them. I always prefer that everything has a place and is in its place. Taking it a step further, I even alphabetize each watch by make and model name from left to right in a watch box. Now you know my storage insanity. Here's what I choose to keep my timepieces safe.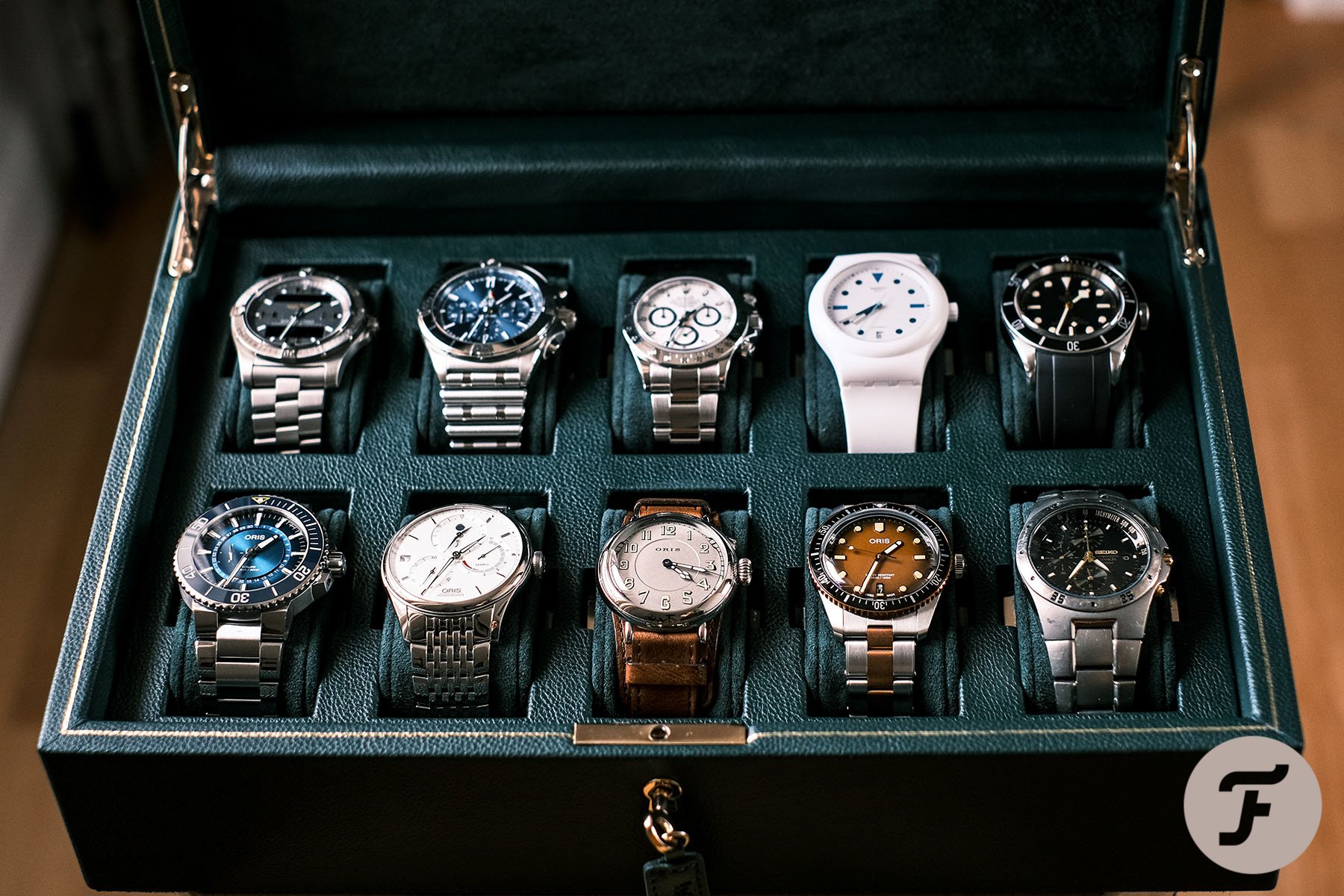 Wolf 1834 10 Piece Watch Box — $485
You know you're down the rabbit hole when your collection stretches beyond ten timepieces. When it gets to that point, the Wolf 1834 watch box is a perfect way to store and display the watches in individual spaces. What I like most is how each cushion has gold-toned tabs that slot into a gap within the compartments. This additional feature prevents the watch from rocking forward or backward when placed in the box. That becomes especially useful if you own a top-heavy dive watch on a loose bracelet. As a design flourish, the top surface has a pyramid roof, reducing dust attraction.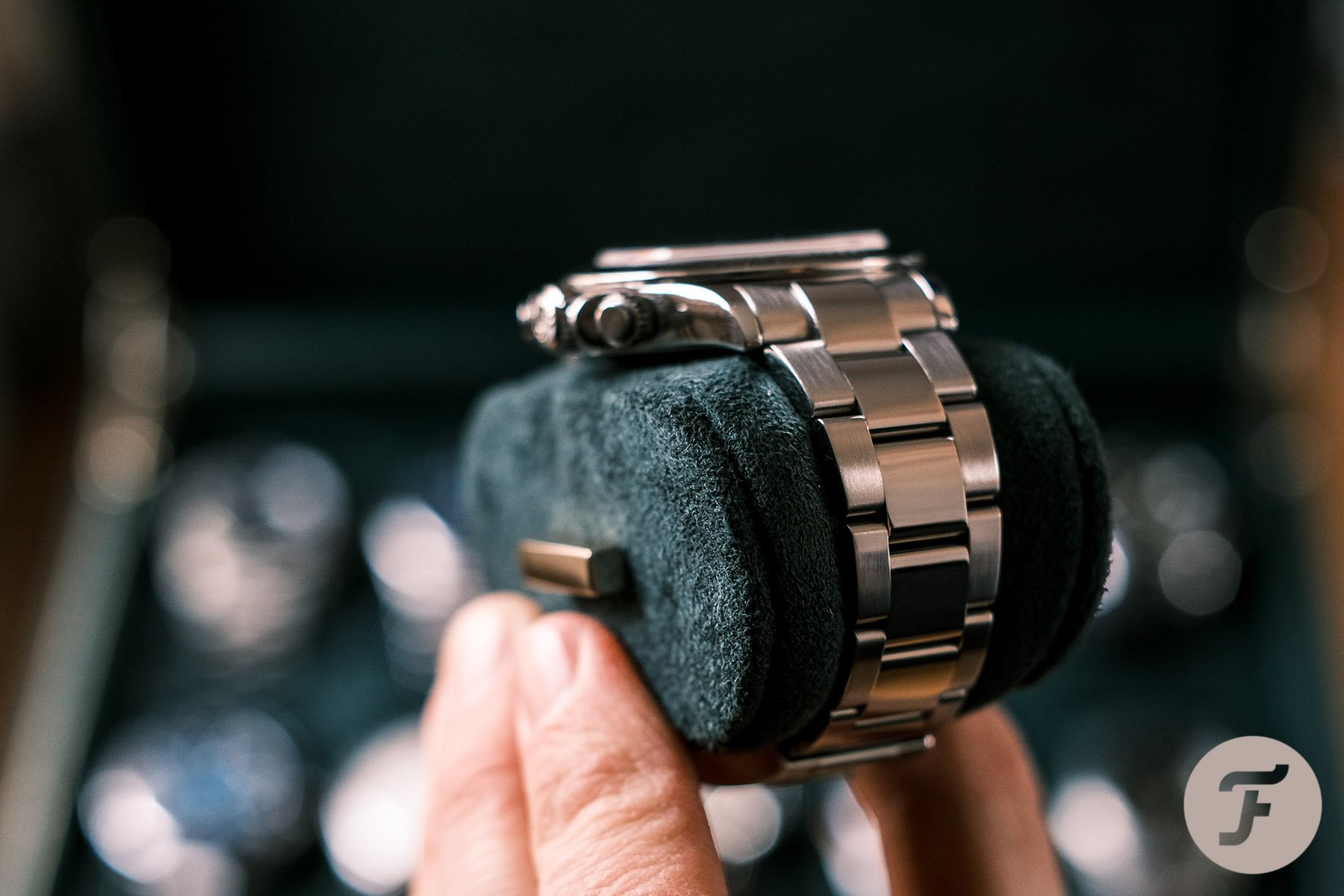 At the back of the box is an opening for charging a smartwatch with a cable. But being without a smartwatch, I ignore this feature. Rendered in vegan leather, the Wolf watch box has a British racing green sheen, which you'll soon realize is a continuous theme.
Wolf 1834 Triple Watch Roll — $245
So, I have my storage for home, but what if I'm on the move? A watch roll is a compact and secure way to transport your chosen travel buddies any distance. The obsession goes too far when one watch will not suffice for a weekend trip. After all, you may be snorkeling in the morning, golfing during the day, and dining in the evening. Therefore, I find a triple watch roll to be the best balance between practicality and capacity. The Wolf 1834 travel roll has extra hidden features that make it even more usable on the go. There are two snap-closure options in case one traveling watch is a Tudor Black Bay Pro and needs a little more room for the case height. I also appreciate the sliding watch guards that avoid the crown scratching the adjacent watch's case side.
What's even better is that the watch guards are adjustable if you take a 44mm diver and a 36mm dress watch. The spacing will likely vary, and it's nice to have the on-the-fly customization depending on the watch choices. I must admit the following function took me a while to discover. Pushing through the center of the roll is another compartment for smaller items such as rings and cuff links. This time, the roll is genuine leather, which makes sense for a more hard-wearing case for travel and stuffing in an overnight bag. Again, the British racing green color with gold hardware feels special when traveling in style. In my time with it, the Wolf 1834 watch roll has been a brilliant companion and one of the best pieces of watch-related swag for my collection.
Wolf 1834 Single Watch Winder — $695
My final option in my collector's cavern is another choice for the home. This time, I'm hesitant to admit it's a watch winder. There's a certain stigma around watch winders and the supposed unnecessary stress on automatic movements. Admittedly, continuously winding a watch for months on end is not what watches were designed for. On your wrist, a caliber may experience several positions as well as peaks of activity and rest. And unless you sleep with your watches, they're also likely to stay static on your bedside or watch box overnight. That's why the Wolf 1834 winders incorporate turns-per-day (TPD) settings and direction. These features try to mimic real-world wear while limiting the turns to allow the mainspring to wind down and the rotor to have a break. It also gives you a break if you want your automatic watch running while it's out of the current circulation.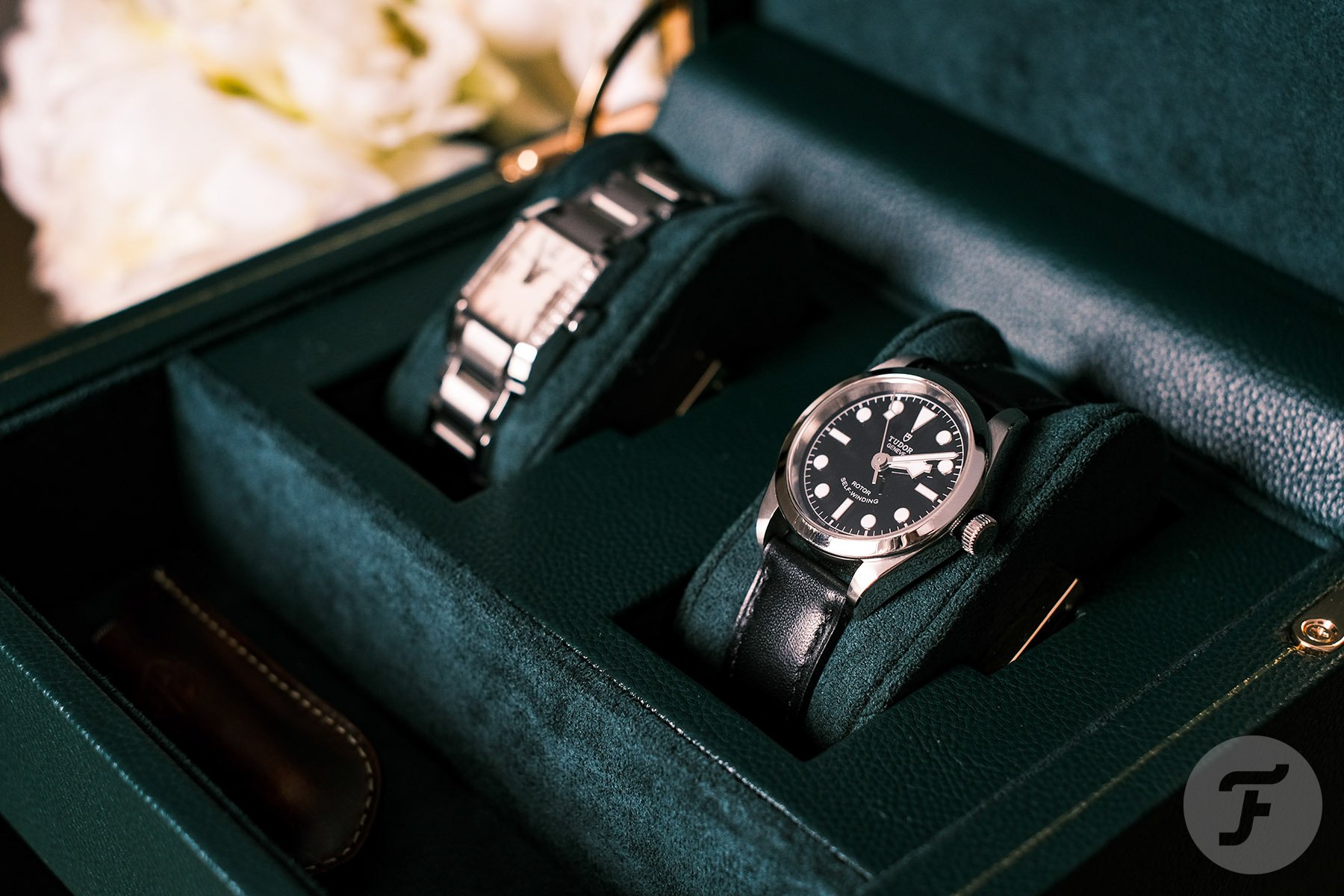 Depending on your watch, the TPD may vary. Knowing the right turns could be a guessing game. Luckily, Wolf provides an ever-growing database of recommended settings for self-winding wristwatches. Just enter the make and model and scroll to find the exact model or a similar watch. Take, for example, two Oris watches with different calibers. The Oris Divers Sixty-Five with the Sellita movement needs 650 turns in both directions. In comparison, the Calibre 400-powered Aquis needs 800 turns only in a clockwise rotation. This is because the Calibre 400 only winds in one direction; therefore, winding counterclockwise is ineffective. You may notice this particular watch winder has a familiar pattern around the winding cushion. Yes, the ring resembles the fluted bezel of a classic Rolex watch such as the Datejust or Day-Date.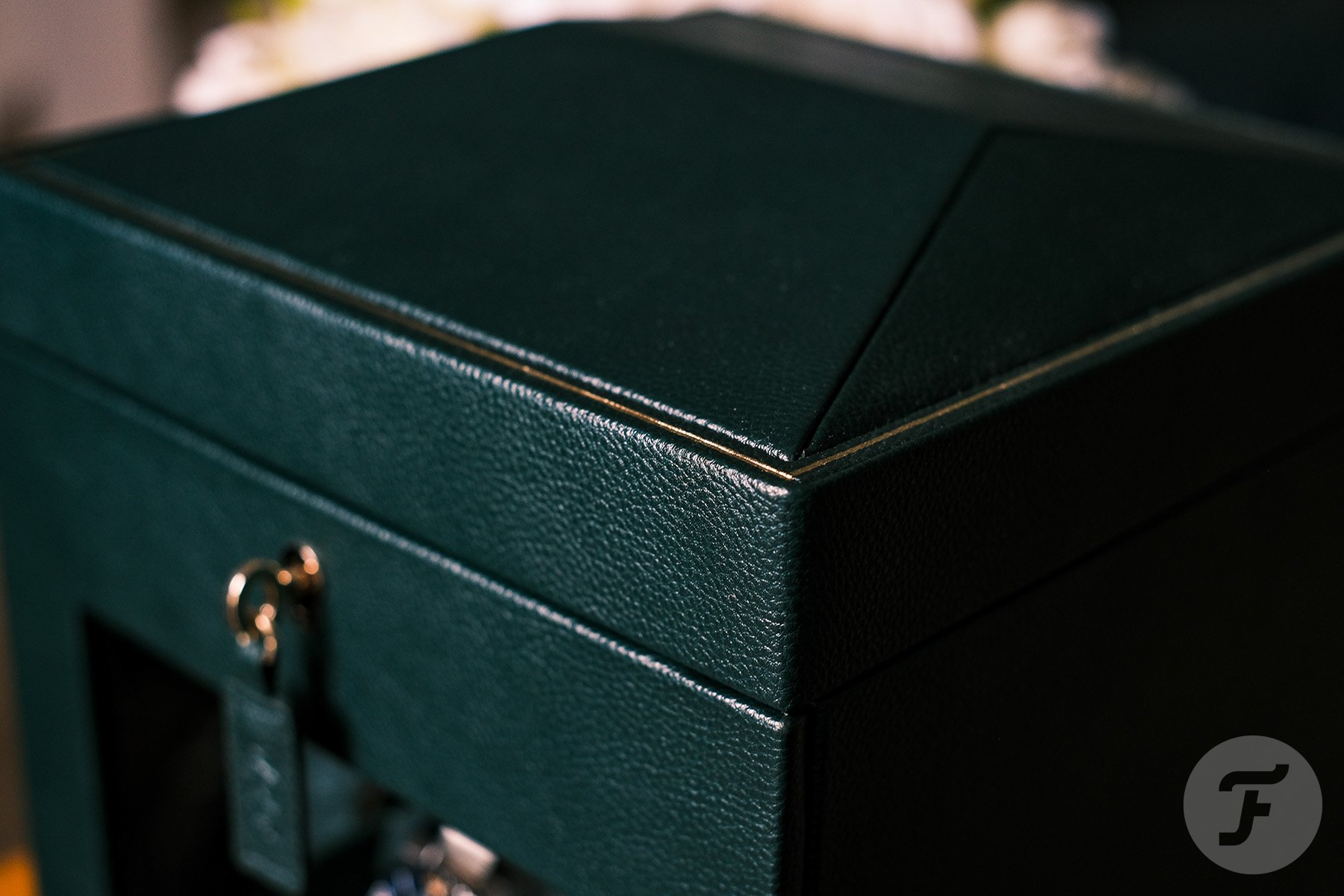 British racing green
The winder in British racing green has a similar roof architecture to the watch box, creating an excellent theme for your watch space. Each storage box also has thin gold trim on the edges. The matching gold hardware and the green leather key are useful for added security. Although it won't prevent intruders from simply taking the box itself, it may deter thieves hoping for discretion. The winder has extra space in the top compartment for stowing away tools, straps, and even two watch cushions. What's noticeable is how all the Wolf items have satisfying closing mechanisms with soft-closing lids to prevent slamming on your precious watch collection.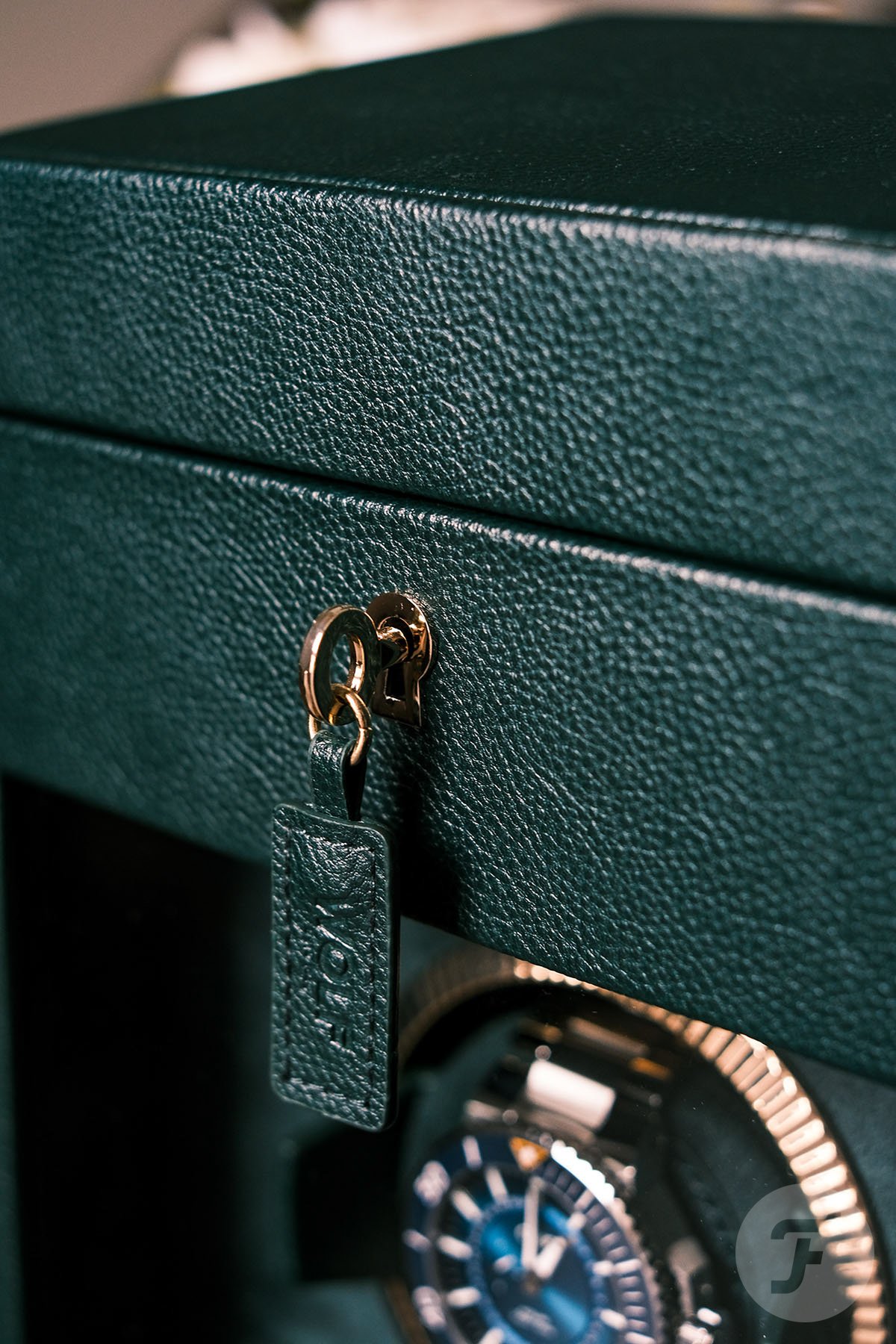 The options above explain how I prefer to keep my watches safe and secure. But what watch cases, rolls, or winders do you use? Let me know in the comments below. Click here to check out more of Wolf 1834's storage and winding products.