Fratello Editors' Geneva Watch Days 2022 Highlights From Bvlgari, H. Moser, Doxa, And More
Our favorite releases from last week's show
Remember Geneva Watch Days? It happened only last week, but it almost seems like an eternity ago. The last few days have allowed us to recharge our batteries, but we have not remained idle during that time. Not at all. We have all continued to mull over everything thrust upon us in the meetings that filled our tightly packed schedule. We've looked beyond the sensory overload that is the white-knuckle ride up and down the stairs, elevators, and narrow corridors of the Beau Rivage in Geneva, and we've fully digested everything we saw. Now, and only now, can we truly talk about favorites from the show. And that's just what we're here to share with you. Our editors on the ground and some of those who helped us back at HQ come together to show you the best of the best from Geneva Watch Days 2022.
For those of you who decided to sit out the deluge of release articles and wait for a concise summary with all the highlights, look no further. Though we would still recommend that you check out our detailed coverage of the new releases, here you'll get a summary of some of our favorites. As you might expect, there was a little bit of overlap, but after not much discussion, we were all able to find a pick we were happy with. And though many of you will want to know more about the Tudor Pelagos 39, we aren't officially counting it as a GWD release. But fret not; a full hands-on review of that one will be out first thing tomorrow. For now, let's take a look at Fratello's picks from Geneva Watch Days 2022.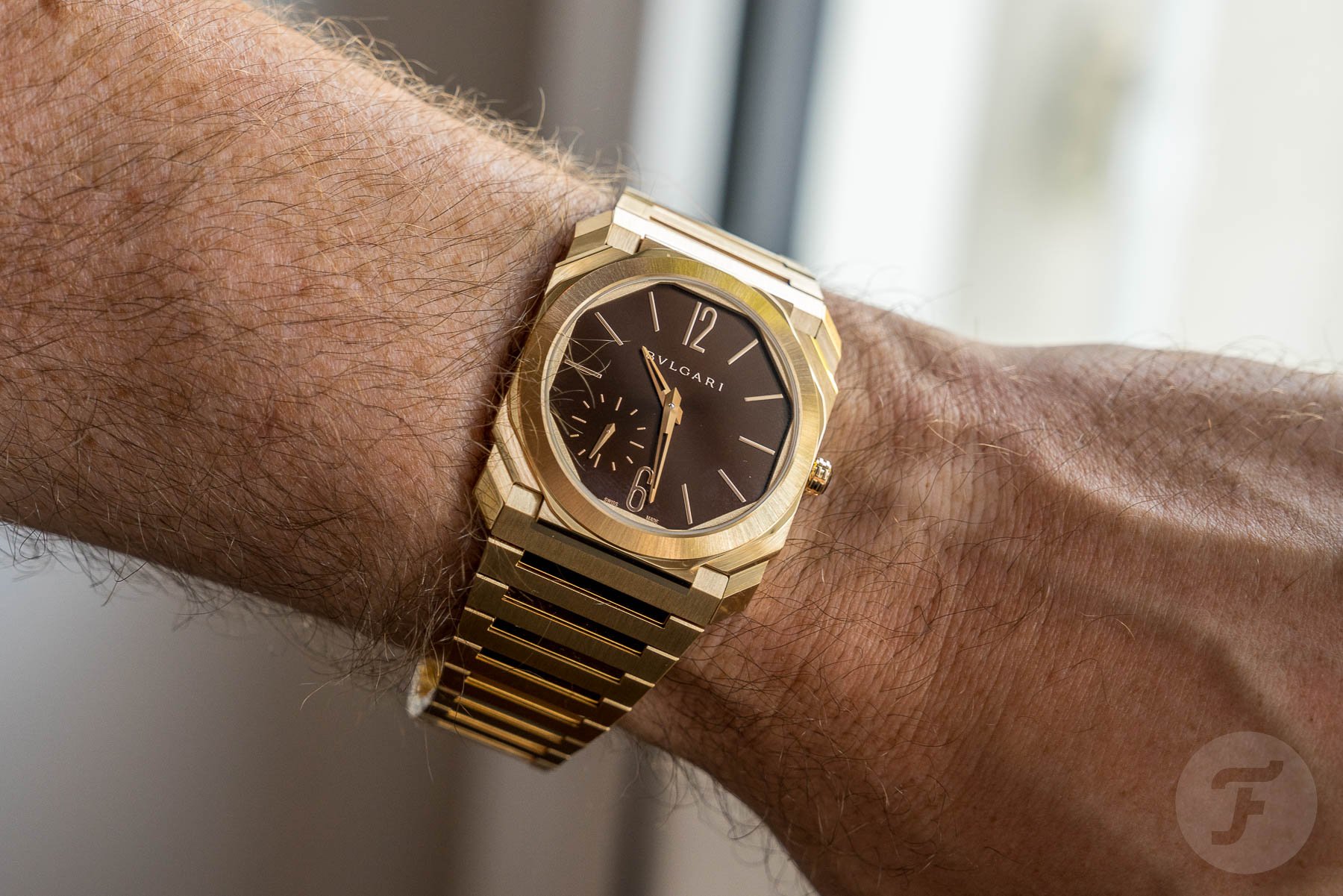 RJ's Favorite GWD Release: Bvlgari Octo Finissimo in gold and brown
The Bvlgari Octo is celebrating its 10th anniversary this year. Bvlgari has introduced many variations in the Finissimo range, including impressive complications in extremely thin cases. Until last week, however, I couldn't decide which Octo Finissimo I liked best. I am not much of a titanium fan, but the matte finish looks great on the Octo Finissmo. When the steel version came out in 2020, I was smitten by it. That was until our photographer Bert and I visited the Bvlgari manufacturer that same year (a few days before the lockdown). It was there that I tried on the Octo Finissimo in gold. Wow! Talk about wrist presence!
Then, during Geneva Watch Days last week, Bvlgari showed us two new gold Octo Finissimo references, both with a beautiful brown "tobacco" dial. One model (ref. 103637) comes in rose gold, and the other (ref. 103717) comes in yellow gold. The latter is limited to 50 pieces and is exclusive to the United States.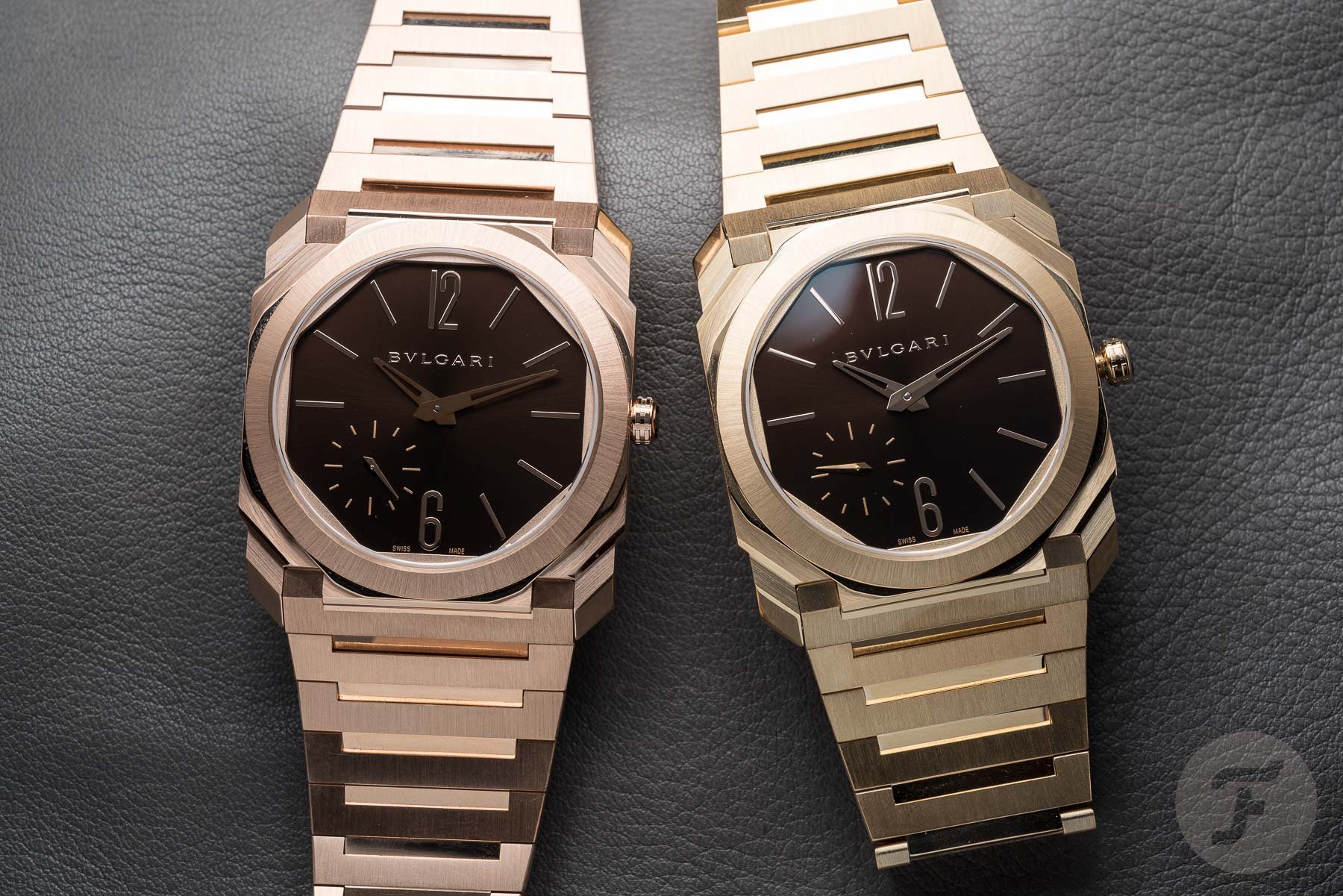 The major specifications for both watches are the same — BVL 138 movement inside (which is just 2.23mm thin), 40mm case diameter, and 100 meters of water resistance. And these gold Bvlgari Octo Finissimo watches are just 6.4mm. What I truly love about these gold editions is that despite the thin case and bracelet, they have a proper feel on the wrist due to the material. The tobacco-brown dial combines incredibly well with the soft, precious metal. Bvlgari did an amazing job with the Octo Finissimo in general, but these gold editions stand out.
The price of the new rose gold Bvlgari Octo Finissimo is €45,000 (US$44,800), and the US-exclusive yellow gold limited edition will retail for $45,500.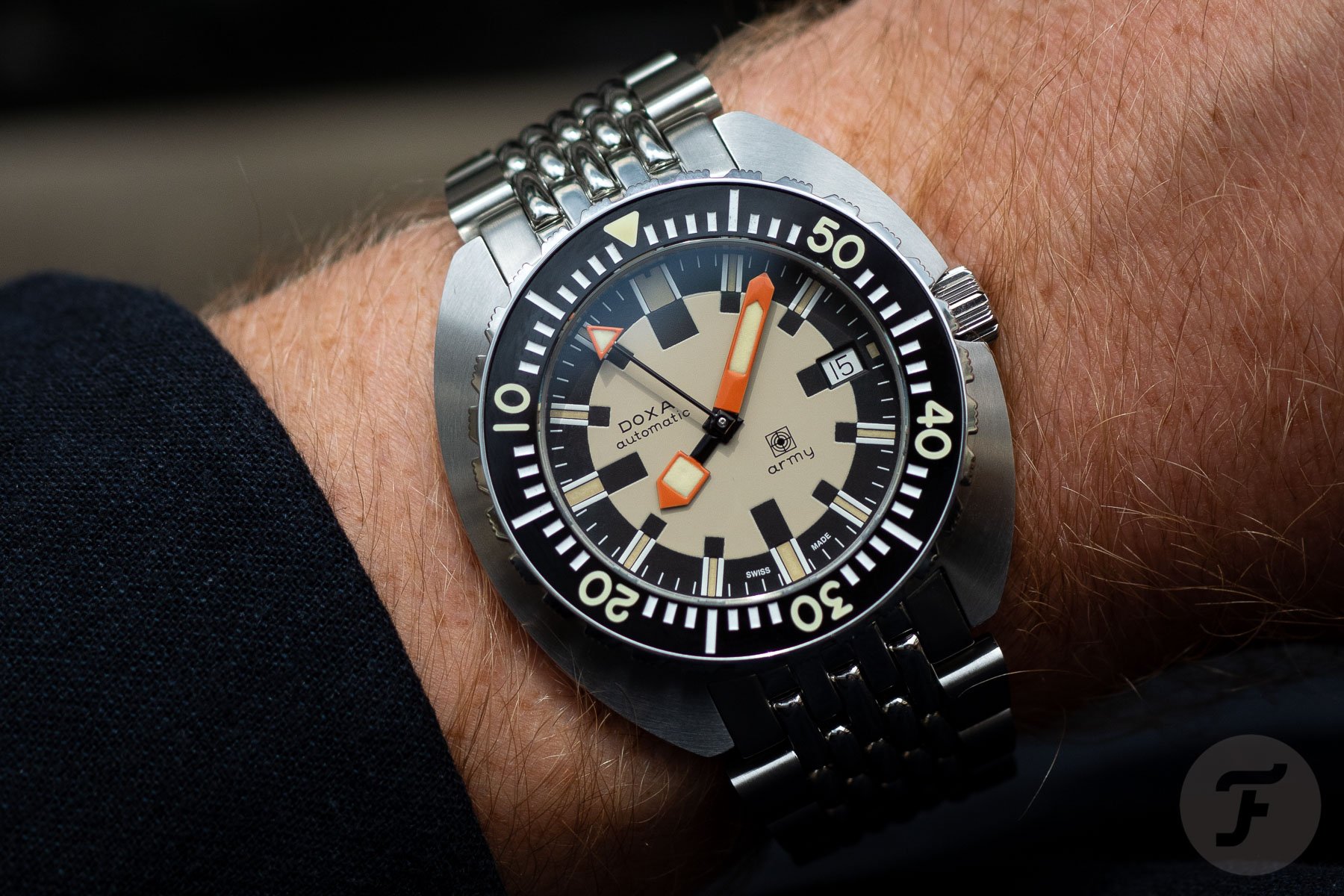 Nacho's Favorite GWD Release: Doxa Army in steel
I think it's no great secret that my favorite release from Geneva Watch Days 2022 was the Doxa Army in steel. Not only did I post about it on my own Instagram page, but I also announced as much on the Fratello stories. And even a few days of reflection later, I still stand by my choice. The only thing that has changed is my wanting to rush into buying it. Now that this watch is available in a non-limited capacity and that my burning desire for it has died down, it will have to wait for other purchases in the books. That said, it is a watch that will make its way into my collection sooner or later. A worthy follow-up to its limited (and far more expensive) ceramic older brother, the steel model pays tribute to a rare Doxa model made in the '70s for the Swiss military.
The original models had a black coating, reportedly achieved by oil-dipping the cases. Said finish wore off rather easily and resulted in many cases showing the bare steel instead. In some instances, it wore off so completely that, for a long time, it was thought there were both coated and "raw" cases. I love the look of the steel case, which makes it a little more wearable than if it has a black PVD or DLC treatment. I also really appreciate the bronze bezel with green details, but I can't help but want my first Doxa to be a more toned-down and classic version. For just over €2K, it doesn't get much better than the Doxa Army. So, you have been warned. Watch this space, and don't be surprised if you see one of these on my wrist sometime soon!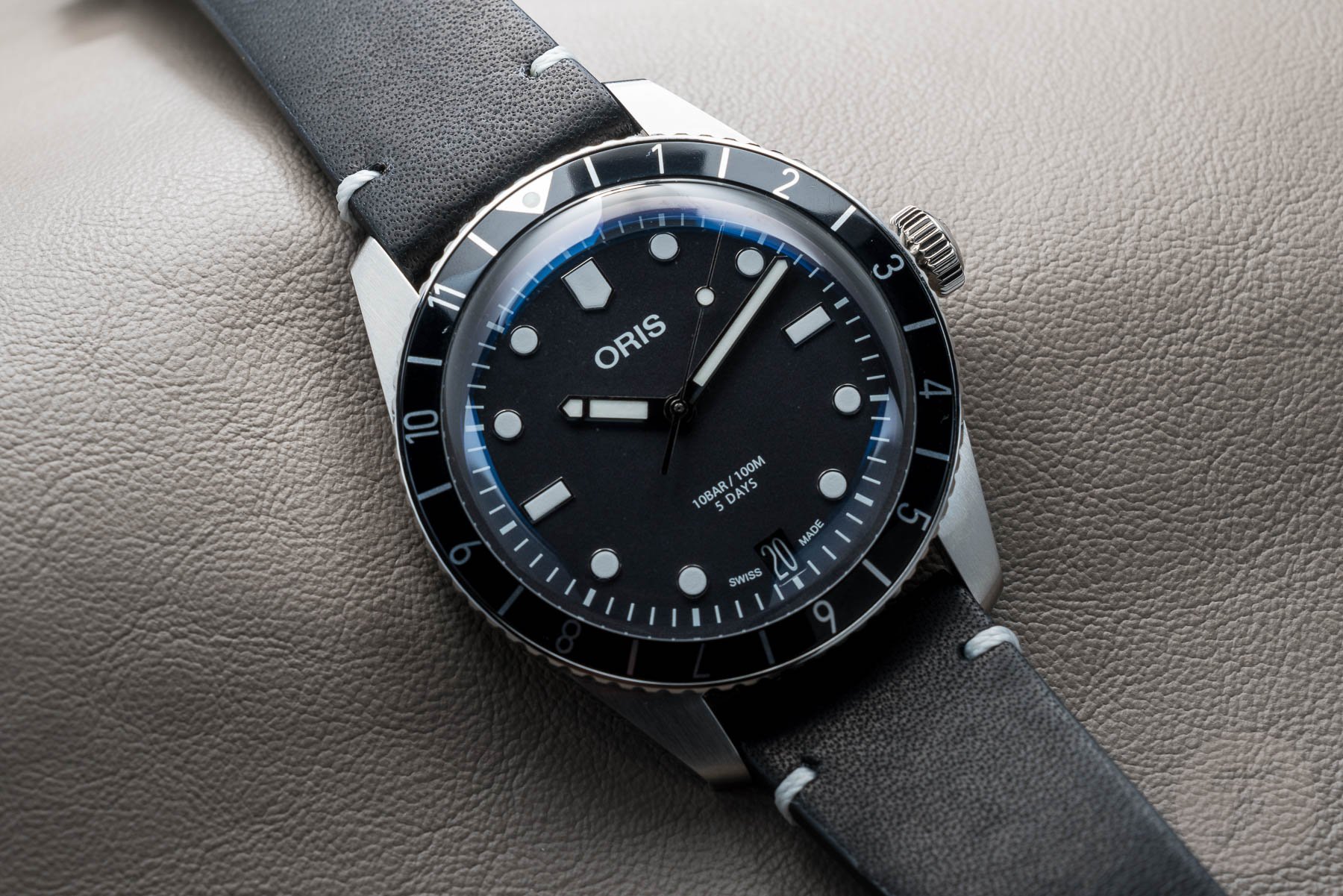 Thomas's Favorite GWD Release: Oris Divers Sixty-Five 12H Calibre 400
My taste in watches leans heavily towards the simpler, less-is-more side of things. So when Oris dropped a Divers Sixty-Five in all black without fancy colored or faux-patina lume, I got excited. I have owned a Sixty-Five in green with a bronze bezel. It was a thing of beauty but just a little too involved for my liking. A few too many details and frills. I ended up not wearing it, and finally, it got flipped.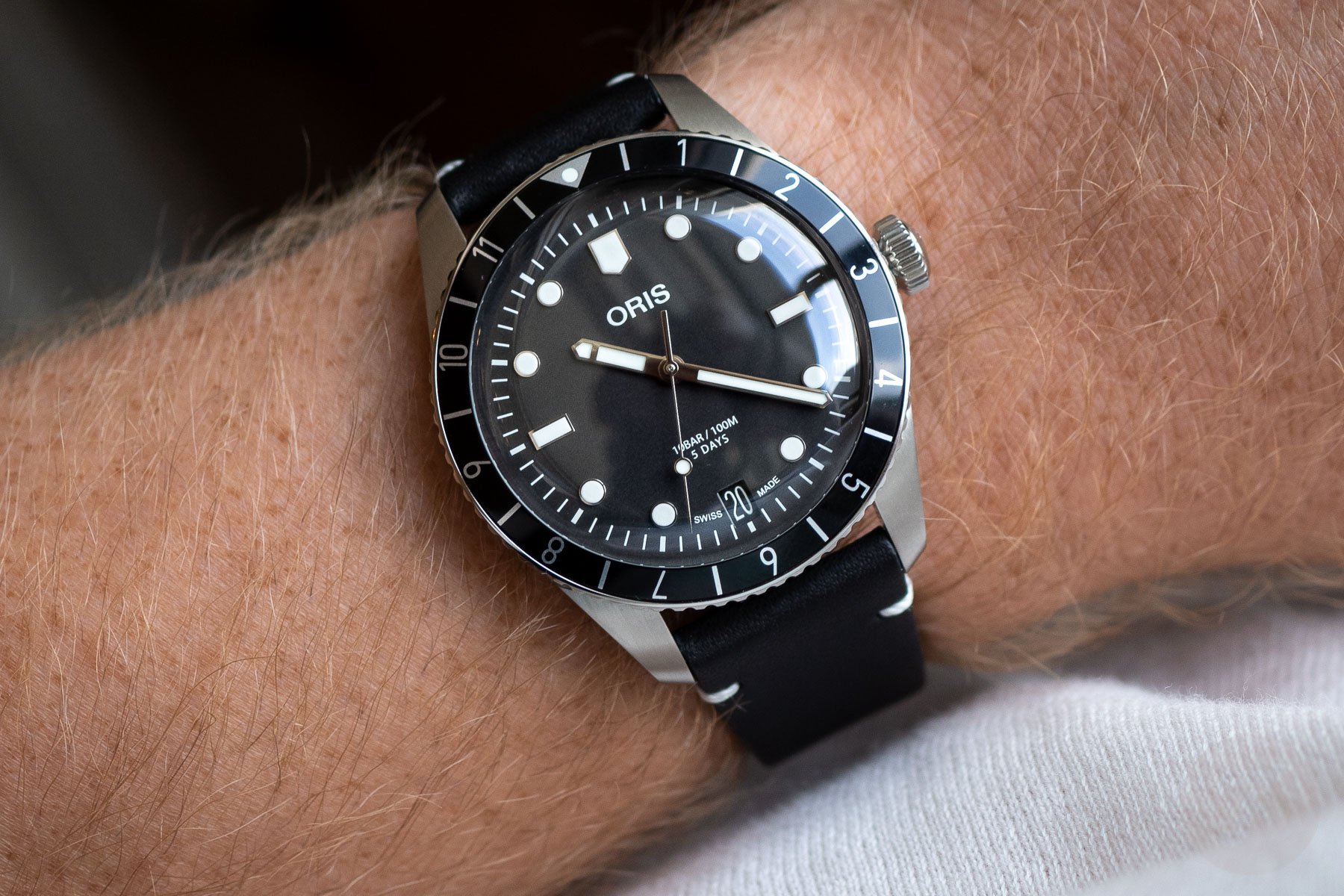 Now, this new model might just lure me back in. It still has a ton of vintage charm, but it is slightly more restrained. It seems to be making less of an effort, which is often cooler. I would prefer it with a regular dive-time bezel, but this is nice too. The stark monochromatic look really packs a punch. This is a Divers Sixty-Five reduced to its essence, and that makes it the best version to me.
And then there is Oris Calibre 400 with its crazy power reserve, service interval, and warranty. I have to admit, I have been critical about it. Not specifically about the caliber, but about what it does for the brand's positioning. When I think of a $2,000 dive watch, I think of Oris. When I think of a $3,700 (CHF 3,300) diver, I do not. But, to be fair, the extra watch you get for the premium is pretty substantial. All in all, this is the ultimate Divers Sixty-Five in my eyes. That makes it my favorite GWD release of 2022.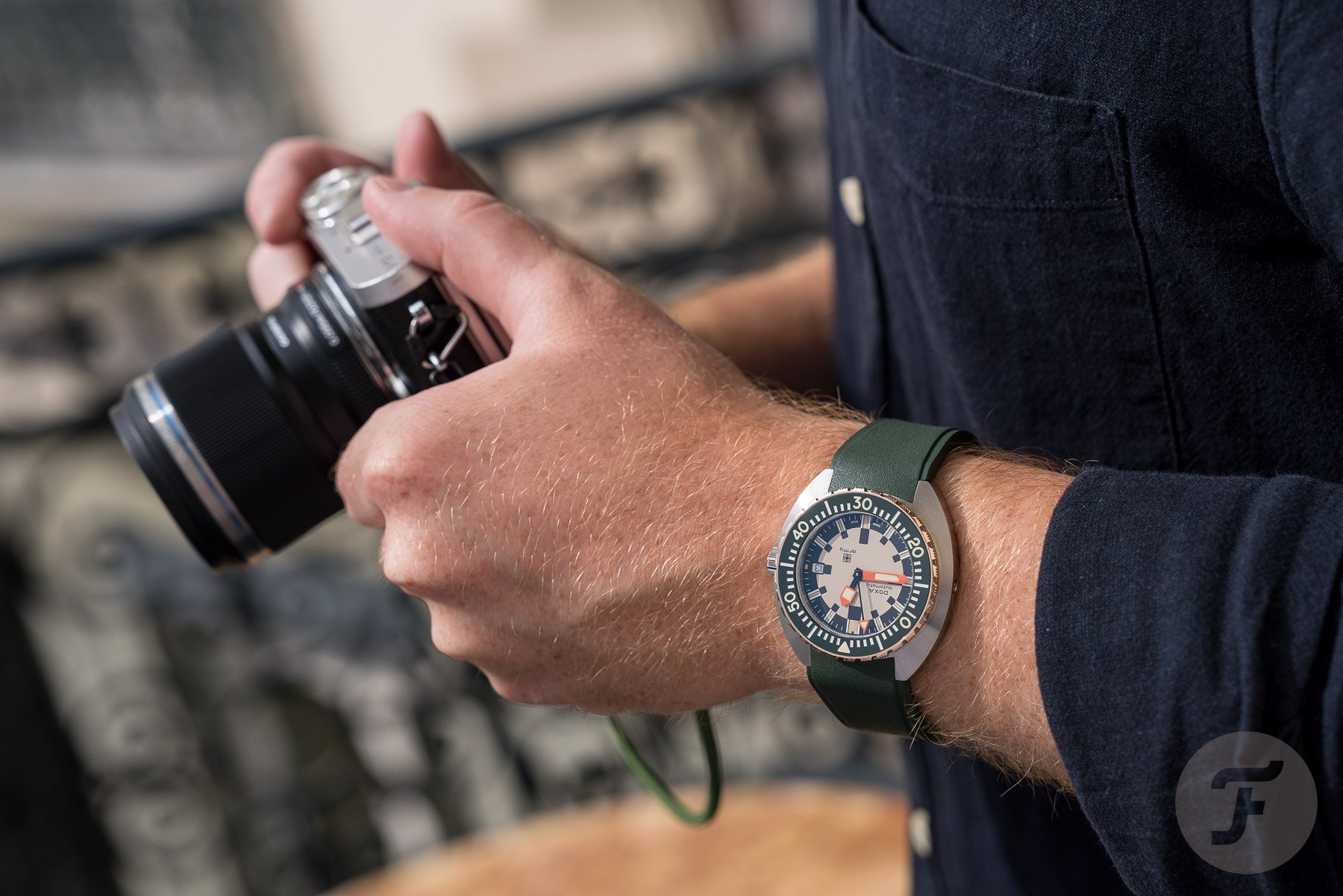 Balazs's Favorite GWD Release: Doxa Army in steel and bronze
Great minds think alike. This is how I'd explain that we have not one but two editors picking Doxa for their favorite release of the show. Nacho and I both went with the new Doxa Army, albeit I'm all for the steel/bronze version, and he is Team Steel. The subtle touch of bronze has drawn me to the steel Army with a bronze bezel. A historically favored material for diving equipment combined with a steel timepiece is just superb. It's barely visible at first glance, but take a closer look, and you'll see what I mean. Focus on the bezel. The green inlay, especially with the green rubber strap, helps a lot. The harmony that the steel, bronze, green, and beige dial create is so captivating that it's hard to say no. And I have not even talked about the price. At €2,250 on a rubber strap (€2,290 on a steel bracelet), this historically inspired novelty is a steal.
I saw the ceramic-case Army last year during Geneva Watch Days. Back then, I hoped the model would make it to the regular collection, so I was happy to see the new versions in the metal last week. Would I also take the all-steel model that Nacho picked? In a heartbeat. There's no question about that. Still, I feel that the steel Doxa Army with the bronze bezel is, for the lack of a better description, more playful. That little touch of coppery yellow makes a huge difference. Keep in mind that the brand never really used bronze in the past and probably won't use it too extensively going forward either (at least not soon). Whether this is the beginning of a new path for Doxa or just a one-off thing is unknown. Nevertheless, the Doxa Army in steel and bronze is my favorite of Geneva Watch Days 2022.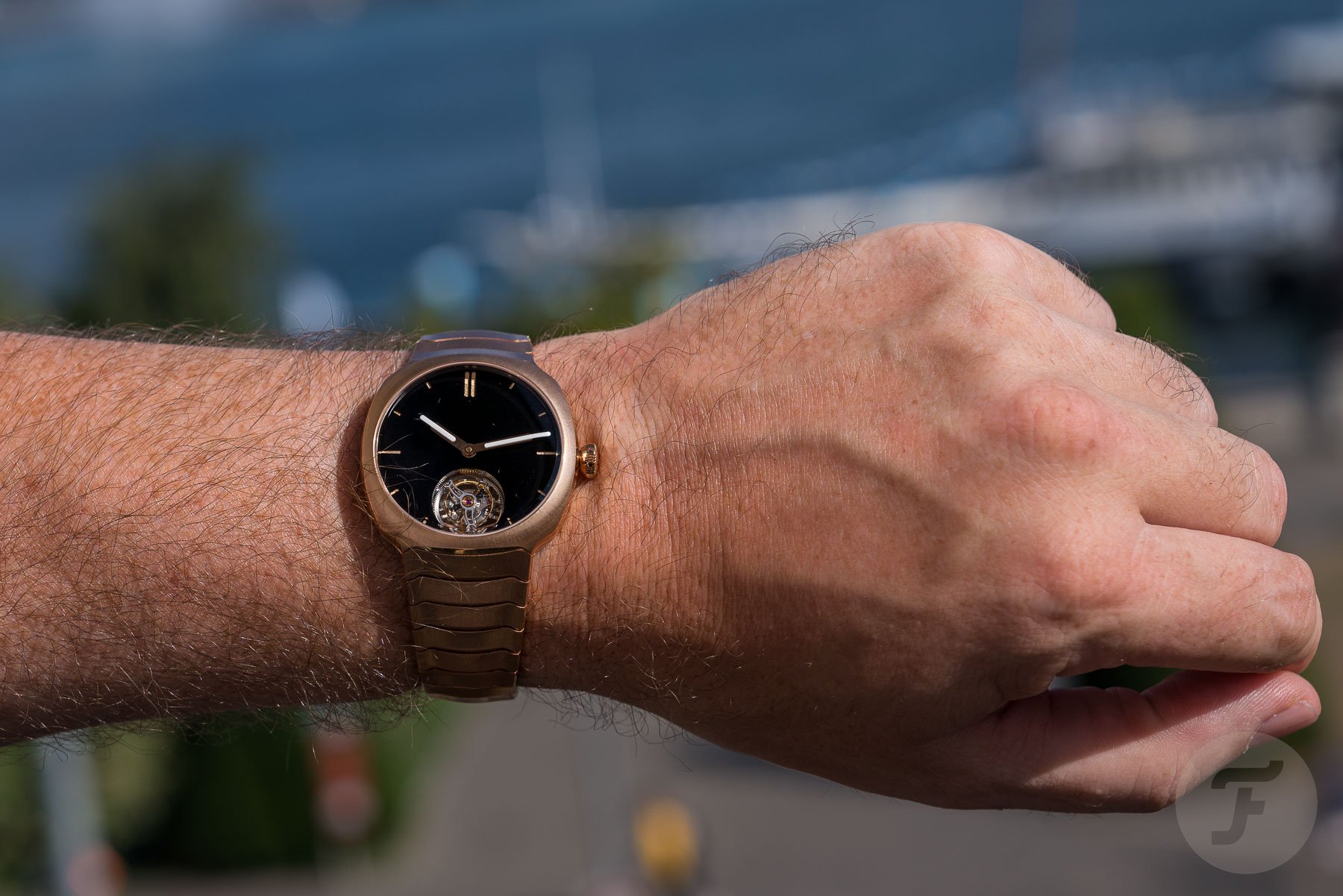 Daan's Favorite GWD Release: H. Moser & Cie. Streamliner Tourbillon Vantablack
I used to own a Grand Seiko SBGX093 with a beautiful matte black dial. The best thing about it was the contrast between the dial and the steel minute track. It made the steel case pop like a strobe light, and at the same time, you could look into infinity through that blacker-than-black dial. Now H. Moser & Cie. took it a few steps further with the rose gold Streamliner Tourbillon with a Vantablack infinity dial.
In my eyes, the designers could've even left out the tourbillon at six. The combination of the impossibly black dial and the organically shaped case and bracelet already looks oh-so-good on its own. I love how there's no text on the dial. In the end, it is the design of the case and bracelet alone that immediately tells you that you're dealing with a watch from H. Moser.
Of course, we've seen that design on previous Streamliner models. But for some reason, the rose gold works so well with its reptilian shape. Before seeing the rose gold Streamliner, I was already looking at gold and two-tone watches with greater interest. This rose gold and Vantablack beauty from Moser only strengthens my feelings that gold might be the way to go next!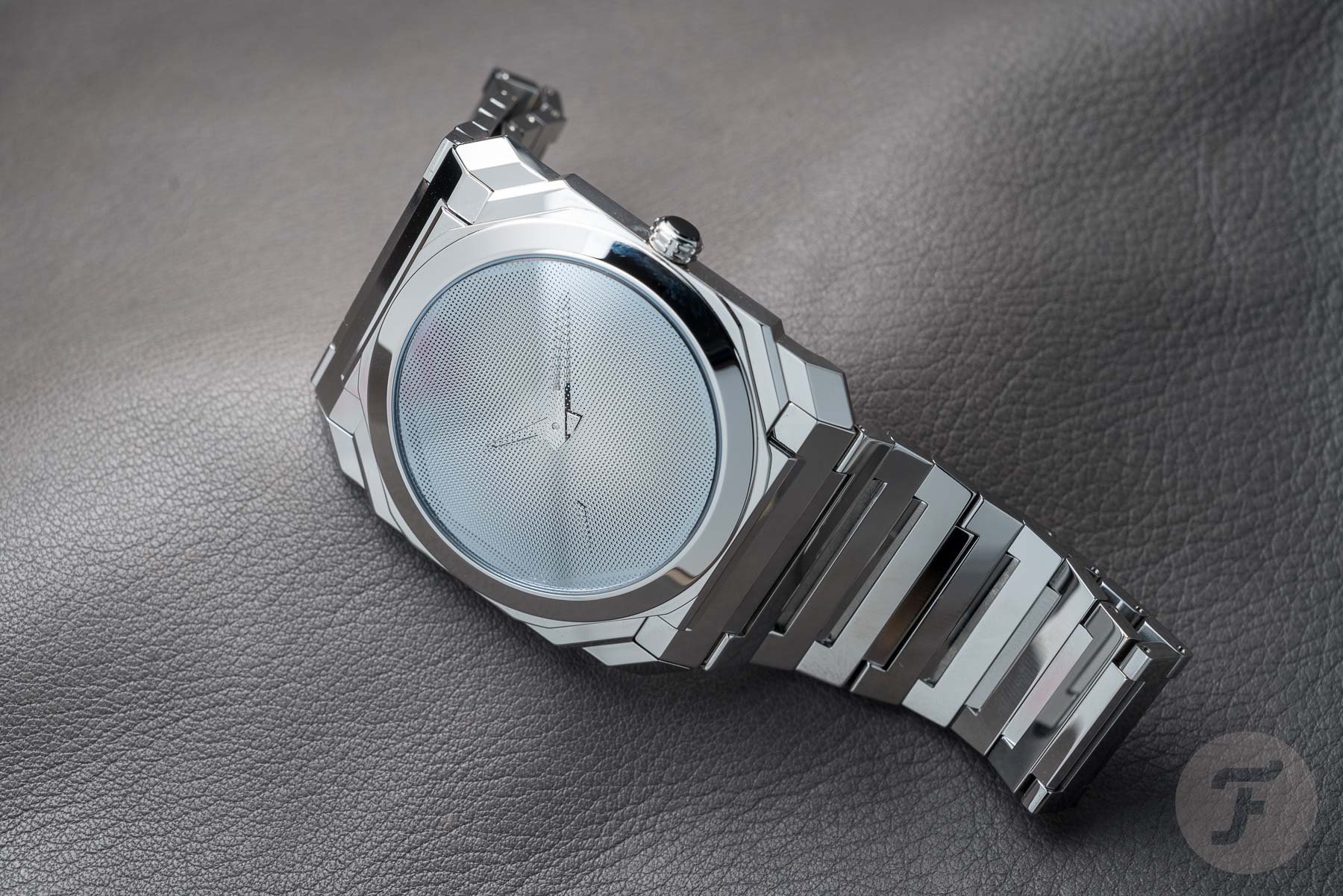 Lex's Favorite GWD Release: Bvlgari Octo Finissimo Sejima Edition
Some watches make you think. Challenge you intellectually, even. I'm not talking about a plethora of complications squeezed into one movement that makes you wonder how it all works. The challenge I'm referring to is more on a conceptual level. And the Bvlgari Octo Finissimo Sejima Special Edition is a conceptual watch that does just that. The fully polished steel Octo Finissimo is a marvelous creation that came to life because of a meeting between Fabrizio Buonamassa, Product Creation Executive Director at Bvlgari, and Pritzker Prize-winning Japanese architect Kazuyo Sejima. Sejima has made a name for herself by creating buildings that blend into the environment. But it was a train that made Buonamassa want to see if Sejima's philosophy would also work on a watch.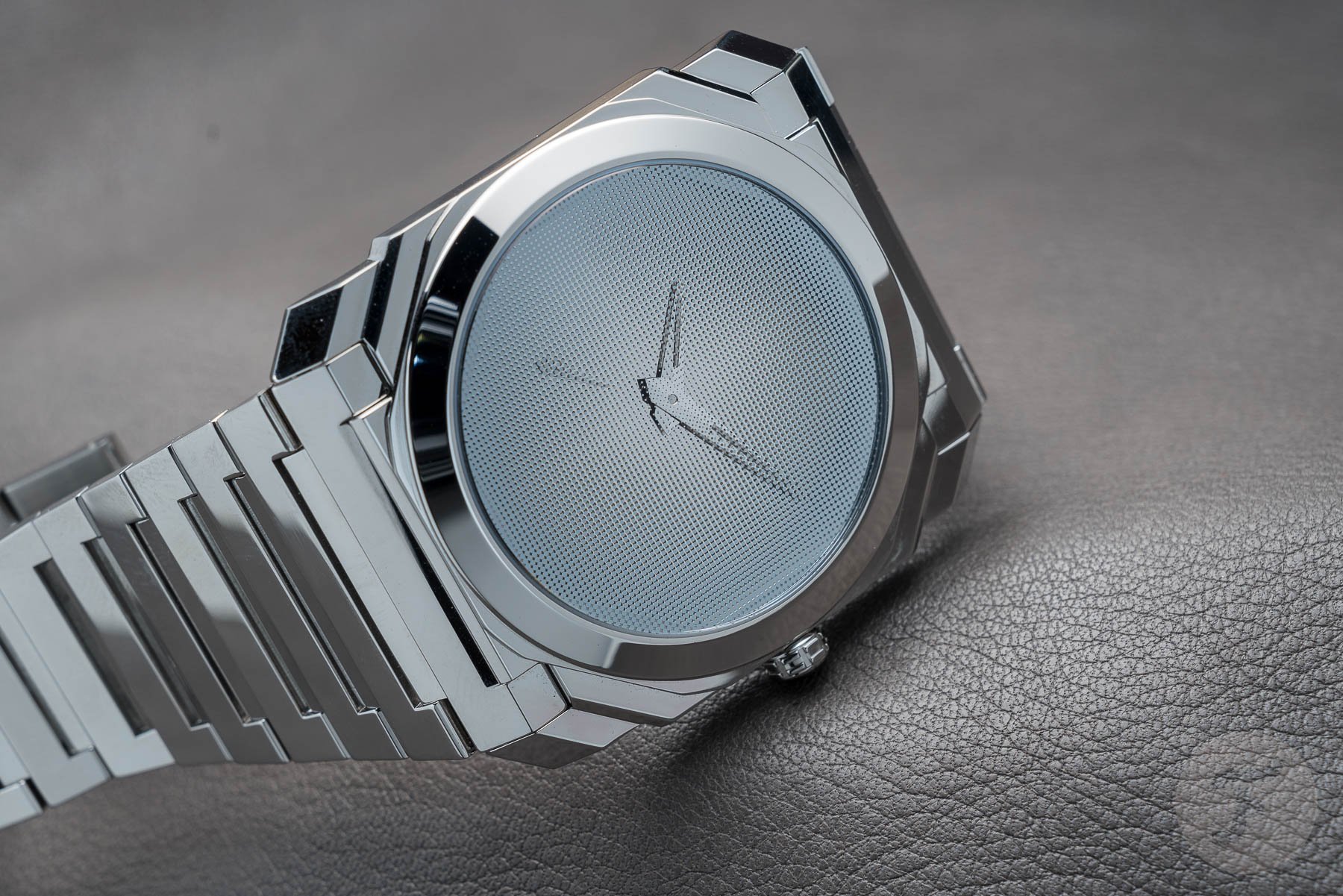 Buonamassa says, "Kazuyo Sejima designed a train called Laview to celebrate the Seibu Railway Co.'s 100-year anniversary. It's an invisible train because it reflects the surroundings like a mirror. Quite paradoxically, the train blends in via a mirrored surface. You would expect that a fully polished watch would be very conspicuous, and it is in a way, but it also confronts its wearer with itself. And that's because you see your face in the dial every time you want to know what time it is. The watch confronts its wearer more than it tries to blend in."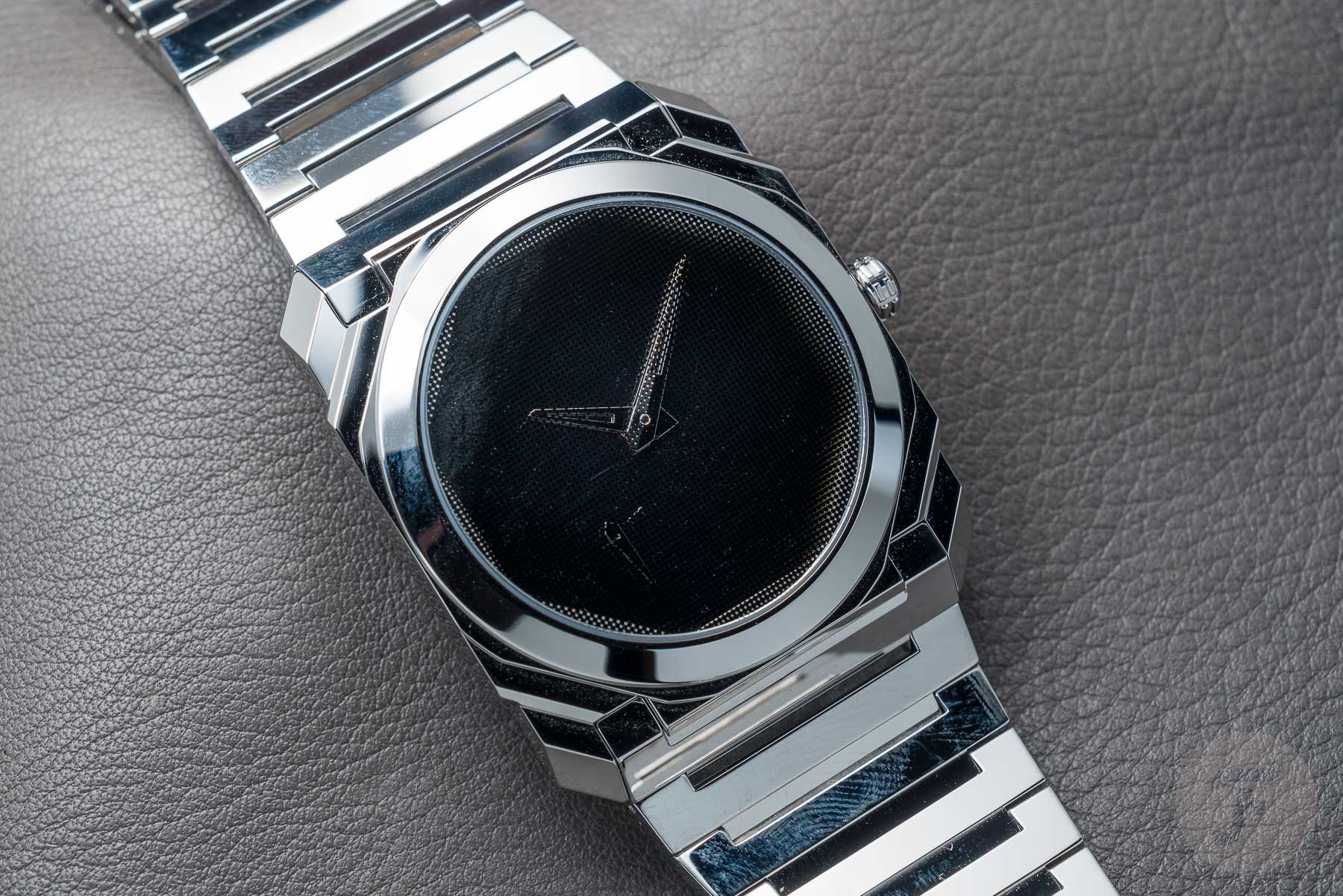 Shine bright like a diamond
Well, the Octo Finissimo Sejima Special Edition sure doesn't blend in on the wrist, but that's not due to its 40 × 6.40mm dimensions. Rather, it's because every greasy finger leaves a stain that's impossible not to notice on the mirror-polished surfaces. It's also due to the mirror-like dial. This dial is more than just a mirror, though, with a grid that adds a geometric dimension. It also changes color constantly and is therefore incredibly dynamic.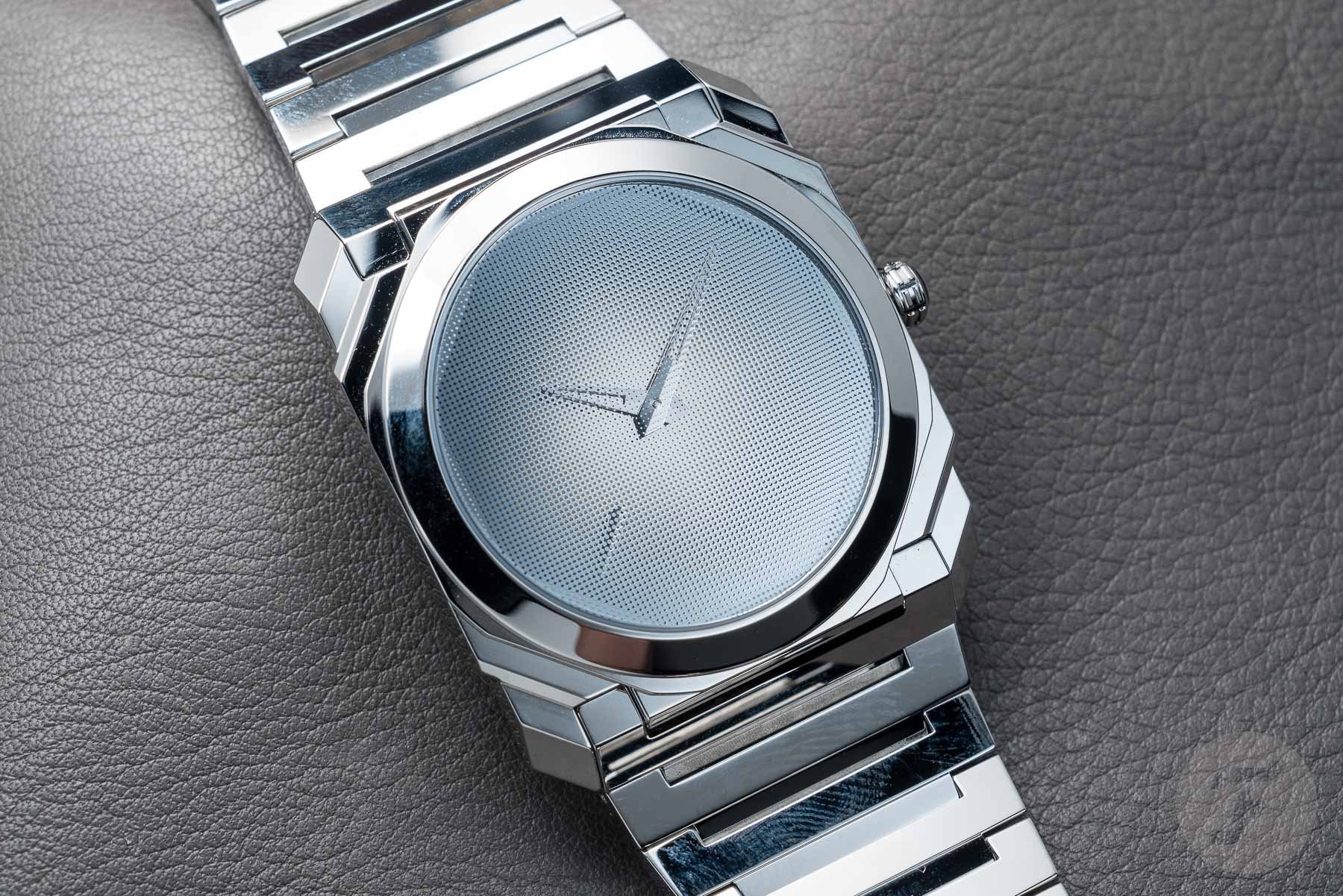 You could state that the idea of creating a watch like this doesn't work in real life. But that doesn't mean that the Octo Finissimo Sejima Edition — a limited edition of 360 pieces with a price of €14,700 (US$14,000) — is a failed watch. This is the most gem-like Octo Finissimo to date, and if you wear a watch-handling glove on your dominant hand, it will shine bright like a diamond all day.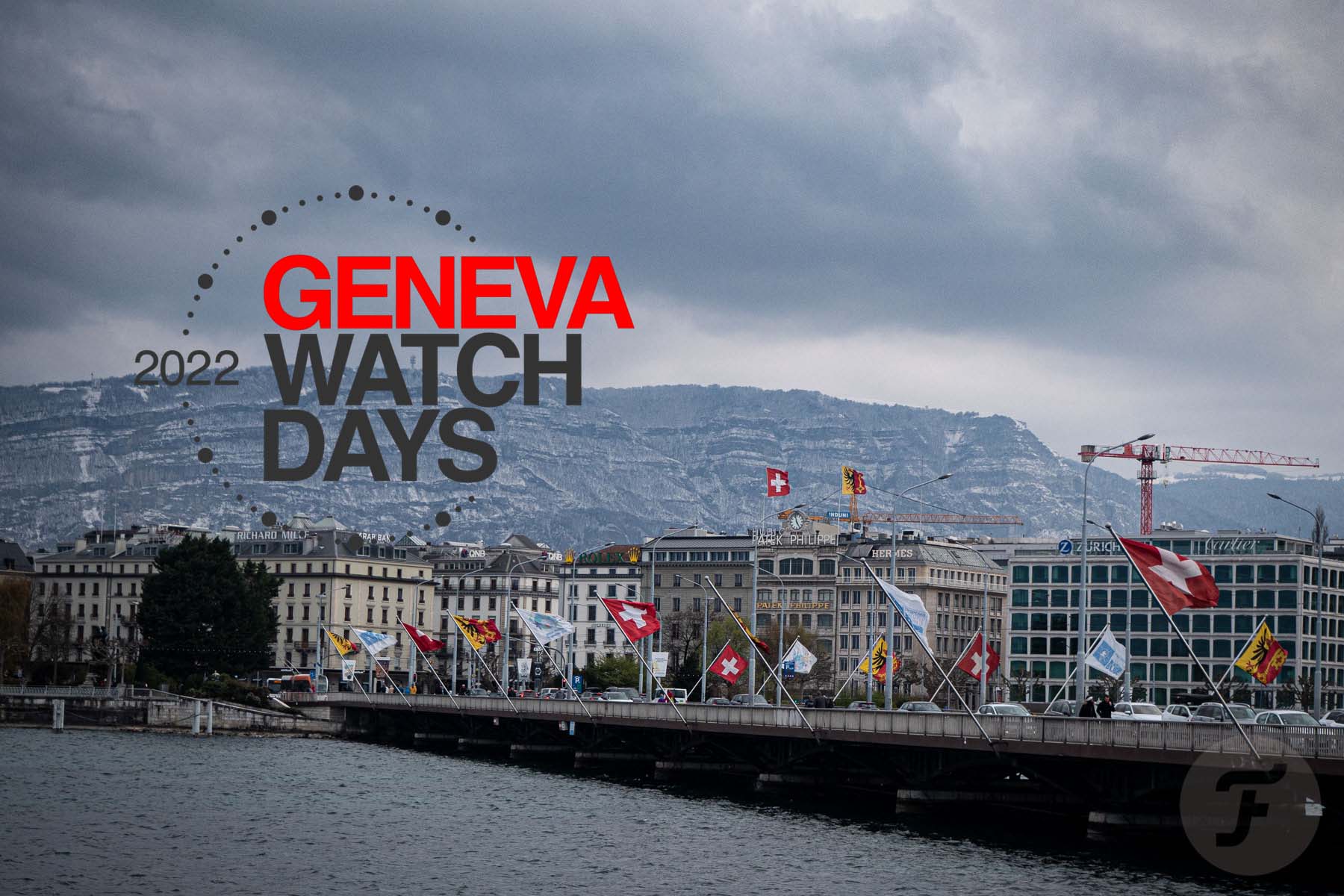 Final thoughts
And that's all she wrote! Or rather, that's all we wrote. Though there were many great releases during Geneva Watch Days 2022, these are our favorites. Doxa and Bvlgari have come out on top with two watches each in our editors' highlights. We have to give an honorable mention to
HYT
,
Urwerk
,
Singer
, and
Czapek
for also introducing some excellent novelties.
Now you've heard about our picks, but don't let us have all the fun! We'd love to hear which of the many releases you liked the best. Let us know in the comments below!