Fratello Editors Share Memories Of Their First Watch Ever — Seiko, Casio, Omega, And More…
Let's get emotional with this spectacular lineup
The other day I reached a little bit deeper into the safe than I usually do. I ended up with the cheapest blue plastic digital watch you can imagine in my grasp. Rolling it around in my hand, every single bit of it still felt familiar despite not having seen it for about three years (and 20 years before that). It was my first watch ever and it holds a special place in my heart.
That was the very moment that sparked the idea for this article: a write-up in which each of the Fratello editors could share their earliest memories of their first watches. I pitched the idea to Rob and RJ. They loved it and instantly sent me back their stories. It didn't even take a full week for me to collect the first-watch memories from each editor on the Fratello team. Enjoy reading, and make sure to share your first-watch story in the comments below!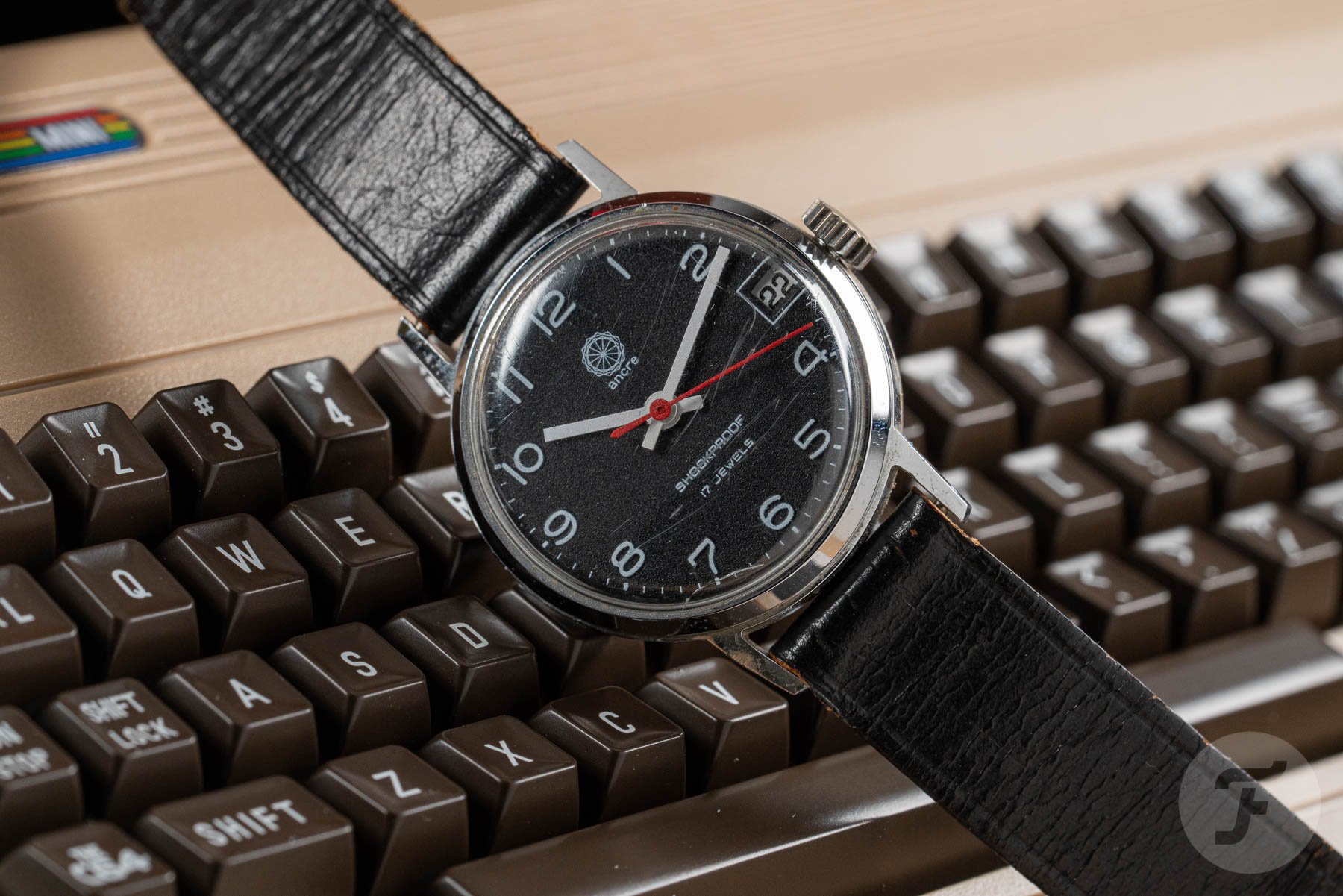 Bert's first watch: Ancre
I was born and raised in a tiny village in the countryside, not far from the German border. Back then, in the early '80s, we all had to take our first communion in the local church. And for this momentous occasion, my godparents gifted me my very first mechanical watch. It is not because of vivid memories of that time in my life that I can actually remember this, but rather thanks to the watch itself. When I come across that Ancre every so often, it brings me back to that time, and the memories come flooding back. The 28mm case must have worked better on my wrist back then, as I must have been around six or seven at the time. Unable to find any photos of myself wearing the watch back then, I combined it with something which is still around and also brings back memories from that era, the Commodore 64!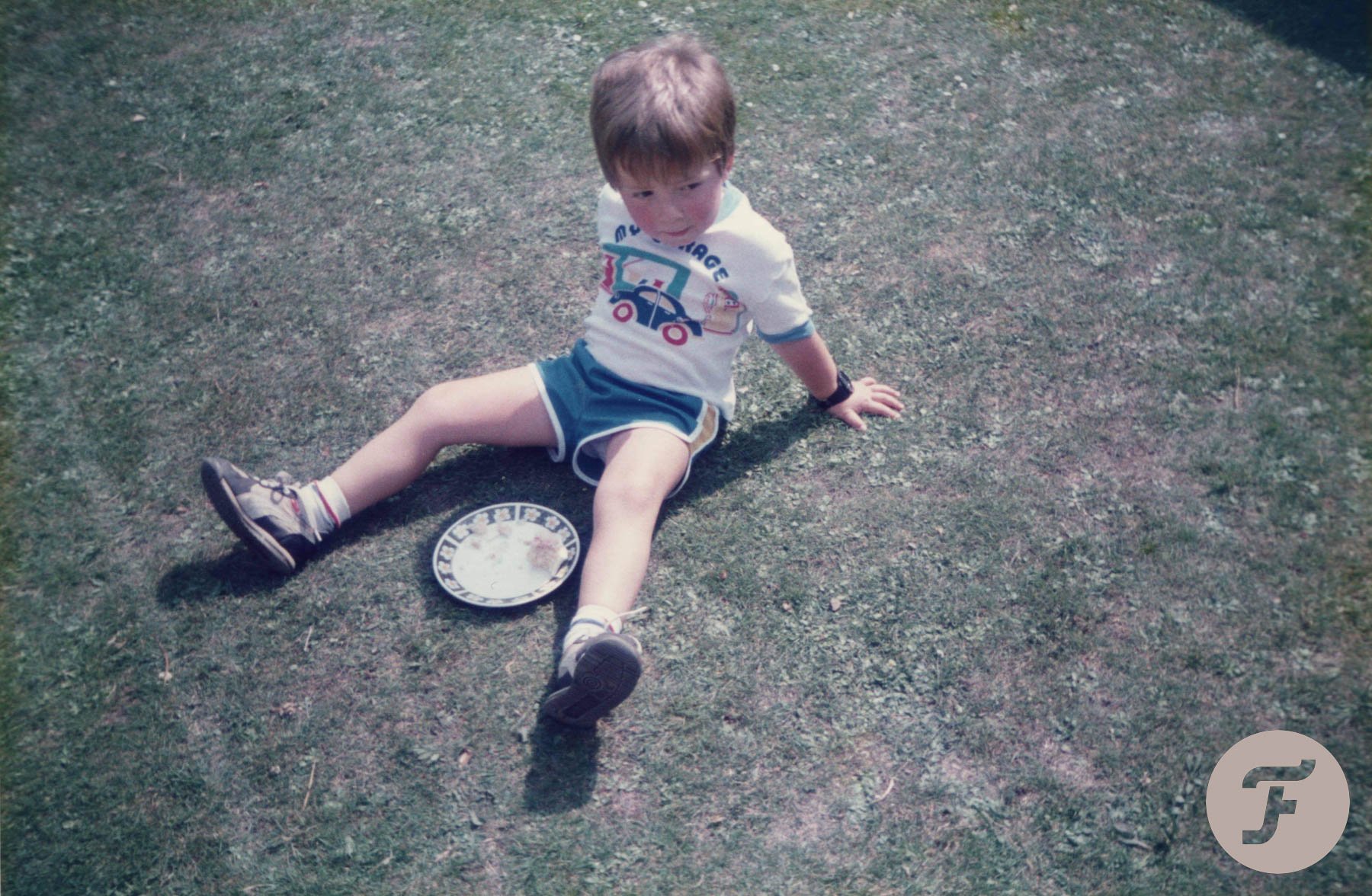 Rob's first watch: Unidentified until today
For years, I'd been living under the delusion that my first watch was a Casio F-94W. Uncommonly, my father had broken open the piggy bank and spent some money for once — a whole seven quid, if memory serves. He splashed out on an F-91W for himself, and while my F-94W has long since been lost to the annals of history, his beaten, battered, but never defeated '91, still sits upon his wrist to this day (unless it takes a day off in favor of his new GBD-H1000). He'd bought me that watch either for or around my eleventh birthday when I was just about to start high school. I'd always assumed that this was where my "collection" began, but last month, my old man sent me the above photo of me wearing an unidentified watch around the age of four. None of us has any idea what it could have been. Although it was probably something I saved up cereal box tokens for, I'd appreciate it if any of the Fratelli can identify it. Let me know in the comments below! Humorous suggestions encouraged…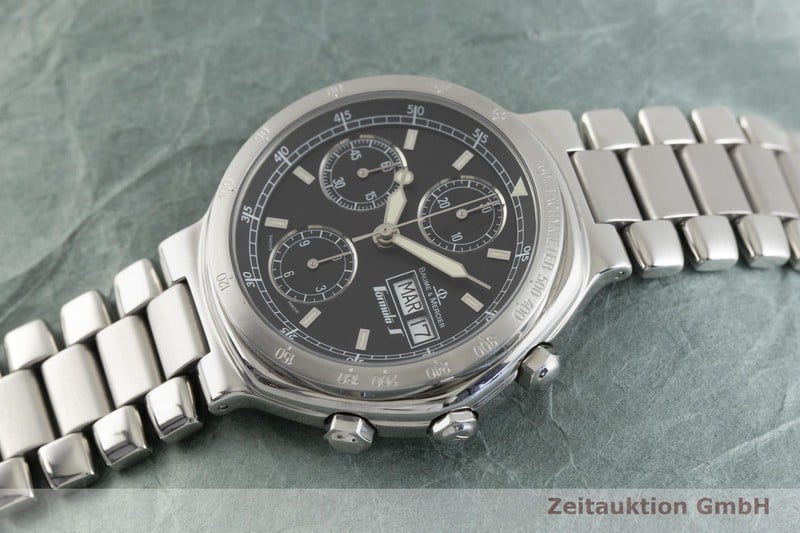 Lex's first watch: Baume & Mercier Formula S chronograph
I had many years of plowing through a number of Armbanduhren catalogs under my belt when my friend told me we needed to go to Antwerp to check out a big sale at a watch shop there. So, we boarded the train in Utrecht — the place where I was studying journalism at the time. We talked and fantasized all the way down to Belgium about what to expect once we got there. This was before the rise of the internet, so we had no Google search results at our disposal. When we arrived at the store, we thoroughly browsed what was available, ever mindful of our very limited budget. In the end, we both ended up with a Baume & Mercier Formula S chronograph.
I didn't tell her I was going to look at watches, but I guess she either knew me all too well…
My pockets were completely empty after the purchase, but that didn't matter one little bit. I went to my girlfriend's flat when I got back late that night, only to find her already fast asleep. I stumbled around in the dark, trying to not wake her up. Unfortunately, I guess I did anyway because I heard a sleepy voice in the dark saying "hey, you got a new watch?" I didn't tell her I was going to look at watches, but I guess she either knew me all too well OR that the watch just lit up the room and gave me a whole new charismatic aura. For the sake of the story, let's go with the latter.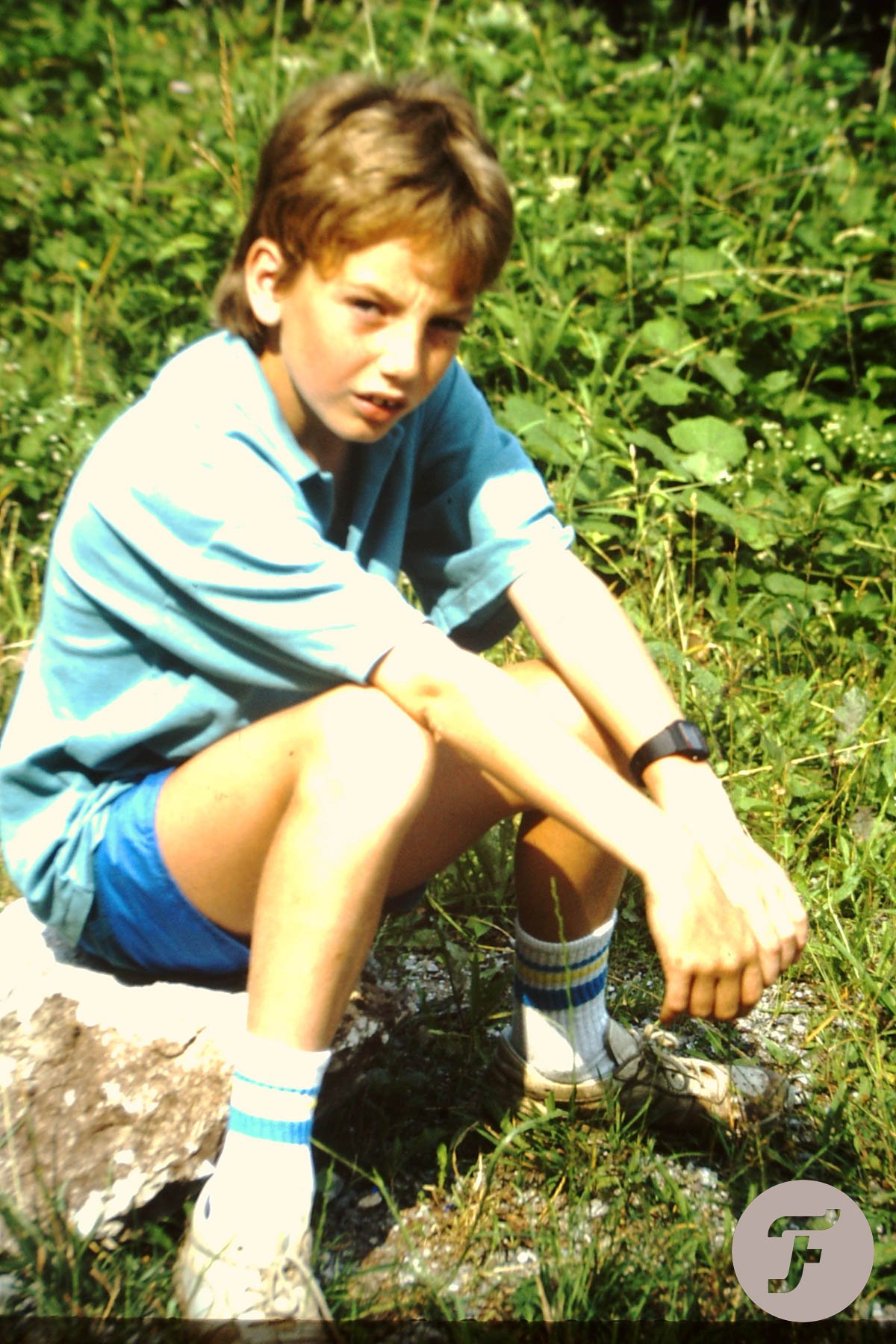 RJ's first watch: Casio W-14
This was in the mid-eighties. When everything digital was cool (although we didn't get our first computer at home until 1989). Back then, Transformers, Mask, and The A-Team were my favorite TV shows and my parents had just bought their first compact disc player. In those years, we spent our family holidays in the United Kingdom. And yes, I am Dutch, so that means my dad's Opel Ascona had to pull the caravan all the way there. A long intermission on the P&O ferry from Calais (France) to Dover. During the ferry crossing, I remember spending several coins on the arcades on the boat. More than once, we stayed at a campsite in the New Forrest district, but we've been to many different places in the UK over the years.
A Casio W-14 with a red and white color scheme…
In the summer of 1986, we visited Canterbury, and I remember wanting a watch. I was on a mission! I ended up with a Casio that we bought at a Dixons store. A Casio W-14 with a red and white color scheme (you also had them in blue and white, and yellow and white). It is a watch I still have today and which still works! Truth be told though, I swapped the module out for a new one a few years ago, as the LCD went all black on the original one. I ordered it from an Italian eBay seller for €10 and exchanged it myself. It was necessary, as the original one dried up over the years and basically just cracked. I remember looking at the G-Shock models as well, but being nine years old or so, those were simply too big for me back then.
Balazs's first watch: Casio with analog & digital display
My first watch is one that I bought with my own money (saved up from several birthdays and Christmases — you know how it is). Though I don't have a single picture of it, and can't remember the specific model name/number, I do know that it was a black plastic Casio. The watch had both an analog and a digital display, which came in handy when I learned to read the time. I could double-check on the quartz display what I thought the hands would show. The watch had a protective "bracket" over the dial, similarly to the Certina Cascadeur; however, mine could be popped off. This was my way, back then, to switch between a sporty and an elegant look. My first mechanical watch came much later — a simple time-only Omega Genéve with a "601" inscription on the case back. That Casio may be long gone now, but the memory of it  is still with me to this day.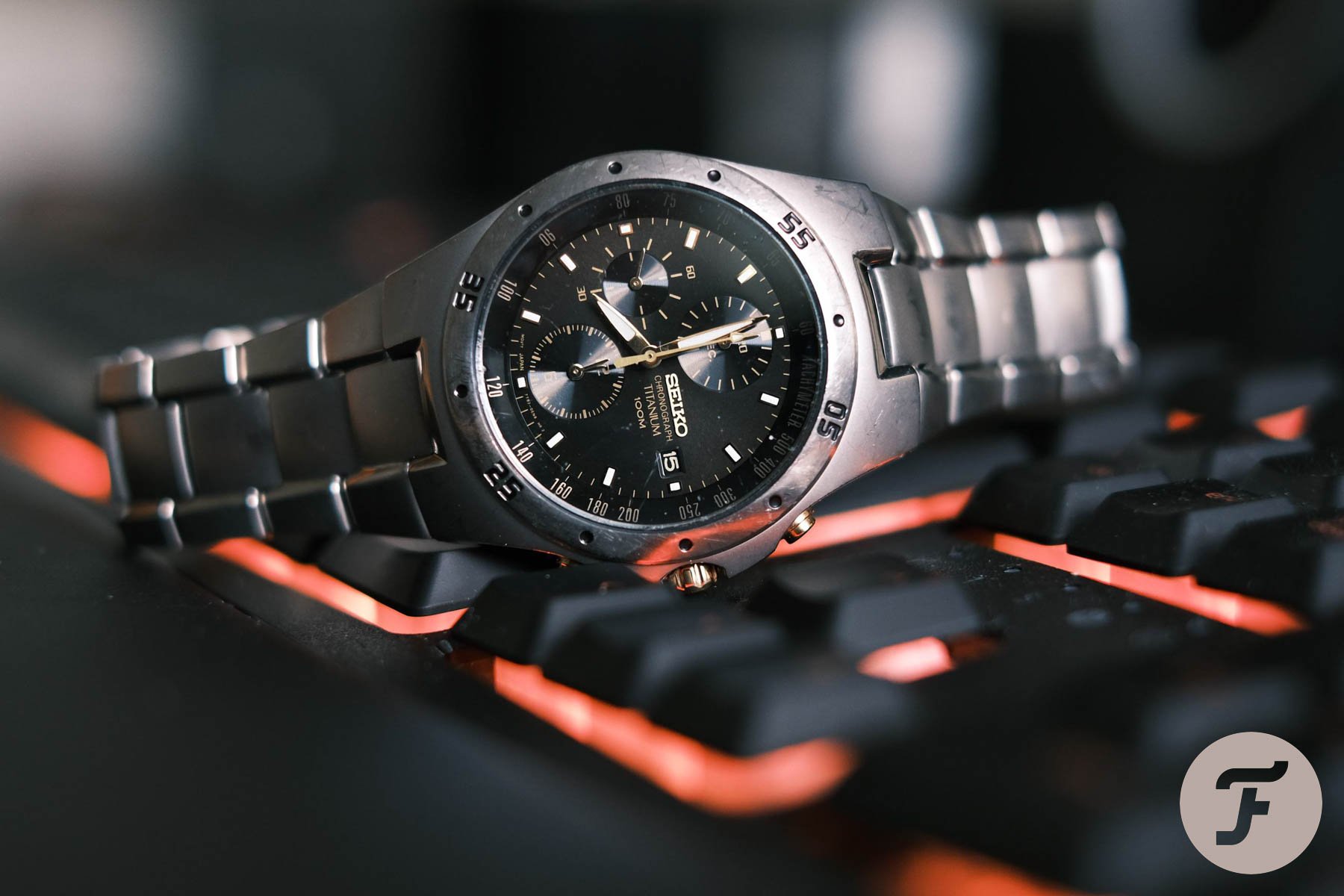 Ben's first watch: Seiko SND419P1
For my 12th birthday, the only thing on my wish list was a new watch. I remember dragging my dad around the shops of the coastal town to find the right one. No research, no blogs, no influencers — just primal hunter/gatherer instincts to find "the one". After the fantastic plastic timepieces I had previously owned, I wanted the more mature feel of solid metal for my growing wrists. I see-sawed between Citizens and Seikos, weirdly enough in two jewelers at either end of the town. The Citizen Eco-Drive was still fresh and exciting technology in the new millennium and my dad was really pushing the benefits of me owning one.
That was until the day he handed his Breitling Aerospace down to me…
But the watch that really caught my eye was the Seiko SND419P1. The Grade 2 titanium case, bracelet, and quartz chronograph turned out to be more expensive than my dad had bargained for. Hence his fervent promotion of the Citizen. The Seiko was, after all, a whole £200. We went back and forth between the shops before I finally convinced him that this was the watch for me. It paid dividends, as I wore this watch for 10+ years. That was until the day he handed his Breitling Aerospace down to me (interestingly also a titanium watch). The Seiko still resides in my collection, and I do swap out the battery when it dies. But it's not a watch I'd bring to an event or even really wear out of the house. Regardless, it will always hold a safe place in my watch box. Better still, it's a good reminder to trust my instincts and not let outside influence guide my opinion.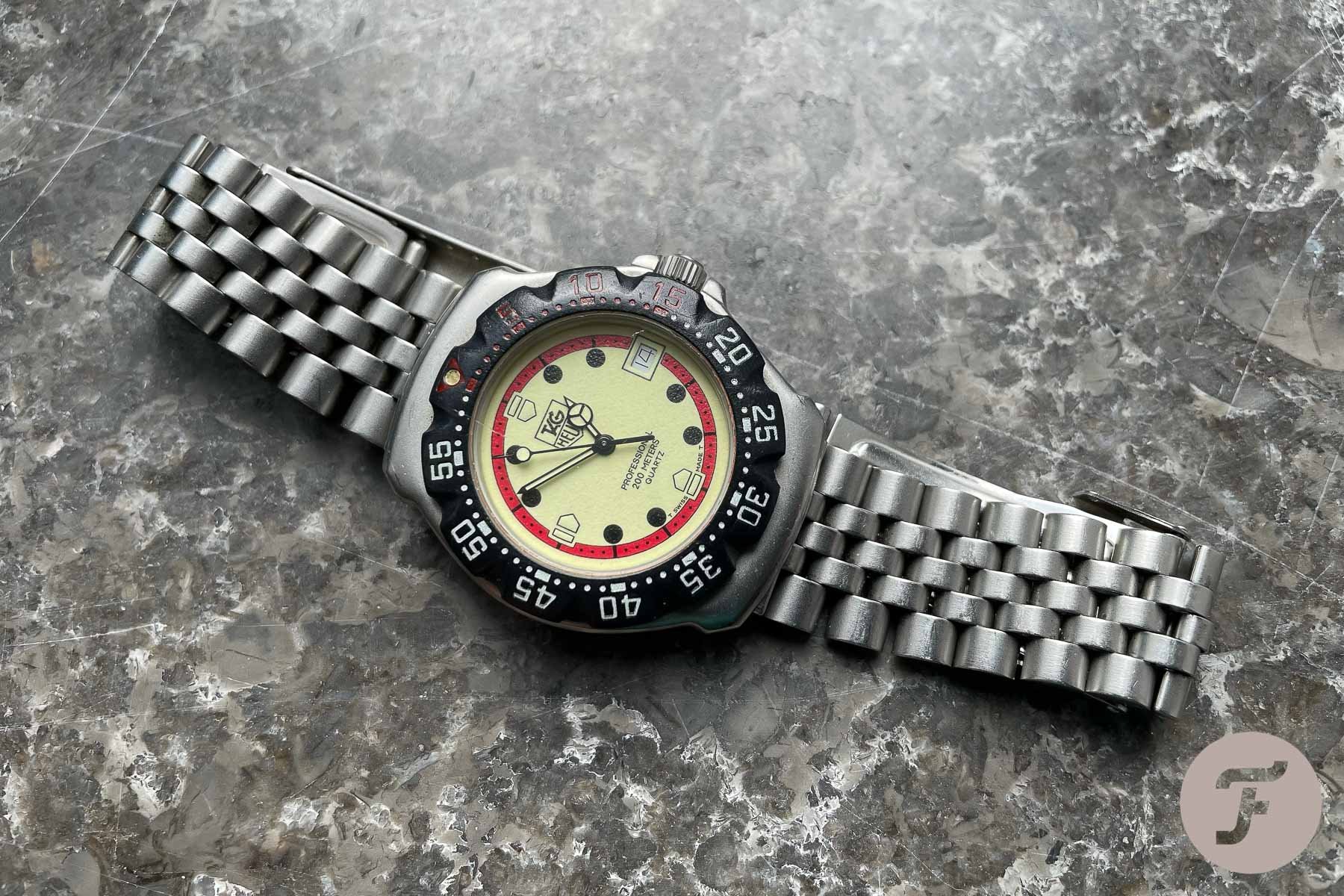 Mike's first watch: TAG Heuer Formula 1 Professional
Like a lot of Americans who hit high school in the early '90s, I had some pretty typical watches from the period. I cycled through a Swatch and even a gold-colored Fossil with a faux skeleton dial. At some point, I wanted something a little nicer and TAG Heuer was all the rage back then. My favorite aunt actually approached me and asked what I wanted for Christmas one year — I was probably 14 or so. I told her I wanted a nicer watch and I left it wide open because "nicer" simply meant something fancier than $50. She and my uncle traveled down to the Caribbean every so often and they'd typically stop into St. Thomas. Now, for anyone who hasn't been, St. Thomas was, and I guess it still is, a fantastic duty-free spot for watches. Around this time, TAG Heuer Formula 1 watches were immensely popular and a serious deal down in "the islands." As it turns out, I ended up getting my first nicer watch that Christmas: a TAG Heuer Formula 1 Professional with an all-lume Tritium dial.
Unboxing
I still remember the excitement in opening up the hockey puck-like packaging and seeing this watch for the first time. It now sounds funny to say this about a 34mm quartz watch, but it looked big and on another level compared to what I owned back then. It also came on an incredibly stiff rubber strap that had to be cut down to size. I did that, but the problem was that the strap was simply too thick, stiff, and uncomfortable. And so the watch sat in a drawer. A year or so later, the question came again from my aunt about a Christmas gift. My answer was clear — I wanted the Jubilee-style bracelet.
…this is THE example of the Formula 1 watch series…
Sure enough, I opened up that expensive stocking stuffer and found the bracelet waiting inside. My Dad helped size it and we were in business!  I ended up wearing that watch throughout college and into my first job. I recently threw a battery in this TAG Heuer and it fired right back up again. It is a small watch, but it wears nicely and feels like nothing else on the wrist. Plus, the bracelet is actually pretty good. And that dial? To me, this is THE example of the Formula 1 watch series and I wish that TAG had never abandoned it. Even today it still looks great. I know it's not fancy, but this watch brings me back to different times and I'll always be happy to keep it in my collection.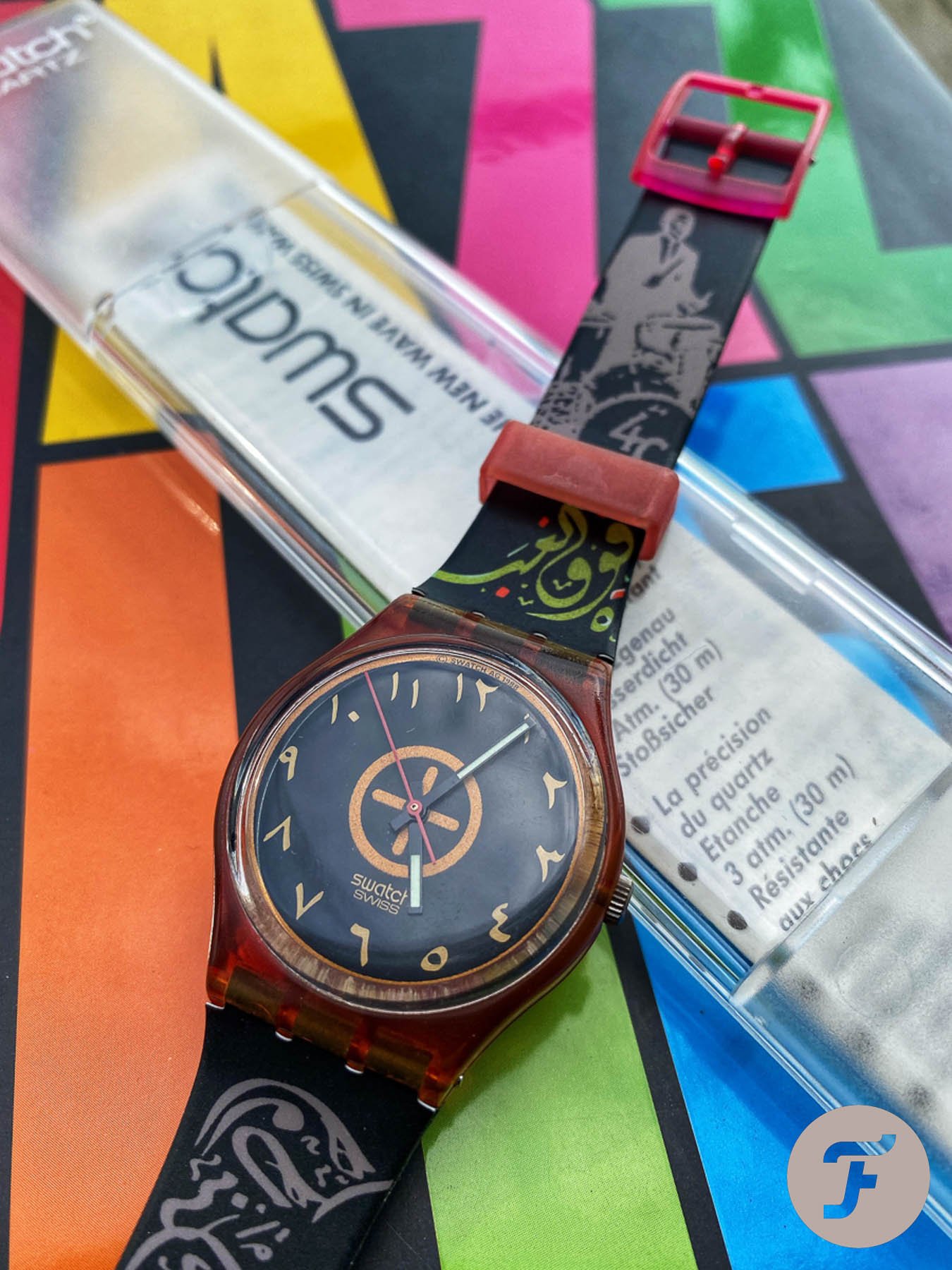 Jorg's first watch: Swatch Bar Oriental
My younger days are largely defined by two big loves of mine: tennis and music. The excitement around tennis during the late eighties came mostly from loudmouthed New Yorker, John McEnroe, and the extravagant rising star of the game, Andre Agassi. The Las Vegas Kid introduced the world to Nike's Rock 'N' Roll Tennis. With his all-neon Nike outfits, he was considered the coolest player by me and my tennis buddies. But it was also the time of loud Ocean Pacific t-shirts, colorful Campri anoraks, and vibrant Swatches on the wrist. As my birthday present for my 12th birthday back in 1989, my mom and dad let me pick a Swatch. While some of my friends picked a neon Swatch in line with the clothes that were trending, I decided to go with something different. I can still remember taking forever to decide which would be my first Swatch. In the end, I picked the Swatch Bar Oriental.
Re-union with Swatch Bar Oriental
What I didn't necessarily notice at first was that the strap actually featured a jazz drummer on the buckle side. At 12 years old I wasn't into jazz yet, but my music came everywhere with me. From N.W.A. to Guns 'N Roses and from Huey Lewis & The News to Depeche Mode. As I became a bit older tennis took a back seat and my passion for music took over. I found my home in hardcore punk music as a teenager and my passion for music grew tremendously. Later on, as a student, I also started listening to music a bit easier on the ears, with a strong emphasis on jazz. Fast forward to 2018 when I was asked about my first watch. I decided to track down the Swatch I used to own as a 12-year old with help of a Swatch-clopedia. After finding the Swatch Bar Oriental, the next step was trying to source one. To my big surprise, I found one close to home in The Netherlands. Although the colors have faded somewhat over the years, the watch is pretty much in new condition. The best thing about the watch for me now is actually the jazz drummer on the strap. Somehow, I had already connected the dots as a twelve-year-old to link what forever will be my biggest passions: tennis, music, and watches.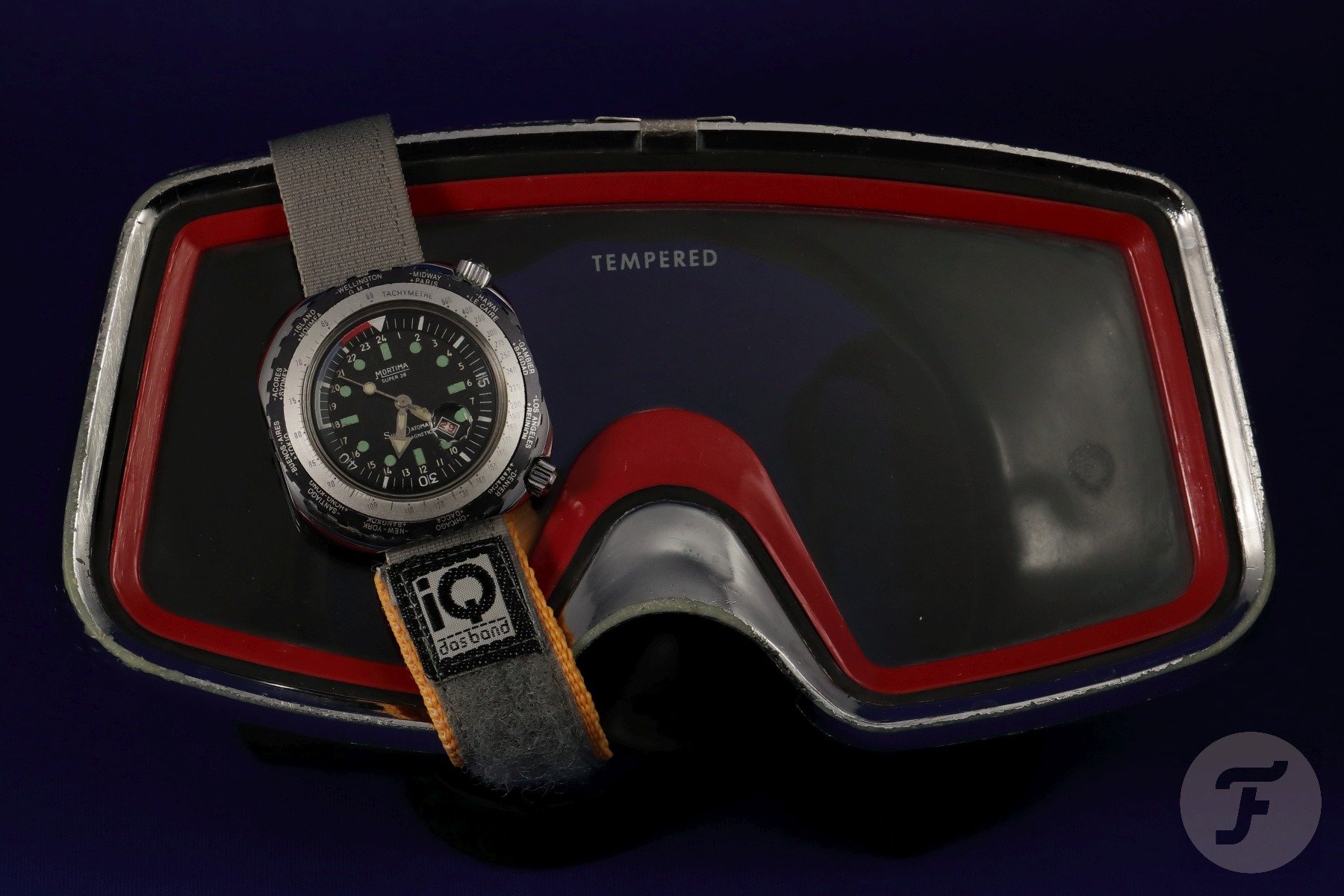 Andreas's first watch: Mortima Super 28 Datomatic
Even before I could swim, it was hard to get me out of the water whenever I went to the sea with my parents as a child. As soon as I had learned to swim, I started to explore the underwater world by snorkeling. The adventures of Jacques Cousteau and his crew were running as a documentary series on TV. What I saw on that show, was what I wanted to experience! When my parents took me on a holiday trip to Gran Canaria, one day, a local dive center offered to try scuba diving in the hotel pool. Wearing that dive gear to swim underwater felt just natural to me right from the start. That was in 1984, and I was 15. At that age, you don't worry about things that could go wrong. To my surprise and delight, my parents asked me if I wanted to do a full scuba diving course. What a question to ask! The answer that followed was obviously a resounding yes.
I walked out of the jeweler with a grin on my face, and a new watch on my wrist.
When I had finished the course, my parents wanted to commemorate the achievement by buying me a mechanical dive watch. My parents wore the most simple quartz watches, where replacement batteries were more expensive than the watch itself. So this was an extraordinary gift. Still, on Gran Canaria, we went to a local jeweler in our search. None of us had any idea about mechanical watches. The only characteristic we asked for was that it must be suitable for diving. I don't remember if there were different models to chose from, but in the end, we found a fitting watch. I walked out of the jeweler with a grin on my face, and a new watch on my wrist. From that moment on, I was not just a real diver, but everybody could now also see it. You can imagine how proud I was!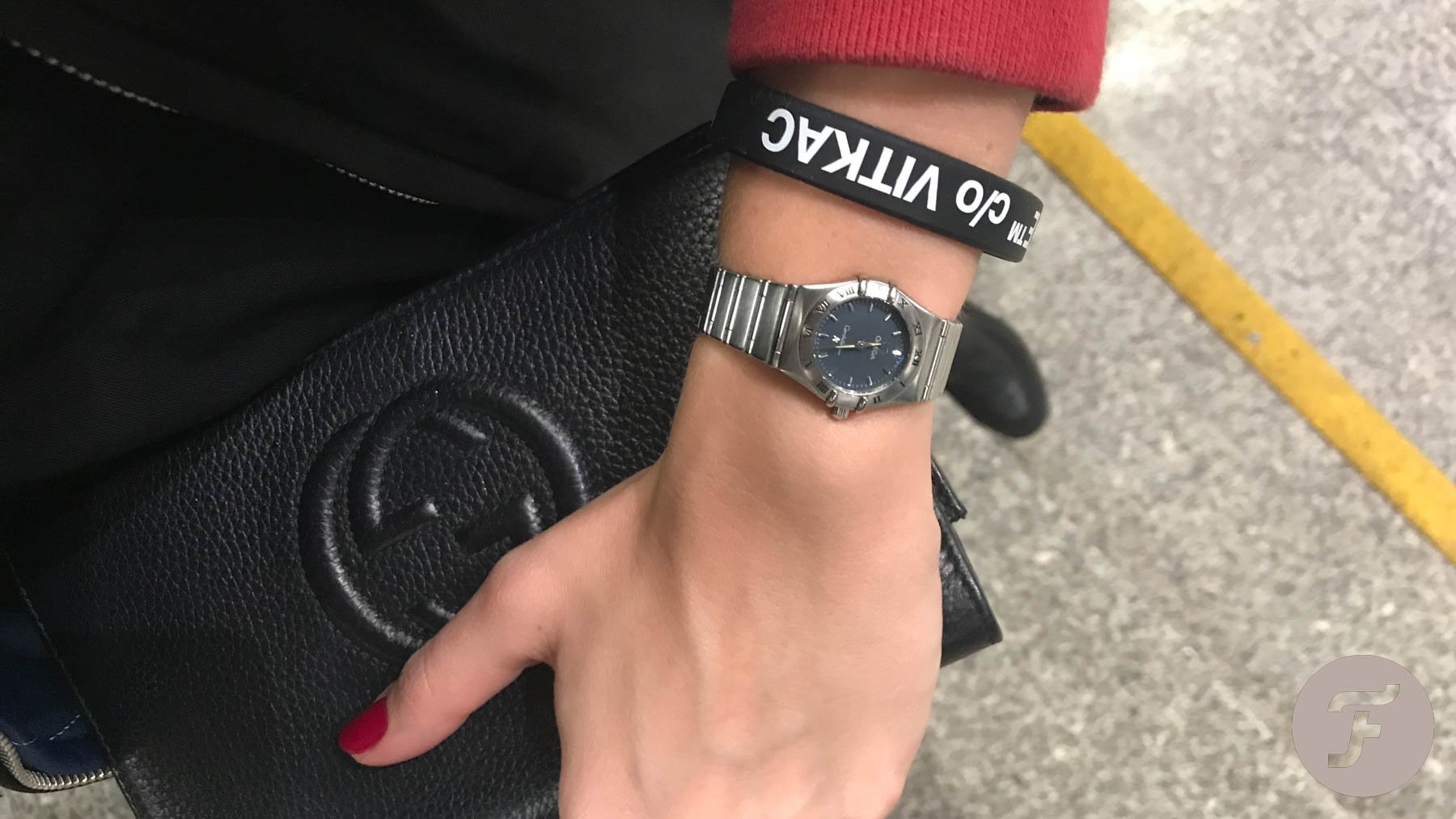 Karina's first watch: Omega Constellation 95 Mini
My first watch was the Constellation 95 Mini 1562.40 with a quartz movement (OMEGA 1456) that I got from my mom when I was a toddler. It would be impossible to describe just how firmly this timepiece influenced my future choices and determined my passion for Omega watches. I remember how proud I was when I saw Cindy Crawford on the covers of fashion magazines wearing this exact model. The timepiece came with the iconic steel mid-bar link bracelet. What I love the most about this small timepiece (22.5mm) is the dial. The grey guilloché dial has won my heart time and time again. I felt that exact same sense of pride 24 years later, as I went to the local Omega boutique to purchase the latest interpretation of this beautiful watch.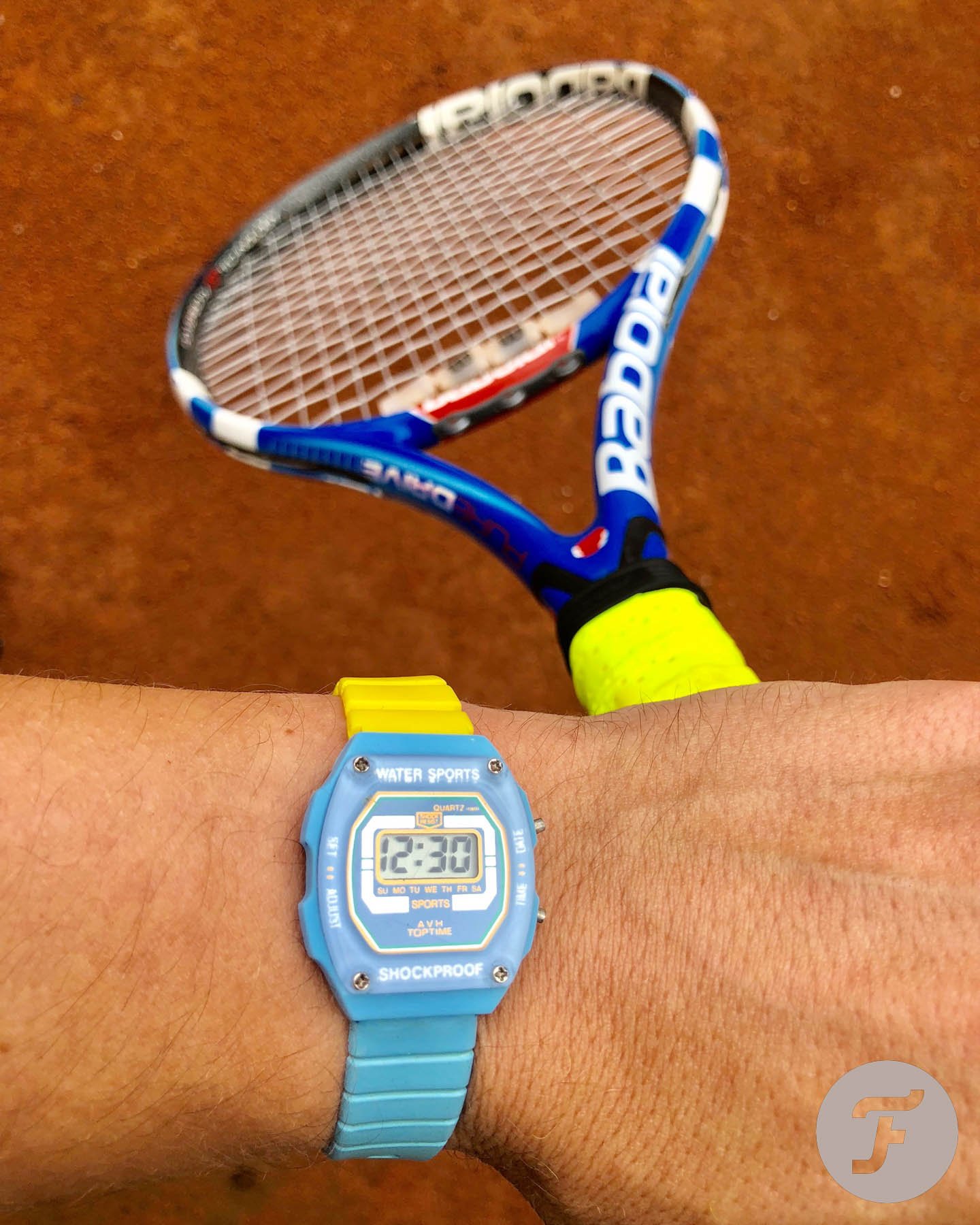 Tomas's first watch: Blue quartz cheap-ster
Similar to Bert, I received my first watch to commemorate my communion. I remember the moment my mom handed it to me, even the smell of that rubber strap. It was a simple plastic watch with a semi-transparent top cover that was held to the case with four screws. I bought a set of miniature screw-drivers so I could disassemble it. I didn't know why, I just had to. The watch was almost the opposite of water-resistant and seemed to somehow get wet when standing 10 meters away from any source of water. Those four screws were so worn after my numerous visits inside, that I had to eventually find replacements.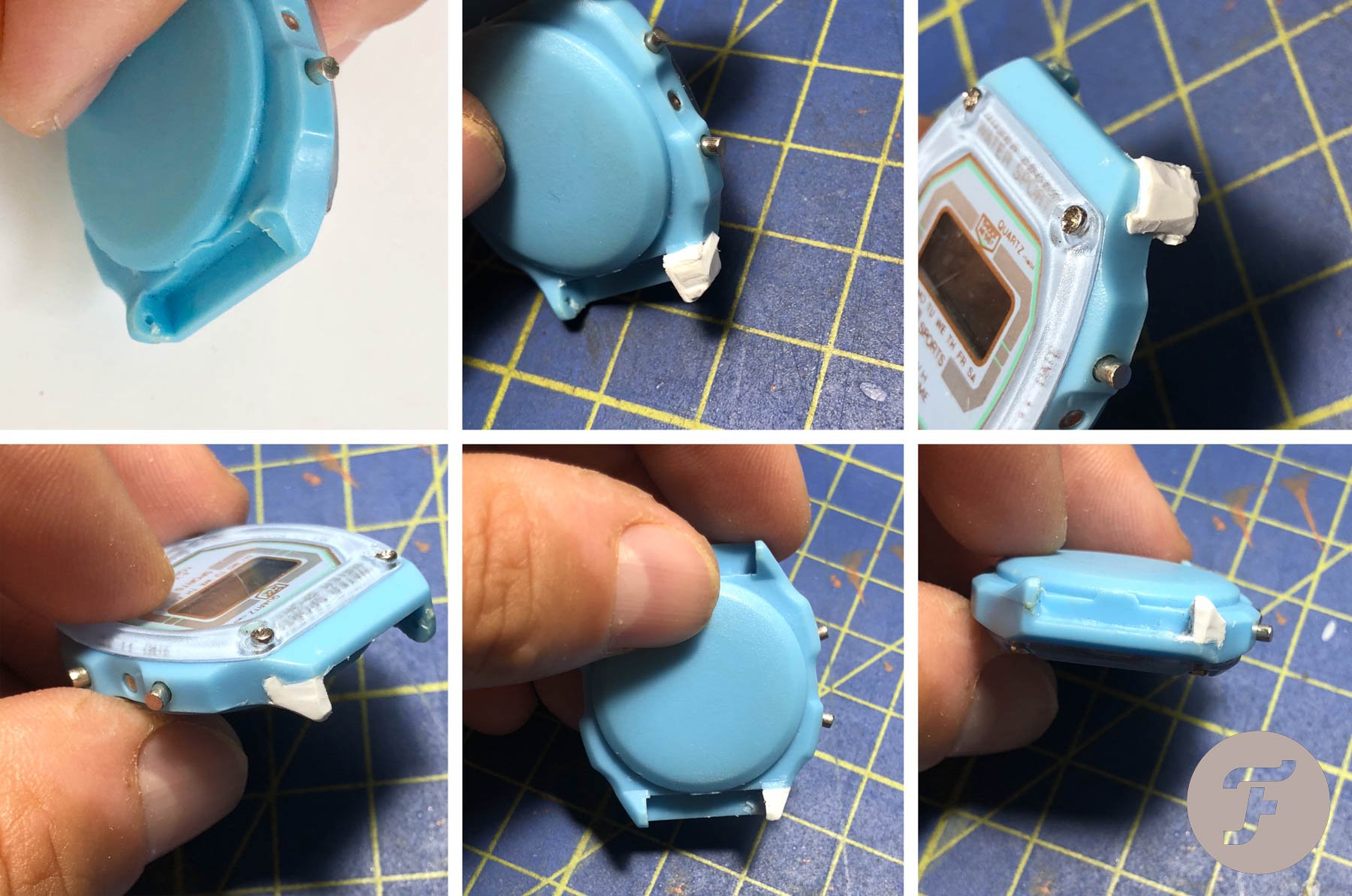 I'm not entirely sure what happened to my OG watch. But about five years ago I hunted down the exact same model in Poland. It came with one "lug" completely sheared off. In order to be able to wear it, I had to get creative. I bought some special scale-modeling plastic rods, which I meticulously cut and glued to the case. After a tidy bit of carving and buffing a new lug was formed. I was very happy with my work and have worn it a few times since. When I found it in a safe again recently, I was instantly transported back to the nineties — sitting on the stairs proudly checking out my new watch right after my mom gifted it to me.
…this one deserves a premium location in my watch safe.
Looking at it now, it's a rather small thing. It looks like a cheap version of some of the more famous Casio watches of the era. One part of the strap dried up and tore, so I sourced another watch. It was exactly the same version, just with a blue strap. Now, well, it's even more creative and honestly, it's actually a pretty wearable watch. Regardless of how much wrist time it may get, I feel like this one deserves a premium location in my watch safe.