Fratello Editors Share Their Seiko Stories: How Daan Jumped From Kinetic To SKX, To Grand Seiko, And Finally, Prospex
The search for my perfect Seiko after the first one got stolen
Almost all watch enthusiasts out there have their own history with Seiko. For many, a Seiko was even their first watch or at least their first diver. Others might be more into vintage Seiko. And what we noticed in the Fratello office is that almost every single one of us owns one Seiko watch or more. That's why we decided to start this new series on our very own Seiko stories. We'd like to share with you where our love for Seiko comes from and what kind of role the brand plays in our current collections.
My history with Seiko started when I was still in high school. I was working Thursday evenings and weekends at a Tommy Hilfiger store in Amsterdam at the time, mainly to finance my nights out and my summer and winter holidays. But every once in a while, I would also get myself something nice, something I wouldn't dare to ask for on my birthday or for Christmas. And watches definitely were in that category. I remember I got myself a Nike Oregon Series Alti-Compass after a trip to the mountains with my parents. Measuring 48mm across and 16mm thick with a 24mm strap, I even wore it over my cuffs. After that, it was definitely time to get something decent.
Seiko Kinetic Perpetual Calendar (SNP005)
And that's where Seiko came in. I didn't really know anything about watches, but I was looking for one that would look appropriate in any situation. It also had to be convenient because I didn't want to worry about it running out of battery or having to set the date and time now and then. After a little bit of research, Seiko's Kinetic Perpetual technology seemed like a really good option. It generates power through a rotor that moves when your wrist moves, and it stores that power in a battery. And at the same time, the perpetual calendar will take care of the date at the end of each month and leap year.
With this tech, my watch would never run out of power, and I would only have to adjust it for Daylight Saving Time or when I went to a different time zone. There were a few models available with this technology, but the one I liked was the SNP005. It was a stainless steel 40mm watch on a stainless steel bracelet. On its dial were the date, a 24-hour display, the month, and a leap-year indicator. When I look at it now, it actually looks kind of messy, but back then, I thought it looked pretty classy. And at €600, it fit perfectly into the budget that I had set. I still think it was a good price, especially because I wore that watch for 15 years straight, day in and day out.
Stolen during a break-in
I wore that watch everywhere. I'd chuck it into my sports bag before every water polo practice and match. I'd leave it for a few days around the house and then put it on again. I never really had to think about it. Every once in a while, I would boil some water, put it in a bowl with some dish soap, and soak the watch for a few hours to clean it. That's something I would probably never try again with one of my current watches, but sometimes I guess it's better to be ignorant. I also never really resized it or worried about any damage. As long as it was running, it was fine for me.
But then my wife got me a Skagen Connected watch for my birthday. During one of my first days wearing it, someone broke into our house and took some of our jewelry, including my Seiko SNP005. I remember feeling quite bummed. I mean, the Skagen was a nice Bauhaus-style watch with a step-counting feature, but still, that Seiko had really become a part of my life. So when it was stolen, I was determined to get myself another Seiko to replace it. I started a search for which one to get for more or less the same kind of money that I spent on the SNP, and that's when I stumbled upon the Seiko SKX007.
The all-star Seiko SKX007
I remember looking at all kinds of different Seiko models at the time. I still wasn't into watches the way I am now and couldn't really tell different kinds of watches apart. But what I did know was that I really liked the big, round markers on some Seiko dials. I think I first saw them on some of the Seiko mods out there, but I eventually found out they were originally from the SKX007. It also quickly became clear that the SKX was somewhat of an all-star Seiko and that owning one would get you immediate collector status. Or maybe not, but at least enough status to convince me to get one, even if it seemed a bit big for my 17cm (6.7″) wrist and the non-hacking movement seemed a bit annoying.
Because I found out you "had to have" the Japanese-made version, I got mine through a guy called Yobokies ("Seikoboy" the other way around). It cost me around €300 with the original black rubber strap and an aftermarket Oyster-style bracelet. When it arrived, I immediately felt that it was fairly heavy and big on my wrist. But still, I wore it nonstop for about a year. Then, one day, it fell on the floor at work because one of the screws in the bracelet fell out. I put it back in, but that experience convinced me that I had to go and look for a more appropriate watch for my wrist. I still own the SKX, but I haven't worn it ever since.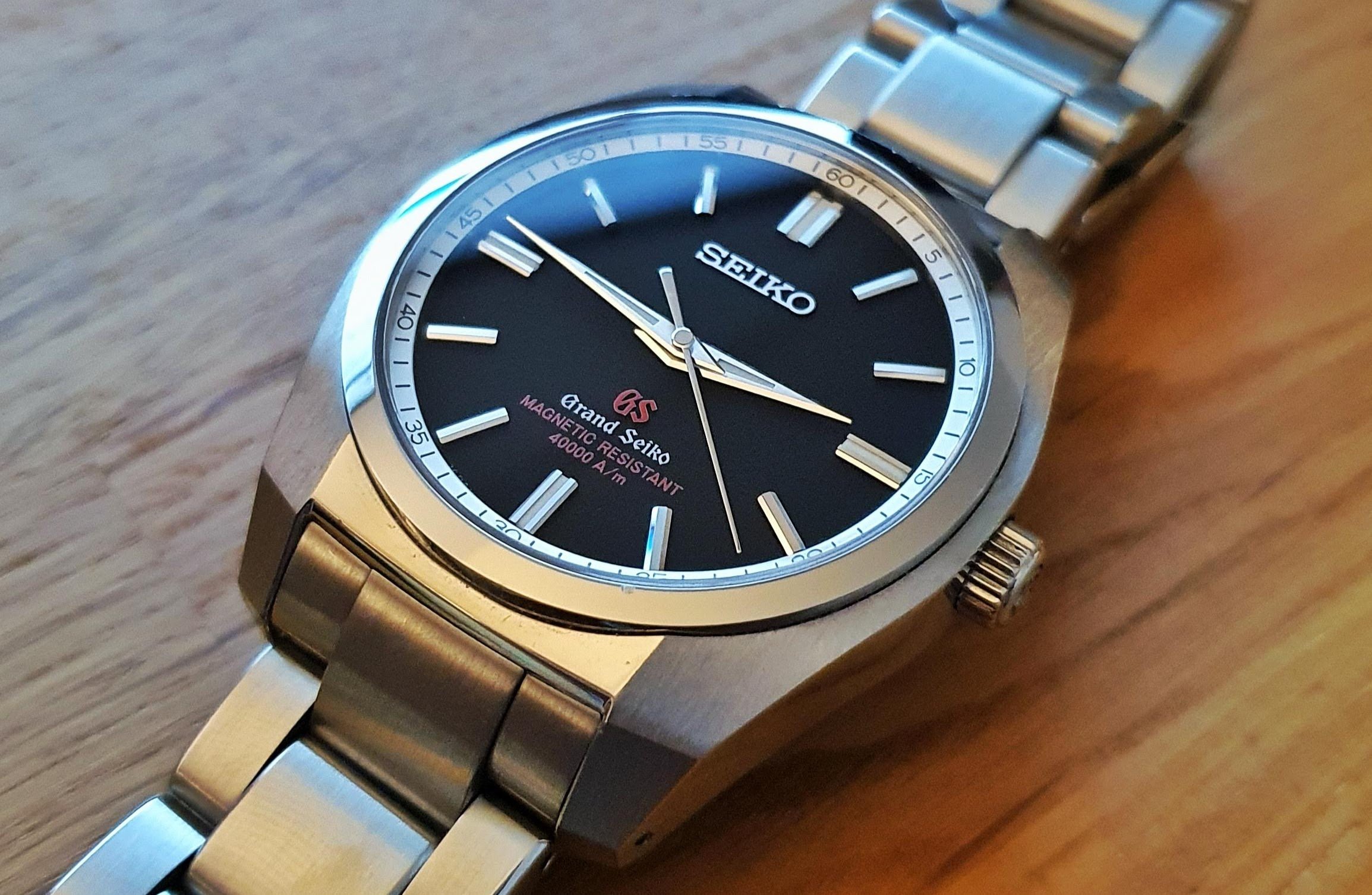 Going Grand Seiko
And the watch I bought after that wasn't another Seiko; it was actually an Oris Art Blakey, the watch that really drew me into this hobby. But soon after that purchase, I became a "real" enthusiast and quickly realized that I "needed" another Seiko. As I was scrolling through the Dutch watch forum, my eyes fell on a Grand Seiko SBGX093, an antimagnetic watch with a 9F61 quartz movement. And yes, its dial looked a bit like that of a Milgauss, but at the same time, its angular case gave off a very different feel than the Rolex. The dial was also blacker than black, which really created the optical illusion of looking into infinity.
I picked it up at another enthusiast's kitchen table in Amsterdam, which was one of my first encounters with another watch lover. We talked watches for a while, and in the end, I brought my new baby back home with me. But although it was a nice and different watch to wear, I couldn't really bond with it. Maybe it was the quartz movement… Then again, I also wore the Kinetic Seiko for years. No, I think it was more due to the angular case shape and the fact that I couldn't really get the right fit due to the lack of micro-adjustment. So not long after getting it, I sold it to someone else for the same price that I paid.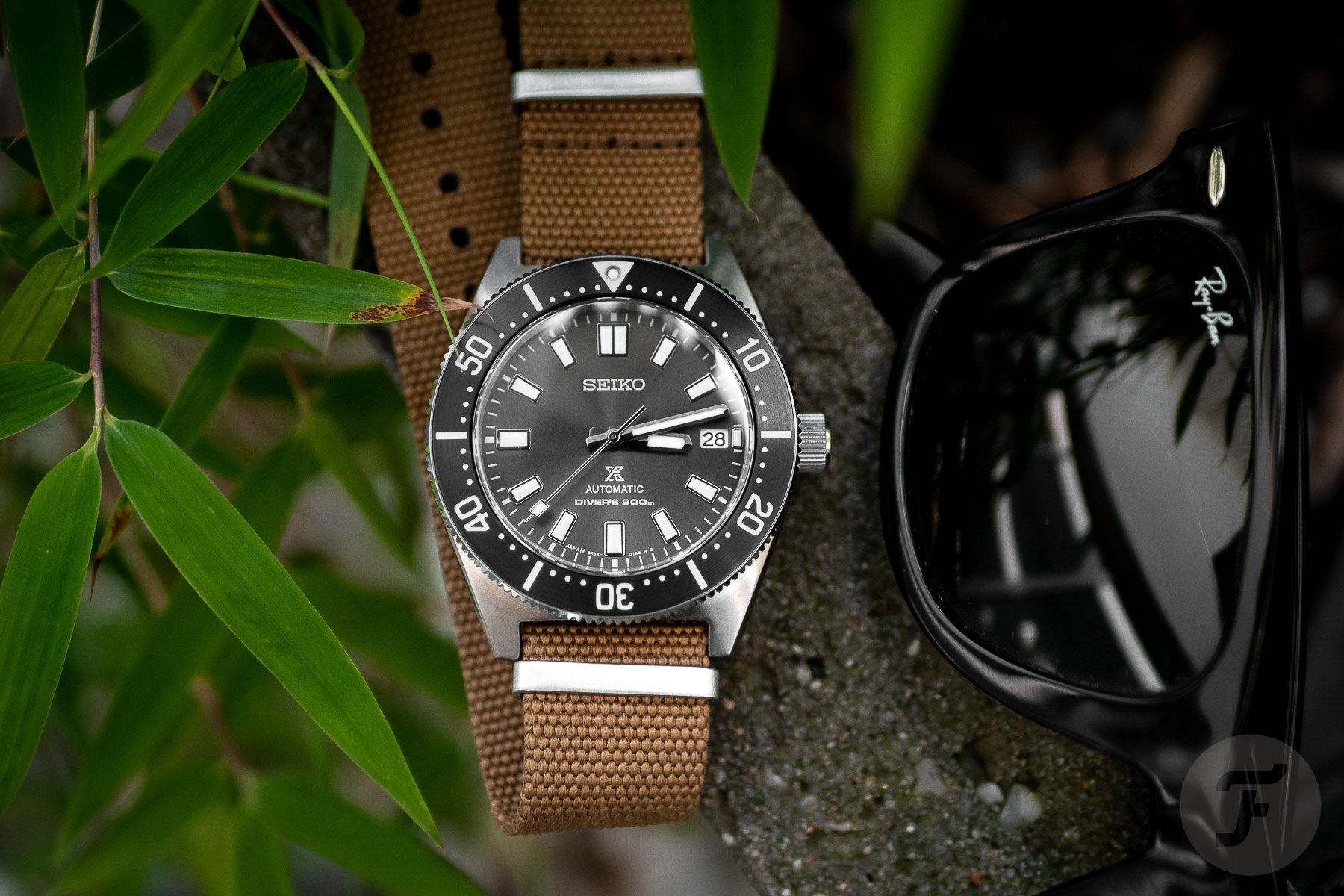 The Seiko Prospex SPB143
But the feeling of "needing" a Seiko in the collection persisted. Right around that time, Seiko released the SPB143, a re-edition based on the brand's first dive watch, the 62MAS. I really liked its soft sunburst gray dial, the no-nonsense rectangular hour markers, and the skin-diver-style case. But I think my favorite feature was the brushed stainless steel bezel insert. It looked so different and so good. I ordered mine online for the best price I could find, and when it arrived, I was pretty stoked. The bracelet it came on was fairly thick and heavy, but, fortunately, the SPB143 was a real strap monster. So I just ordered a bunch of straps and wore the hell out of it.
After a while, though, I started noticing that wearing it reminded me a bit of wearing the SKX007. It began to feel quite tall and heavy on the wrist, and although I still loved its looks, wearing it started to annoy me more and more. I decided to put it up for sale on a forum and look for something else. After selling it, I sometimes wondered whether that was a mistake. I kept seeing it around the Fratello office and on Instagram, and my love for it wasn't over yet. But then, luckily, Seiko came with a great replacement.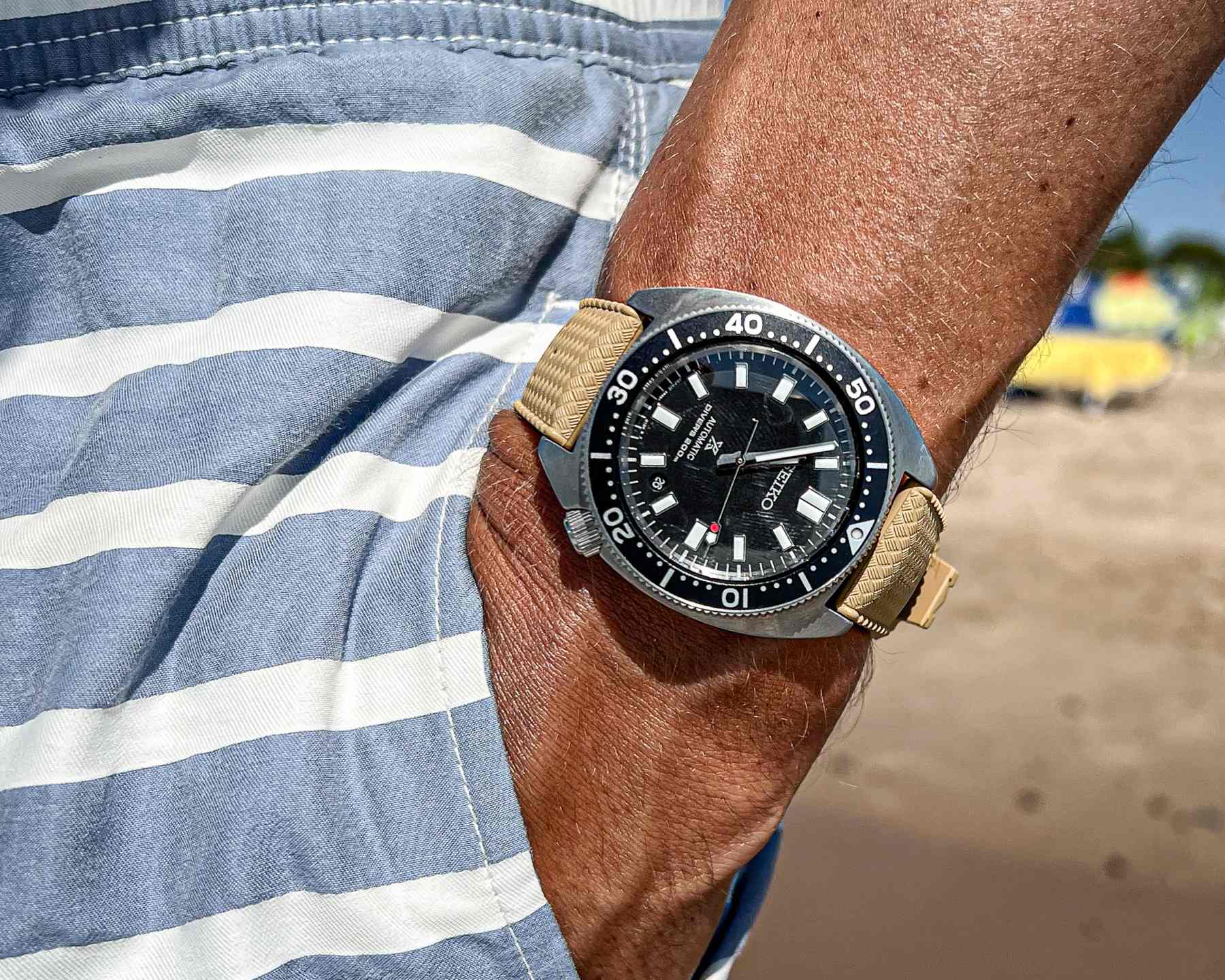 The ultimate Seiko diver for me (for now) — the SPB317
Last year, Seiko launched the so-called Turtle Origin reference SPB317. I already wrote an article on my first month with it, but to cut a long story short, it's exactly the more streamlined Seiko diver that I was looking for. Yes, it's still 41mm wide, which might seem quite big, but its C-shaped case, short lugs, and thickness of just over 12mm make it wear like a dream. Just like the SPB143, it's also a re-edition based on one of Seiko's '70s divers. As a result, it shares a lot of the design language, like the no-nonsense dial with the rectangular hour markers.
And it's just as much of a strap monster as that SPB143 was. Admittedly, I do miss that brushed bezel, and that gray sunburst dial was a nice bonus. The SPB317 is just a little more basic, but it still has that classic Seiko diver look and feel to it. And basic is exactly what I'm looking for in a watch that I'll probably mostly wear on my summer holidays around the pool and the beach. It really is the perfect watch to wear, enjoy, and not worry about too much — just like that very first Seiko of mine!
Stay tuned because more Seiko stories are coming your way. In the meantime, I'd love to hear about yours in the comments below!
You can also find and follow me on Instagram: @fliptheparrot