Fratello Exclusive: Rolex Submariner Found By Australian Surfer In Pacific Ocean Is Reunited With Its Original Owner
A 52-year story in the making with a happy conclusion
The whooshing boom of the Pacific Ocean rollers could be heard as Australian pro surfer Matt Cuddihy snorkeled off the coast of Noosa, Queensland. He was picking up surfboard fins, a plastic hazard for marine life when he spotted a watch in the sand. It turned out to be a Rolex Submariner ref. 5513.
The story of Matt Cuddihy's Rolex discovery, first covered in depth here on Fratello after he shared an image on his social media, went global. Media outlets worldwide, including major newspapers in Europe, covered the story. Fellow watch publications and journalists chased it, and it eventually made its way into the international press. Finally, artist Bryan Braddy, (@badartnicewatch on Instagram) was even inspired to paint the Rolex Matt had found. The watch, Fratello can reveal, was first lost on February 6th, 2019. It spent four years in the ocean until Matt discovered it last month. It still runs and is now on its way (via Rolex in Australia) to be reunited with its original owner. 
This is that story.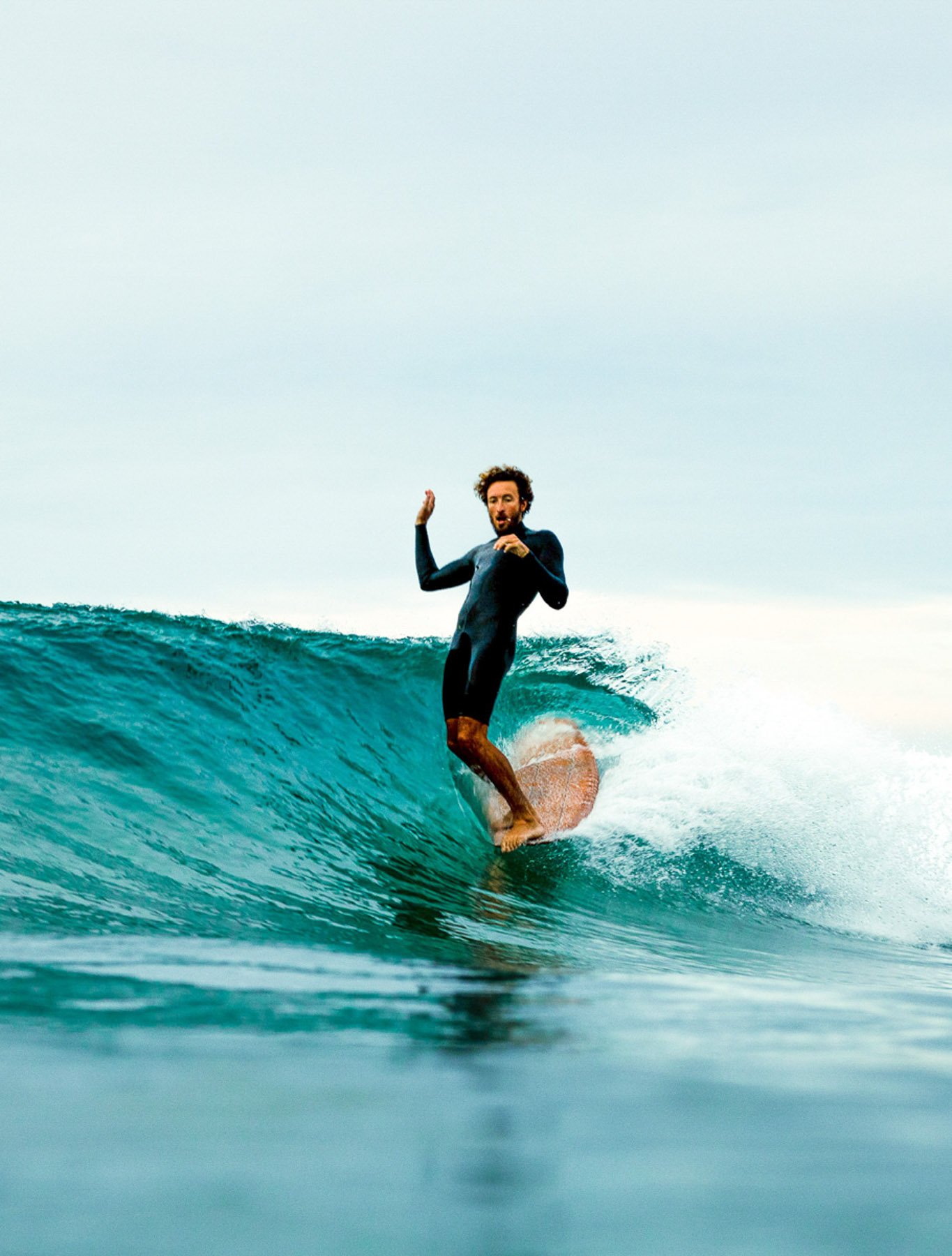 Chapter 1: The surfer and the Rolex Submariner
Matt Cuddihy is a park ranger and a pro surfer, so the ocean environment is important to him. "The ocean gives us so much, and we are the ones that can fix what we broke. It's devastating to see what ocean plastics and fishing lines do to marine creatures. For me, it's the green turtles that we share the surf with," he explains.
Upon finding the watch, Matt sent it to a friend in Melbourne to get it looked at. "My mate Dayne lives in Melbourne and seems to have friends in just about every industry, and he is also a watch nerd. So I put the Rolex in the mail, he unwrapped it at his friend's Rolex store, and, apparently, sand went all over the spotless counter. I'm not surprised, but it's in need of a service. It got a little love, so now the time can be set, and that's about it. It's slightly less sandy, the time is adjustable, and it's ready to rock and roll," he said. Matt quite literally could not believe his luck.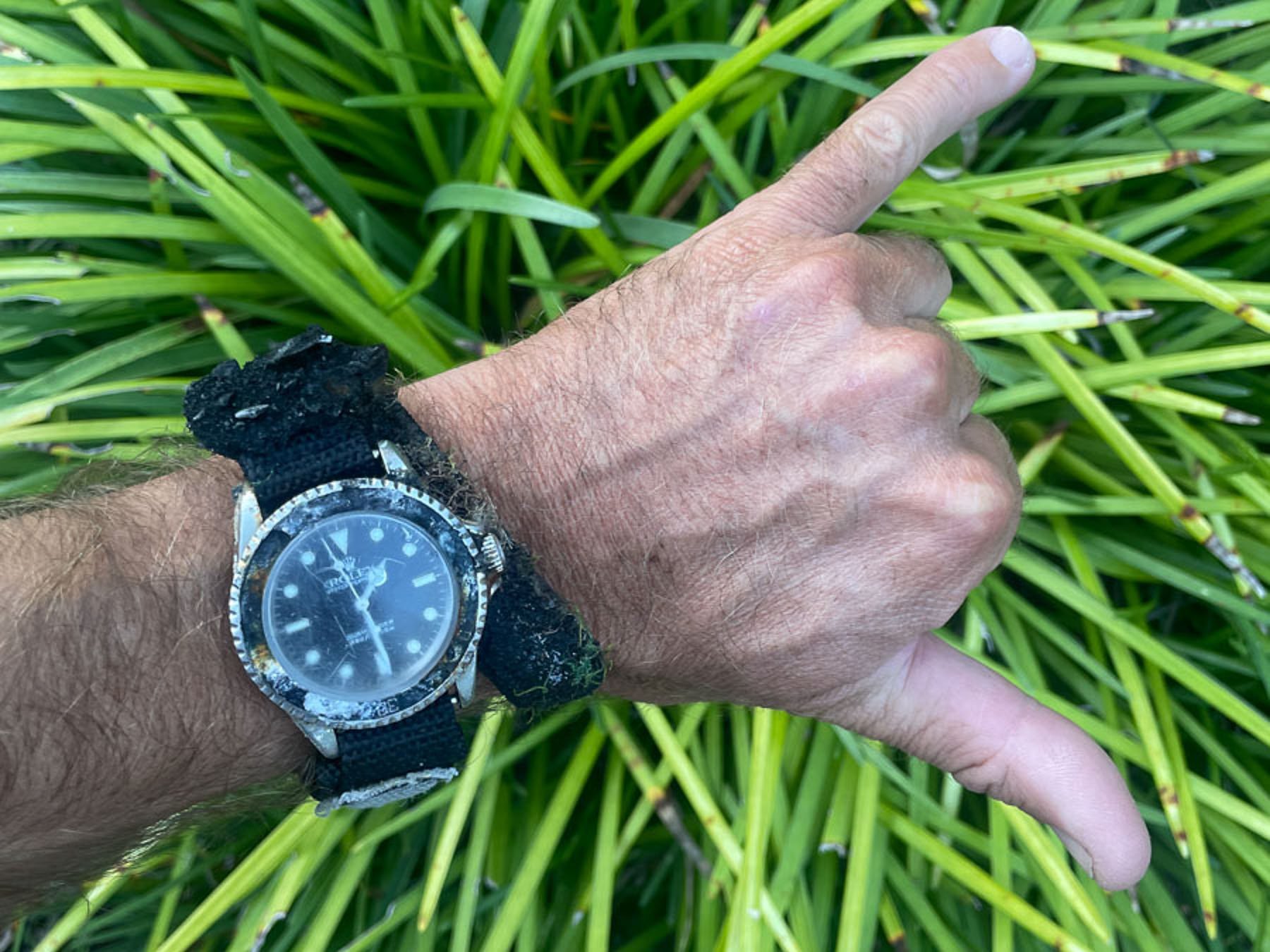 The real deal
"The only time I figured out I found something awesome was happening was when my mate Dayne called me and explained that I actually did find a Rolex. It was not a Bali knock-off. I was still convinced it came from a market in Kuta…free with a Bintang singlet."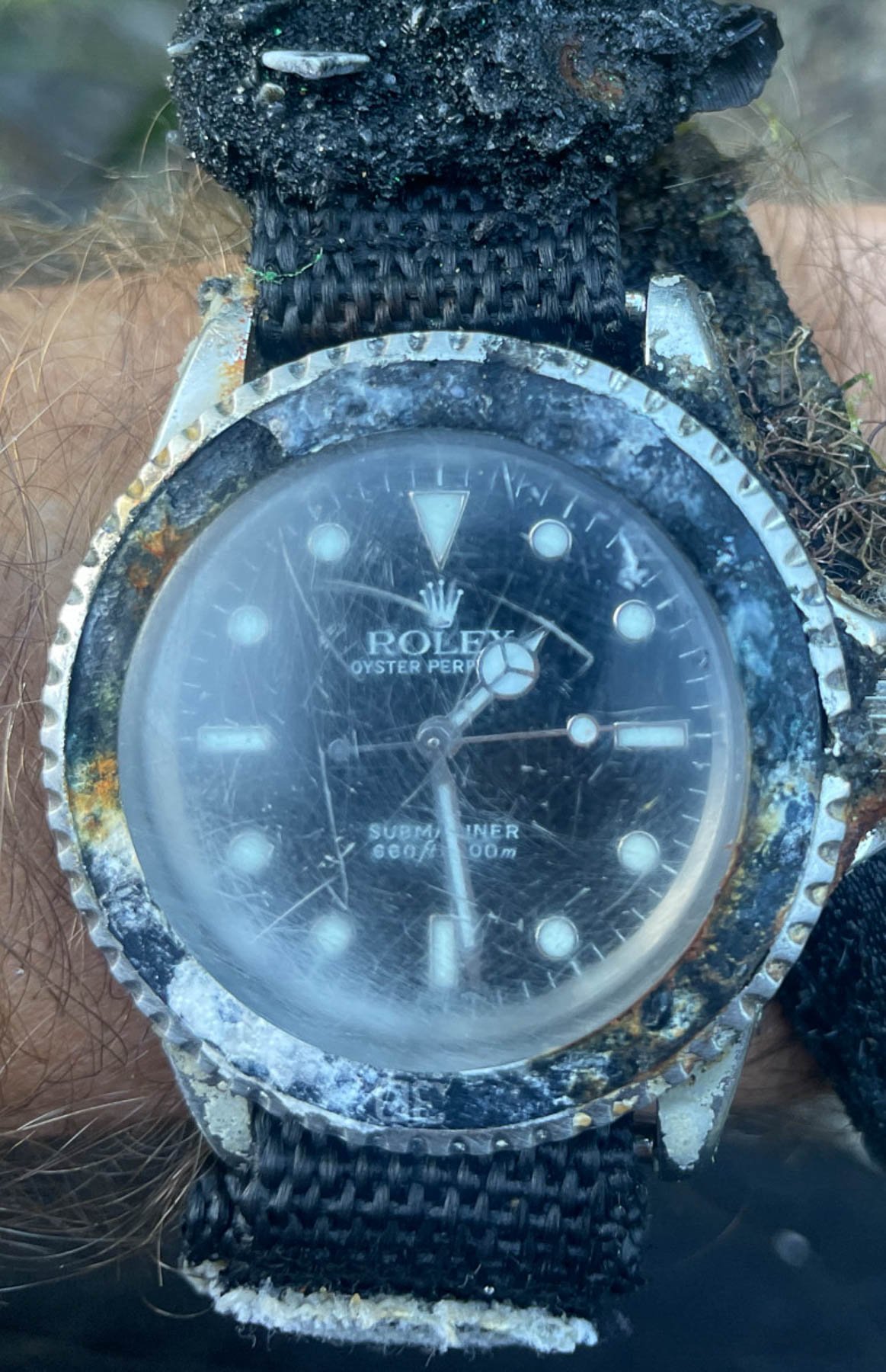 He could have quietly kept the watch, but being the gentleman he is, Matt wanted to find the original owner. There was an inscription on the back of the watch, so he realized this must have been a special gift for a fellow human being somewhere out there in the world. 
Matt then made the fateful decision to post an image of the sand-encrusted Rolex on his social media, hoping to find the owner. What happened next was overwhelming. "It's been crazy, to say the least. This is definitely the most time I have ever spent on my phone, and I don't recommend it. I've been getting a lot of messages from people wanting to buy it for crazy amounts of money or trying to claim it as their own. There's either a bunch of Rolexes in the surf or a lot of BS in my direct messages. Either way, I'll be back snorkeling and collecting aquatic garbage tomorrow," he said.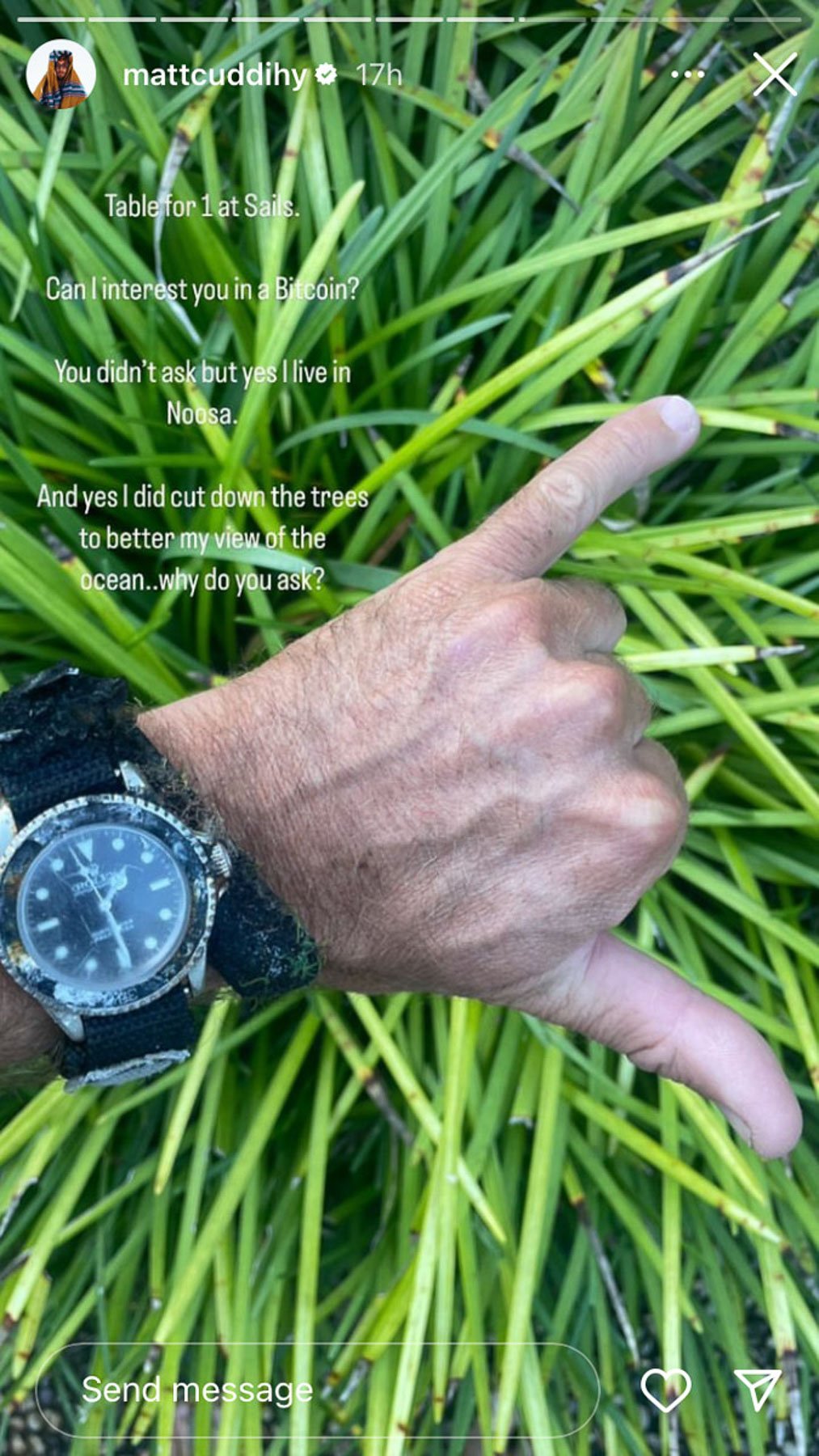 Chapter 2: The message
Despite getting more than 200 messages, having the story covered widely in media, and getting lucrative offers from overseas collectors to buy the found Rolex, Matt was determined. "The only thing I wanted was to reunite it with the owner," he said. "I wasn't ever going to sell it. I knew it meant a lot to someone. There is so much history there."
Fratello worked with Matt to help publish the story and find the original owner. As the story on the Fratello website went viral, and as Matt was being inundated with messages from across the globe, someone contacted both Matt and Fratello with a simple message: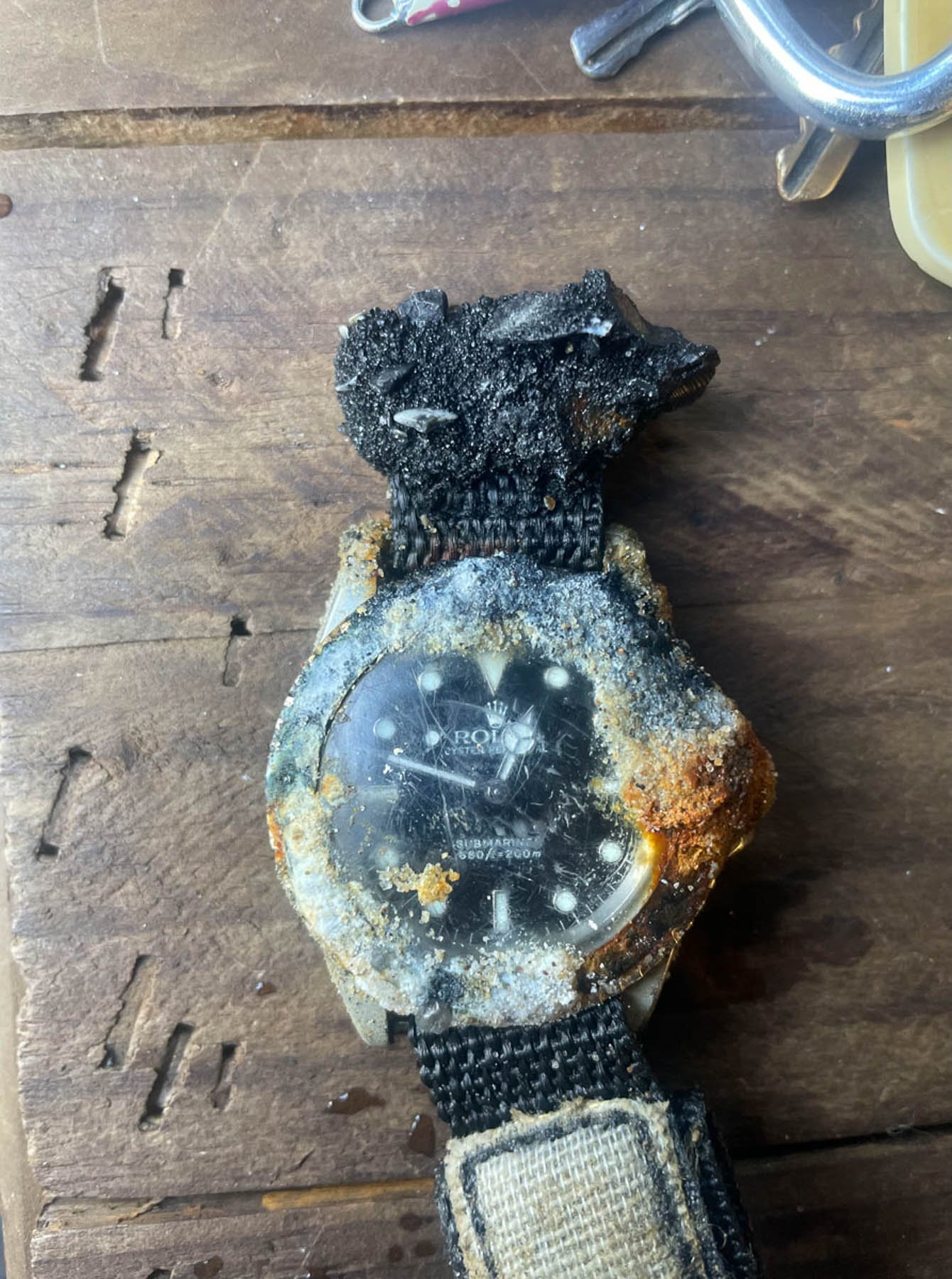 "Hey Matt," the message read, "if that watch has a special inscription on the back it is mine. I contacted the police after I lost it and Rolex to see if it was found and cleaned up. I might be able to get it back because it has very special memories for me. Ric." Matt had received a similar message on his social media account. The mention of the inscription stood out for him because he had not mentioned it or posted any photos of the watch's case back publicly. We knew this could be a genuine lead, so we tracked down Ric, and the next part of the story began to unfold.

Chapter 3: The inscription
The inscription on the back of the Rolex simply read, "Presented 1971." This would be a detail that would unlock the secret of who originally owned the watch. The text itself does not tell much, but it meant the world to Ric, a 69-year-old Sunshine Coast local. The watch had been presented to Ric in 1971 when he was 18 years old by his father for winning a local sailing race. For Ric, the watch has shared every adventure since. "Matt finding that watch unlocked the key to this whole 52-year story," Ric said.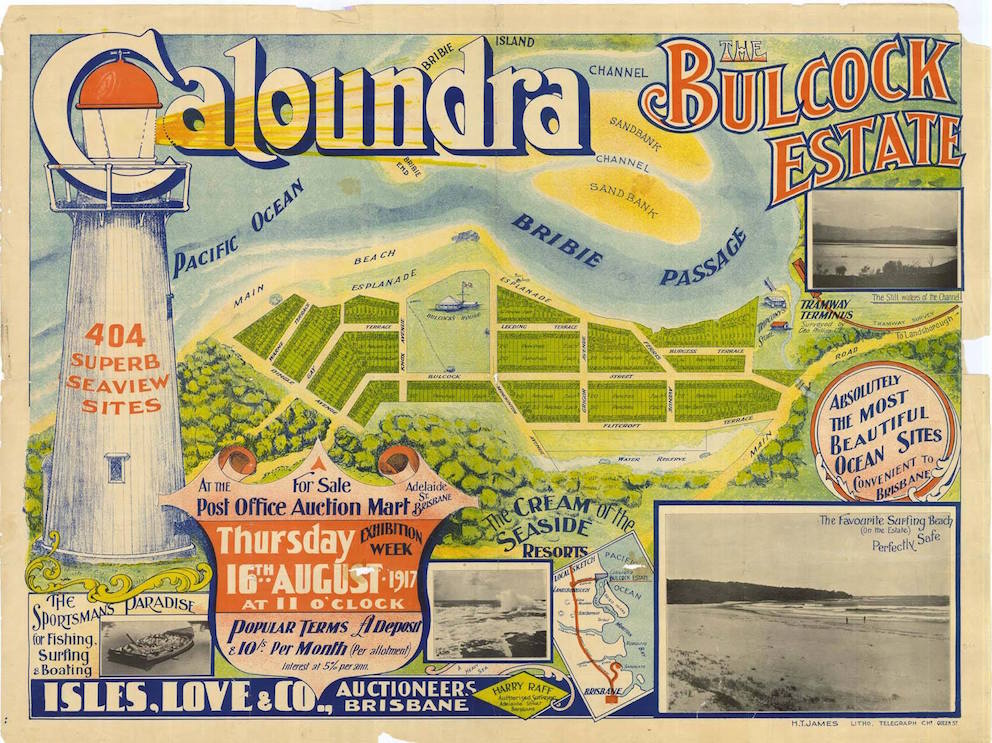 In 1971, Ric was at a boarding school in Brisbane, where he could come home during the holidays to spend a lot of surfing and sailing time with his family, especially his father. "I sailed small sailing ships called moths. And I had such a successful year sailing at Caloundra Sailing Club, I was presented a watch by my father for sailing achievements in 1971. I was so grateful for that watch and surfed and sailed a lot with it; I even won the Sunshine Coast Championships with it strapped on my wrist," Ric explained. "The watch started its career with me there. It helped me with its countdown bezel where I would count down start times for sailing, surfed everywhere from the bar in Caloundra to Double Island Point as well in the 1970s with it."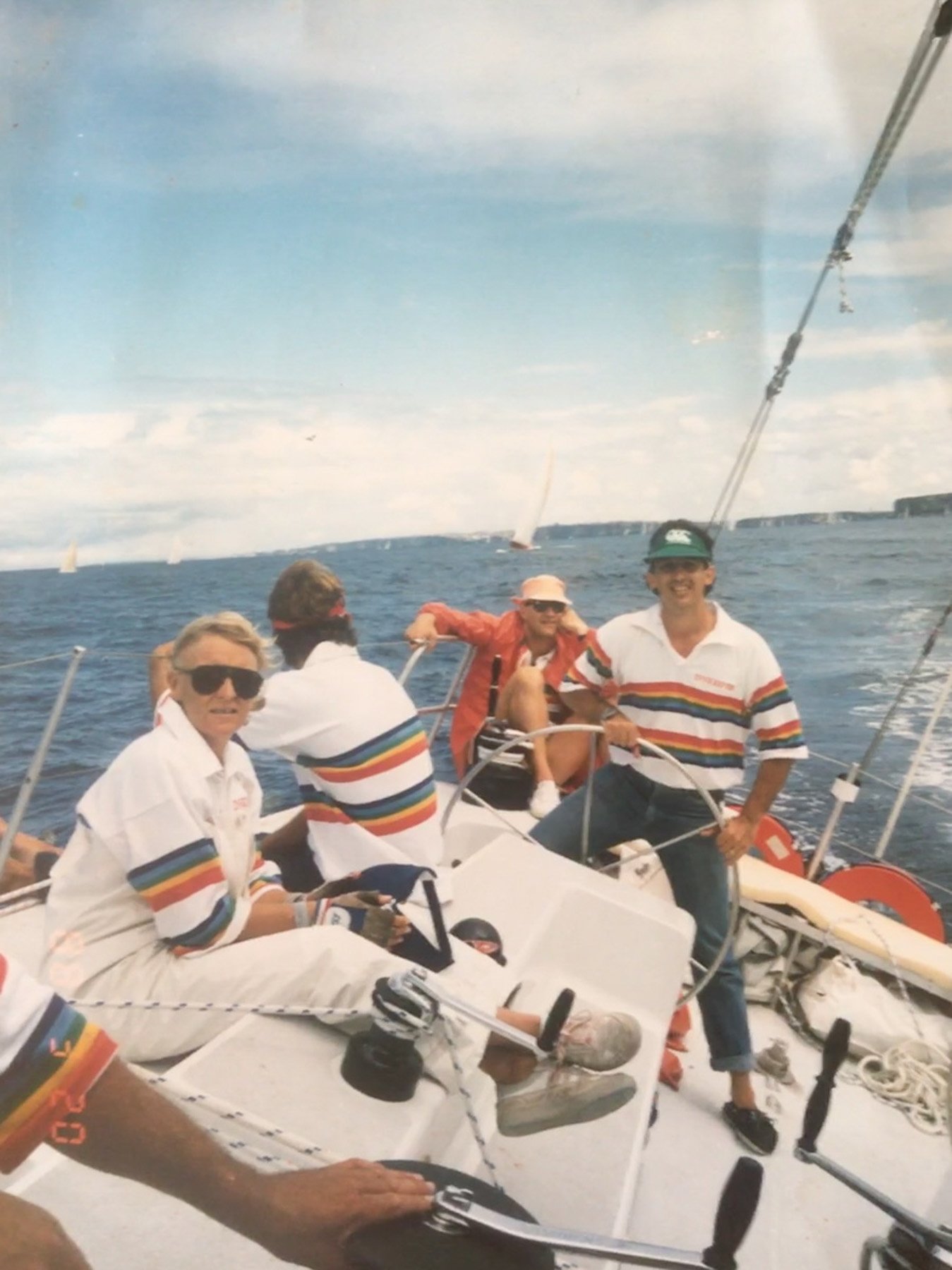 A father's gift
Beyond being a useful sailing and surfing companion, the Rolex was a connection to Ric's father, who had been in the Royal Australian Navy and was a sailor himself. "My dad had been a prisoner of war in Germany during World War II for more than three years after being captured during the raid on St Nazaire in 1942. His boat was blown out of the water, and he was one of the few survivors of that vessel and would go on to be a prisoner of war until 1945. He was an amazing man, who died in 2003," Ric explained.
The Rolex Submariner went on to share a lot of adventures with Ric from the 1970s well into the 1990s. In the mid-1970s, the watch returned to its spiritual home in Switzerland as Ric went to hotel school in Geneva around 1975. "It was there that I started snow skiing with this watch. We lived throughout Geneva, and a friend and I drove all around the ski resorts of Europe in 1976 in a little truck as well. Then, in 1978 or 1979, I came home again, and we started water ski racing. The watch went with me while I was water ski racing as well. Mate, this watch has had a huge bunch of adventures," Ric said. "It was with me when we won a few outboard boat races too."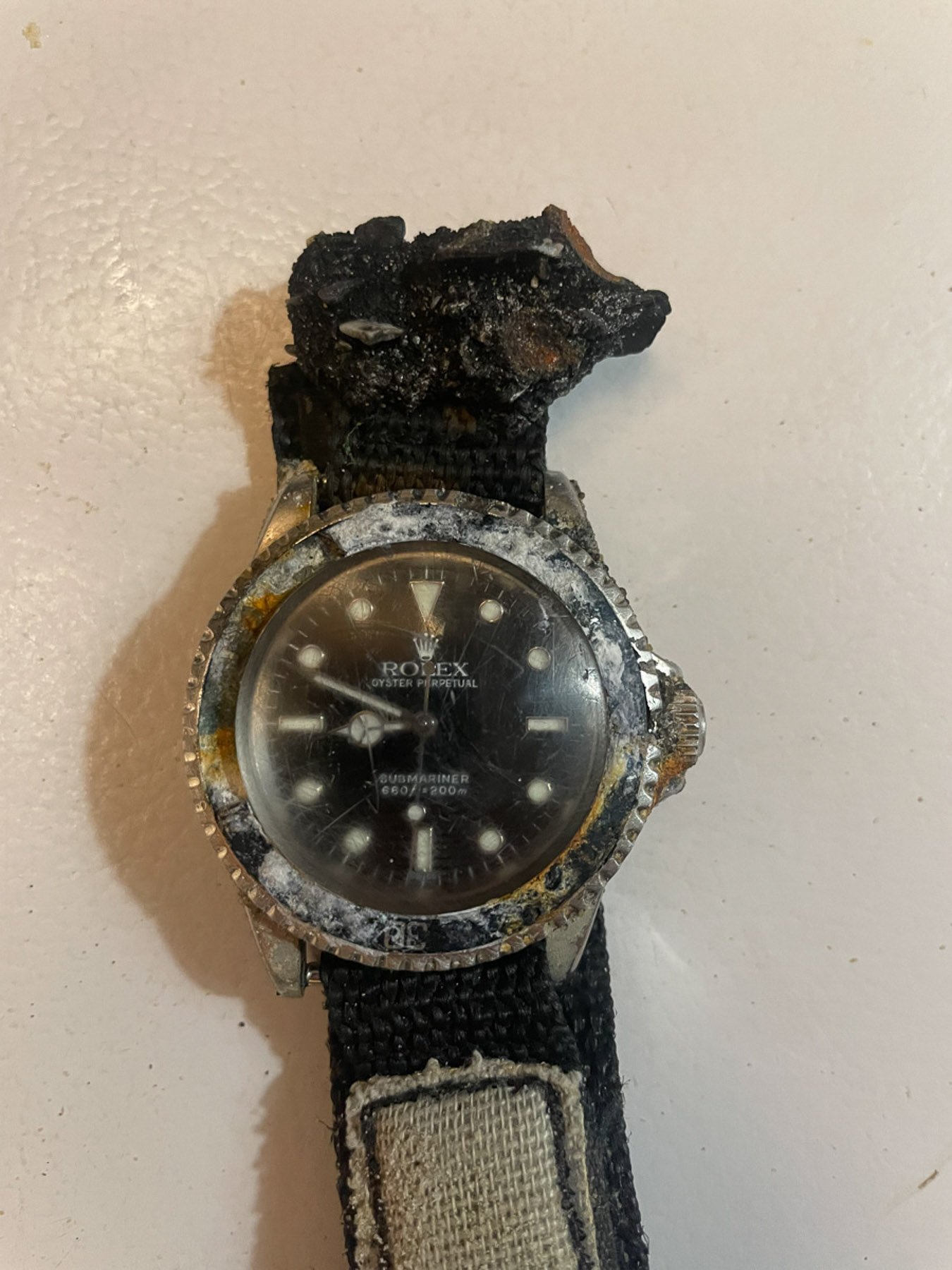 Chapter 4: The Rolex gets lost in deep sh*t and goes for a ski down Mont Blanc
This is not the first time Ric's Rolex has gone on a solo adventure. In 1980, Ric was fixing a friend's septic tank. What happened next meant he would not see the watch again for over two years. "I took the watch off my arm and put it into my jacket pocket, and it fell into the septic tank while I was busy working. I had no idea where it went. It was in the septic tank for almost three years, and I only recovered it when the tank was emptied. It still worked just fine, though it had lost its bracelet. Later on, my friend found the bracelet and put it on his Tudor Submariner. I decided to let him keep it, so I changed to a strap, which is why Matt found it without a bracelet," Ric explained.
After that, the watch went back to Switzerland for two years in 1981 with Ric as he worked at a ski resort as an apprentice baker. "My last day of skiing there with this watch, I worked for a shop called Ski Service. One day during that time, the boys that worked in the ski shop booked a helicopter trip to the top of Mont Blanc, and we skied down to the French Tunnel at the base of Mont Blanc. That was the most incredible moment with that watch on my wrist, I tell you," Ric fondly recalled.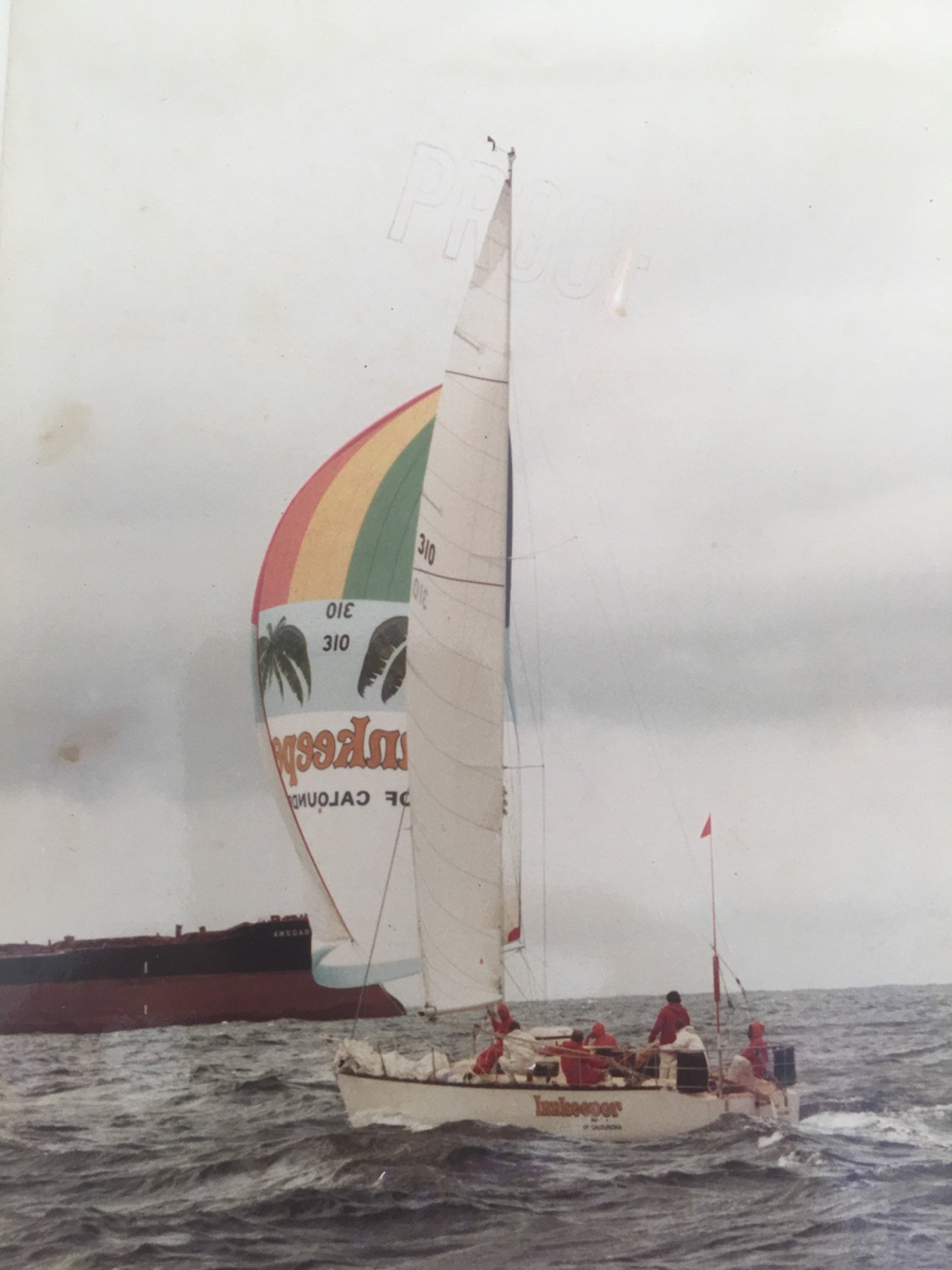 Life goes on
After the Mont Blanc adventure, life became a little less hectic for Ric and his Rolex Submariner. In 1983, he got married — with the watch on his wrist, he says — and went on to continue regularly surfing and sailing whenever he could, including with his father. "In 1988, Dad built a big boat called Innkeeper. We did two Sydney to Maloolaba yacht races with that vessel and got over the line twice. That was an amazing achievement as Innkeeper was only a 60-footer, and we came second to an 84-footer," Ric explained. 
During the 1990s to the 2000s, the Rolex was on Ric's wrist as he participated in several other sailing races, including the Brisbane to Gladstone, visited Canada and the United States for ice fishing and skiing, and once again returned to Switzerland for a trip to reconnect with old friends. "That watch has done a lot of sh*t, I can tell you. It has seen some country," Ric said.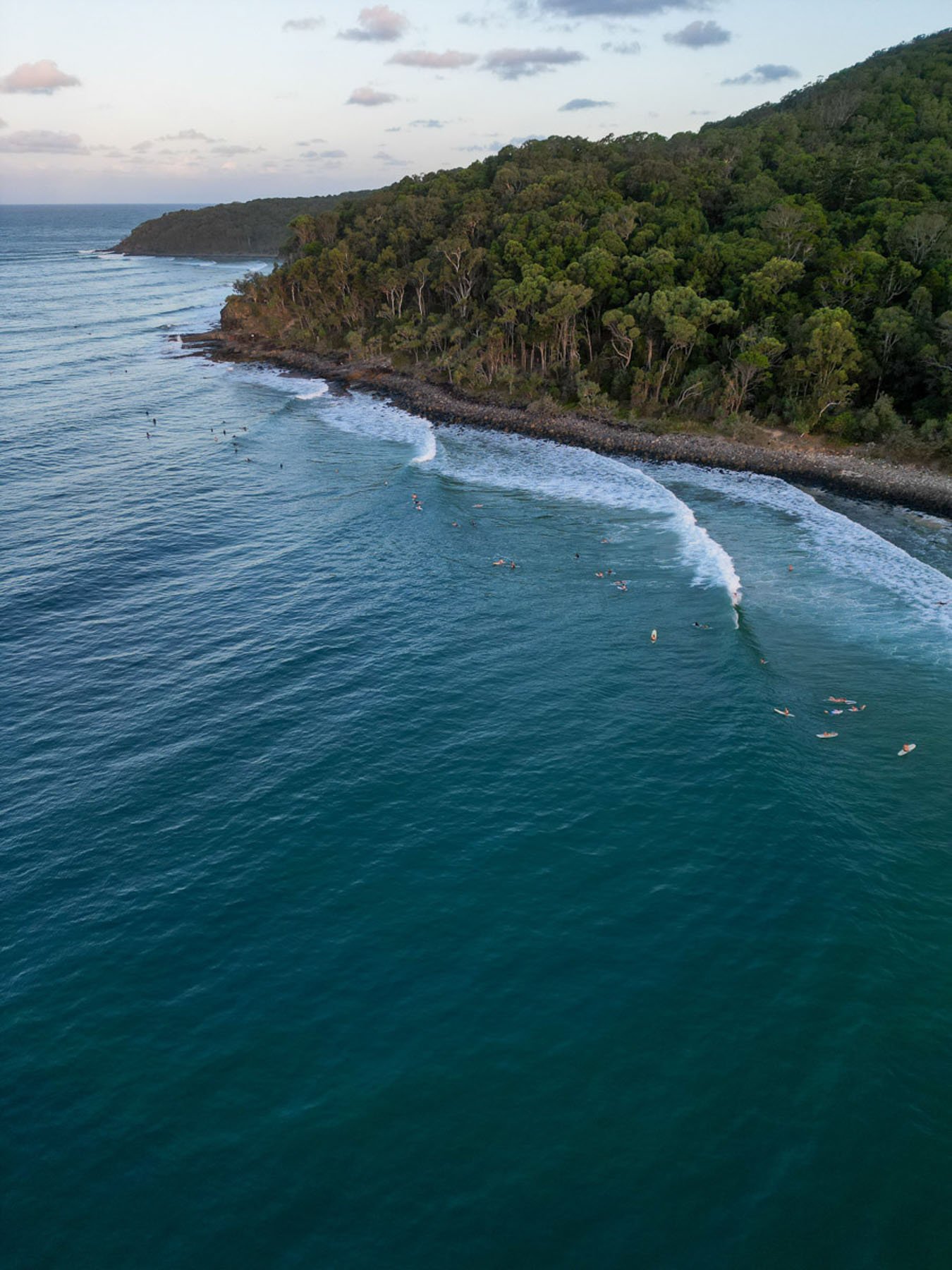 Chapter 5: On a fateful day in 2019, the Rolex goes missing again
We wind forward to February 6th, 2019. Ric is surfing small swells off Noosa and is in a bad head space. 
"I was surfing in the national park, and the swell was small, only about two feet. It wasn't the best day, and I was feeling preoccupied. I had a Velcro band on the watch because my mate still had the steel bracelet from back when I lost it in the septic tank. I was riding this wave and swiped my hand past my leg rope around my knee. The leg rope must have ripped the watch off my wrist and dropped it into the water — I didn't even realize what had happened," Ric explained.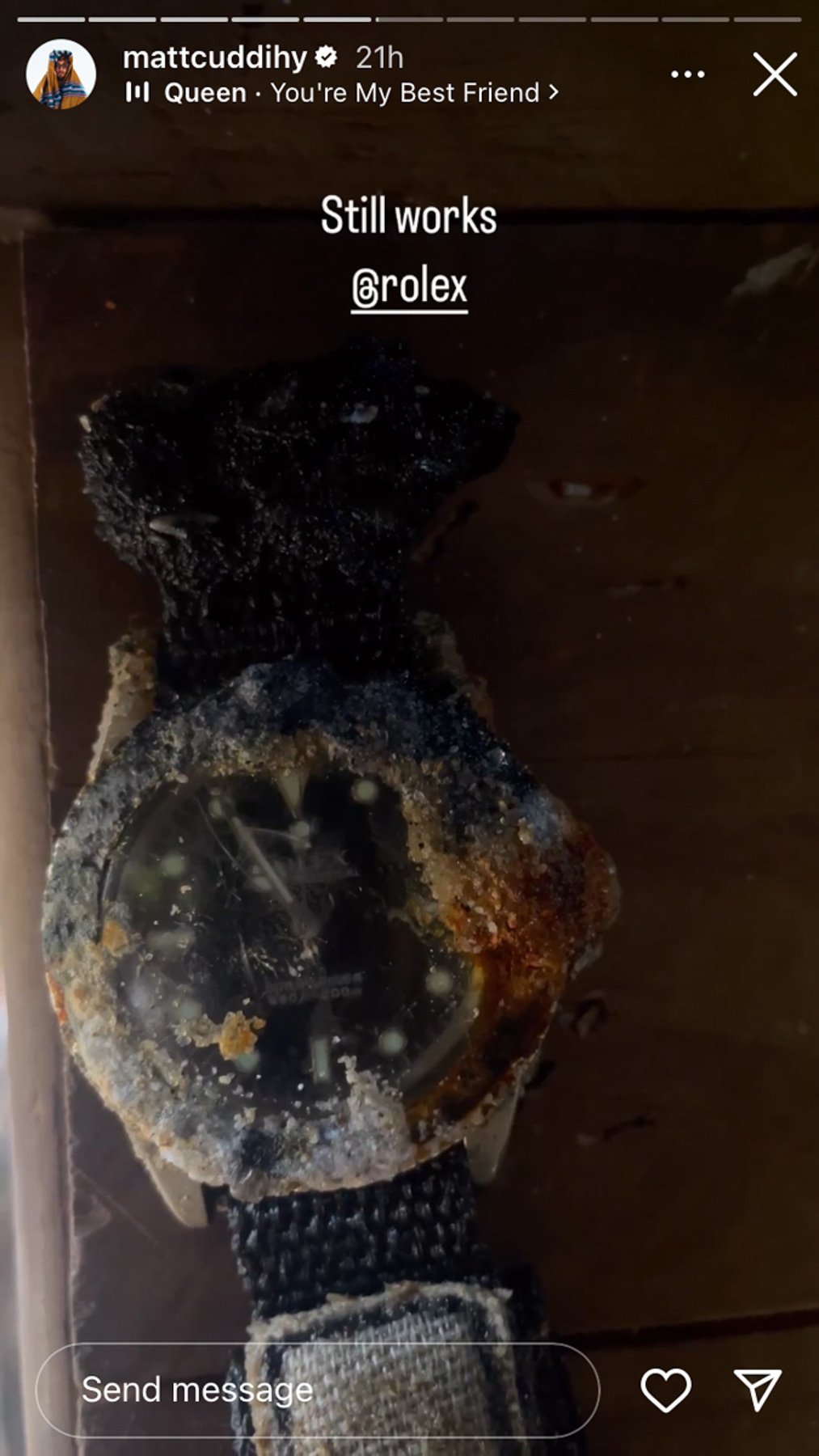 "I walked up to my old ute and put my board in the back. I put my arm to look at the wrist to see what time it was, and it was only then that I realized I'd lost it in the surf. It was a surreal moment when I lost it. If you can imagine yourself in a situation where your mind wasn't registering what was going around, there was a sense of shock; it was huge."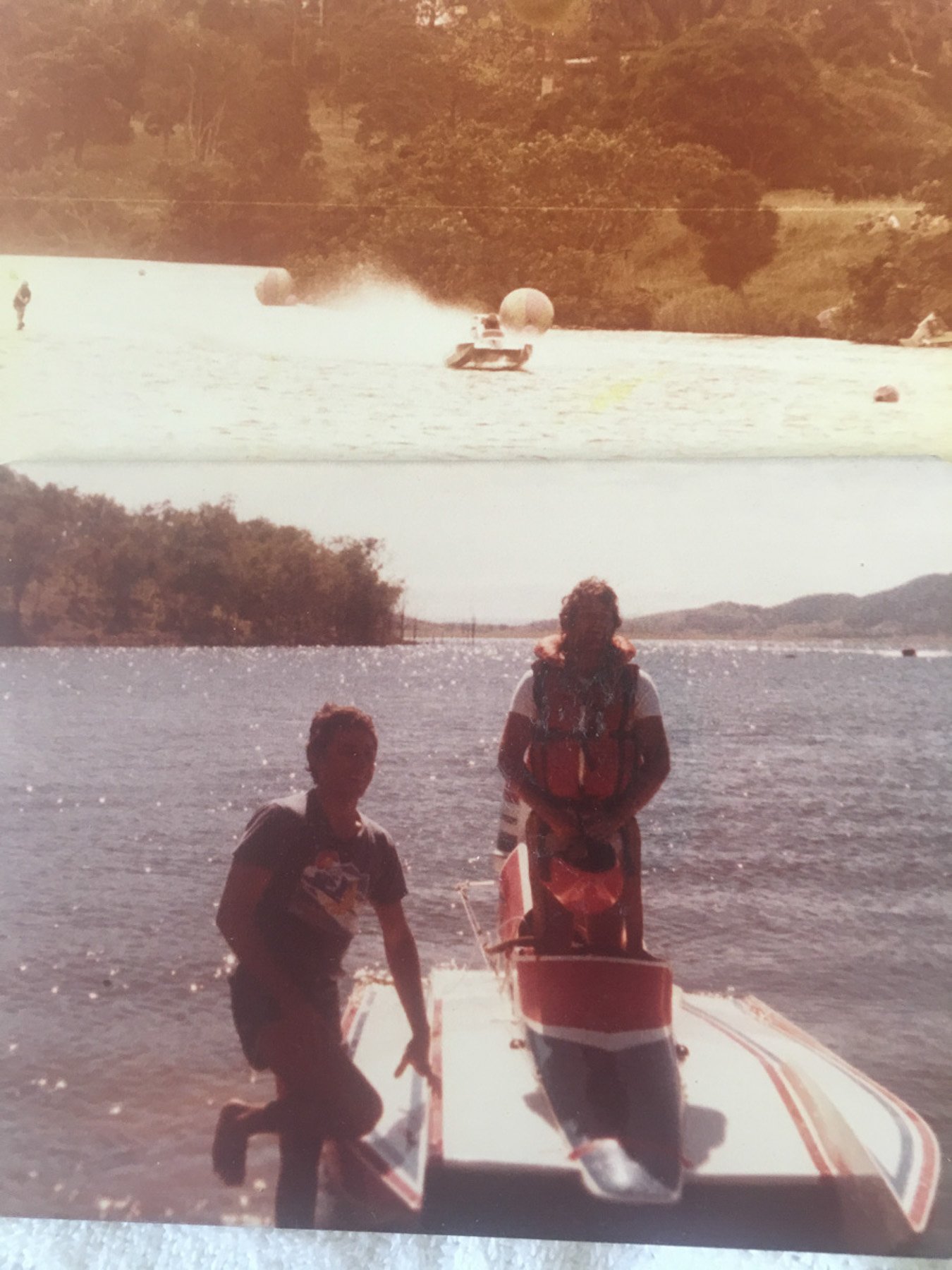 Ric said it was like the end, losing a close connection to so many memories with his father. Lacking snorkeling gear when he lost the watch, he contacted a local professional diver to look for it, but it wasn't found. "I just felt hopeless," Ric said. He contacted the local police department, as well as Rolex, and provided the watch's details, including its serial number so that, on the tiny chance it was found one day, it could be returned.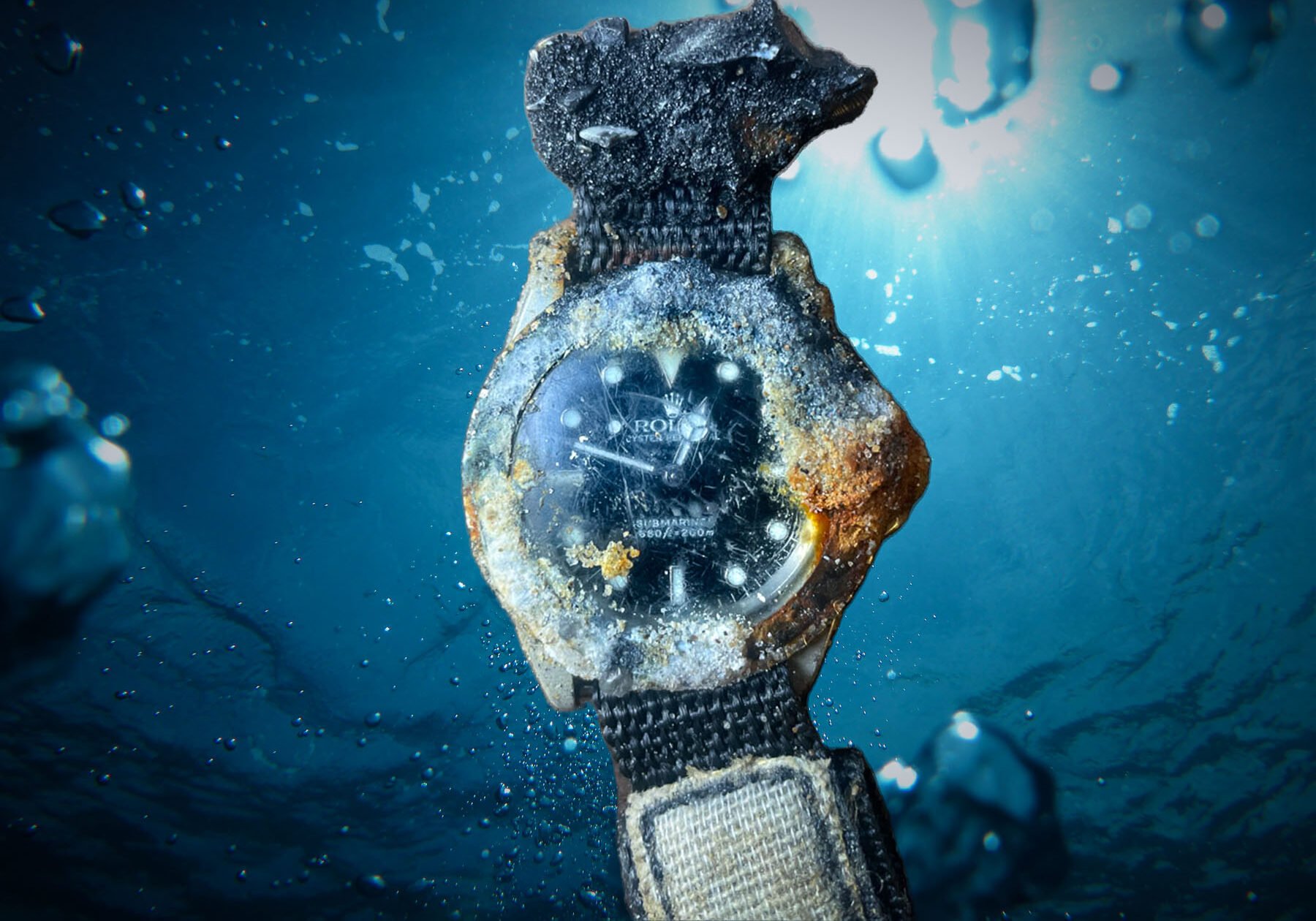 Chapter 6: June 2023
We all know by now that Matt Cuddihy's discovery went viral. But the chances that the story would be seen by Ric or one of his friends or family were still relatively small. Ric does not use social media, but a friend of his saw the story last month and contacted him.
"The next thing was my mate Bob saw the story online. But I don't even have Instagram, so I didn't know how to contact anybody. So my daughter helped me leave a message on the Fratello story, found Matt's Instagram, and started helping me send him messages over several days," Ric explained. Matt asked Ric and his daughter what the Rolex Submariner's serial number was. Luckily, Ric had that number handy, having had the watch serviced by Rolex in 2005.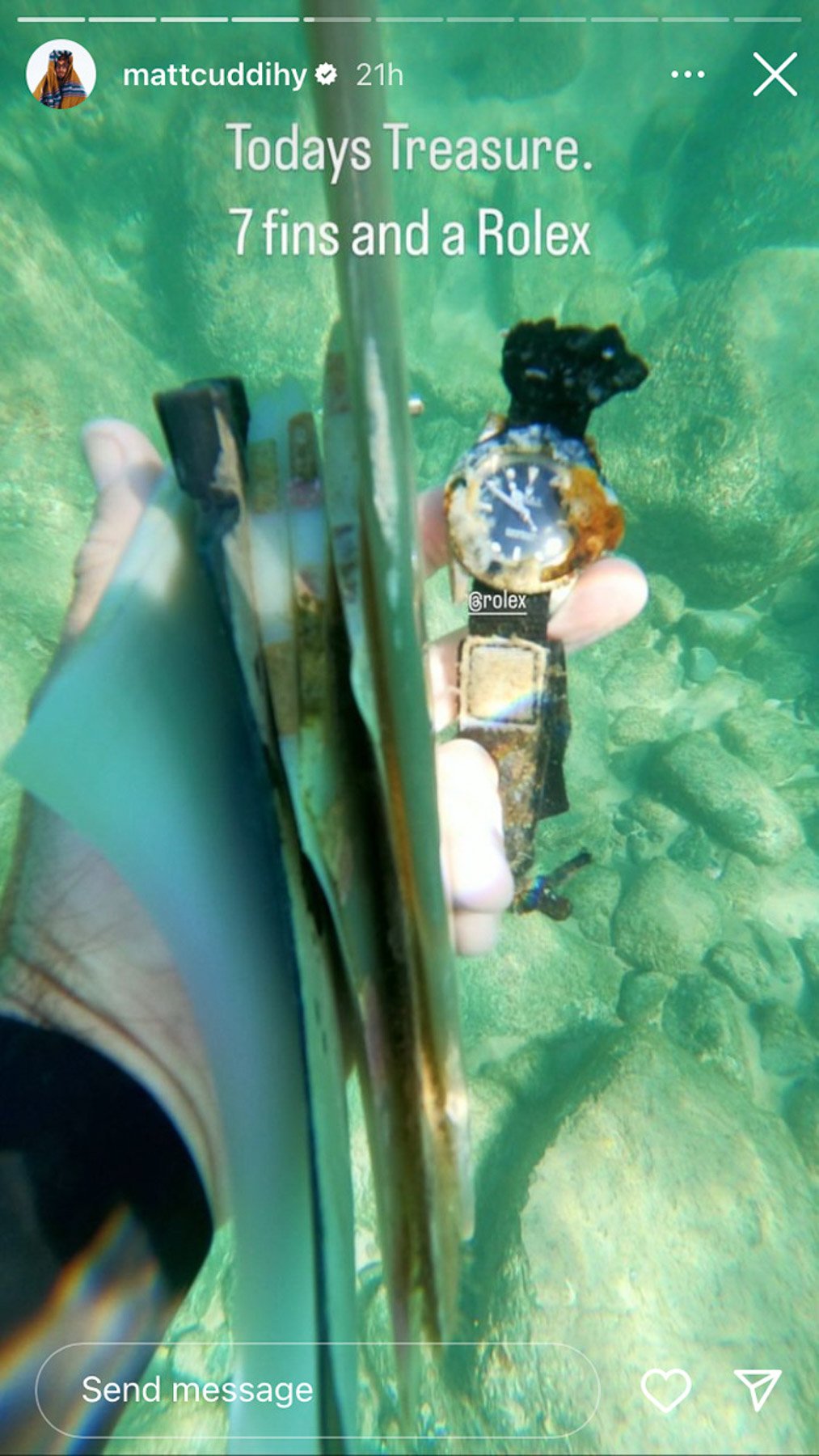 "I remember Matt asking if we had serial numbers and could describe the inscription. When we answered, he came back to us and said, 'It looks like we might have matching numbers.'"
"When that message came in, I completely broke down. This is something that has had such a large amount of adventures in my life," Ric said. The moment was quite emotional for him. "I couldn't even sit with my daughter and wife while we were having dinner. I got up, walked out, leaned against a post on the patio, and just cried." The watch had been in the swell for more than four years but would now be reconnected with its original owner, thanks to Matt's kindness, a watch story going viral, and a good helping of luck.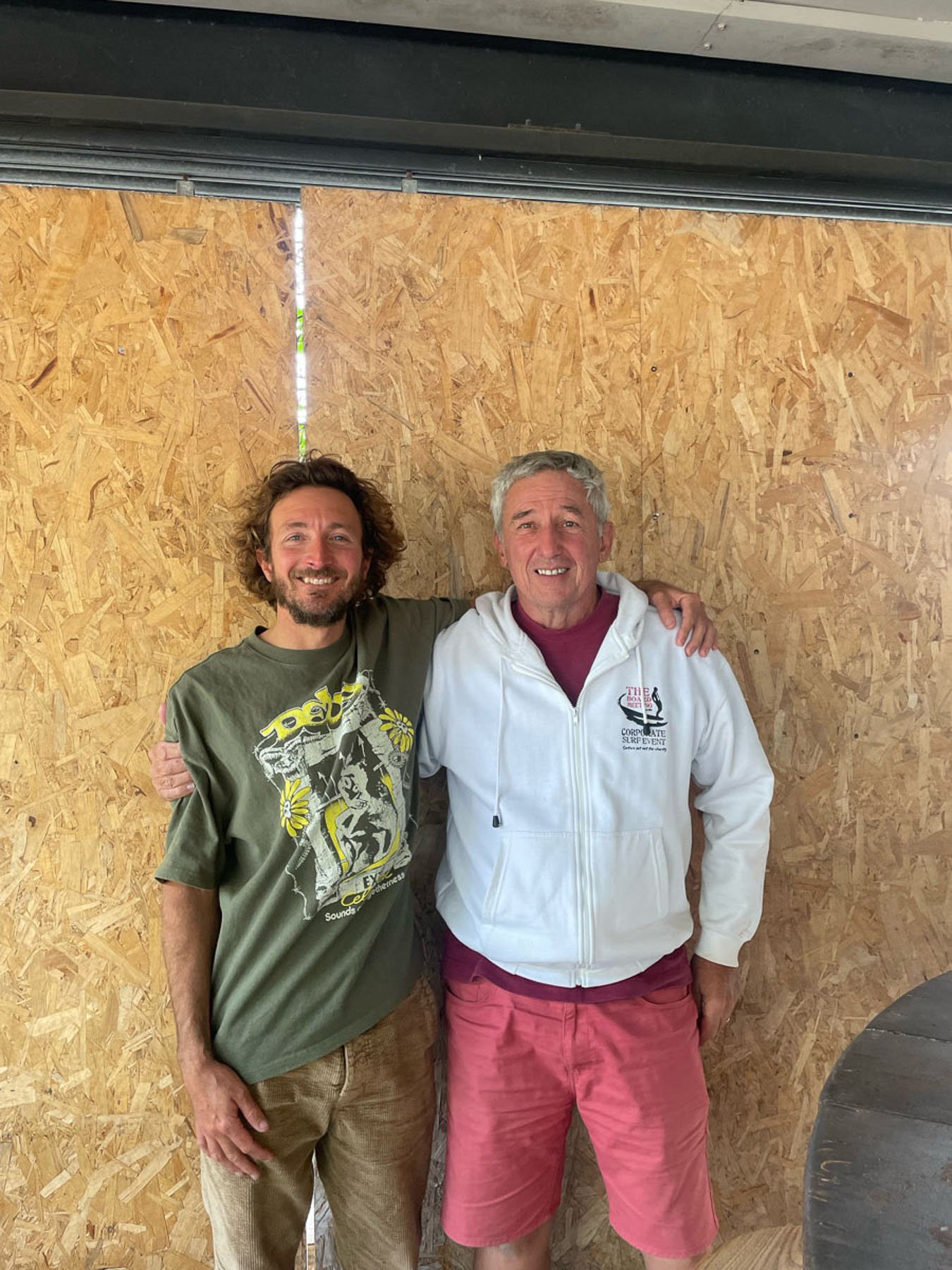 Final chapter: A friendship blossoms
Ric and Matt met in person a couple of weeks back for the first time over lunch in Noosa. It turned out that Ric lived only about 50 kilometers from where Matt is based. "It's all pretty incredible. There are great people still left in the world," Ric said.
For Matt, the journey has been about doing the right thing. "It has actually been so nice. The original owner is an absolute legend, and I have had a few chats with him on the phone, and then we had lunch in Noosa. He was very emotional, and the watch had a lot of sentimental value. I'm so happy to get it back to him, and hopefully, it continues to tell the time and stays on his wrist." For now, the watch is in the capable hands of Rolex in Australia, receiving the TLC required for a watch that spent four years at the mercy of the ocean.
While this chapter ends, the now-famous "Rolex Submariner found by an Australian surfer" will soon continue sharing adventures with Ric. If nothing else, this has brought good people together in the most unexpected ways, and it goes to show how this hobby of ours is so much more than what might lie on the surface. If you dive in and swim deep, you never know what you might find.
Editor's note:
On behalf of the Fratello team, I want to take the chance to extend our gratitude to those involved in the story. Thank you, Henry; thank you, Matt; and thank you, Ric. It has been a thrill to follow along and to see the story unfold. We'd also like to thank you for all the pictures and the time you've taken to help us tell your story. We look forward to seeing the watch serviced and on its rightful owner's wrist once again. The important part is that Ric's story with the watch is not over, thanks to Matt and his efforts to take care of a place he cares deeply about and his honest approach to the situation. An old chapter ends, and a new one begins.