Fratello Favorites: The Best Watches Released In 2022 — Thomas's Picks From Seiko, Kurono Tokyo, Omega, And More
A year of more accessible gems
For me, as a watch aficionado, 2022 has been quite a special year. It feels like it has been longer, but I moved from Amsterdam Watch Company to Fratello only this May. And that was just a couple of months after releasing my debut book on the vintage Rolex Datejust. These were two significant milestones in my journey. The big difference between vintage dealing and watch journalism is the fact that no new watches get released in the vintage space. As such, this question about my favorite watches of the year is a new one for me. Never before have I been so close to all watch-related news, covering new releases every week. Some of those releases made me pull out my wallet, so I pretty much have to include those, right?
When I think of the watches that struck me in 2022, it is primarily sub-€2K models that spring to mind. I'm not sure why, but somehow I feel more comfortable wearing those. I feel freer to use them as intended without constantly being aware of them on the wrist. So I will let Lex and Jorg cover the Pateks and Vacherons. Let me share my more accessible favorites of the year. I will not claim that these are objectively the best releases — they're not — but they are the ones that I like the most.
My king of 2022: King Seiko SPB281J1
For my first 2022 favorite, we jump all the way back to the start of the year. This controversial release is my absolute favorite and the one that I wear the most. It is a perfect everyday watch that is stylistically versatile and solidly made.
I say "controversial" because there has been debate about the caliber inside that is not exactly worthy of the King Seiko label. Many of you would have rather seen a more accurate manually wound alternative, in line with the KS of old. I tend to agree, although the 6R31 inside serves me just fine. The new King Seiko models focus more on a higher-end aesthetic instead. The finishing really is a touch above anything I have seen in the sub-€2K segment. It lands me the most compliments from non-watch people, which has everything to do with the impressive looks.
To be honest, at the rate that Seiko drops new products, I would have expected more variants by now. But to me, the vertically brushed dial of my SBP281J1 is sheer perfection. This is a watch that gets me excited every time I look at it, and that is how this whole passion started for me years ago. The current retail price on these is €1,700.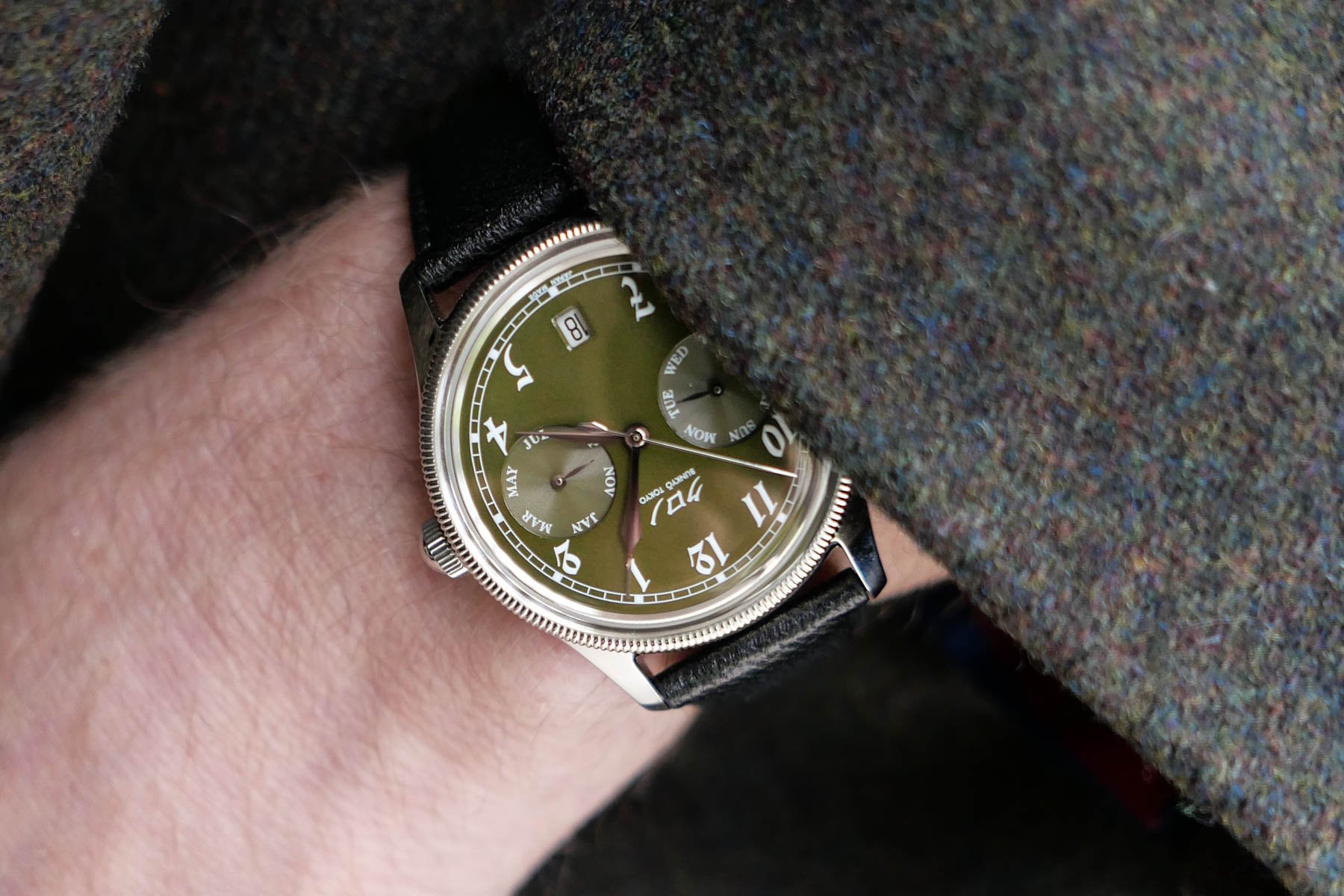 Kurono Calendrier "Type 1"
Kurono is a brand that was not on my radar until this year, but now my watch lover's heart aches for one. Owner Hajime Asaoka brings a taste of his watchmaking wizardry to a lower price point through Kurono. Unfortunately, his production capacity is so limited that all of his releases sell out in no time. So the stars have to align and my watch piggy bank has to be full just when he drops a new release — one that I like, that is. My absolute favorite is the Classic Series in cream. Unfortunately, those can only be had secondhand at serious prices.
But this year, Kurono introduced another quirky watch, the Calendrier. It is a triple calendar displayed in a rather chronograph-esque format. But what I love about it is that unique Kurono aesthetic. You see it in everything from the very specific hue of green and the gothic numerals to the stylized Japanese logo and the not-perfectly-matching handset. This watch has so much character and identity.
The Kurono Calendrier was priced at ¥243,000 (~€1,700) plus taxes, but unfortunately, all examples are sold out. Still, a list of favorites from 2022 was a good excuse to bring Thor's photos out once more.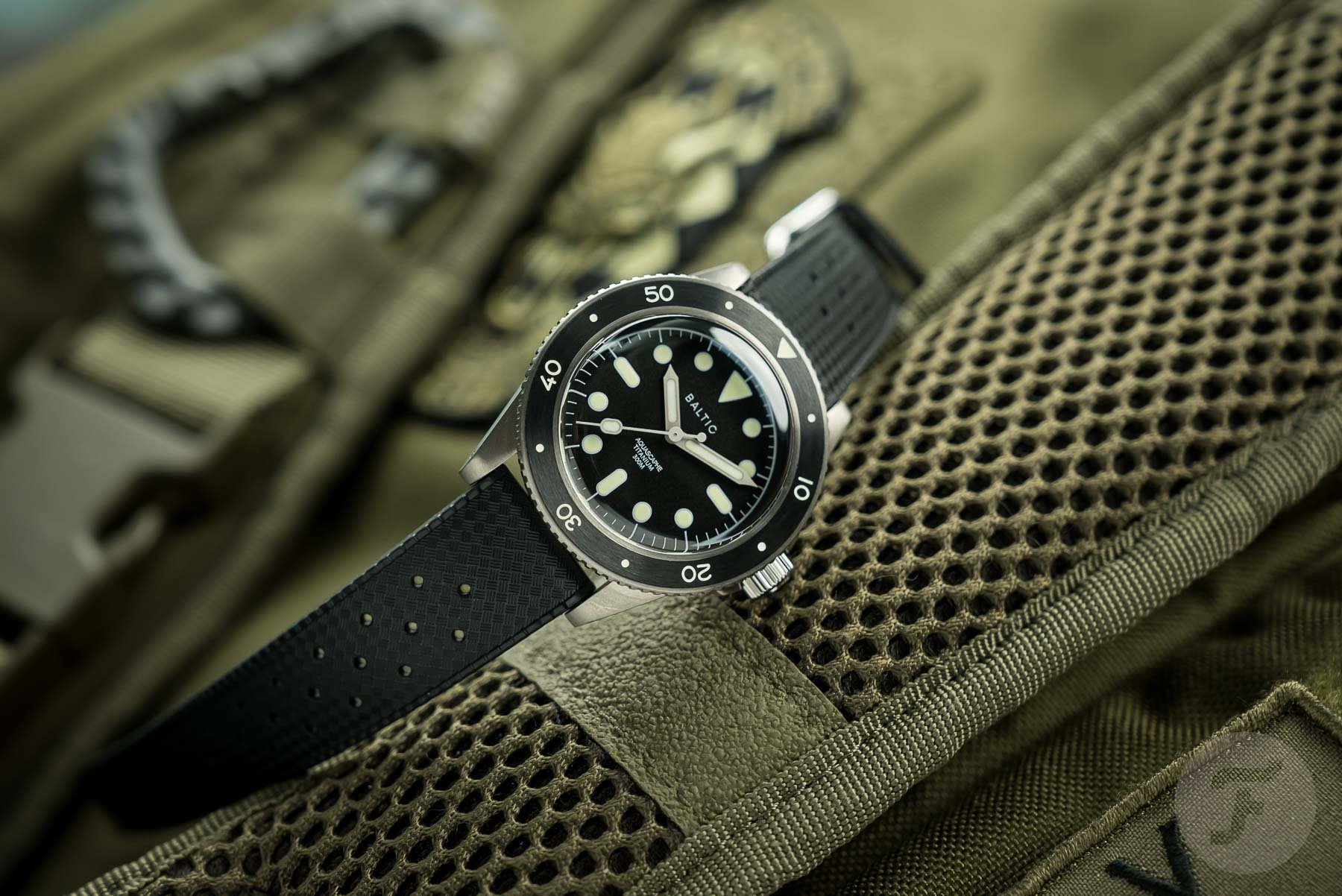 Baltic Aquascaphe Titanium
It is no secret that I am an admirer of Baltic. I have stated before that I think the brand's designs are often spot-on. Baltic's latest release seems not to resonate too much with our more vocal readers, though. Many of you commented that the Tricompax is too derivative in its design. And it is true; Baltic does sometimes take a little too much inspiration from iconic watches of yesteryear. If only the designers dared to lean on their own ideas a little bit more…
Well, I think the Aquascaphe Titanium does just that. Sure, it is an archetypal dive watch, but it has a character of its own. It conjures up associations with mid-century dive watches in general rather than one specific model. Plus, it is downright impressive in build quality and specs at this price. If you are looking at Seiko and Citizen but you want something a little further off the beaten track, this might do the trick.
Again, this is a watch that I ended up buying, and it spent a ton of time on my wrist this summer. It wears great on both smaller and larger wrists. And if you balk at the price of a Pelagos 39, this might just scratch that itch at €710 (plus local taxes).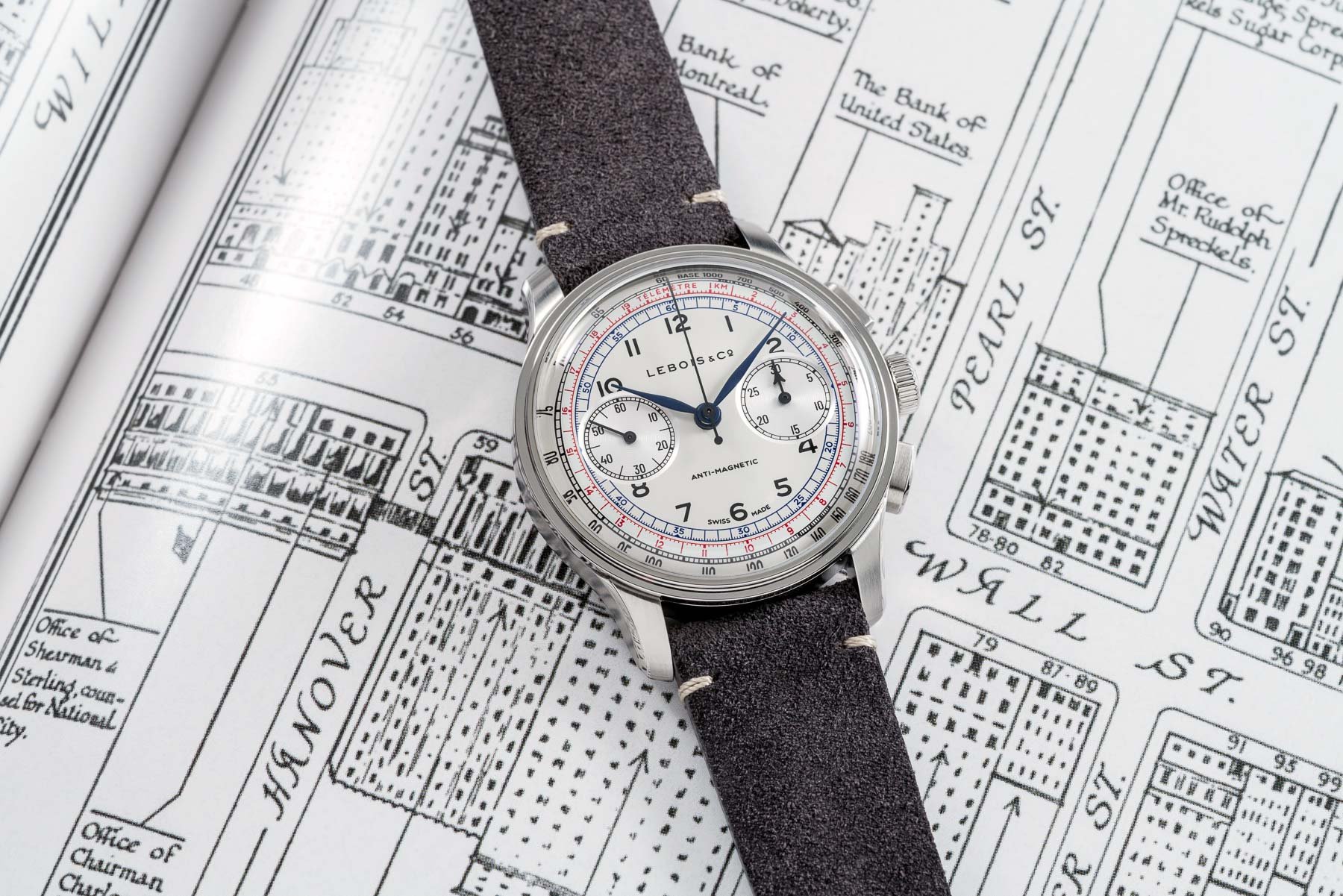 A 2022 preorder: Lebois & Co Heritage Chronograph
This one took me by surprise. We see and handle a ton of vintage-inspired chronographs at Fratello, and most of them are average at best. They usually fail to capture the actual soul of the vintage originals, so when another one is announced, I tend not to get overly excited.
But then I got a chance to handle some of the pre-production prototypes of the Lebois & Co Heritage Chronograph. They blew me away. The designs are so well done, and the resulting watches just sit so well on the wrist. Somehow, they feel contemporary while being heavily vintage-based. You will most certainly not mistake these for vintage originals. And that, in this case, is a good thing.
The Heritage Chronographs caused me to be extra critical of some vintage-inspired chronographs from larger group brands. They feel uninspired in comparison, and that is pretty high praise. At the time of publishing, according to the countdown timer on the brand's website, the second pre-order round will be open for one more day. If it happens to have ended by the time you read this, unfortunately, you'll have to wait until the next round if you want to order one. But hey, that's something to look forward to, right? The Heritage Chronographs are powered by manually wound La Joux-Perret calibers and priced from €2,450 (including VAT).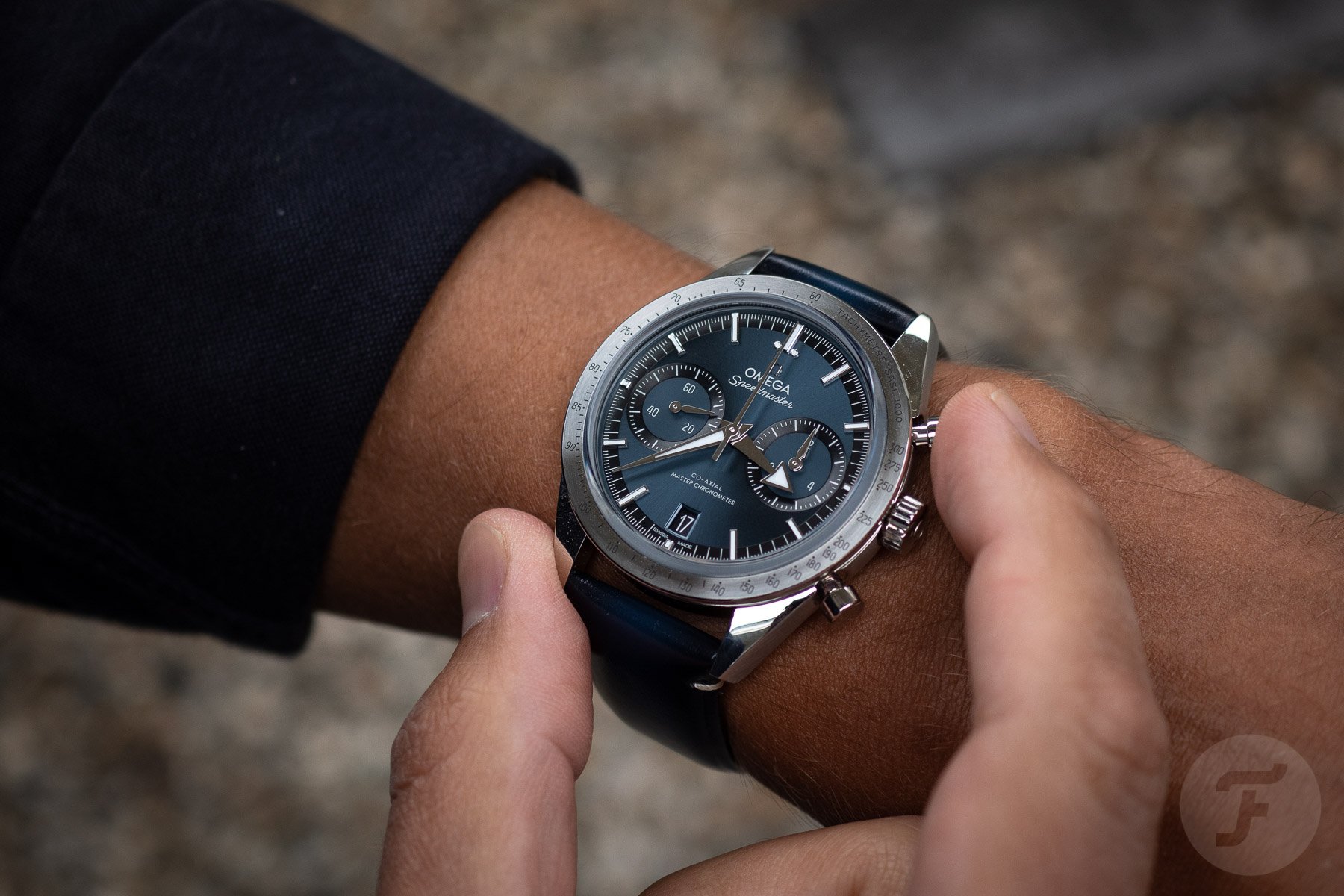 Omega Speedmaster '57 in blue
I said this list would consist of more affordable picks, but let me make one exception for something a little more high-end. It's another vintage-inspired chronograph, actually, but one from Omega that is so beautifully made that I could not resist it. And I tried resisting it. Being schooled by vintage Speedy dealers, I was indoctrinated with a dislike for Speedmaster reissues. But I have been converted. The 2022 Speedmaster '57 is awesome, and I would pick the blue one if I could.
The slightly smaller case, the near-perfect dial, and that stunning Co-Axial caliber 9906… I picked it up, and it all just felt right. You know that feeling, don't you? A watch just resonates with you before you know a single thing about it. I had that feeling with the 2022 version of the Speedmaster '57.
You do have to bring a cool €9,300 (or CHF 8,300) to your Omega boutique if you want one. But if that is not an issue, I think you will enjoy it.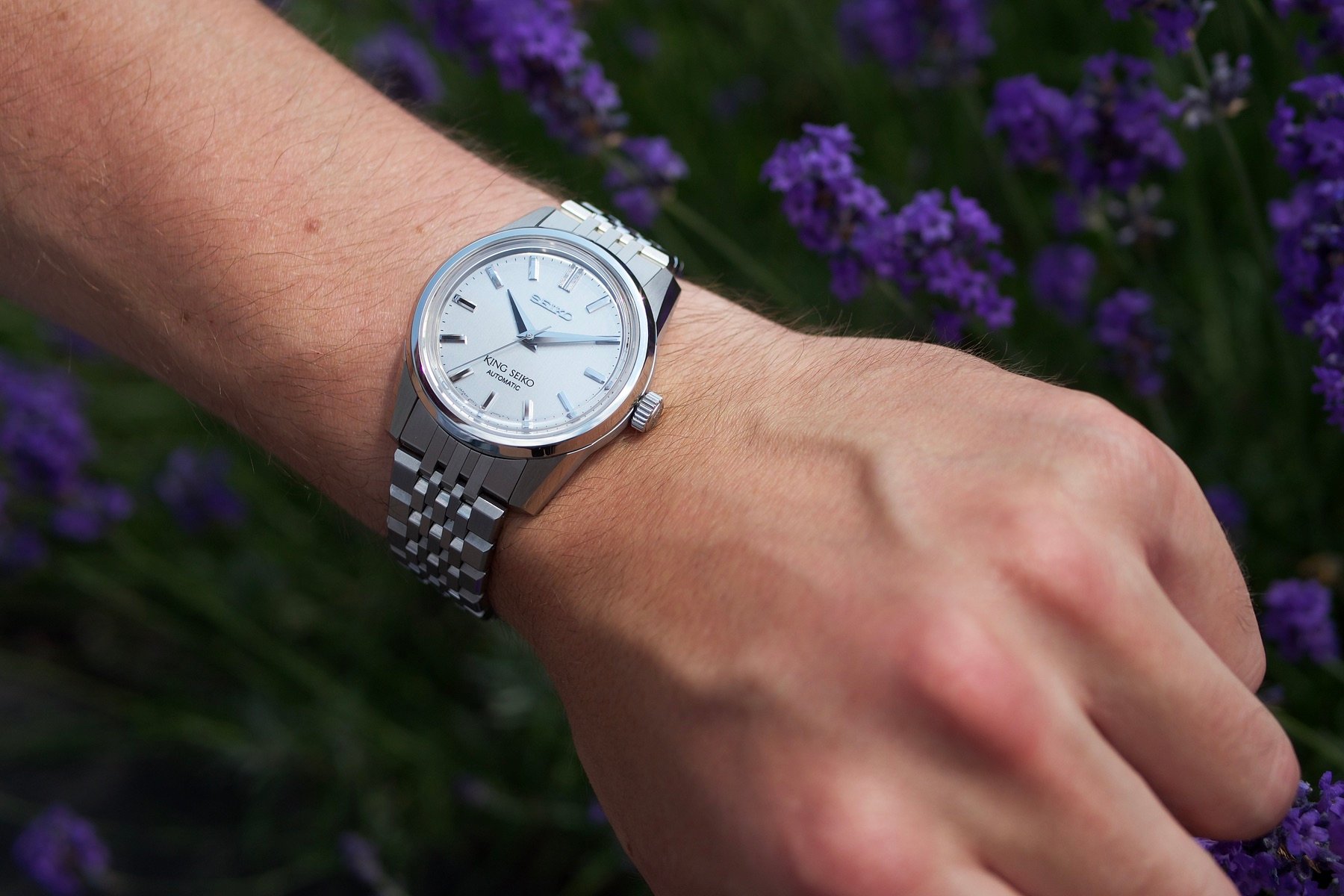 Closing thoughts
Not wanting to lean solely on microbrands, I left out the Serica 5303 in blue. That is a watch that I would happily wear, though. I just had to bring some balance to my list. Still, I was just more impressed by the underdogs this year. The Watches and Wonders 2022 releases from Rolex and Tudor did nothing for me. I like that Grand Seiko shrunk the 44GS to 36mm, but I am still waiting on a really good dial variant on a bracelet. I liked the dial of the latest Omega Seamaster Diver 300M, but the Bond animation on the back is too gimmicky for me. The current model is too big for my wrist in any version, actually. One watch I am eager to get hands-on time with is the 2022 38mm Girard-Perregaux Laureato. I'm hoping to see more variants from Girard-Perregaux in 2023, and that model could be a real winner for me.
So there you have it — the (watch) year 2022 through my eyes. Which of my picks would make your list? Let me know in the comments.
You can also find and follow me on Instagram: @time_travelers_journal