New Release: Baltic Introduces The Tricompax In Panda And Reverse Panda Colorways
Hands-on with another potential winner from the Parisians
The Baltic Tricompax × Peter Auto limited edition was warmly received earlier this year. It was evident that a regular production model would follow sooner or later, and well… here it is! The Baltic Tricompax is now being released in both panda and reverse panda versions. And after secretly wearing the panda for a while, I can certainly say this: it's not ugly. Not ugly at all.
But it is also not entirely original. I was curious to learn which would weigh heavier in the end — the beauty or the derivativeness. Join me to find out.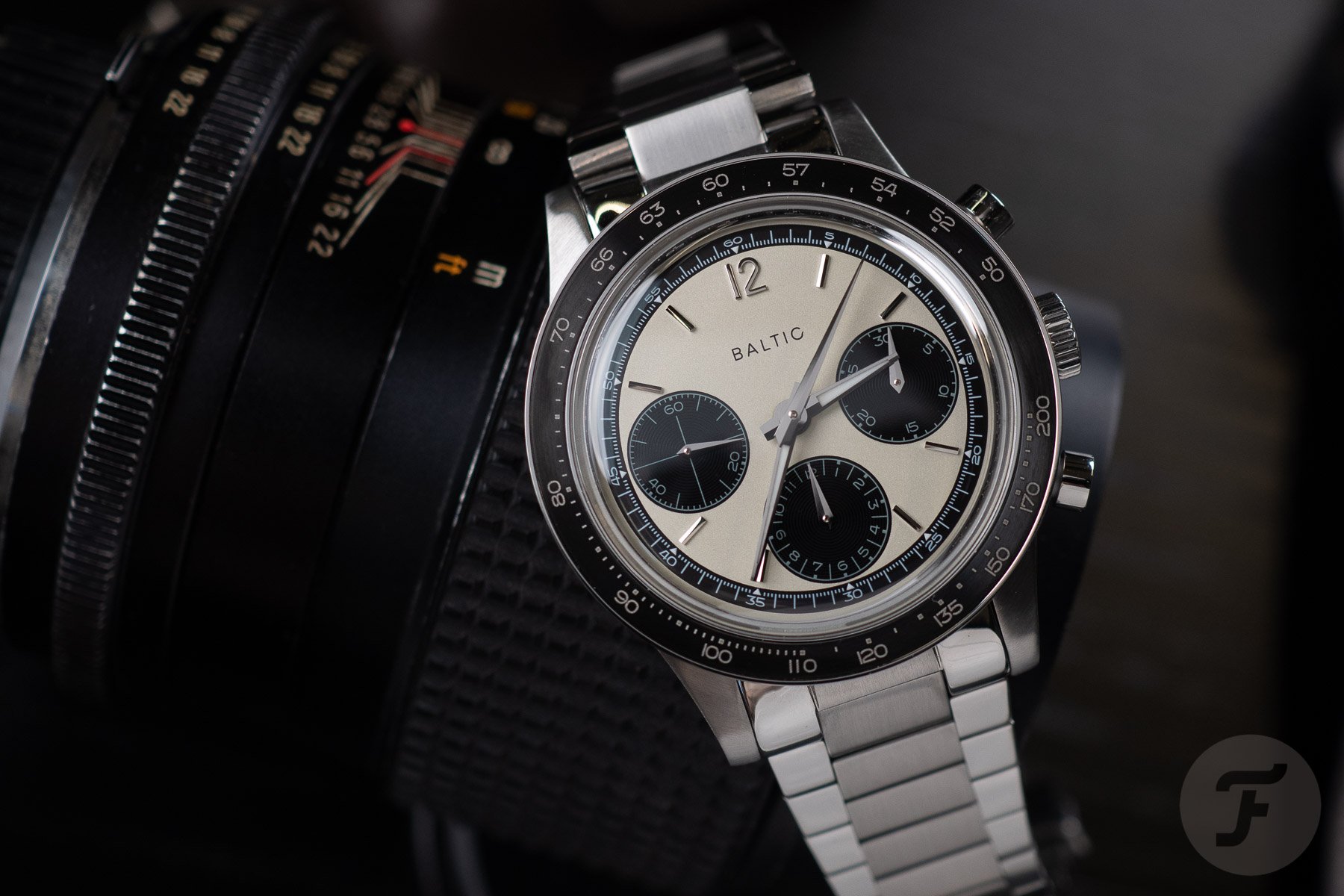 Baltic Tricompax
First things first. The Baltic Tricompax is a bit of a statement from the young French brand. The Peter Auto limited edition already tested the waters of higher segments than Baltic typically occupies. This "regular" Tricompax cements that bold move. Priced at €1,645 on the bracelet, Baltic is making a push up-market. It shows confidence, which, in my eyes, is certainly deserved through the brand's earlier releases.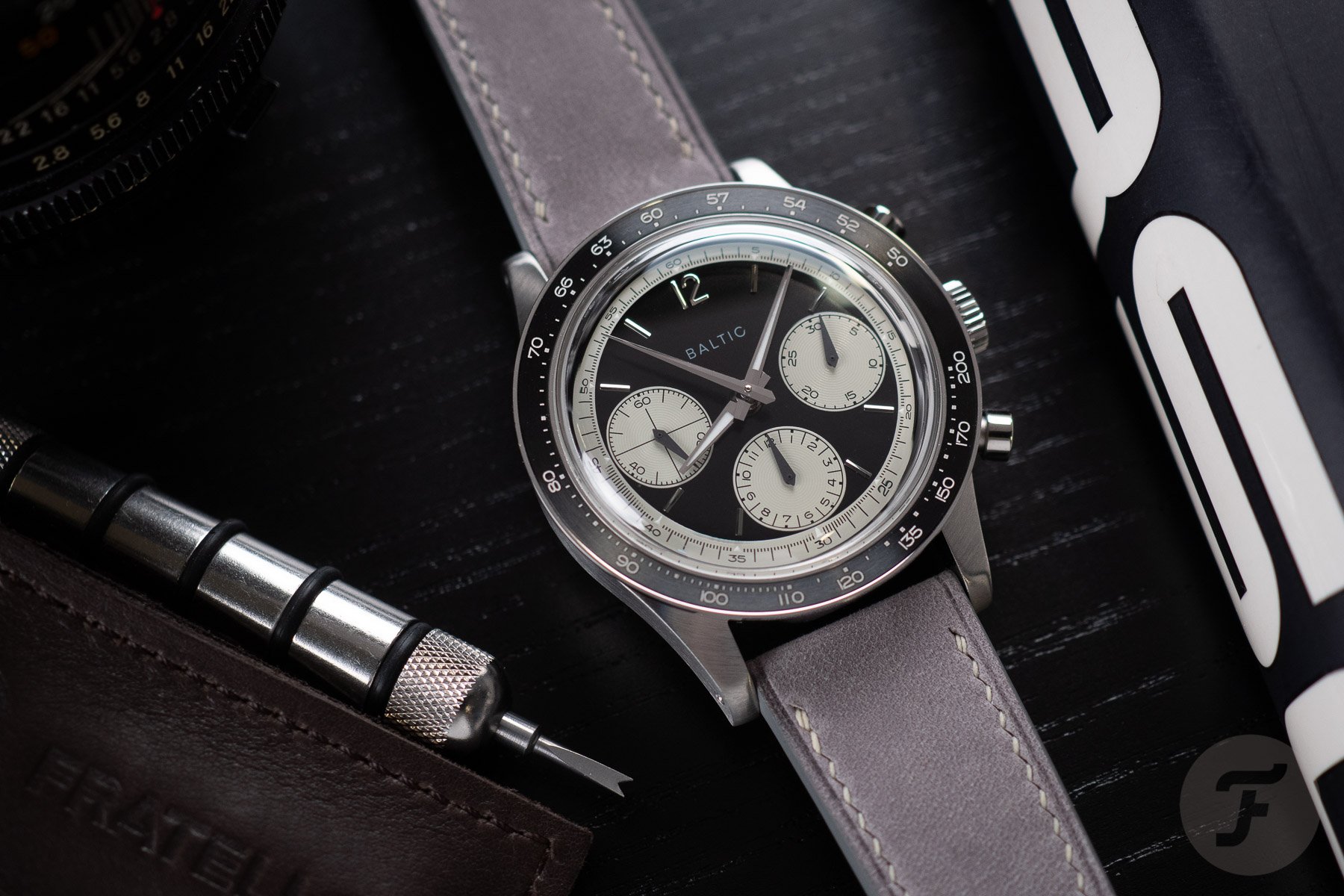 Here, we have a chronograph measuring 39.5 × 47 × 13.5mm (including the 2.8mm domed sapphire crystal). The watch is rated is 50 meters of water resistance and powered by a Sellita SW510 M. Indeed, Baltic is going with a Swiss caliber for the Tricompax. You can have your pick of a gray leather strap or a steel flat-link bracelet. Surrounding the domed crystal with an internal AR coating, we find an aluminum tachymeter bezel. The first quarter displays the numbers for 60–75 seconds rather than 1–15. That is quite practical because, in racing, you are far more likely to go 50mph than 500mph.
The Sellita SW510 M is a manually wound chronograph ébauche. It has a power reserve of 63 hours, and it beats away at 28,800vph (4Hz). You get running seconds at 9 o'clock, a minute counter at 3, and an hour counter at 6 o'clock. You can also find iterations of the SW510 in chronographs from Nivada Grenchen, Farer, Hanhart, and many others.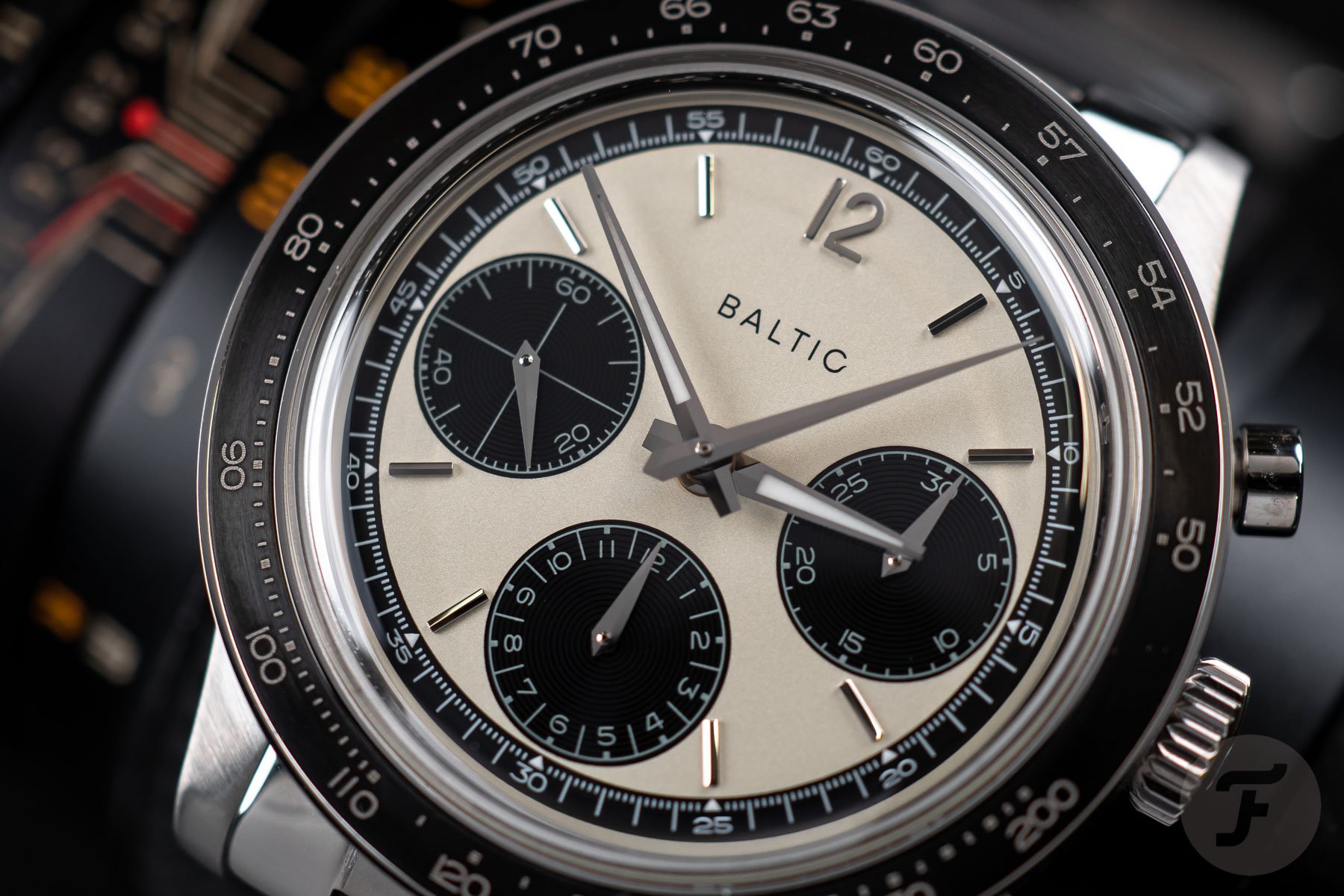 A thing of beauty
I am an admirer of Baltic's designs in general. I think the designers have a particularly good eye for the finer details. The typefaces, colors, dimensions, and dial layouts are extremely well done across the board. The Tricompax is no exception. I can honestly say that I find this one of the prettiest chronographs on the market today. That is subject to debate, sure. But if you try to look at it with a neutral "designer's" eye, you have to admit that it is well done. When I came home wearing it, my fiancée was immediately struck by it, and she is not easily impressed by the zillionth watch anymore.
For starters, the colors are spot on. As you can see, the two dials are not straight reversals of one another. The reverse panda features a slightly different hue of beige than the panda. It shows the great level of attention to detail to make the design sing. The minute track and sub-dials are also rather refined and attractive. You can see that they were drawn by someone with proper taste.
To me, the only let-down is the lugs. As with all Baltic watches, they are very plain and not as finely shaped as the rest of the watch. The curve almost seems stepped. I think it is the only aesthetic giveaway that you are dealing with a sub-€2K watch here. And that — although it may sound otherwise — is a compliment.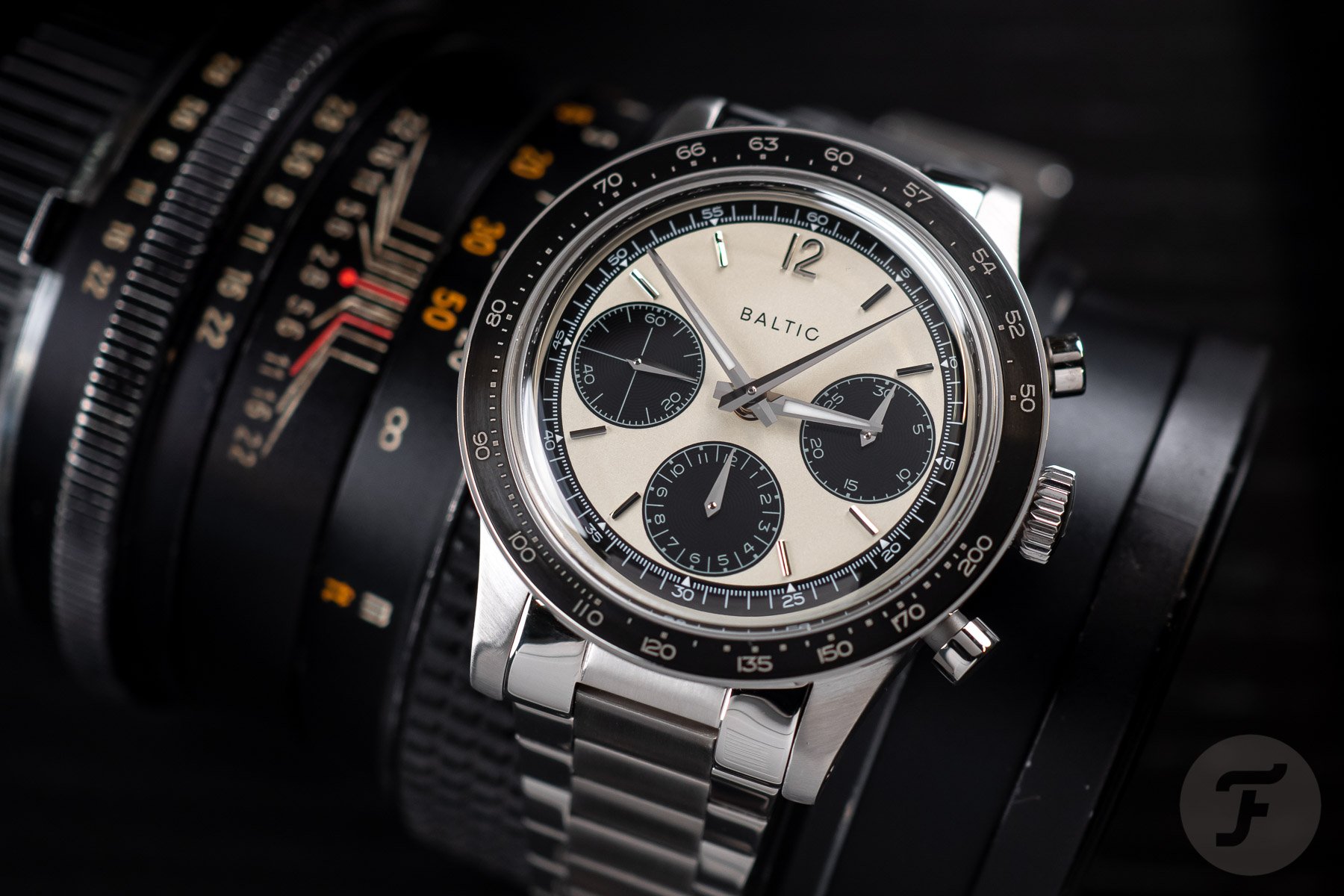 Build quality of the Baltic Tricompax
I have handled many Baltic watches, and I was always impressed by the quality for the price. They always seem to offer a lot for a reasonable outlay. The Tricompax is no exception. In fact, it is the nicest Baltic that I have seen in terms of build and finishing.
The dial is of high quality. The lacquer is perfectly applied, and the sub-dials are nicely textured. The dial printing and applied indices are all sharp and precise, and the same goes for the brushed aluminum bezel. I particularly like the handset. Again, it is just very well made and finished. The Tricompax certainly does not have the cheap look and feel of some old microbrand watches. And rightfully so, because Baltic is quite well established now and far from cheap.
The bracelet is good as well. It is very similar to Forstner's updated Flat Link with practical single-sided screws for sizing. The end links follow the lug contours, which is good. The double-pushbutton clasp is another thing of beauty, with polished flanks and a brushed center bearing the Baltic wordmark. The clasp features two micro-adjustment positions, and the entire bracelet can be removed without tools. It suits the watch very well and cements an overall solid feel.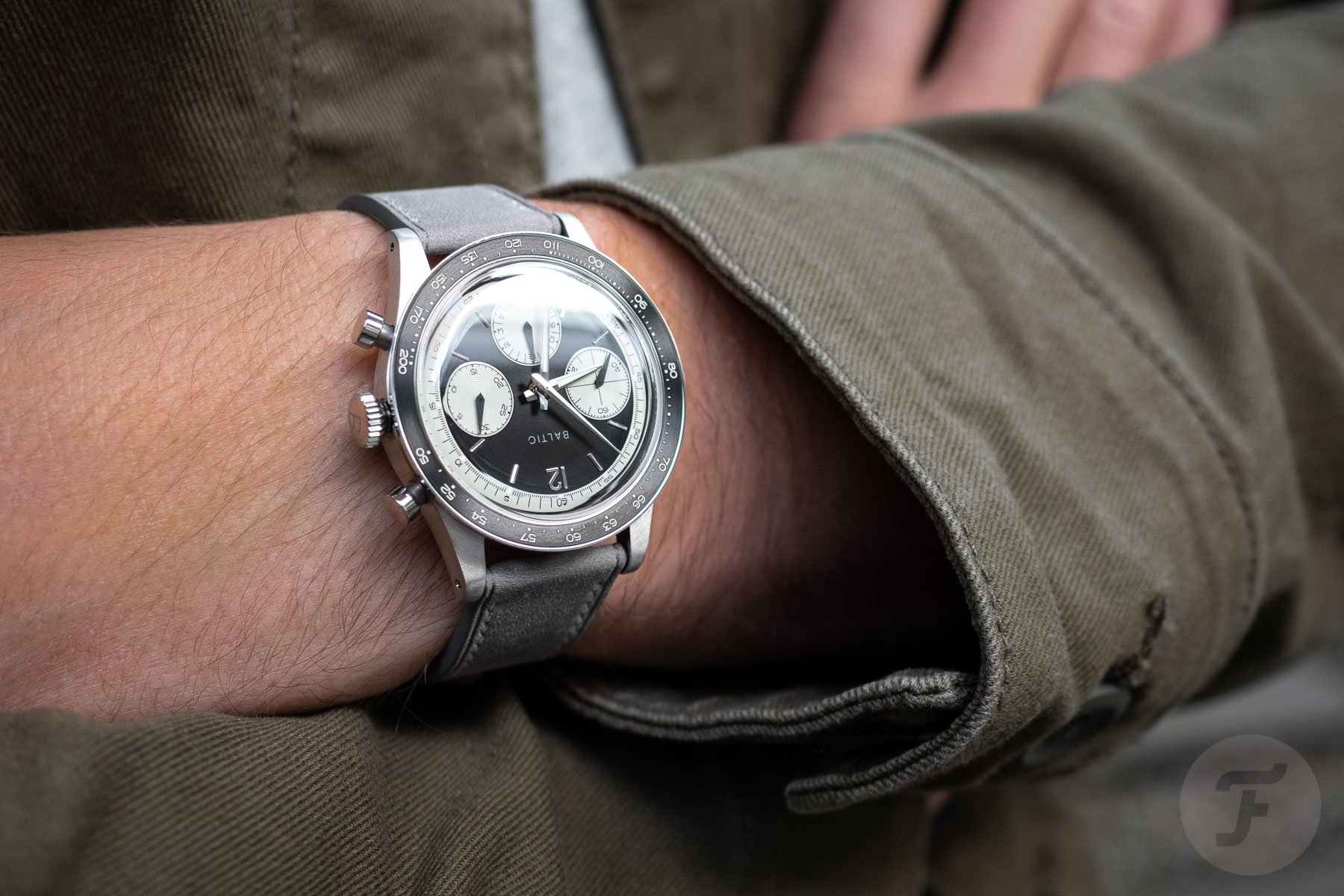 Vintage inspiration
Okay, on to the elephant in the room. We have established that I really, really like the looks of the Baltic Tricompax, and the build quality and finishing live up to expectations. I feel that I would be remiss, however, not to address the derivative nature of the design. Some of my colleagues immediately said, "Paul Newman Daytona!" Personally, I see more Universal Genève Compax in there.
Baltic always rides a fine line between taking inspiration from the golden era of watch design and not making straight homage watches. Most of the brand's watches feel original enough to me. This, however, is a tad too close to some 1960s chronos in my opinion. I am not against homage watches per se, and this isn't one, strictly speaking. But I found myself wishing that Baltic had added just a little more of its own flavor to it. It would have lifted it a level or two for me.
That being said, the watches it harkens back to are practically unobtainable. It is not like Baltic has straight-up copied a current model from a more expensive brand. So it is most certainly passable and, to some, probably even a reason to buy.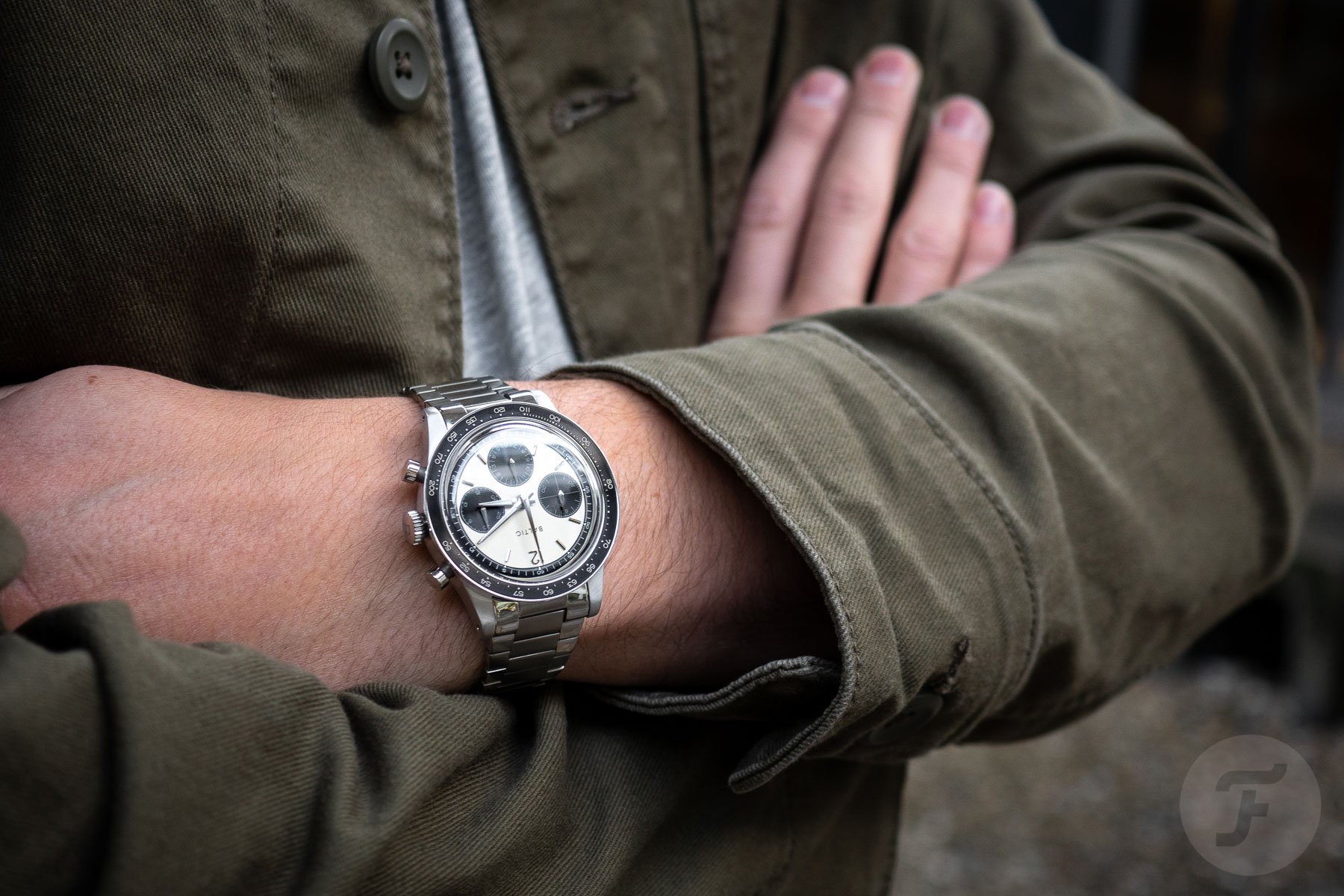 Wearing the Baltic Tricompax panda
The Baltic Tricompax wears like a dream. The size is perfect. It is ever-so-slightly tubby, but not in a bad way. I found that I strongly preferred the panda to the reverse panda. It is more legible and more outspoken. I paired it with several outfits, and I always felt that it really added a lot of charm. The beige dial is distinct but versatile at the same time.
I wore it on the flat-link bracelet, which is very comfortable. It suits the style of the watch incredibly well. Although it is inspired by vintage bracelets from Omega and others, it does provide the Tricompax with a style of its own. The Universal Genève Compax did not come on a flat-link bracelet, nor did any Daytona.
Interestingly, I got a couple of compliments from non-watch people. And I get it. The Tricompax really does stand out, and it is remarkably pretty. If you are not a watch idiot savant with an overly purist inclination, this is, quite simply, a very, very nice watch.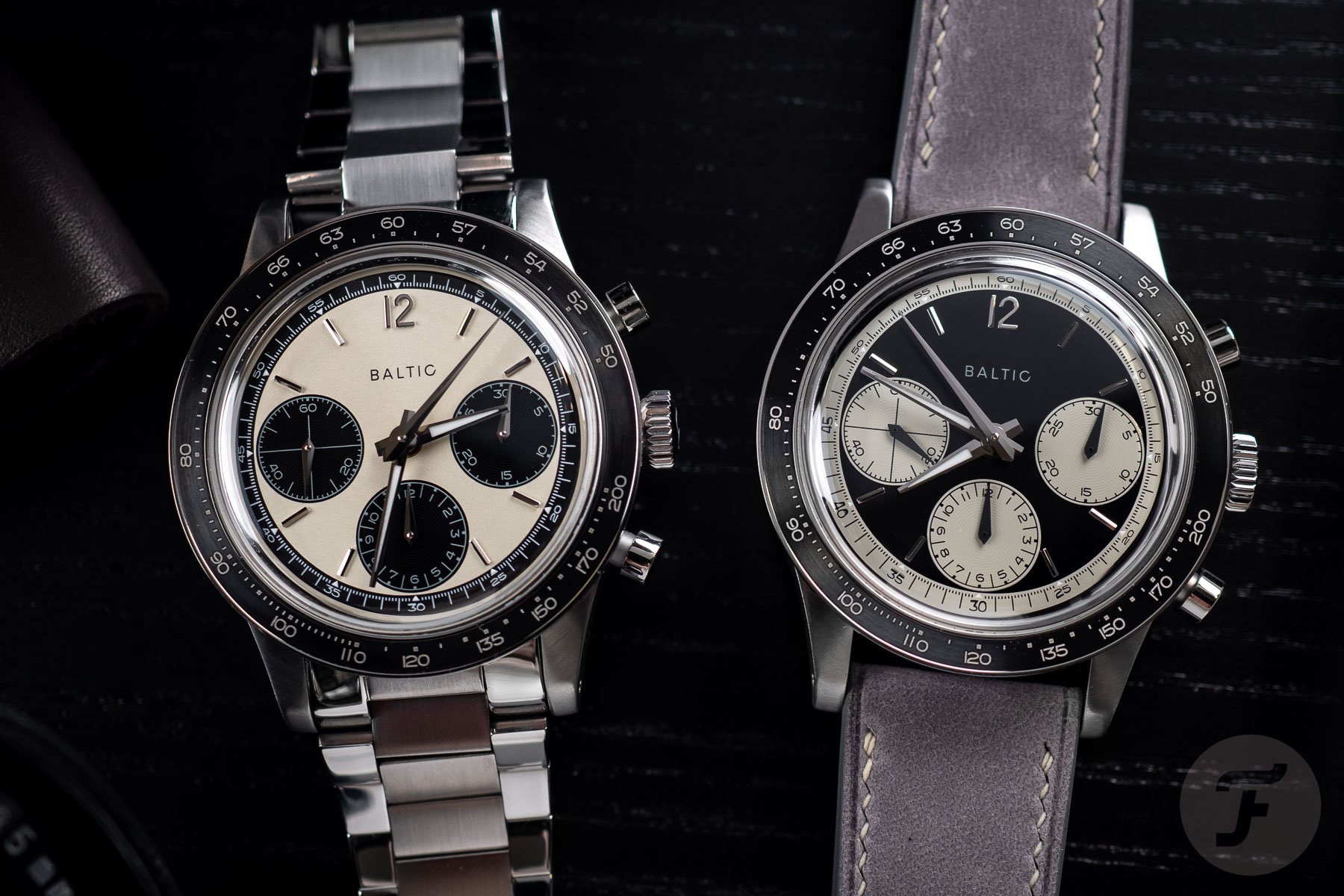 Closing thoughts
The Baltic Tricompax forced me to ask myself, "Am I a WIS with an overly purist inclination? Do I see the Baltic as derivative or as beautiful?" I am happy to report that after an hour or so, it became just beautiful and nothing else. Using the watch as it is intended was an absolute joy. Every time I gazed at it, it charmed me.
In fact, I am left feeling that this is one of the prettiest watches I have worn lately. Sure, it is easier to design something beautiful if you allow yourself to borrow the prettiest parts of the prettiest watches. But that is certainly no guarantee that the result will work. It has worked here. And if you look beyond the immediate punch of the panda dial, you actually do see a lot of original design elements. I will just come out and say it: I want one. Kudos to Baltic for yet another strong release!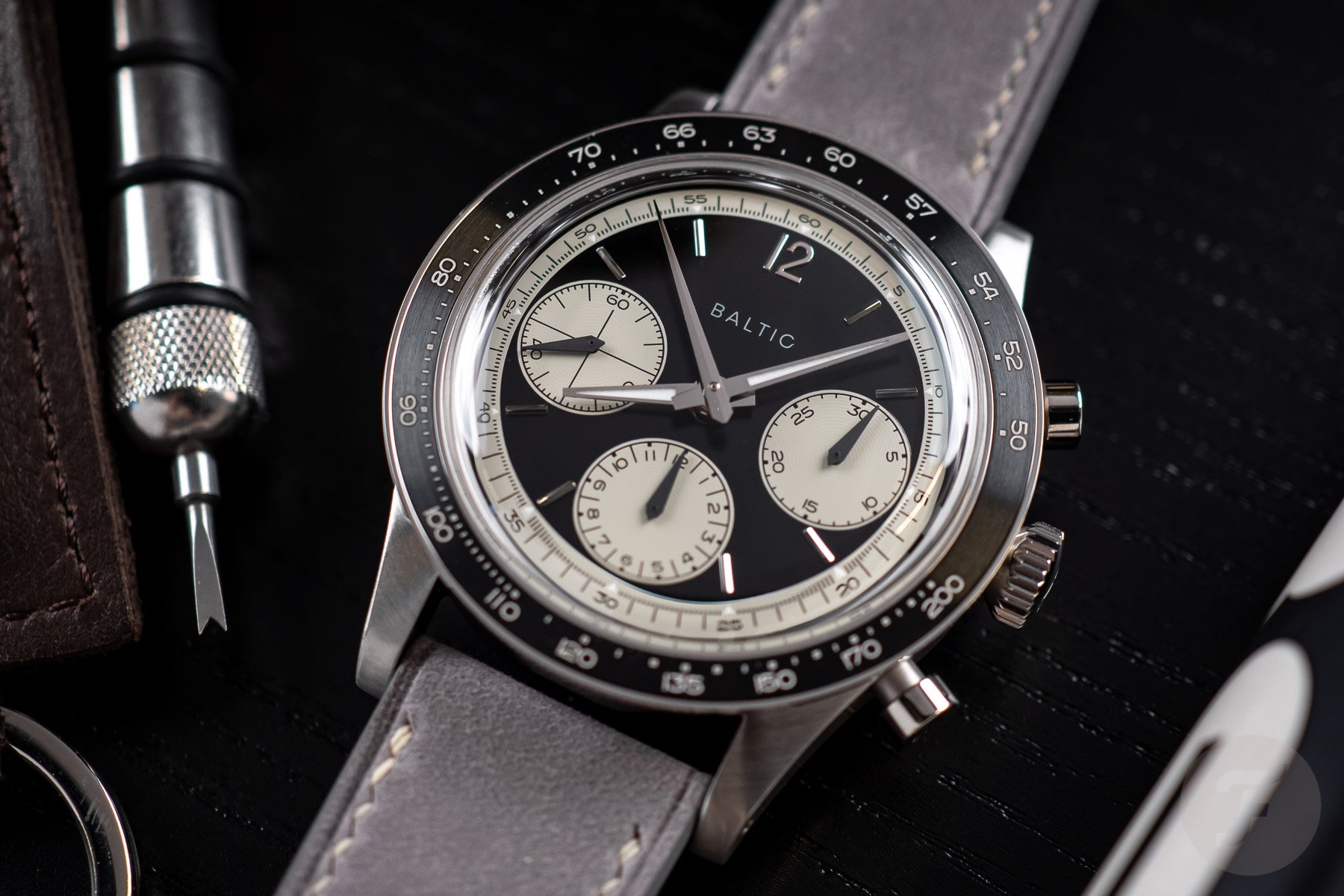 Pre-orders for the Tricompax can be placed starting December 1st. Delivery of the first batch is scheduled for April 2023. As is traditional for Baltic, the first batch will be individually numbered. The Baltic Tricompax is priced at €1,585 on leather and €1,645 on a bracelet (both excluding VAT).
What do you think of the new Baltic Tricompax panda and reverse panda? Let me know down below!
You can also find and follow me on Instagram: @time_travelers_journal