Hands-On: The Baltic x Peter Auto Tricompax Chronograph Brings Some Serious '70s Racing Vibes
A 300-unit limited production available for purchase today
The worlds of motorsports and watches have more than harmoniously coexisted since the former's inception. The timing element plays a key role in the adrenaline-fueled, high-octane field of motor-vehicle racing, making a chronograph an essential piece of kit for any racer worth their salt. Some of the most iconic watches in horological history have been created with this purpose in mind. Inspired by the golden era of motorsports (and some would say watches), Baltic has come together with Peter Auto to create the Baltic x Peter Auto Tricompax. This is a '70s-inspired chronograph with sporty ambitions and a sharp look. Naturally, when Baltic reached out and asked if we'd like to receive the watch for a hands-on review, I couldn't accept quickly or enthusiastically enough. As a fan of vintage watches with a special love for '70s designs, this felt like a model made just for me.
Naturally, a few days later, the watch arrived alongside its two stopwatch companions. But did it live up to expectations? Before I answer that question, there are a couple of things worth keeping in mind. The first is that this is the most expensive Baltic model to date. Sure, it comes with a full kit of goodies and represents a very special partnership for the brand. But when releasing your priciest watch, especially as a microbrand, you have to make sure you're swinging for the fences — though perhaps "aiming for pole position" is a better analogy here. If you don't deliver on your fan's expectations, it's easy to besmirch your reputation and potentially lose the faith of those who have enjoyed following along the brand's first steps. I'm relieved to report that this has not been the case for the Baltic x Peter Auto Tricompax chronograph.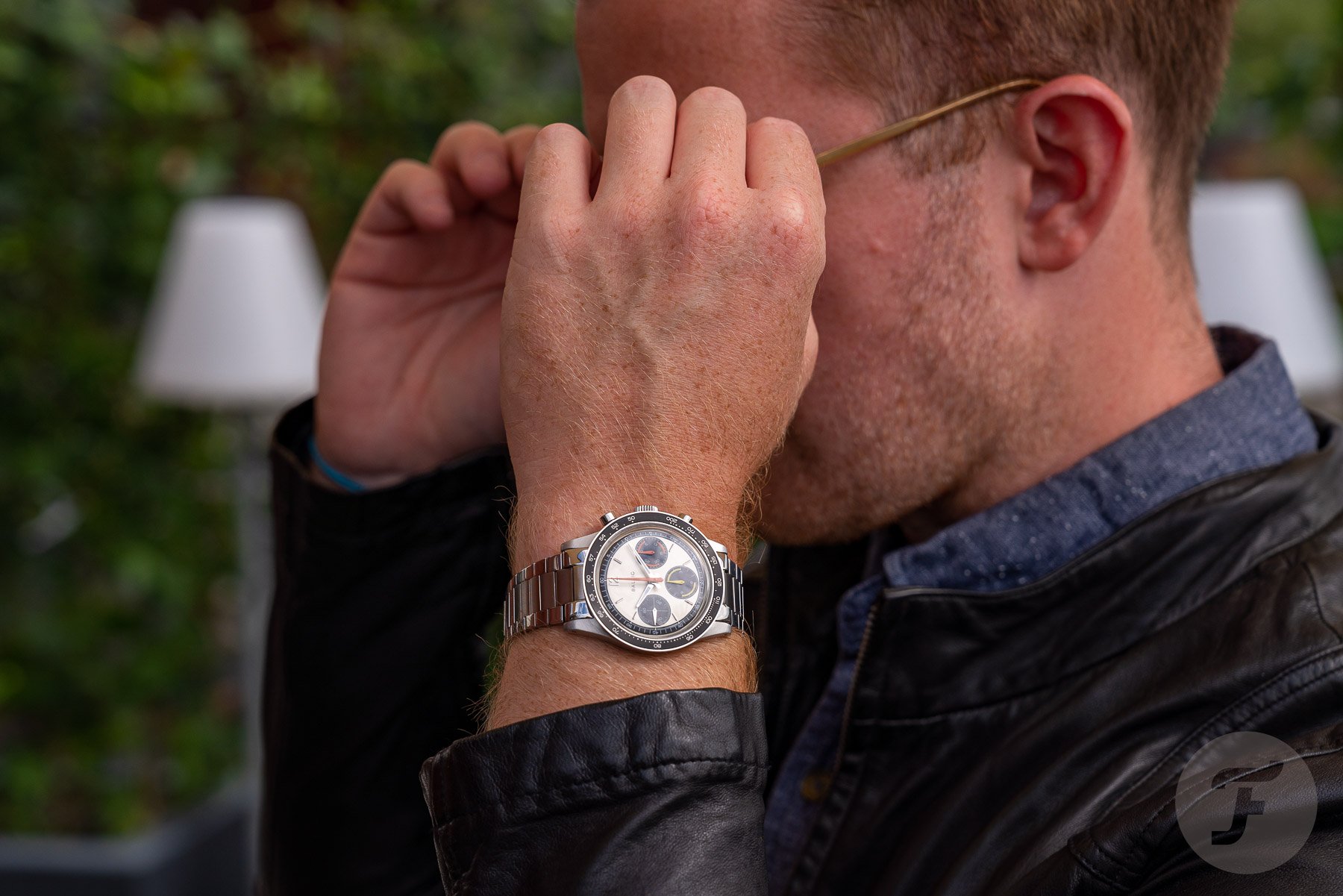 Inspired looks with plenty of standalone charm
Look at the Baltic x Peter Auto Tricompax from a distance, and your mind might wander in the direction of a Paul Newman Daytona. But look at it up close, and you'll see a plethora of details that set this watch apart significantly. Now, I'm not here for the endless, pointless debate of how some watches look to the past for inspiration. This story is as old as time and something not worth getting too upset about… Especially when that inspiration leads to watches that look this sharp.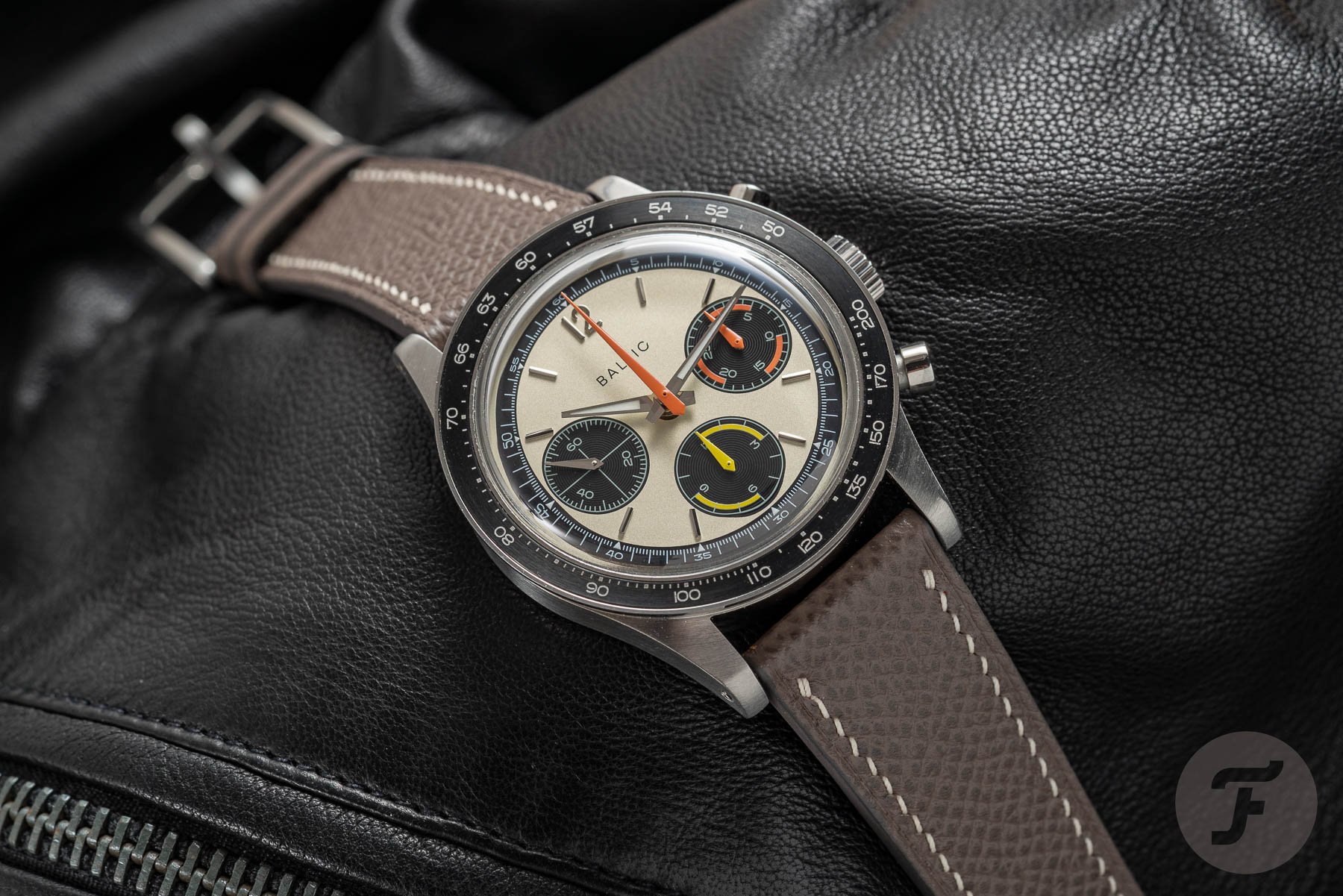 Something that is worth addressing is the "Tricompax" name. Calling a watch with this three-register layout a "tricompax" chronograph is a now commonly accepted (and understandable) error. The correct term is simple "compax". The true tricompax layout includes four sub-dials. The "tri-" in the name (which leads to this confusion) designated the three complications (chronograph, calendar, and moonphase) as opposed to the number or layout of the watch's sub-dials.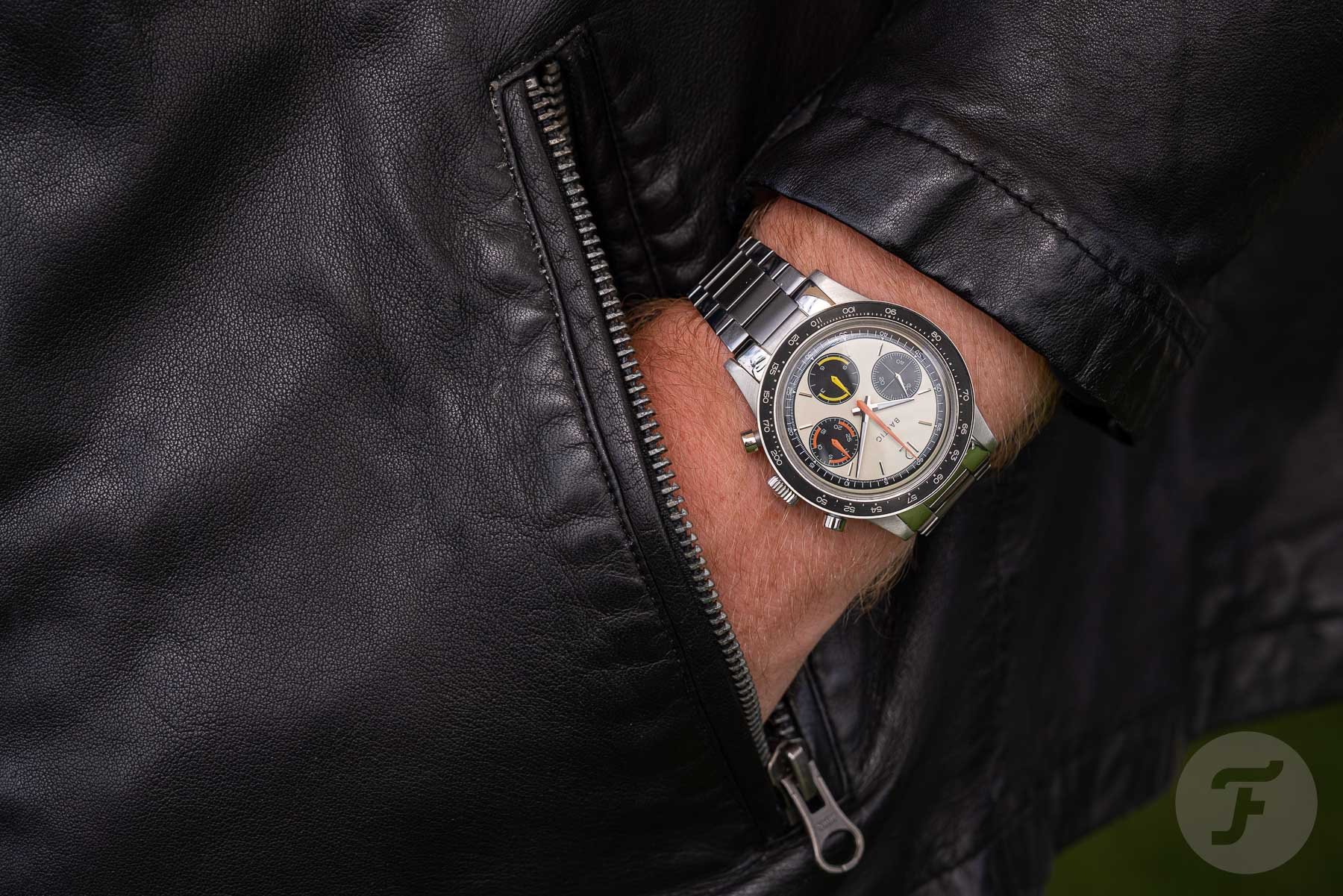 The movement powering this watch is the Sellita SW510-M. This brilliant hand-wound chronograph caliber offers an impressive 63-hour power reserve. The cam-operated chronograph's timekeeping is displayed on the 30-minute counter at 3 o'clock and a 12-hour counter at 6 o'clock. This movement can be found in virtually every single modern Nivada Grenchen chronograph. However, on those dual-sub-dial models, the 12-hour timer is omitted. Personally, I enjoy the elapsed-hours register, especially when timing a long drive or a flight. I also prefer the 3 and 6 o'clock layout also found on the Speedmaster and older Daytonas, not the 3 and 9 o'clock one used by modern Rolex chronographs. Call me old-fashioned, but in a world that's all about details, these things matter.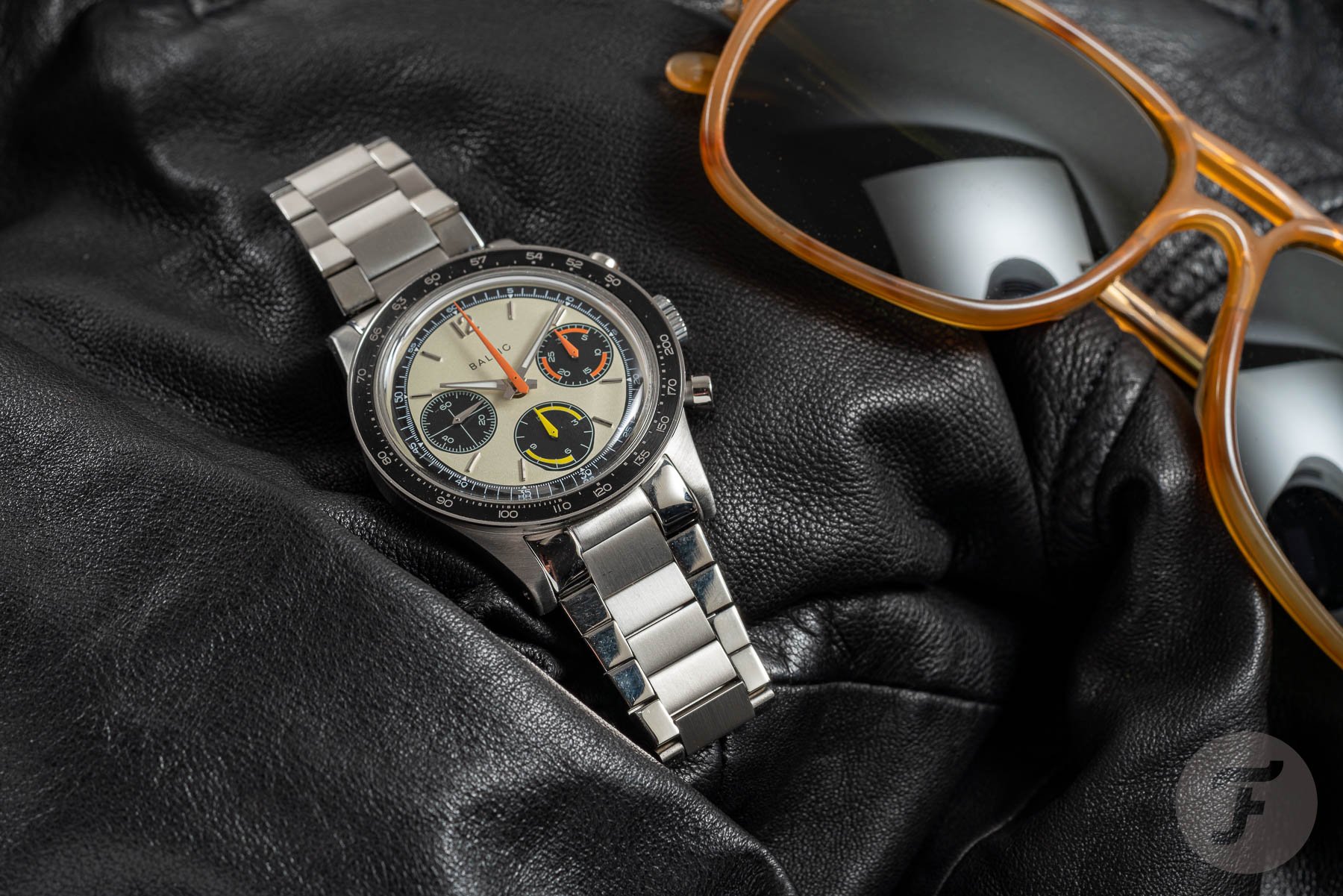 The Baltic x Peter Auto Tricompax Chronograph
Speaking of details, Baltic is a brand that clearly gets it. Not just because of the clean layout of the chronograph, but also because of its many lovely design elements. Along with the finely textured black-and-beige panda dial, we see a brilliant set of sharp, colorful hands that match the orange and yellow accents on the corresponding chronograph sub-dials. A more subtle set of hands is used for telling time, with both the hour and minute hand featuring lume. The sub-dials not only feature the aforementioned color accents, but they also have a nicely executed radial grain pattern. The running seconds register is marked nicely with a crosshair, adding a bit of vintage flair. Applied baton markers line the dial, the only exception at 12 o'clock taking on the shape of its corresponding number. The brand's logo in its tasteful typography can be found just below.
You'll admire all of these lovely details through a double-domed sapphire crystal, which (when viewed at an angle) gives just the perfect amount of distortion. Surrounding the dial, the aluminum tachymeter bezel insert with a subtle circular grain is a great touch. In a very useful fashion, the tachymeter begins with 200 units/hour at around the 4 o'clock mark and finishes with 50 units/hour just after 2 o'clock. Not that knowing if you're going 500km/h isn't useful, it just doesn't tend to happen too often in a context in which a tachymeter would be useful (not for me, anyway). And you get quite a bit of kit for your hard-earned cash (€2,389.75 including Dutch VAT). Not only do you get the watch, but you also get two matching stopwatches. One comes in black, and the other is in the same off-white used on the watch's dial.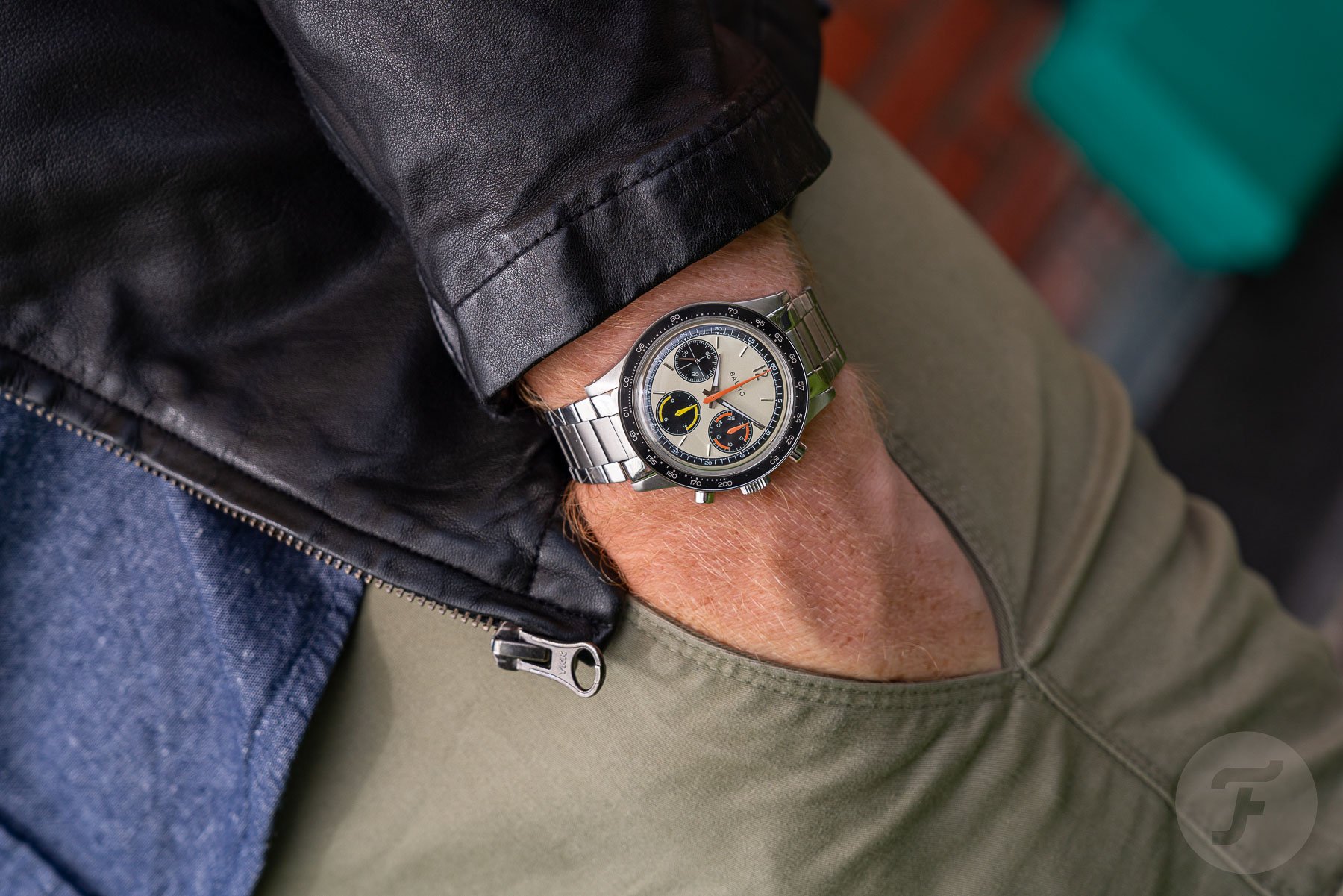 Built for comfort and for speed
The watch's sweet-spot 39.5mm (47mm lug-to-lug) stainless steel case is fully brushed, except for the outer edge of the tachymeter bezel, the pushers, and the engraved top of the crown. The case back? It's solid, engraved (on the production models), and given a polished chamfer around its outer edge. The lugs? They're drilled as they should be. But that didn't stop Baltic from making things easy and giving both the brilliant flat-link bracelet and the included taupe calfskin strap quick-release spring bars. Let's talk about the bracelet for a second. Forstner-like in its fit, quality, and finish, it's the perfect complement to a retro-styled chronograph. Could Baltic have gone with a generic Oyster-style bracelet and called it a day? Sure. But in going with this slim and extremely comfortable bracelet, Baltic has done the watch justice.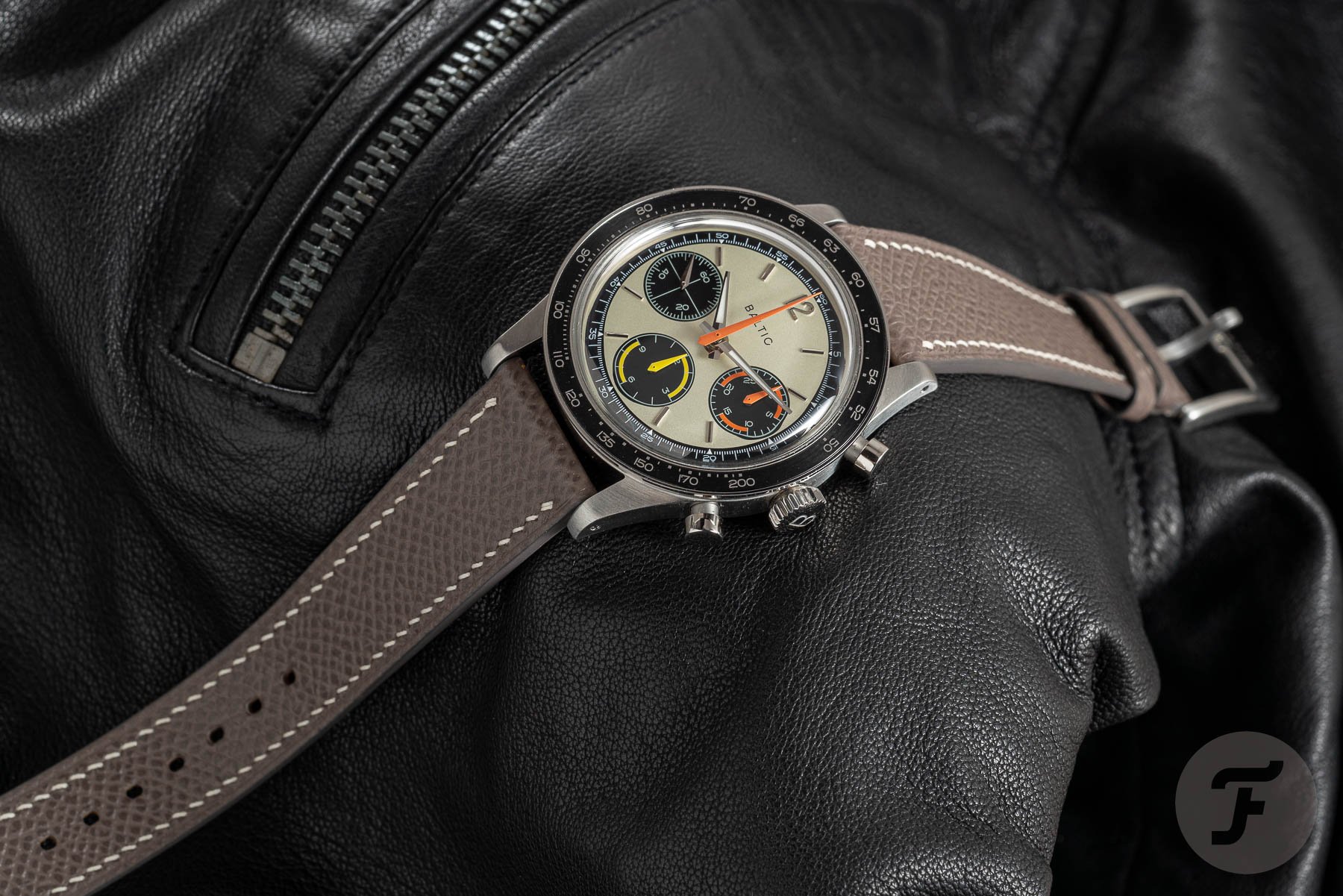 I know what you're thinking. "This guy… He gave us the case diameter and lug-to-lug, but does he expect us to guess how thick the watch is?" And the answer to that is both "no" and 13.5mm (just over 11mm not including the domed sapphire glass). For those of you who don't know, that's almost the same thickness as the Omega Speedmaster Professional. If you're aiming to build a decent hand-winding chronograph, it could be said to be a good standard to aim for. So in other words, the Baltic x Peter Auto Tricompax chronograph is a watch built for comfort and speed. What else to say? The Baltic-signed clasp has one micro-adjust and fastens with a reassuring and solid click. The chronograph has crisp action and is satisfying to operate. And the watch has 50 meters of water resistance (again, just like the Speedy).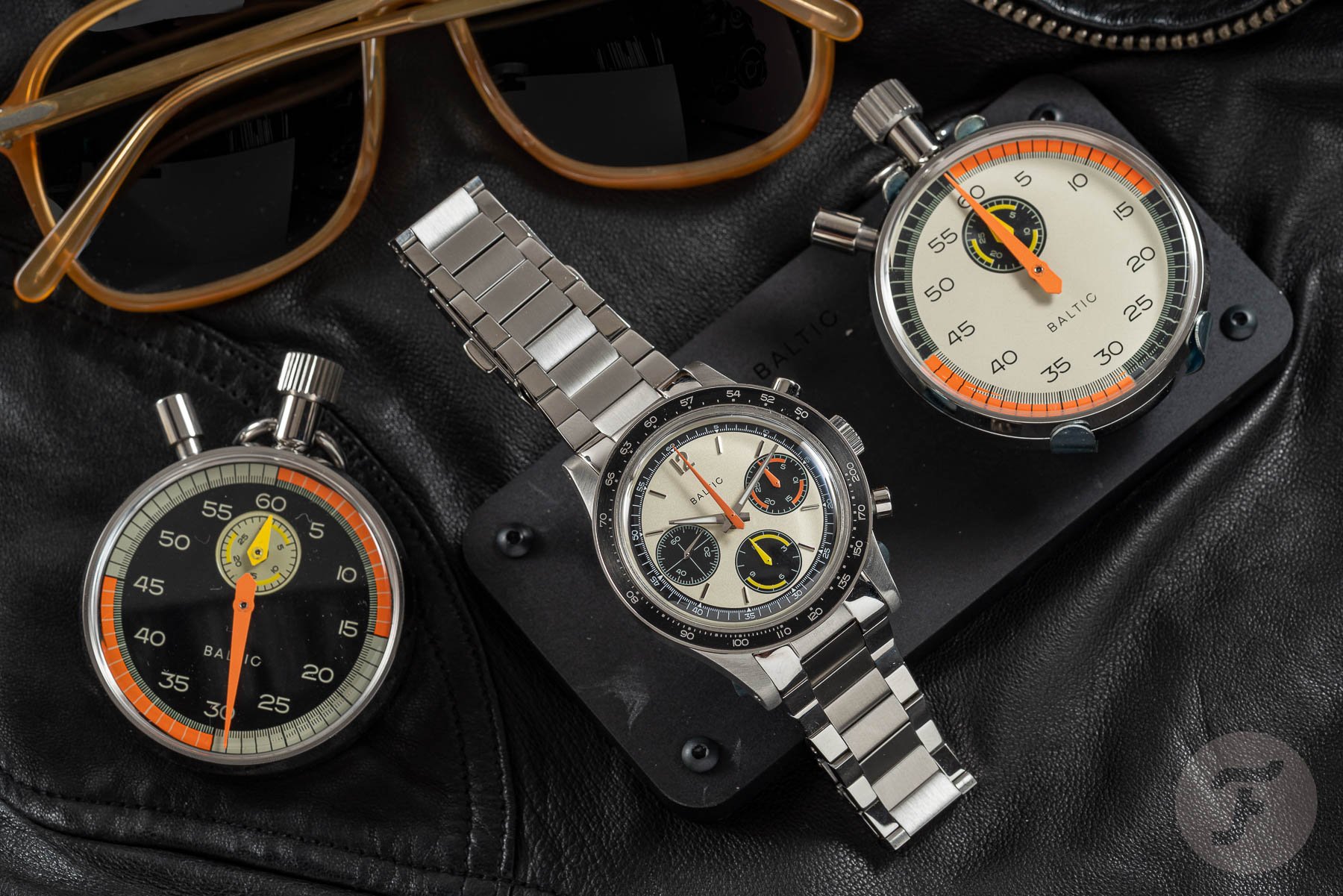 Final thoughts
Does Baltic take the checkered flag with the Baltic x Peter Auto Tricompax chronograph? In my eyes, and after a week on my wrist, it absolutely does. If it weren't for the stiff competition that is the brand's brilliant titanium diver released earlier this year, this would be, without a shadow of a doubt, my favorite watch in Baltic's catalog. And for the money (again, €2,389.75 including Dutch VAT) you're getting a brilliant chronograph from a microbrand that's quickly edging away from the competition to become a fan favorite. Plus, the Baltic-branded stopwatches are a very cool addition indeed and perfect for collectors and horological nerds alike. Personally, I don't have a car I'd deem worthy of mounting them in, but having had them on my desk for over a week, they also make for great conversation pieces, as well as perfect fidget toys/meeting timers.
If you want to get your hands on the Baltic x Peter Auto Tricompax, you'll have to be quick! Only 300 units will be made available. And if you're reading this, you can head to the Baltic website, where they'll go on sale at 4:00 PM today (August 26th, 2022).
What do you make of the Baltic x Peter Auto Tricompax? Do you also find it one of the coolest microbrand releases of the year? Or is it a pass for you? As always, let me know your thoughts in the comments below.