Summer Splash — Round 2 : Jorg's Tudor Pelagos FXD Vs. Lex's Hublot Big Bang Integral Ceramic Sky Blue
The second colorful face-off is an epic battle of the blues
Fratello Summer Splash 2022 is in full swing. The search for the best all-around summer watch is on, and we are looking for something colorful. Sure, the watch can also be practically and functionally able to "deal" with summer, but the first criterion is color. Plain black and white are banned! We're on the lookout for something bright that puts a smile on your face. In this second round, Jorg's Tudor Pelagos FXD "Marine Nationale" and my Hublot Big Bang Integral Ceramic Sky Blue go head-to-head. It's going to be an epic battle between two very different types of watches and blues.
So, I'm taking on a watch that has nothing to do with summer. Jorg's pick, the Tudor Pelagos FXD Marine Nationale was made for a special divers unit of the French Navy. Jorg must think he's a special forces frogman or something. I'm really curious to find out how he is going to spend his summer. Is he going on some sort of secret underwater mission into enemy waters? I'm pretty sure he's not. So why did he pick a watch fit for a commando? Yes, the Tudor is blue, but is it a summery shade of blue? Nope, it's navy blue. Jorg picked a tool watch to wear while doing as little as possible during a lazy summer. How much sense does that make? Exactly, none! But enough about Navy SEAL Jorg and more about my Summer Splash pick — the very summery Hublot Big Bang Integral Ceramic Sky Blue.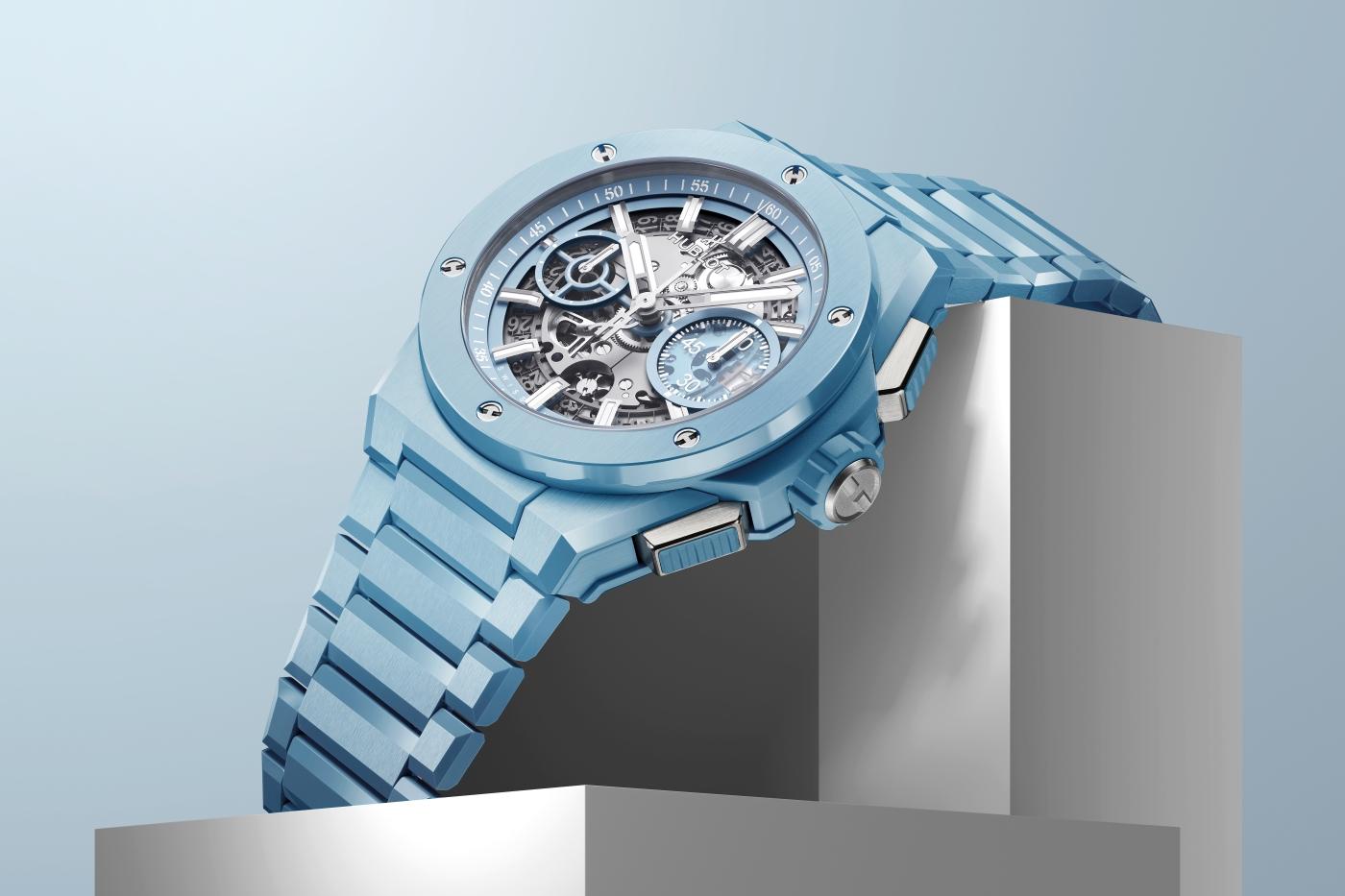 Lex's pick: Hublot Big Bang Integral Ceramic Sky Blue
What I like best about the Hublot Big Bang Integral Ceramic Sky Blue is the color. Hublot presented the watch during Watches And Wonders a while back, and I immediately liked it. Why? Well, because I like light blue — it brings back fond memories of the heavenly blue shirt I played in for the first football club I joined when I was a little kid, Hermes-DVS from Schiedam — but also specifically because it's executed in light blue ceramic. And colored ceramic rules any alloy that has received a color. It's a combination of both the hue and the tactile experience. You can actually feel the color with a ceramic watch. Hublot has been at the forefront of developing this material, and when you wear the Big Bang Integral Ceramic Sky Blue, you can feel and touch the summer. It's research and technology powering the perfect, dreamy vacation watch.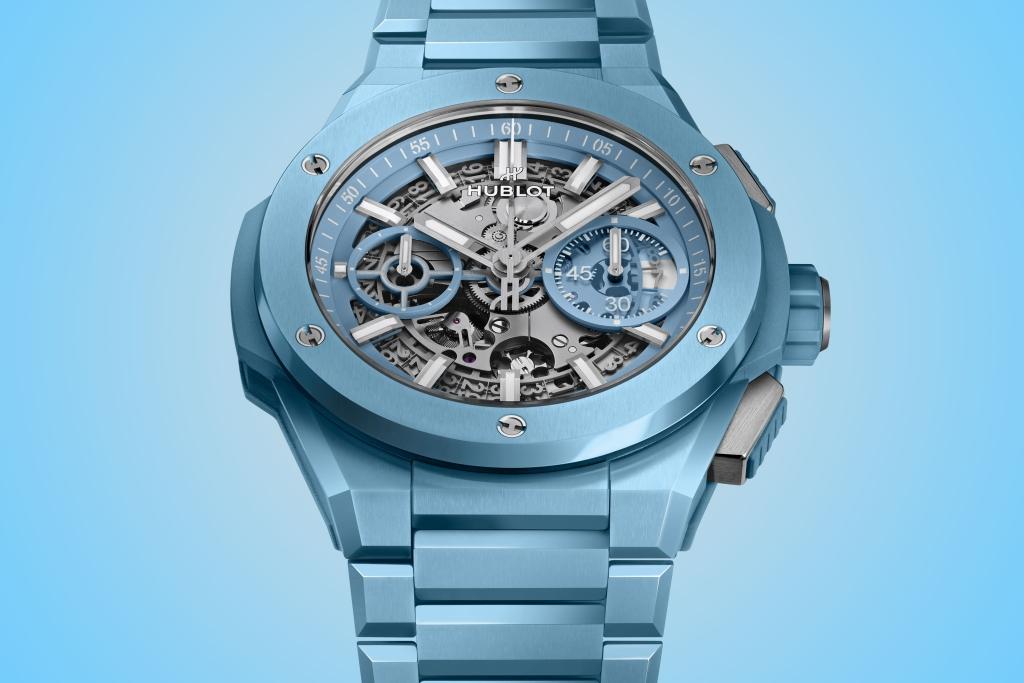 Pretty and perfectly practical too
A functional aspect of the fashionable Big Bang Integral Ceramic Sky Blue is the practical side of ceramic — the material's hardness and scratch resistance. The 42 × 13.45mm angular ceramic case and chamfered-link bracelet, both of which feature alternating polished and brushed surfaces, not only enhance the shimmering blue color, but the material itself is also very light. Perfect! During the summer, you want to feel weightless, right? And comfortable, too. Enter a watch that is a delight on the wrist thanks to the ceramic case and bracelet with low thermal conductivity and excellent hypoallergenic characteristics. The bracelet, by the way, is outfitted with a titanium folding buckle.
A cloudless sky on your wrist and not a care in the world
The Integral in cloudless sky blue is a watch that needs to be taken to the South Seas to be fully appreciated. And if that's out of reach, I'm sure it will also look and feel spectacular in your blow-up pool on your balcony. The Big Bang Integral Ceramic Sky Blue has the ability to bring the tropics to your wrist no matter where you are. This is basically a vacation you can wear on your wrist. An all-inclusive experience created in ceramic — except for the composite lugs and the rubber that covers the pushers and crown.
Okay, this all-inclusive watch is also exclusive since only 250 pieces are on the market. And the price of €23,800 is also quite steep. But because it's almost entirely scratch-resistant and light blue never goes out of style, you can easily spend ten summers with this particular Hublot. That's €2,380 per summer — I did the math. You're welcome.
I know it's all about colors in this edition of Fratello Summer Splash, but I also have to mention the fact that Hublot uses version two of the in-house UNICO chronograph movement. The automatic caliber HUB1280 is slimmer than its predecessors and boasts a new architecture as well as upgraded legibility and functionality.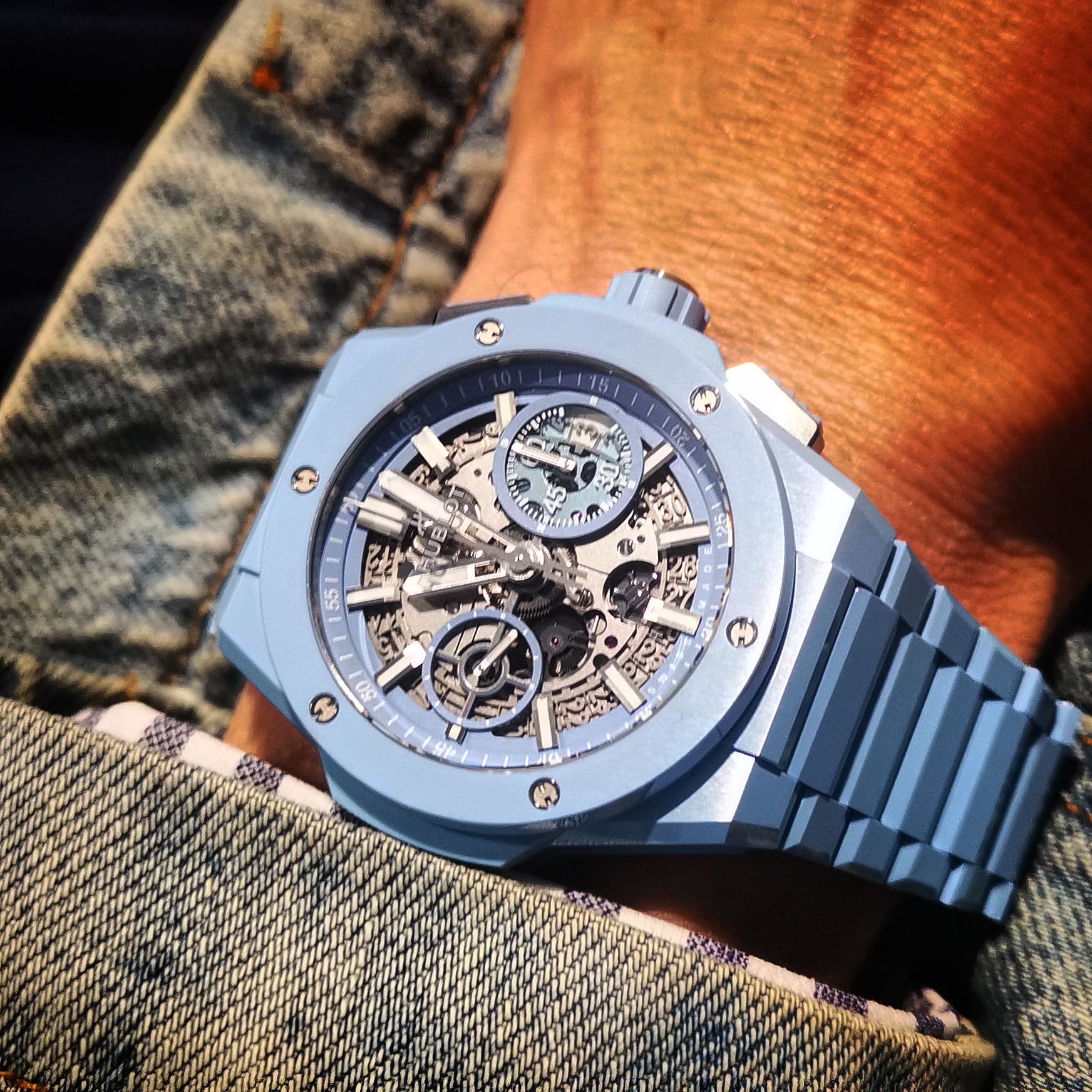 Why the Hublot Big Bang Integral Ceramic Sky Blue is my Fratello Summer Splash 2022 champion
To cut a long story short, I picked the light blue Hublot because it is summer incarnate. It also has a sense of "Italianity" even though the Hublot manufacture is located in Nyon, Switzerland. It must be the founder's DNA. I'm talking, of course, about the Italian inventor of Hublot, Carlo Crocco. The Integral Ceramic Sky Blue is my Fratello Summer Splash 2022 contender because it's like the Amalfi Coast on the wrist. This watch will turn a gray North Sea town into Positano, if you know what I mean. And that's what you want in a summer watch, right? Oh, and the fact that it's water-resistant to 100 meters. You can take this ceramic Hublot for a swim and even a dive anytime. Over to you, Jorg, to explain to us why you need a watch that can go 200 meters deep. Good luck with that.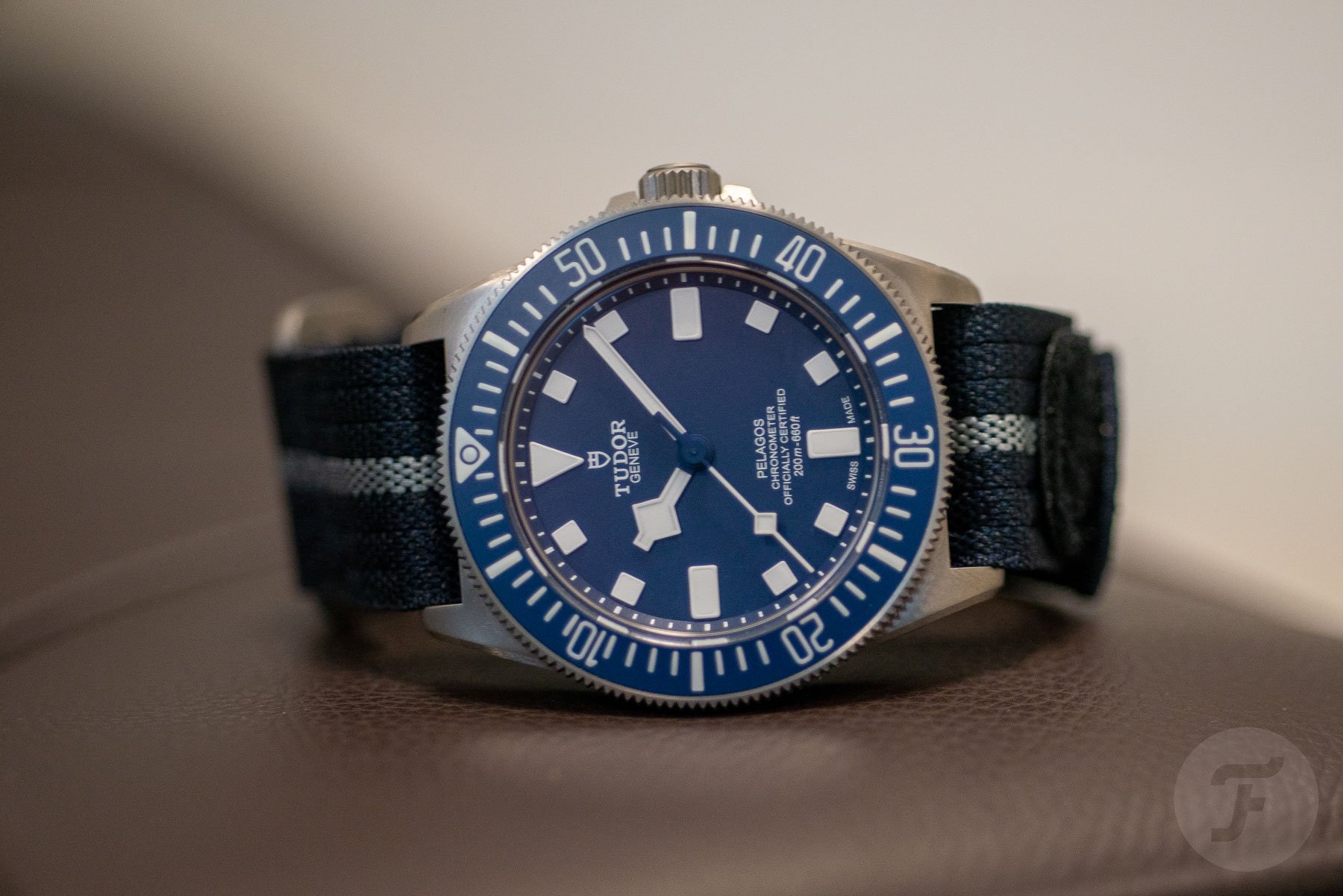 Jorg's Pick: Tudor Pelagos FXD "Marine Nationale"
Commander Weppelink, at your service Lex! We do have to hang out more after office hours so I can tell you all about my desk-diving adventures. All jokes aside, you don't strike me as the type of person that would live as strictly by the rules as you suggest I should. You surely aren't going to fault the beloved Moonwatch for being on the wrist of an astronaut while it was originally intended for timekeeping during car races? So I ask the question of whether the watch's initial intention completely defeats any other purpose?  Come on, Lex, you are not that much of a purist. If you were, we could skip more than half of the entries for our Summer Splash competition.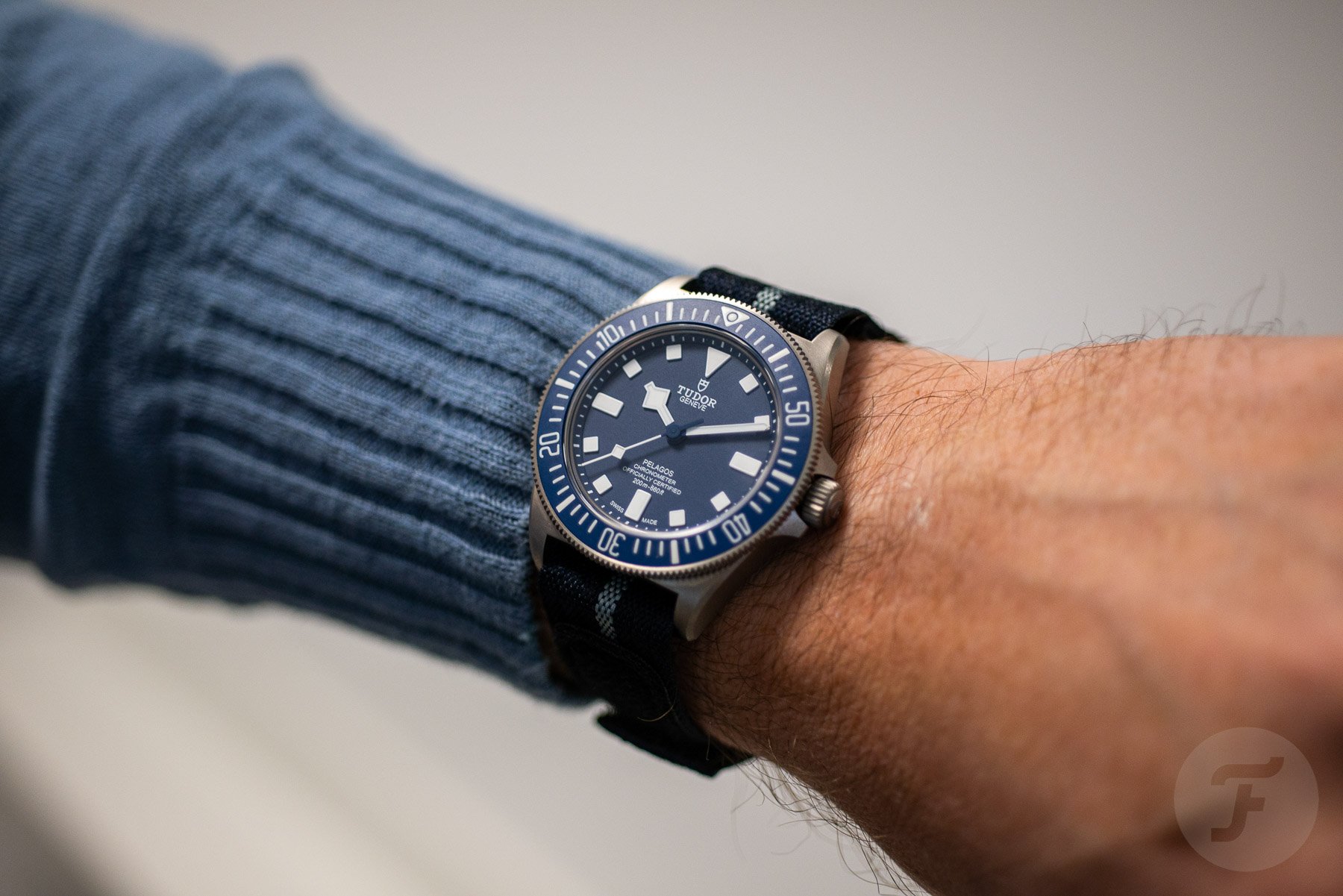 But before I get into what I look for in a summer watch and why the Tudor Pelagos FXD is my pick, I have to compliment you on your pick. The Hublot Big Bang Integral Ceramic also caught my eye during Watches And Wonders earlier this year. Although I prefer the beige version of the Big Bang Integral Ceramic, I completely understand the Italian summer vibes of your blue pick. But my God, Lex… Ten summers on the wrist for €2,380 per summer? That defeats the purpose of a fun summer watch for commoners like myself. I like an aspirational summer holiday in Italy with a bit of luxury and leisure, but this is quite excessive. Especially considering the Hublot comes with a likely expiration date. When asked what summer watch I'd spend my money on, my answer is a different one.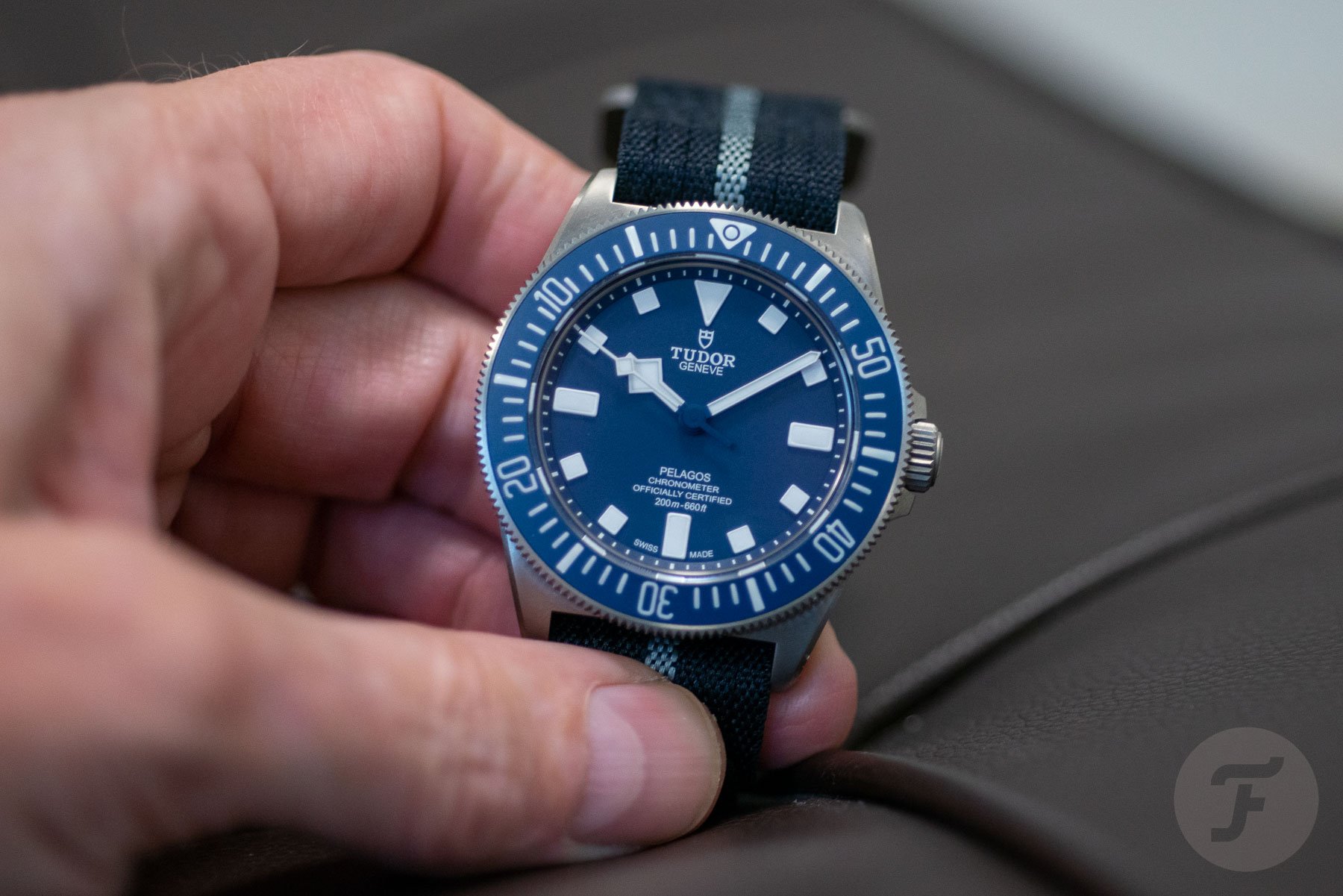 Picking my summer watch
When picking the right summer watch for this Summer Splash competition, it obviously had to meet the colorful criterium set by our head honcho Nacho. And not surprisingly, we are looking for the same qualities in a summer watch. A summer watch, for me, should also be light, easy to wear, able to resist summery conditions both on land and in the water, and lastly, be a fit for multiple occasions during the day and night. Additionally, if it comes with a compelling story, that makes a summer watch even better. And that's why the Tudor Pelagos FXD is the perfect pick. In fact, I think it is hard to beat in this contest because of it.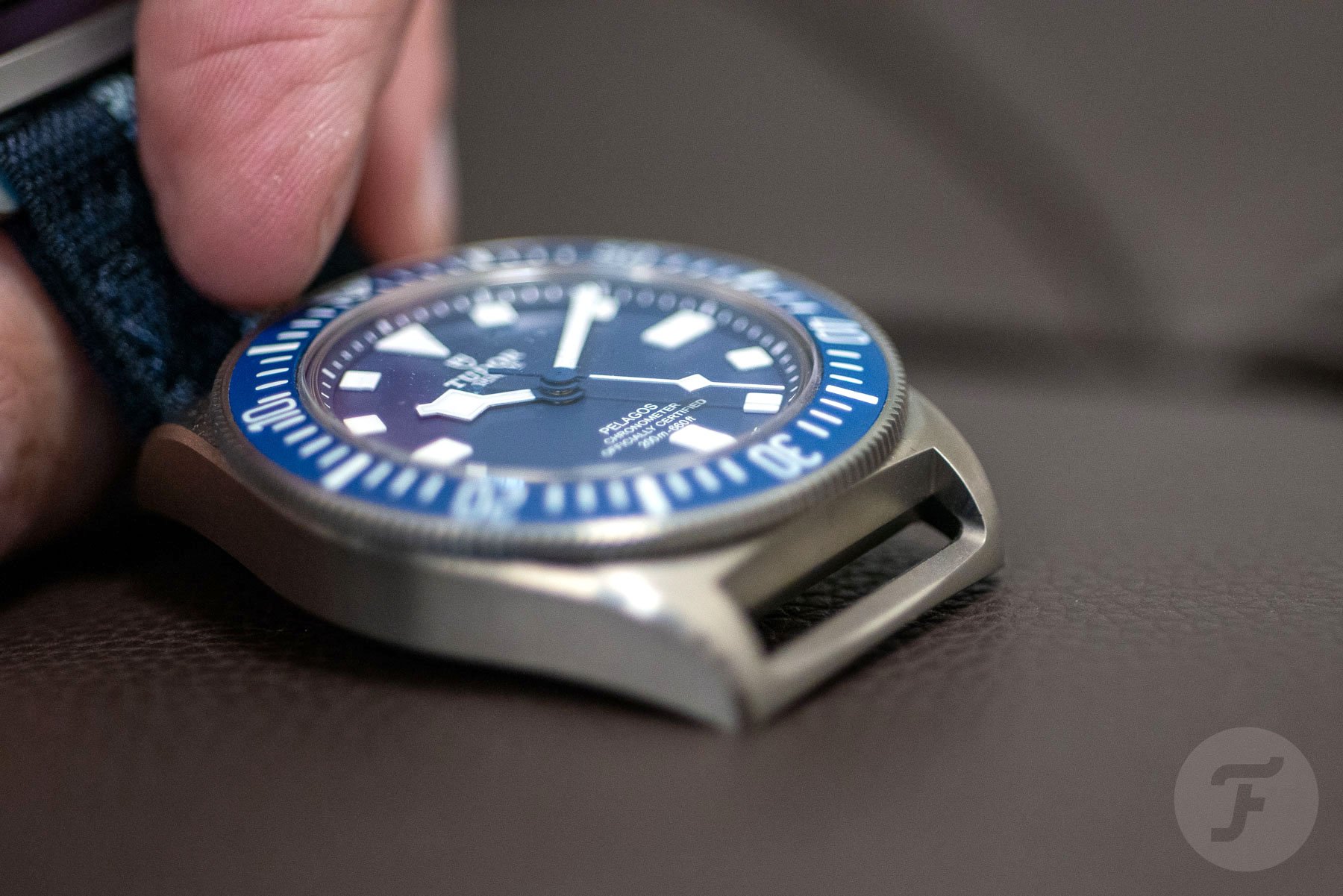 What I love about the Pelagox FXD is that it comes with a 42mm titanium case with fixed lugs. I love the design of the case and the lugs add a design element that I adore. As Robert-Jan said in his review of the watch, they remind us of the manta lugs of Omega's Planet Ocean Ultra-Deep. Plus, adding strength to the overall construction it also adds flair to the case design. Sure, it comes with the restriction that you can't use two-piece straps, but I don't mind that because I preferably wear my summer watch on a NATO or Zulu strap anyway. And that's when the Pelagos FXD is at its best.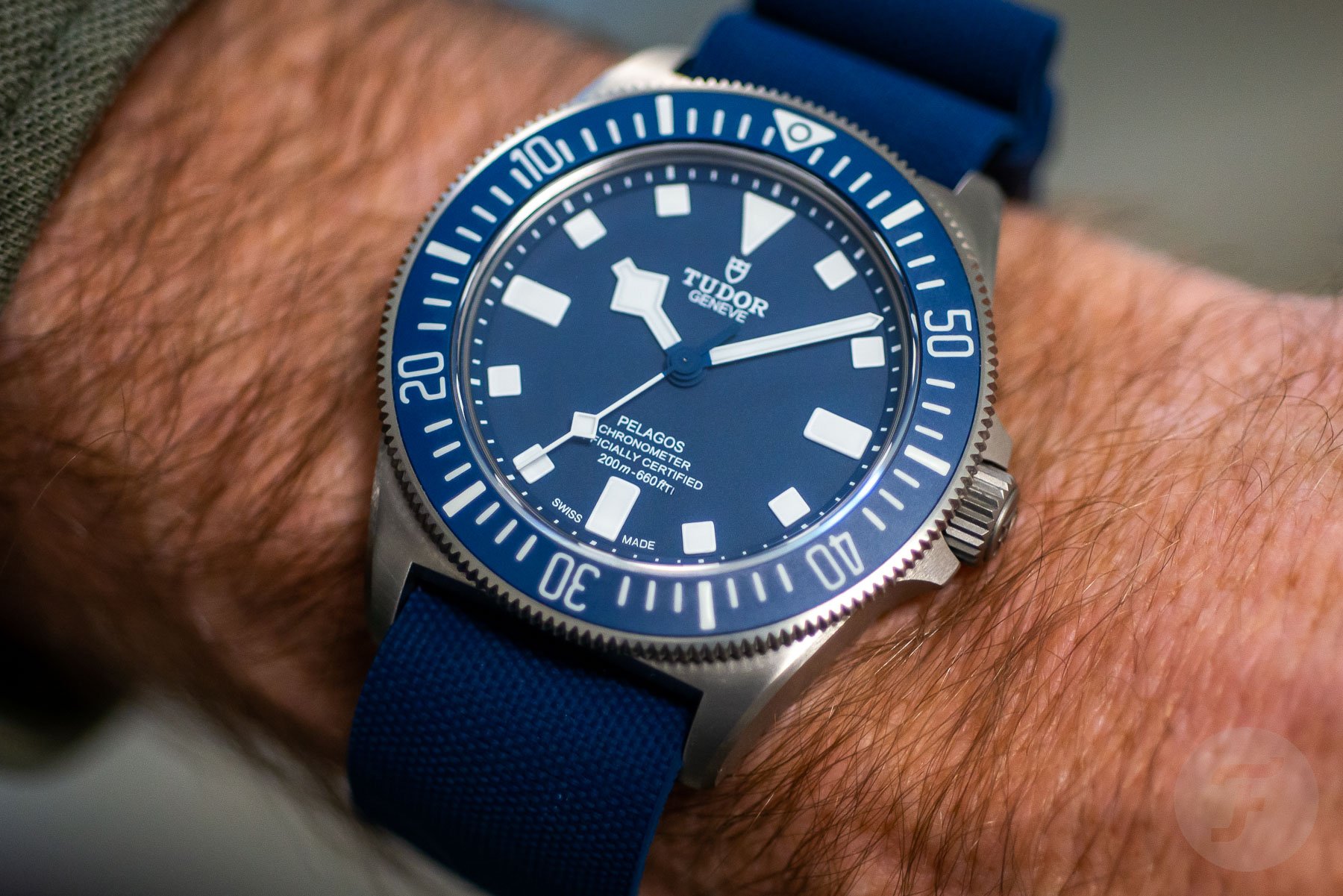 A perfect fit on the wrist
The overall dimensions make the Pelagos FXD a perfect fit for my wrist. Its case is 42mm in diameter and 12.75mm thick with a lug-to-lug of 52mm and is water-resistant to 200 meters. While that might not be as much as the regular Pelagos, it also results in a thinner watch that is easier to wear. And that's a big plus considering the summer criteria. For the dial and the ceramic bezel, Tudor picked a great shade of "Marine Nationale" blue. It is slightly darker than the blue of the regular Pelagos and gives it a more serious look. I always find the blue color of the regular Pelagos rather flat. This new blue color is a great pick that will come alive perfectly in the summer sun.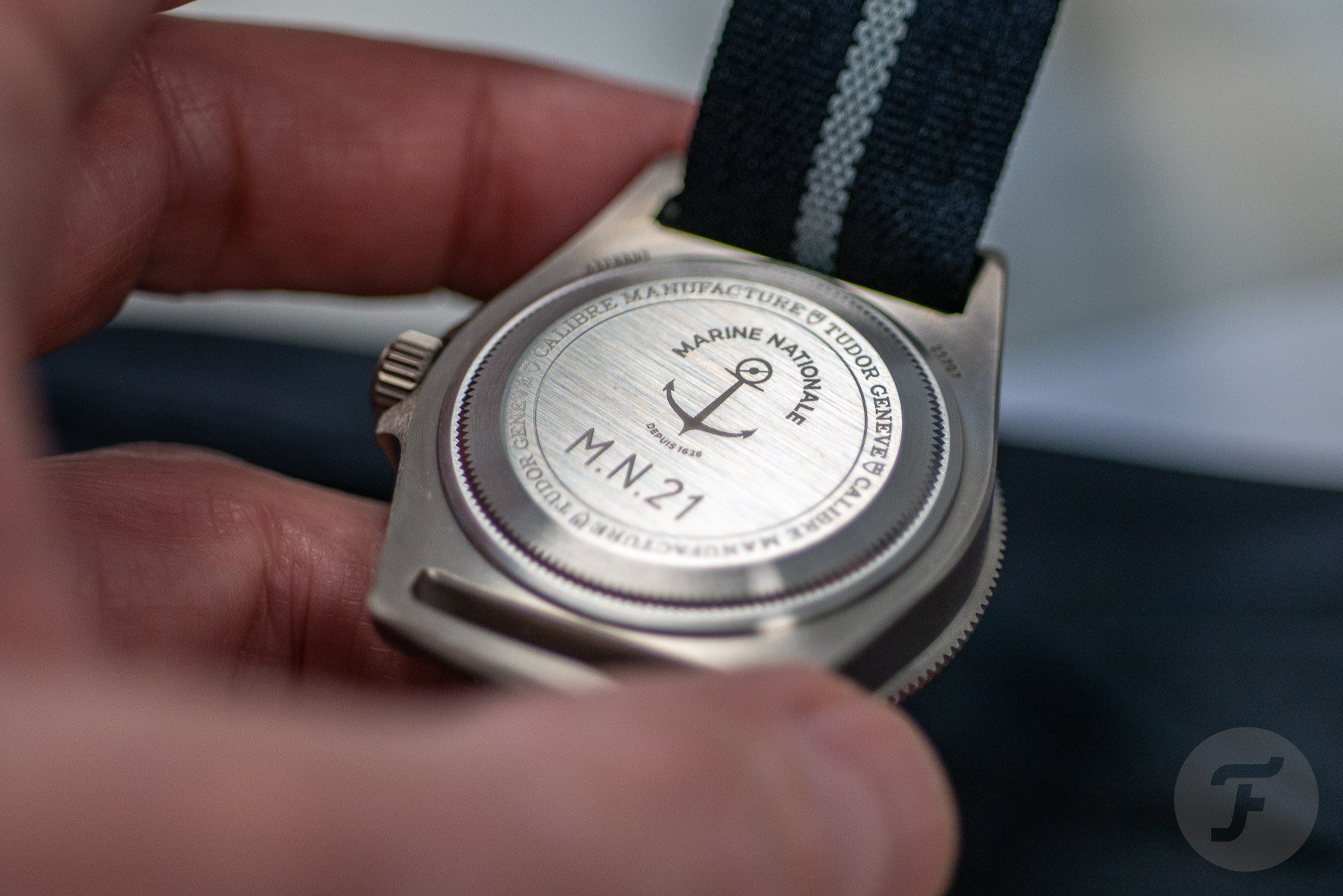 The ceramic bezel features a full scale of hash marks. This contrasts well with the very recognizable Tudor dial that, luckily, does not have a date window. That's an absolute blessing because the date would only remind you of the day that you have to travel back home from your vacation. Inside the case, you will find Tudor's caliber MT5602. This in-house-developed movement comes with chronometer certification. It's the perfect reliable movement that will serve both the Marine Nationale divers and the watch enthusiasts like myself who love a great aspirational story rather than having to live it. I'll nod off on the beach dreaming about covert operations in enemy waters, Lex, wearing this great Tudor Pelagos FXD. Not only does it come with a better story, but at €3,680, it also costs a fraction of your Hublot. It's a win-win situation, really.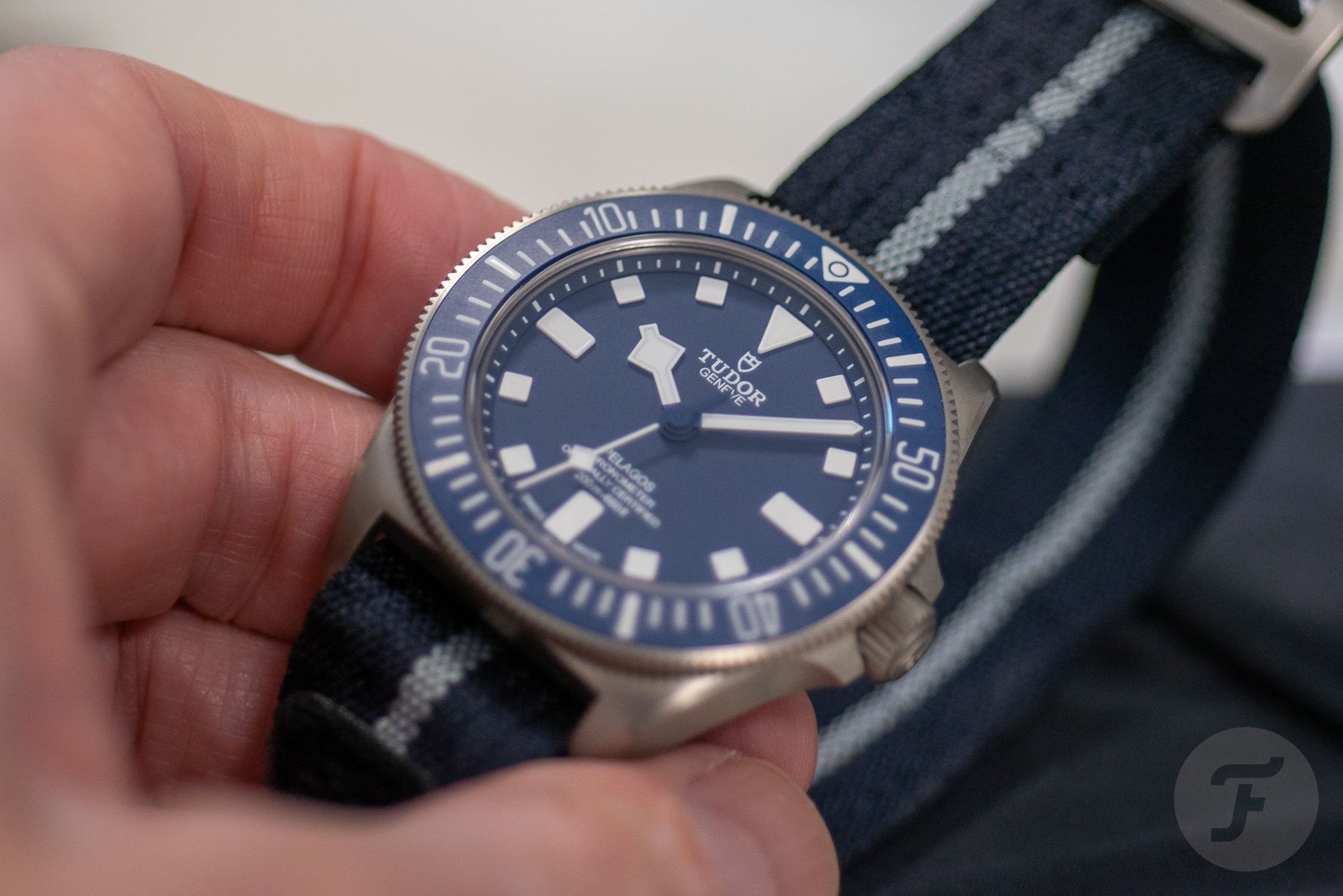 Now it's your turn!
All right, Lex and Jorg have made their cases now for the second round of this year's Summer Splash. Now it's up to you, dear Fratelli, to tell us which one of these colorful watches should take the win! Will it be the light blue Hublot with that Italian pizzaz? Or will you go for the compelling story and design of the Tudor Pelagox FXD? Vote now, and please let us know in the comments why your favorite should make it to the next round!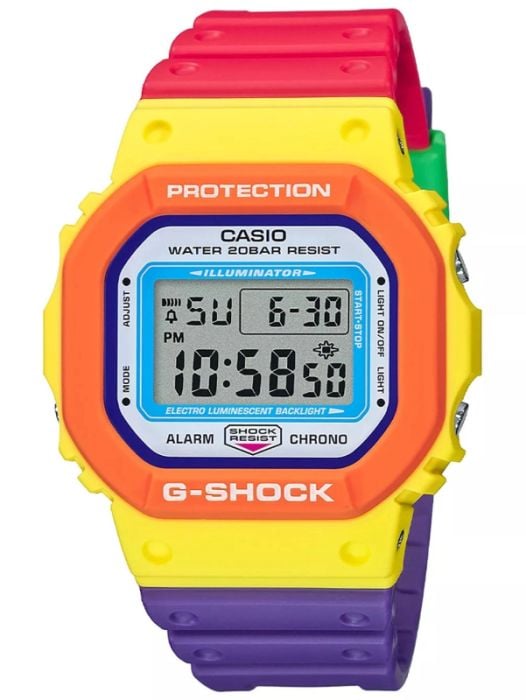 And don't forget, there are prizes to be won here! We have gotten our hands on three Casio G-Shock DW-5610DN-9ER watches, and whoever makes the best suggestion in the comments for the competition's wild-card summer watch will receive one of them. The second one will go to one of our most engaged commenters on the site, and the final one will be given to one lucky Instagram follower (check out the stories for more details). So, you have multiple chances and ways of winning! Good luck to you all, and see you in the next round.
Tudor Pelagos FXD Vs. Hublot Big Bang Integral Ceramic Sky Blue