Fratello Talks: The Plastic (S)Watch That Saved The Watch Industry In 1983
With the Swatch-Clopedia book at hand
Lex, Nacho, and RJ talk about Swatch and its upcoming 40th birthday! One of the coolest brands of the 1980s celebrates four decades of amazing and colorful watches. Last year put Swatch back on the horological map with the MoonSwatch, but there's so much more to the brand that saved the entire Swiss watch industry in the 1980s. In this episode, Lex, Nacho, and RJ show the plastic watch a lot of love, not only for the MoonSwatch but also for many other Swatch variations.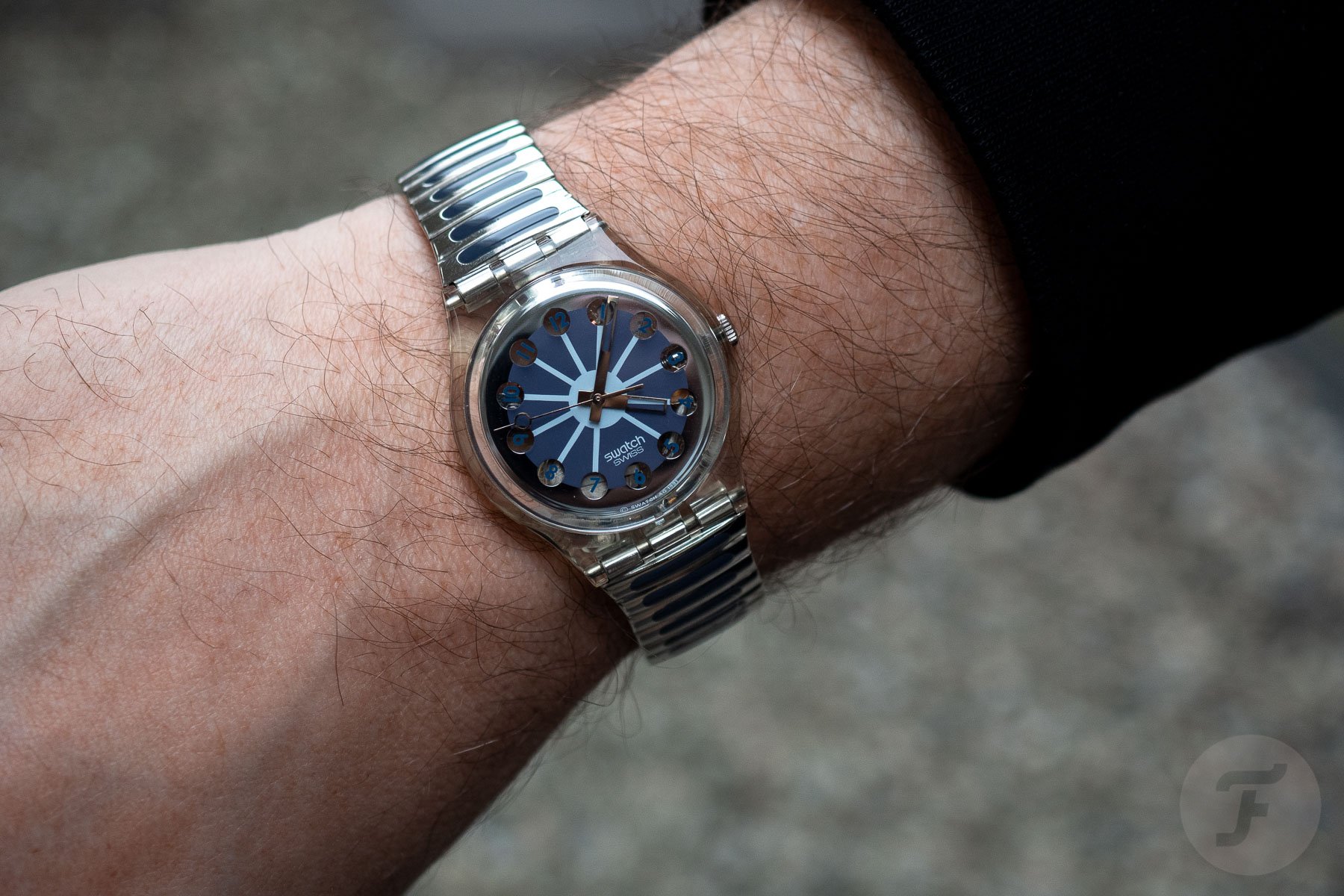 Wrist check
Only RJ came prepared with his newly acquired Swatch Blue Segment from 1992. This is a watch he had as a teenager but that got thrown away after the case cracked. He bought it again last week on eBay as a "New Old Stock" example for a whopping €35 and couldn't be happier.
Lex, who recently bought a reissue of a Swatch he used to own from 1986, the Sir Swatch, decided to wear this Patek Philippe 5980 chronograph this afternoon. No, it isn't his, but one of the friends of the show was so kind to bring it to the office today. Nacho is showing off his 1973 Tissot Seastar Navigator. What he did not bring in is his Swatch SCJ101 Grand Prix, one of the most sought-after Swatch Chrono models from 1991.
Swatch = Second watch
Unlike many people think, Swatch doesn't stand for "Swiss watch" but rather for "second watch." The first models were introduced in 1983 as disposable yet fashionable watches (you were supposed to buy many to suit your outfits and moods) at an introductory price of CHF 39.50. Later in the year, this increased to CHF 49.50. Over the years, Swatch had some very interesting introductions, such as the famous Jellyfish, Scuba, Chrono, and Skin. With the great response from the market, Swatch (and thus Swatch Group) did incredibly well and was able to use those income streams to revive some of the old giants such as Breguet, Omega, Blancpain, and so on.
"The plastic watch that saved the watch industry" might sound like an exaggeration, but given the fact that Swatch Group also owns movement producer ETA, for example, it's spot on. So many brands were able to bounce back in the 1980s and 1990s, and the supply of parts by Swatch Group brands played a huge role in this. It's a simplified explanation of Swatch, but we will get back to this in another article soon. In this podcast, we talk about memories that we have of Swatch and our favorite watches from the brand.
Enjoy the podcast, and please share your fond Swatch memories and favorite models down in the comments.