FratelloWatches Has A Chat With Jack Heuer
This year, our BaselWorld visit started with a superb party hosted by TAG Heuer to introduce the new Link Lady watch (by Cameron Diaz).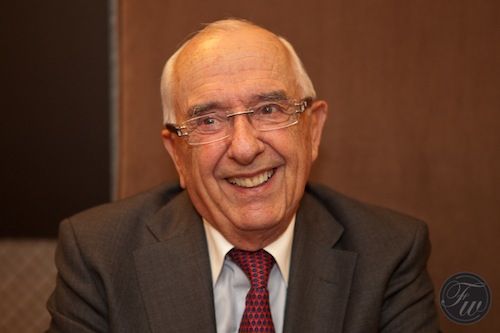 However, since you know us, we rather focus on things we like ourselves best and when talking about TAG Heuer, this means classic chronographs. We were able to get a chat with Jack Heuer (who resigned from being an active TAG Heuer ambassador just after BaselWorld) and discussed one of these classics with him.
Mr Heuer, what do you think about TAG Heuer's innovations like the Mikrotimer and Mikrogirder?
I love it. These inventions are perfectly in line with the spirit of TAG Heuer. We were always first when it comes to chronographs, the Mikrogirder is breaking existing rules and really important when it comes to watchmaking. It is also important for us to demonstrate that TAG Heuer is a true watchmaking company.
I noticed that you – just like myself – are also wearing a TAG Heuer pair of glasses. Do you think the glasses and – for instance – new phones by TAG Heuer aren't too distracting from watches?
No, these are lifestyle products that have the same luxury appeal and finish as our watches. TAG Heuer is a really serious player in glasses, worldwide. We have quite a big market share when it comes to eye-wear.
In the early 1960s, you designed the Carrera. Can you elaborate on that?
Yes, I designed the Carrera in 1963 and wanted it to be the perfect instrument for race car drivers. We came up with the name Carrera because of the Pan American Race in the 1950s. A crazy 5 day race that went throughout Mexico and the course was over 3000 kilometers.
The name Carrera sounded good for a driver's chronograph. Sexy even.
Did you expect it to be as successful as it is today? An icon even?
No way. But I am very proud that it is. We also know that these watches are very popular amongst collectors and we try to keep in touch with them all the time.
For instance, we had to learn about the 40th birthday of the Carrera by Jack Stein from Onthedash.com. We just didn't think about it. It is great that we have so many fans and that they share this passion for our watches.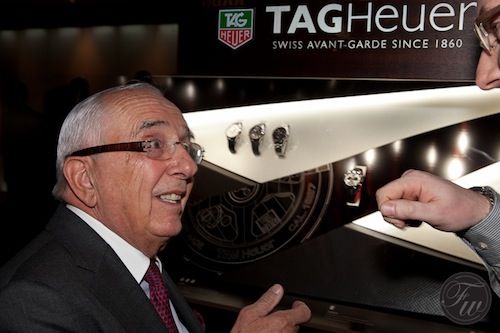 We just had a look at your new 80th anniversary watch. Besides the fact that it marks a nice 'mile stone', it is a beautiful watch.
Yes, I did my best (laughs). I love this watch with its two registers and nice grey sunbeam dial. Did you notice the red details? The '80' on the tachymeter is in red, as well as the second hand and Heuer logo.
The watch has my signature engraved and our family weapon. I can't wait to get the final version and start wearing it. It is limited to 3000 pieces and number 1 will be mine and number 2 – 4 will go to my sons and son-in-law.
Thank you Mr Heuer.
More information on the Carrera Calibre 17 Jack Heuer 80th Birthday Limited Edition can be found here. This 41mm version of what once was a small 36mm chronograph is – as stated above – limited to 3000 pieces only, where 2996 pieces are available to the public. Inside, TAG Heuer uses an ETA movement.
This watch is available with a stainless steel bracelet, but we prefer the leather racing strap in black with red lining.