A Week On The Wrist – Fromanteel Pendulum
Fromanteel Pendulum – Their First Automatic
Fromanteel might be a brand that you've not heard of before, or at least not very often. Yet, this Dutch brand exists already for 7 years now and had their first appearance at Baselworld this year as well.
Supplying only quartz watches in the past it wasn't a brand as well which we at Fratello Watches took much notice of. Until last year, when they brought their first automatic watch, the Fromanteel Pendulum. This and their appearance at Baselworld was enough for us to pay them a visit and arrange for a Pendulum watch for review.
(Video by
Maarten Slooves
for Fratello Watches)
Huygens and Pendulum Clocks
We'll start with some history and background of Fromanteel. The brand took its name from Ahasuerus Fromanteel, a 17th century clockmaker. In 1657 Ahasuerus' son John Fromanteel began studying pendulum clocks, which were invented by Christiaan Huygens in 1656. Following a trip to The Netherlands, John and Ahasuerus implemented the new and accurate pendulum technology, and became the first makers of clocks equipped with the this mechanism in Britain.
Great Choice
Of course Fromanteel couldn't choose any other name for their first mechanical, automatic, watch than 'Pendulum' so that's what they did. We've seen the 'Pendulum' model name before, for instance at Christiaan van der Klaauw.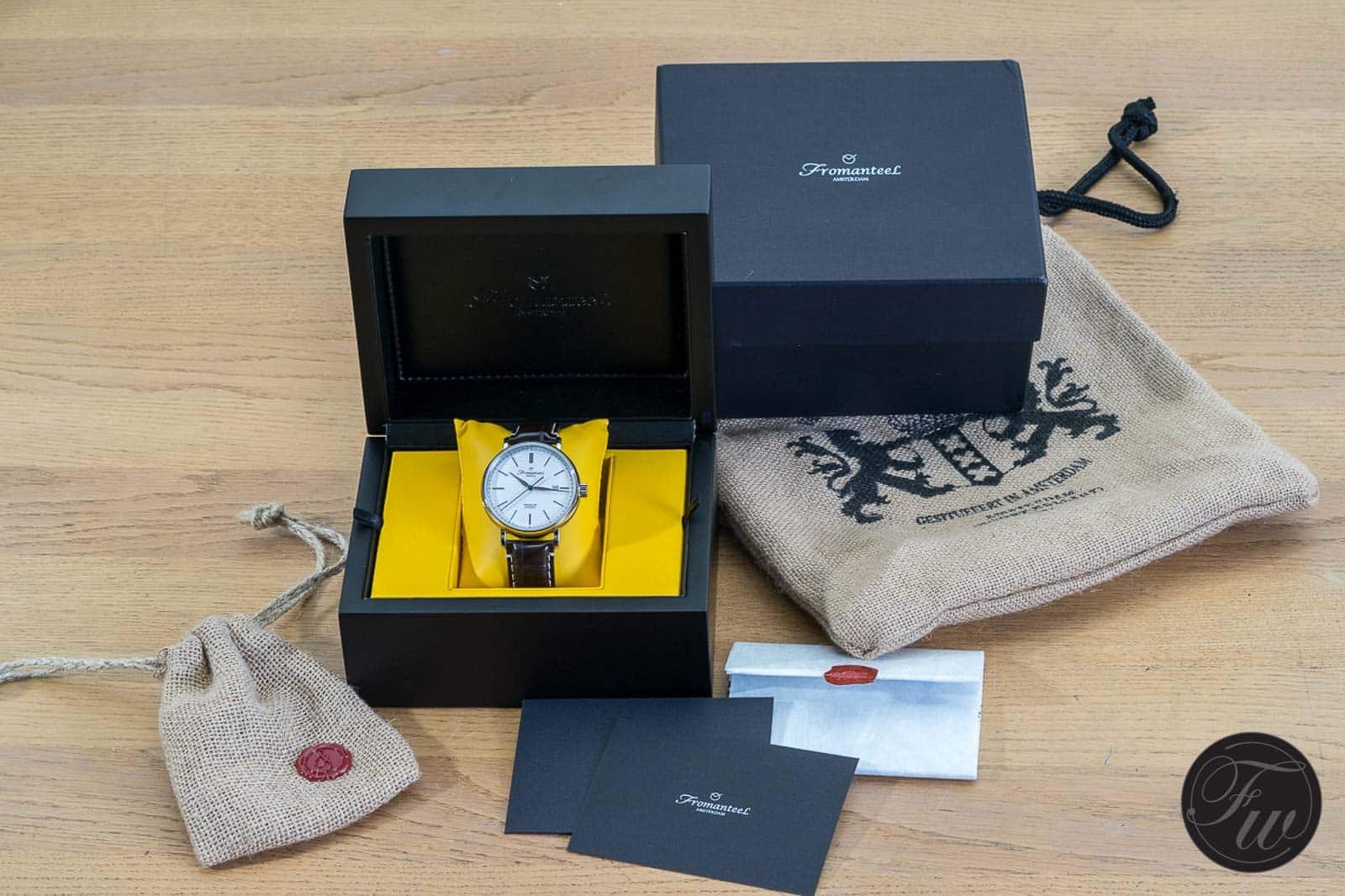 Fromanteel Pendulum Review
Let's have a look at the watch, the automatic Fromanteel Pendulum. Upon receipt it immediately becomes clear that Fromanteel watches are not just about products and facts. From the moment you get the package in your hands it breaths a feeling, probably even excitement. The outer box of the watch is packed in a burlap sack, you know, the old fashioned type of fabric you probably know from packing large quantities of coffee beans or potatoes in the old days.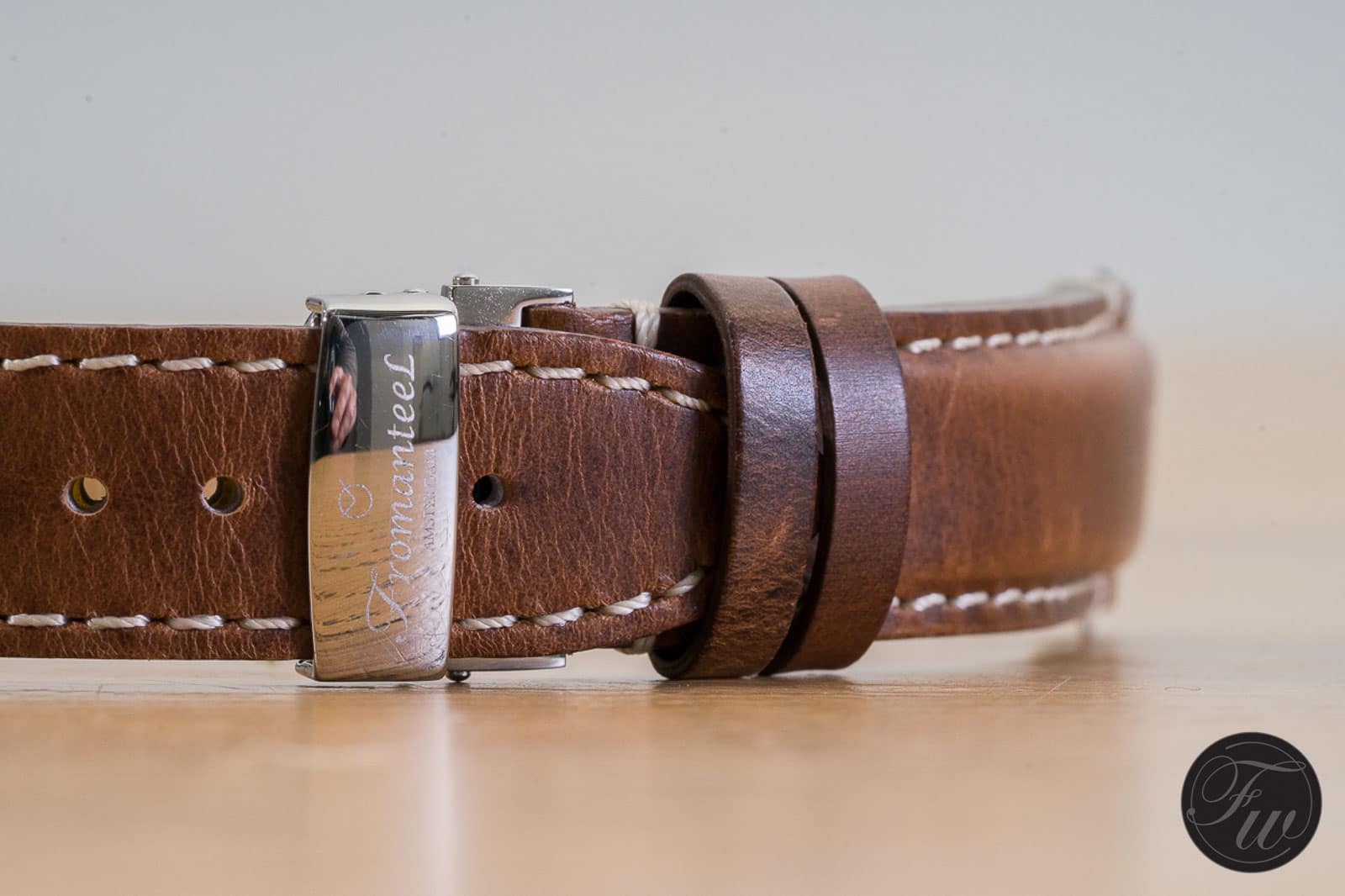 Packaging
There was an additional little burlap sack which contained a separate, beautiful brown crocoprint leather, strap. We immediately replaced the, not bad at all plain brown, leather strap which was fitted to the watch with this one. More on the straps and buckles later.
Besides the nice sack the package comes in, the box and paperwork are more than adequate as well. The box is sturdy and has a very nice yellow lining. Yellow must be something special for Fromanteel, it returns in many places. For instance the top of the crown of the watch is yellow filled and the inside lining of the leather straps are yellow as well. The paperwork is clear and comes in a nice old-styled envelope which is closed by a real wax seal.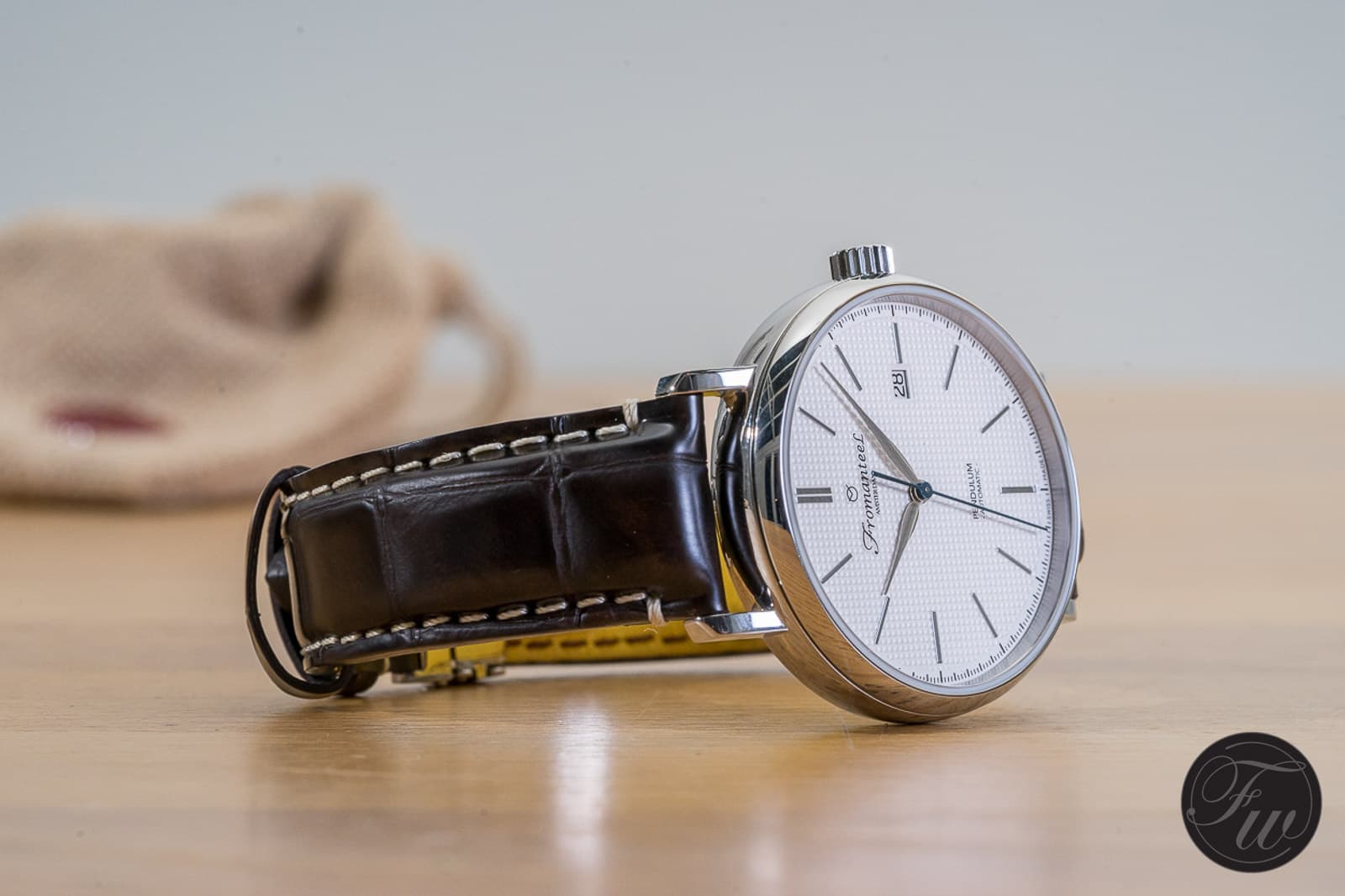 Large Dresswatch
On with the watch. How nice all the goodies which are embracing it are, the watch is what you will wear in the end. Although it has to be said that they'll manage to give you certain mood before putting on the watch. Maybe 42mm case diameter is a bit large for a dress watch, it sure is in good balance with the height of almost 10mm. At the same time it doesn't make it a watch which is all too dressy, certainly in combination with the steel case it makes it quite sporty at the same time.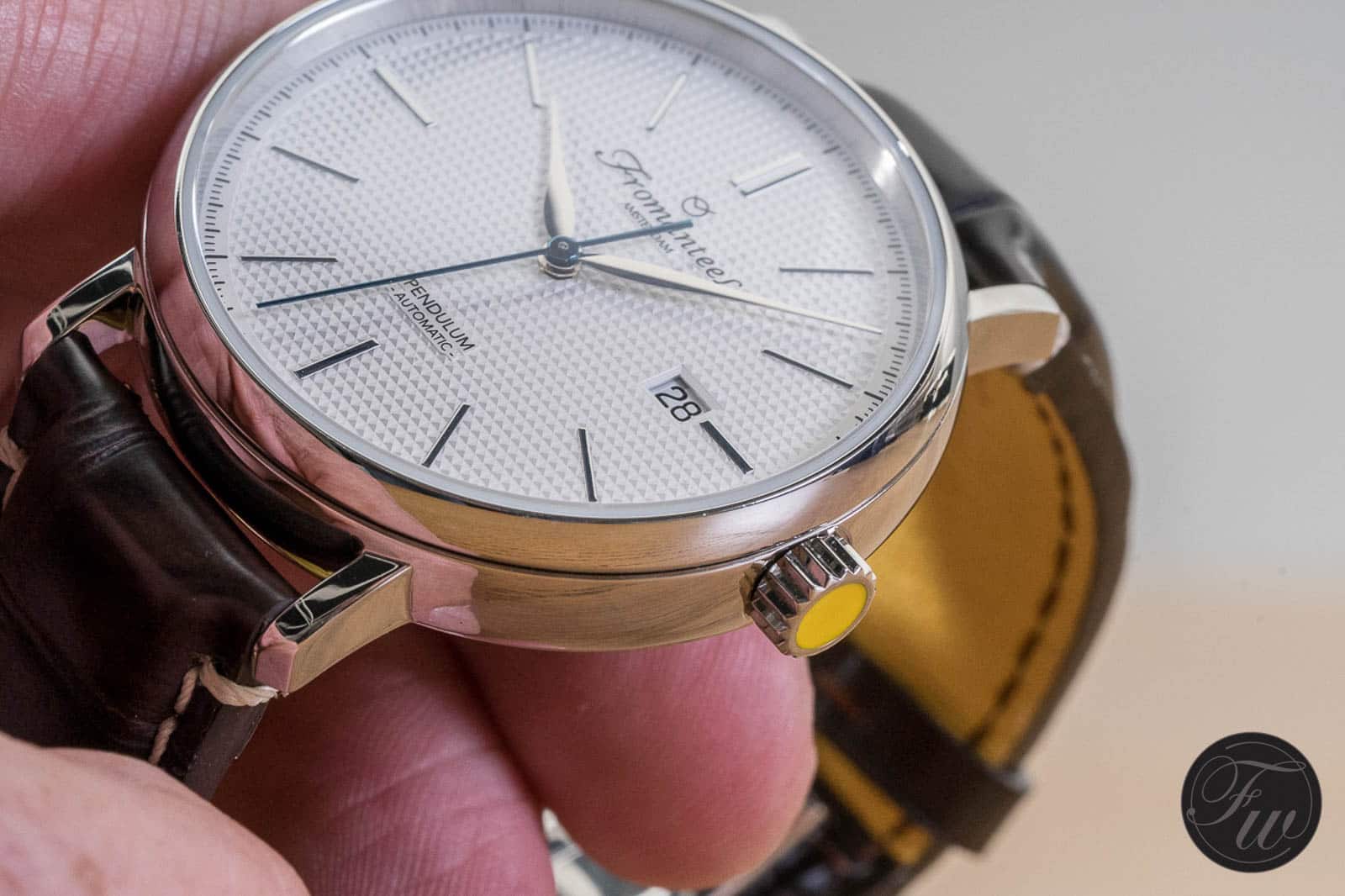 Hobnail Dial
The dial is white and nicely textured with a pattern what would be best described as 'hobnail'. The hour and minute hand, as well as the indexes, are steel coloured which normally doesn't improve the readability. However because they're high-gloss polished in many light situations there's quite some contrast. The second hand is quite readable by itself as it is blue.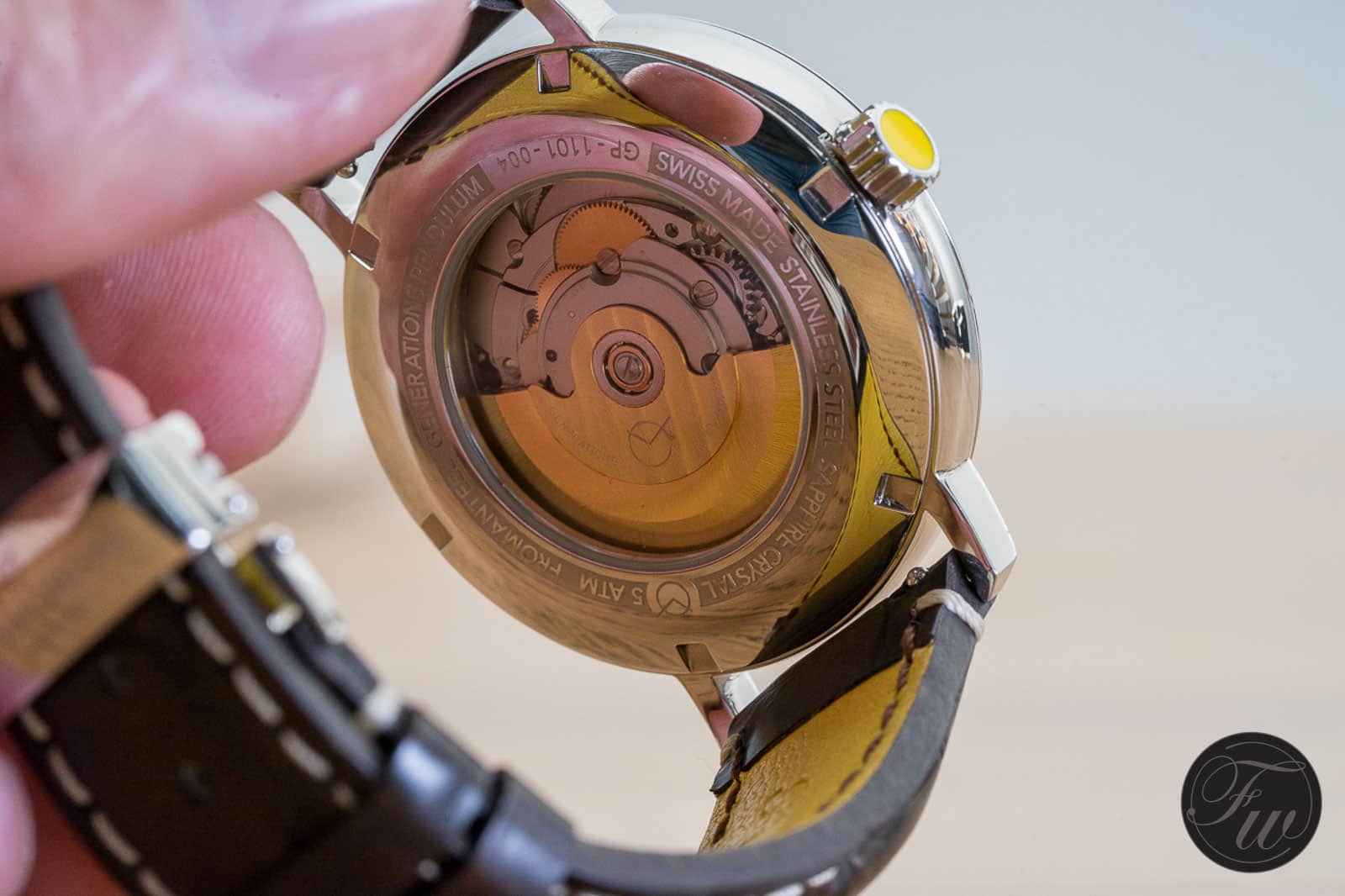 ETA Movement
I mentioned the yellow tipped crown already, so now it's time to inform you about the glass case back. A feature often liked by people who're not used to mechanical and automatic movements, as most of Fromanteels customers will be because the rest of the collection all have quartz movements. For die-hard mechanical watch fans, there's not much use in showing the quite basic, but very reliable indeed, ETA 2824-2 caliber with 25 jewels and 38 hours power reserve. As far as I can see the only personalization is a simple engraving in the rotor.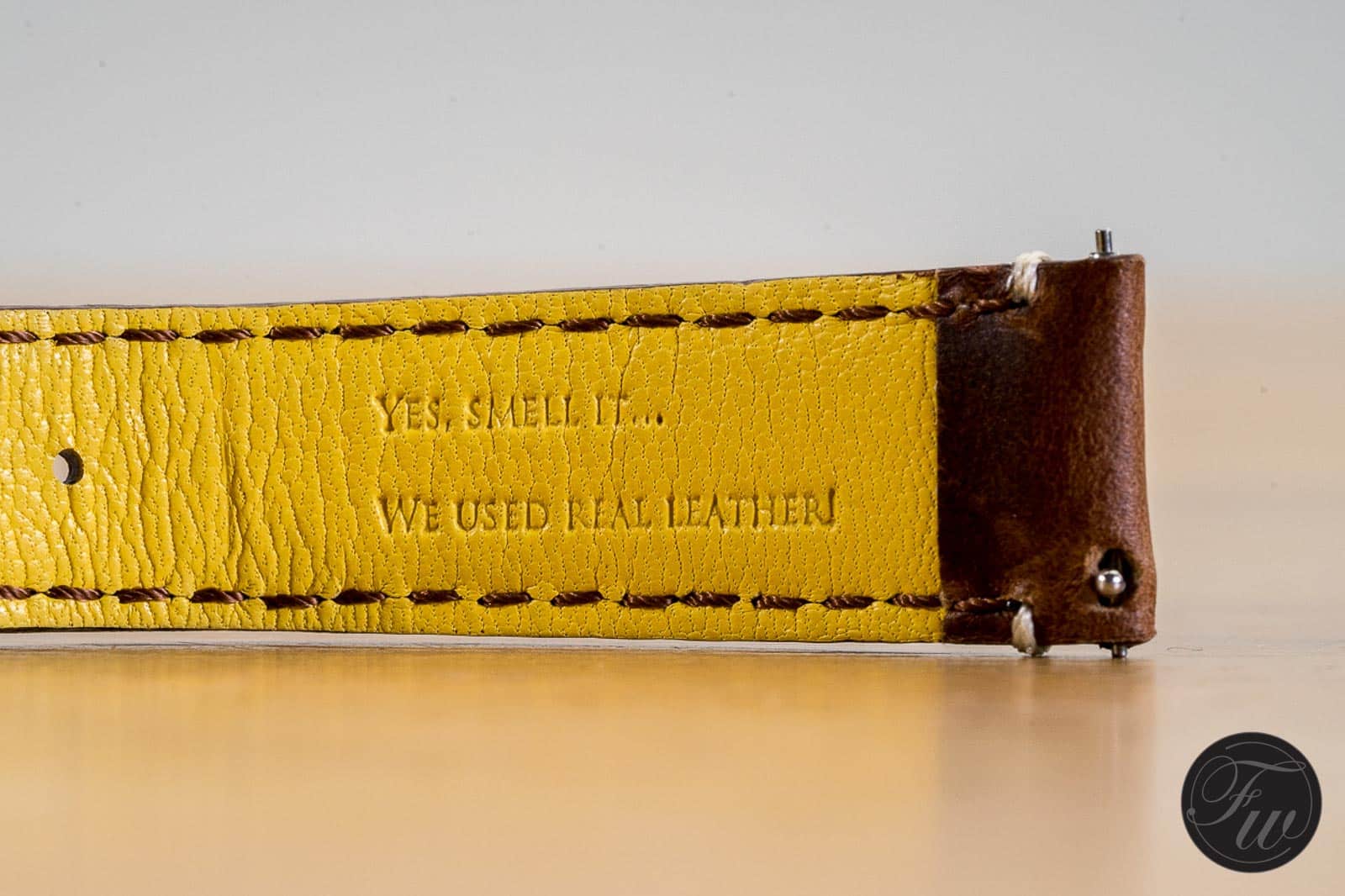 Two Straps
As mentioned I would come back to the straps with this watch. Both available straps for this watch, the plain 'Oiled Brown Strap' and the 'Retro Brown Strap' with croco print, feel good and seem of high quality. There's a nice gesture inside at the lining of the leather straps; there's a print inside which reads: "Yes smell it… We used real leather" It made me smile, however I remembered as well smelling 2 year old watch straps which wasn't that pleasant. Anyhow, the text will probably not be readable any more after wearing the strap for two years.
Quick Change
Probably more important, both belonging straps use the quick changing pin-system. It makes changing your strap a breeze and will motivate to use different straps and colors with your watch. A feature not often seen in this league.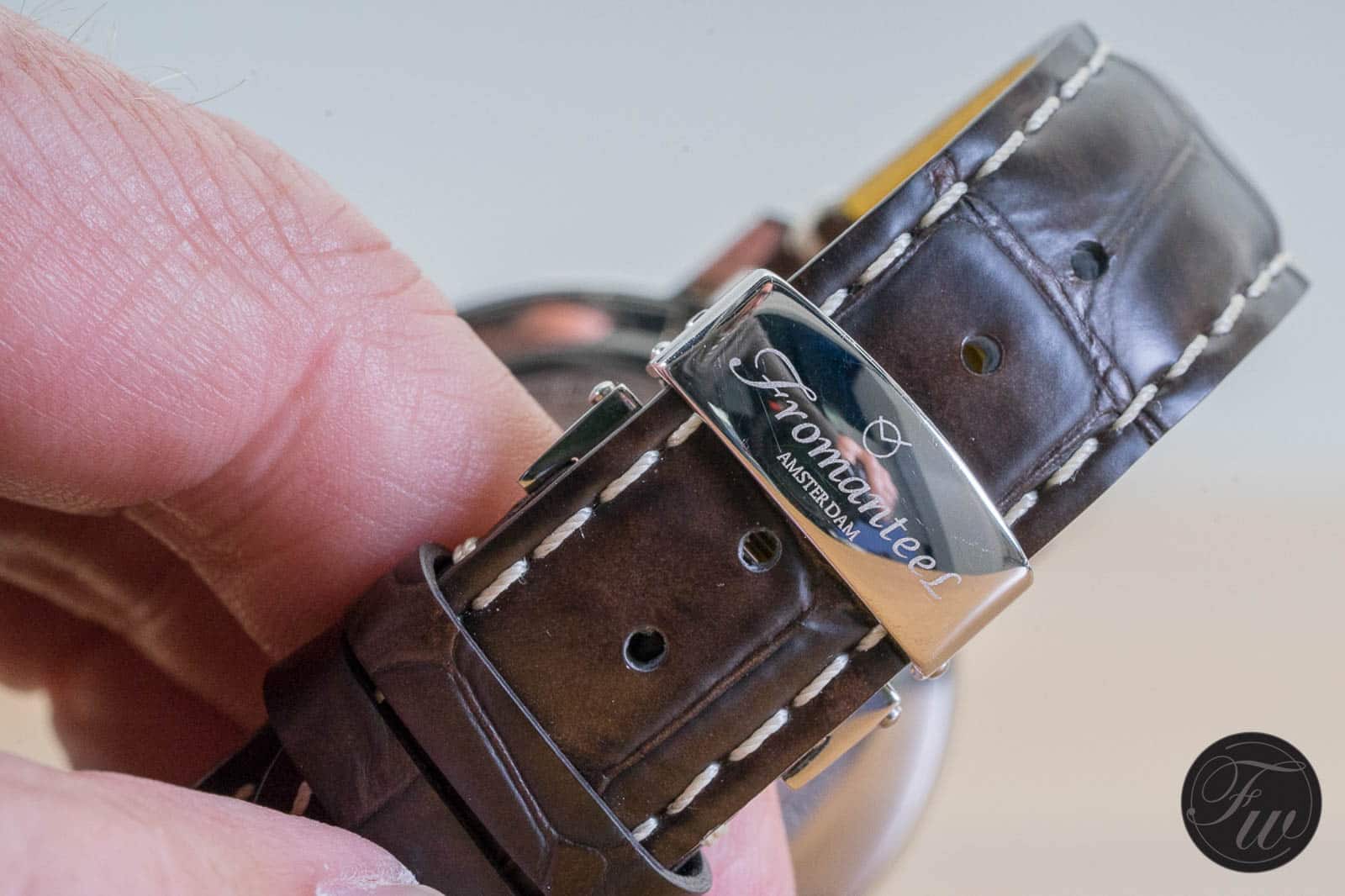 Deployant Buckle
The deployant buckle (not deployment as indicated on Fromanteel's website, an often made mistake) is the rather standard type which we see more often on watches in this price range. Typically they have the same life expectancy as a good quality strap.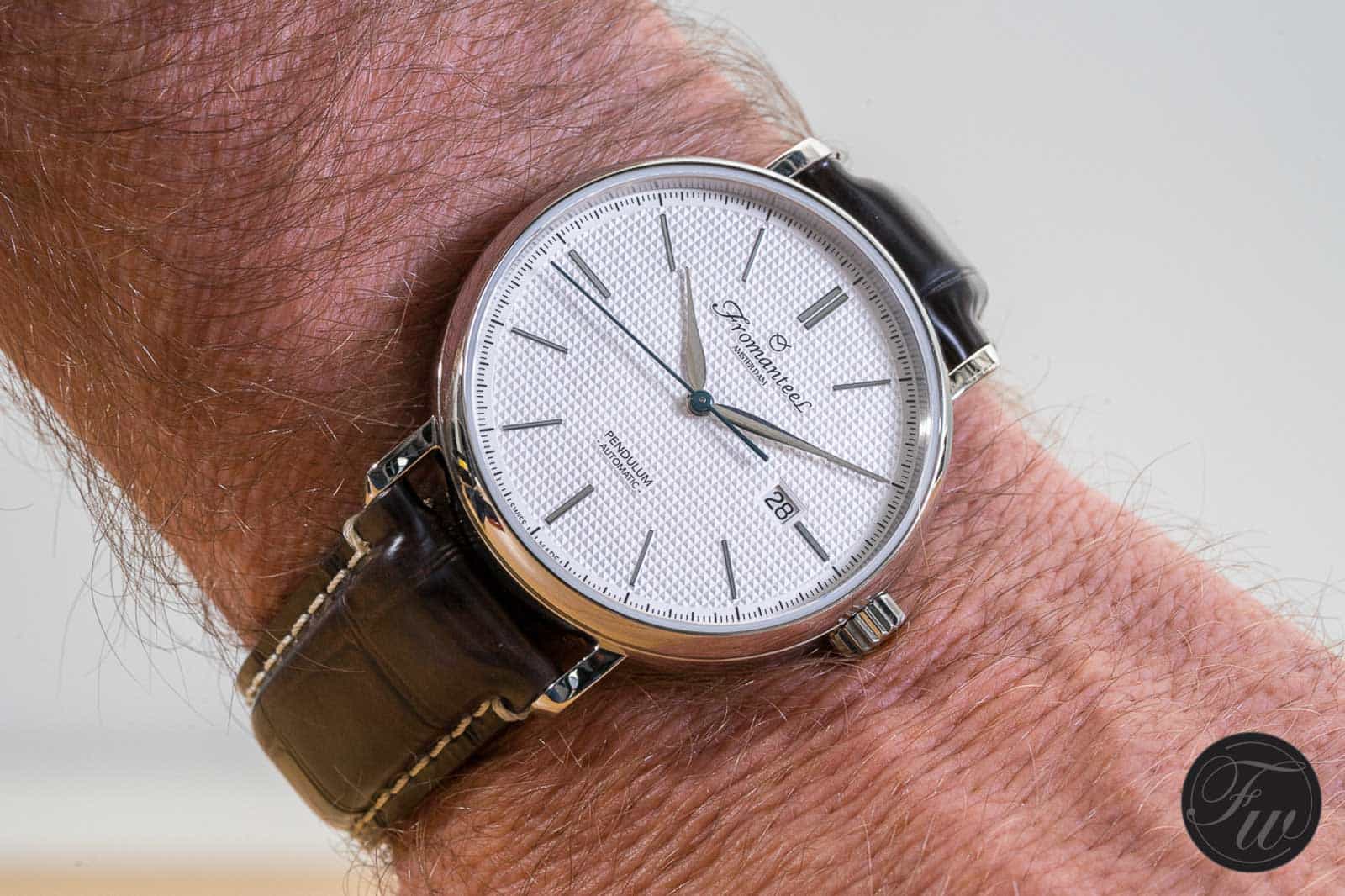 Pricing
This brings us to the pricing of the Fromanteel Pendulum, which is just below € 1.000,=. A fair price in my opinion, given the fact that a small brand like Fromanteel probably won't produce thousands of this watch, keeping it a quite rare watch in a natural way. And of course in general, there's nothing wrong in paying € 1.000,= for a stainless steel 5 bar watch, with a Swiss automatic movement, sapphire glass, a good leather strap and supplied in a beautiful and complete package.