G-Shock GMW-B5000TR-9 In An All New Titanium Alloy
What a way to lose your head!
Again, no physical presentations this year so far. So, G-Shock presented its novelties to us — quite successfully, I should add — by mimicking a booth in a virtual online environment. Today, as an addition to the full metal premium Square series, G-Shock announced the release of the GMW-B5000TR-9. Its external components are made in an all-new titanium alloy, named TranTiXXII™.
TranTiXXII™ is a brand/concept by Japan's most important metal processing company, Nippon Steel. Tran was taken from transformed, Ti is the element symbol of titanium, and XXII — or 22 — the element number of titanium. TranTiXXII™ titanium was specifically developed for aesthetical reasons. It offers a wealth of colors and different surface finishing while maintaining the advantages of regular titanium and being human- and environment-friendly.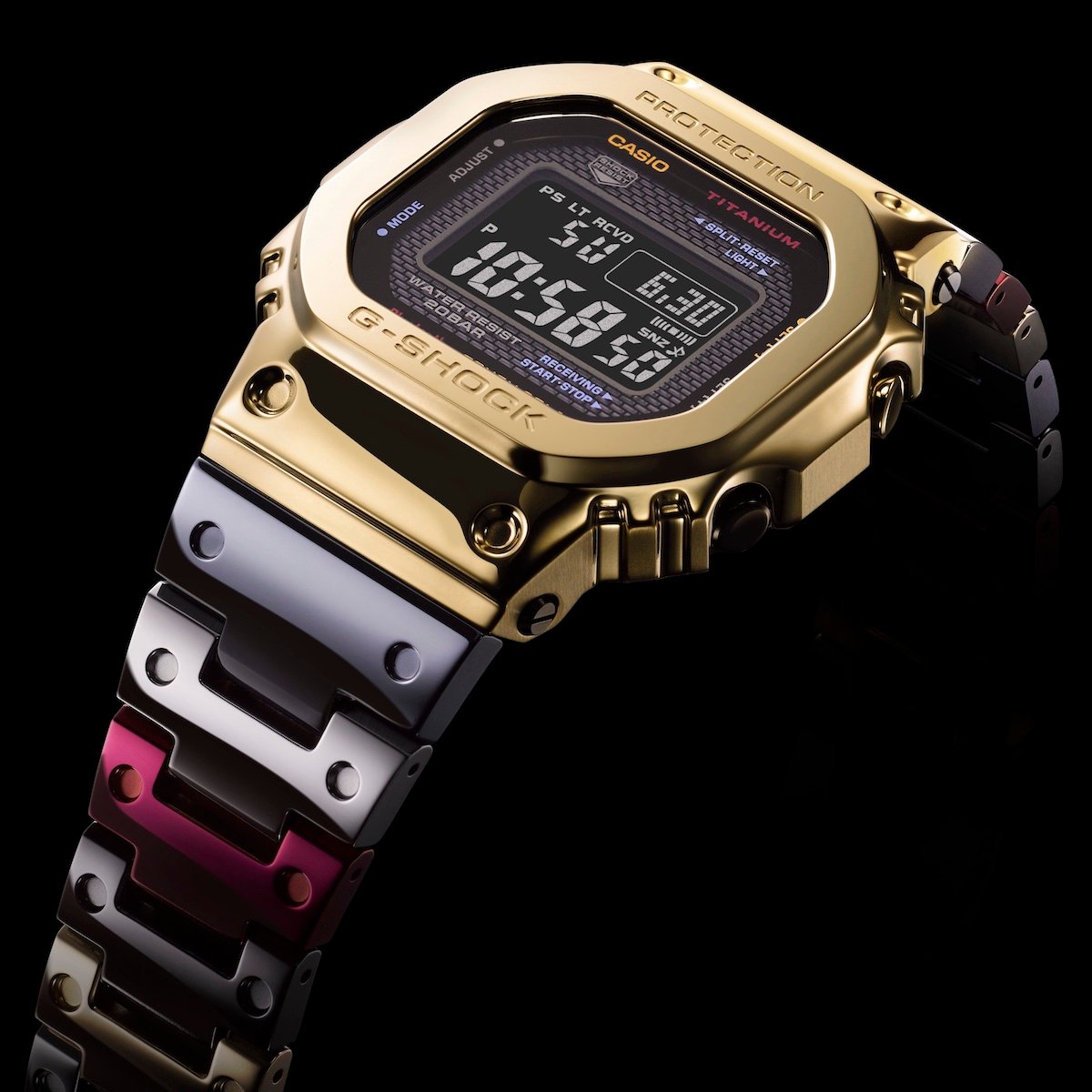 G-Shock GMW-B5000TR-9 in TranTiXXII™ titanium
Named Super-TIX20AFG, the new TranTiXXII™-titanium alloy was jointly developed over a six-year period by Casio and Nippon Steel Corporation, especially for the G-Shock line. This special grade of the elegant design titanium has twice the hardness of pure titanium but still boasts the same lightweight, anti-corrosive and hypoallergenic properties. The GMW-B5000TR-9 G-Shock is the first Square to use this material. That couldn't be left unnoticed, so G-Shock decided to make this one really stand out. And it does.

Highlighting TranTiXXII™'s possibility to produced its titanium in many color variations, the GMW-B5000TR-9 comes in five of them. And guess what? All five feature in one watch. The enhanced hardness makes it possible to produce a mirror finish comparable to stainless steel on titanium, which has typically been difficult to process so far. The result is the first titanium G-Shock with a mirror-finished bezel and band.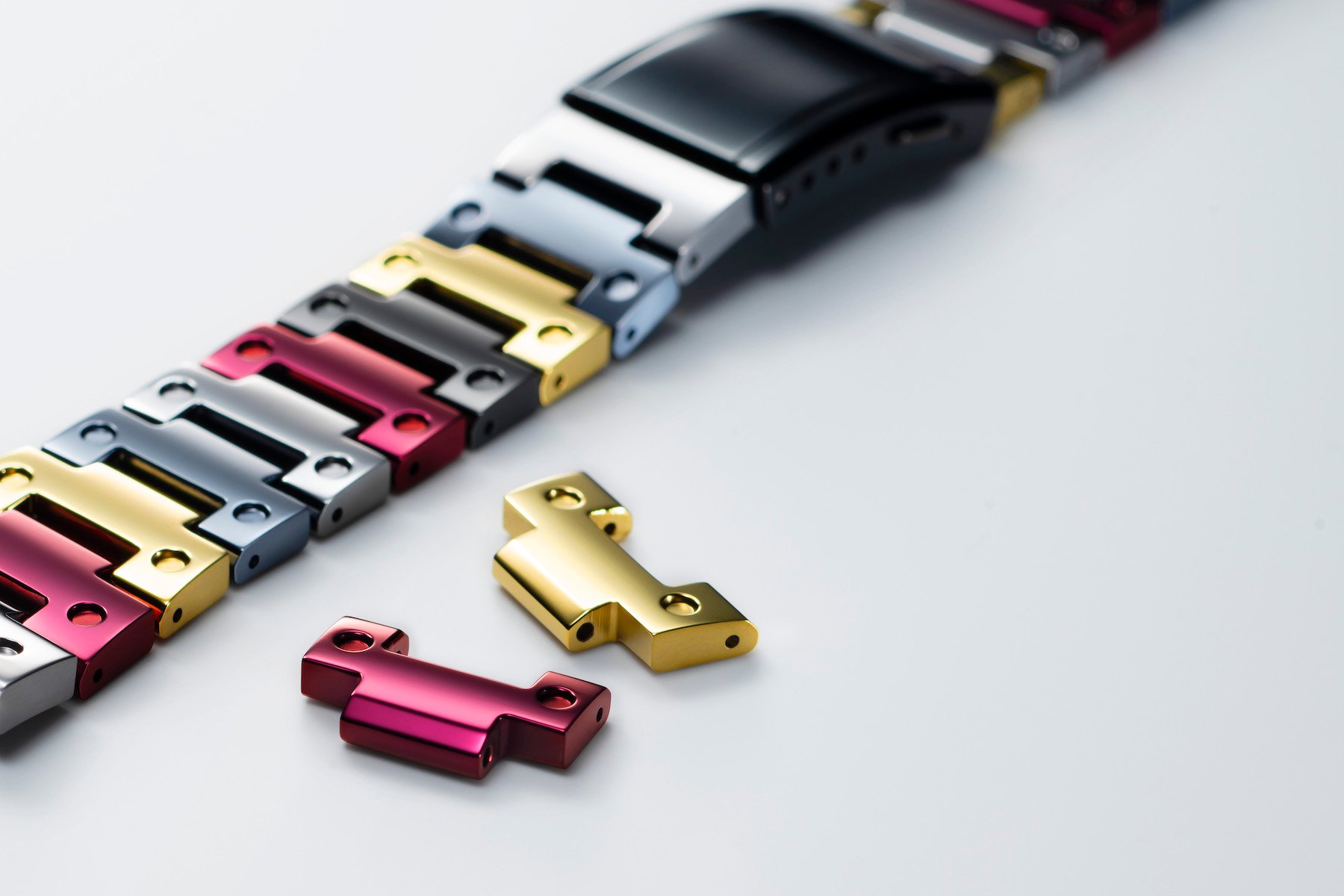 It's the bracelet
The GMW-B5000TR-9 is clearly designed to show-off this new titanium alloy's possibilities. Multicolour ion-plating and fully mirror-finished surfaces are used liberally. Whether this has resulted in a beautiful watch or a chromatic calamity is down to each individual viewer's eyes. We've seen some extraordinary designs within the Premium Square series, but this one is next level.
Upon closer look, it's mainly the bracelet that's so variously colorful. No less than five colors — yellow gold, dark grey, light grey, blue, and red — are intermittently used for the links. As indicated before, enabled by this type of titanium's hardness, they're all are mirror-polished.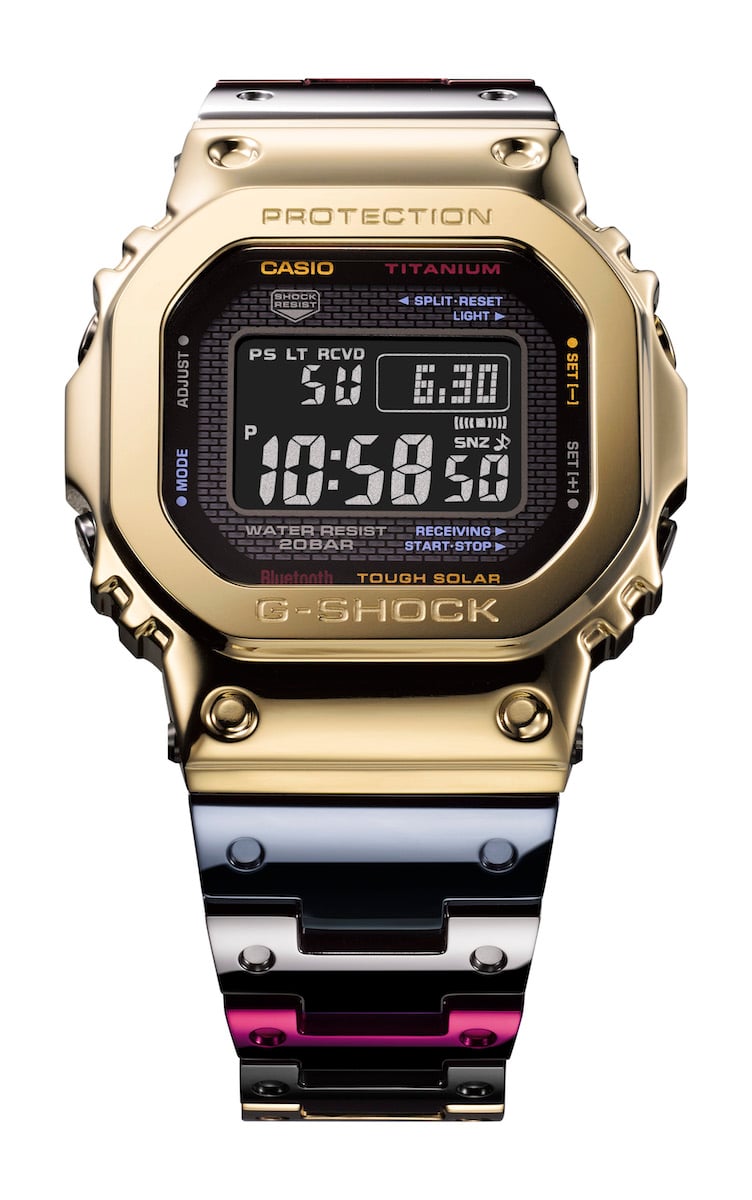 Yellow-gold colored square case
Only one color is used for the Super-TIX20AFG titanium casing; yellow-gold. Little details within the design hint towards the color-possibilities of the material. For instance, the push-buttons have all different colors, and there are different colors of printing in the display. Talking about the display, like most of the special editions we saw in the recent past, it's reversed, or as often indicated, negative. We've seen many of our readers asking for more Squares with a positive display, but G-Shock didn't come to that point yet. A positive display is undoubtedly better in terms of readability, but design-wise a negative display can be the better choice.
Further specifications
Compared to the other premium G-Shock Squares, and except for the new titanium and the new finish, not much has changed to the specifications. The GMW-B5000TR-9 uses the same full-metal shock-resistant structure. Resin cushioning material is inserted between the metal case and the module and it's then enclosed in a protective shell.
Like the first G-Shock model, the GMW-B5000TR-9 uses a robust screw-in case-back to ensure a tight seal. The bevels are mirror-finished, and the entire inner-case and case back are diamond-like carbon (DLC) coated to enhance abrasion resistance.
Flagship module
The GMW-B5000TR-9 makes use of G-Shock's flagship module, including Bluetooth smartphone connection. The module convinces immediately by its great — Super Illuminator — automatic LED backlight system for better readability in dim environments. But its real strength lies in that it is solar-powered and has automatic time control. Both provide hassle-free watch use, with no user attention for battery changes or manual time setting. Automatic time control is provided in two stages. If there's a Bluetooth connection possible with your smartphone, the watch will take the time – four times a day – from the phone's GPS. If not, it'll try — six times a day — to reach any of six radio-controlled time signals.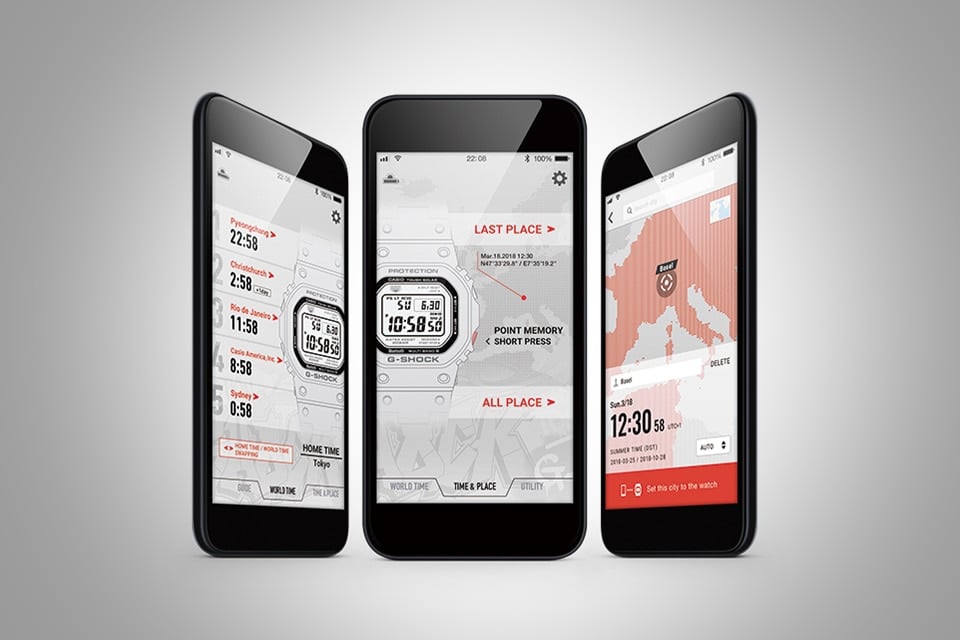 The G-Shock connected app
So, the watch automatically takes the time from your smartphone using the G-Shock connected app. But it also provides all sorts of other useful features. It's much easier to set your watch's various functions in the app than through the watch's pushers. The watch provides for five world time positions, and you're able to choose them from over 300 cities in the app. You can easily switch between your home time — which is also set in the app — and one of the world time cities. Further functions in the app are alarm and timer settings and to set a reminder. Shortly pushing the bottom-right button on your watch even stores your phone's GPS coordinates at that time while updating the watch's time simultaneously. In the app, a map shows the location plus the exact date and time.
Last but not least, through the app you can personalize the calendar setting. You can't only choose the language for the abbreviation of the days, but also the sequence of DD and MM as well. While in Japan and the US MM/DD is common, in Europe DD/MM is the norm.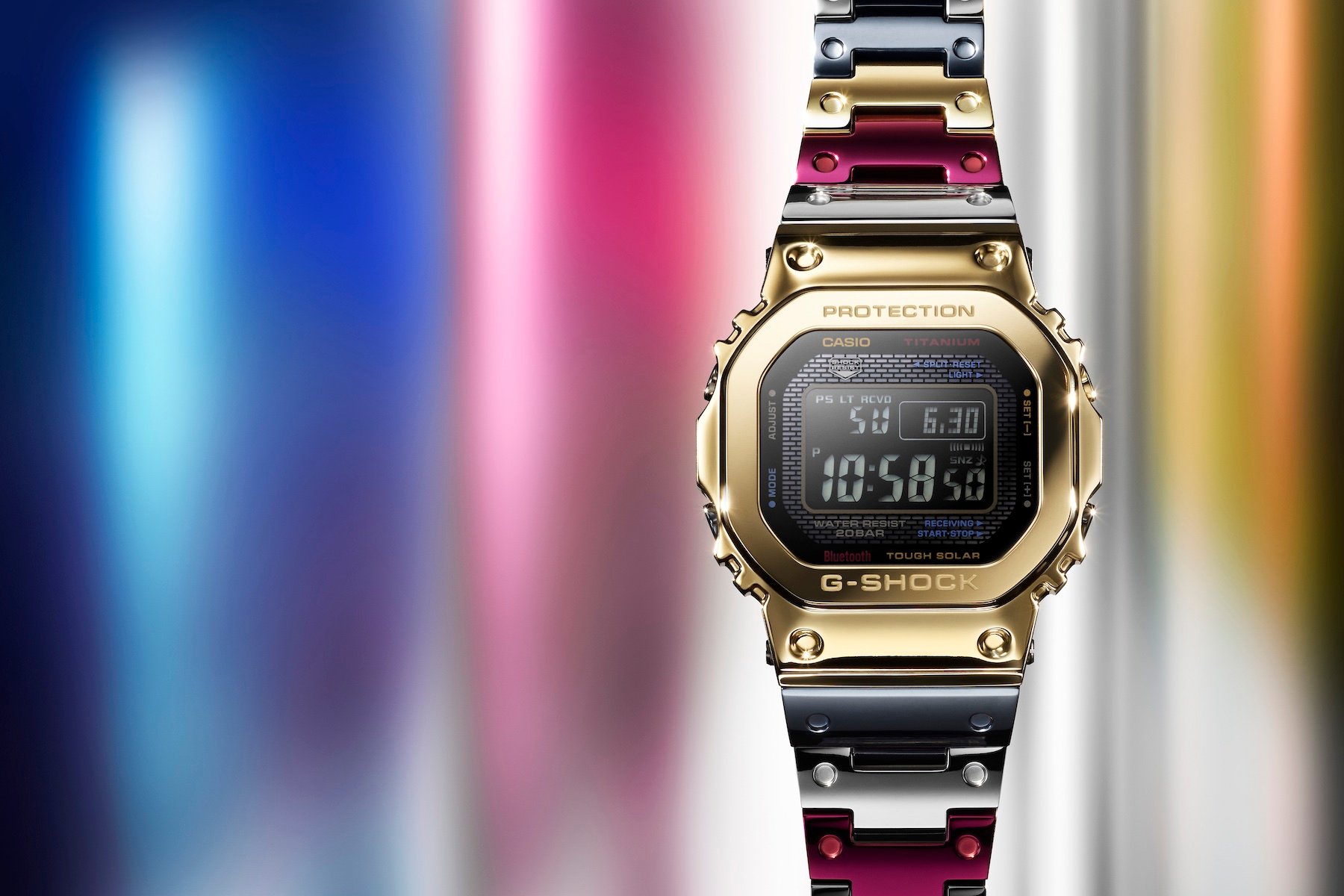 Conclusion
The design of the new GMW-B5000TR-9 might not appeal to everyone. But the TranTiXXII™ new Super-TIX20AFG titanium should. The possibilities and technical properties are exciting, and the GMW-B5000TR-9 shows us that there's a lot more to expect. From the TranTiXXII™ website, I learned that — besides mirror-polished — many surface structures are possible. I hope we'll see G-Shock experimenting with that as well.
Unfortunately, at the time of writing, price information wasn't available for the GMW-B5000TR-9 yet. We'll make sure to add it as soon as it reaches us.