Just Because – A Barn Find Gallet Multichron Decimal
As it's the weekend after Thanksgiving and most Americans are either exhausted from eating too much or from being dragged to the mall to fight the crowds (this idea of Black Friday is spreading around the globe by the way), we thought we'd lighten your spirits by giving you a mini #TBT "Just Because" about a barn find Gallet Multichron Decimal. Enjoy it!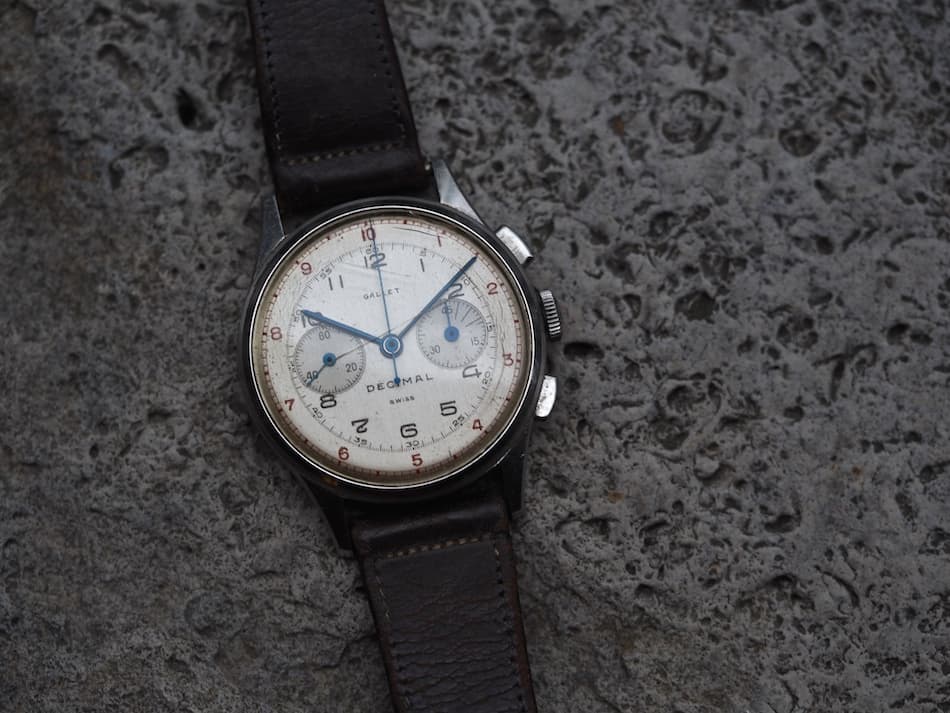 An Unrestored Gallet Multichron Decimal
Today, on Fratello Watches, we thought we'd bring you a brief look at an amazing watch – the Multichron Decimal. However, unlike almost all of our articles – we've only featured one "pre-spa" watch in Blaise's Tissot – this watch needs work. In fact, it doesn't work at all right now! But – because I enjoy the archaeological side of the hobby, I thought you might enjoy seeing a watch in its most natural unrestored state. Even the strap is seemingly original.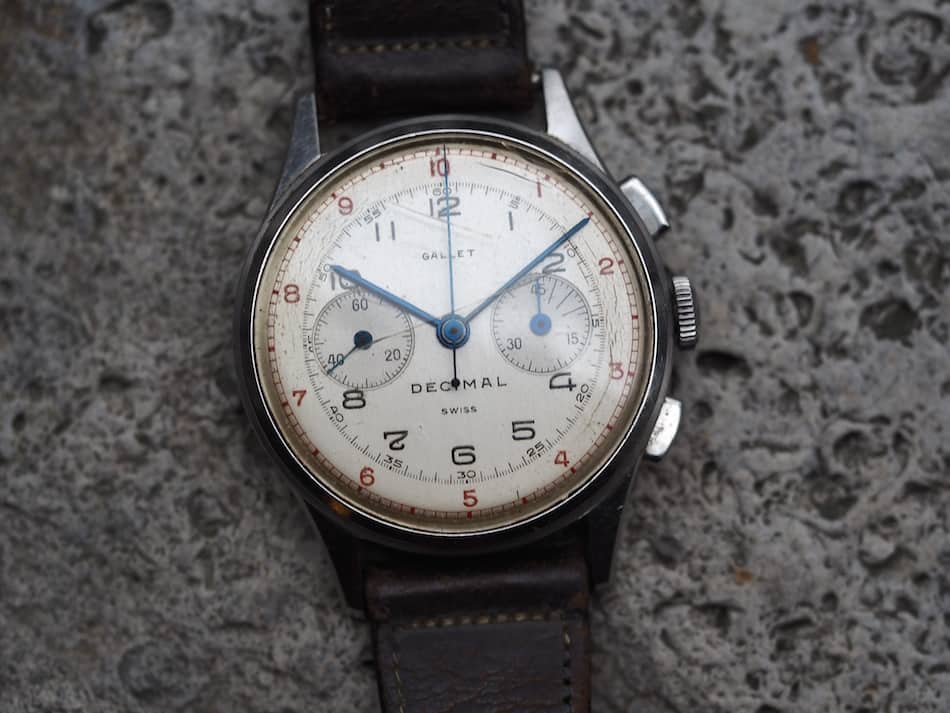 What you have in front of you is an original generation Gallet Multichron Decimal. It's a watch that began production in the 1940's and later gave way to a larger, round-pusher edition. It's a "decimal" due to its outer red timing track and it's used to measure time in a unique way that we previously discussed when looking at a lovely Meylan.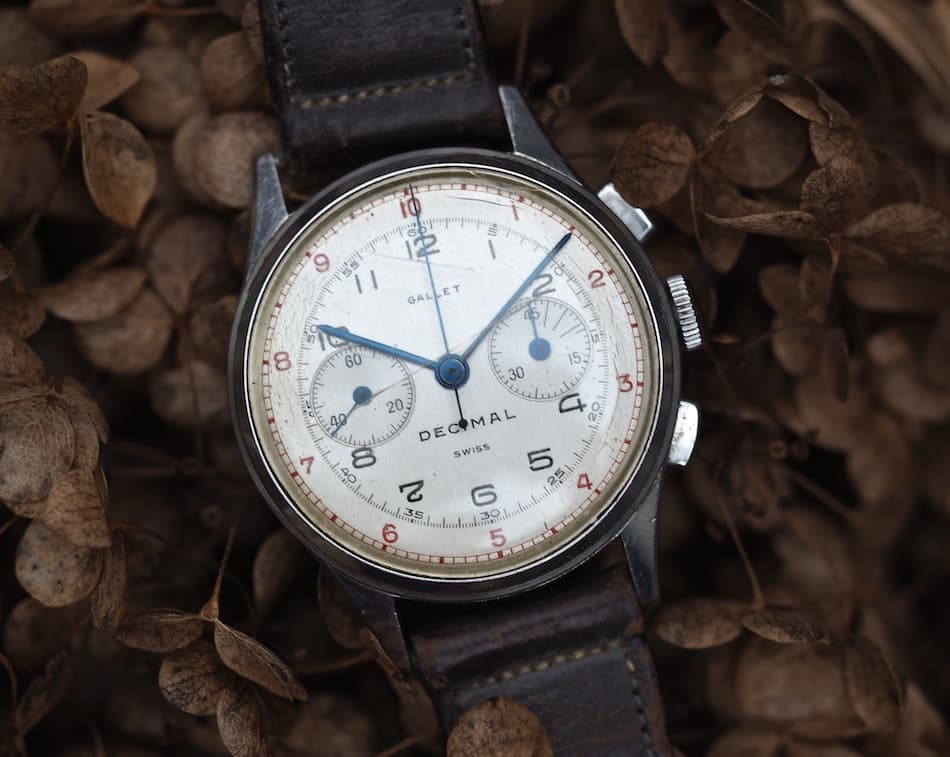 Taking a Chance on an Old Chronograph
The Gallet Multichron Decimal on these pages was found on eBay (I made an offer that couldn't be believed and, in the end, it couldn't be refused) and is not without controversy. Upon purchase, I popped a picture of it on my feed and, naturally, others had been watching as well. The question around the watch relates to the hands, which are seemingly too long for the model. It is possible that they were changed, but owing to the condition of the case, the original strap, and the underlying dial condition, I have my doubts.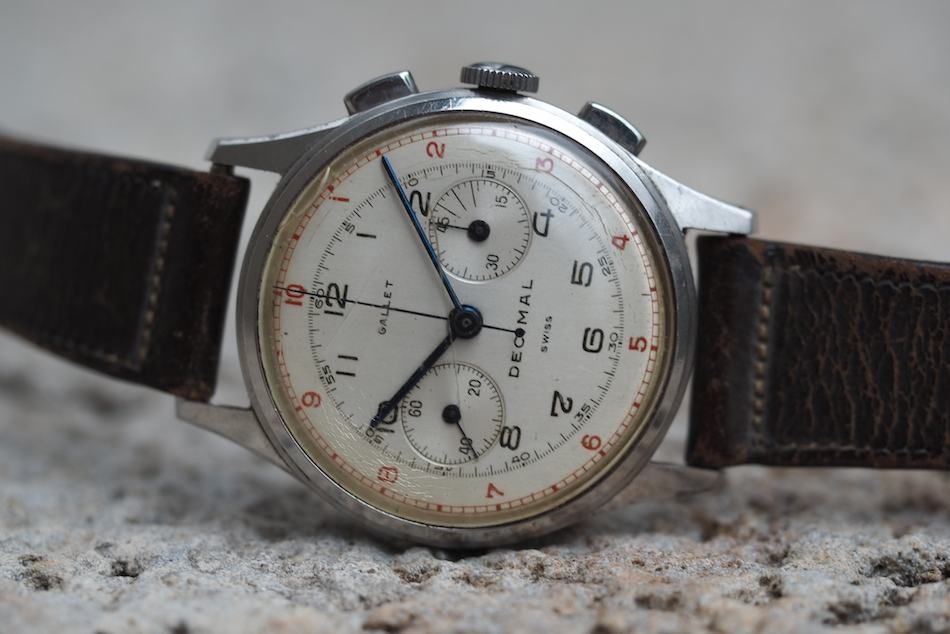 A Little Help from My Friends…
And this is where help comes in because I spoke at length with Eric of radiumstash and @watchfred before hitting the "pain button" and releasing funds. Both were keen to point out that Gallets once thought only to have short hands have been seen in old ads with long hands. Call it an inconsistency or call it the use of existing parts – nothing is certain.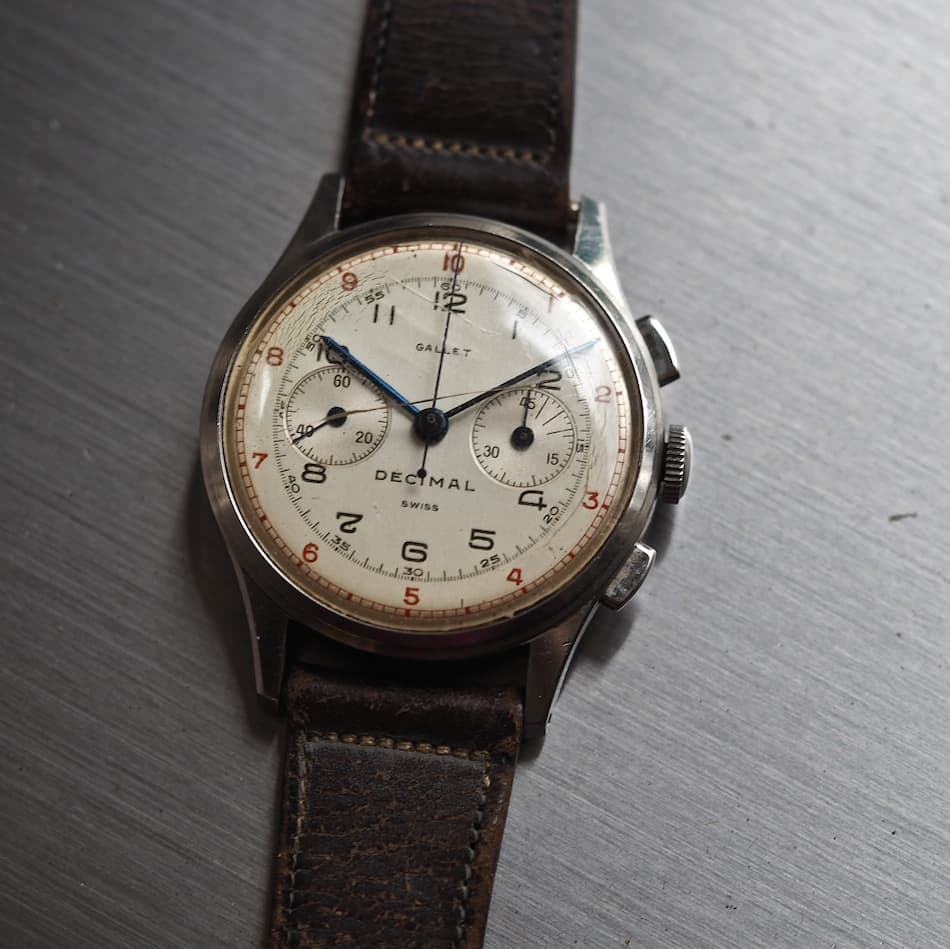 Who Wants a Broken Watch?
This Gallet Multichron Decimal came from a flea market in Indiana and the seller mentioned that it came form an estate where the watch lived for a long time in a drawer. Perhaps it was under some books and this is where the crystal cracked!  In any case, when I approached the seller with an offer that was apparently well beyond his belief, he asked multiple times if I was serious. Frankly, I thought the offer was reasonable, but he simply couldn't believe that someone would want a non-working watch for decent money – I'd hate to think what he paid for it!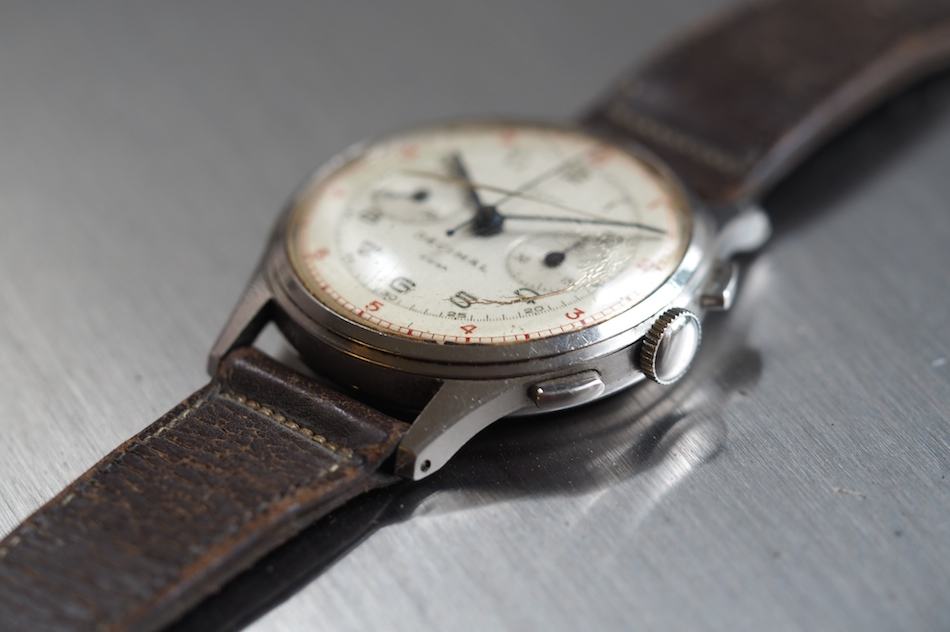 A Last Look Before the Spa
An all-stainless case ringing in at roughly 36mm denote the specs for the Gallet Multichron Decimal. Inside is the wonderfully smooth – well, it will be – Excelsior Park 4 column wheel chronograph movement. The drilled lugs hold an 18mm width strap – and I've now got to hunt down a new, but similar accouterment as this well-worn couch of a fitment.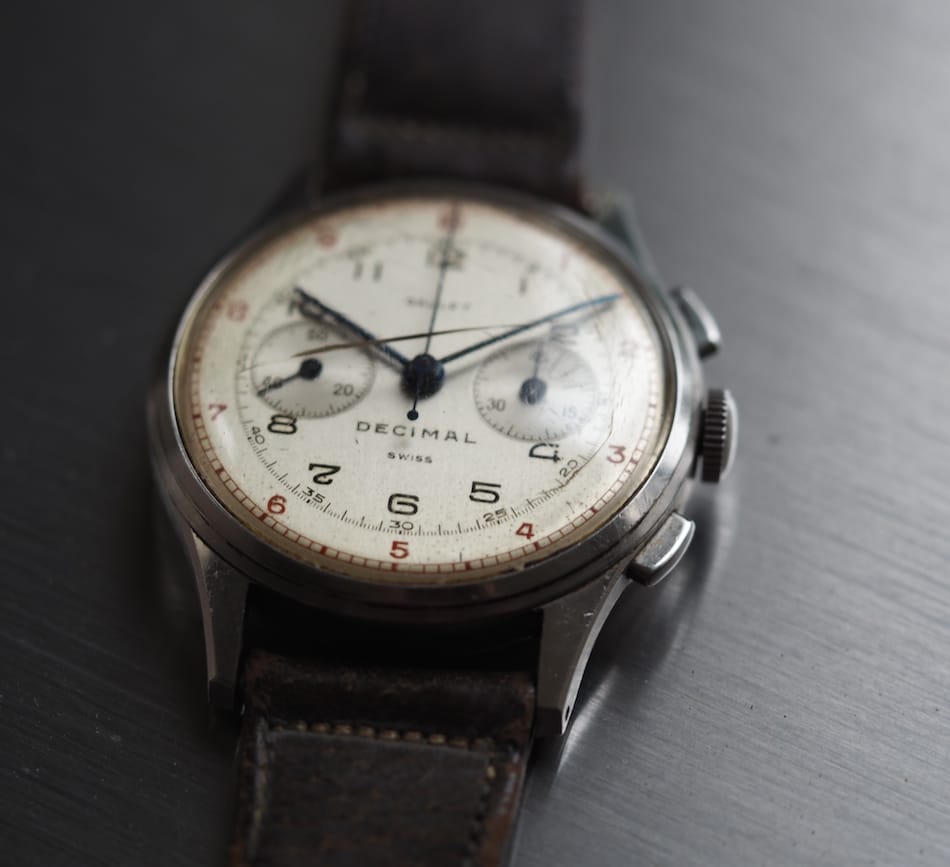 Enjoy a look at this Gallet Multichron Decimal. The watch will only look like this for a little while longer and then never again. Of course, the next chapter ought to be just as exciting. To be continued…