Gavox Avidiver – A Watch For Pilots and Divers
Gavox
Last year Summer, Gerard reviewed a Gavox Aurora. A quartz watch, but one that was 'the world's first watch that handles all geographical and political time zones'. Today, we are looking at the Gavox Avidiver. The Avidiver is a watch aimed at pilots and divers. Or at least to someone who is either able to fly or dive.
Efficient Combination
At first sight, the Gavox Avidiver comes across like a diver more than an aviation watch. The aviation part mainly lies in the fact that it has great legibility as well as the ability to read an extra timezone. This can be done by using the internal bezel. However, the internal bezel is also for diving purposes. There is no 24 hour indication or whatsoever, only an orange triangle that moves around the dial. This moveable triangle can indeed be used to indicate zulu time.
The cool thing is that you will have a watch that is suitable for reading an extra timezone and one you can use for diving and swimming. It has a water resistance of 20ATM (~200 meters) and a very legible dial.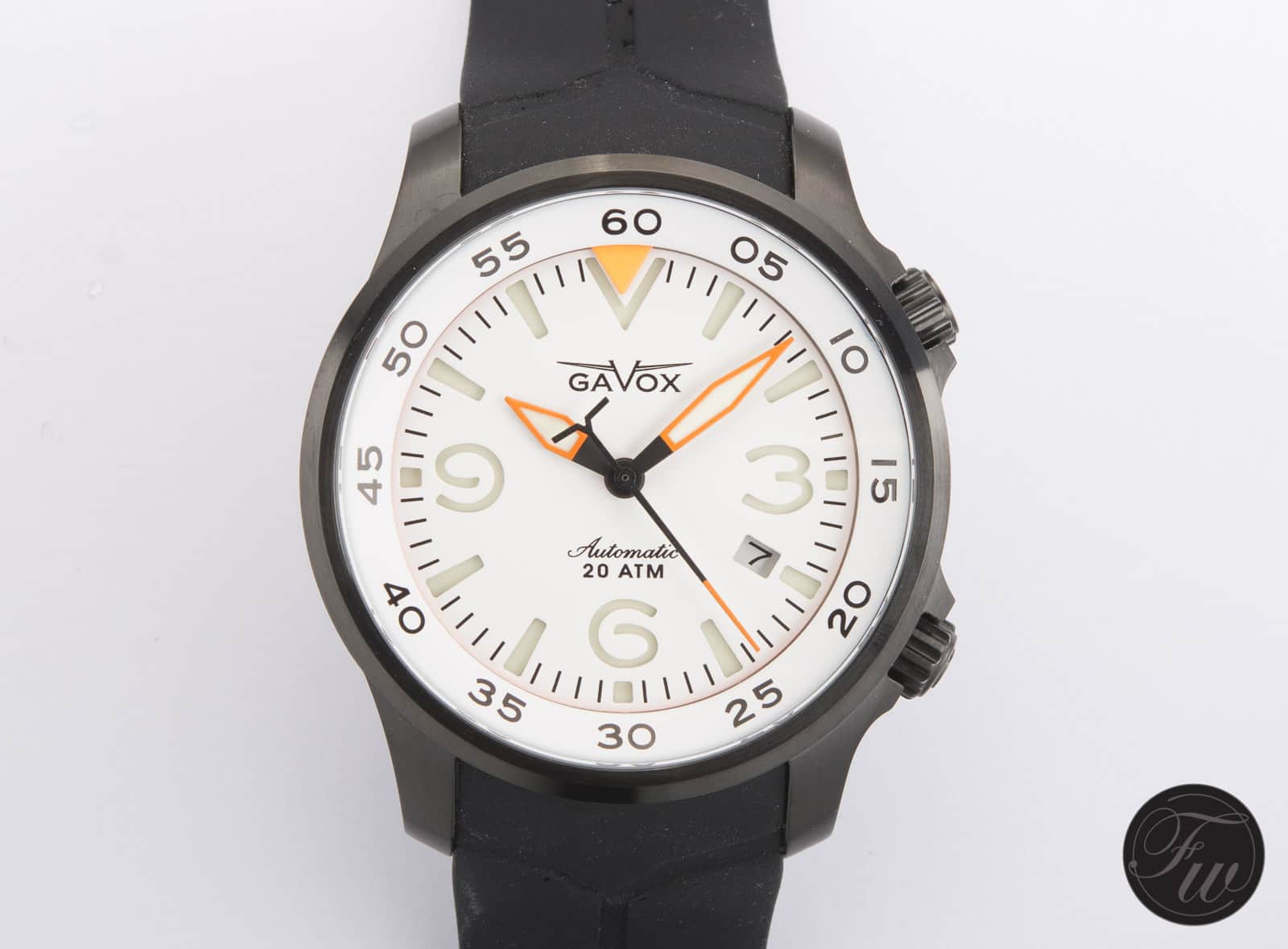 Gavox Avidiver Dial
The dial of the Gavox Avidiver is one of the key features of the watch. Large orange swords hands indicate hour and minutes, while a sleek black hand with orange tip takes care of the seconds. Then, there is the orange triangle on a diving scale ring. The right upper crown (also marked with an orange triangle) is used to move around the orange triangle around the dial. This way, you can set it for a specific diving time, or use it for indicating a second timezone. The dial consists of four layers, starting with the outer ring for the diving scale. This piece does not move itself, but the triangle below can be moved around, as explained. Then there is the white dial with black minute markers and cut out hour markers (and date). Then there is a final layer of luminous material, for the actual hour markers. It all sounds cluttered, but in fact it is a very legible dial.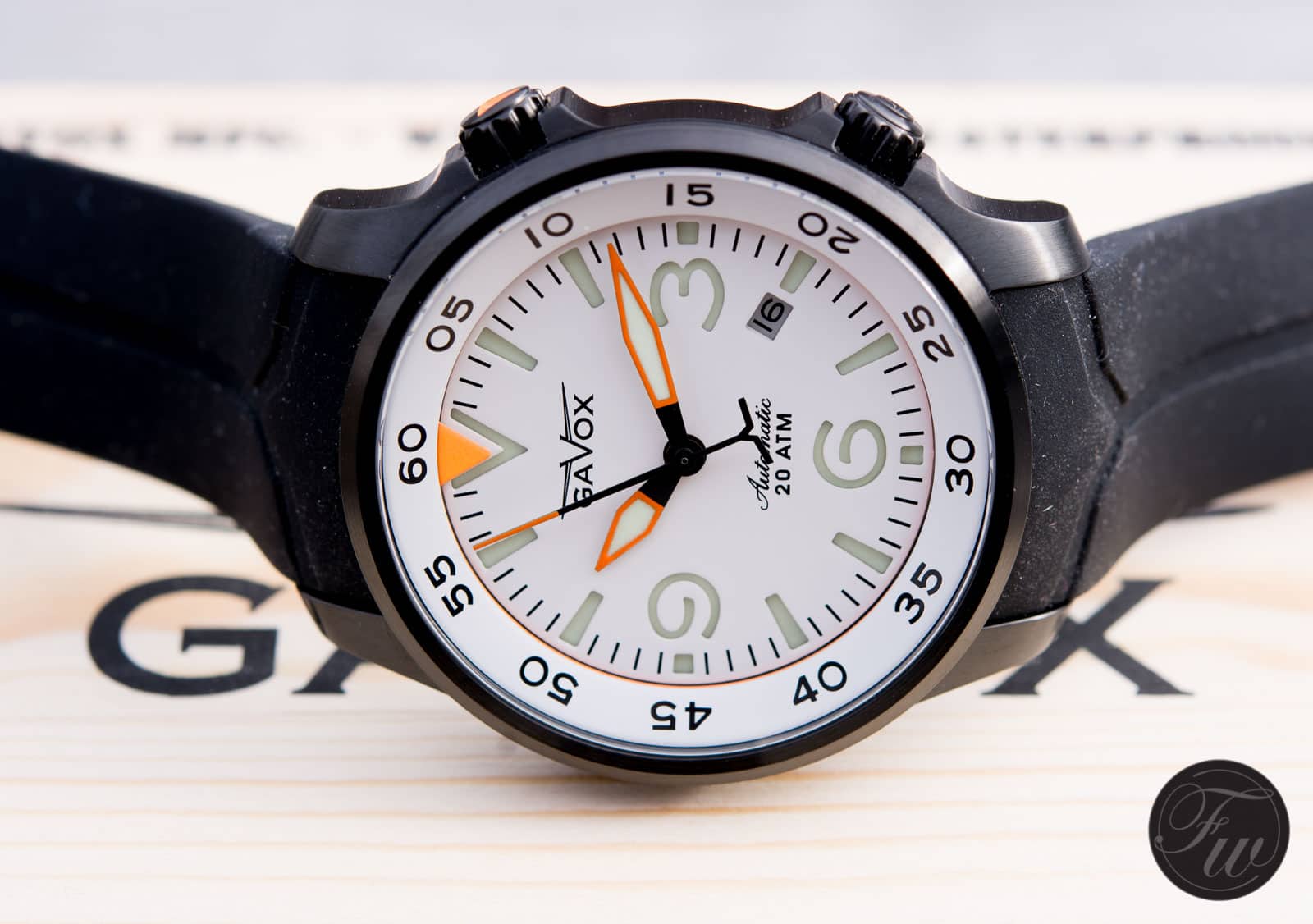 At 12 o'clock there is the Gavox logo (with wings) and below there's 'Automatic' in serif and the maximum pressure indication (20ATM). Very modest. The orange hands remind me somewhat of older Seamaster watches, while the sandwich dial obviously remind of Panerai watches. Taking the best of both, you could say.
The dial and hands are applied with Super-LumiNova. Everything is covered underneath a domed double coated sapphire crystal.
PVD
For a period, PVD seemed to be 'not done' in the world of (luxury) watches. Since a year or two, brands (and customers) are coming back from that point of view. Considering that some heavy tooling is also PVD coated, it should be able to withstand some abuse. We've also been told (I think it was by TAG Heuer) that it strongly depends on the material used as surface before the PVD treatment, how resistant it is. So the basis of this Gavox Avidiver is a stainless steel case, treated with black PVD. It has a three-part case, where the bezel and mid-case are PVD while the caseback is made of stainless steel. The movement is visible through a sapphire crystal. Both crowns are screw-down and have their individual crown guards.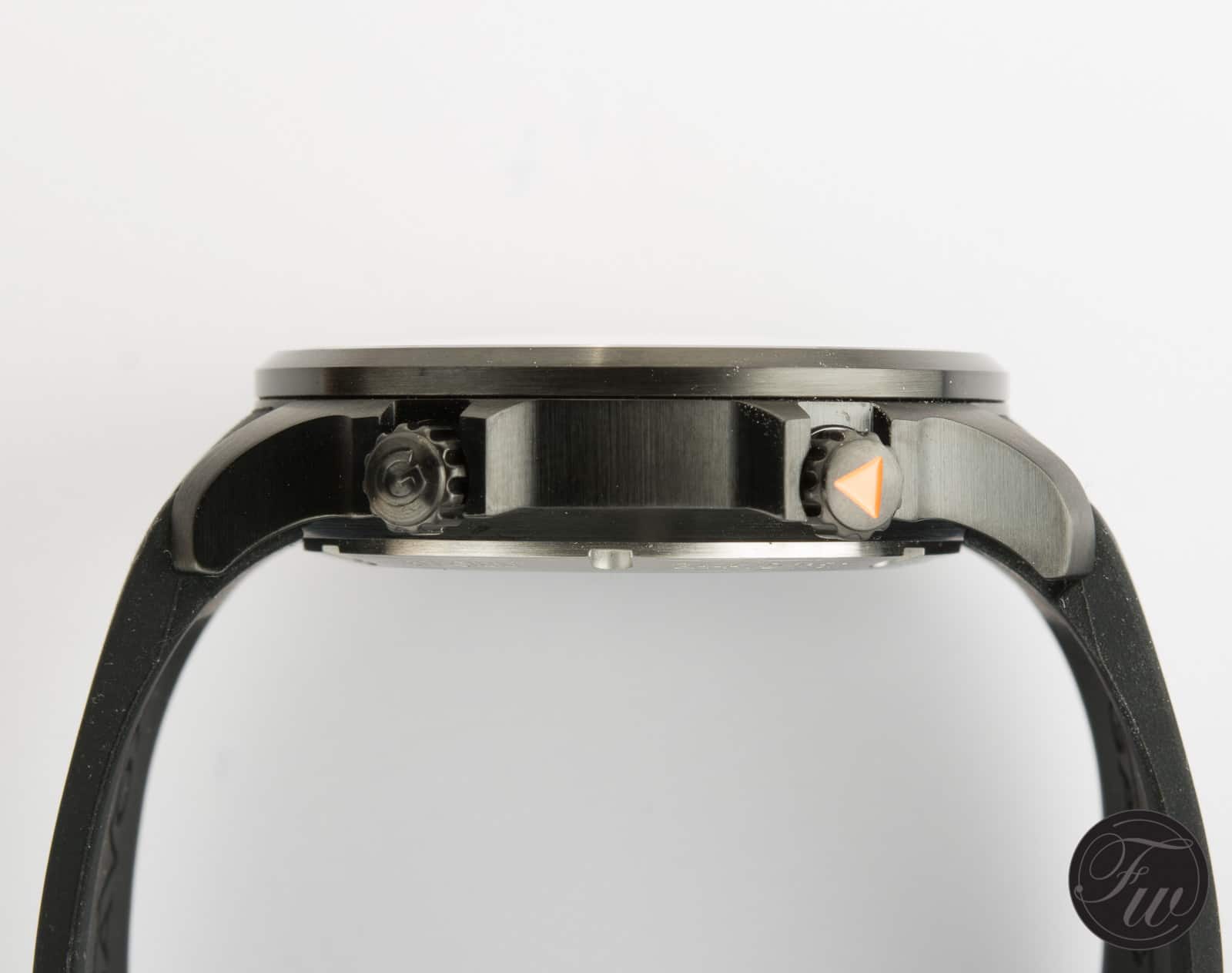 Silicone Strap
The Gavox Avidiver is attached to, in this case, a black molded silicone strap. It must be one of the softest straps I've ever tried. There are two keepers on the strap (also silicone) and it is fitted on a black PVD Gavox signed buckle. The strap is actually quite thin and light-weight. It is very comfortable, but it also makes the watch a bit top-heavy. The big however with the strap, as you can see we received the watch on a black strap, is that it attracts a lot of dust. Even when I took it out of the packaging, tiny hairs and dust were visible. Even when rinsing it with water and cleaning it with a soft cloth resulted in visible dust. If this bothers you, you can fit any type of 22mm strap of course.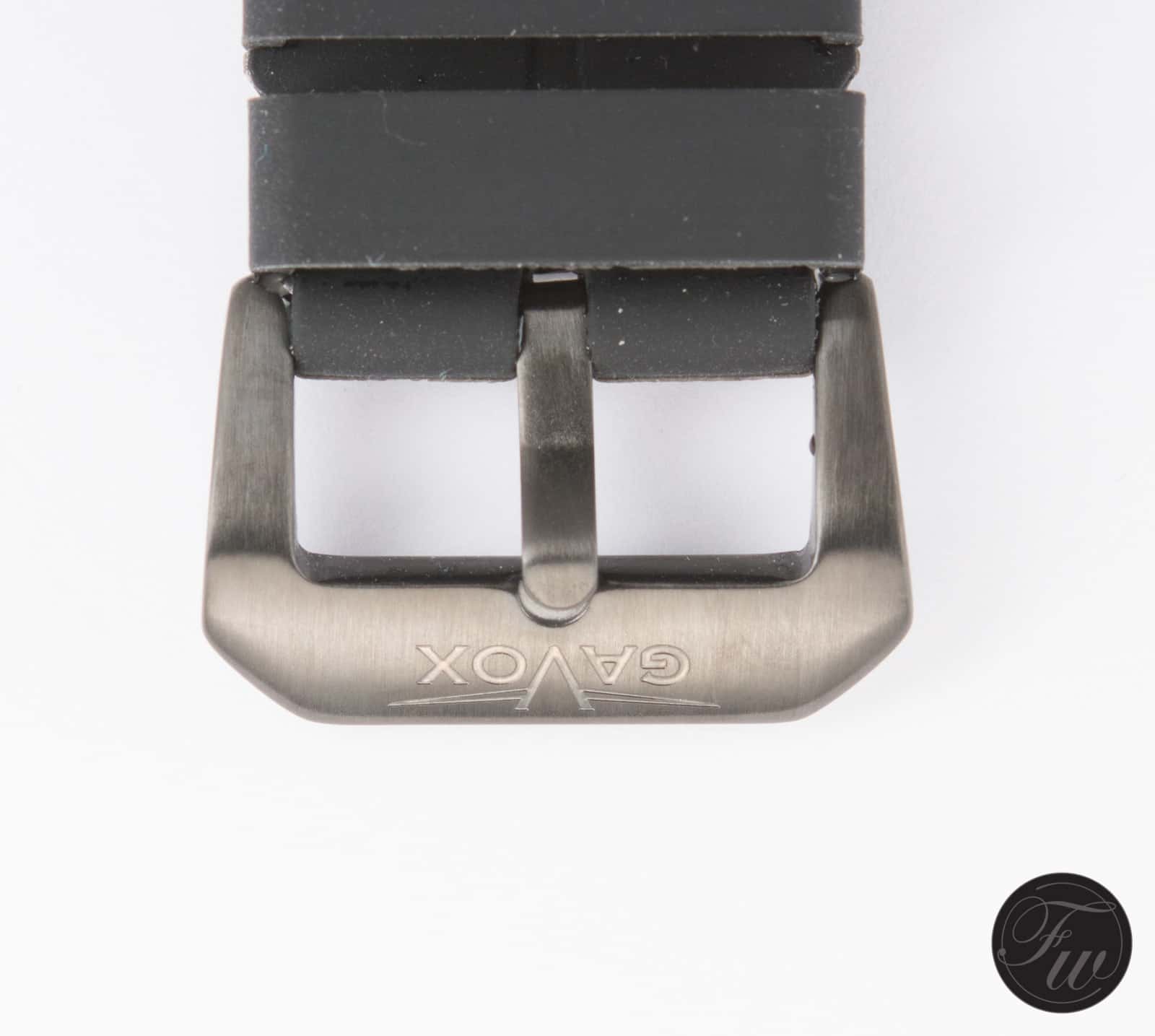 Miyota Movement
Like many other microbrands out there, Gavox chose a Miyota movement for their Avidiver. It is Miyota caliber 9015 to be precise, and it can be viewed via the sapphire crystal on the caseback. This movement is only 3.9mm thick and ticks at 28,800 vibrations per hour. Power reserve is 42 hours (minimum) and Citizen (Miyota) ensures it runs between -10 / +30 seconds a day, which I guess is worst case scenario. I didn't measure accuracy for the Gavox Avidiver to be honest, but after wearing it for a couple of days I didn't notice a deviation either. A good thing about the Miyota 9015 is that the movement hacks, which means the second hand will stop when you pull the crown into the 2nd position (setting time).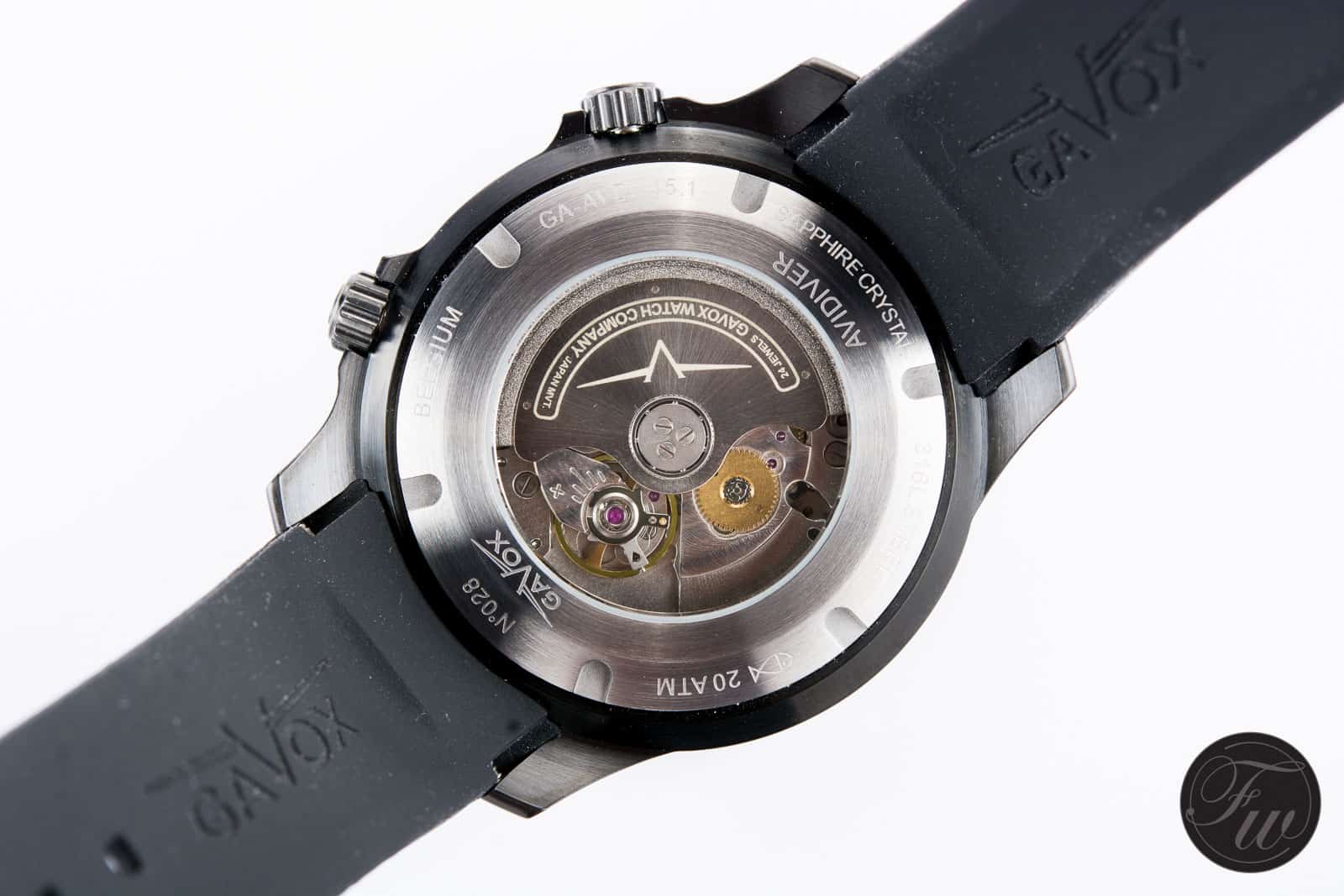 Some Thoughts
As said above, the silicon strap is very comfortable on the wrist and if you can get past the fact that it attracts dust, it is a great companion. I am by no means a pilot, or a diver, but I do appreciate a very legible watch as well as a watch that I can take with me to the pool. Also, a watch that I don't need to 'care' about when I wash my hands, working on the car, or playing with my daughter in the park. It is a no-nonsense watch and a good daily companion.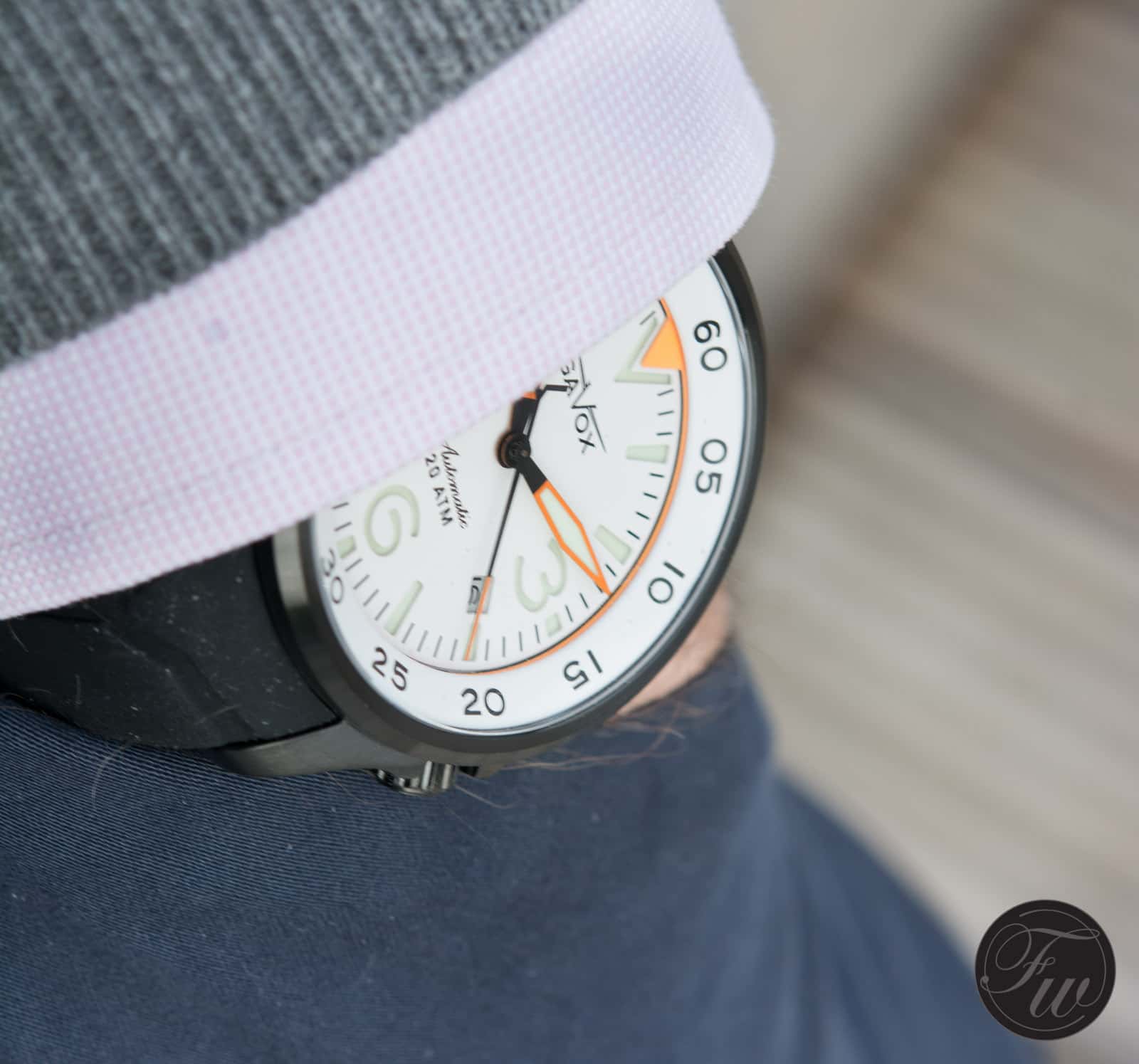 Another important aspect is the price, of course. This Gavox Avidiver retails at €700 Euro in this configuration, a stainless steel version is €50 Euro cheaper. A matter of taste, really. In this price category you will find a number of watches from microbrands. If we include some of the bigger brands, you're looking at Certina, Tissot or Seiko. All great watches, but with the Gavox Avidiver you at least ensure some exclusivity. You probably won't find or see another one in the flesh. If that is your thing, this Gavox Avidiver is a very cool purchase. However, just make sure you buy what you like in the end. A watch needs to sing to you, not because other people either have one too or don't have one.
I personally feel that €700 Euro is a fair price point for this watch, as is €650 Euro for the stainless steel version. The people at Gavox are real watch enthusiasts, and also offer a number of other interesting watches or watch accessories (also for the Gavox Avidiver). You can find them here.
More information about Gavox here.