[Video] Genteel Handmade Waxed Buttero Limited Edition Leather Straps Go Live
As buttery soft as you could wish for
When it comes to watch straps from Genteel Handmade, uniqueness is never something you need to question. As every strap is made by hand (and to your personal specifications if you do so desire), you can be sure that the band you receive is one of a kind. Now, however, with the release of the Waxed Buttero Limited Edition leather straps, the brand is pushing its products' capacity for personalization to the limit.
Speaking personally, I am a fan of texture. Textures mean more to me than colors when it comes to choosing clothes, shoes, belts, and even watch straps. Although my wardrobe is notoriously bright, the items that may wow upon first impression because of their color were actually chosen primarily for the way they feel. To me, color can be a cheap way of getting someone's attention; a refined texture is a better way of keeping it.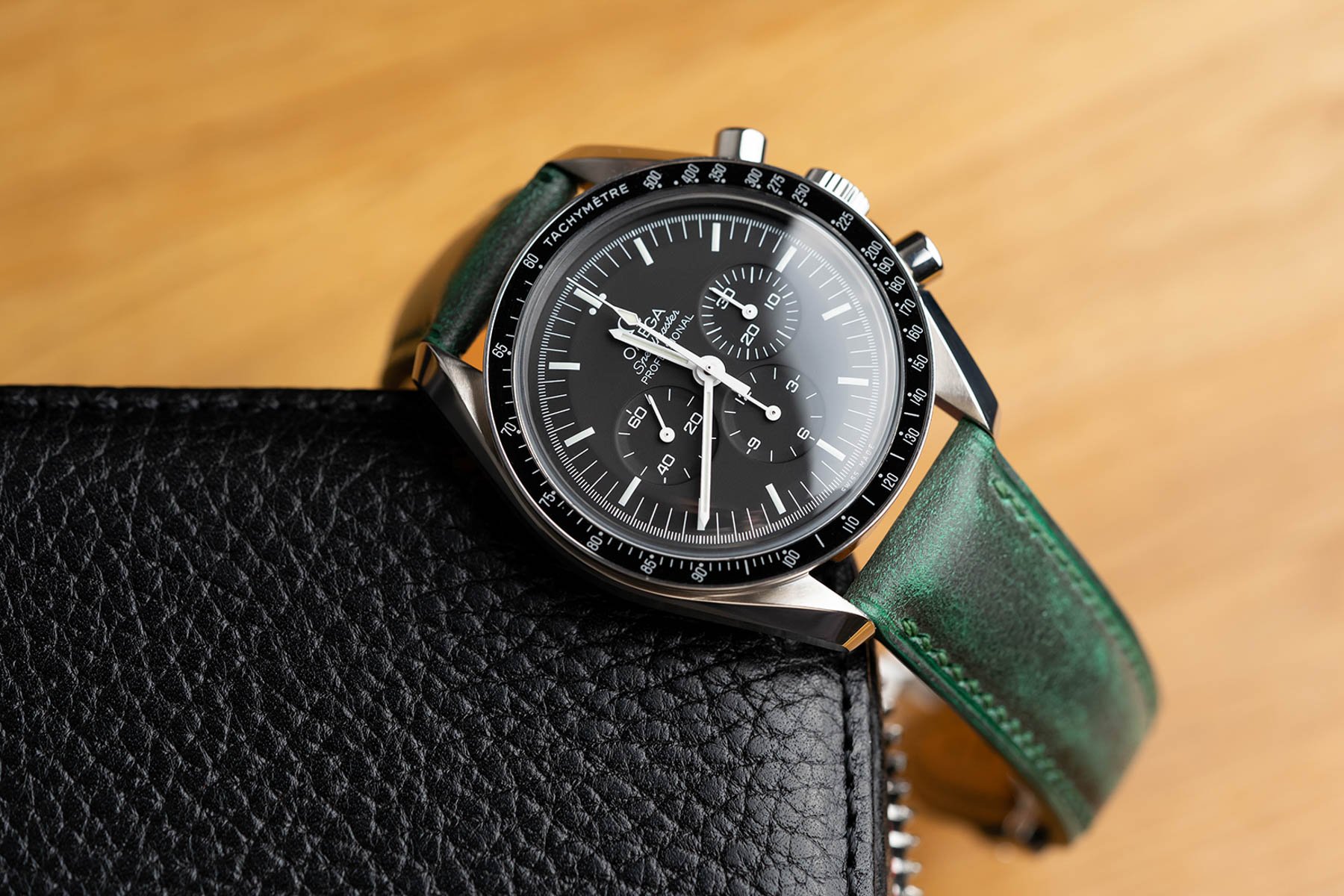 Maya had my heart
The most recent strap I had made by Genteel Handmade was the charcoal Maya leather racing strap designed for my Speedmaster MKIV. You can read about that buying experience here. I was very impressed with the grain of that leather and the way it looked instantly at home on my wrist. As always with Genteel Handmade, the straps have a rich color and sense of organic provenance out of the box. There are no brassy tones or glossy surfaces here. Everything feels real and of good quality.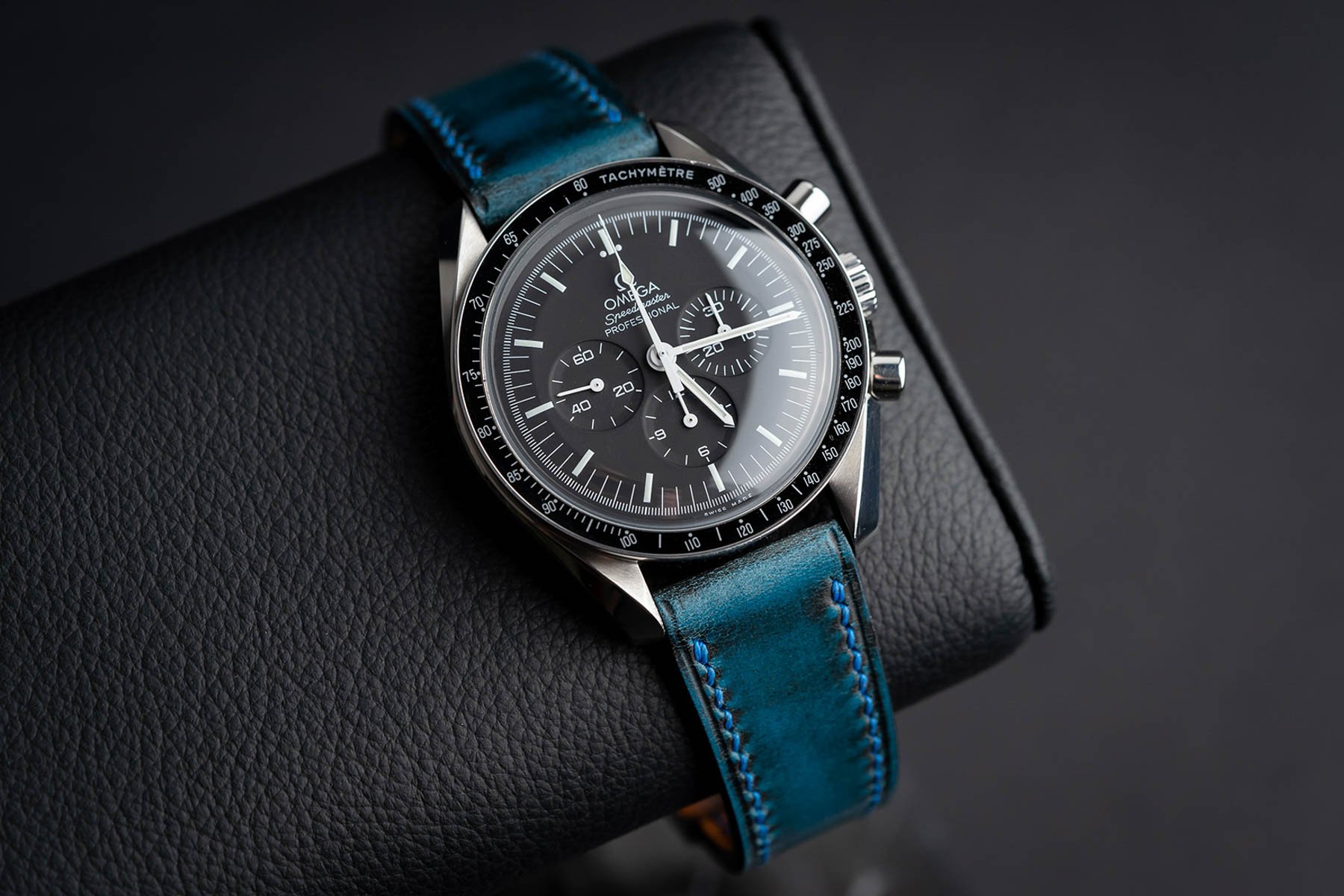 Waxed Buttero might have stolen it…
Buttero leather is a wonderful material any day of the week. This Tuscan leather is as steeped in tradition as Italian leathers come. It originates at the Conceria Walpier tannery, which is a member of the Genuine Italian Vegetable Tanned Leather Consortium. No, that's not some mafia-esque syndicate (I assume…), but rather a collection of more than 20 tanneries from Tuscany. Effectively, this consortium doles out the leather equivalent of the Geneva Seal, meaning this leather is recognized around the globe for its high quality.
Buttero leather, however, is very special in its own right. Unlike many vegetable-tanned leathers, which you would only find in earthy shades like brown, black, tan, cognac, or maybe the occasional burgundy, Buttero leather is available in a raft of vibrant colors (even paler colors like yellow, which is pretty unusual for this kind of leather). Better still, the color is not just a surface treatment: it goes all the way through the leather. This ensures the kind of color-fastness you'd expect from a luxury leather strap.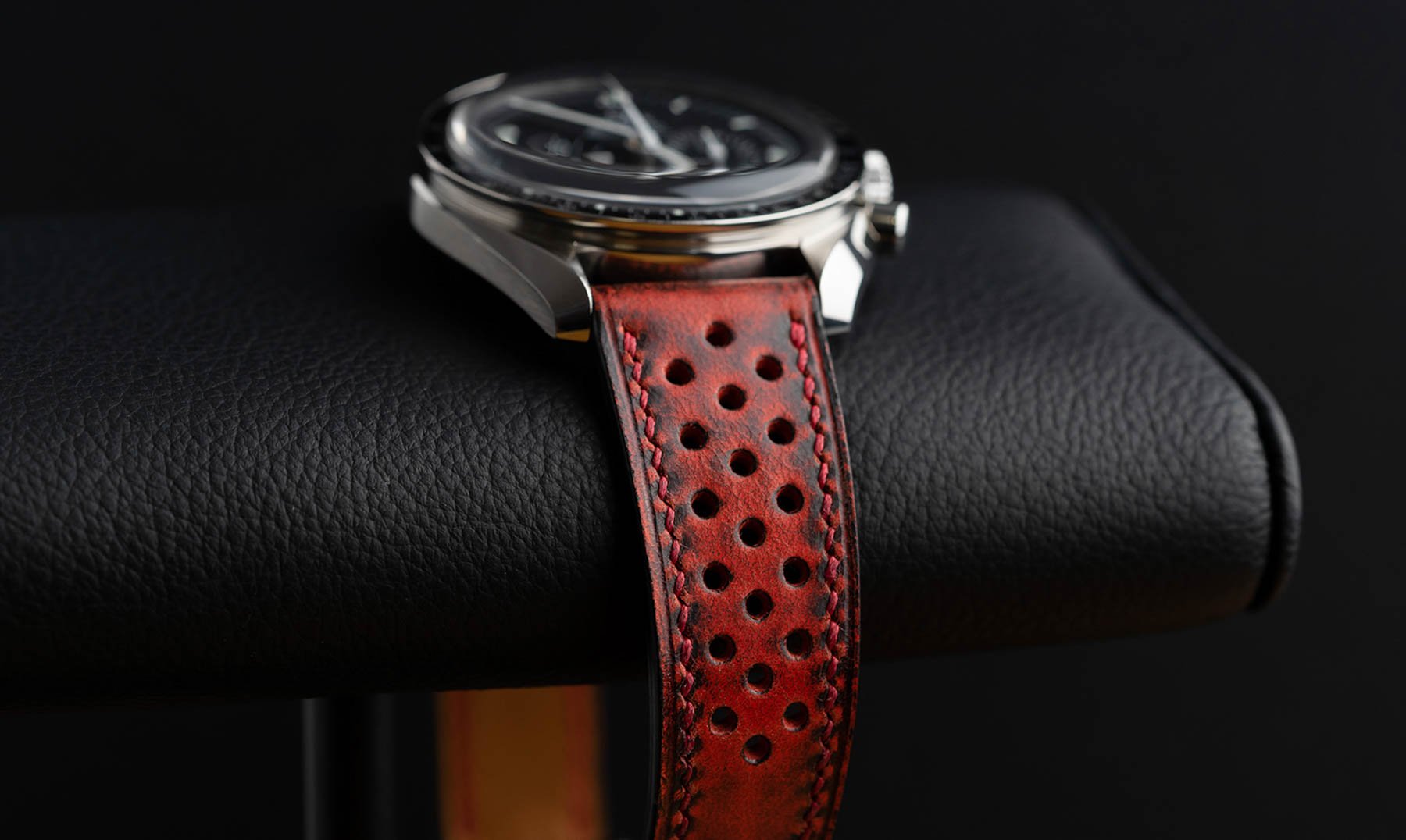 That vibrancy has made the leather famous. Perhaps, then, it is an obvious choice for a limited-edition line of straps from Genteel Handmade. Here we have a series of "waxed" straps available in green, blue, and red. However, the cool thing about the color and how it is revealed is that after the waxing process, all of these straps appear jet black. It is only after they are rubbed with a brush or a piece of cloth that the colors start to reveal themselves. As such, the aging lifecycle of these straps in particular will be unique to each wearer.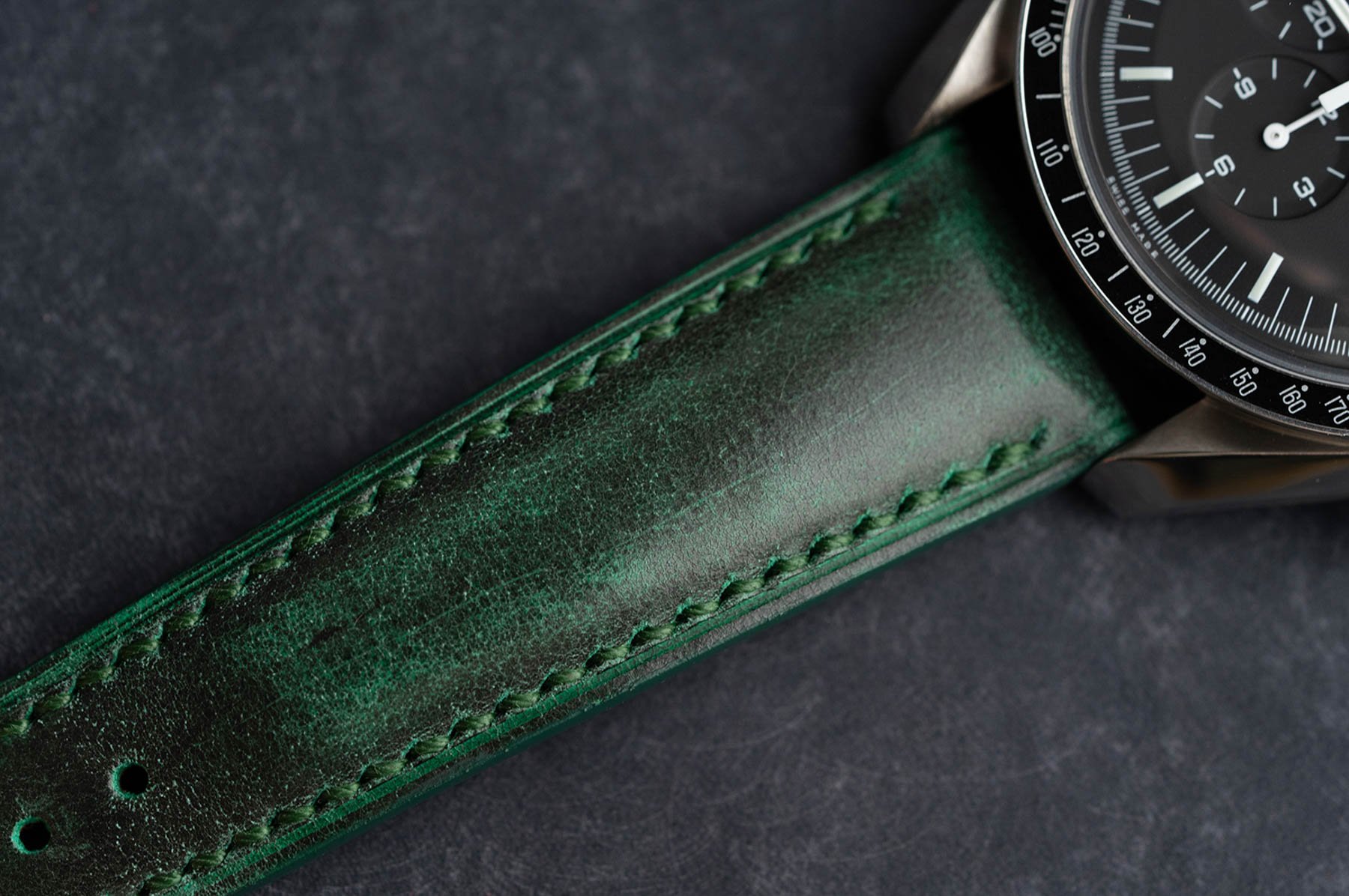 But why Buttero?
Buttero leather is really soft and smooth, so it feels nice to the touch. It will generally take on a shinier surface as time passes, but this is partly down to the Ph level of each wearer's perspiration (for example, my acidic perspiration actually makes Buttero leather rougher over time and cause the wax to bleed out of the strap's pores, which is something that can be quickly rectified by polishing it with a soft cloth).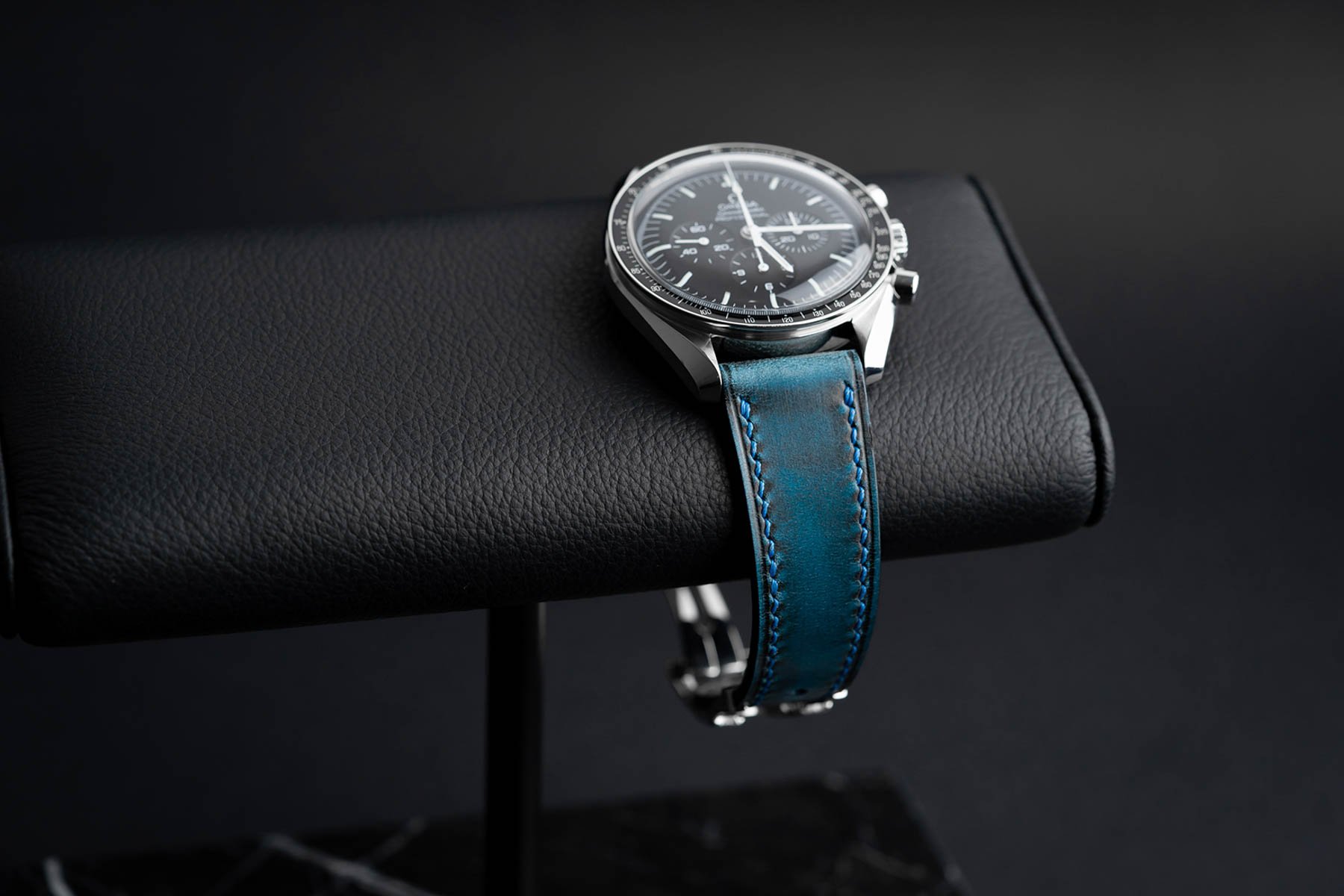 The leather is durable, having been cut from the shoulder of the hide. Additionally, Buttero leather is naturally quite resistant to water staining once it has been dyed. Its inherent strength and structure also mean the holes punched in this leather tend to be sharp-edged and more resistant to wear and tear over time (but that also depends on each user's individual habits).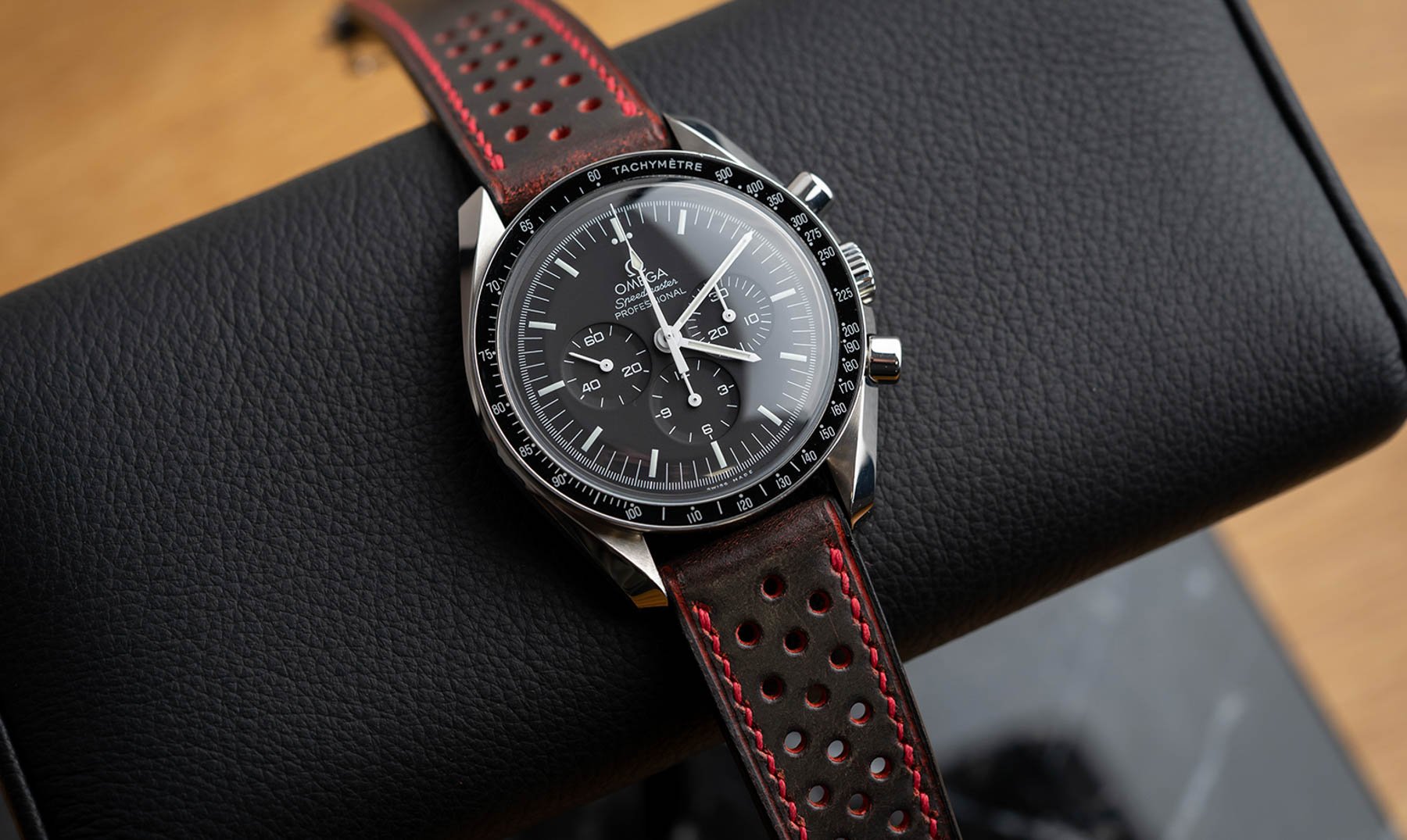 Want one? Move fast…
There will be just ten of each color of these straps made. If you want one, you'd better get onto Genteel Handmade pretty quickly. Of these three, I'm most attracted by the blue. I think the red fits the vibe very nicely also. Additionally, the straps will be available for Omega-style deployant buckles too. Therefore, if you were thinking of strapping one of these onto a Speedy, you're in luck. Priced at €180 per strap, these are unlikely to hang around too long. Learn more about the brand and place your order on the official website here.