Marcus Hanke wrote a review/posting on the new Senator series, introduced at Basel 2005.
"About four years ago, Heinz W. Pfeifer, then president of Glash?ºtte Original, mentioned a new automatic movement, designated cal. 100, to be in development. Of course, this stirred some unrest among the fans of the brand, and many hesitated to purchase a watch with a movement that seemingly would be replaced within some months or so.

However, the years passed by, and the cal. 100 remained unseen. We knew it would eventually come and replace the traditional GO standard movement, the cal. 39, but the exact date of its release was unclear.

Finally, at the Basel fair 2005, Dr. Frank M?ºller, now the man at the company'Äôs helm, proudly presented the new cal. 100 movement. Since a movement alone is not enough, a completely facelifted Senator series, to be equipped with the new movement, was unveiled."

Click here for the whole posting at The Purists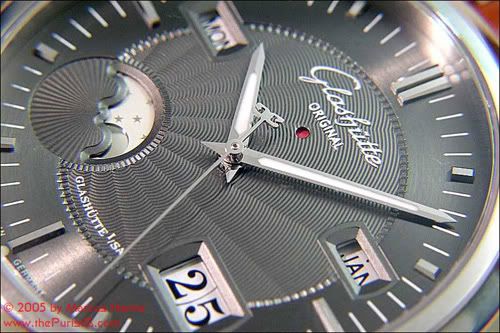 Photo by Marcus Hanke

Robert-Jan Broer, born in 1977, watch collector and author on watches for over a decade. Founder of Fratello Watches in 2004.

Latest posts by Robert-Jan Broer (see all)