Goodbye 2010, Hello 2011!
Dear readers of this blog,
We are only few hours away from 2011! I am pretty sure that 2011 will be an exciting year for (haute) horlogerie. In 2010, we've seen a lot of new watches that were really out of this world, such as The Palace by Jean Dunand, the Rebellion T-1000 and Max Busser's HM No.4. Besides these, we've seen re-incarnations of classic time pieces such as the Rolex Explorer in 39mm, the Bulova Accutron Spaceview and the Glycine Airman Base 22. And everything in between of course. My friend Frank Geelen of Monochrome did a nice write-up on the best timepieces of 2010 and I wholeheartedly agree with his choice of timepieces.
So, what will 2011 bring us? We've seen some great previews for the SIHH2011 already, like the Tribute to 1931 Reverso by Jaeger-LeCoultre for example. Personally, I can't wait to see some of the new horological promises by Audemars Piguet, Rolex, Grönefeld Exclusive Timepieces, Linde Werdelin's new chronograph and so on.
What about Fratellowatches in 2011? Well, I will continue to blog about watches and will do my best trying to increase the number of articles. You can – again –  expect in-depth coverage on novelties, BaselWorld, SIHH, GTE and other watch events. More importantly, I will keep voicing my opinion on watches, the watch industry and what more. Keep in mind that this is my personal blog and therefore always reflects my personal opinion on watches, brands, watch books, events etc.
Besides Fratellowatches and my regular job, I am currently working for a number of other media (e.g. AskMen, MotoringExposure, WATCH Magazine, WatchUseek and others) as much as I can, which I will also continue to do in 2011 of course.
For now, I would like to thank all watch friends (old and new ones), readers (and the number is still growing every year) for your time and comments, my advertisers and sponsors for a great horological 2010 and love to see you back in 2011!
Just like last year's end-of-year post, let me end this post with a photo of my latest acquisition, my Audemars Piguet Royal Oak Chronograph ref.26300ST. A big thank you to Jaap of Precisionwatches, who has been sponsor of Fratellowatches for years now.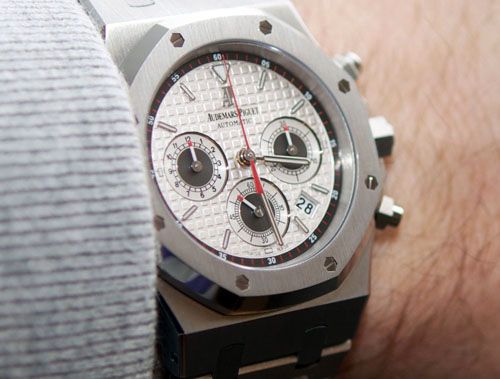 Thanks For All Support And Happy New Year Everyone!
Robert-Jan / Fratellowatches