Grail Alert: Citizen ChronoMaster 500M Diver
Taking a look at one of the rarest and most desirable vintage Japanese divers
Today, we take a look at one of the most elusive vintage Japanese watches. The Citizen ChronoMaster 500M diver is here and for many, this article just might serve as an introduction.
Things are different today in the vintage watch world. Secrets are few and this means that even my beloved vintage Japanese watches are now receiving more and more coverage. Okay, I know that I don't help things, but they're just too good not to share! Good examples of this are the original 300 meter Seiko divers. The 6215 and 6159 models are well known now and, unsurprisingly, they bring high prices now. However, we mustn't forget Citizen. It turns out that they were also hard at work on a truly deep diver, but for whatever reason, the result barely took hold. The culmination of their efforts was the Citizen ChronoMaster 500M diver.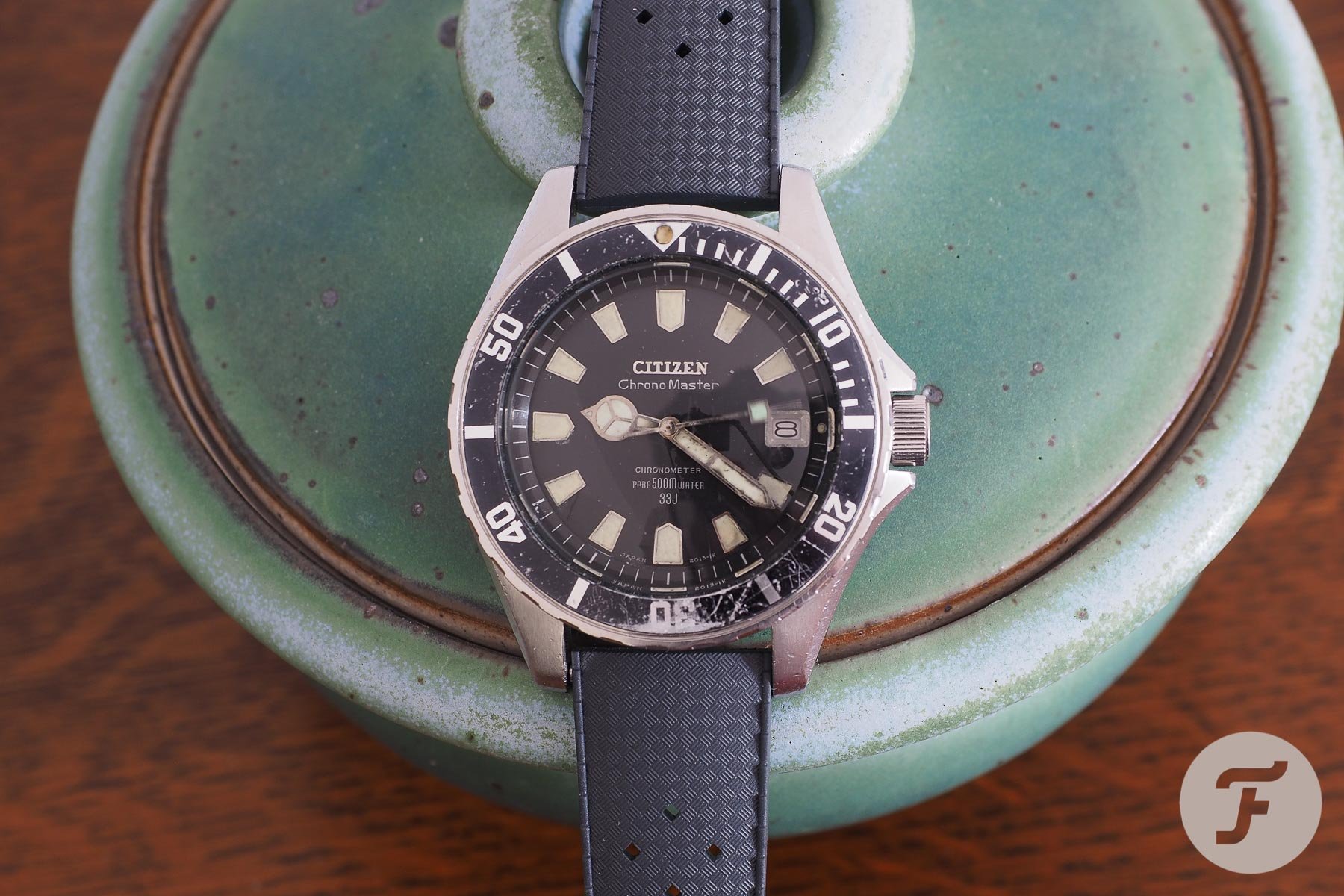 The Citizen ChronoMaster 500M diver
At some point, I'll get around to writing an article on the most significant vintage Citizen dive watches. To make it short, though, today's Citizen ChronoMaster 500M would most certainly fall within any top five. As I almost always mention when it comes to the "other" big brand in Japan, solid historical information is lacking. We don't have any fancy stories about underwater welders or tales of rescue when it comes to the origins of this watch. Quite simply, I'd guess that Citizen felt the need to come out with a higher capability watch versus Seiko. In many ways, it was mission accomplished, but perhaps not completely. I'll get to that…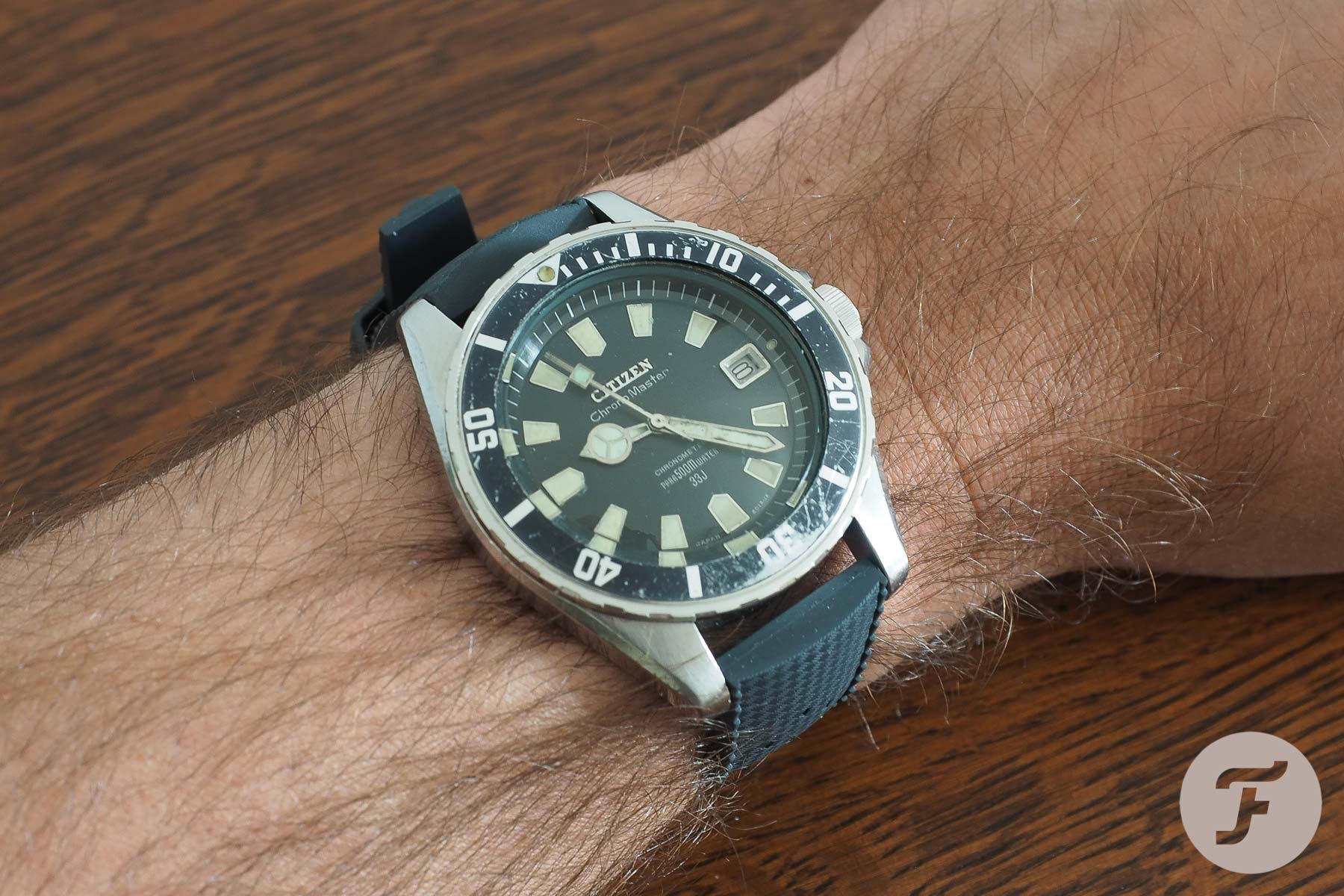 This Citizen is…massive
The Citizen ChronoMaster 500M was produced for exactly one year in 1969 and is reference 4-540263. The watch sold for 35,000 JPY at the time and for whatever reason, it seems that Citizen made very few of them. Then again, Seiko also ended 6159 production the same year due to the famous story of crystals popping off at depth. Maybe Citizen had similar issues. I say that because the ChronoMaster shares an interesting trait with the 300M Seiko models. It also has a monobloc case. In addition, this diver also has a thick mineral crystal (making it awful to photograph) and a big, fat screw-down crown.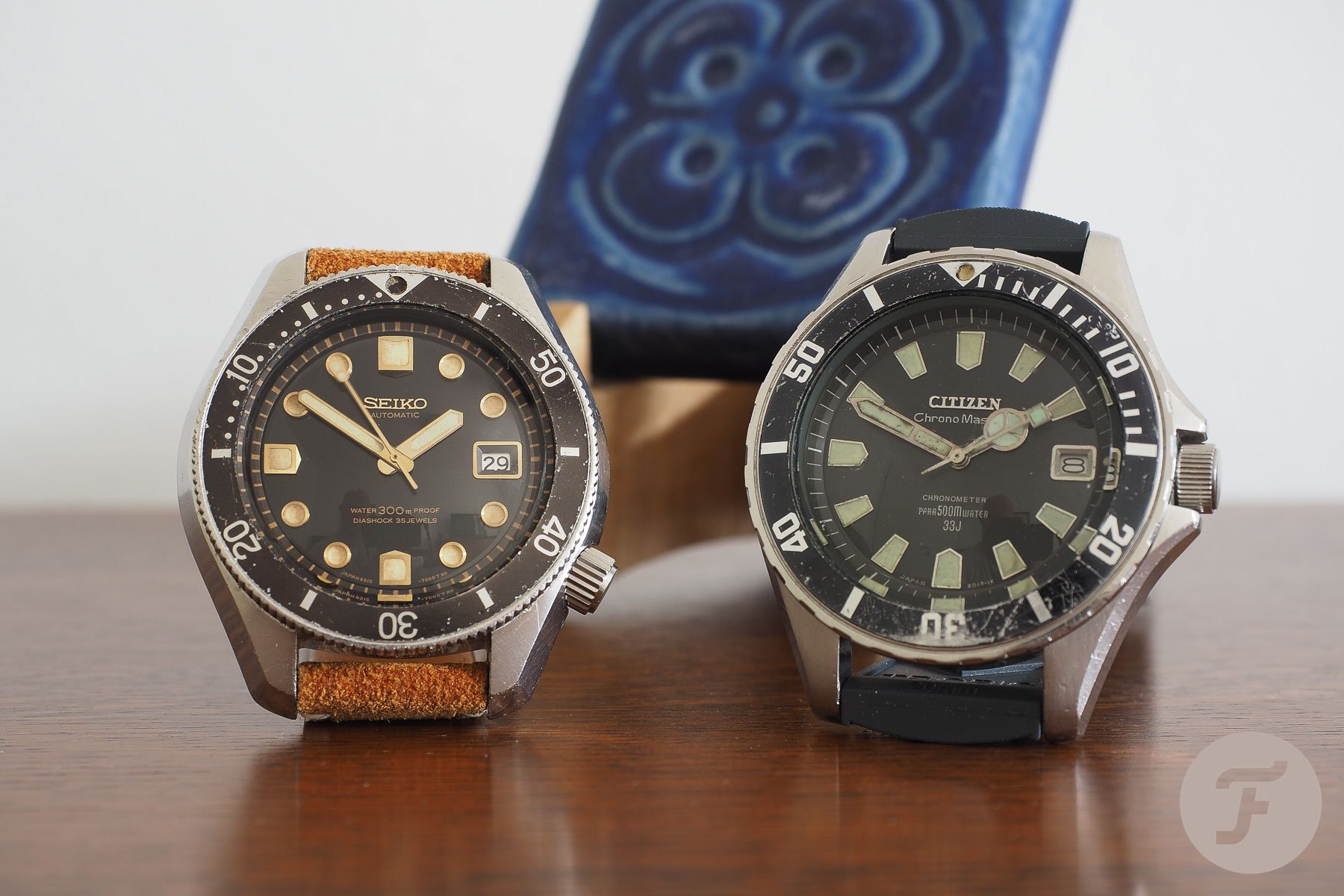 Where things get interesting is in the physical sense. There's no other way to say it. The Citizen ChronoMaster 500M is massive. The Seiko pieces are by no means small. They weigh in at 43.6mm in diameter and 50mm in length. The Citizen, however, comes in at 44mm with a gobsmacking 53mm lug to lug. Add an extra millimeter to the lug width to bring it to 20mm and a dial the size of a manhole. The result is a watch that just doesn't seem possible for something nearing 55 years old.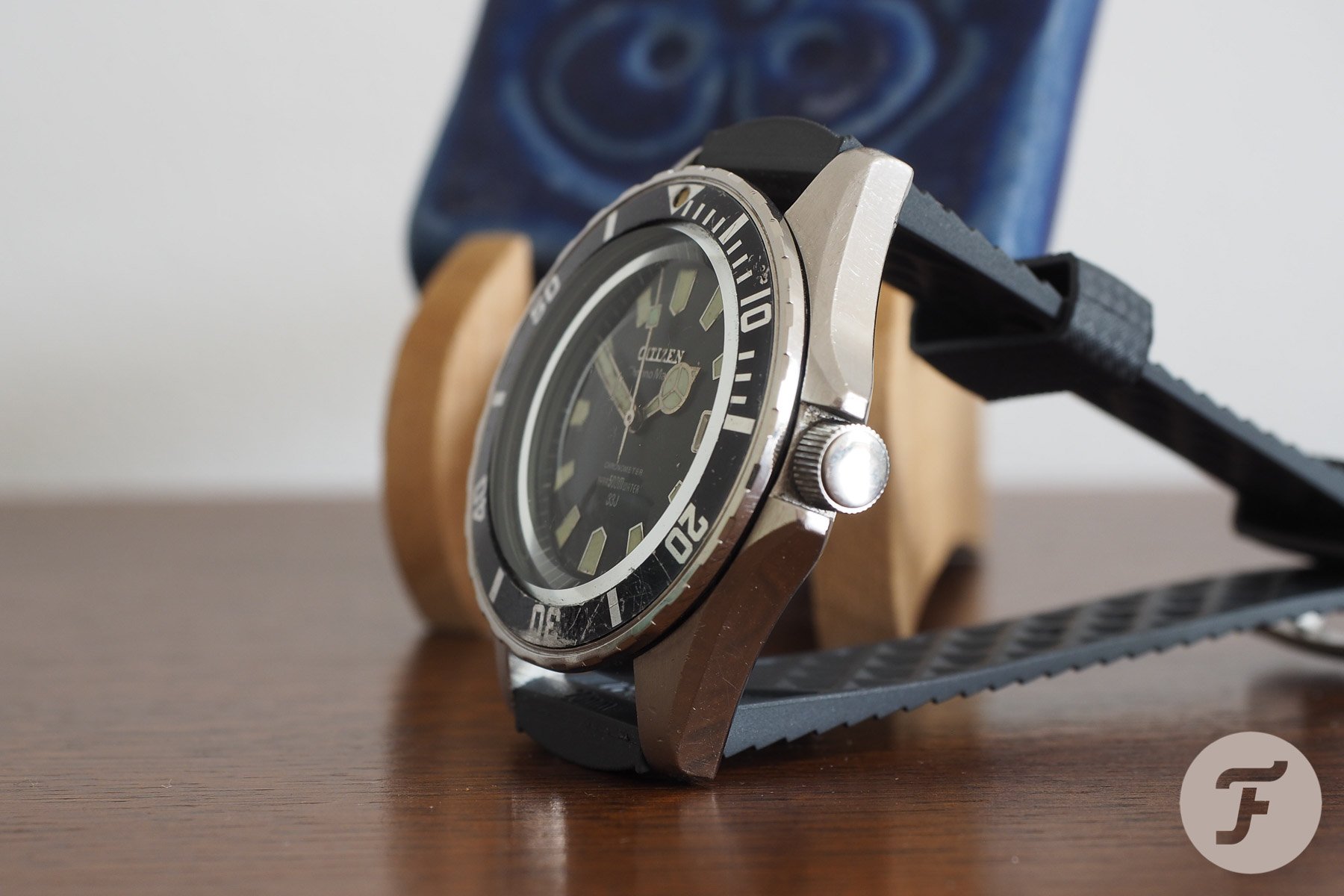 Citizen went with a fairly traditional case design including ample crown guards around that unadorned crown. The case does sport a massive chamfer that runs from the crown guard all the way to the far end of the lugs. What it lacks in subtle detailing, I guess it makes up for it with robustness.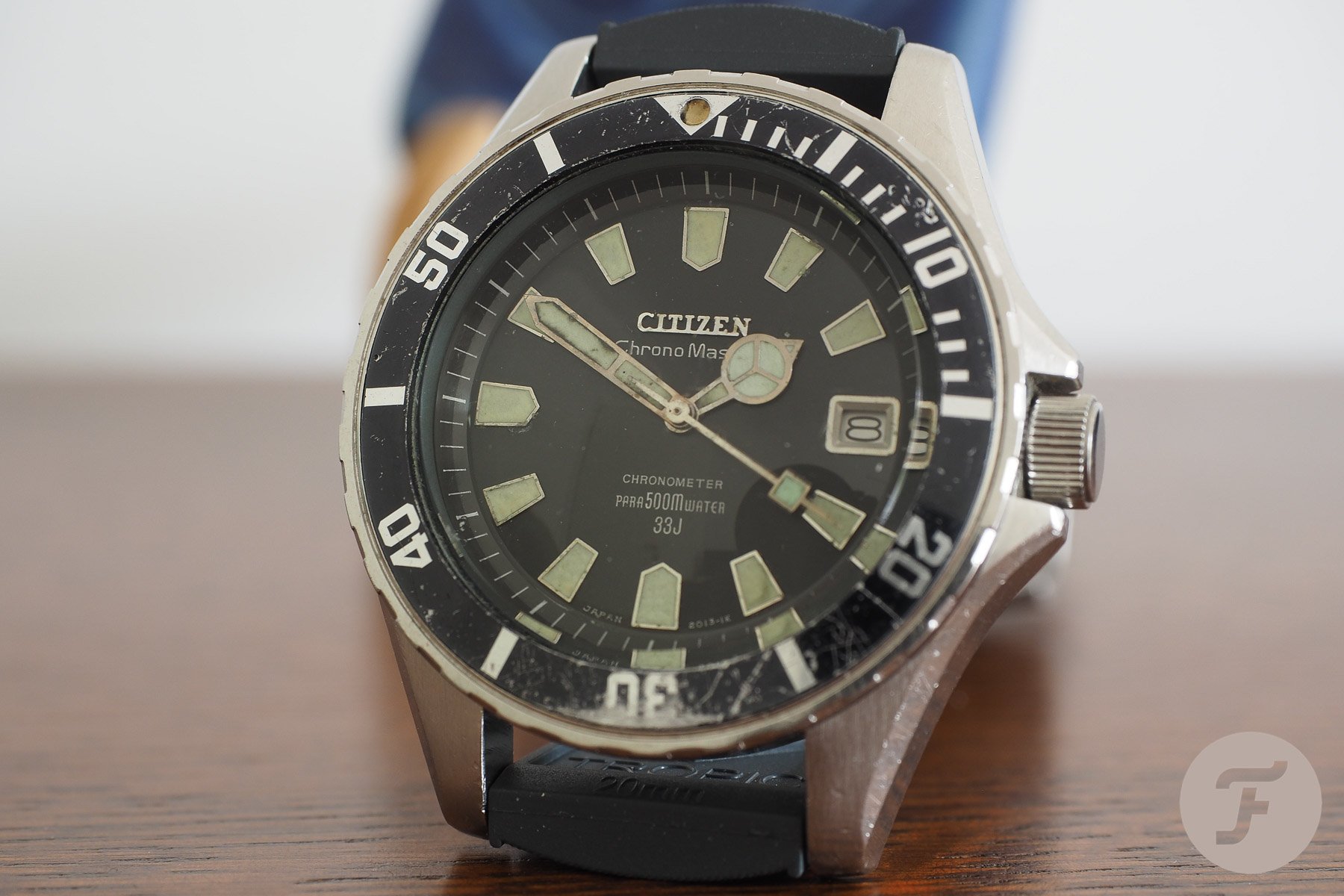 Traditional dive watch styling
The Citizen ChronoMaster 500M doesn't break a ton of new ground styling-wise, but it's a fine-looking dive watch. All the right touches are here such as big bold luminous indices, a legible dial, and a huge unidirectional dive bezel with a luminous pip at 12:00. Citizen did add some extra details such as an applied brand name and a framed date window. You'll also note the use of the Mercedes hour hand, a segmented minutes hand, and a sweep hand with a rectangular pip.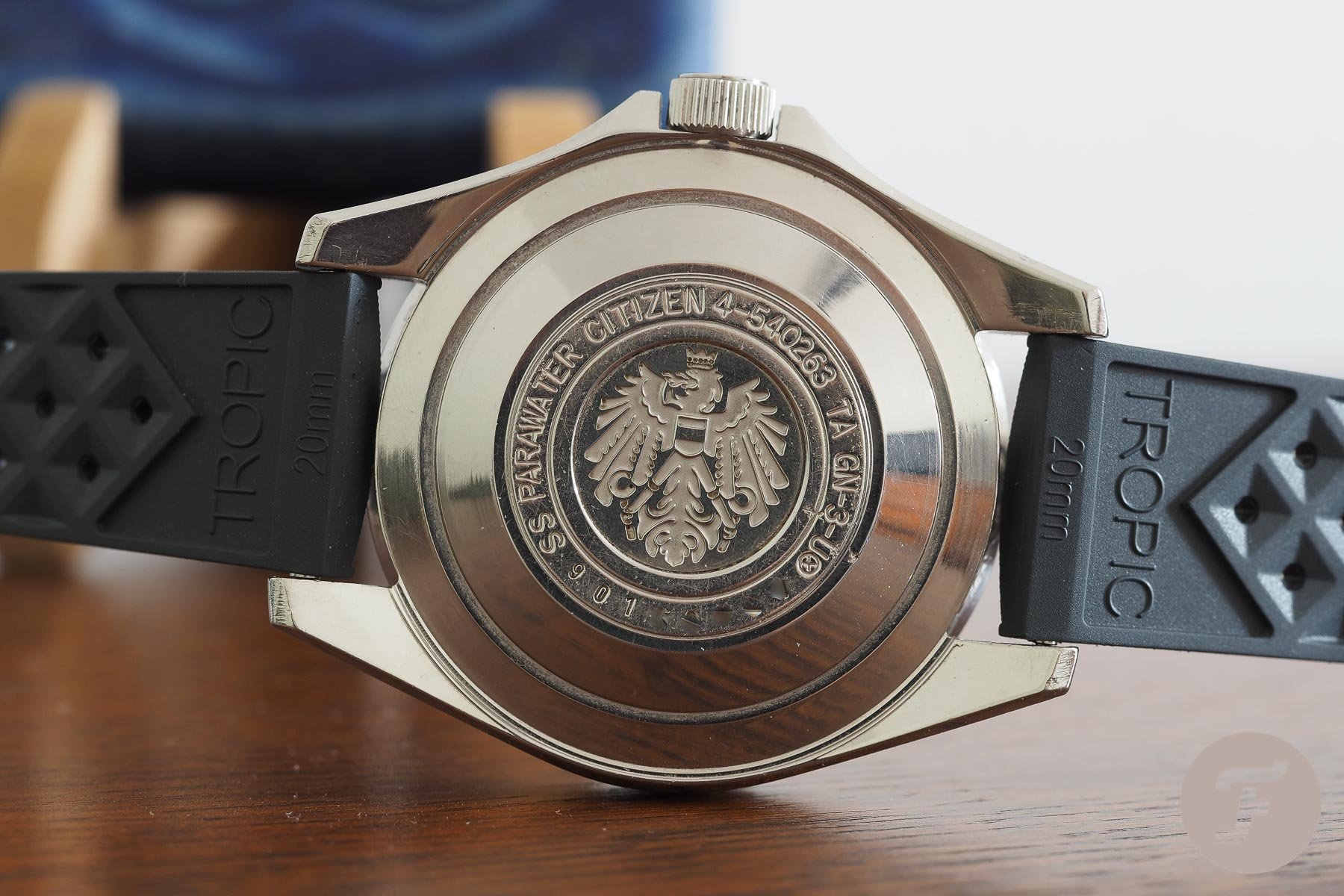 Some magic on the inside
Aside from an extra 200 meters of water resistance and a larger case size versus the Seiko, Citizen felt the need to bring something else to the party. In lieu of a high-frequency 36,000vph movement (Citizen actually brought their speedy movement a year later), Citizen chose a chronometer certification for its automatic caliber 5440. This 33 jewel movement may not impress as it beats along at 18,000vph, but it does hack and has a quick set date function. While I don't have any pictures of the movement itself, you can visit this informative site for more details. If nothing else, take in that lovely engraved case back with the ChronoMaster symbol.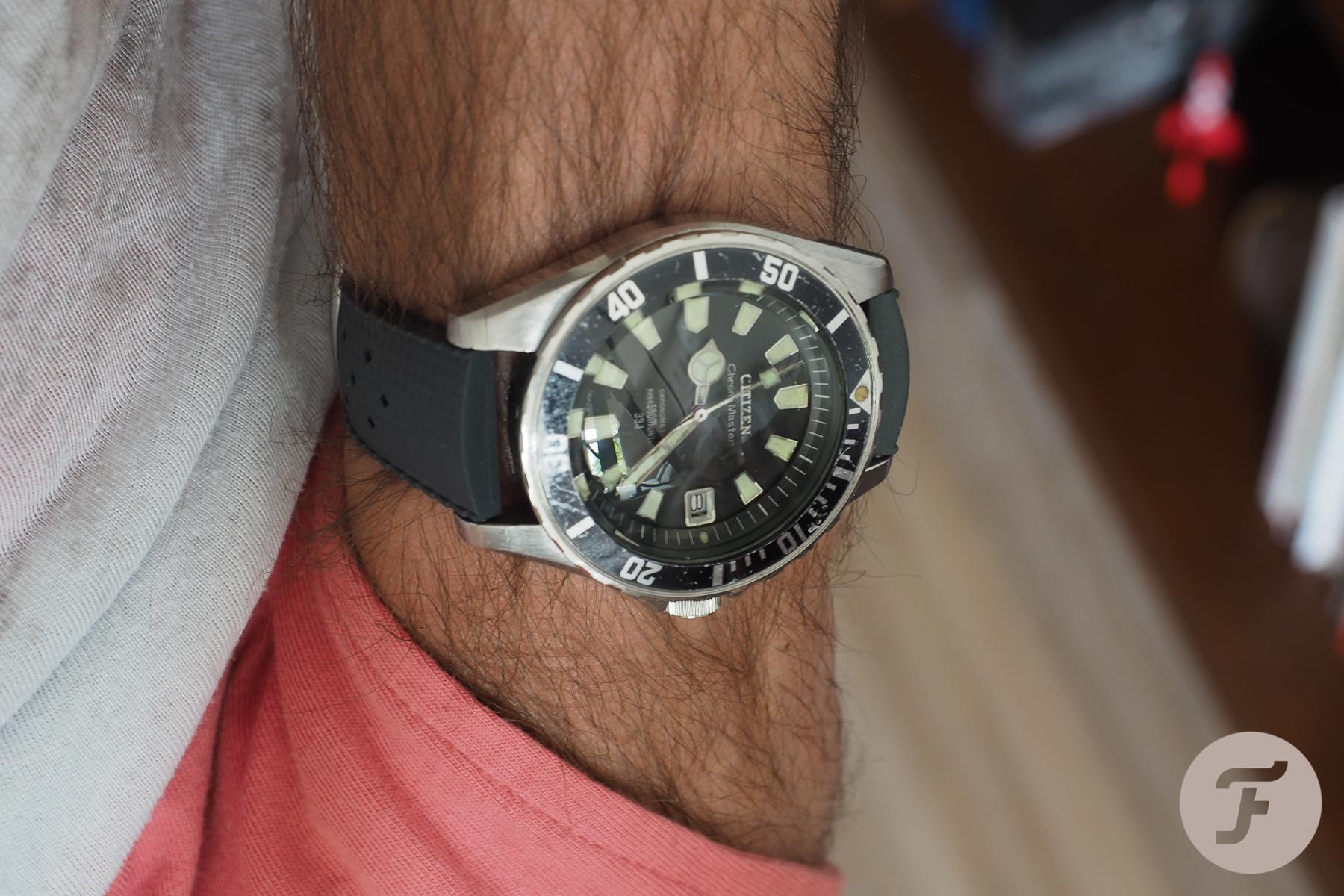 No shrinking violet on the wrist
It's not surprising that the Citizen ChronoMaster 500M dominates on a smaller wrist like mine. My friend Patrick sold the watch to me and while he loved owning this rarity, he never truly bonded with it. He sent it to me on a slightly later "integrated" black rubber Citizen strap that was common on many of their dive watches. To be honest, it had the effect of making a large watch feel even larger. After the first try, I put on a modern dark grey Tropic strap and the benefits are tangible (the original strap was a black Tropic). The flexibility alone makes this a much more wearable watch and that's even considering 14mm of thickness. Is this a daily piece or was it ever? Who knows, but it's a fun, bold one to roll out on occasion.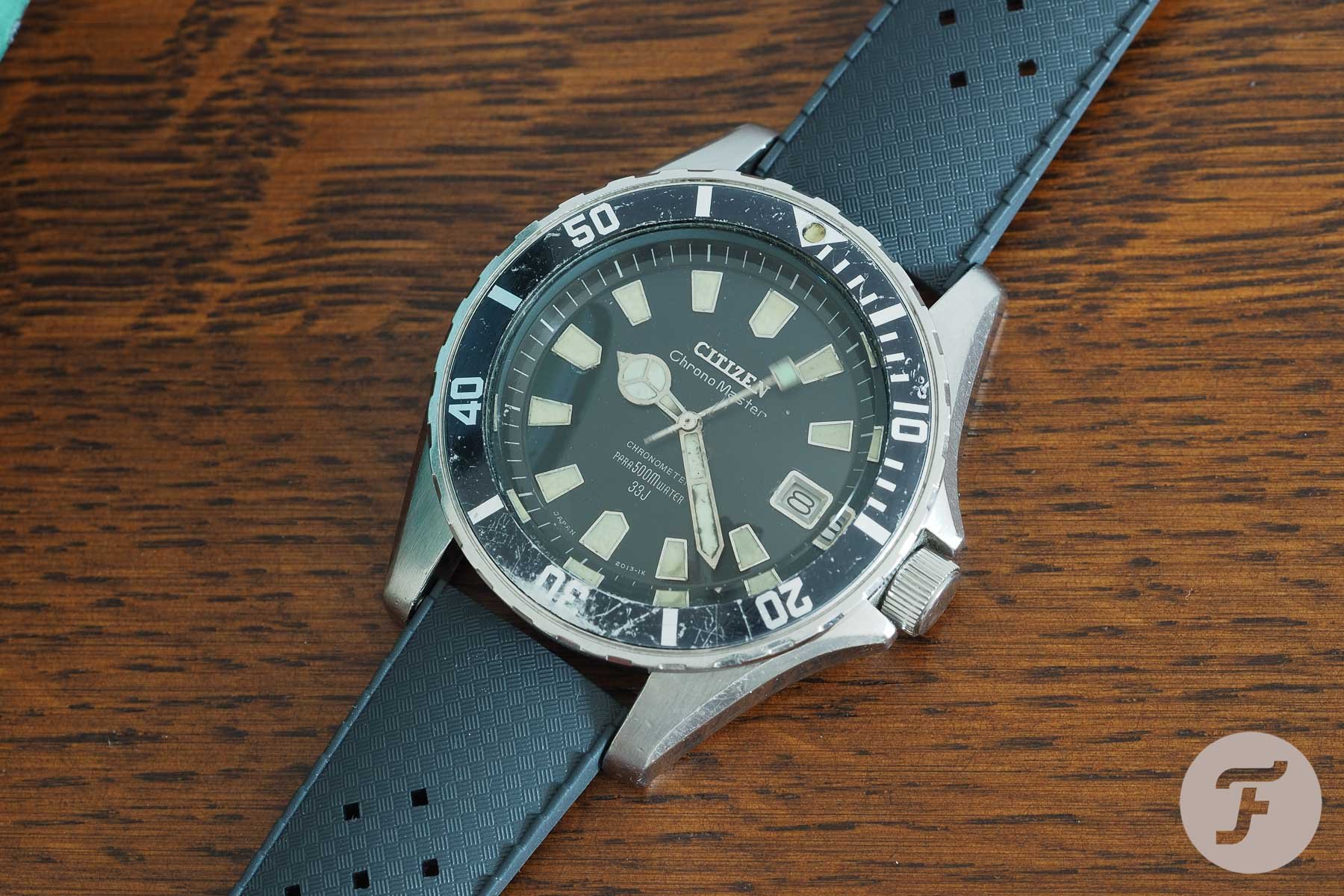 Stupidly rare and expensive
The watch I own originally came from Bogdan over on Vintage Citizen Watches. He's a proper Citizen diehard and one who always strives for minty pieces. Therefore, when he upgraded his ChronoMaster 500M, he moved this one on to Patrick. If you follow his site and his postings, you'll see that he has cataloged roughly two dozen of these watches. So, yes, that makes them incredibly rare. If you've read enough about Citizen, you know that prices are high despite the lack of Western article coverage. This piece lives up to that reputation and pieces run anywhere from €8,000 to well over the five-figure mark depending on condition and collector hunger. Plus, they come up so infrequently that bidding often resembles a gladiator event.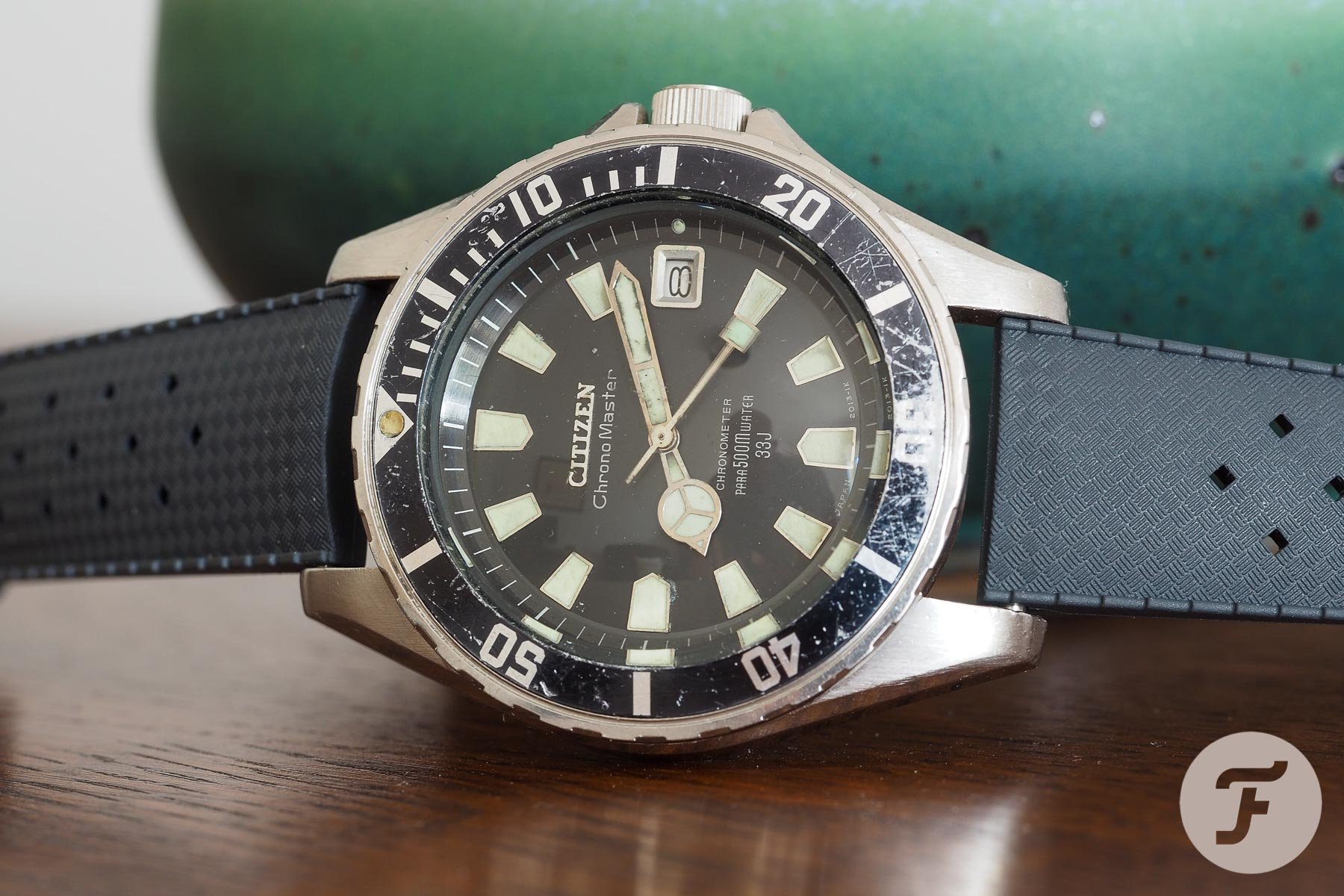 Assessing the ChronoMaster 500M and its place in history
There's no doubt that the Citizen ChronoMaster 500M has a significant place in Citizen and Japanese watch history. The water resistance, the size, and the movement certainly make it special. As a proper classic versus the Seiko 6159 or 6215, I think it faces a slight challenge. Whereas the Seiko models helped launch a design language that survives through today, the Citizen is a bit more anonymous. Sure, the Mercedes hand was used on other Citizen models, but it was cribbed from Rolex. Even models like the ever-popular Citizen 62-6198 Challenge Diver and its relatives used an entirely different case shape. So, perhaps this watch wasn't incredibly influential within Citizen, but it still stands as an interesting halo piece from an important brand.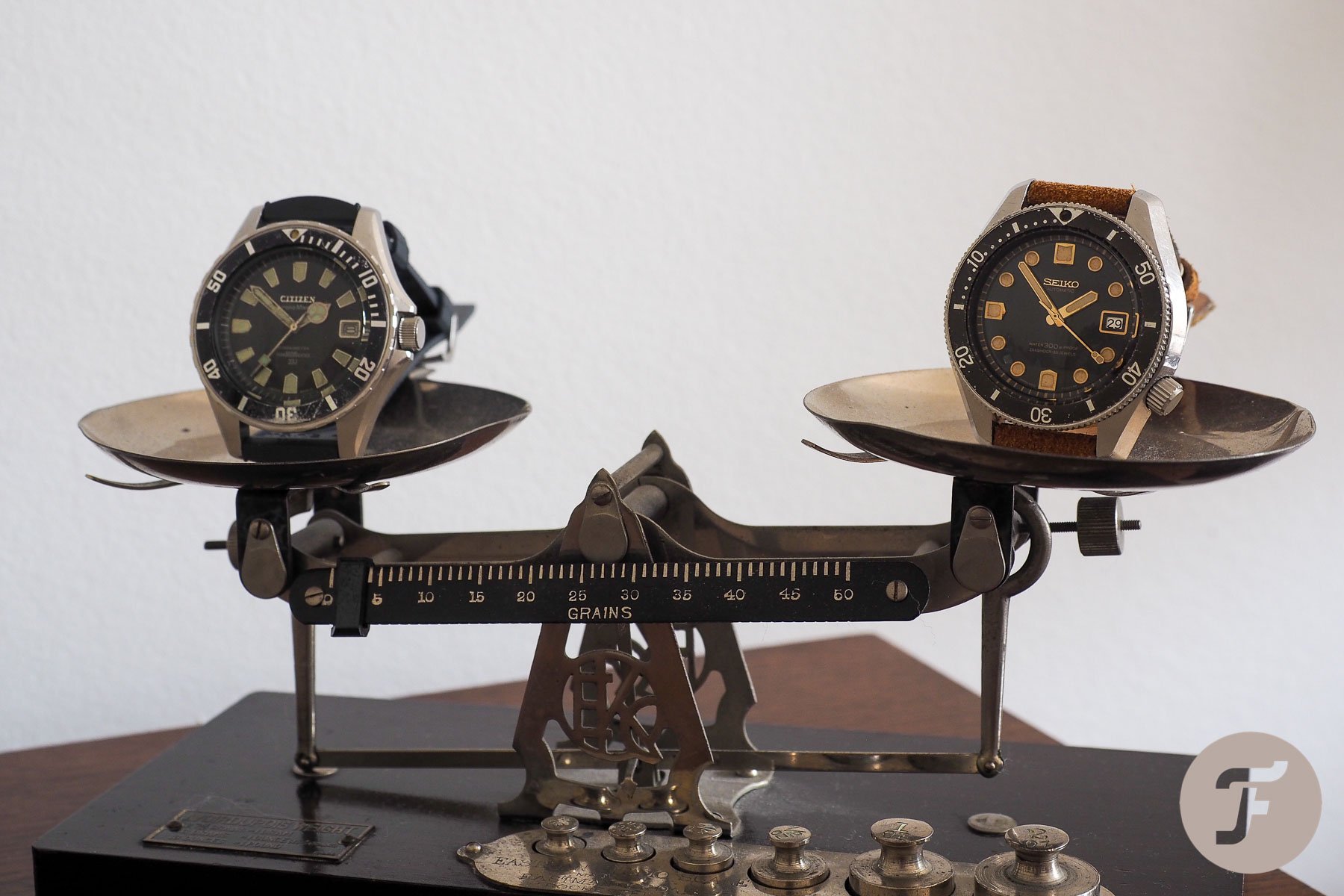 Final thoughts
The Citizen ChronoMaster 500M is yet another one of those watches that I never thought I would have the chance to own. I dislike slugging it out on auction sites at these price levels and they're so rare that I didn't think I'd stumble upon one. A big thanks to Patrick for offering it up to me and at least he knows that the watch will be well kept. After all, I consider this an important piece for a completist like me. Finally, do I like this watch as much as something like the Seiko 6215? No, and that's because the Seiko wears better on my wrist and I enjoy its unique styling. However, I truly enjoy owning this Citizen.
Watch specifications
Model
ChronoMaster 500M Chronometer
Dial
Black with luminous inserts
Case Material
Stainless steel
Case Dimensions
44mm Diameter, 53mm Lug to Lug, 14mm Thickness, 20mm Lug Width
Movement
Citizen automatic caliber 5440, 33 jewels, 18,000vph, hand winding, hacking, quick set date, chronometer-certified
Water Resistance
500 Meters
Strap
Originally, black Tropic strap with signed Citizen pin buckle
Functions
Time (HH:MM:SS), Date, Unidirectional dive bezel
Price
Originally JPY 35,000
Special Note(s)
Built for one year: 1969